Best Snub Nose Revolvers in 2023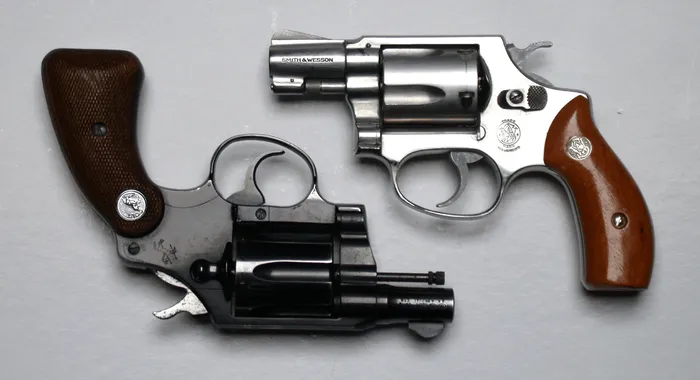 Best Snub Nose Revolvers in 2023
Cover Photo Credit: Hmaag, CC BY-SA 3.0, via Wikimedia Commons
Nothing beats a compact 9mm handgun to protect yourself and your family. If you're going for an EDC (everyday carry), purchasing a Taurus G2C, or a Sig Sauer 365 is a no-brainer.
Although a compact semi-automatic pistol offers you everything you need for CCW and self-defense, the snub nose revolver, or the snubby, packs a more powerful punch.
Snubbies are a compact force to be reckoned with. With their unwavering reliability, ease of use, and quick response, these small-frame revolvers should definitely feel right at home in your holster.
In this guide, we'll help you choose a suitable snub nose revolver for you.
We went through a lot of lists, reviews, and picked the best, most versatile, most cost-effective, and powerful concealed carry revolvers that are popular on the market today.
The Neverending Appeal of Snub Nose Revolvers
Most of us will agree: we tend to blame the silver screen heroes like Henry Fonda, Charlie Bronson, and Clint Eastwood for making revolvers look so cool and easy to operate.
But, there's more to it than meets the eye.
You have brilliant manufacturers like Smith & Wesson, Ruger, Kimber, and Colt, that have offered us revolvers that are tried and true to this day.
Models like the Smith & Wesson 686, and the Kimber K6S are favored by most gun enthusiasts because of their reliability, ease of operation, and the almighty power they deliver.
Why Are Snub Nose Revolvers Good for Self-Defense and EDC?
To begin with, these revolvers are designed in a way to fit concealed holsters with ease.
Nobody in their right mind goes about with a giant hand cannon strapped to the side, which is why manufacturers go with smaller and more compact versions that have shorter barrels.
Snubbies keep the perks and strengths of regular revolvers, but they're more concealable. This is what makes a snub nose revolver a viable CCW option for self-defense.
On the downside, truth be told, the recoil on these handguns can be really difficult to handle, and they all depend on the caliber, as it's usually a .38 Special, .44, or a .357.
On the other hand, you might be looking for a .22 caliber revolver, a more compact CCW with less recoil.
So, without further ado, let's get right on it. Here are some of the Gunmade.com favorites for the snub nose revolver, in no particular order – except for the top pick, obviously.
Best Snub Nose Revolvers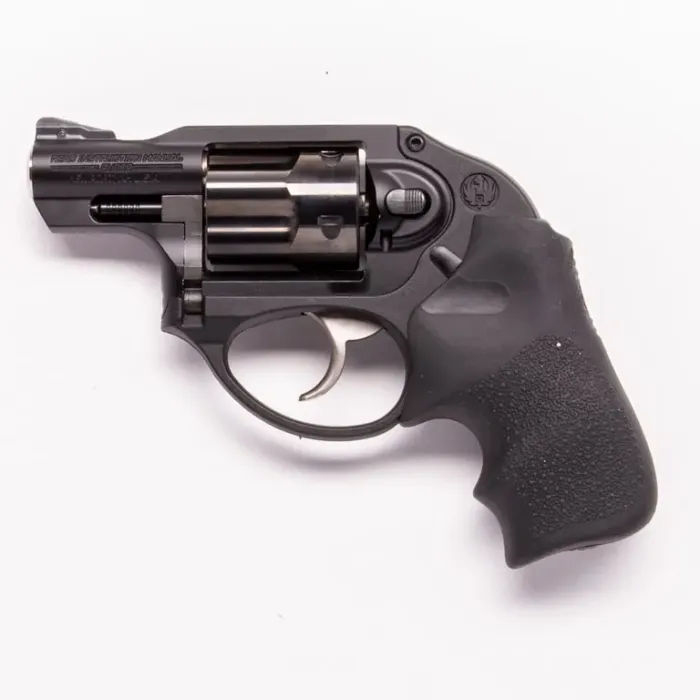 Pros
Great value
Hammerless, so it's snag-free
Lots of aftermarket options (grips, holsters, triggers)
Durable polymer, stainless steel, and aluminum alloy
Comfy grip
Lightweight (8 ounces)
Cons
Low capacity with only 5 rounds
I bet you've seen this little number everywhere.
The Ruger LCR .38 Special Revolver +P is an impressive rework of the 1989 Ruger SP101 snubby, as it's a more compact version with a 1.87″ barrel length. LCR stands for 'lightweight compact revolver', and is available almost everywhere, in various other calibers like the .357, or .22.
The reason why the Ruger LCR .38 Special +P is so popular is because it's an affordable, reliable, and hammerless snubby that won't snag on your clothing when unholstered.
The Ruger LCR offers great accuracy for a .38 Special +P, with a non-stacking, double-action (DA) trigger pull which is relatively easy in contrast to the others on this list. It also features a fluted steel cylinder that reduces its weight and a PVD finish that will last a long time.
In fact, this small revolver weighs around 8 ounces, a lightweight carry in comparison to the other on this list, all thanks to its aluminum, polymer, and stainless steel alloy frame. It's chambered in .38 Special +P for that much-needed stopping power.
Additionally, the manufacturer designed this one to be compatible with lots of aftermarket customizations, unlike the other snubbies on this list. The LCR .38 has a Grip Peg for easier grip removal when you want to customize your style. You know how stubborn grips can get –  well, it's not the case with this one.
The LCR comes with a Hogue Tamer rubber grip with ergonomic finger grooves for maximum stability and recoil cushioning. I strongly recommend you grab some good recoil cushioning grips like the Crimson Trace Lasergrips. Speaking of which, you can also check out the S&W M&P Bodyguard 38 Crimson Trace if you're looking for snubbies with lasers for long-range duty (around 5-10 feet).
The only thing that might be a dealbreaker is that it isn't a six-shooter. This really doesn't feel like a downside, because in self-defense situations you almost always need just a few shots, and this can prove more than enough, but still.
If you're looking for the same gun but without the ridiculous stopping power, you can go for the Ruger LCRX with a stainless steel, matte frame. You can also try the LCR-22, a .22 caliber, 8-shot revolver with less force, but more accuracy, low recoil, and better concealability.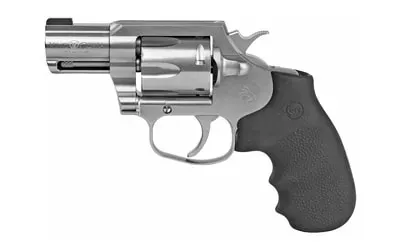 Pros
Classic revolver feel
Easy trigger pull for a DAO (double-action-only) revolver
Stainless steel frame revolver
6-rounds of .357 Magnum stopping power
Cons
Expensive
Heavy (26 ounces)
This list wouldn't be complete without a Colt.
The manufacturer went all in with this one. While most customers would find this heavy for a CCW, some gun enthusiasts will appreciate the classic six-shot feel with the Colt King Cobra Carry .357 caliber.
It's a six-shooter that packs a punch, with a solid steel frame and a 2-inch short barrel, bobbed hammer, and a relatively light DAO trigger pull.
Double-action only triggers are regarded as very safe, and although it takes a while to get used to it, any newbie can quickly learn how to handle this snub-nosed revolver.
You receive Hogue Overmolded grips for felt recoil cushioning, and it also has a brass bead front sight for accuracy and fast target acquisition.
If .357 is not your cup of tea, you can go for a .38 Special caliber which feeds just fine. Check out how the hammerless variant fares against a Kimber K6S and a Ruger SP101.
This is a heavyweight champion of snubbies, clocking in at 26-ounces which is the complete opposite of a lightweight CCW.
But I personally think that anyone can get used to the weight. If nothing else, it loosens up the recoil and adds more to stability.
Here's a pro tip. You can use the King Cobra Carry as a good workout alternative. Just get yourself a good ankle holster, strap in, and feel the burn with your new leg weights.
Just joking, of course.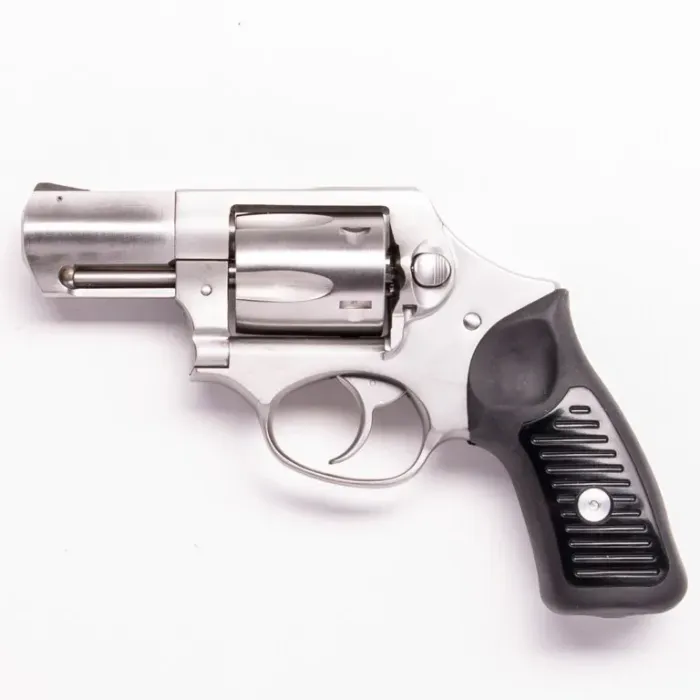 Pros
Hammerless, snag-free design
Stainless steel construction for increased durability
Manageable recoil
Customizable sights
Triple-locking cylinder for increased accuracy
Cons
5-shot cylinder
Heavy (25 ounces)
Here's another hammerless, snag-free design, this time by good ol' Ruger.
The Ruger SP101 Spurless carry gun has a double-action-only trigger with a transfer bar, and it's pretty easy to pull.
What's great about this wheel gun is the ease of operation and reliability, which make it a great piece for EDC use.
This is a solid concealment option with a 2.25-inch barrel and 7.2-inches overall length. It's heavy, with the empty weight clocking in at 25 ounces, but the snag-free design makes things easier when unholstering.
It's a five-shot. It has a durable, stainless steel construction, a bladed front sight, fixed rear sights, synthetic grips for recoil cushioning, a 5-round cylinder, and the stopping power of a .357 Magnum.
The triple-locking cylinder improves cylinder-to-barrel alignment and this makes for great accuracy.
I personally think that the grips of the Ruger SP101 Spurless DAO are a bit too cushiony, but that's just me. You can find great aftermarket options for this handgun. It's popular among veterans and rookies alike.
The downsides are that it's heavy, and the 5-round cylinder and .357 Magnum muzzle rise and recoil don't do much better for target reacquisition than most semi-automatic pistols, personal defense handguns. But with the proper practice, this won't be much of an issue for you.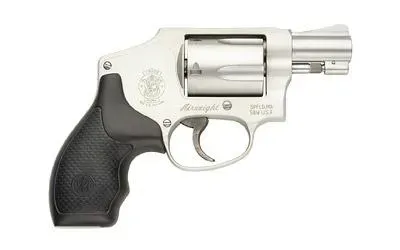 Pros
A classic since 1952
Affordable
Fairly lightweight (14.6 ounces)
Stainless steel cylinder
Aluminum frame
Available aftermarket customization
Cons
5-shot revolver
Tough recoil
The Smith & Wesson 642 Centennial Airweight series has been a classic since 1952, and there has been no need for improvement since then because it's a highly versatile and reliable revolver.
The manufacturer's idea was to design a lightweight, hammerless revolver with a grip for larger hands.
It's a compact, reliable, and cost-effective solution for self-defense and home defense. The 642 Airweight J-Frame can also be used as a backup handgun.
Constructed with an aluminum alloy frame, 6-inches overall length, stainless steel barrel, and synthetic grips, the S&W 642 is a great compact revolver that's as light as a feather.
However, since it's lightweight, you may come across muzzle rise problems. It's accurate and acquires targets well, but the recoil may be tough on your hands.
It's chambered in .38 Special +P, but you can also find the .357 Magnum caliber versions easily, and the difference can be felt.
You can find great grips, lasers, holsters, and ankle holster options for this concealed carry gun, and it can quickly become your favorite after a couple of tryouts at the range.
This 5-round revolver has smooth handling and delivers a punch. See for yourself.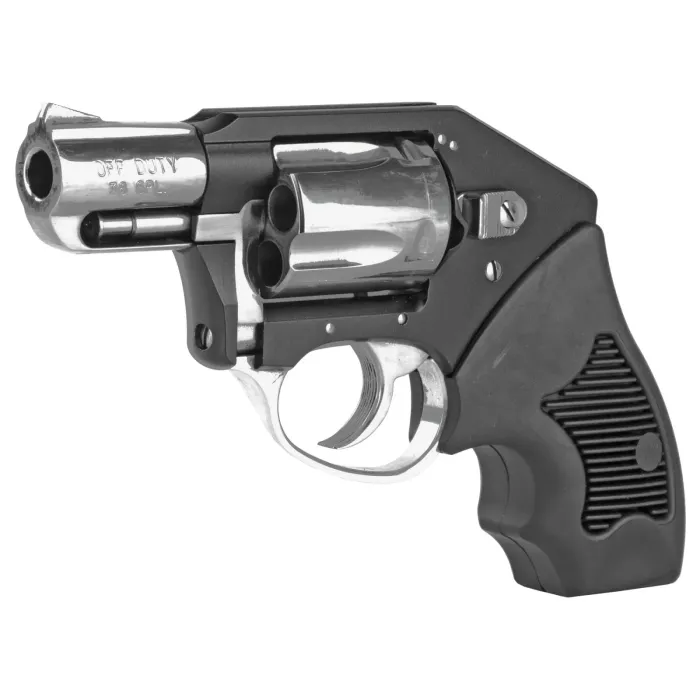 Here's another concealed carry that has withstood the test of time, passing all reliability tests with flying colors. The Charter Arms Off-Duty is a nice little double-action, snag-free CCW that can be a great addition to your backup handgun collection.
Pros
Very reliable and durable
Aircraft-grade aluminum alloy construction
One of the lightest options (12 ounces)
Rubberized combat grips
Cons
5-round capacity
Muzzle rise can be a problem
It's a .38 Special caliber with a 5-round cylinder, fixed sights, four-point cylinder lock-up, and an internal hammer with block safety.
The stainless steel barrel and cylinder and the aircraft-grade aluminum alloy construction offer a lightweight feel at 12 ounces, and it's small enough for a purse concealed carry gun as well.
However, it can kick like a mule in the untrained hand, and the uncontrollable muzzle rise doesn't help either. The rubberized combat grip soaks up some of that brute force, and although it's not a handgun for larger hands, you can find a lot of grip alternatives on the market.
The coolest feature is definitely the reloading. It's easy and fast with the left-side cylinder release, and you can expect major firepower with a .357 Magnum as well.
You can also check out Charter Arms' Undercover series. They are also compact options that feature an outside hammer and a decent trigger pull.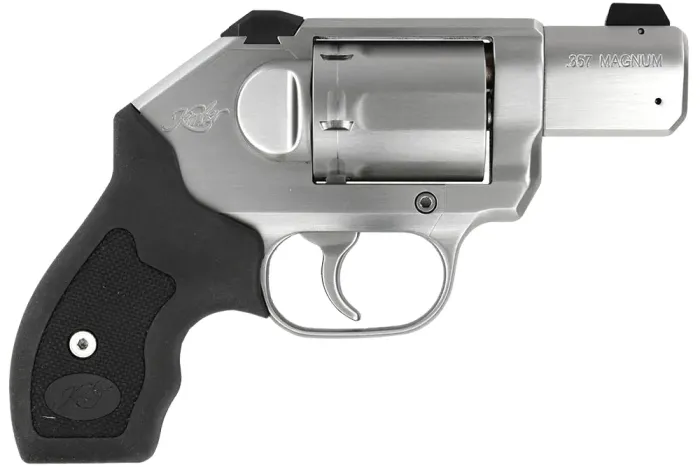 Kimber has been receiving some criticism for their handguns, but don't be fooled – the Kimber K6S .357 carry gun can be a great self-defense CCW for many gun enthusiasts.
Pros
Snag-free design
Affordable
Good aftermarket options
Solid stopping power
Cons
Heavy trigger pull
Heavy (23 ounces)
It's a .357 Magnum, stainless steel, six-shooter with a 10-pound trigger pull, but it's compact enough to be used as a CCW. It's also snag-free, all thanks to the non-exposed hammer. The DAO trigger pull might be heavy for some, but it doesn't stack.
It has removable front and rear dovetail sights, and you can find a lot of aftermarket options for sights and grips as well. I recommend you go for black three-dot sights or a textured cylinder release for better operation.
Speaking of grips, the K6S has one of the most comfortable grips with great ergonomics, that both big and small hands can get used to. It's 6.62-inches long, and 1.39-inches wide with a slim cylinder, so it's easily concealed as an IWB carry.
This is a stainless steel revolver with a small frame and a short barrel of 2 inches. The weight clocks in at 23 ounces, but you can expect great durability and sturdiness. In a nutshell, it should serve you for a long time.
Overall, this is a heavy snubby with manageable recoil and a non-stack trigger. The trigger may be difficult to pull, but with the K6S, you get unmatched reliability. If you're looking for something along these lines, you can also check out the Rock Island Armory M206 .38 Special Caliber.
Buyer's Guide
Before you decide to buy a snub nose revolver for self-defense, you should first consider these two important criteria.
Hammerless Snag-Free Revolvers or SAO Trigger Pulls?
The first thing to look out for is whether or not your snubby has a trigger.
Maybe you like the feel of the SAO (single-action only) trigger pull. Or maybe you are looking for a snag-free design with concealed hammers.
Whatever the case, remember that hammerless revolvers are easier to pull out and offer quicker draw speed than the other revolvers that run the chance of getting tangled in your clothing.
But the hammerless, double-action revolvers have a much heavier trigger pull than the ones with a hammer, where you can just cock the hammer for a lighter trigger pull.
5-Rounds or Six Shooters?
Most of these revolvers on this list are at a 5-round capacity.
The snubby revolvers on this list have a regular ammo feed of .38 Specials, .357 Magnum, and .38 Special +P and there's a massive difference between them. You can find some .44 ACP ammo, but it's pretty rare and not very cost-effective.
You might be looking for a 6+1 revolver, and this is good, but remember that this also affects width, which might make it harder to conceal.
Look for the option that is the most compact. Of course, more rounds really can make a difference, but it's more important to have a better operation than more firepower.
Conclusion
Let's face it, each of these little hand cannons looks really cool in a shoulder holster. But it's not just about looking cool – it's about being protected.
When going for a snub nose revolver as a CCW option instead of a semi-automatic pistol like the Glock 19, or a Smith and Wesson M&P Shield, you should consider the trade-offs. What you get is increased stopping power, ease of operation, and reliability, in exchange for slower reloading.
Sure, you can tuck away a couple of magazines for your Glock, but would you really need to unload a whole clip in a self-defense situation?
These 5 or 6 rounds are enough when a certain situation gets out of control, and you won't ever have to deal with the hassle of feed failures. Revolvers rarely have these problems, in fact –  almost never.
What's more, they're much easier to clean than most handguns.
Get yourself a sturdy concealed carry revolver, if you don't want to deal with feeding and reliability issues.
Explore more