Best Tactical Flashlights: Shining a Light on Your Options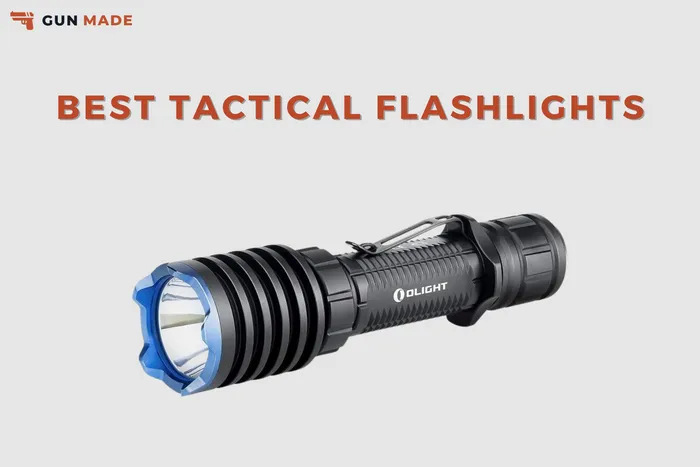 Best Tactical Flashlights: Shining a Light on Your Options
Introduction
If you're someone who loves exploring the great outdoors, facing unexpected challenges, or simply being prepared for any situation, then having the best tactical flashlight in your gear arsenal is an absolute must. When darkness falls, a reliable and powerful flashlight becomes your trusted companion.
Picture this: you're camping in the wilderness, and as you sit by the campfire, swapping stories with friends, the sun slowly dips below the horizon, leaving you enveloped in darkness. Or you're a security professional navigating dimly lit areas for suspicious persons or activity. That's where a tactical flashlight comes in.
In this comprehensive roundup, we'll shed light on the best tactical flashlights on the market to help you make an informed decision. As avid adventure seekers and flashlight enthusiasts ourselves, we've researched, tested, and compared numerous models to narrow the choices.
So, sit tight, and let's embark on this illuminating journey together!
Best Tactical Flashlight & Recommendations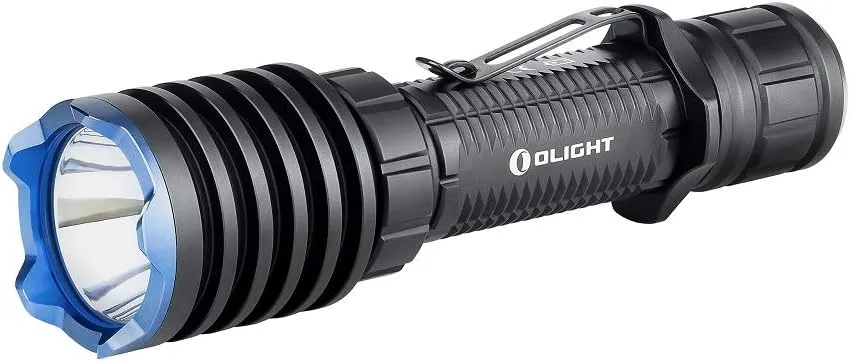 Specifications
| | |
| --- | --- |
| Lumens | 2,100 lumens |
| Range | 500 meters |
| Battery Type | Rechargeable 5000mAh 21700 lithium battery |
| Max Run Time | 8 hours |
| Switch Mechanism | Tail switch |
Pros & Cons
Pros
Superb brightness with a maximum output of 2,100 lumens

Long throw distance for exceptional illumination even at a distance

Durable build with an aluminum alloy body and robust strike bezel

Easy-to-use tail switch for intuitive operation

Water-resistant for up to 2 meters, making it suitable for any weather conditions
Cons
Relatively short battery life on the highest setting

Premium price point compared to some competitors

On the larger, heavier side
The Olight Warrior X Pro stands tall as the ultimate tactical flashlight for many reasons.
Its impressive brightness of 2,100 lumens makes it a powerful tool in any low-light situation, and the long throw distance ensures that no obstacle remains hidden in the dark.
Crafted from sturdy aluminum alloy, the Warrior X Pro exudes durability and resilience. Plus, it features a striking bezel that you can use for self-defense.
The tactical tail switch enables seamless operation, allowing you to easily switch between different modes. Whether you need constant illumination or momentary bursts of light, the Olight Warrior X Pro delivers.
While the battery life may be limited at the highest setting, this tactical flashlight's overall performance and build quality make it well worth the investment.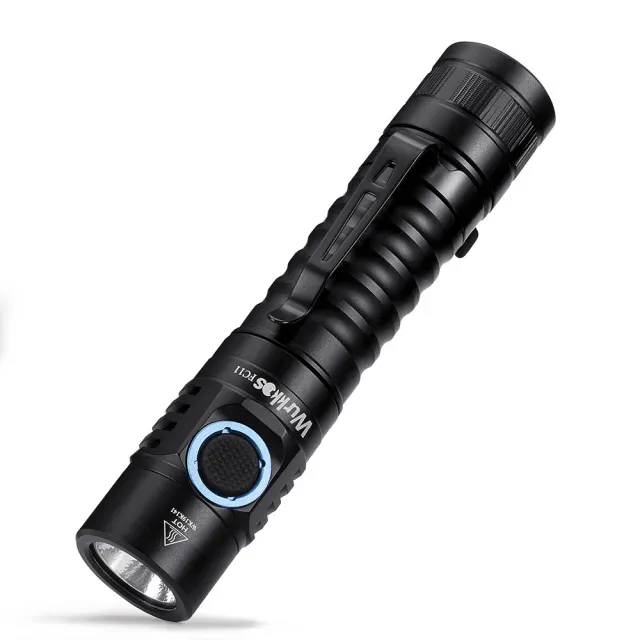 Specifications
| | |
| --- | --- |
| Lumens | 1,300 lumens |
| Range | 144 meters (157 yards) |
| Battery Type | USB-rechargeable 18650 Li-Ion battery |
| Max Run Time | 275 hours on the lowest mode |
| Switch Mechanism | Side switch |
Pros & Cons
Pros
Impressive 1,300 lumens output for its value

Multiple brightness levels and strobe mode for versatility

USB-C rechargeable with a long-lasting 18650 battery

Durable and water-resistant construction
Cons
Limited tactical features compared to other dedicated tactical flashlights

Limited throw distance

Water-resistant but not waterproof
For those looking for the best value tactical flashlight, the Wurkkos FC11 is a shining contender that won't break the bank. This compact flashlight packs a punch with a maximum output of 1,300 lumens, making it an excellent option for everyday and tactical use.
One of the standout features of the Wurkkos FC11 is its versatility. It comes with multiple brightness levels, including moonlight, low, medium, high, and turbo modes, allowing you to adjust the illumination according to your needs. The included strobe mode can also serve as a handy self-defense tool if the situation calls for it.
Powered by a single 18650 rechargeable battery, the Wurkkos FC11 offers impressive battery life, allowing you to rely on it during extended outdoor adventures or emergencies. The flashlight comes with a USB-C charging port, making recharging a breeze without needing a separate charger.
The FC11's durable build features an aircraft-grade aluminum body with a knurled texture for a secure grip. With an IP67 rating, it is dustproof and can withstand being submerged in water up to 1 meter deep for 30 minutes.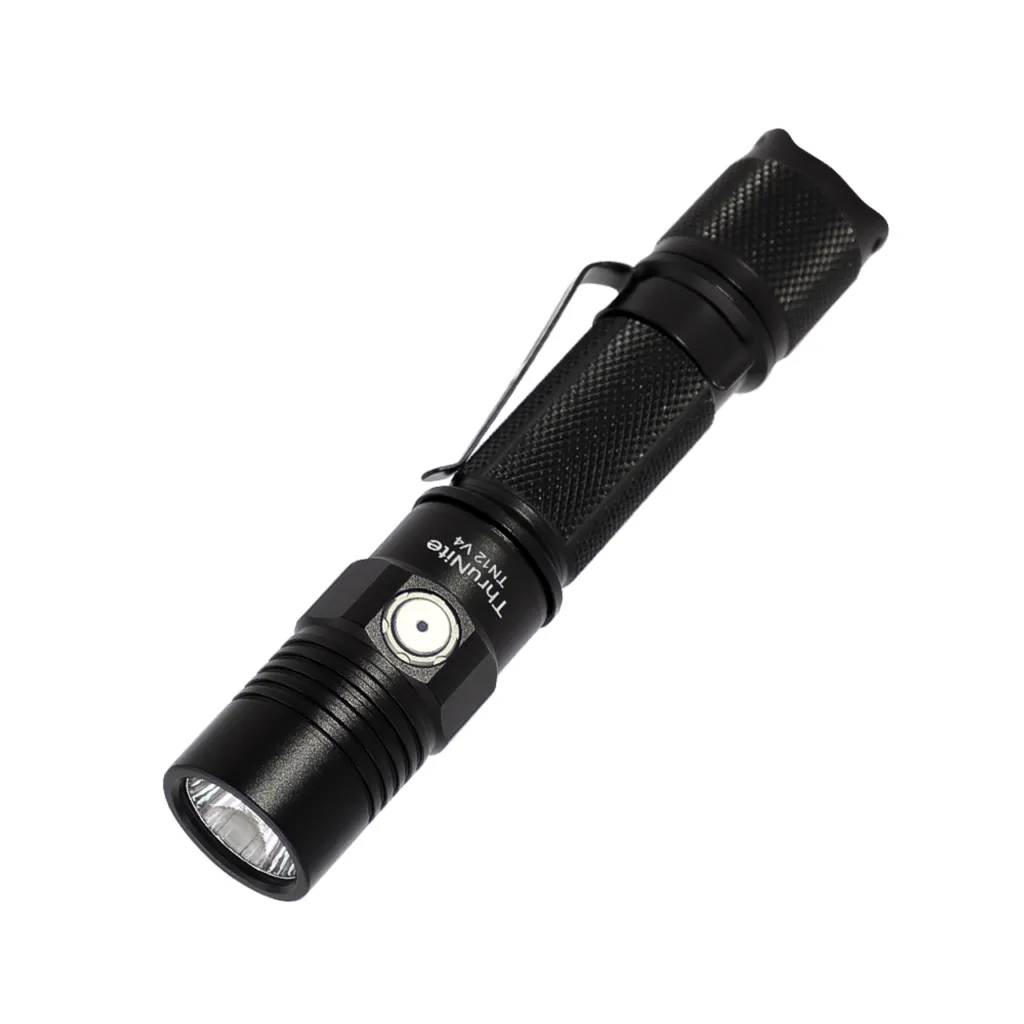 Specifications
| | |
| --- | --- |
| Lumens | 1,100 lumens |
| Range | 240 meters |
| Battery Type | 18650 battery |
| Max Run Time | 49 hours |
| Switch Mechanism | Tail switch |
Pros & Cons
Pros
Impressive 1,100 lumens output for powerful illumination

Durable aerospace-grade aluminum construction for reliability

Tactical tail switch and side switch for easy operation

Water-resistant with an IPX8 rating for all-weather use
Cons
Higher lumens output may result in faster battery drain

Throw distance is on the shorter side

Non-standard battery and no built-in charging
The ThruNite TN12 V4 tactical flashlight is a force to be reckoned with. Its impressive performance and durability certainly deserve an honorable mention in our list of top tactical flashlights.
This upgraded version (V4) takes brightness to a whole new level, boasting a maximum output of 1,100 lumens. The TN12 V4's beam has an impressive range, making it an excellent choice for outdoor enthusiasts and professionals alike.
One of the standout features of the TN12 V4 is its rugged build. Crafted from aerospace-grade aluminum with a military-grade hard-anodized finish, this flashlight can handle rough treatment and challenging conditions. Additionally, the TN12 V4 is water-resistant with an IPX8 rating, making it suitable for use in heavy rain or even temporary submersion in water.
The tactical tail and side switch offer intuitive operation, allowing quick access to various brightness levels and modes.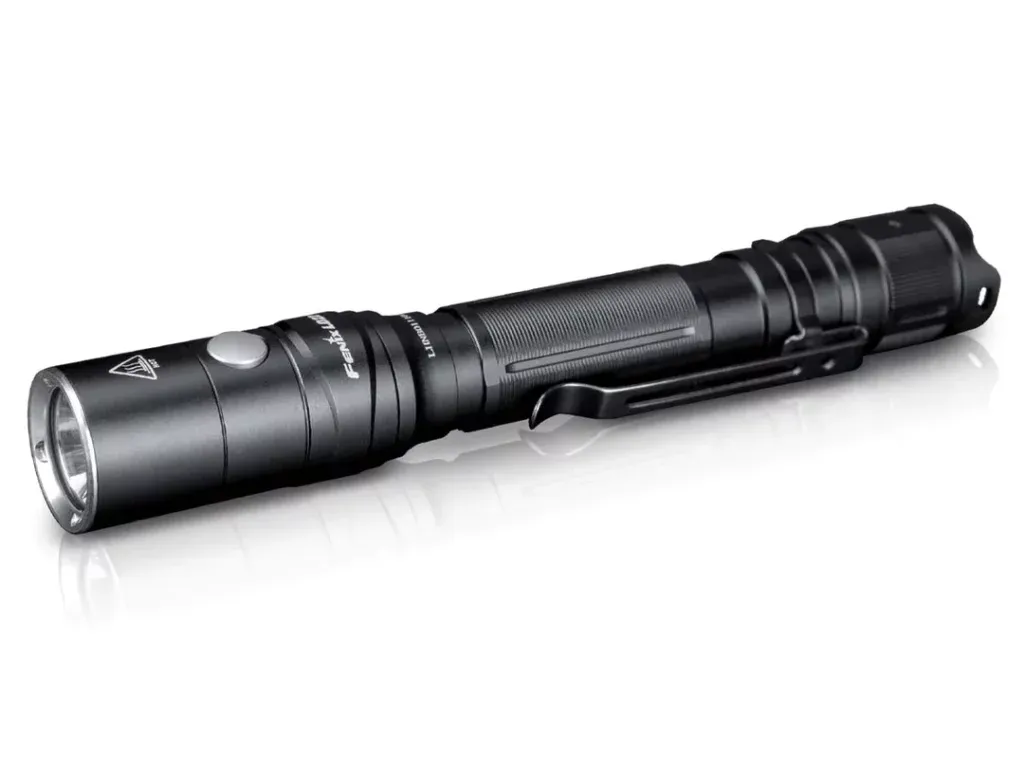 Specifications
| | |
| --- | --- |
| Lumens | 800 lumens |
| Range | 702 feet (214 meters) |
| Battery Type | Rechargeable li-ion battery pack or 2AA |
| Max Run Time | 220 hours |
| Switch Mechanism | Instant activation with tail switch; output selection with side switch |
Pros & Cons
Pros
Compact and lightweight for easy portability

Multiple brightness levels

Exceptional battery life

Impact-resistant design for durability
Cons
Relatively lower maximum brightness compared to larger models

Limited brightness when used with just the included battery

Water resistant, but not waterproof
The Fenix LD22 V2.0 is our choice for the best tactical 2AA flashlight, delivering impressive performance and practicality in a compact package.
This flashlight is powered by two AA batteries, making it a convenient choice for those who prefer readily available and easily replaceable power sources. However, the LD22 V2.0 also has a USB-rechargeable battery that can be used with a lower maximum brightness (350 lumens). Its versatile beam offers a good range, making it suitable for close-up tasks and moderate-distance illumination.
The LD22 V2.0 features a tactical tail switch and side switch, allowing for easy and intuitive operation. The dual switch design offers quick access to different brightness levels and modes, providing flexibility in adapting to different lighting needs.
Constructed from high-quality materials, this flashlight is also designed to withstand tough conditions and daily use. Its IP68 waterproof rating ensures it can handle immersion in water up to 2 meters deep, making it suitable for various weather conditions.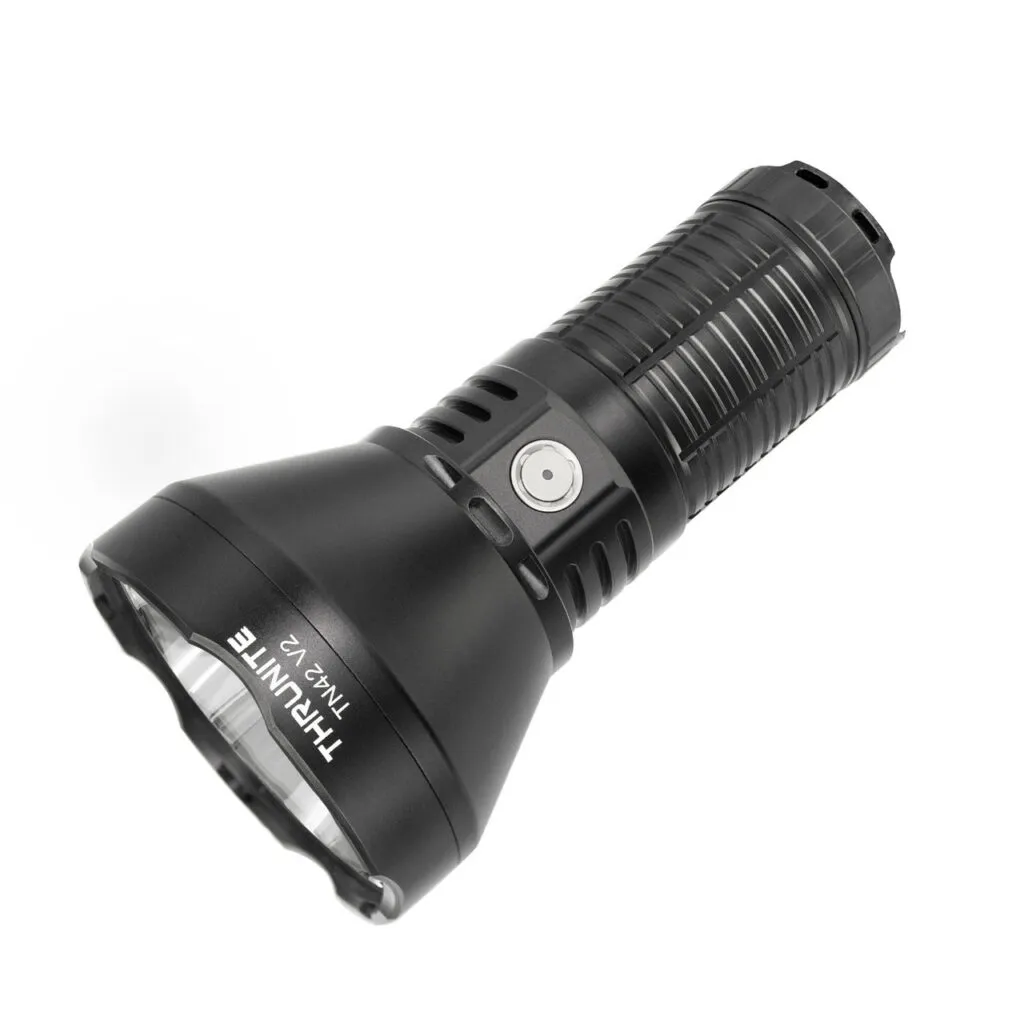 Specifications
| | |
| --- | --- |
| Lumens | 4,848 lumens |
| Range | 1,860 meters |
| Battery Type | Four 21700 batteries |
| Max Run Time | 180 days |
| Switch Mechanism | Side switch |
Pros & Cons
Pros
Remarkable throw distance for long-range visibility

High lumens output for a powerful and focused beam

USB rechargeable with four 21700 batteries for extended battery life

Tactical switch mechanism for easy and convenient operation
Cons
Quite large and heavy

Throw distance may be overkill for everyday tasks

Limited brightness levels
When it comes to long-range illumination, the ThruNite TN42 V2 flashlight takes the crown as the best tactical thrower flashlight. This beast of a flashlight boasts an astonishing throw distance of over 1,850 meters, making it an exceptional choice for situations that demand far-reaching visibility.
Powering that throw distance is an impressive maximum output of lumens that can easily cut through the darkness. Whether you're a search and rescue professional or an outdoor enthusiast looking to explore vast landscapes, this tactical thrower flashlight will not disappoint.
Powered by four 21700 rechargeable batteries, the TN42 V2 offers extended battery life to support long missions or excursions without worrying about running out of power. It also has a USB charging port, making it convenient to recharge the batteries without removing them.
The tactical switch mechanism of the TN42 V2 allows for intuitive operation, giving you easy access to multiple brightness levels and modes. Its rugged design ensures durability, while the anti-reflective coated lens guarantees optimal light transmission for maximum efficiency.
Best Compact EDC Tactical Flashlight – Olight S2R Baton II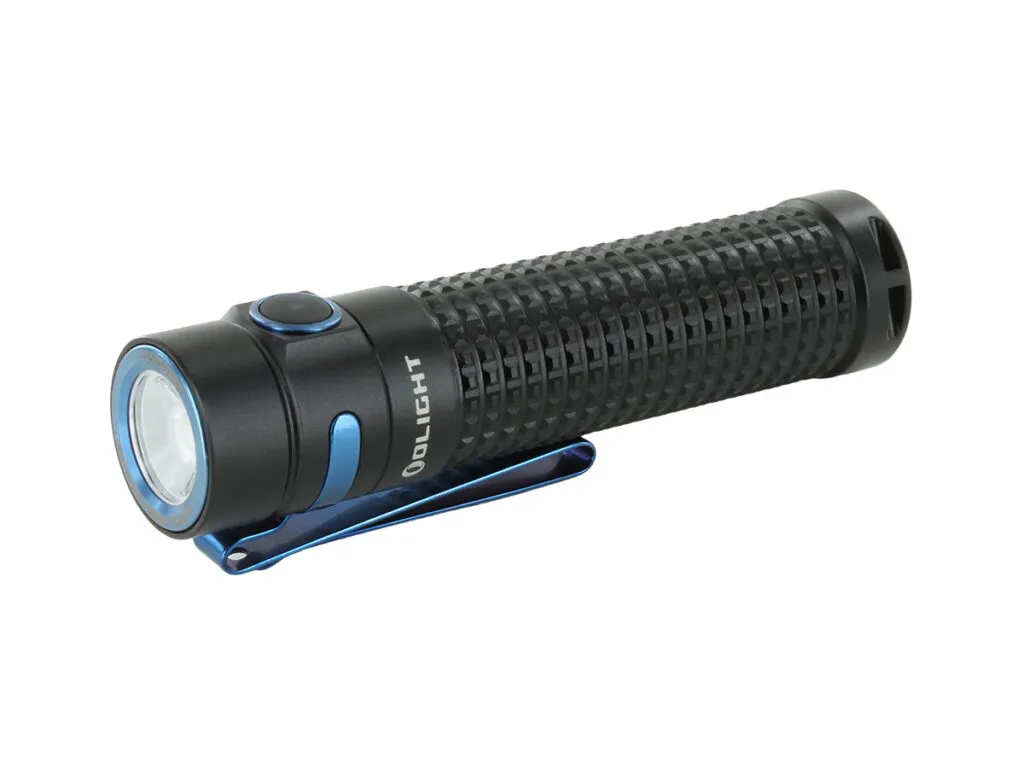 Specifications
| | |
| --- | --- |
| Lumens | 1,150 lumens |
| Range | 442 feet |
| Battery Type | Integral rechargeable battery |
| Max Run Time | 60 days |
| Switch Mechanism | Side switch |
Pros & Cons
Pros
Impressive maximum output of lumens in a compact form factor

Magnetic tail cap for hands-free use

Rechargeable 18650 battery for extended battery life

User-friendly side switch for quick and easy operation
Cons
Doesn't provide the same throw distance as larger tactical flashlights

Some users may prefer a tail switch

Higher price point relative to other lights in its category
For an everyday carry (EDC) tactical flashlight that combines compact size with outstanding performance, the Olight S2R Baton II takes the crown as the best in its class. This pocket-sized powerhouse delivers an impressive maximum output of lumens, making it a reliable companion for everyday tasks and emergencies.
The Olight S2R Baton II's compact design allows it to slip effortlessly into your pocket or bag, ensuring you have a powerful light source at your fingertips whenever you need it.
 Powered by an integral rechargeable battery, the S2R Baton II offers extended battery life, perfect for daily use without the hassle of constantly changing batteries. The flashlight comes with a magnetic charging cable, allowing easy and efficient recharging when needed.
Its user-friendly side switch mechanism provides easy access to multiple brightness levels and modes, including moonlight, low, medium, high, turbo, and strobe settings. This versatility ensures you have the right amount of light for any situation without fumbling through complex settings.
Lastly, it features a versatile magnetic tail cap, enabling hands-free use and convenient attachment to metal surfaces for added convenience.
How We Chose Our Top Picks
First and foremost, we considered user feedback and customer reviews to gauge real-world performance and user satisfaction. Input from professionals, enthusiasts, and verified buyers from various online platforms, including Amazon, manufacturer websites, flashlight forums, and our own experiences helped shape our selections.
Once we ensured we weren't wasting our time looking at low-quality options, we started looking more closely at specific features.
We started by looking at brightness and lumen output, as a powerful beam is a crucial aspect of any tactical flashlight. We know adventures can get rough, and gear takes a beating. That's why we next ensured that our selections were made from solid materials like aluminum or stainless steel.
Plus, we ensured they could handle rainy days with their water resistance (IPX ratings). Battery life was another essential aspect we took into account.
Buyer's Guide
There are a few different factors that you'll want to keep in mind while selecting a tactical flashlight:
Brightness and Lumens
One of the most critical factors to consider when choosing a tactical flashlight is its brightness, typically measured in lumens. Lumens represent the total amount of visible light emitted by the flashlight.
Higher lumens translate to brighter light output, making navigating in the dark easier or disorienting potential threats. A flashlight with at least 500 lumens is recommended for tactical purposes, but some models can go up to 2,000 lumens or more.
Choose a brightness level that suits your specific needs, whether for outdoor exploration, tactical operations, or personal safety.
Durability and Construction
Tactical flashlights are designed to withstand challenging environments and rough handling. Look for flashlights constructed from sturdy materials such as aluminum or stainless steel, as these offer excellent durability.
Additionally, check for water-resistant or waterproof ratings (IPX ratings) to ensure the flashlight remains functional in rainy or wet conditions.
A durable tactical flashlight is a reliable companion that can withstand the rigors of your adventures.
Battery Life and Power Source
The battery life of your tactical flashlight is crucial, especially if you plan on an extended outdoor adventure.
Some flashlights use disposable batteries, while others come with rechargeable options. Rechargeable flashlights are more cost-effective and eco-friendly in the long run, but disposable battery models can be more convenient for situations without access to electricity.
Beam Type and Focus
Tactical flashlights may offer different beam types, including flood, spot, or adjustable focus.
Flood beams provide a wider illumination area, ideal for general tasks, while spot beams offer a concentrated and long-reaching light, perfect for signaling or searching at a distance. Some tactical flashlights feature an adjustable focus, allowing you to zoom in or out to tailor the beam to your specific requirements.
Size and Weight
Consider the size and weight of the flashlight, especially if you need a compact and lightweight option for everyday carry or activities like hiking and camping. Also, consider where and how you plan to carry the flashlight—whether in your pocket, backpack, belt, or harness.
Compact and lightweight flashlights are ideal for everyday carry (EDC) or when weight is a concern during outdoor activities. However, larger flashlights may offer more features and higher lumens output, making them suitable for tactical professionals or situations requiring maximum brightness.
Switch Mechanism
Look for flashlights with user-friendly switch mechanisms. The most common types are tail switches and side switches.
Tail switches are convenient for one-handed operation, allowing easy access to the flashlight's functions without changing your grip. Side switches may offer more control over different lighting modes and settings.
Choose a switching mechanism that suits your preference and is easy to operate in various scenarios, whether it's for tactical use or everyday tasks.
Why a Tactical Flashlight?
Tactical flashlights are versatile tools that find applications in various situations:
Outdoor Adventures: Whether camping, hiking, or exploring the wilderness, a tactical flashlight ensures you can navigate safely in low-light conditions. If you're an outdoor enthusiast, look for a durable and versatile flashlight with excellent battery life and multiple lighting modes.
Emergency Preparedness: In the event of power outages or other emergencies, a reliable flashlight becomes an essential tool for safety and preparedness. Consider a reliable rechargeable flashlight with long battery life for emergencies or power outages to ensure you have a dependable light source when needed most.
Everyday Carry: Flashlights generally come in handy in all types of situations, so many people opt to carry one at all times. If you need a flashlight for everyday carry, a compact and lightweight model with moderate brightness is ideal.
Tactical flashlights with strike bezels can double as self-defense tools in potentially threatening situations.
Professional Use: Security personnel, law enforcement officers, and first responders rely on tactical flashlights for their daily duties and safety. For security professionals or law enforcement officers, prioritize flashlights with high lumens output, durable construction, and tactical features like strike bezels for self-defense.
FAQs
What flashlights do Marines use?
The standard issue flashlight for the US Marines and Army is the MX-991/U Flashlight (aka GI Flashlight, Army Flashlight, or Moonbeam). This flashlight dates back to the Vietnam War and has been produced by various contractors since then, but it is currently made by Fulton Industries.
How many lumens is suitable for a tactical light?
The right number of lumens for a tactical light can vary anywhere from 100 to 3,000 lumens, depending on your intended purpose. Five hundred lumens should be plenty for most people, though you can certainly go higher.
What is the difference between a flashlight and a tactical flashlight?
Tactical flashlights differ slightly from regular flashlights in that they're generally designed to be used alongside a firearm or other defensive weapon. As a result, tactical flashlights tend to feature a more rugged construction and often have serrated edges that can be used for striking attackers, breaking windows, and more.
Conclusion
In this illuminating journey through the world of tactical flashlights, we've explored the best options available, each boasting unique features to suit various needs. The Olight Warrior X Pro emerged as the best overall pick, offering powerful brightness and a robust build, making it ideal for adventurers and professionals.
Regardless of which one you go with, each flashlight on this list guarantees reliable illumination for your adventures.
Now, it's your turn to shine a light on this topic. Leave a comment below and let us know which tactical flashlight best fits your needs! Happy exploring!
Explore more