7 Best Tactical Lever-Action Rifles [2023]: Complete Buyer's Guide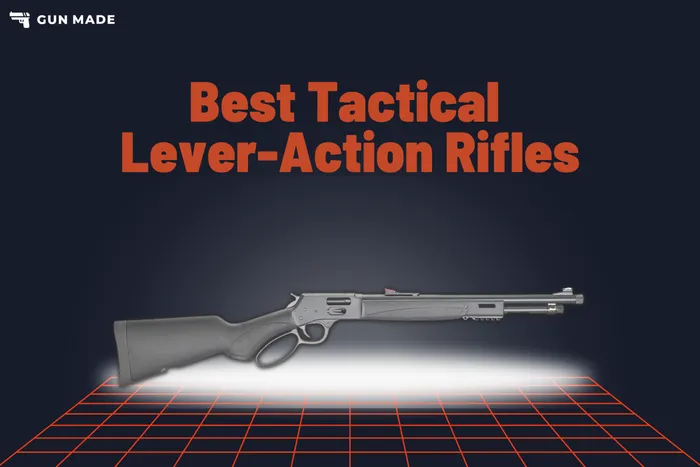 7 Best Tactical Lever-Action Rifles [2023]: Complete Buyer's Guide
Tactical lever-action rifles represent a modern twist on a classic firearm, blending traditional design with contemporary features.
These rifles, with their roots in the iconic designs of the Henry Model 1860 and the Winchester Model 1866, have long been a part of American history. The lever-action mechanism, characterized by its smooth operation and unique cocking sound, was revolutionary in firearms design and remains a beloved feature among enthusiasts.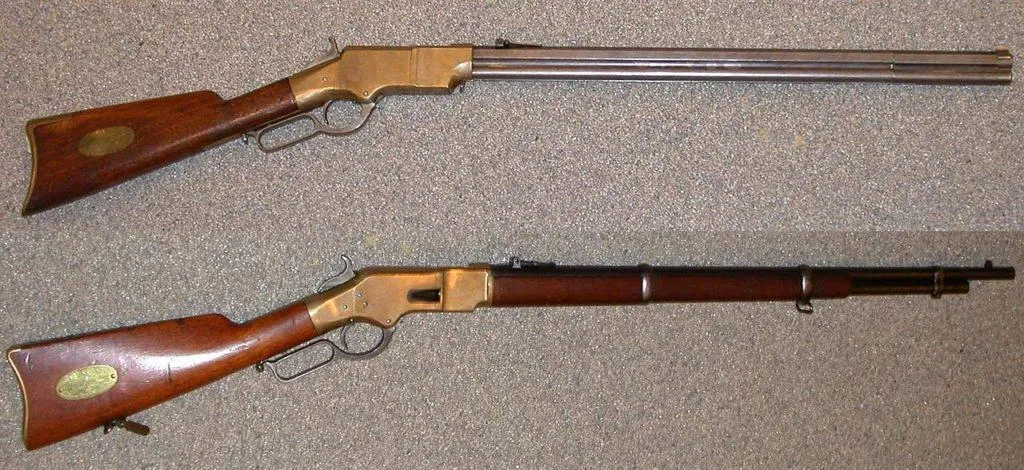 The appeal of lever-action rifles transcends their historical significance; their adaptability and evolving design have kept them relevant.
Initially popularized by models like the Winchester Model 1873, famously known as "the gun that won the west," these rifles have undergone significant transformations. Earlier versions from brands like Winchester, Henry, and Colt have been refined over time, focusing on operational convenience and reliability.

In the modern era, manufacturers have further innovated these rifles to cater to tactical applications. Tactical lever-action rifles are designed to be versatile, accommodating modifications for various uses such as home defense and competitive shooting. These adaptations make them suitable for the modern-day shooter who values tradition and functionality.
Here are our key conclusions about tactical lever action rifles:
Tactical lever-action rifles combine classic design with modern features, offering versatility and adaptability.
Modern innovations make these rifles suitable for various uses, including home defense and competitive shooting.
Each rifle in the guide is chosen for its blend of traditional charm and modern tactical functionalities.
Our guide highlights some of the best tactical lever-action rifles available, offering a range of options from budget-friendly to premium models. Each rifle is selected for its unique combination of classic charm and modern tactical features, appealing to a wide spectrum of users, from seasoned sportsmen to those appreciating cool aesthetics and advanced hunting features.
Let's delve into the world of tactical lever-action rifles and explore what makes these selected models stand out.
Best Tactical Lever-Action Rifles

Specifications
| | |
| --- | --- |
| SKU | H012MX |
| Caliber | .38 Special/.357 Magnum |
| Action | Lever Action |
| Capacity | 7 Rounds |
| Barrel Length | 17.4 inches |
| Weight | 7.3 lbs |
| Finish | Black with Blued Finish |
| Stock Material | Black Synthetic Stock |
| Special Features | Threaded Barrel, M-Lok, Large Loop Lever, Picatinny Rail |
| UPC | 619835200259 |
Pros & Cons
Pros
7+1 capacity
Durable black synthetic stock
Comfortable rubber recoil pad
Perfectly-sized lever loop
Ambidextrous
Henry Repeating Arms, a true household name in the lever-action business, laid the blueprint for the first Henry lever-action repeater more than 160 years ago.
Their motto is "Made in America, or Not Made at All," so you know you're dealing with a renowned brand.
They introduced the tactical Model X Series in 2020 with a modern, pistol-caliber twist on the traditional lever-action rifles.
The Henry X Model .45-70 Govt. has a longer barrel, and the Henry All-Weather .45-70 Govt. has a durable frame, but we'll focus on the Big Boy X.
The mechanism, loading gates, and tubular magazines remain unchanged from the original design. But Henry went out all tactical with a black synthetic stock with a blued finish.
It has the shortest, carbine-length barrel of 17.4 inches, a 7-round removable tube magazine, and it's chambered in the popular .357 Magnum.
The enlarged lever loop is large enough for a gloved hand, and the side loading gate allows you to top off the mag without removing the tube or suppressor. It's as tactical as it gets, and the action feels smooth if you don't rush it.
It has a comfortable recoil pad, M-LOK accessory slots, Picatinny rail on the forend, a 5/8×24 pre-threaded barrel for suppressors, and drilled and tapped fiber optic sights.
Additionally, we played with the Henry Big Boy Steel Carbine chambered in .357 Magnum – feel free to explore this comparable model!

Specifications
SKU
70497
Caliber
.30-30 Win
Action
Lever Action
Finish
Black
Special Features
Micro-Groove Rifling
UPC
Pros & Cons
Pros
Paracord-wrapped lever and paracord sling for convenience
Manageable recoil and muzzle flip
Lever loop is slightly larger than the Henry rifle
Suppressor-ready barrel
Bolt safety indicator turns red when ready to fire
Crisp trigger break
Cons
Heavy trigger pull
Short trigger reset
Heavy weight
Here's another prominent brand with more than 150 years of quality.
Marlin created the Dark Series and caused a stir by going tactical on their classic Model 336 and Model 1895 rifle lineups.
The Model 336 is a 5+1 round capacity tactical lever-action rifle available in the traditional .30-30 Winchester chambering, and the Model 1895 is in .45-70 Government. They're pretty hefty with a 7.6-pound weight.
They share the same features with an all-black finish, extended XS sights with a Picatinny optics rail, M-LOK handguard, and a 5/8"-24 TPI threaded muzzle, hammer spur, and a 16-inch barrel length with a Marlin-certified Micro-Groove rifling.
I'm unsure about the painted black metal finish on the stock and forearm instead of a waterproof polymer stock. But the stock handles recoil well, and the butt pad sits comfortably on your shoulder.
It has a paracord sling for convenient carrying, unlike many lever-action rifles.
The lever is slightly larger than the Henry rifle and is very easy to operate. The bolt safety tells you when it's ready to fire by turning red.
Some folks might not like the 5.5-pound trigger pull, but at least it has a crisp break.
Overall, it's a very rugged lever-action rifle for convenience and smooth shooting. If you're an off-the-grid hermit and want to protect your forest, look no further than the Marlin 336 Dark.

Specifications
| | |
| --- | --- |
| Manufacturer Part # | 920441613TB |
| Caliber | .44 Mag |
| Action | Lever Action |
| Capacity | 8 Rounds |
| Barrel Length | 16.5 inches |
| Weight | 6.06 lbs |
| Finish | Triple Black Cerakote |
| Stock Material | Synthetic |
| Sights | Peep, Scope Base |
| UPC | 754908232307 |
Pros & Cons
Pros
Affordable
Very lightweight (6 pounds)
Lots of variants available
Stainless steel internal parts
Largest lever loop on the list
Cons
Stiff lever
Loading gate has sharp edges
The Rossi R92 Triple Black Series has much in store as a tactical truck rifle. The Rossi R92 Triple Black is a cost-efficient pistol caliber available in the standard .357 Magnum and the .44 Magnum chamber.
It's an obvious Winchester 1892 replica that pays homage as a portable lever gun with highly durable polymer furniture and a nimble 16.5-inch barrel.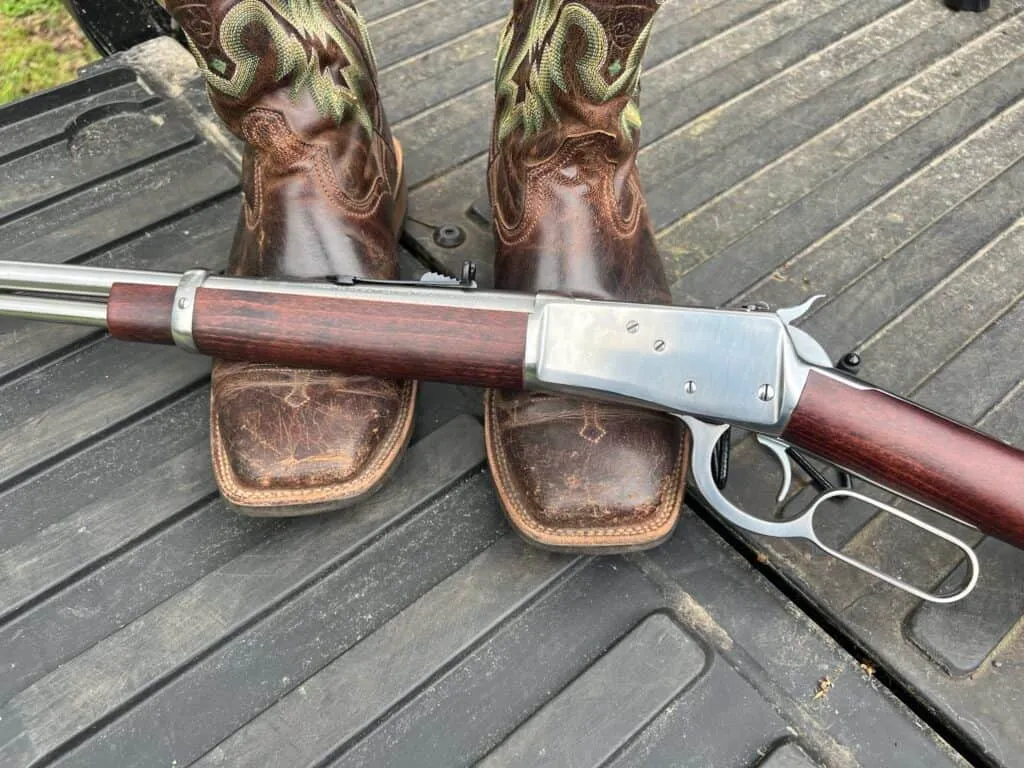 The main advantage is its oversized loop lever with leather paracord wrapping that's perfect for gloves.
Honest to its name, it's fully blacked-out with a Cerakote finish and has a forward-mounted Picatinny scope base for optics and stainless steel internal components.
The bladed front and peephole rear sights are convenient and suitable for open-sight (long-eye relief) shooting. You can also install a red dot on the weaver-type rail.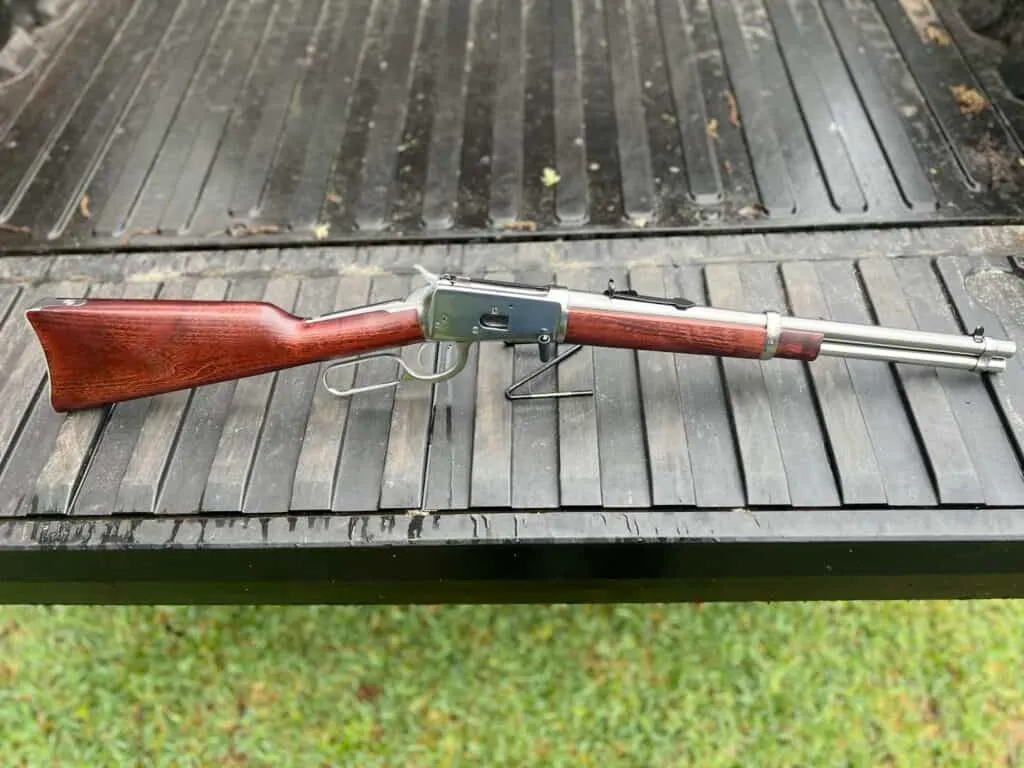 Despite its 6.5-pound weight, the recoil is surprisingly manageable with its comfy butt-pad, and you get smooth operation and accurate follow-up shots at 100 yards. The hammer serves as an alternative safety when it's half-cocked.
The downsides are the stiff lever and the sharp edges on the loading gate, which take a little practice to avoid. Still, the Rossi R92 Triple Black offers practicality and smooth maneuvering at an affordable price.
For info on the standard model, check out our Rossi R92 review.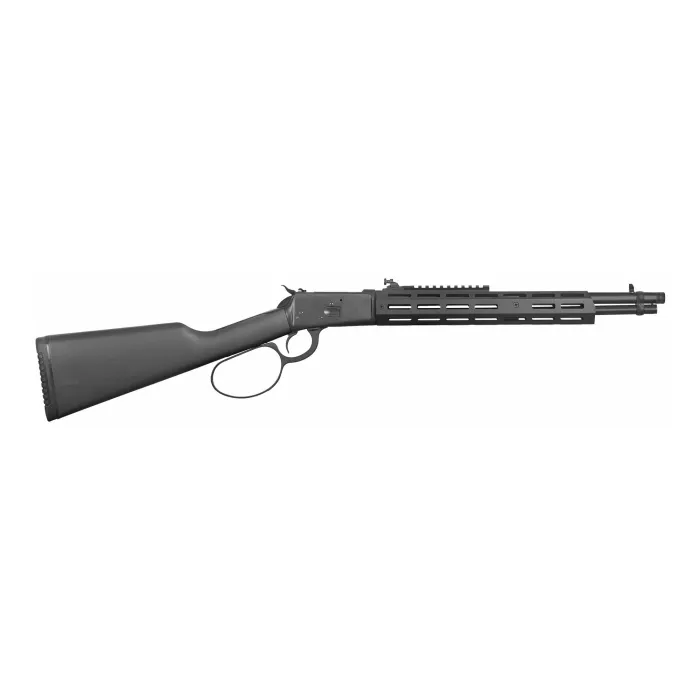 Specifications
| | |
| --- | --- |
| Manufacturer Part # | CIT357LVR |
| Caliber | .357 Mag |
| Action | Lever Action |
| Capacity | 8+1 Rounds |
| Barrel Length | 18 inches |
| Finish | Black with Blued Barrel |
| Stock Material | Synthetic |
| Special Features | M-Lok Handguard, Threaded Barrel, Picatinny Rail |
| UPC | 682146830743 |
Pros & Cons
Pros
8-round tube capacity
Oversized lever loop
Picatinny rail and M-LOK forend
Great for home defense and competition shooting
Cons
No threaded muzzle
Picatinny rail could be longer
If you're looking for a great pistol-caliber model, here's the Citadel LEVTAC-92, chambered in the .357 Magnum. Most hunters regard it as a Marlin copy as if it was a bad thing, but best believe it shoots like a breeze.
Inspired by the 1892 Model, Citadel made this one with a classic lever-action profile and a synthetic stock, an 18-inch barrel, Picatinny rail for your optics, and a modular M-LOK forend.
It's available in other calibers like the .44 Mag. and the powerful .454 Casull.
The Picatinny and skeletonized M-LOK forend attachment points allow you to install bolt-on aftermarket parts like lasers, lights, sights, and more.
The oversized lever loop can accommodate almost any hand size. But, what makes the Citadel LEVTAC-92 stand out is its 8+1 round capacity, designed for tactical home defense and competition shooting.
If you truly want a tactical lever-action package, the Citadel LEVTAC-92 could use a longer Picatinny rail and a threaded muzzle to reduce flashes.
Besides that, it's a very affordable tactical lever gun that ticks all the requirements, especially the extra mag capacity.

Specifications
| | |
| --- | --- |
| SKU | 220093 |
| Caliber | .44 Magnum |
| Action | Lever Action |
| Capacity | 7 Rounds |
| Barrel Length | 16 inches |
| Weight | 5.9 lbs |
| Finish | Black |
| Stock Material | Wood with Rubber Overmold |
| Special Features | Skinner Express Sights, Drilled and Tapped for Optics |
| UPC | 839665000540 |
Pros & Cons
Pros
Weather-resistant finish
Lightweight (6.5 pounds average)
10-round capacity model available
Oversized lever
Cons
Difficult to find
Expensive
The Alaskan Takedown tactical lever-action rifle is a great choice if you have extra cash to spare and don't mind skipping aftermarket upgrades.
Brought by Taylor's & Company and made by Chiappa standards, the Model 1892 Alaskan Takedown .44 Magnum has a 7+1 round capacity and a short 16-inch barrel.
I failed to find a tactical lever gun with a takedown feature, so this one is really special if you're looking for a portable survival rifle. You can separate the gun in two halves, place it in your backpack, and off you go.
This portable survival rifle is lightweight at a mere 6.5 pounds, has Skinner Express rear iron sights and a fiber-optic front sight, and the oversized lever is also a nice touch.
It's tuned for the Hornady Lever evolution ammunition, so expect moderate recoil and reliable cycling. Pair it with a .44 Magnum revolver, and you have a lucky number.
The flat-top octagonal barrel is made of carbon steel with black oxide and a weather-resistant finish, and the forward-mounted rail is drilled and tapped for "Scout Mount" optics.
The black hardwood frame (both stock and forend) has a heat-resistant rubber over-molding with a comfy anti-shock rubber pad on the buttstock.
The Model 1892 Alaskan Takedown is exclusive and can only be found via Taylor's & Co. in Virginia. Good luck finding one in stock.
Honorable Mentions
Here are some honorable mentions that this list can't go without. Some are classics and not exactly tactical, but they make the cut.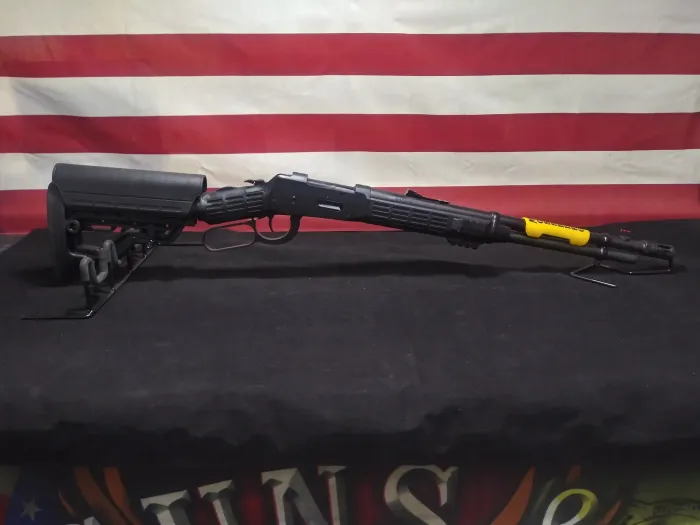 Specifications
| | |
| --- | --- |
| SKU | 41026 |
| Caliber | .30-30 Win |
| Action | Lever Action |
| Capacity | 6 Rounds |
| Barrel Length | 16 inches |
| Weight | 7 lbs |
| Finish | Black |
| Stock Material | Synthetic (6 Position Adjustable) |
| Special Features | 3-Dot Fiber Optic Sights, Drilled and Tapped for Weaver-Style Base |
| UPC | 015813410267 |
Pros & Cons
Pros
Mossberg quality
Lever-action rifle with an AR-style
Diamond-pattern grips
6-position adjustable stock
.22 LR rimfire cartridge model available
Smooth lever action
Limited Mossberg warranty
Cons
Heavy (7.3 pounds)
Safety is a bit awkward to disengage
Here's Mossberg's take on the tactical lever action, and man, it rubs elitists the wrong way.
The Mossberg 464 SPX was introduced back in 2012. It's chambered in the .30-30 Winchester caliber, and it offers a portable, AR-style feel with its 6-position adjustable stock that's compatible with AR-15 stocks, believe it or not.
It has a 6-round tubular magazine capacity, all-polymer furniture with a thick rubber pad, fiber-optic sights, and Picatinny Picatinny accessory rails on the fore-end. The forend is checkered with a diamond pattern for a comfy and secure grip.
The walnut stock and 16-inch barrel with a blued finish add up to a 7.3-pound weight and are threaded for an AR-style birdcage flash muzzle suppressor.
The sights are adjustable on the drilled and tapped receiver, suitable for a Weaver-style base. The receiver is precision-machined and has a top tang safety hammer block.
While the trigger pull was decent with a crisp break, you need to position your hand properly because the lever sometimes fails to depress far enough if you want to disengage the safety.
Besides that, the Mossberg 464 SPX is a marriage between a Western classic and an AR-15 frame, much to the dismay of lever-action purists. It weighs 7 pounds but feels alright.

Specifications
| | |
| --- | --- |
| SKU | GAG_034015126 |
| Caliber | .30-06 |
| Action | Lever Action |
| Capacity | 4 Rounds |
| Barrel Length | 22 inches |
| Finish | Satin-Nickel Receiver, Matte Stainless Barrel |
| Stock Material | Laminated Gray Hardwood |
| Special Features | TRUGLO/Marbles Fiber-Optic Front Sight, Takedown Feature |
| UPC | 023614259688 |
Pros & Cons
Pros
Reliable Browning quality
Portable 20-inch barrel package
Fast takedown lever-action rifle
Multiple calibers and models available
Cons
Not exactly a tactical choice
Doesn't have an M-LOK rail
A bit expensive
Last, here's a Browning lever-action rifle in all its glory.
The BLR Lightweight '81 Stainless Takedown lever-action rifle is not exactly tactical, but it has a flush-mounted detachable box magazine, which is a rarity on lever-action rifles.
Browning designed it to be a portable powerhouse with a superfast takedown and easy backpack storage. Simply flip the lever, twist the barrel and receiver to a 90-degree turn, and take it apart. Reassemble it in the reverse order.
It has a satin finish on a laminated hardwood stock, a nickel-finished, aircraft-grade alloy receiver, and a matte finish on a stainless 20-inch barrel.
The barrel is drilled and tapped for a forward-mounted scout-style optic base that guarantees not to lose its zero. The notched rear sights are low-profile.
The checkered grips and forearm offer decent handling, and the barrel's target-type crown makes sure you shoot your 30-06 Spr. caliber straight.
While it's a piece of high-quality precision machinery with a heat-treated, chrome-moly steel barrel, this Browning BLR model is not exactly cheap. Somebody might be interested in a classic setup without the tactical frames.
With a 13.75-inch LOP (overall length of pull), Truglo fiber-optic sights, and very smooth lever action, the BLR Lightweight '81 offers a 30-06 Springfield-caliber shooting experience for the ultimate hunter.
Buyer's Guide for the Best Tactical Lever-Action Rifles
First off, hats off to you if you're considering this classic American rifle with a modern twist. Most people would dismiss any traditional firearm with a skeleton rail. I say they're just too quick to judge.
Before we go through the main criteria of picking your tactical lever-action rifle, there are some important issues to consider with the lever-action rifle as a home defense firearm, for plinking, or hunting.
Why Choose Tactical Lever-Action Rifles?
Lever-action rifles remain viable for several reasons, with their unique, practical operation being the primary factor.
Unlike many collector's items, these rifles have seen a resurgence due to nostalgia and their efficient design. The manually operated cocking handle of a lever-action rifle is particularly noteworthy.
It performs multiple functions with each action: moving the bolt, feeding and extracting cartridges, and cocking the firing pin. This multifunctional mechanism contributes to lever-action rifles' enduring appeal and tactical utility.
The Advantages and Disadvantages of a Tactical Lever-action Rifle
Some would say that lever-action rifles aren't built for home defense applications like tactical shotguns are. Though I agree with that sentiment, they're still a cost-effective alternative for pistol-caliber hunting. First off, they're:
Faster than most bolt guns;
Retain accuracy up to 125 yards;
Have a manageable recoil;
Easy to carry;
Lightning-fast follow-up shots with a hunting caliber;
Easy to unjam the cartridge if there's a malfunction.
Of course, no perfect, jack-of-all-trades tactical rifle can do it all. These rifles I rounded up can be the closest for multiple purposes like home defense, hunting, or competition shooting in the pistol-caliber platform.
The downsides are that they're difficult to find, require a decent amount of practice, have limited ammo choices, and aren't powerful enough for, let's say bears.
Now that that's out of the way, here are the main criteria for picking the best tactical lever-action rifle for you.
Picking a Caliber
Guess what? A .357 Magnum bullet coming out of a 16-inch barrel is nearing standard rifle ballistics with sharp accuracy around the 100-yard range, despite what you might hear from misinformed gun bros.
Choose your caliber before you choose your lever-action rifle.
The standard 30-30 Winchester, 45-70 Government are expensive cartridges but are most suited for hunting deer and elk, while the .44 Magnum, .38 Special, .45 Colt, or the .357 Magnum are defense rounds and usually cheaper.
The good news is that lever-action rifles are accurate up to 125 yards, so you won't have to worry about that.
Simply put, think long and hard about the purpose of your lever-action rifle, and choose a caliber that won't bankrupt you.
Portability, Flexibility, and Aftermarket Support
In the realm of firearms, tactical lever-action rifles stand out for their blend of traditional design and modern adaptability. These rifles offer an impressive combination of portability, flexibility, and robust aftermarket support, making them an excellent choice for various shooting needs.
Portability
One of the most appealing aspects of tactical lever-action rifles is their portability. Often lighter and more compact than their semi-automatic counterparts, these rifles are ideal for on-the-go situations.
Whether navigating through dense forests during a hunt or needing a reliable firearm that fits easily in your vehicle, a lever-action rifle is an excellent choice. Its size and weight make it a convenient option without sacrificing performance.
Flexibility
Tactical lever-action rifles are celebrated for their flexibility. They can be used for various activities, from hunting and sport shooting to self-defense. This versatility is further enhanced by their compatibility with various types of ammunition, allowing shooters to use the same rifle in different scenarios.
Additionally, the lever-action mechanism is known for its reliability under various environmental conditions, ensuring consistent performance in a humid forest or a dry, dusty plain.
Aftermarket Support
The popularity of lever-action rifles has led to robust aftermarket support. Manufacturers and third-party companies offer various accessories and upgrades, allowing you to customize your rifle to your specific needs. From advanced sighting systems to ergonomic stocks, the possibilities for personalization are extensive.
Moreover, modern lever-action rifles often come equipped with features like Picatinny rails, making them ready for immediate customization with optics, lights, or other tactical accessories.
Ideal for Various Users
Whether you're a seasoned shooter or a beginner, tactical lever-action rifles cater to a wide audience. Their ease of use and ability to customize make them suitable for a range of users.
The simplicity of the lever-action mechanism also makes it an excellent choice for those who prefer a more hands-on, mechanical feel in their shooting experience, as opposed to the more automated nature of modern firearms.
Aesthetics
Tactical lever-action rifles aren't aesthetically pleasing for most, But hey, you can always pick a classic Winchester 1895 and a modern Henry X and get the best of both worlds.
Most manufacturers are scrambling to appeal to everyone by trying out engravings on American walnuts and keeping a classic cowboy image on modern, tactical rifles. I think that's silly.
If it shoots, it shoots.
Look for synthetic stocks that are lightweight and can still manage recoil. If you want fancy engraving on your walnut stock, go nuts.
Conclusion
Tactical lever-action rifles ought to be regarded as dated by now. But no, they're still an iconic firearm type that keeps on thriving in today's modern gun world.
This new mechanism had a massive influence on firearms that brought food to the table and revolutionized warfare. Soldiers in the 19th century had to reload their one-shot muskets every time, and this was a massive step forward in firearms ingenuity.
They effortlessly contrasted bolt-action repeaters at the time, and the name 'lever gun' stuck for obvious reasons. Nowadays, we see the word 'tactical' thrown about in the gun world.
Combine that with the resurgence of lever-action rifles in the past ten years, and it's no wonder we see all these brilliant designs that offer us the traditional feel with a more modern, modular approach.
What makes lever-action rifles 'tactical' is not just their moddable frame with Picatinny and M-LOK slots. They're supposed to be as flexible, portable, and practical as possible.
If you're looking for something straight to the point, I suggest you take a look at the Henry X models or the Marlin Dark series. These are the ideal tactical lever guns, and there's a little something for everyone there.
Whether it's hunting, competition shooting, or self-defense, you can find quality tactical lever-action rifles on the market that offer you a distinct shooting experience.
Stay safe, shoot straight.
Explore more