Bond Arms Roughneck Review [2023]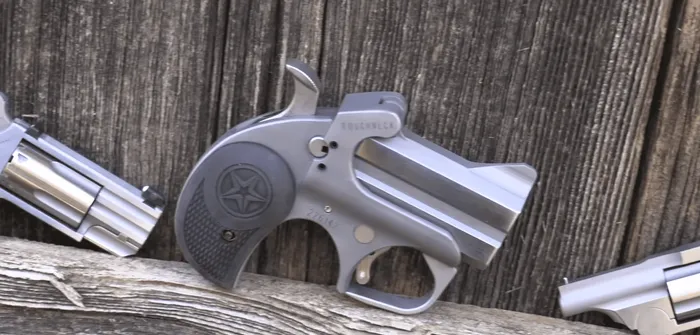 Bond Arms Roughneck Review [2023]
I know what you're thinking; "Only two bullets? Why?" 
You'd be surprised to see how many firearms fanatics would like to get their hands on a Bond Arms handgun.
Bond Arms products are very easy to spot. You'd recognize one in a second. They're very flexible, fun to shoot, and have a novelty value, at least for handgun collectors.
It's pretty obvious that they're backup handguns, and Bond Arms are well-known for their high-price pistols. But, not this time.
Today I'm doing a Bond Arms Roughneck review because I wanted to see if it's actually a viable self-defense option. In short, the Roughneck is a very cost-effective 2-shot pistol at a low price and even lower recoil, available in multiple calibers.
I'll cover all the details about this pistol with interchangeable barrels, talk about its main characteristics and features, pros & cons, where it excels at, where it flops, and mention some other alternative handguns with a similar stature and function.
Bond Arm's Idea Behind the Roughneck
Bond Arms is a very interesting and unique handgun brand that focuses their production on Derringer handguns.
Derringer-type pistols are built for concealment and ease of use, and these handguns have interchangeable barrels that can be quickly switched to different calibers.
For those of you who don't know, the handgun is based on the Philadelphia Deringer, a mid-19th century pistol that was invented by the great gunsmith, Henry Deringer.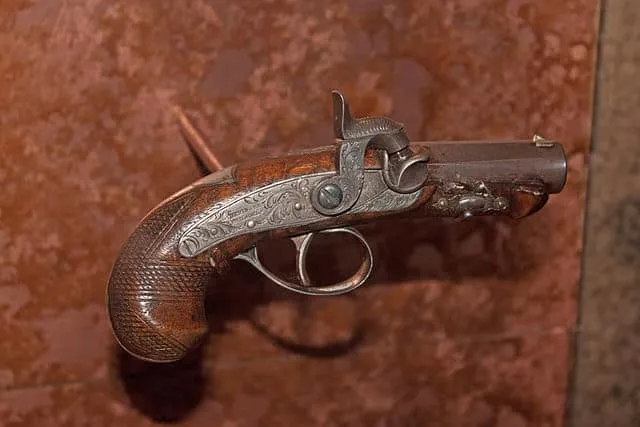 The thing is, Deringer never patented his design. A lot of counterfeits and copies of the handgun promptly began popping up throughout the Wild West era, some of which were falsely branded as 'Derringers' (notice the second "R"). The unfortunate gunsmith legally fought all kinds of infringements all his life.
Today, these handguns are known as Derringers, and it's a timeless, exemplary lesson in trademark law and highlights the importance of patenting your own design.
It's Not a Revolver nor a Semi-Automatic Handgun
Now, Bond Arms, founded in 1995, is one of the manufacturers that make the best Derringer-type handguns.
Derringer-type handguns are not exactly snub-nosed revolvers nor are they semi-auto handguns, and they're definitely not pocket revolvers. I guess they could be defined as multi-shot handguns with a pepperbox configuration.
Bond Arms is focused on this seemingly niche handgun market, and considering all the other giant handgun brands on the market today, their firearm business somehow holds up well enough. Their consistency, use of high-quality stainless steel parts, and attention to detail can be seen with their versatile budget model, the Bond Arms Roughneck.
Other Bond Arms Derringers
Additionally, the Bond Arms Mama Bear and Snake Slayer are also great handguns chambered in the .357 Magnum/.38 Special and the .45 Long Colt/.410 barrels respectively. They pack quite the punch.
Then there's also the Bond Arms Rowdy that's built for higher calibers like the .45 (Long) Colt, but it's the same budget category as the Roughneck. The Rowdy and Rough are named as such because they're deburred with bead blasting, but they have the same good old stainless steel construction with impeccable reliability and attention to detail.
However, with the Roughneck, Bond Arms went for a low-cost revolver to cater to those who like to cop a quick feel of a Bond Derringer, which otherwise can be very expensive.
Let's check it out.
Bond Arms Roughneck Review
The Texas-made Bond Arms Roughneck is one of the newest models in the Bond Arms family. I personally think that it's one of the most versatile pieces Bond Arms has made, not to mention the attractive price.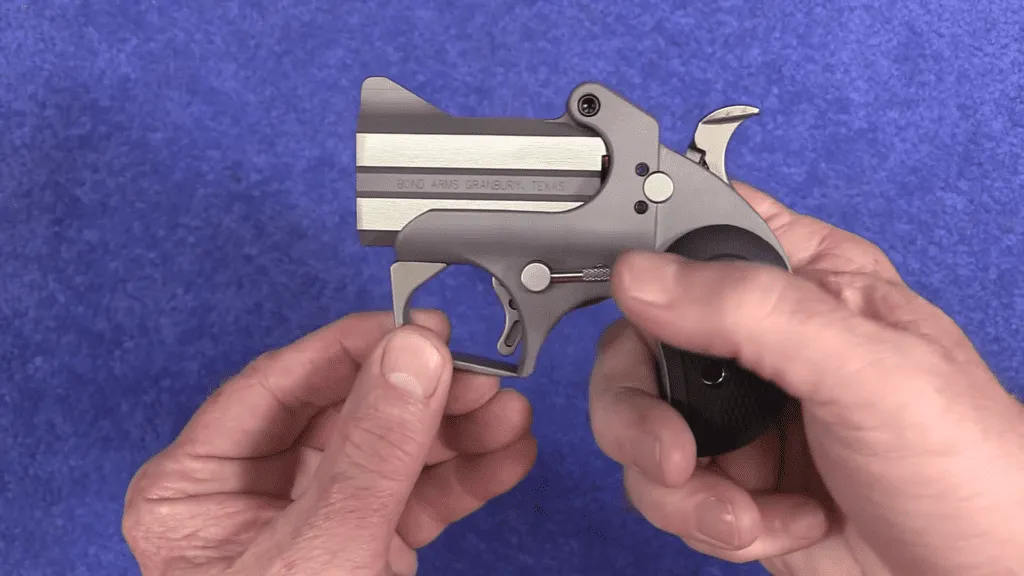 It's a Derringer that can be chambered in the 9mm, .357 Magnum/.38 Special, and .45 ACP caliber, and it's still made of the same material as their high-end products!
This Derringer is Bond Arms' answer to "What about budget handguns?", while also catering to those who'd like to get their hands on a collector's item—it certainly looks the part. You ought to believe it retains its Bond Arms quality construction as well.
The Roughneck was built for close range and definitely not for the shooting galleries. What's quirky about this two-rounder is that the 2.5-inch barrel can be easily removed with a hex key and replaced with another barrel of your choice. It's the main shtick of a Bond Arms Derringer.
Specifications and Features of the Bond Arms Roughneck
| | |
| --- | --- |
| Model | Roughneck |
| Caliber | .357 Magnum/.38 Special, .380, .45 ACP |
| Type | Centerfire |
| Action | Single-action Derringer |
| Safety | Cross-bolt safety; spring-loaded, cammed locking lever |
| Trigger Pull | 6.5 pounds |
| Capacity | 2 rounds |
| Barrel Length | 2.5 inches |
| Overall Length | 4.5 inches |
| Overall Height | 4 inches |
| Overall Width | 1.5 inches |
| Weight | 19 ounces |
| Grip Material | Rubber |
| Front Sight | Bladed iron sights |
| Rear Sight | Fixed iron sights |
| Frame | Stainless steel |
| Accessories | Replacement barrels in different calibers |
| Finish | Matte stainless finish |
Design, Grips, and Ergonomics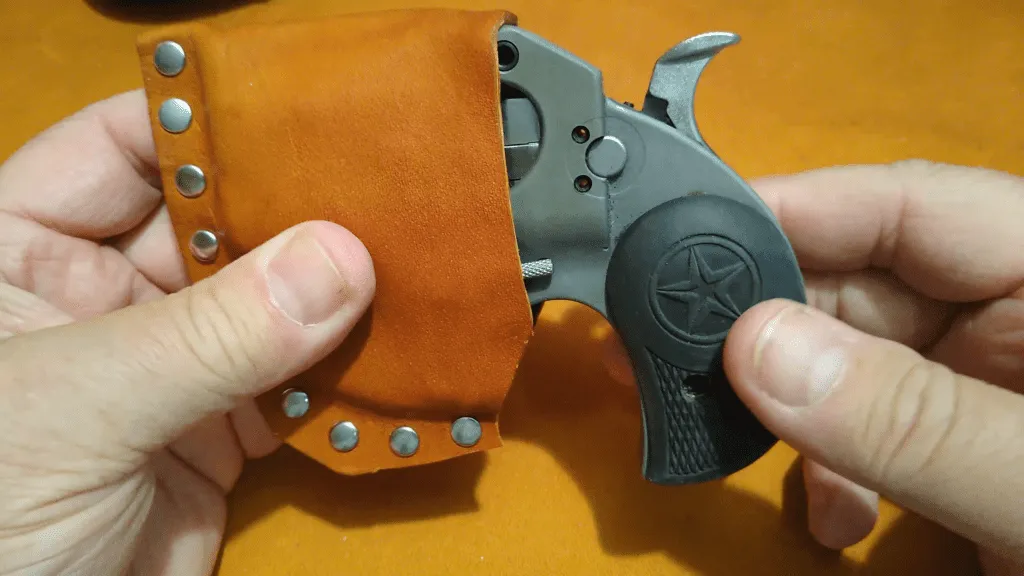 There's no way of properly gripping a Derringer in the palm of your hands. They don't have sharp edges, but they're just not built for ergonomics.
This is a small pistol with oddball mechanisms, and you pretty much have to balance palm control while retaining decent shot placement. If you have large hands, you'll see what I mean.
The basic finish is pretty, and the stainless-steel construction is with impeccable quality and craftsmanship, despite being compared to the higher end of Bond Arms pistols.
The rubber grip size feels just right, but the rubber annoyingly sticks to clothing, considering it's a handgun similar to pocket pistols for the purpose.
What I absolutely love about Bond guns is that they all have interchangeable grips. This opens up a window of aftermarket opportunities. You can find all kinds of grips on their online shop, and they're pretty easy to replace.
You can check out some cool shoulder holster options, or ankle holsters for the Roughneck if you're interested.
Interchangeable Barrels
As we already mentioned, other than grips, Bond Arms Derringers also have interchangeable barrels. You can find all kinds of barrels that can be quickly exchanged with a hex key.
However, "quickly" is relative, considering how you need a hex key to unscrew the hinges of the pistol. Still, it's a very interesting process to just switch barrels easily.
After unlocking the opening latch, you can swing the barrel downward in the frame, as opposed to the regular sideways swinging on standard revolvers. Remember to keep your thumb away from the barrel-locking mechanism and keep it locked; otherwise, you'll meet the barrel of your own gun after one shot.
Reminds me of Zippo lighters. Don't light cigars with it, though!
All Kinds of Barrel Sizes With All Kinds of Calibers
For the Roughneck, you can get 9mm Luger, .38 Special, .357 Magnum, .45 Long Colt, or .45 ACP barrels, and combine them with different calibers. You can use lighter loads for practice and quickly switch between calibers. It's up to you to decide which one to go for.
You can find lots of barrel lengths; from 2.5 to 6-inch ones, and the barrels are interchangeable with every other Bond Arms over/under Derringer-style pistols. I went for the .357 Magnum/.38 Special caliber for the 3-inch barrel size because of the snappy recoil.
Note that the barrels are sold separately and the caliber depends on the length of the barrel. Additionally, their website says that the .40SW, 9mm, 10mm, .45ACP, .380ACP, .45 GAP calibers don't have round extractors, so keep this in mind as well.
Shooting, Recoil, Reliability, and Accuracy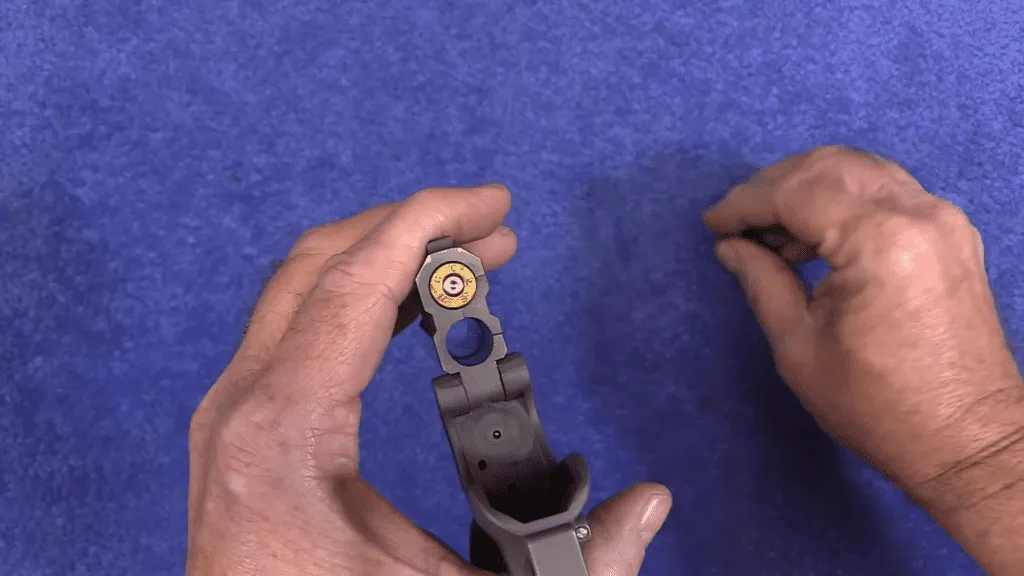 The Roughneck .38 Special/.357 Magnum feels like a breeze to shoot, though it's best suited for short-range at around seven yards. I believe that the .38 Special exceeds the .357 at higher ranges, though this might be just me.
The front blade and fixed rear length sights don't exactly help at long ranges. Keep in mind that it's a short-range gun with two rounds, and it's practically built to solve home defense problems in an instant.
I was surprised to see how the recoil was surprisingly low for a gun of this size and caliber. Sure, you can expect blasts and wrist punishing from .45 ACP rounds, but man does it take the shock.
The snappy recoil was easily mitigated by the stainless steel frame and medium-soft rubber grips. A truly well-designed piece.
Trigger and Trigger Guard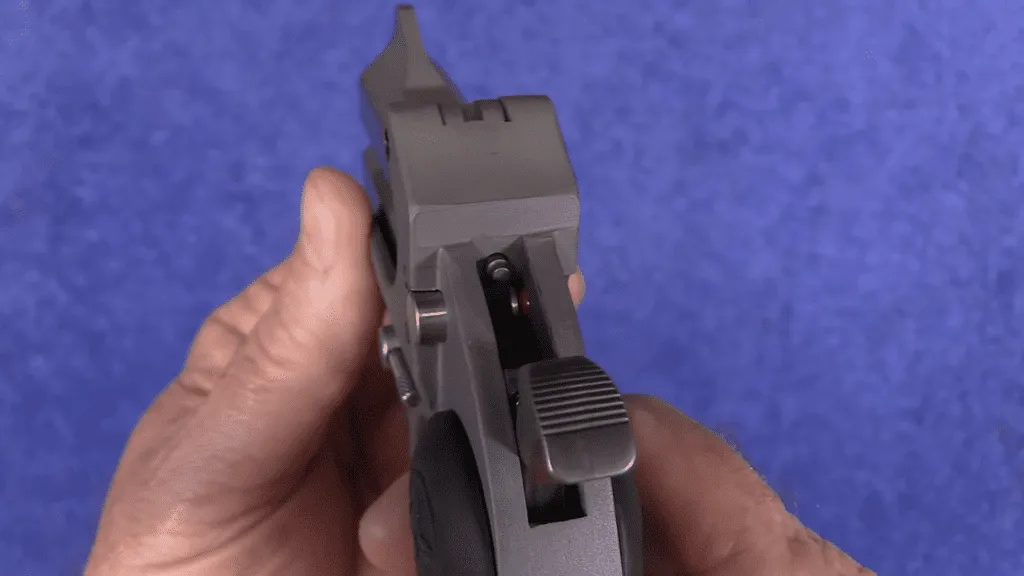 The 6.5-pound trigger pull is a bit heavier than a Kimber K6S revolver, but there's really no way of knowing exactly how much it softens up throughout a couple of hundred rounds and years of use.
It takes up some overtravel, but it has just two separate pulls that you'll definitely feel. I like how easy it is to screw/unscrew the removable trigger guard.
That being said, I prefer to have more control with the trigger guard because you never know what will happen with the .45 ACP caliber models with heavier recoil.
You can also take off the trigger guard if you want to have more speed with drawing and holstering.
Safeties
Bond Arms are known for multiple safeties that are actually NOT annoying and reasonable. The push-button, spring-loaded crossbolt safety with a rebounding hammer makes the Roughneck drop-safe and even safer for pocket or holster carry.
The cross-bolt safety is located behind the barrel, though manipulating with your thumb or forefinger can be tricky if you want to do it fast.
You need to cock the rebounding hammer before you pull the trigger, and keep in mind that cocking changes the location of the firing pin every time the hammer is pulled.
The rotating mechanism keeps the barrel locked in place, and it can be unlocked when pressing down the metal lever on the left side. This is how you open the flippy barrel as well and expect an audible and satisfying 'click' when you lock it back down.
Pros & Cons of the Bond Arms Roughneck
Pros
Interchangeable barrels offer a multitude of calibers
Cost-effective
Very reliable
Decent safeties
Novelty item
Surprisingly low recoil for a gun of this size
Cons
Very heavy in comparison to other similarly sized pistols
Only effective at close ranges, and not for shooting ranges
Awkward for larger hands
FAQs
Here are some frequently asked questions about the Bond Arms Roughneck.
Is the Bond Arms Roughneck a Good Self-Defense Handgun?
The Bond Arms Roughneck is a good self-defense handgun, but only if you can make the most out of only two shots. The two-round capacity isn't exactly "flexible", and it isn't that good at long ranges either.
I would recommend another handgun as a main conceal carry. The Roughneck is a great backup handgun for your main CCW, though, that's for sure.
Are Bond Arms Grips Interchangeable?
Yes, literally every Bond Arms handgun model has the same frame, so all the grips of the handguns are interchangeable. This is one of the biggest advantages of Bond Arms Handguns.
Are the Standard Bond Arms Barrels Interchangeable?
Also, yes. Bond Arms pistols have interchangeable barrels. The barrels rest on screws that can be easily unhinged with a hex key and replaced with another barrel of your choice.
Is the Bond Arms Roughneck Safe?
The Bond Arms Roughneck is absolutely safe in your pocket as a daily carry when compared to the old Derringer-type of handguns of the past.
Thanks to the patented rebounding hammer, retractable pins, and a cross-bolt safety mechanism that you can press to the right to disengage and lock the gun out to make it inoperable.
What's the Difference Between the Bond Arms Roughneck and Rowdy?
Basically, the difference between the Roughneck and Rowdy is the barrel length, weight, and how the Rowdy is chambered in a higher caliber like the .45 ACP/.410.
What Do the Others Have to Say?
Here are some interesting testimonials and review snippets from customers that bought the Roughneck.
Alternatives to the Bond Arms Roughneck
If you feel that the Bond Arms Roughneck isn't your type of thing, check out these alternative handguns.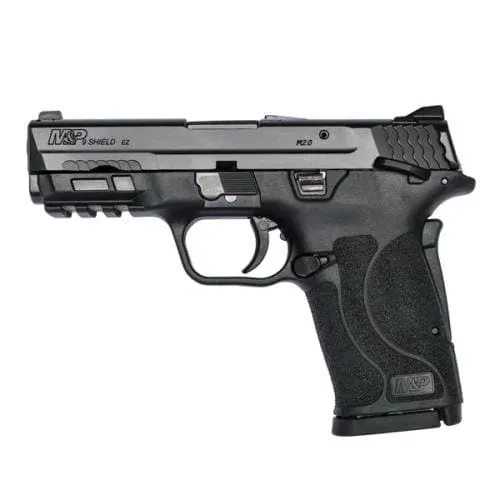 If you're looking for a regular old 9mm self-defense concealed carry, you can't go wrong with the S&W M&P EZ. The EZ means to emphasize how easy it is to rack the slide and shoot, and you have the Smith & Wesson reliability guarantee to boot.
I've always been pleased with the EZ's accuracy, especially if it's a 9mm semi-auto with a 3.6-inch barrel length. The safeties just work like a charm and are very comfortable, while the 8-round capacity and smooth cycling make it a great choice for range shooting.
The Roughneck might be a cheaper alternative, but you can always go for the EZ as a main self-defense handgun and the Roughneck as a backup from under your sleeves.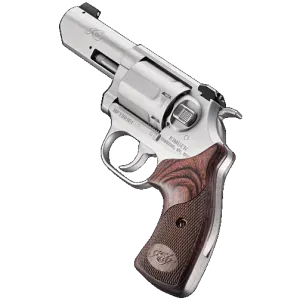 In contrast to the low price of the Roughneck, here's a premium option if you have more dollars to spare. The Kimber K6S is an outstanding piece of machinery with a snag-free design and a ton of aftermarket grips and customization options.
It offers excellent stopping power with the .38 Special caliber, and you can find it in multiple barrel lengths like 2, 3, and 4 inches.
Though, I would recommend you stick to the 3-inch barrel model for a well-rounded recoil and steer clear of the .357 Magnums for this relatively small revolver.
The trigger pull is pretty gritty, the gun feels heavier than your regular one, but best believe it's viable for concealed carry thanks to the non-exposed hammer and removable front and rear dovetail sights.
The Kimber K6S has one of the most comfortable grips and ergonomics, and anyone with big or small hands can use it with no problems.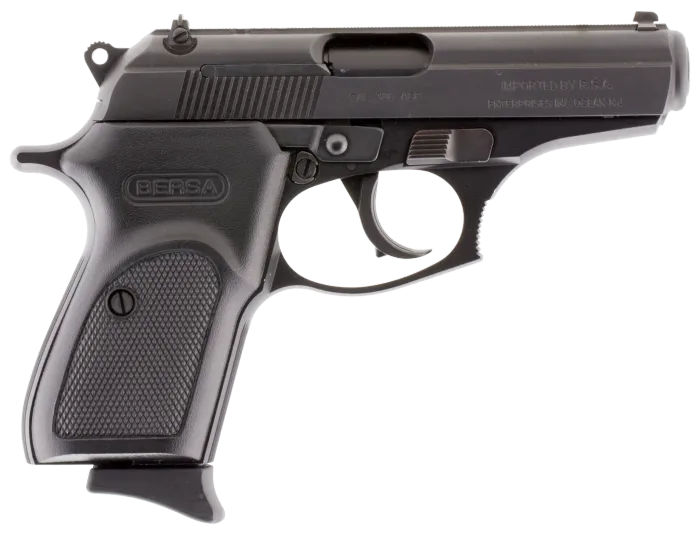 Here's a decent and very viable handgun for self-defense that gets the job done for a low price. The Bersa Thunder, chambered in the .380 ACP offers great value, manageable recoil, and decent reliability.
If you don't have any troubles with DA/SA triggers, this handgun has your back. There's a model with a 15-round capacity, which makes it a solid choice for the ranges. The Thunder has great accuracy around the 50-100 yard mark, not to mention the solid ergonomics for small to mid-sized hands.
I'm not much of a fan of the integral sights because they don't allow any aftermarket customizations; I would put much better standard sights on it. However, the Bersa Thunder is a definite contender to the Roughneck given its flexibility in terms of usage.
Check out our review of the Bersa Thunder .380.
Conclusion – The Roughneck is a Collector's Backup for your Self-Defense Handgun
Let's be real here. I'm positive that a two-rounder has two purposes; a warning shot and… the other one. The Roughneck truly delivers when it comes to that department, and the interchangeable barrels offer multiple calibers—from medium 9mm bores to hand cannon calibers like the .45 ACP.
Other than that, I wouldn't recommend this as your main self-defense conceal carry. Besides the decent trigger pull and essential safeties, it's bulky, doesn't reload fast, has a snappy recoil, and it's an actual two-rounder that only works best at close range.
If you're going for a revolver for self-defense, I'd recommend you the regular Ruger LCR, chambered in the .38 Special with 5 rounds, 13 ounces, and a lightweight stature that's great for concealed carry purposes.
Still, the Bond Arms Roughneck is a fine example of the company's reputation in machining reliable, high-quality weaponry for a fair price, and who knows what kind of cowboy antics they'll come up with in the future.
This quirky little single-action Derringer-type handgun is definitely worth checking out if you want a backup handgun for your collection that broadens your handgun type horizons.
Explore more