Browning Hi-Power Review & Photos [2023]
Browning Hi-Power Review & Photos [2023]
Today, I have the honor of reviewing the Browning Hi-Power, also known as the FN High Power, as seen by the newest iteration.
It's a highly revered military pistol that's been adopted by over 50 countries around the world and has seen much action in many wars since its inception in 1935. But, what we're looking at is more than just an iconic handgun.
The Browning Hi-Power is an oldie with massive prominence and very interesting history, only slightly overshadowed by Browning's 1911, chambered in the .45 ACP.
What makes it so special is that it's basically the first-ever "Wonder Nine," which inspired countless designs to simplify handling, disassembly, and greatly improve auto-loading pistols.
In this Browning Hi-Power review, we'll check out the Hi-Power in all its splendor, and we'll discuss the specs and how it performs. I've had the chance to find and shoot the standard version, which stays true to the classic design.
I found a very cool, standard version that has gone through without many changes besides the necessary improvements of a modern handgun. I still haven't got my hands on the FN High Power yet, the newest 2022 model, because I think it is a bit overpriced.
Before we get into the details, there are a couple of things you should know. However, if you're not interested in how the Browning Hi-Power came to be, skip to the overview, where we go over all the specifications and more.
Browning's Idea Behind the Hi-Power Pistol
One fine day in 1921 after the First World War, the French Army came knocking on Browning's door with a military request.
The Frenchies were impressed by Browning's famous contribution to firearms (we're talking about the almighty M1911 in the 9mm chamber) and were in need of a new Grand Rendement (French for "high yield") sidearm in the European 9mm chamber instead of the .40 S&W.
What was requested was a compact firearm that is easier to handle, holds more than 10 rounds, has a mag disconnect, an external hammer, easy-to-reach safeties, an easier disassembly method with a removable slide, and a lethal range of 50 meters.
Quite a tall order for those times, right? Well, it had to be from the ground up, too.
A similar, tried-and-true handgun design was out of the question. Browning sold the 1911 rights and patents to Colt, and he couldn't just use left-over features from the 1911.
I assume this wasn't a problem because, like the prominent engineer that Browning was, he gladly wanted to try out something with a similar performance yet a different feel.
Browning upheld this somewhat reasonable request and got to work on this exciting new prototype with the Belgian firearm factories along his side.
If you're close to Ogden, Utah, please visit the Browning Museum, where the prototype is proudly on display.
The Joined Forces of Browning and the Belgian FN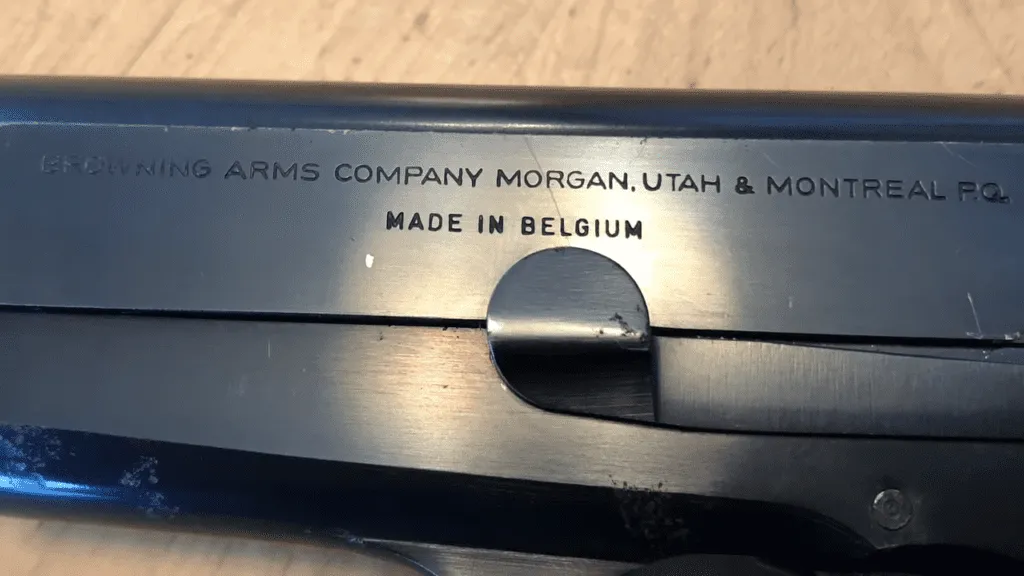 The blueprinting and design process began in the early 1920s, and it was a joint effort between Browning and the Belgian firearms manufacturer FN (Fabrique Nationale).
Tragedy struck as John Browning died of a heart attack at an FN factory in 1926 and didn't live to see the finalized product. So, the French were left with a mammoth undertaking of finishing the rest of the Hi-Power pistol.
Namely, Dieudonné Saive, an FN firearms designer, managed to properly predict the mechanism and engineering details for the double-column magazine, which fed to a single feed point.
This was basically the Belgians scrambling with a leftover pistol design to impress the French Army. There must have been a lot of think tank groups, refining, experimenting, and redefining, I'd say.
The P-35
What they came up with is the P-35, the first and most popular name for the Hi-Power, finalized in 1935 and formally adopted by the Belgian and French military.
It was the first 9mm single-action, hammer-fired, semi-automatic pistol with a double-stack magazine. This set an absolute standard in military pistols that's not a 1911, and later for the Wonder Nines of the 90s.
Amidst the complete pandemonium of WWII, Axis-captured factories, and abandoned territories, multiple off-shoot designs were created both by Axis & Allied forces.
After that, it's all pistols with Frankenstein parts and features which were stolen from models that were inspired by the FN pistol, which was supposed to be made for the French Army. Obviously, that all started from a design that Browning left off since he couldn't use Colt parts because of the already sold patents.
War is hell, but the Devil's in legal obligations.
FN's Discontinuation and Later Change of Heart
For those of you out of the loop or those confused by this second historical return, here's what happened.
Having been around for more than 85 years, the Hi-Power has seen lots of remodeling, upgrading, name changes, and remakes, as it is for lots of "timeless" firearms.
This line of handguns had lots of different models like the Mark I, II, and III. In 2000, Browning Arms discontinued the line in 2000, but they re-added the Mark III, Standard, and Practical Hi-Power, and only the Mark III and Standard models remained in production.
The thing is, FN America—the main manufacturer, not to be confused with the designer and importer, Browning Arms or FN Herstal—finally ceased production in 2018.
This, in turn, spiked the markets with other manufacturers that began producing similar clones, like Springfield Armory's SA-35, which doesn't stray from the original design, and the Turkish EAA Girsan MCP35, which is the cheapest option of all.
Seeing that people are still interested in the Hi-Power, FN reversed its decision and reintroduced the newest remodel, the FN High Power, in January 2022 to compete with the clones.
Most of the clones had different sights, hammer redesigns, various beveling, improved triggers, etc. But, the FN High Power is the real deal, and its second coming marks a historical return.
Think of it as a slightly modernized version that offers a whopping 17-round capacity, incorporates a fully ambidextrous slide lock, larger ejection port, reversible mag release, multiple finishes, and has an even simpler disassembly.
Browning Hi-Power Review
Specifications
| | |
| --- | --- |
| Manufacturer | Browning; FN Herstal |
| Model | Hi-Power |
| Caliber | 9mm |
| Magazine Types | Double stack |
| Type | Pistol |
| Action | Semi-automatic; Single-action; Hammer-fired |
| Capacity | 13+1 |
| Trigger Pull | ~7.5 |
| Safety | Ambidextrous manual thumb safety |
| Barrel Length | 4.6 inches |
| Overall Length | 7.75 inches |
| Overall Height | 5 inches |
| Overall Width | 1.4 inches |
| Weight | 32 ounces |
| Grips | Grade I Walnut |
| Sights | Adjustable white dot; Fixed white dot |
| Construction | Steel |
| Finishes | Silver Chrome |
| Accessories | Extra 13+1 magazine |
Aesthetics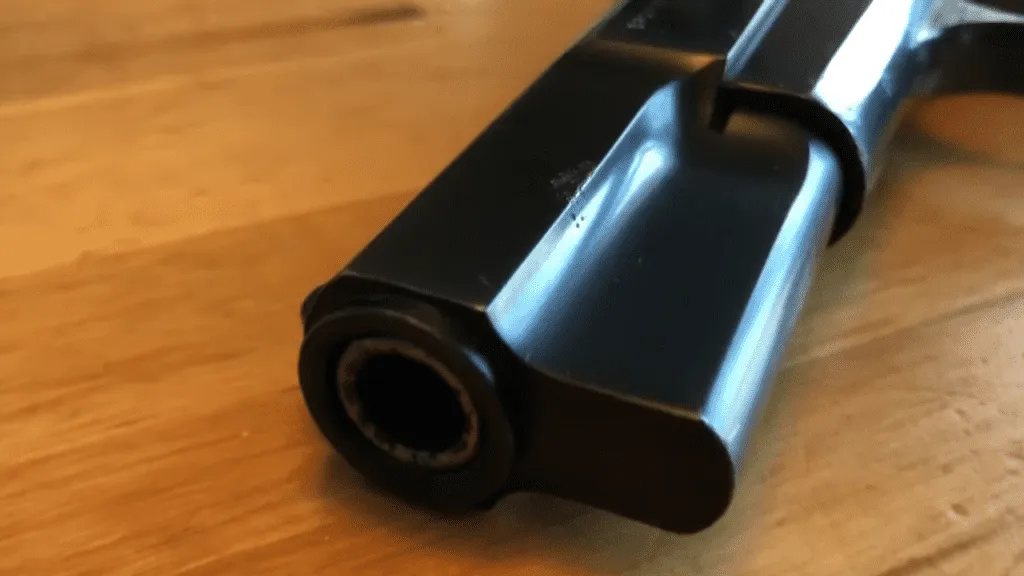 Aesthetically speaking, the Hi-Power is a beaut. We're looking at one of the greatest pistols of the "wood and steel era." With such refined and sleek lines, it's arguably prettier than your standard Glock or Colt 1911.
The Hi-Power has a very well-balanced frame, and with every new model, it has a more refined and more enclosed profile. Personally, I think that the simplistic lines look very elegant for a gun that was designed in the 30s.
Guns that are over 80 years old are usually on the larger side, but according to the request of the French Army, this one is rather compact and can be easily compared to today's Smith & Wesson pistols.
Ergonomics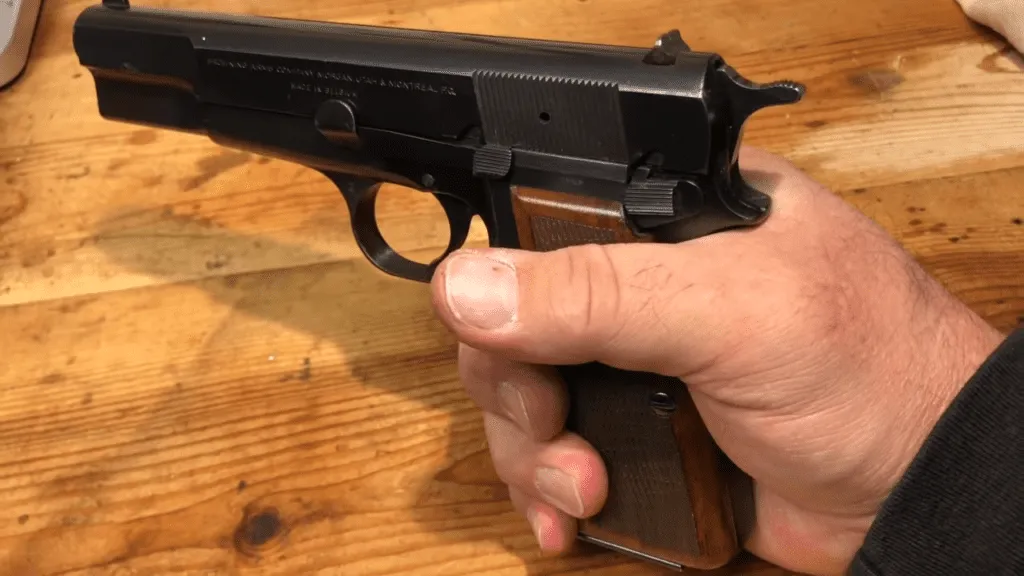 Holding the Hi-Power feels very odd and not in a negative way. Best believe that it's far superior to the ergonomics of lots of handguns from the 70s and 80s.
Of all the oldie pistols I've held, the Hi-Power feels very ergonomic and fitting for a 1935 handgun. Once you get your hands on it, you'll see why it's a classic.
Since there's no beavertail on these older models, one of the most popular complaints about the Hi-Power is definitely the infamous hammer bite.
I'm sure that shooters with larger hands have had a lot of trouble and awkward handling with the Hi-Power, not because of the compact frame, but because of the hammer bite on their hands' web. However, if you have medium-sized hands, it's unlikely that it'll hurt your hand.
The Hi-Power is an absolute looker. If you want to snag this gun just to turn heads at the ranges, I recommend you get yourself an OWB holster as it works best with the Hi-Power.
Onto the grips.
Grips
The Grade I Walnut grip textures on the Hi-Power classic version are not too aggressive, though they're a bit rougher than a Glock 19, for example.
They're easily replaceable on the new models. Be careful, though, because thicker ones may elevate your hand, and you'll have that hammer bite issue everyone talks about.
For grip options, there are not many wood-type grips if you plan on keeping that classic look. These panels are very different depending on the model, and there's no deficit of aftermarket grips, especially rubber or polymer ones.
My only complaint is that I really don't like the grip tang because it has really sharp edges. For some, this might not be a problem; it just bugs me personally. I was thinking of going to the gunsmith to bevel some edges out, but on second thought, it really isn't an issue.
Still, the Hi-Power truly exceeds expectations when it comes to ergonomics. Whoever was responsible for the ergonomics for the first model designs, whether it was the French, Belgians, or Browning himself, I give my highest compliments.
Here's the action, in action.
The Action and Hammer
A single-action, hammer-fired, semi-automatic pistol from the 30s. Insane, right?
You'll notice that the Hi-Power is not striker-fired once you spot the hammer. Yes, that hammer that bites the web of your hand between your index and thumb.
I'm convinced that in those olden days people weren't concerned much about these minor issues. Soldiers had bigger problems then. Compared to today's modernization of pistols, it really makes you wonder.
Since its first production line, the semi-automatic Browning Hi-Power in the 9mm chamber was manufactured with a forged frame because of economic reasons, I assume. For a gun of this stature and mechanism, it's pretty logical to make it with a cast frame. Here's why.
FN Herstal knew that pistols in the .40 S&W chamber were supposed to be made with a cast frame to mitigate higher pressures, and they figured forged frame 9mm pistols could handle the heat.
That's not exactly a flaw; we're just painting roses here.
Slide Racking
Racking the stainless steel slide on the Hi-Power is tough because the hammer spring is really tense. It has cool serrations on the pistol rear, and the newer models have wider serrations.
After the hammer is dropped, it's difficult to slide, but if the hammer is cocked, it's much easier to slide the rack. Sending the slide forward feels like a very classic and simple design.
I only feel that the narrow slide can be an issue for most people because, as I mentioned above, the slide is wider than the front.
This was an overlooked design flaw that was partially ignored in the 30s, so keep that in mind if you're struggling with racking.
Slide Stop
As for the slide stop, it's pretty easy to use but difficult to reach with your thumb.
Most users with medium to small-sized hands will have trouble reaching the slide stop without releasing their grip. Not to mention, the stop is too far back for left-handed users to reach with their index fingers. 
Despite the slide's height, it's annoying how the safety and grip panels don't allow you to grip the slide and modify how low you want it.
Just be sure to repair or replace the recoil spring every once in a while, practice your racking technique, and you won't have a problem.
Sights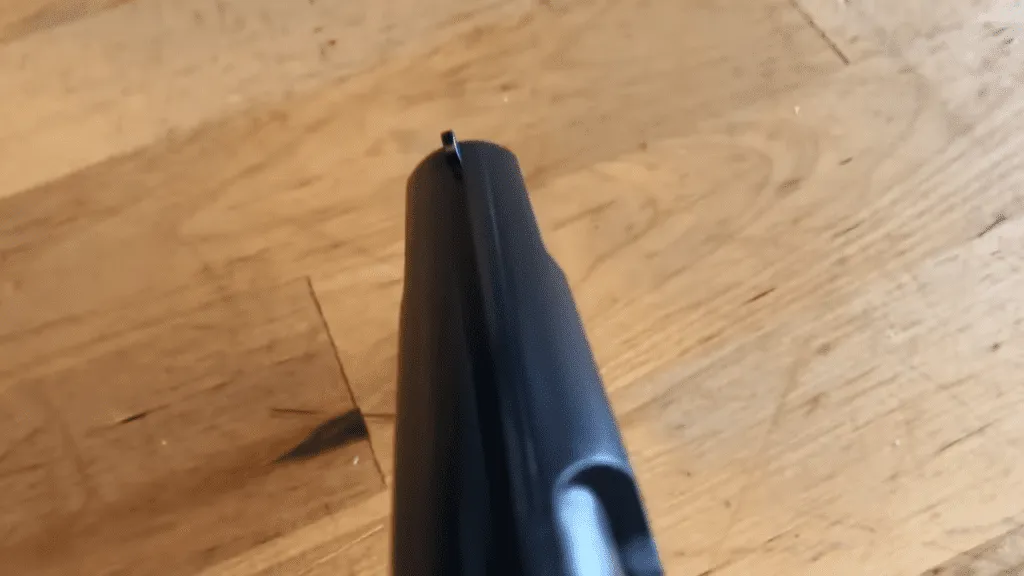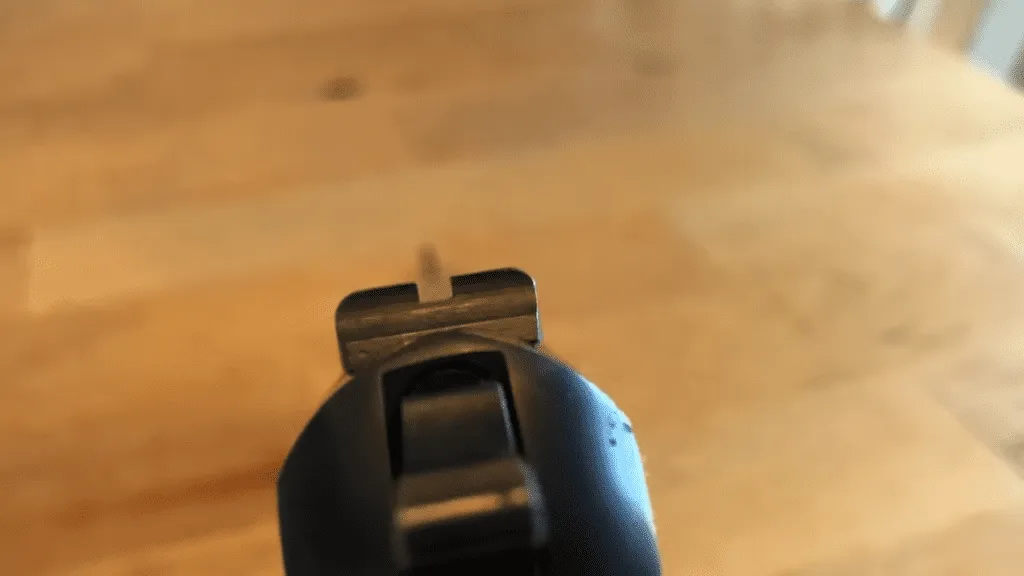 The standard model's sights are pretty decent, and the gun comes with either an adjustable white dot or a fixed white dot sight. The sights offer good target acquisition at around 40 to 50 yards.
I personally wouldn't change a thing because it really messes with the "classic" factor of Browning's Hi-Power.
As far as I can tell, the Hi-Power Mark III has much more visible and durable sights than the older models. They're basic but look like they might be one of the first sights that inspired the white three-dot models.
As for other colors, FN discontinued the pistol around the early 2000s, which was the year before red dots became all the craze in the firearm business, so you couldn't find a lot of fixed or adjustable sights.
I say, go to your nearest gunsmith, let him install an adapter plate on the slide, and get it milled for a red dot sight if you plan to step ahead in your tactical/classical game.
Otherwise, I recommend standard Trijicon White Dot Sights if you want night sets. They work.
Magazines and Mag Well
The Browning Hi-Power uses 13-round double-stack magazines. Later models have better springs, and some variants also have the 10-round models in 9mm where required by law.
For me, the 13-round mag capacity is more than enough for home defense and CCW. Given how lightweight the construction is, I say this is a huge plus.
Browning magazines can be sourced straight from the Browning OEM (original equipment manufacturing). You have 15-round, 17-round magazines, and if you want something cheaper, Mec-Gar and a couple of other manufacturers have good prices on their Hi-Power mags.
Since it's a '35 pistol, the Browning Hi-Power doesn't have flared mag wells, so don't expect quick reloading. The surfaces, however, are smooth and don't cause any reloading issues.
That said, the mags don't drop free when you push the release. They have to be pulled out of the mag well.
Trigger
The Browning Hi-Power's trigger isn't very special.
The trigger needs some light take-up before you feel the wall, and after that, there's a little bit of creep before the break. There's no audible or tactile reset that you can hear or feel, and the take-up is a bit longer than a 1911 pistol. This makes it feel like a squishy trigger.
I hate giving flak to older models, but this really has to be addressed.
These older Browning models have a magazine safety that's built within the gun, and this is very likely the reason why the trigger feels stiff and the moving mechanism tough.
I can't help but think how Browning was probably itching to try out a 1911-style trigger mechanism, but because of sold patents, that idea went down the toilet, and he used this classic design.
If you want to enjoy your day at the ranges with this oldie, do yourself a favor, get a Cylinder & Slide, take it to the gunsmith, and feel the absolute improvement. Don't worry; it doesn't take away the "classic" factor at all.
Thumb Safety
The rear-mounted thumb safety of the Hi-Power is ambidextrous, manual, and pretty easy to flick. It's relatively wide for a low-profile pistol. Much like on a 1911, you can set your thumb on top of it.
Depending on the model, the safeties are different on the Mark I, II, and III, but I feel that the Mark III has the widest button of all.
Overall, I have no complaints about the thumb safety—it's the magazine disconnect that bugs me.
Magazine Disconnect
Here's where the ancient design flops in comparison to most 1911 and modern pistols. I know that most would agree that the mag disconnect is a bit problematic.
My biggest issue with the Hi-Power besides the trigger is the magazine disconnect that's actually a part of the original blueprint. Mag disconnect means the pistol won't fire that chambered round unless the magazine is inserted.
Some feel that this is a necessary safety feature. For example, when you're struggling in a brawl with someone, and you accidentally depress the mag release button, the assailant may take it.
The legalities on this issue should be updated because the mag disconnect breeds complacency that can turn into really bad and unsafe habits. I don't know about you, but I think that it's a major issue. But I digress.
Besides the trigger, I strongly recommend you consult your local gunsmith and remove the mag disconnect. What's more, removing it might improve the feel of the trigger.
Shooting, Accuracy, and Ammo Recommendation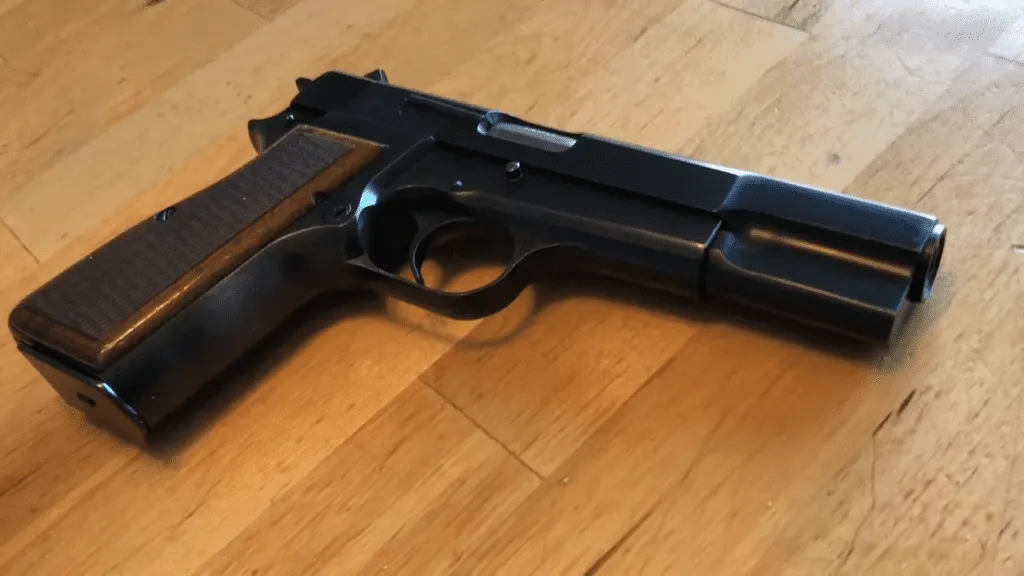 The HP is probably the only "true" single-action 9mm handgun that has impeccable accuracy for a gun with a legacy design. It is relatively smooth for an all-metal handgun.
I've seen people compare the accuracy to a Glock and say it's far more precise, but I wouldn't go that far. The HP pretty much stays on target, but, as I said, don't expect fast reloading.
Since it's a low-profile handgun, the recoil was not exactly manageable. Compared to a Glock 19, the recoil is a lot more aggressive.
Having said that, shooting the Hi-Power was very satisfying. There's nothing like a good, fully-adjustable rear sight to keep things aligned.
I used three different ammo boxes and shot from 25 to 50 yards. I used Remington UMC 115-Grain FMJ, Winchester White Box 115-Grain FMJ, and Fiocchi 115-Grain FMJ.
There were no misfires or stovepipes, but the HP clearly had problems with the Remington UMC 115-Grain FMJ, as it averaged around 4.5 inches.
The popular Win. White Box 115-Grain FMJ had a mean average group size of 2.5 inches. Keep in mind that I fired these rounds without the improved trigger.
The Fiocchi 115-Grain FMJ averaged about 1 to 1.5 inches in the smallest group, while the largest was around 2 to 3.2 inches, and the mean average group was 1.9 inches. We had a clear winner on the third and final try.
This is what the HP is all about. Despite the difficult trigger, it truly convinced me that it's a classic pistol well worth its place in history.
Disassembly and Maintenance
Finally, as the prophecy foretells, the HP was purposefully made to be as easy as can be to disassemble.
Much like disassembling and maintaining other pistols, it has a take-down system that's easy to engage.
First, make sure the chamber and magazine are unloaded. Then, pull the slide and lock it back with the safety in place, and it will hold the slide.
Pop the slide stop out by lifting it into the slide's notch and push it forward from the right side of the pistol. To reassemble it, follow the reverse order. Here's an informative video on disassembling the Hi-Power.
Pros & Cons of the Browning Hi-Power
Pros
Well-made construction, despite old design
Sleek, lightweight, and aesthetically pleasing
Surprisingly accurate at 50 yards
A must-have yet cheap collector's item
Lots of models and sub-variants to choose from
Cons
Outdated magazine disconnect
Mags need to be pulled out
Lousy trigger, but can be easily replaced
FAQs
Here are some frequently asked questions about the Browning Hi-Power.
Is the Browning Hi-Power a Good Self-Defense Handgun?
Despite being the result of a very old design that's faced discontinuation and remodeling, the Browning Hi-Power 9mm pistol is actually a great self-defense pistol.
As long as you find an OWB holster for it, this lightweight, 13-round pistol can be very viable for self-defense situations. I recommend replacing the trigger and removing the magazine disconnect if you want to use the Hi-Power for CCW and self-defense.
Is the Browning Hi-Power Single or Double-Action?
The Browning Hi-Power is a single-action, semi-automatic handgun that's available in the 9mm and .40 S&W calibers. It's definitely one of the true single-action handguns with a classic mechanism.
How Do the Browning Hi-Power and the 1911 Compare?
Though the Hi-Power retains some blueprint ideas from the 1911 pistol, it was made to be a reliable pistol that's more compact, lightweight, and easier to handle and disassemble. On the other hand, the double-stack 1911 pistol is a bit bulkier.
The Browning Hi-Power's accuracy is immaculate for a hammer-fired single-action pistol, while the 1911 has a better and smoother trigger, not to mention the bulk that soaks up all that recoil.
Is the Browning Hi-Power Discontinued?
Since its inception in the 1920s and 30s, the Hi-Power has been remodeled, cloned, upgraded, discontinued, and had its name changed over the span of over 85 years.
First, Browning discontinued the line in early 2000, but afterward, they added the Browning Hi-Power Mark III models, Standard and Practical. Only the Mark III and Standard models were produced as the years went by.
Then, FN America announced the discontinuation of the Hi-Power in early 2018
Because of this, lots of other manufacturers tried to clone it, and people still bought it. FN saw that there was still a major interest in the Hi-Power, they re-introduced the newest remodel, the FN High Power in January 2022 to compete with the clones.
Are Browning Guns Still Made in Belgium?
Believe it or not, there's a Browning R&D team in FN Herstal that is specifically assigned to overlook the design, production, and work done on the Hi-Power. They're located in the Liege region of Belgium.
However, there are only a handful of Browning guns that are actually with a 'Made in Belgium' imprint on them.
Can I Still Buy a Browning Hi-Power?
Yes, you can, but it's no longer called the Browning Hi-Power.
Now, it's called the FN High Power, and it's definitely a modernized version with upgrades that still retains its classic design with similar ergonomics.
The standard Hi-Power pistol from the 30s and 80s is technically out of production, but you can still scour gun and pawn shops across the USA.
Alternatives to the Browning Hi-Power
There are countless pistols that are similar to or inspired by the Browning Hi-Power Pistol. Here are some interesting alternatives if you're looking for something else.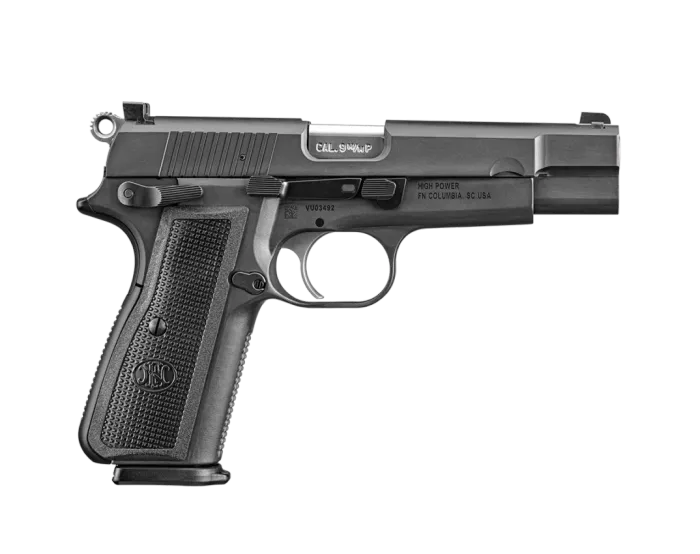 New internals, same spirit. The FN High Power is the newest rendition of the Hi-Power that's available straight from retailers.
The High Power is definitely more expensive, but it has the same old stainless steel construction with prettier lines, and it's one of the finest examples of a pistol revamp I've seen these couple of years.
FN ditched the 13+1 and 15-round options, and it's now available in 10 or 17 rounds magazine capacity.
The difference between the FN High Power and the older Hi-Power lies in its internal mechanism. Most importantly, the extended beavertail and a higher hammer finally solved the near-century-old problem of the infamous hammer bite.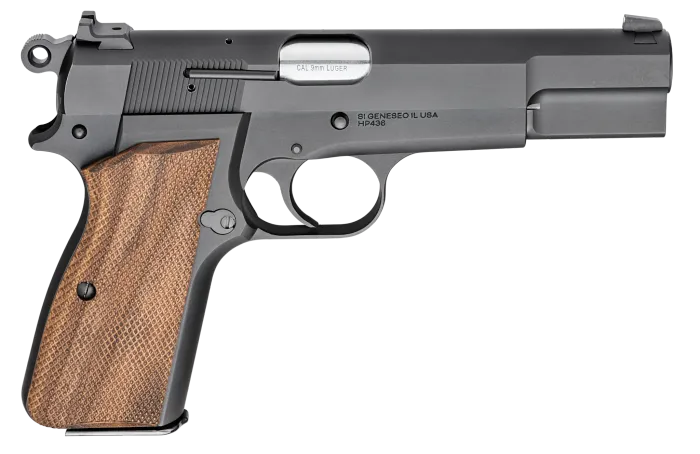 Of all the Hi-Power 35 clones, the Springfield Armory SA-35 is a cheaper variety that still somehow retains its former glory and remains faithful to the design.
The SA-35 from Springfield Armory has the standard 4.7-inch barrel, a 15+1 round capacity, white dot sights, and the checkered Walnut grips that offer solid ergonomics.
The differences are subtle, but the internal parts are greatly enhanced for durability, and the controls are perfected to a 1911 feel. The feed ramp is improved, and I recommend this 15-round version if you're looking for more mag capacity.
Feel free to check out our full Springfield SA-35 review.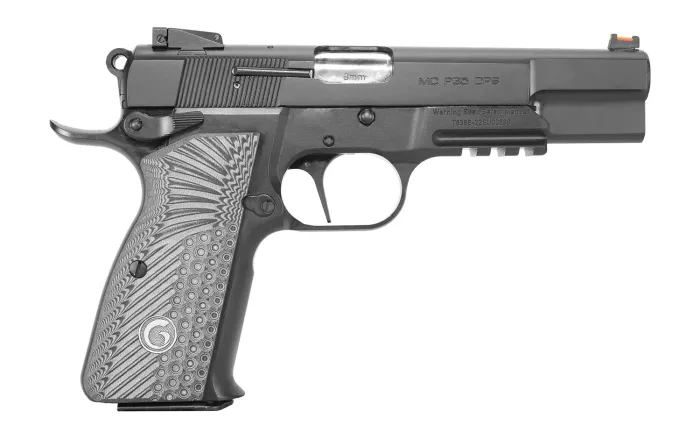 Last but not least, here's the Girsan MC P35, made by Turkish manufacturer EAA.
This is the cheapest knock-off you can find, but don't be fooled by this budget clone; it really shoots like a breeze while paying its respects to the legacy.
The Girsan MC P35 has a longer 4.8-inch barrel than the rest of the pistols, so expect solid accuracy around the 25- to 50-yard range.
With a steel construction, staggered column mag with a 15-round capacity, serrated ring hammer, and windage and drift adjustable rear sight, this one is great for those of you who like to save money for the gunsmith, aftermarket parts, and the necessary mag disconnect removal.
Conclusion – John Browning's Swansong
What I like about the Browning Hi-Power is that while most pistols went through drastic changes over decades, this one is almost fully faithful to its first blueprint.
It was John Browning's last ever firearm design that he never saw finished, but hopefully turned out how he wanted it to be.
There aren't a lot of aftermarket options for the Browning Hi-Power. However, the High Power barely budged from the classic design while the guts and functionality got vastly improved and modernized.
You can find better, high-performing pistols with better handling and half the price, but the legacy and nostalgia factor makes it irresistible for most. I feel that the newest FN High Power rendition could deservedly carry on the torch of the old model.
It's more than just an iconic collector's item. This semi-auto greatly impacted the essential form of the modern pistol and defined the ages of warfare in regard to its importance and influence.
I know the new High Power is expensive, but if you're not planning to buy one, at least educate yourselves about its main mechanism, historical value, and the historical importance of this absolute classic.
John Browning died before the Hi-Power pistol's completion. This is his swan song, and I believe it deserves more respect and recognition than it already has.
Stay safe, shoot straight.
Explore more