CZ 600 Trail Review: A New Style of Bolt Gun [2023]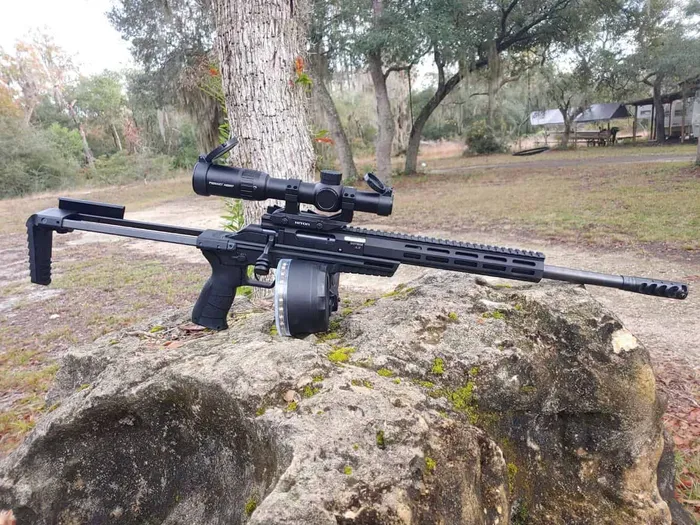 CZ 600 Trail Review: A New Style of Bolt Gun [2023]
The New Bolt Gun
What makes the CZ 600 Trail a mold-breaking beast that bops boredom? Well, read our CZ 600 Trail review! CZ designed a rather intuitive and unique bolt-action rifle that provides shooters with a very modern platform. If you only know CZ from their handguns, then you are really missing out. They make some outstanding rifles, and they've always been innovative in their bolt action rifles.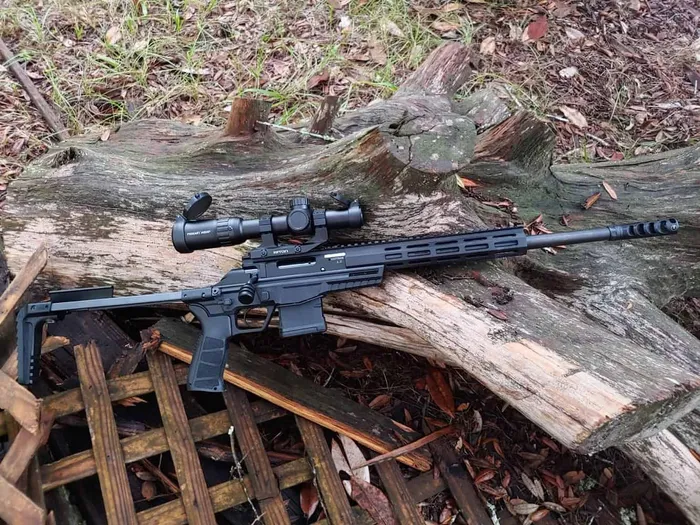 The 600 series of rifles are their latest entry into the market. It's a pretty big lineup that embraces all the normal rifle calibers like .308 and .30-06, but it also gives rifles in intermediate calibers like the .223 Remington and the 7.62x39mm. The Trail takes the intermediate caliber route, and we are looking at the 2.23 Remington model, to be specific.
I was lucky enough to get one of the first few in the United States and have been sending rounds downrange at every chance I have. I found myself shooting it so often that I began using it as a platform to test optics, muzzle devices, and other similar accessories. I think I've got enough ammo downrange to give you fine folks a full breakdown of the rifle, its pros, cons, and where it works best.
CZ 600 Trail Review

Specifications
| | |
| --- | --- |
| Caliber | .223 Remington |
| Capacity | 10 Rounds |
| Barrel Length | 16.2 Inches |
| Overall Length | 35 Inches |
| Weight | 6.1 Pounds |
| Length of Pull | 5.8-13.7 inches |
| MSRP | $1,155 |
Pros & Cons
Pros
Lightweight
Modular
Superbly Accurate
Great Ergonomics
AR Magazine Compatibility
Cons
Tricky to Use a Sling With
Stock Wiggles
Off the Trail and On The Range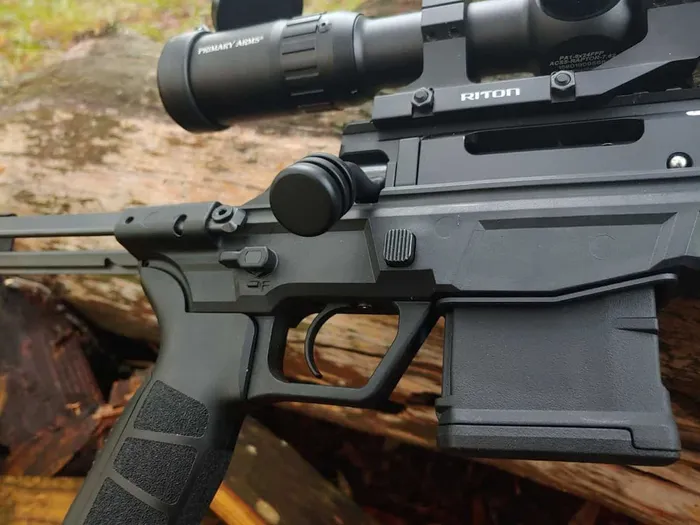 The CZ 600 Trail offers shooters a light and handy rifle that's modular and modern for shooters who are used to the AR platform. A good portion of shooters is likely starting with AR series rifles these days. While the AR and CZ 600 Trail are vastly different in some ways, they are quite similar in others. It's an easy transition, especially with the controls, caliber, and magazine commonality.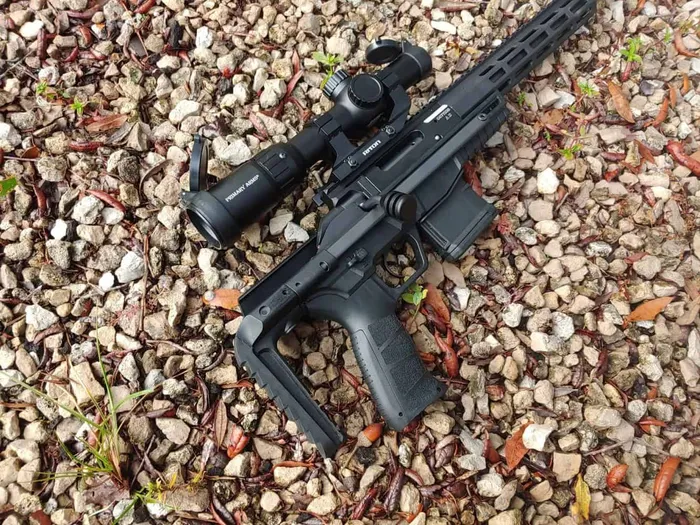 The CZ 600 Trail offers you a solution to a number of problems. As the name implies, it's a great Trail rifle. It's light and handy and could be strapped to a pack without much issue. Collapse the stock and load it up. In either .223 Remington or 7.62x39mm, you are getting a rifle that's capable of taking down medium game and dealing with pests and predators in most sizes.
While the rifle looks cool and seems versatile, none of that really matters if it doesn't work. To see if it worked as advertised, I carried the heavy load of taking it to the range and blasting through box after box of ammo to test its capabilities as a rifle.
Reliability
Manually operated bolt guns are pretty dang reliable when made right. Since they have a manual action, they aren't reliant on pistons or gas systems and typically function in adverse environments without complaint. That still requires them to be made well.
Luckily, the CZ 600 Trail is well made. It uses a controlled feed system to prevent double feeds when you start rocking and rolling with fast bolt manipulations. The bolt cycle is smooth, and the weapons use AR-15 magazines, so you have a proven magazine platform. In my shooting with both brass and steel-cased ammo I never ran into a double feed or a stuck bolt. The included 10-round P-MAG was as reliable as you expected.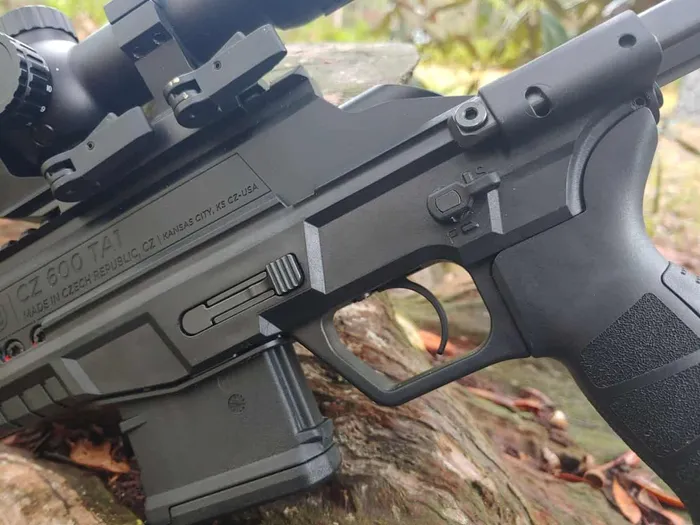 The weapon went bang when the trigger was pulled, regardless of the quality of the ammo. It's a well-built rifle that offers you a worthy trail companion.
Accuracy
I get a little giddy when someone brags their rifle is Sub-MOA. That guarantee gives me a standard to compare the rifle to. The 1:7 rifling prefers heavier rounds so for accuracy testing I went with some 77-grain Sierra Matchking ammunition. With a zeroed 1-6X optic, a bipod, and a seated bench position, I set up at 100 yards and fired a five-round group. After a trot downrange, that group measured out to .73 inches.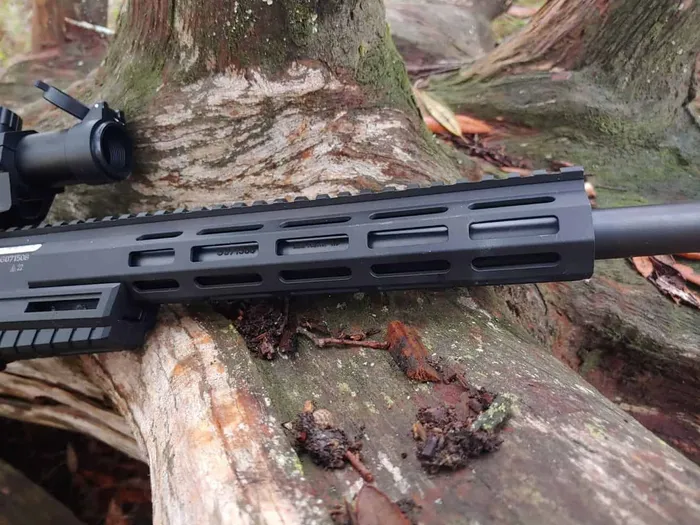 That's accurate for me. A more skilled shooter could probably shave another 10th to 25th of an inch off that. The 16.2-inch barrel is cold hammer forged, which helps with accuracy. We also get a fantastic trigger that's adjustable from three to 1.3 pounds. Even at three pounds, it's super nice and clean.
The biggest detractor from accuracy is the PDW-style stock. It wiggles and jiggles unless you really lock your shoulder into it. Not a big deal, but one worth noting. I know PDW stocks have some wiggle expected, but I've experienced less slop in other variants.
What about accuracy with cheap ammo? Like some 55-grain steel case Tula? Well, it's more than adequate. It might not hit that sub-MOA mark, but you'll hit the target easily enough. The best cheap ammo I shot was Hornady's training ammo, and I feel confident I could peg a deer in the heart at 100 yards with it.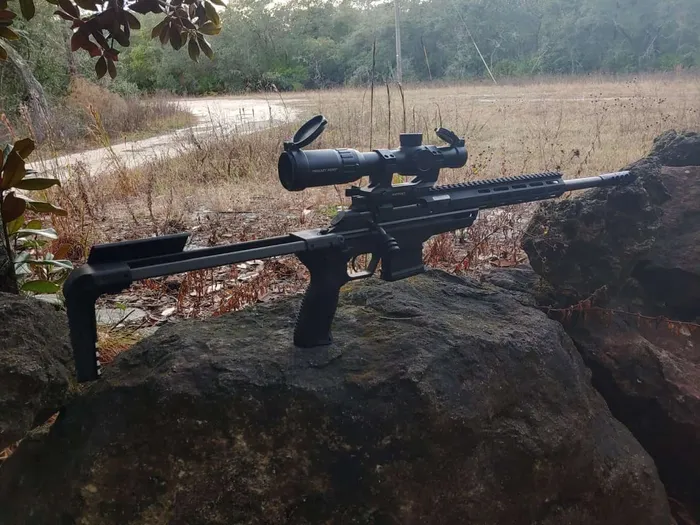 Ergonomics
The slim M-LOK handguard is nice and comfy for that forward hand and allows you to attach any manner of accessory and have it easily reached and activated. The controls embrace ambidexterity with an ambi safety and magazine release. Both the safety and magazine release are AR-like.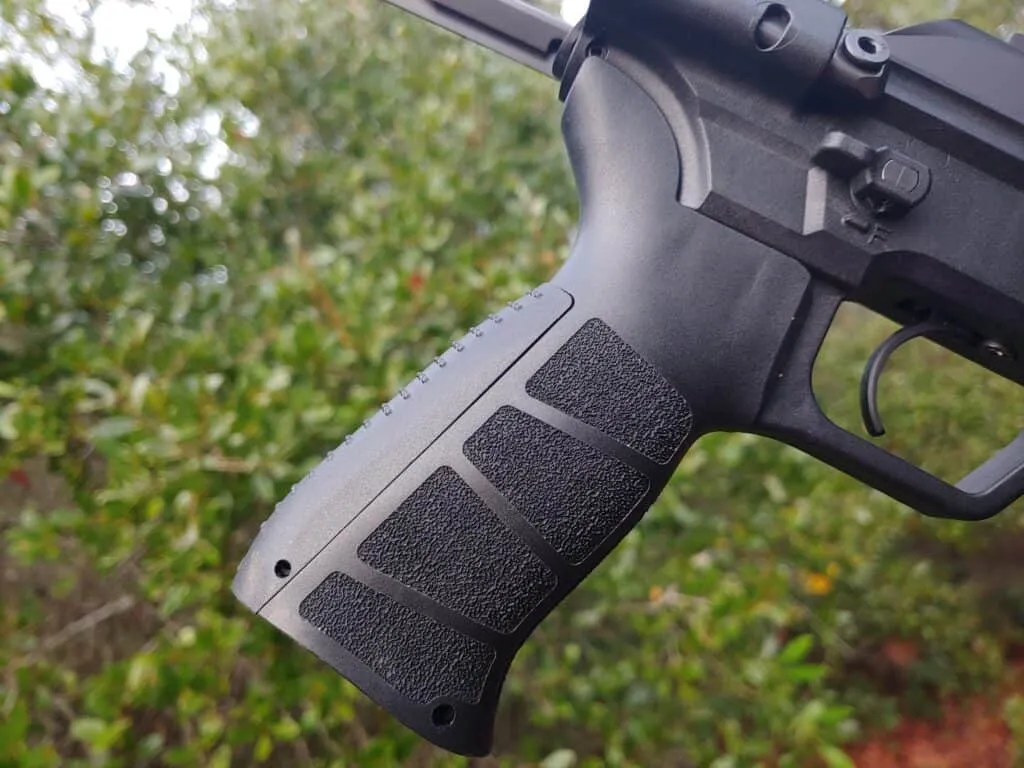 The pistol grip is compatible with AR-15 pistol grips and, oddly enough, with the CZ P09. Not the whole grip, but the grip insert that allows you to change the side of the grip. It's an odd but endearing feature. The stock allows you to custom-fit the length of pull for the shooter in four different positions. I typically run it all the way out at 13.7 inches.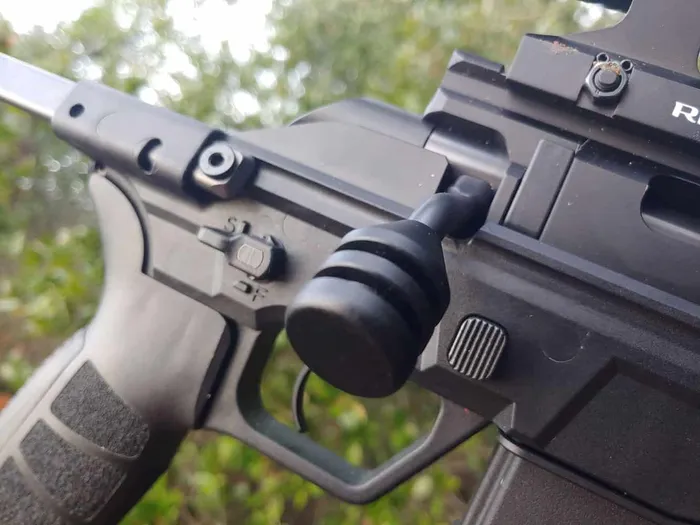 The stock comes with a cheek rest that can be swapped from side to side without much issue. Detach it via an Allen head wrench and reattach it to the other side. It's drama free. CZ included a massive oversized bolt head for quick and easy manipulations, and it does that very well. I consider the ergonomics knocked out of the park.
Control
The CZ 600 Trail doesn't have a ton of recoil by any means. However, if you move from an AR to the CZ 600 Trail, you'll most certainly feel all the recoil a .223 Remington has to offer. It's not much, but you might forget how much a semi-auto action dampens recoil. A little muzzle device cleans that right up.
Muzzle rise isn't noticeable, but you'll also see why all AR-15s have flash hiders, and you get some flash with each shot. Again, a muzzle device can clean that up. All in all, any shooter can approach the CZ 600 Trail and fire it without fear of harsh recoil or losing control.
Features
M-LOK Handguard
A modern M-LOK handguard provides a nice smooth and thin place to rest your support hand as well as tons of modularity. It's a free-floating handguard to help maximize accuracy and has slots everywhere to attach all the goodies you could ever want. Across the top sits a section of Picatinny rail that runs the full length of the handguard for some extra mounting space.
Four-Position Stock
The PDW stock allows the CZ 600 Trail to shrink into a tiny little platform. It's devoid of the fancy features you find on a precision rifle stock, but those don't allow the rifle to be this compact. The four positional settings allow you to set the length of pull just right. It does wiggle, but it's controllable. The reversible cheekpiece is a nice touch that allows for good fundamentals without increasing weight or bulk.
The main downside is that the stock uses a quick deploy feature. It will resist forward pressure in the intermediate positions but can be pulled rearward freely. This isn't a big deal until it comes time to add a sling. The sling and weight of the rifle can pull the stock fully open if left in either of the intermediate LOP positions.
Threaded Barrel
The tip of that 16.2-inch barrel is fit with 1/2×28 threads. This allows it to use all the normal AR-type muzzle devices of suppressors. A suitable muzzle device can go a long way in helping extend the usefulness of your rifle, as well as eliminating flash, recoil, and even sound.
AR Magazine Compatibility
AR-15 magazines are undoubtedly the most common magazine type in the United States. They can vary from five to 100 rounds and come in all shapes and sizes. You can get quickly silly with it, and I certainly did. To me, the best length is 10 or 20 rounders. They provide a good amount of ammo while allowing you to maintain a low profile.
How We Tested
I tested the rifle in two main ways. First, as a simple bench rest or prone gun with plenty of slow fire and accuracy. This is likely how the rifle would be used when hunting or on the trail. The second test was more of a speed shooting, quick reaction type of shooting.
Imagine stumbling into that big buck you're hunting on the way to the tree stand or coming across a mean hog with a big tusk. You need to get up and on target and place a quick and deadly shot right where it needs to be. I used a set of steel gongs and practiced at 15, 25, and 50 yards, making snapshots against the timer.
I did shoot outdoors exclusively and dealt with dirt, sand, and even rain. It's Florida, after all, and if I went inside when it rained, I'd never get anything done.
Ammo Used
Most of the ammo was the standard M855 cheap stuff with the 62-grain projectile. The gun shoots it fairly well and might be pretty close to MOA if I'm having a good day. The best ammo I shot was the Sierra Mathcking for accuracy testing, and the worst was the Tula crap. In between sat some Hornady training ammo which also performed well.
Accessories
This gun is begging for a capable but lightweight optic. I went with the Primary Arms SLx FFP scope with the ACSS Raptor reticle setup with the 5.56 bullet drop compensator. The optic offers me plenty of magnification for a 5.56 caliber rifle and a daylight-bright, easy-to-use reticle. Plus, it's affordable and easy to find.
The PMAG ten-rounder is great, but the Lancer 20-round magazines offer me double the ammo and metal feed lips. The gun can still sit low, but I'm reloading a lot less often and having a slightly smoother feed experience.
A good rifle needs a good sling, and the Blue Force Gear VCAS gives you a modular and modern sling with all the bells and whistles. It's quick to adjust and easily fits the CZ 600 trail. It's supportive enough for a stalk and can be easily adjusted to maximize your mobility.
Alternatives

If you want a tactical, modern, and modular bolt action 5.56 for under a grand, then the Mossberg MVP Patrol is the route to take. It's a bit more simple than the 600 Trail but still offers you a reliable, easy-handling bolt gun.
The MVP Patrol uses AR-15 magazines and comes with iron sights on top of the included optic rail. It scratches the same inch for how half the cash.

Jeff Cooper's Scout Rifle concept never really included the 5.56, but Steyr did when they made the latest scout rifles. The Steyr Scout is a lightweight, bolt action 5.56 that comes optics-ready, as well as with a set of great iron sights.
The forend deploys into a bipod, and the rifle is crazy accurate. It does come with a premium price tag, but it's a premium-tier gun. The 1:10 twist rate also opens it up for great accuracy with lighter projectiles.
FAQs
FAQ #1 Is the CZ 600 trail controlled feed?
Yes, it's a short extractor-controlled feed and uses a patent-pending system.
FAQ #2 Does CZ still make hunting rifles?
Yes! The 600 series comes in a variety of configurations and calibers to hunt nearly anything.
FAQ #3 How accurate is the CZ 600 trail?
Very! CZ promises Sub-MOA accuracy for the CZ 600 series, including the Trail model.
To the Trail We Go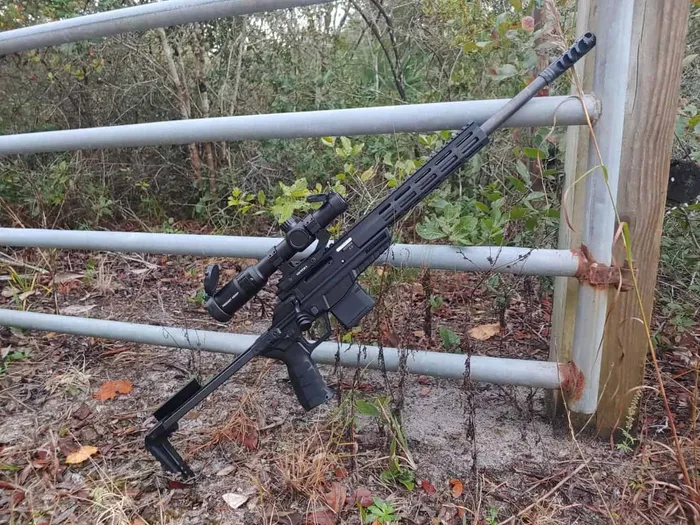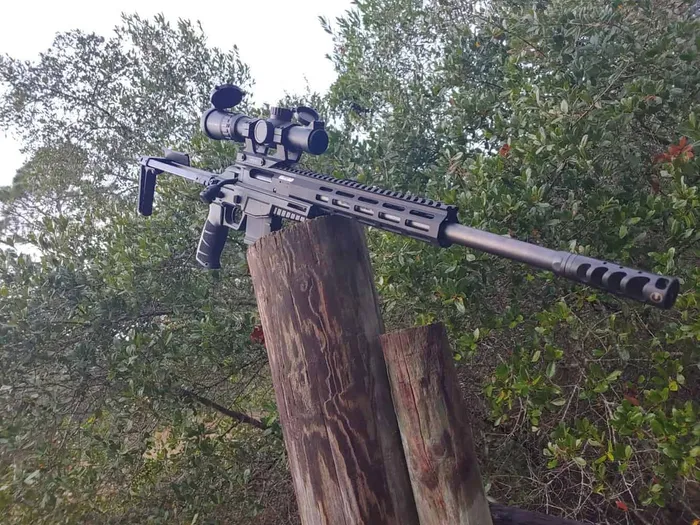 The CZ 600 Trail is an outstanding rifle. It's accurate, reliable, easy to shoot, and modern as it gets for a bolt-action rifle. It's brought some pizazz back to a stale genre of firearms. It's not without its quirks, but they are easily overlooked and worked around. If you want to spice up your gun safe, give CZ a look, they can give you a new experience with the 600 Trail series.
Explore more