CZ 75 P-01 Review: Best Intro Pistol to CZ?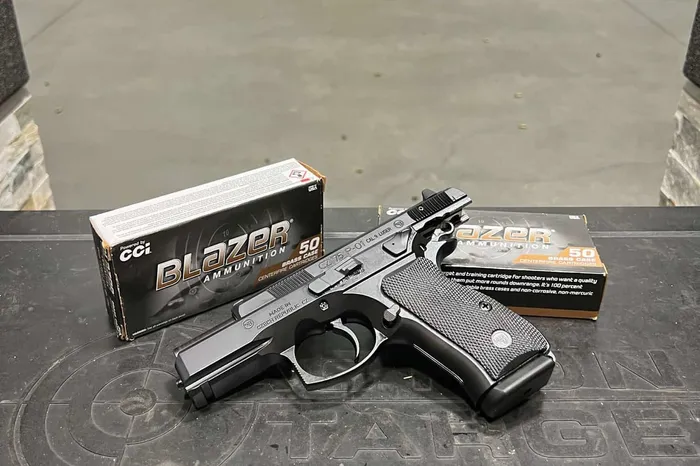 CZ 75 P-01 Review: Best Intro Pistol to CZ?
Introduction
The CZ 75 P-01 was designed for law enforcement and the military but has made a lasting impression in the civilian market as well. Thanks to its compact size, reliability, and capacity, many have chosen the P-01 as their concealed carry weapon.
I personally don't know anyone that owns a P-01, nor have I shot one before, so this was a true "blind date" of a review. I've read about them and seen them at some local gun stores, but this was my first time handling and firing one.
The "first date" was not awkward or boring, but continue reading to see if I would stick with the P-01 long-term.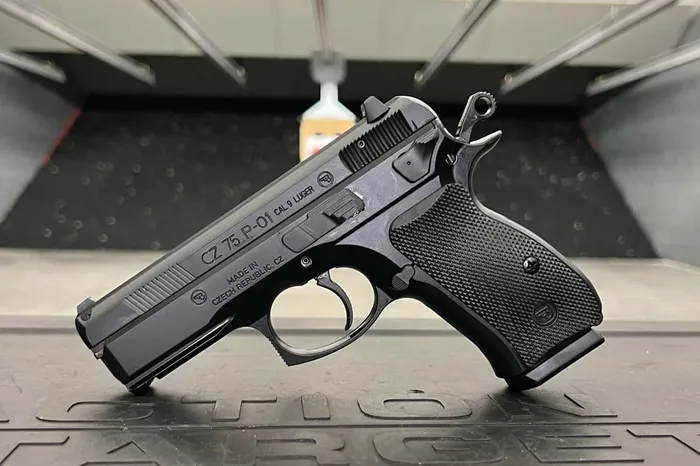 CZ 75 P-01 Review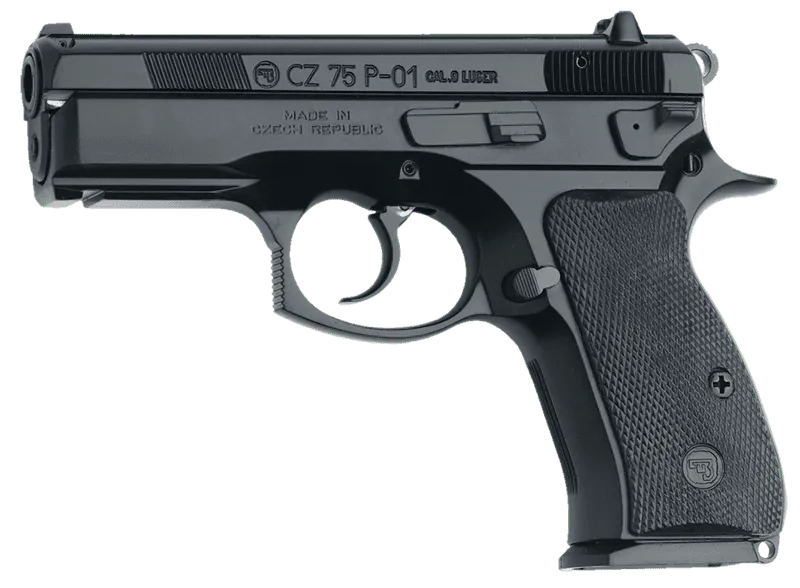 Specifications
| | |
| --- | --- |
| Caliber | 9mm |
| Action | SA/DA |
| Capacity | 15+1 |
| Barrel Length | 3.75 Inches |
| Barrel | Cold Hammer Forged |
| Overall Length | 7.2 Inches |
| Width | 1.38 Inches |
| Height | 5.03 Inches |
| Weight | 28.1 Ounces |
| Frame | 7075 T6 Aluminum |
Pros & Cons
Pros
Ergonomics are on point

Reliable and accurate

Compact for carrying 

Smooth trigger
Cons
Painted sights

Somewhat limited aftermarket upgrades

On the heavier side
What's In The Box?
If we're being technical, it doesn't come in a box, but a case. I'm very glad to see manufacturers stepping away from the old-school cardboard boxes and over to hard cases.
Inside the case, the two most important things you'll find are a spare 15-round magazine and the pistol itself.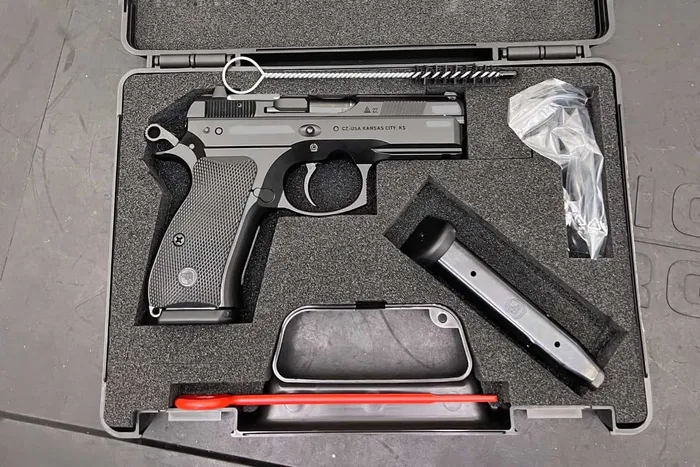 Range Report
Reliability
The P-01 proved itself over many years and rigorous testing, that it's a reliable firearm.
In fact, the P-01 replaced the CZ 75s for the Czech National Police. It also blew the U.S. Army's "Mean Rounds Between Failure" (MRBF) requirement out of the water. Both of those acts are nothing to glide over.
While I didn't have enough time with the gun to spend years testing it, I did take it on a few range trips. I put 185 rounds of Blazer Brass 115-grain FMJs and 15 rounds of Armscor 124-grain JHPs through the P-01 with no hiccups.
Accuracy
I don't shoot DA/SA very often, so I'm often using the first few magazines as a refresher.
The P-01 though, was very easy to acclimate too. I quickly hit most of my targets out to about 25 yards, aside from that heavy first shot!
Overall Feel
I like almost everything about how this gun fits in hand. From the weight of the gun to the grip texture and angle, it's a very comfortable gun to shoot.
Features
Grip
This grip makes you feel like you're holding hands with your significant other…it just feels right.
I can see most hand sizes from medium to extra large agreeing as well. The angle, the texturing, and the width of the grip all work well together.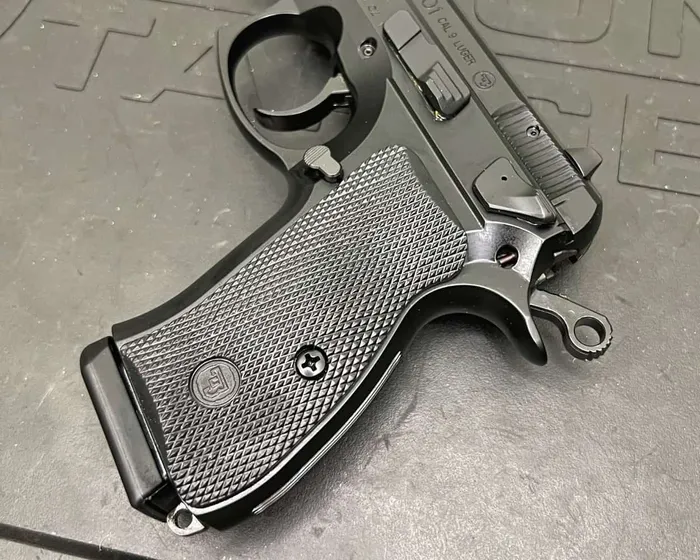 Sights
Unlike my positive thoughts about the grip, the sights are not great. If you keep reading, you'll see I would recommend swapping them out with some Night Fision sights or your favorite aftermarket ones (if they are even available for the P-01).
The sights remind me of a step above Hi-Point's sights. I believe it's some sort of photo-luminescent paint plopped down into the dots.
For the price…very disappointing.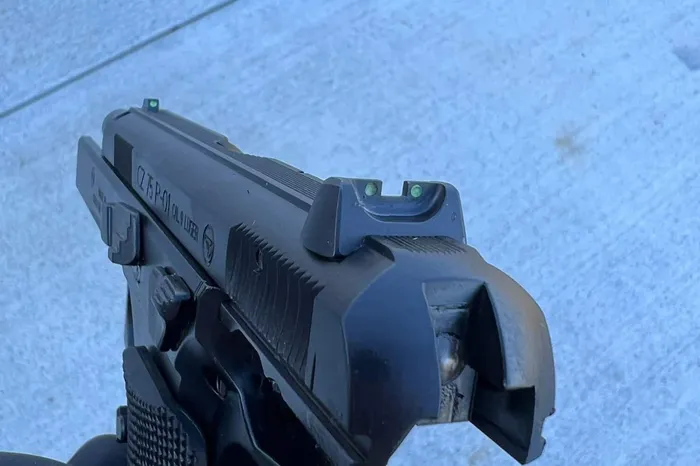 Trigger & Controls
Even though the trigger pull is naturally heavy, it's a very smooth pull with a consistent break. Once you're past that first pull, it's smooth sailing. The trigger guard feels cramped, even without gloves, so I would've liked to see it a bit longer.
When it comes to the controls, I found them all to be laid out well and easy enough to manipulate. The magazine release could definitely stand to be larger, though, but it still worked fine.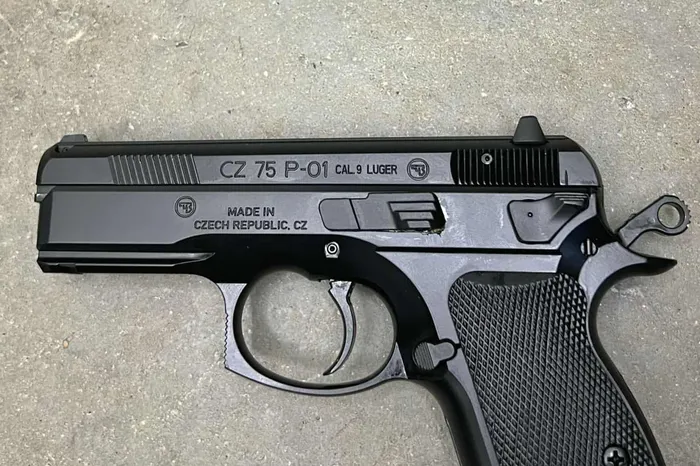 How We Tested
The P-01 accompanied me on three range trips, all of which were at my local indoor range. Time was spent in both DA and SA, rapid firing and taking it slow. I didn't have any issues, regardless of how I was shooting, from a reliability standpoint.
Ammo Used
If you've been reading some of my other most recent reviews, you've likely noticed a lot of Blazer Brass.
I've been working my way through a case of it and it's been running great as usual. This specific case is 115-grain FMJs. I also ran a magazine of Armscor 124-grain JHPs through it.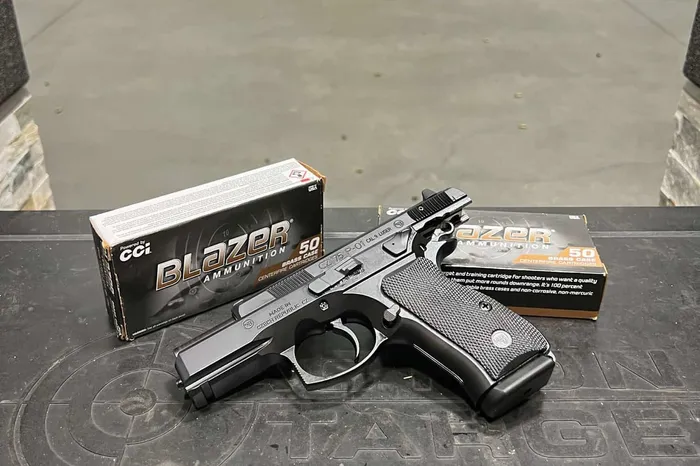 Score Card
Reliability (10/10)  
I didn't have any issues while shooting, but I would want to send many more rounds down range to make a long-standing opinion.
Ergonomics (9/10)
Feels great in hand, and the beavertail adds to the control.
Customization (7/10)
Limited aftermarket options.
Appearance (8/10)
A classic look, but sleek and stylish.
Value (7/10)
Drop it $100+, and I'll raise my score.
Accessories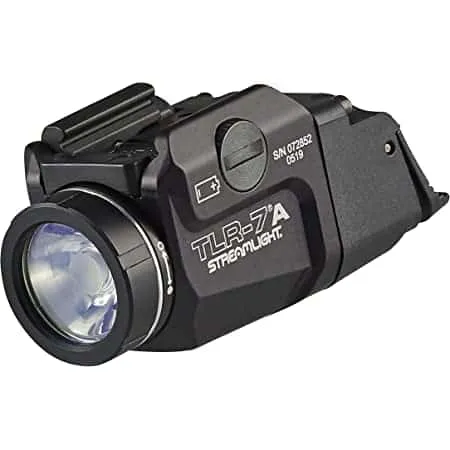 The TLR-7A is one of my favorites due to its compact size and solid performance.
It puts out 500 lumens for an hour and a half on a single CR123A battery. You get a set of high and low ambidextrous switches to ensure you're easily able to activate the light based on your grip style.
You know you're getting a quality light if it's from Streamlight.

I've run these on many of my handguns and really like them. I mean, almost any night sights are going to be better than the P-01s painted ones, but Night Fision's will be 100x better.
Night Fision has some of the brightest tritium on the market and you can choose your sight height, ring colors, and rear notch style. Their customer service has been top-notch as well from my experience.
Alternatives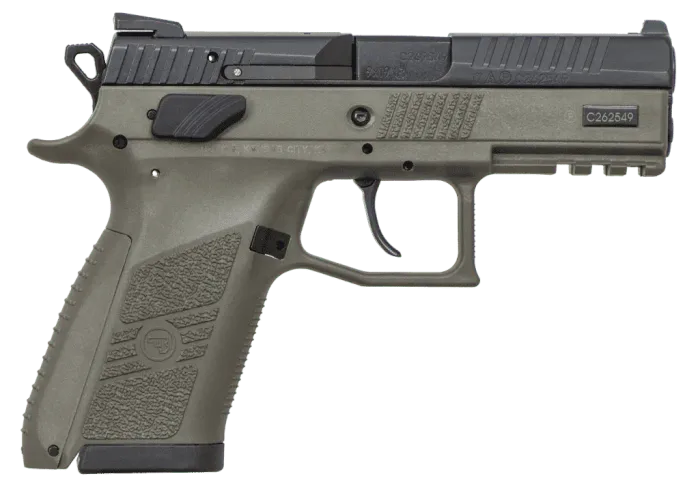 Are you a polymer pistol fan? For a similar pistol to the P-01 but with a polymer frame, check out the P-07.
It got a facelift in 2014, which removed the sharp edges, added front slide serrations, and added interchangeable backstraps. You still get the 15+1 capacity and DA/SA trigger for familiarity purposes with the P-01. It's a great alternative if you want to stick with CZ.
Another great gun "do it all" gun.
The Glock 19 doesn't really need much of an introduction. It's compact, but you still get a 15+1 capacity with the option to use higher capacity magazines all the way up to 33 rounds.
It's one of the most carried and reliable 9mm handguns out there, so it frequently makes my list of alternatives.
Check out my Glock 19 Gen5 review for more info.
Conclusion
In today's strange market, where certain guns are selling for above MSRP, the specific gun needs to have pros that far outweigh the cons.
With the CZ-75 P-01, I just personally don't see the value present at today's prices. That's not to say that the gun isn't reliable and accurate. If the price was to drop below MSRP like you can find many other guns, I'd likely have a different opinion.
Regardless of the price, though, if the CZ P-01 tickles your fancy, I believe you'll be happy with your purchase (as long as you don't pay too much of an inflated price).
Explore more