CZ Hammer Classic Review: Banging Hammers With A Classic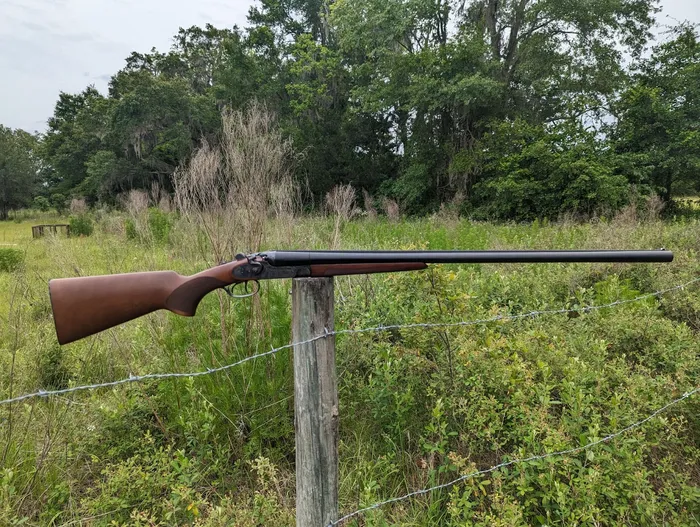 CZ Hammer Classic Review: Banging Hammers With A Classic
Introduction
Classic guns and classic cars have a lot in common, whereas classic guns often succeed in making comebacks.
It's a lot easier to bring a classic gun back than a classic car. CZ aims to bring all shooters the side-by-side, hammer-fired shotgun experience back in the form of the CZ Hammer Classic.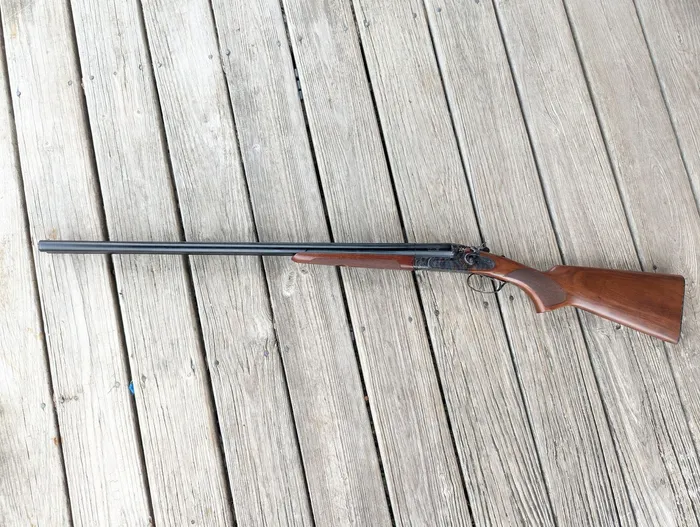 While boxlock shotguns with internal hammers are the more practical choice in 2023 for double barrel duties, you can't beat a hammer-fired double barrel. The 'rabbit ears,' as they are often called, harbor us back to a simpler time for shotgunners.
Hammer-fired guns are mostly associated with old English doubles. These days you're spending at least four figures for an English-made modern double and five figures for a classic.
CZ aims to corner the market for those who desire a hammer-fired double-barrel shotgun without breaking the bank. At less than a thousand dollars, the CZ Hammer Classic offers us all a chance to experience the classic feeling of an English double gun without the English double gun price.
CZ Hammer Classic Review
The Hammer Classic is perfectly described by its name. Most hammer guns at this point are either too costly for most shooters or antiques that should be cherished and not run hard.
The CZ Classic Hammer gives you a rock-solid double barrel, side-by-side, hammer-fired shotgun of the classic configuration. It also won't hurt the wallet.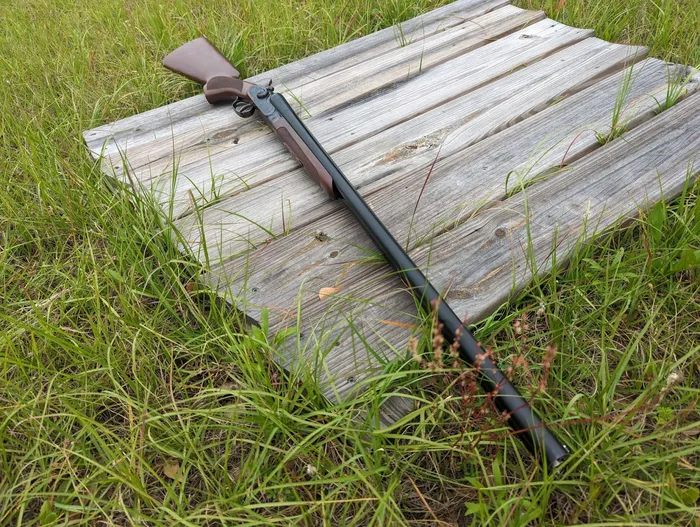 Additionally, the gun does have a few modern features that make it a bit more modern and convenient. Fret not. None of these features disrupt the classic hammer-fired design. They are subtle and won't be noticed by your average shooter.
The Hammer Classic is perfect for a number of purposes. It could be used for deer and dove hunters or even to kill clay pigeons at the trap range. The double hammer design would require a steady hand and quick shot to succeed at skeet, though. It can accomplish these tasks while remaining a classic design and appealing to those who might not be swayed by a Benelli Super Black Eagle or other super modern design.
Specifications
| | |
| --- | --- |
| Caliber | 12 gauge |
| Capacity | 2 rounds |
| Barrel Length | 30 inches |
| Overall Length | 47.38 inches |
| Weight | 7.5 lbs |
| Chamber | 3-inch |
| Length of Pull | 14.5 inch |
Pros & Cons
Pros
Beautiful Design 

Excellent Triggers 

Chrome Lined Bore 

Interchangeable Chokes
Cons
Long Length of Pull 

Hefty Recoil
First Impressions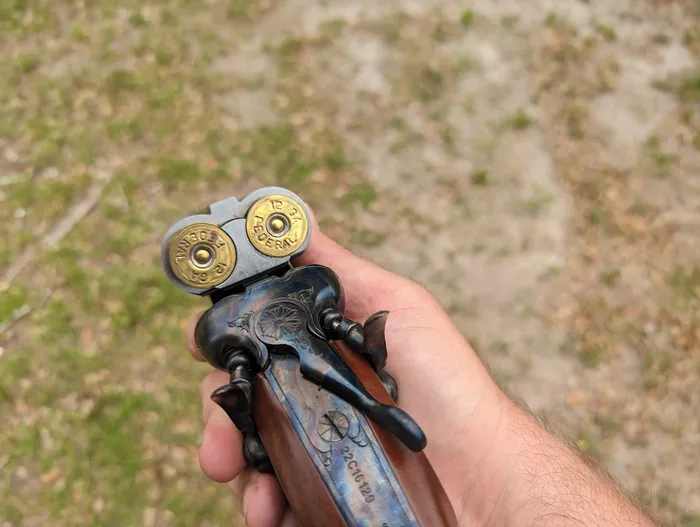 I will be forever impressed by how CZ packages their doubles. You expect a cardboard box for a gun that arguably falls into the budget category. However, CZ packages their guns in a polymer carrying case with a soft protective bagging to help prevent finish marring.
Right out of the box, the gun is easy and quick to assemble. However, it is quite stiff.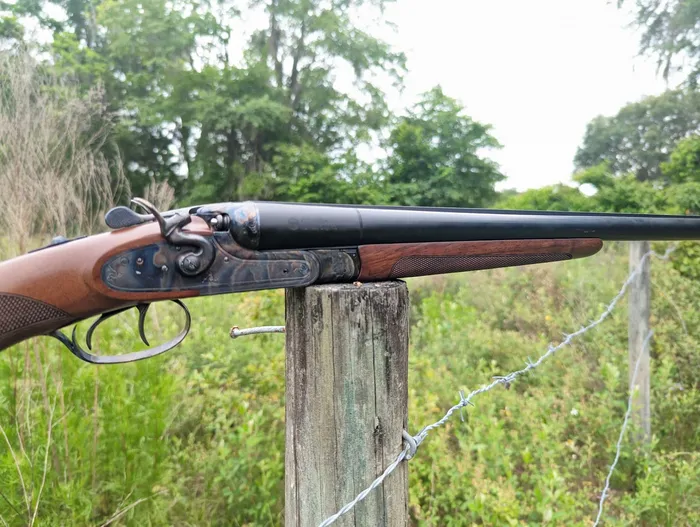 The barrel release and barrels need some real pressure to move and loosen up. It doesn't take long to loosen up, but that tight-fitting design is very apparent.
With a little work and movement and the gun became much easier to open and use. The hammers and tang safety are very crisp and move with ease.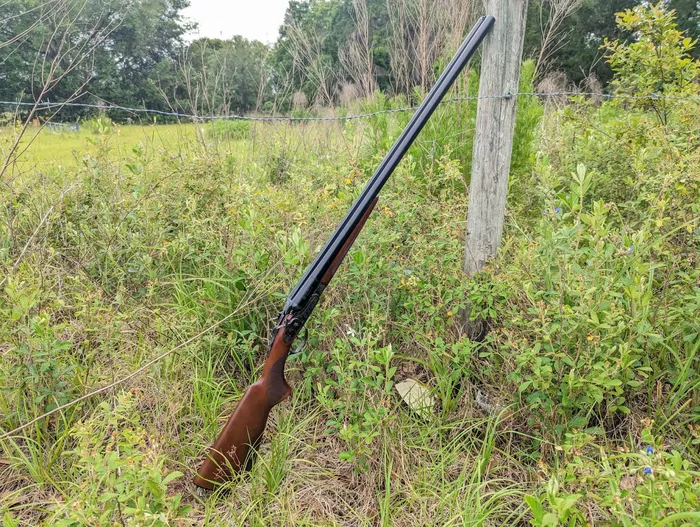 What really struck me was just how gorgeous the gun is. The receiver is color-cased hardened, and the wood is also just wonderful. That Turkish walnut really looks fantastic and is impressive. It truly is a striking gun. I want to hang it up in my living room as much as I want to shoot it.
Reliability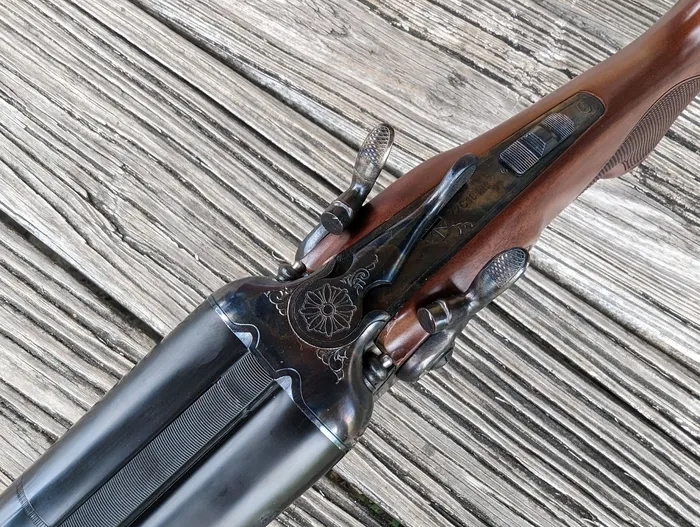 When we look at older guns, we often see a good deal of simplicity. That is quite true with hammer-fired shotguns.
They are very simple, and therefore they tend to be fairly reliable. Most double guns are due to a lack of moving parts, and the Classic Hammer lives up to that reputation.
Every time that hammer drops, the gun fires. The Classic Hammer delivers and fires with every type of ammo. It can shoot shells of any size up to 3 inches. This includes standard 2/75 and 3-inch shells, as well as those mini 1.75-inch shells, the 2-inch slugs I have from Ukraine, and really anything else. The extractor always lifts them out of the barrels and makes them easy to remove and reload.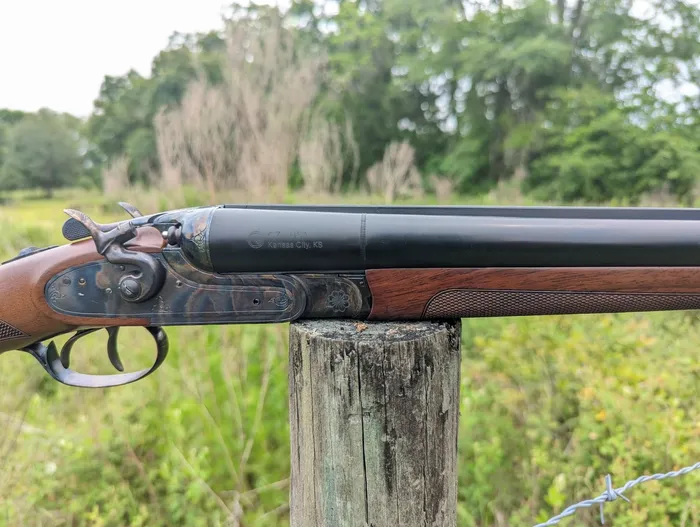 One factor that will keep the gun running is the chrome-lined bore. It's perfect for keeping pesky, often unseen rust away. That might not affect day-to-day reliability, but it's an unseen hero worth mentioning.
Accuracy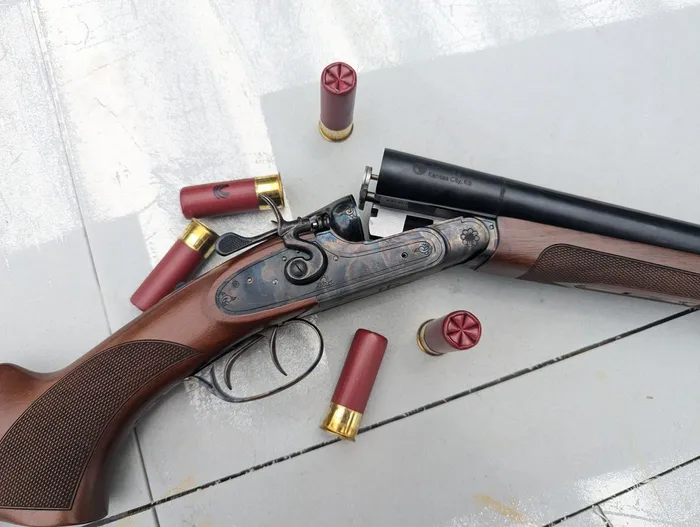 We aren't looking for hundred-yard groups with a shotgun.
What we want is two things, consistent patterns and proper alignment of the point of aim and point of impact. On the pattern front, you can make adjustments with the included chokes, another feature not common on classic hammer-fired shotguns.  
Right off the bat, both guns hit basically at the point of aim. Obviously, the left barrel favors the left just a bit, and the right barrel favors the right. It's just physics, but it's not enough to throw a shot at shotgun ranges.
The patterns proved consistent over various buck and birdshot loads from numerous companies. Nothing special, but it's in line with your standard shotgun.
Ergonomics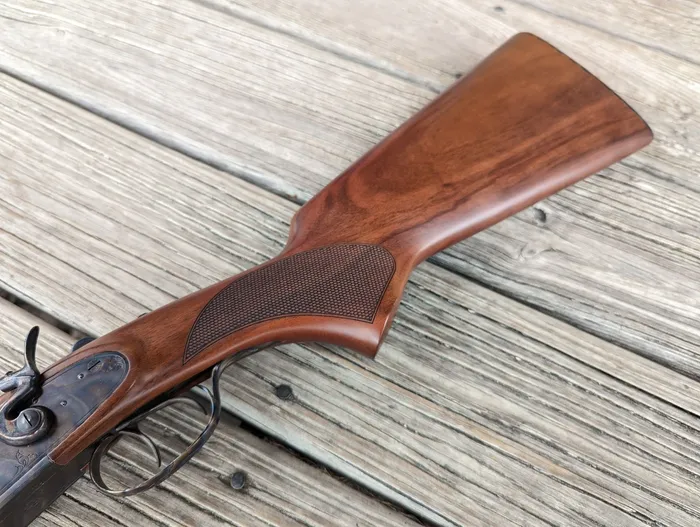 The Hammer Classic is a bit of a new experience for most of us. Luckily, it's not complicated. It's a bit foolproof. The barrel lever pushes easily enough, and after a little wearing in, the gun would break open without any force. This makes loading quick and simple. The tang safety moves with a positive and tactile click.
Cocking the hammers is an absolute delight, and they are quite easy to reach and access. As someone who does a bit more defensive-oriented shooting than wing shooting, I began to experiment with how fast I could eject empties, reload fresh shells, and put two shots on target.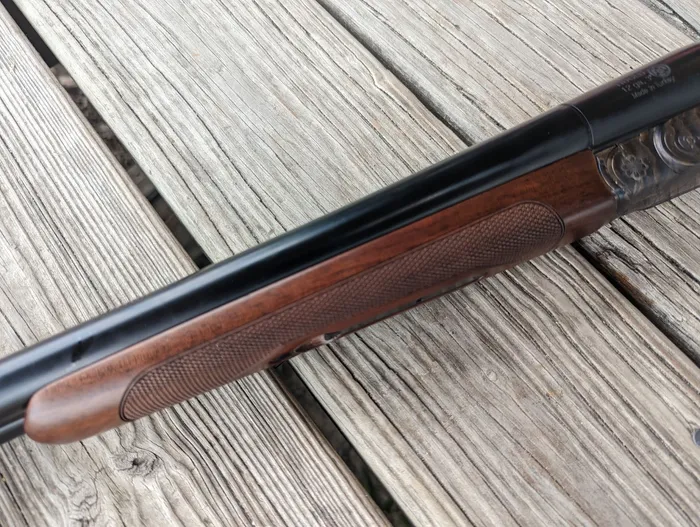 I got fairly quick. The extractors push the shells out of the barrel so you grip and rip. The support hand snags two fresh shells and loads them simultaneously. Then close the action and use the same support hand to sweep rearwards and cock the gun. With practice, I got proficient and would be hell on wheels if it was 1866.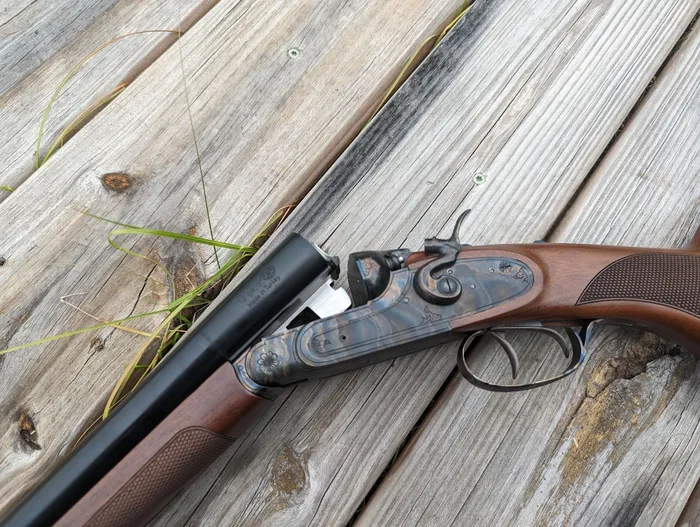 My complaints come down to the long 14.5-inch length of pull. It's okay for me, but I'm a big guy; shorter shooters may not enjoy it. A minor grip I do have is the very small forend. I'd prefer something just a hair bigger for a better grip.
Recoil
There is some substantial recoil with this gun, and I do mean that in relation to other double barrel 12 gauges. The metal butt plate certainly doesn't help with recoil absorption. Neither does the 2.25-inch drop at the heel, which throws it out an inline design.
I think these factors are what create a noticeable recoil impulse on a fairly heavy gun.
Features
Dual Triggers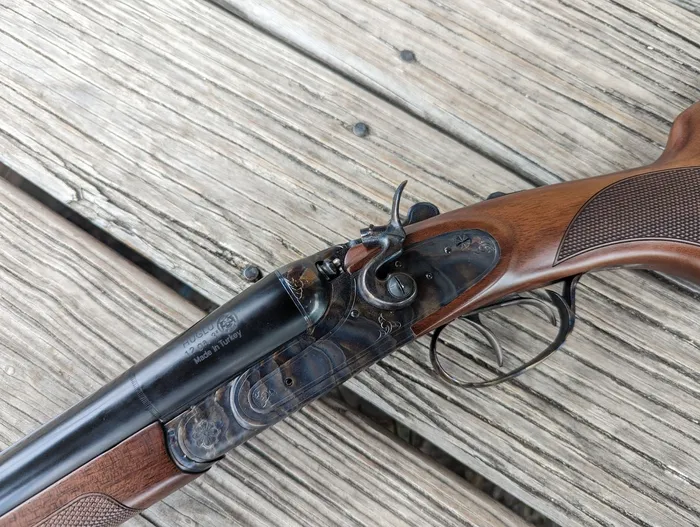 Like all classic hammer-fired guns, the Classic Hammer has a nice set of dual triggers. One sits fore and one aft. This allows for excellent trigger control and provides a great trigger pull. The dual trigger design makes it always easy to know which barrel you're firing.
Large Front Sight
The front sight is a great not so classic bead. It's a big white front sight similar to the Bradley designs. It's easy to see and eye-capturing for accurate shooting. The big design makes it stand out on that long metal barrel.
Extractors
A set of twin extractors lift the shells out of the gun but do not eject them. This makes it easier to control where your empties are going. I prefer it to ejectors because I have to ocean my own range up! Plus, it's simple and reliable.
Removable Chokes
All those old-school English doubles didn't have removable chokes, but the Classic Hammer has them. This allows you to have better control over your shot pattern and makes the Classic Hammer a more versatile gun for modern uses.
How We Tested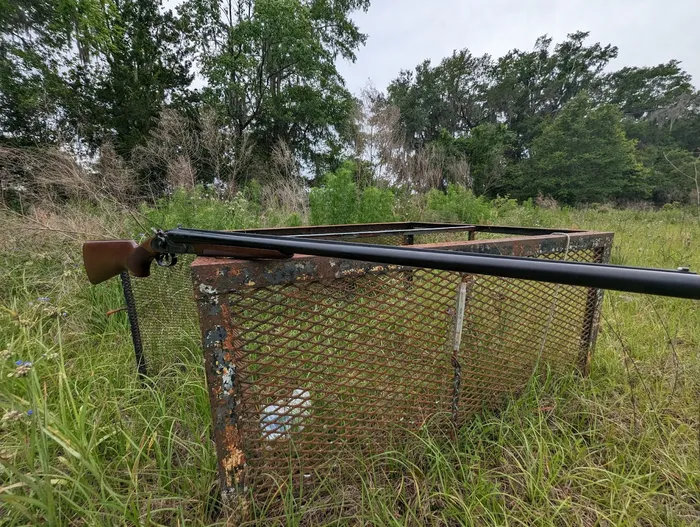 A few trips to the trap range proved to be the most entertaining way to test the Classic Hammer. For single shots on informal trap shooting, it was perfect. It's not a traditional trap gun by any means, but any time a clay pigeon explodes, you are having a good time.
We want the good times to last, so that kept me and some other friends shooting the Classic Hammer. We put over 250 rounds through the gun at the trap range. Most of it being Federal Game loads.
I later channeled my inner cowboy and practiced some tactical shooting circa 1886. I practiced with Lambardo loads of buckshot and tried to load, close, and fire both rounds as fast as possible. I did this on single and double targets and cycled through 26 rounds before my shoulder was a bit beat up.
From there, I experimented with various short shells and had zero reliability issues.
Ammo Used
For trap, it was primarily Federal 7.5-inch game loads. The cheap stuff. The buckshot is another cheap Greek loading of 00. The mini shells came from Federal, Aguila, and Takho.
Score Card
Reliability – 10/10
Not a single issue. It fires everything and extracts it all without issues.
Ergonomics – 7/10
The long length of pull is the main downside. I also would really like to see a larger forend.
Customization – 1/10
There is really nothing you can do besides change the choke.
Appearance 10/10
This is a beautiful gun. The finish and wood are beautiful.
Value – 7/10
The Hammer Classic is fairly affordable for a hammer-fired, double gun, but it still comes close to 1,000 dollars. It's not super useful, and there are cheaper, more versatile shotguns.
Accessories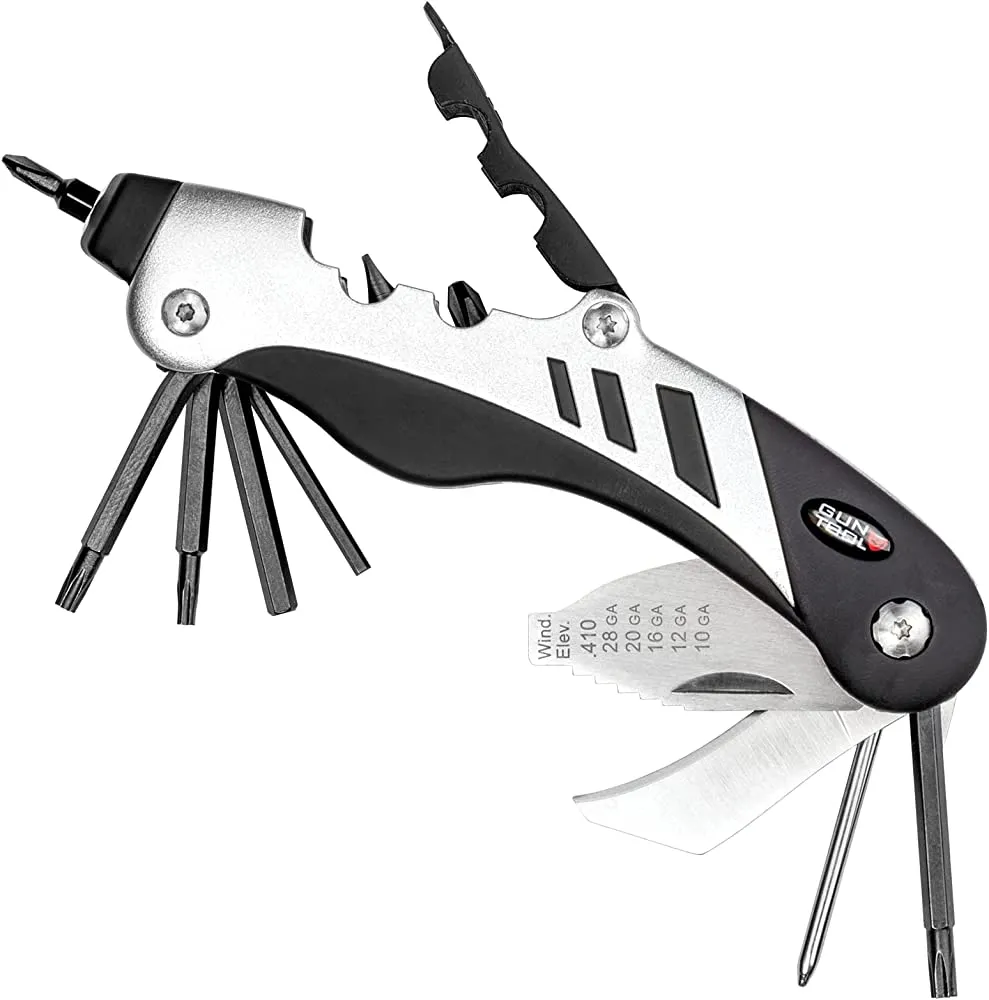 This handy little tool is a cheap but awesome tool to keep on hand with any gun. The Hammer Classic comes with a choke wrench, but it's kinda puny.
The Real Avid tool offers a much better choke tool, as well as some other handy tools to keep things tight.
Allen Company Shell Cuff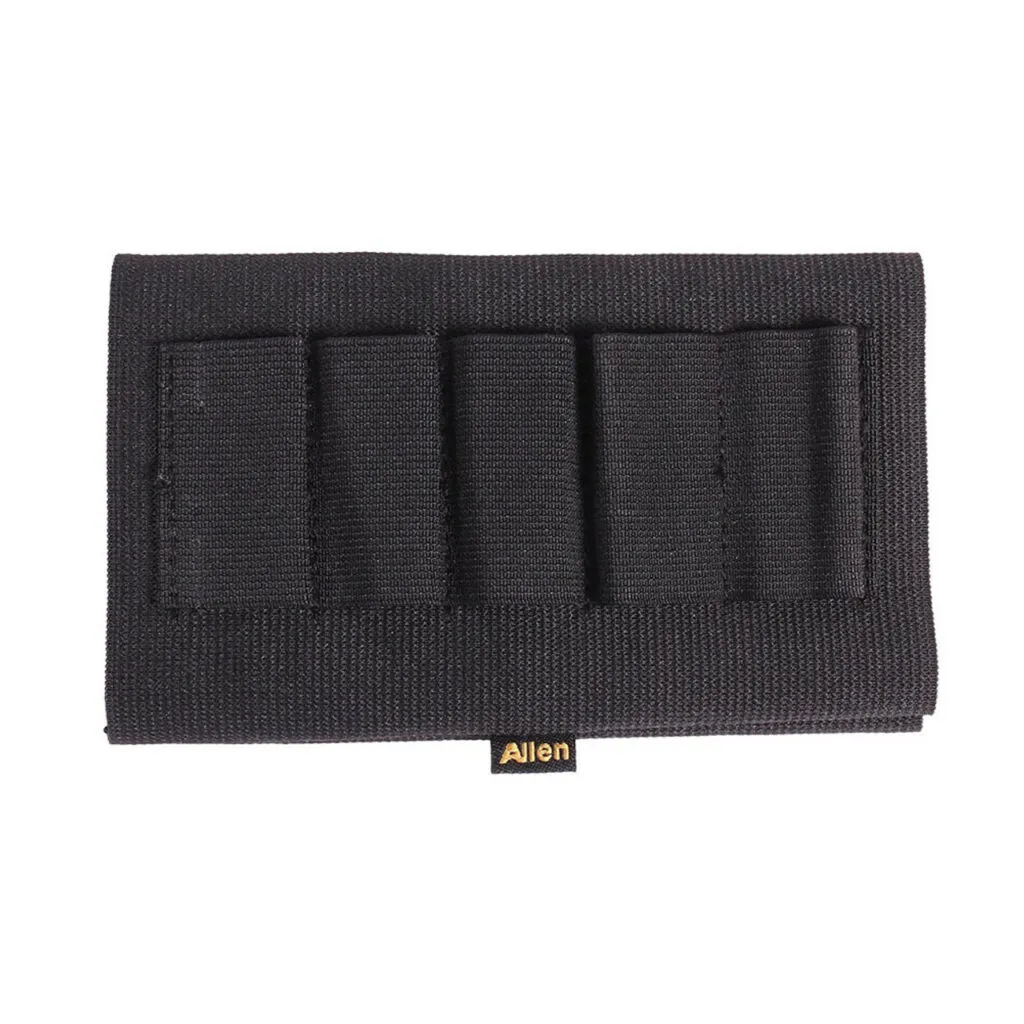 If you want to carry some extra ammo on your gun, the Allen Company Shell cuff slides right over your stock and holds an extra five rounds. This allows you to reload or even swap from buckshot slugs or birdshot quickly and easily.
Alternatives

If you like the Classic Hammer but want something a little shorter, a little more cowboy, then CZ has you covered. The Hammer Coach is the same gun with a much shorter 20-inch barrel. This coach gun looks just as beautiful as the Classic but gives you a Coach gun design.
It's shorter, lighter, and likely handier. Plus, it's perfect for SASS-style shoots.

The Stoeger Uplander Supreme is a side-by-side shotgun with a classic wood furniture design that's just beautiful. The Uplander is a single trigger boxlock design, so it's a true alternative to the Classic Hammer.
It's a fair bit different but keeps the classic long barrels and upland design. Plus, it also falls into the budget category.
Lay The Hammer Down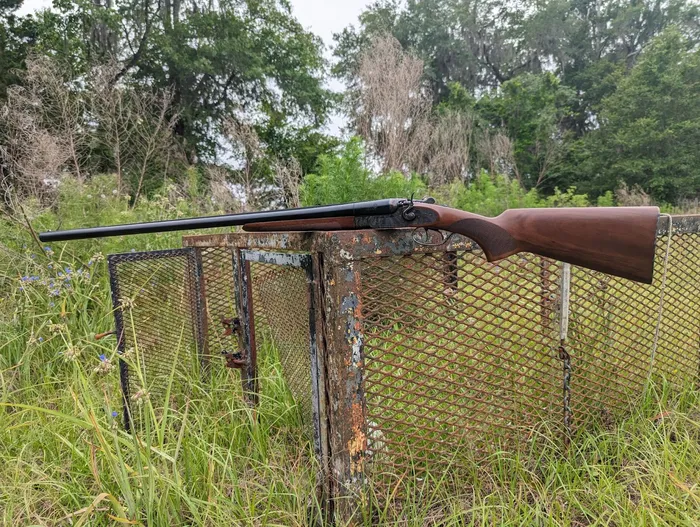 The Hammer Classic shotgun is a wonderful design. It's an experience unto itself.
Pulling back those hammers will always feel absolutely amazing. The Hammer design opens up a market of shotguns that are commonly closed to the average person. CZ implemented a few modern features to ensure the Hammer Classic is more than a range gun.
I think they did an excellent job and wouldn't hesitate to recommend this gun if you want that hammer-fired experience.
Explore more