Glock 21 Gen 5 Review: A 45 ACP With Manageable Recoil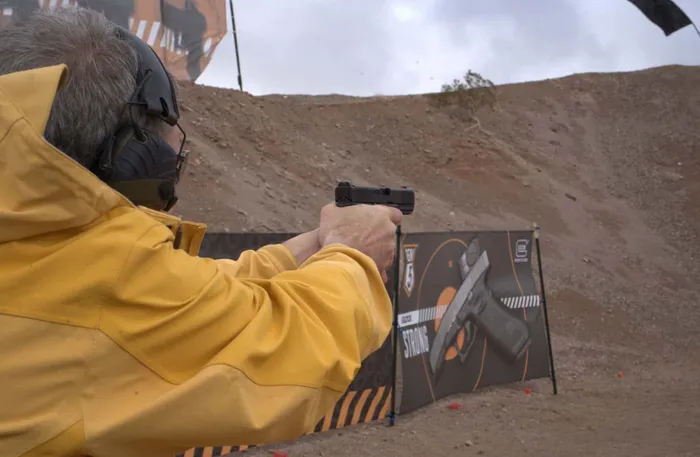 Glock 21 Gen 5 Review: A 45 ACP With Manageable Recoil
Introduction To The Glock 21 Gen 5
The Glock 21 is known for being accurate and having less recoil than other .45 ACP handguns. The Glock 21 Gen 5 carries on its predecessor's legacy, along with some improvements.
It uses the legendary stopping power of the 45 ACP round, and you can get a variety of magazine capacities. The modular rear backstrap design of the Glock 21 Gen 5 allows you to change the grip size to fit your hand size.
Its grip uses the Gen 5 rough textured technology, which was developed based on proven real-world use. Glock reduced the recoil by utilizing a dual recoil spring assembly, significantly extending the gun's service life.
Shooters can quickly and easily swap the orientation of the gun's larger magazine catch to adapt for a left- or right-handed user.
More information from Glock here.
Glock 21 Gen 5 Review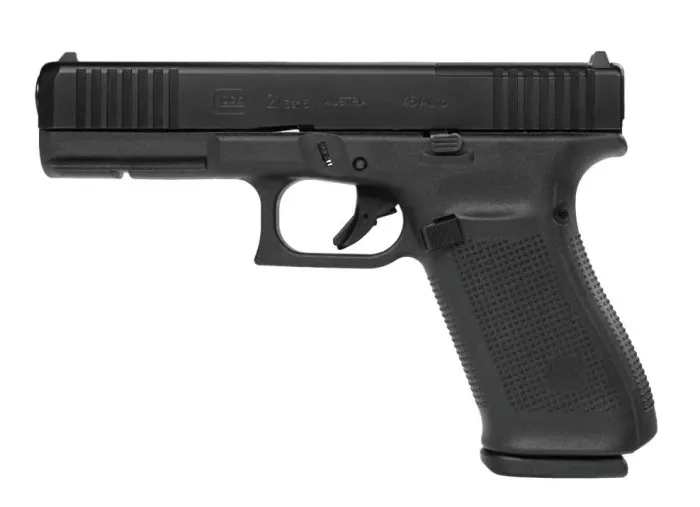 In this review, I will cover the Glock 21 Gen 5, a pistol perfect for everyday carry and self-defense.
Specifications
| | |
| --- | --- |
| Manufacturer | Glock |
| Model | 21 Gen 5 |
| Caliber | .45 Auto |
| Capacity | 13+1 but other options are available |
| Type | Semi-Auto Pistol |
| Action | Striker Single Action |
| Trigger Pull Weight | Approx 6 lbs. |
| Overall Height | 5.51 inch |
| Barrel Length | 4.61 inch |
| Overall Length | 8.07 inch |
| Overall Width                         | 1.38 inch |
| Weight | 29.10 ounces with empty magazine |
| Safety | "Safe Action" Trigger |
| Frame | Polymer |
| Slide Finish | nDLC surface finish |
| Front Sight | Fixed (white dot) |
| Rear Sight | Drift Adjustable (White Dots) |
| Accessories | Multiple Sized Backstraps |
Pros & Cons
Pros
Affordable compared to other 45 ACP guns.
A variety of magazine sizes are available.
Great recoil management for a 45 ACP.
Cons
Some shooters may find the grip large for their hands
They could improve the sights.
First Impressions/On the Range Testing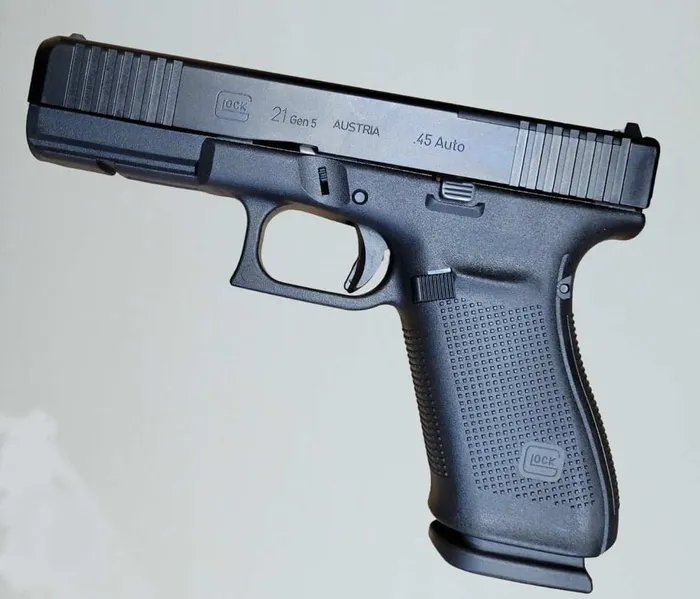 I was fortunate to shoot the Glock 21 at the Range Day for SHOT Show this year. The weather was terrible, and we were in the desert with rain, but the gun performed flawlessly.
I personally only got to shoot a couple of magazines through it, but there were a lot of people there, and the gun I shot saw a lot of use.
It was accurate and had a very manageable recoil compared to other guns chambered in 45 ACP. Getting back on target was fast.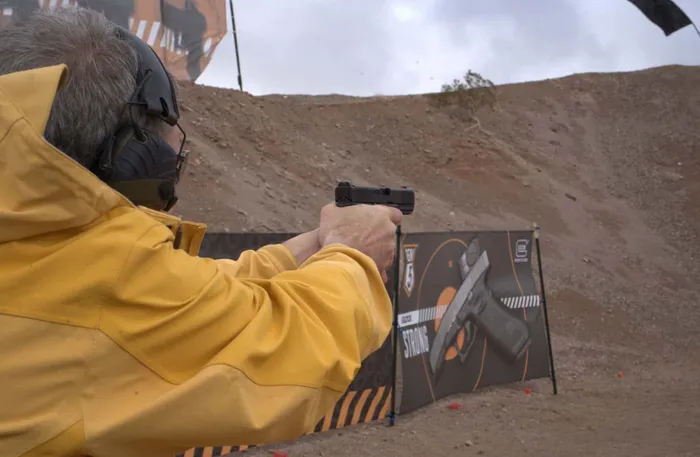 Features
Glock Modular Backstrap System (MBS)
The Glock Modular Backstrap System lets you change the grip on your Glock 21 to fit the size and shape of your hands.
You can change the back straps on the gun. The backstraps come in different sizes with a beavertail, and you can easily switch them out to fit your hand. The beavertail style also helps you feel less recoil by letting you keep a higher, more comfortable grip on the gun.
The Glock Modular Backstrap System makes the Glock 21 easier to use and more comfortable for a broader range of people. This feature makes shooting more personal and can also help improve accuracy by making sure your hand better fits the pistol grip.
Flared Magwell
The flared magwell on the Glock 21 Gen 5 has several advantages.
A flared magwell helps you quickly and accurately guide the magazine into the pistol. A flared magwell provides a larger opening for the magazine to enter, making it easier and faster to reload the gun.
This allows for faster reloads, especially in a high-stress environment.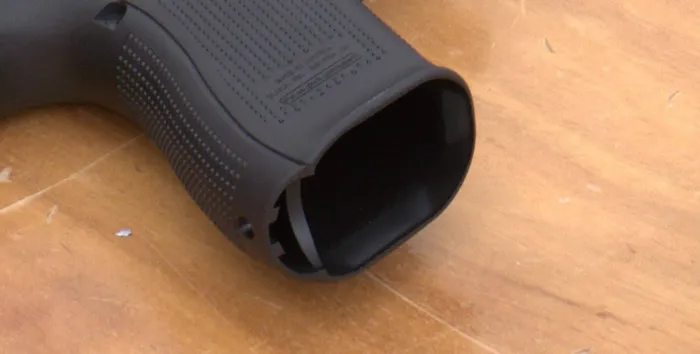 Ambidextrous Controls
The slide-stop lever is ambidextrous, making the handgun equally suitable for left-handed and right-handed users.
It has a reversible magazine release that you can remove and swap sides in minutes. This allows the gun to be used in a wider range of situations and with more flexibility.
Sights
One of my few complaints about the Glock 21 Gen 5 is its cheap plastic sights.
A set of aftermarket metal sights or, even better, a set of night sights would be my first choice for an upgrade. If you decide to purchase a Glock 21, putting some money aside for upgraded sights is a good idea.
The Gen 5 Slide Finish
The nDLC (Nitride Diamondlike Coating) finish on the Glock 21 Gen 5  is tougher and lasts longer than the finishes that were used before.
The nDLC finish makes the pistol more resistant to corroding and scratches, which is ideal if you are carrying your gun around all day.
Glock Modular Optics System (MOS)
The GLOCK Modular Optic System (MOS) is a feature on the Glock 21 Gen 5 that makes it easy for you to attach different types of optics. MOS-equipped Glocks have a set of mounting plates for the slide that make it easy to attach a variety of optics, including those made by popular brands like Trijicon, Leupold, and Vortex.
Optics are popular for competition shooters because they enable faster and more accurate target acquisition and follow-up shots. The MOS system is simple to use. Overall, the Glock MOS system gives people who want to improve the accuracy and functionality of their handgun a flexible and customizable choice.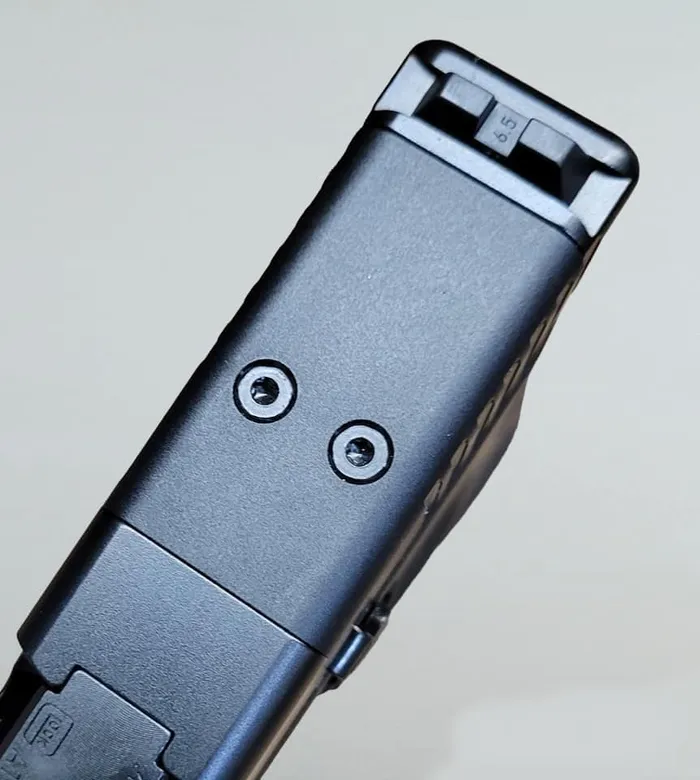 GLOCK Safe Action® System
The GLOCK "Safe Action System" is made up of three separately acting safety mechanisms: the trigger safety, the firing pin safety, and the drop safety. It is a simple and reliable mechanical system that ensures the gun won't go off accidentally, even in the worst conditions.
The trigger safety is a lever that is built into the trigger. It stops the trigger from moving unless your finger is all the way across it.
The firing pin safety is a spring-loaded plunger that stops the firing pin from moving forward unless you pull the trigger.
Finally, the drop safety is a small metal bar that keeps the firing pin from moving, even if you drop the gun.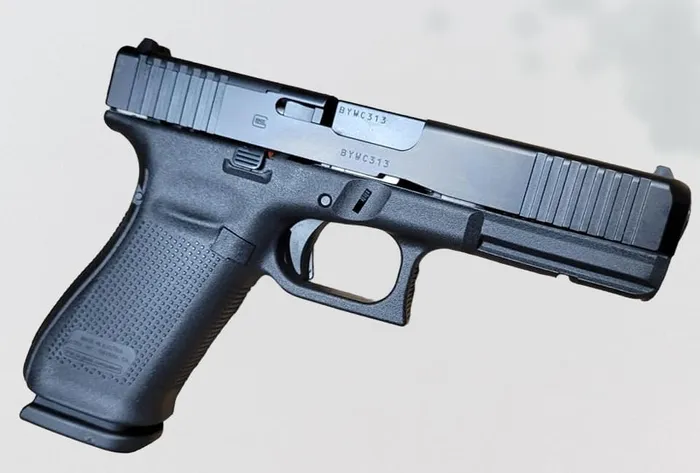 SCORECARD
Reliability (10/10)
Glock is a proven and reliable design that works.
Ergonomics (7/10)
Some people might find the grip a little large for their hands.
Customization (10/10)
Glocks are known for having a bunch of options to customize it for your needs.
Value (10/10)
Now that they included an optic cut, the value is hard to beat.
Accessories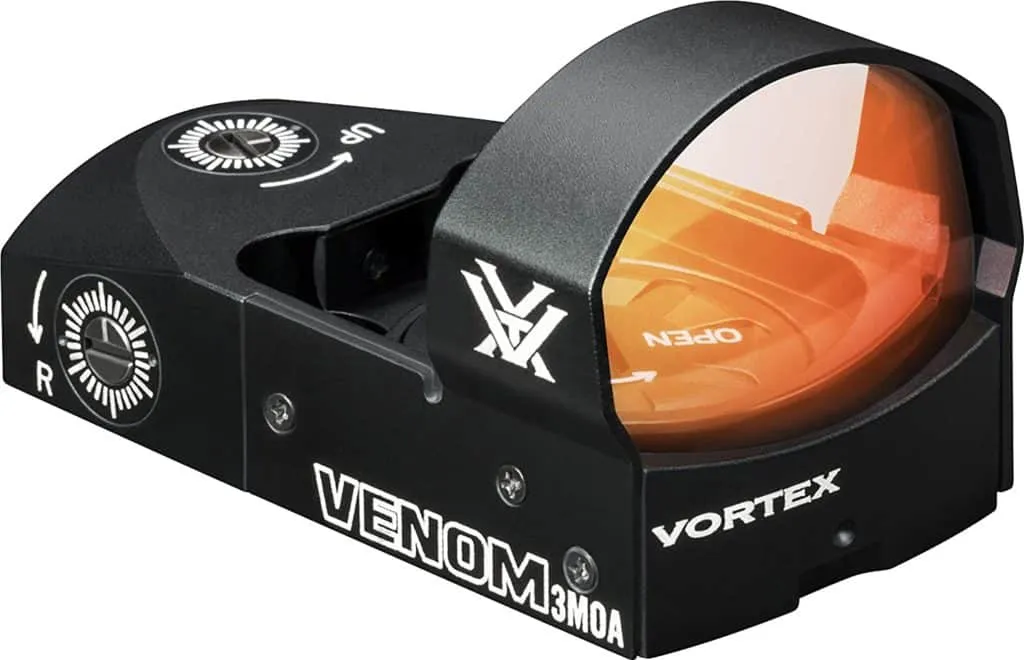 Because of the GLOCK Modular Optic System (MOS) you will have no problem finding an optic for your Glock 21 Gen 5.
Trijicon, Leupold, and Vortex all have multiple options to choose from.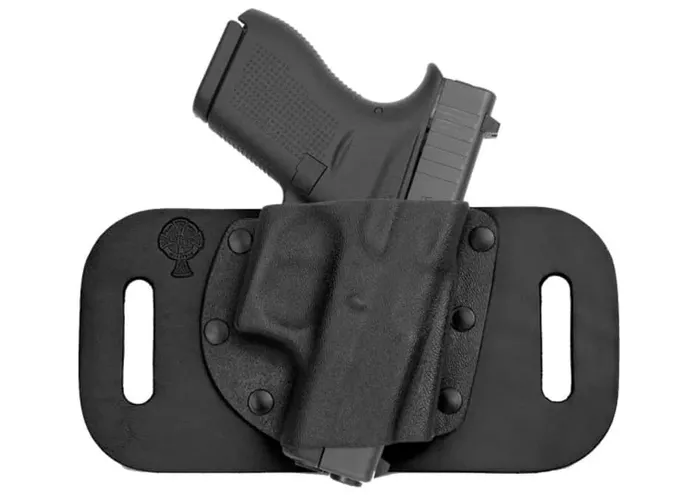 Since Glock is one of the most popular guns in the market, you can find a holster for any environment you would want to carry in.
Whether you are looking for an inside the waistband (IWB), outside the waistband (OWB), or even appendix carry (AIWB), companies like Crossbreed Holsters will have something that works for you.
Alternatives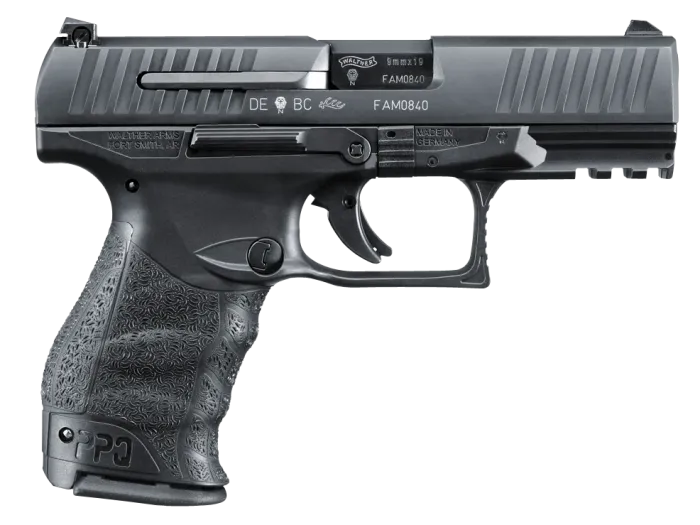 The Walther PPQ 45 is a semi-automatic pistol chambered in 45 ACP (Automatic Colt Pistol) caliber. It has a polymer frame and a steel slide. It is a striker-fired pistol.
The PPQ 45 is easy for right- and left-handed shooters because it has a low-profile ambidextrous slide catch.
It has a 4.25-inch barrel, an 8-inch overall length, and weighs a little over 28 ounces unloaded.
The PPQ 45 also has a smooth and light trigger pull with a short reset for quick follow-up shots. The gun can hold 12+1 rounds and comes with different backstraps so that you can change the grip to fit your hand.
Overall, the Walther PPQ 45 is a dependable and accurate handgun with a comfortable grip and a smooth trigger pull, making it a popular choice for personal defense and self-defense.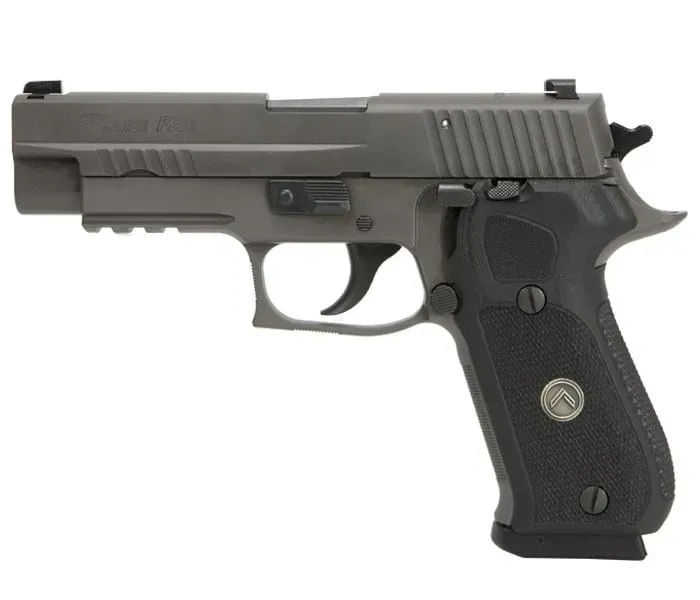 The Sig Sauer P220 Legion is a semi-automatic gun that shoots either .45 ACP or 10 mm. It's a full-size pistol with a slide made of stainless steel and a frame made of alloy.
The overall length is 7.7 inches, and the barrel length is 4.4 inches. The P220 Legion has Sig Sauer's Legion Gray coating, making it more durable and rust-resistant.
It also has some upgrades that are unique to the Legion series, like high-visibility X-RAY3 day/night sights, a Legion Gray G10 grip, and a really nice trigger.
It holds 8+1 rounds and has an extended beavertail grip, making it more comfortable and easier to hold.
The P220 Legion also has a low-profile decocking lever and a slide release lever that make it easy for both right-handed and left-handed shooters to use. The Sig Sauer P220 Legion is a reliable gun with several improvements that are only found in the Legion series.
FAQs
How reliable is the Glock 21 Gen 5?
The Glock 21 Gen 5 is a very reliable gun built on a proven platform.
Is the Glock G21 a good gun?
Glock makes a great gun that people have relied on for years, and the Glock 21 is no exception.
Is Glock 21 good for home defense?
The Glock 21 is perfect for home defense, since it has the added stopping power of a 45 ACP round.
Conclusion
The Glock 21 Gen 5 is a great gun for self-defense and ideal for someone wanting to get into a .45 ACP, but they might be a little hesitant because of the increased recoil of a larger caliber.
It is reliable and will give you a good all-around gun for protecting yourself at home or with the right holster as your everyday carry.
Explore more