Glock 44 Review: Great 22 .LR Pistol [2023]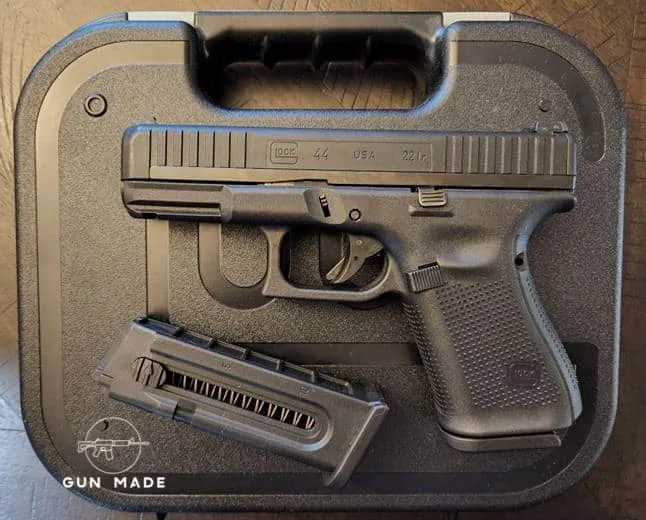 Glock 44 Review: Great 22 .LR Pistol [2023]
When the price of ammo went through the roof in 2020, I was looking for some semi-auto rimfire handguns for students to use that would not cost them a second mortgage on their house to pay for the ammunition. One of my picks was the Glock 44 rimfire pistol, or the 44th model Glock, which fires a rimfire .22 LR round. Today we are diving into a full-on Glock 44 review.
When Glock came out with this model pistol, it was the first time they entered the rimfire world. While a .22 might not be one of the pistols you would use for concealed carry or self-defense, it is great for inexperienced and experienced shooters to get in some added range time.
A .22 will by no means give you the kick of a 9mm, but this gun will provide you with a great way to practice your draws, your form, and target acquisition in a cost-effective environment. I tried various types of ammunition; at first, it had its fair share of malfunctions.
However, over time it seems to have improved, although I was still having some issues after 1000 rounds. I ran all three of these through it: CCI Blazer 40 Grain / 1255 FPS, Remington Thunderbolt 40 Grain / 1255 FPS, and Armscor 36 Grain / 1247 FPS. The Armscor and CCI Blazer shot fine, but I had a couple of occasions when the Remington Thunderbolt would not hold the slide open after the last round.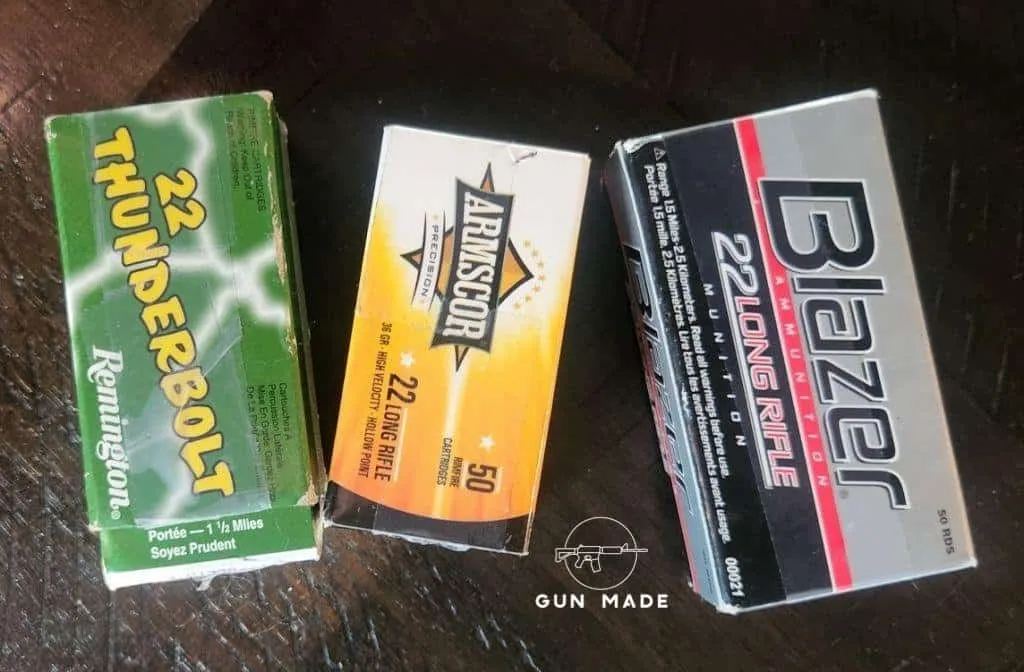 Glock 44 Review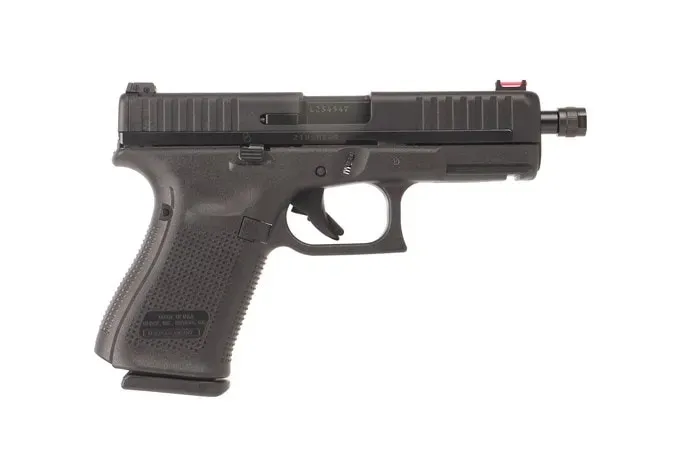 If you have fired many Glock pistols, you will probably notice some similarities between the G44 and their popular 9mm caliber pistol, the Glock 19. The holsters are essentially the same, which is perfect for practicing your draw.
The overall length of each firearm is 7.28 inches, and the width of the hybrid steel polymer slide measures about 1.25 inches. When compared to the width of the Glock 19, the Glock 44 comes in at 1.26 inches, which is slightly less than what the Glock 19 measures at 1.34 inches.
Both firearms measure a total height of 5.04 inches. The only significant difference is the weight of the Glock 44 (15.94 ounces) is about half that of the Glock 19 (30.16 ounces). The Glock 44 has all the features you would want in a compact pistol to make it one heck of a great gun deal and a fun gun to shoot.
So now that I have put a couple of thousand rounds through it, let's cover the Glock 44 .22 LR review.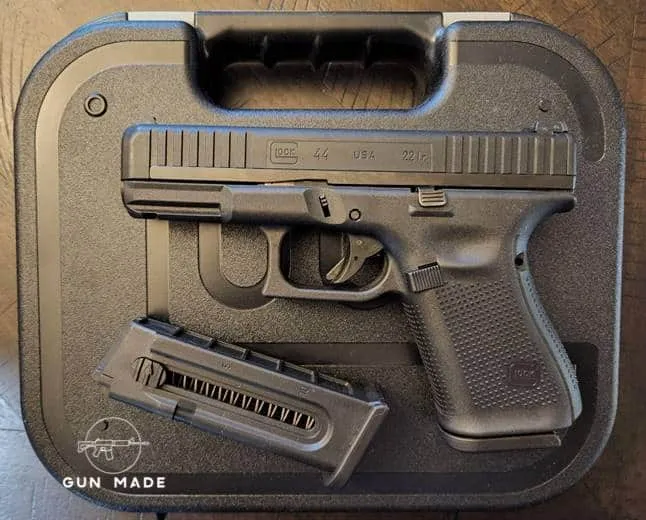 Specifications
| | |
| --- | --- |
| Manufacturer | Glock |
| Model | G44 Compact Pistol |
| Caliber | .22 Long Rifle (.22 LR) |
| Magazine Type | Single Stack |
| Capacity | 10 + 1 |
| Type | Semi-Auto Pistol |
| Action | Semi-automatic; Single-action; Hammer-fired |
| Trigger Pull Weight | 5.8 lbs |
| Barrel Length | 4 inch Glock Marksman barrel (GMB) |
| Overall length | 7.28 inches |
| Overall height (with Magazine) | 5.04 inches |
| Overall width | 1.26 inches |
| Weight (no magazine) | 12.63 oz |
| Weight (empty magazine) | 14.64 oz |
| Weight (loaded magazine) | 16.40 oz |
| Grip | Polymer |
| Front Sight | Standard GLOCK white dot, non-tritium |
| Rear Sight | Adjustable polymer U-notch |
| Slide Construction | Hybrid steel polymer slide with rear serrations |
| Frame Construction | Polymer |
| Finishes | Black |
| Accessories | Four different grip adapters (interchangeable back straps), optional threaded barrel, |
Great For New Shooters
The Glock 44 is great for new shooters for many reasons, not the least of which is the cost of ammunition. With a low recoil and the same "feel" as its brother, the Glock 19, you can get in a realistic practice session at a fraction of the cost.
It Gets Dirty!
Like most .22s, it will get dirty and require more frequent cleaning compared to a centerfire. I ran into problems with subsonic ammo, but when I used high-velocity ammo like a CCI Mini-Mag or Aguila Super Extra I had no problems. Disassembly and field stripping are the same as other Glock models that all use centerfire ammo as opposed to the rimfire.
This is a great video showing you how to break down the gun for cleaning and reassembly.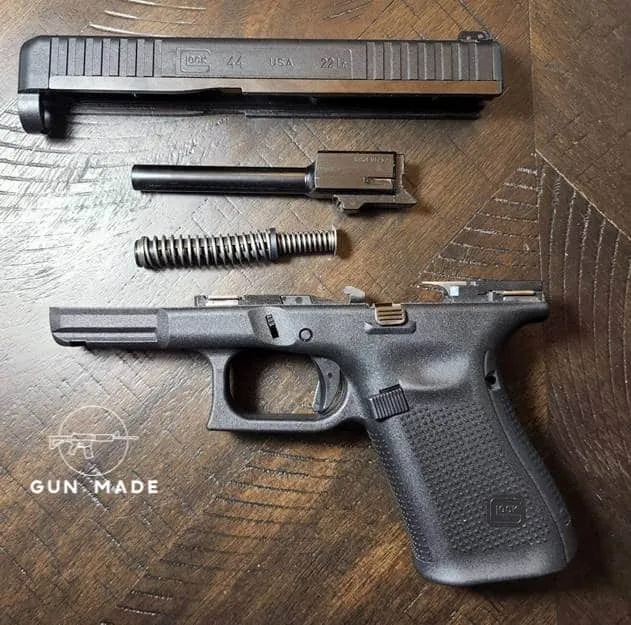 Easy To Load
The magazine is perfect for shooters with weak hands or wrists because of the button that can be used to compress the magazine spring. Users will find the button makes loading the magazine extremely easy even for those of you who have fought with other magazines.
The button on the side makes it easy to load, but you do not want to pull it down too far, or the ammo has a habit of getting jammed in up and down instead of laying in horizontally.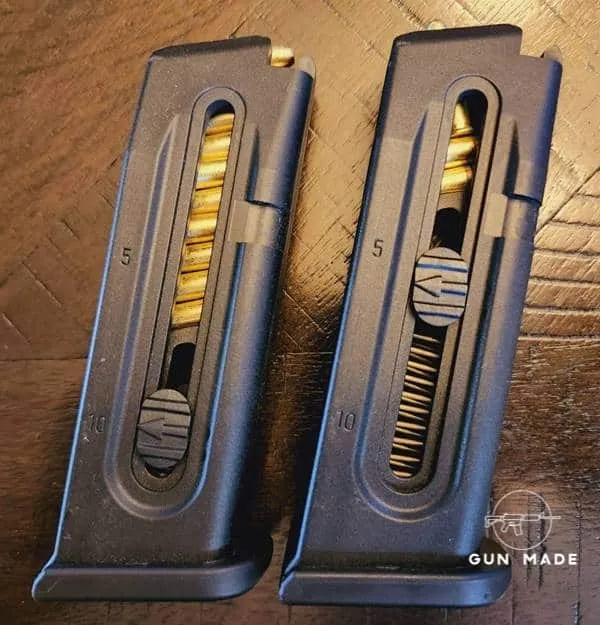 Holsters
Because of the Glock 44's size, which is identical to that of the Glock 19, you can use the same holsters for both. Holster compatibility is a bonus for your training and pocketbook.
Ergonomics
Four interchangeable backstraps to adjust the feel to your hand size. When you unbox it you will find two beaver and two standard interchangeable backstraps to slide over the back of the grip. You can also use the gun with no backstrap, which will give you five different sizes to choose from.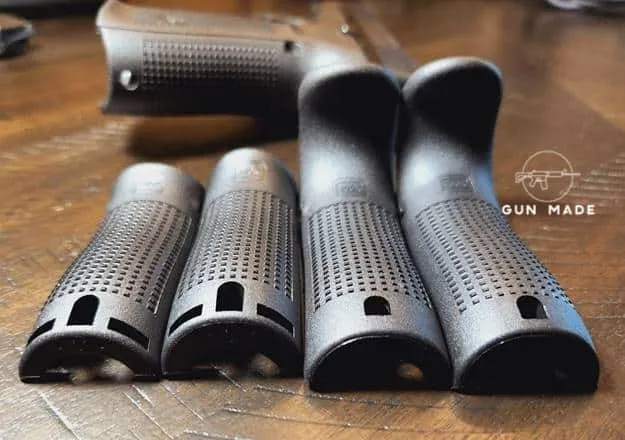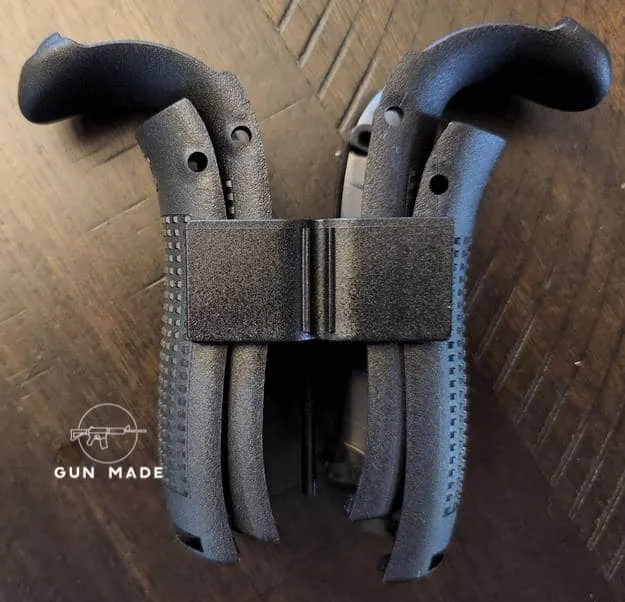 Installation is easy, and they are changed out the same way as other Glocks.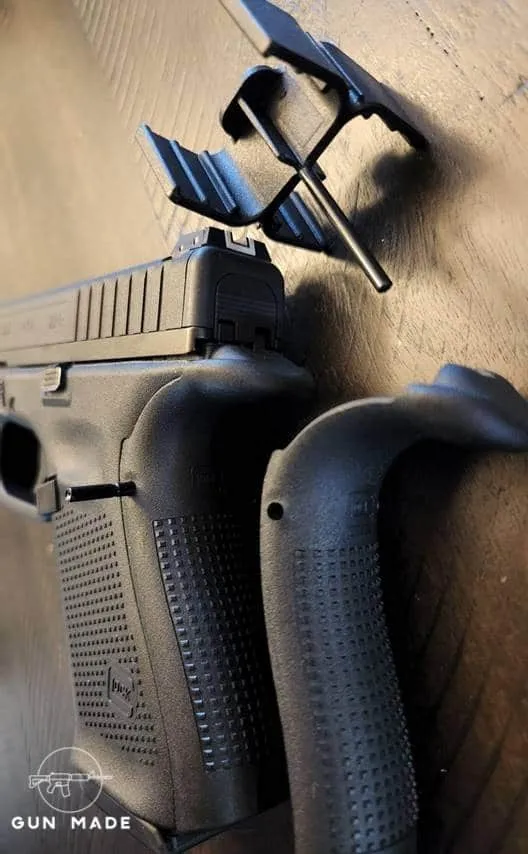 Sights
The sights on the Glock 44 are polymer with a fixed front and adjustable back.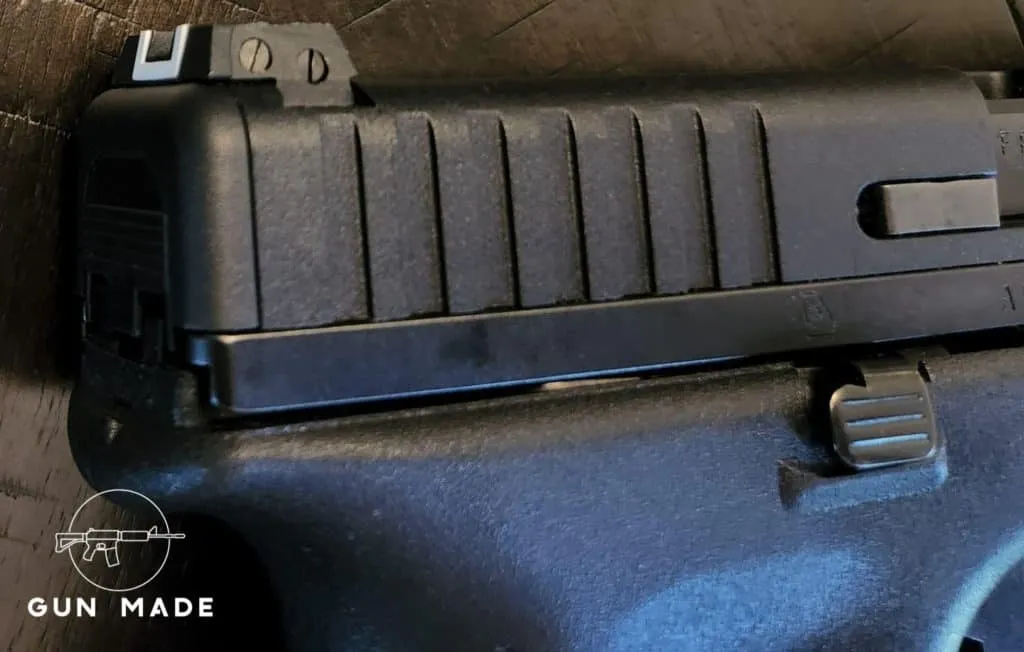 The rear sight has adjustments for both windage and elevation. Although Glock does not include instructions in the manual on how to adjust them, they do have this handy one page guide.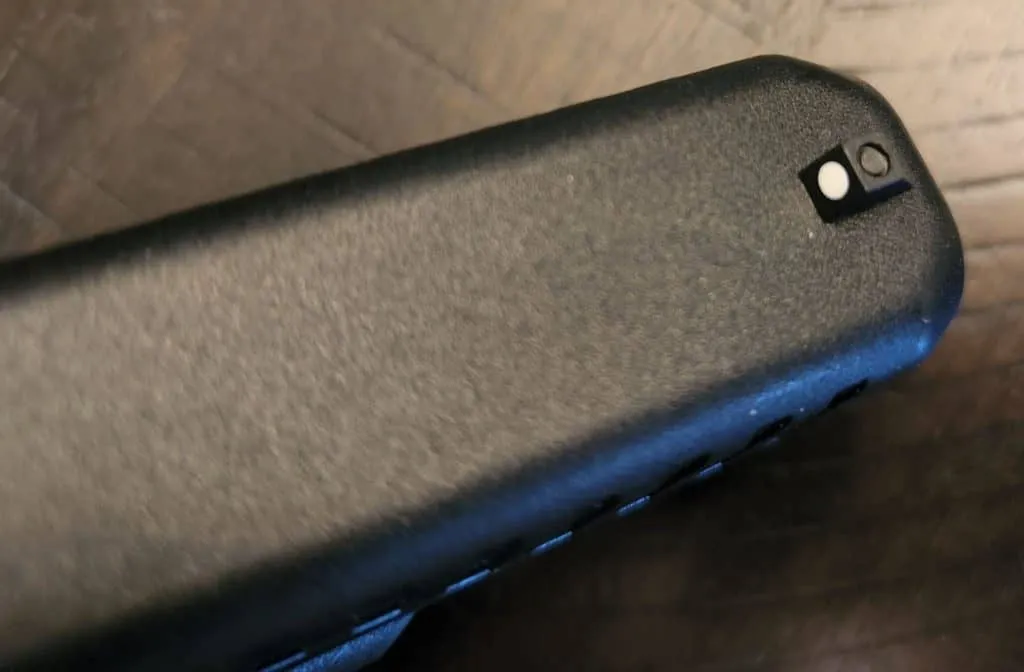 Trigger
Trigger control is one of the most important skills to learn in becoming a proficient marksman, requiring a lot of trigger pulls. The firing pin assembly in the Glock 44 is designed for rimfire, and the gun uses centerfire Glock trigger components. As a result, the Glock 44's overall trigger features are similar to those of larger caliber models, which is excellent for training.
The Glock 44 can also be safely dry-fired without causing any damage, unlike traditional rimfire guns. From Glock's FAQs – "We recommend using a snap cap or dummy round if you will be dry firing for a long period of time."
The trigger won't move backward and the pistol won't shoot if the trigger safety is not pulled along with the trigger. This is part of Glock's "Safe Action" system.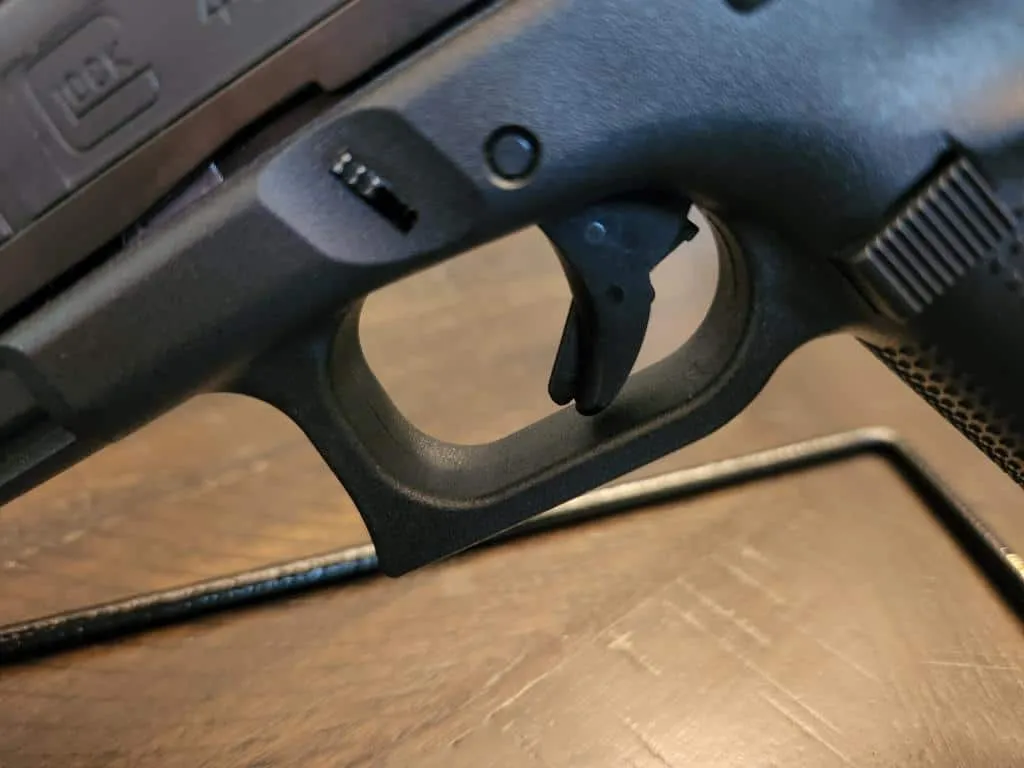 Accessories
The Glock 44 comes with a standard polymer pin set, which I always upgrade to an aftermarket steel set like the ones you can purchase from Cross Armory. When you purchase a new set, it's not a bad idea to grab two because that way when you drop one you do not spend the next hour looking for it, or worse yet, it flies off into the grass never to be seen again.
A nice feature of these pins is the little dimple in the end to make installation easier. The dimple will prevent whatever you use to push the pin in from sliding off and it helps to align the pin, so it easily goes straight into the hole in the grip.
Cross Armory machines their pins from stainless steel for a nice precise, tight fit. This 3 pin set has one for the trigger, one for the back of the grip if there is no strap, and a longer one if you use a backstrap.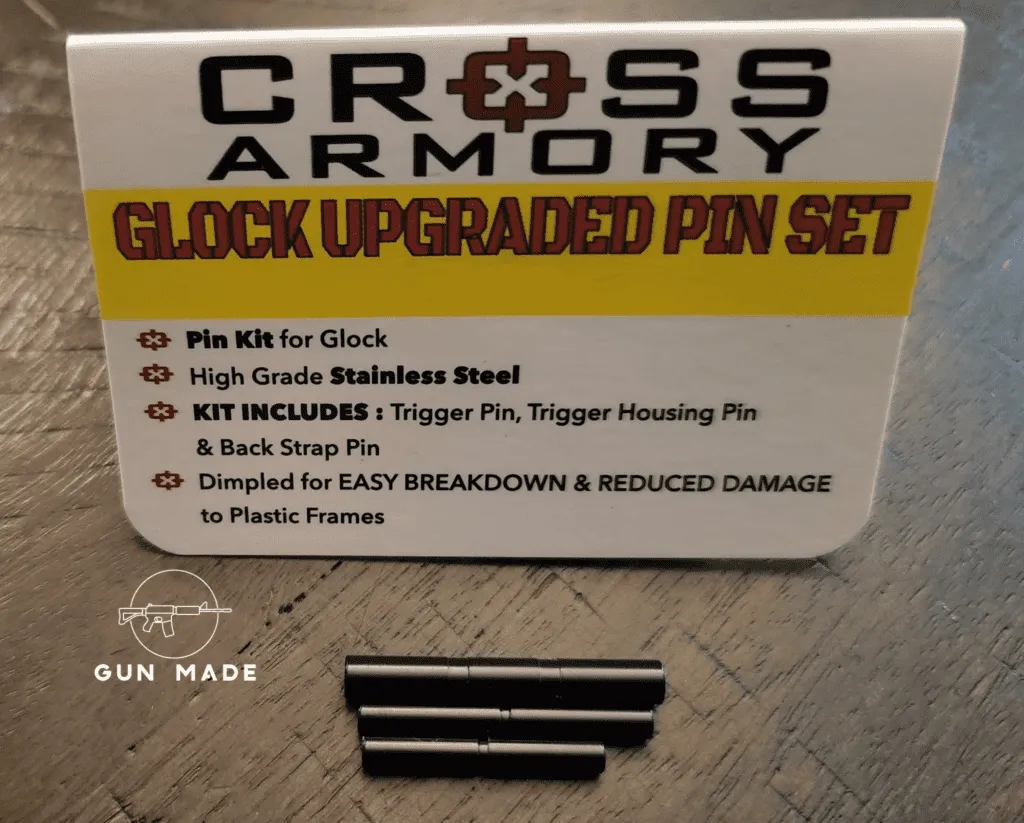 Cross also makes an extended slide lock that can make field stripping your gun easier. Some people find the factory slide lock a pain in the you-know-what when you try to take the gun apart for cleaning. An aftermarket extended lock gives you that little bit of extra length to make disassembling your pistol easier.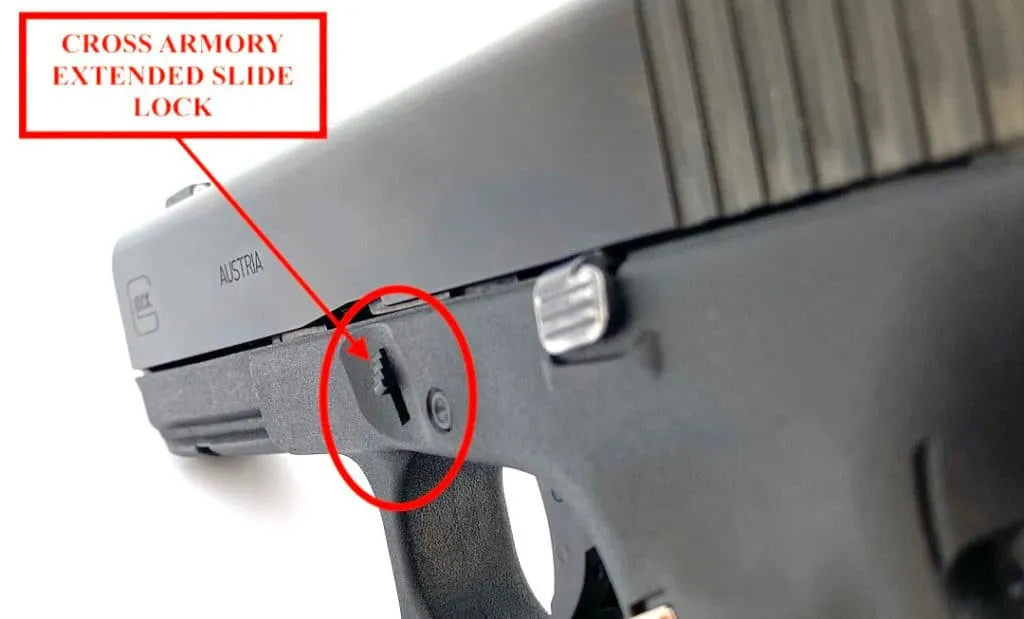 Glock 44 Pros and Cons
Pros
The factory Glock sights are adjustable
Low cost of ammunition which will help you afford to get in more practice time
Holsters are interchangeable with your Glock 19 and Glock 23
Adjustable Rear Sights
Optional threaded barrel if you want to turn it into a quiet plinking gun
Cons
The magazine release is not ambidextrous for left-handed shooters
It needs frequent cleaning to reliably cycle rounds
Alternatives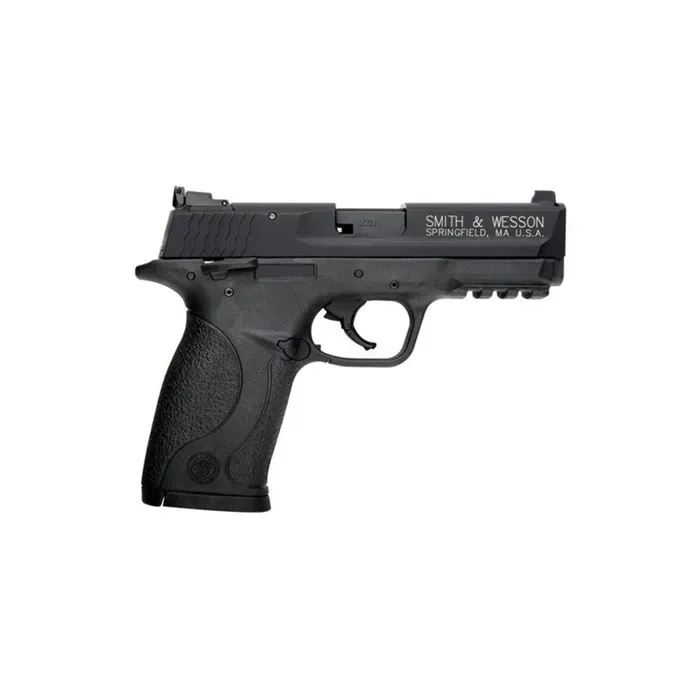 An excellent alternative would be the Smith and Wesson M&P .22 Compact. It is essentially the same size as a Smith and Wesson Shield, but it does not have the benefit of being able to use the same holster for practice.
You may want to consider the Glock 44 pistol due to the fact that its dimensions are identical to those of the Glock 19 and Glock 23. This provides you with some attractive opportunities for training and for fun without requiring you to change the fundamentals of your grip and trigger pull.
You could also think of this pistol as a way for new shooters to get used to the fundamentals without having to deal with the intimidating aspects of the recoil of a 9mm or .40 Smith and Wesson pistol cartridge.
Conclusion
If you are already a Glock person and use the Glock 19 for your own personal carry, purchasing the Glock 44 for ‌training would be a smart move. You can get a lot of trigger practice and work on shooting fundamentals at a fraction of the cost of a rimfire cartridge handgun.
Even if you are not familiar with a Glock the G44 is great because accessories are plentiful and you can find them everywhere. It is easy to load because of the buttons on the magazine and the slide can be racked with little effort, which makes it an ideal gun for learning the basics.
Explore more