Glock 45 Gen5 MOS: Hands-on Review & Photos [2023]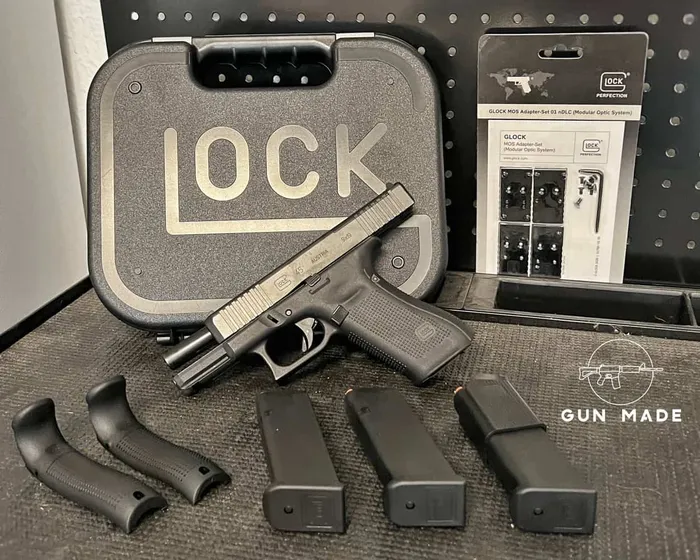 Glock 45 Gen5 MOS: Hands-on Review & Photos [2023]
Can't decide between the full-size Glock 17 and the compact Glock 19? Well, the good news is, you don't have to. Meet the Glock 45 Gen5 MOS (Modular Optic System). The G45 combines the two, giving you a crossover design with the full-size grip of the G17, but the shorter barrel and compact slide of the G19. 
This is my ideal Glock. I've carried a G19 for years, but with extra-large hands, the longer grip on the G45 is a dream come true. 
Throughout this Glock 45 review, I'll go over the granular details and my experiences with it so far, so that you can decide if it seems like a good fit for you too.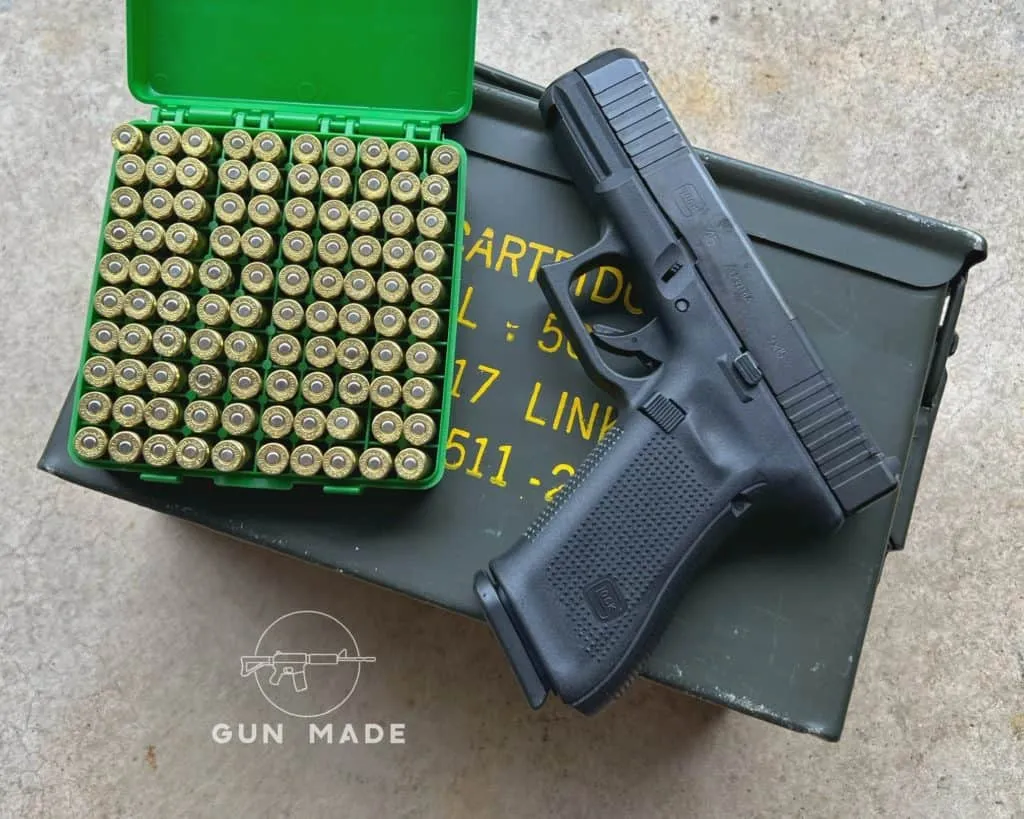 Glock 45 Gen5 M.O.S. Review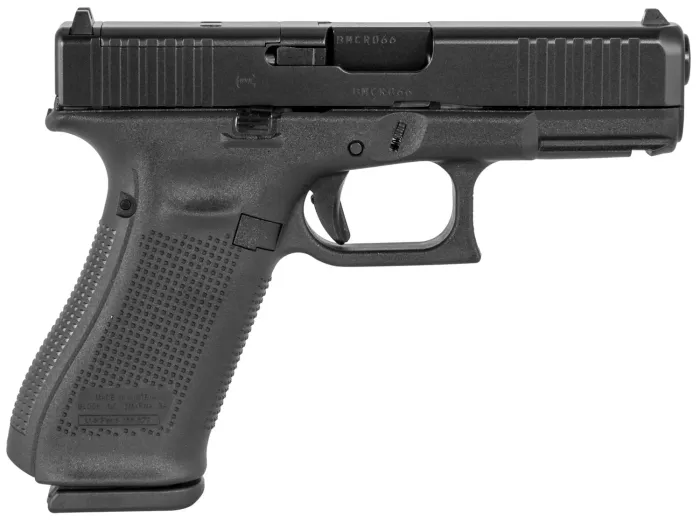 Specifications
| | |
| --- | --- |
| Caliber | 9mm |
| Capacity | 17+1 Rounds |
| Overall Length | 7.44 Inches |
| Width | 1.34 Inches |
| Height | 5.47 Inches |
| Barrel Length | 4.02 Inches (Glock Marksman Barrel) |
| Weight | 21.73 Ounces (without magazine), 24.52 Ounces (with empty magazine), 30.34 Ounces (with loaded magazine) |
| Frame | Polymer Frame |
In the Box
Three magazines, two backstraps, a mag loader, and an MOS adapter set come standard with the G45 MOS. The MOS adapter set gives you several optic mounting plates and hardware, to ensure you're covered for most optics. All of that surprisingly fits right inside of the Glock case.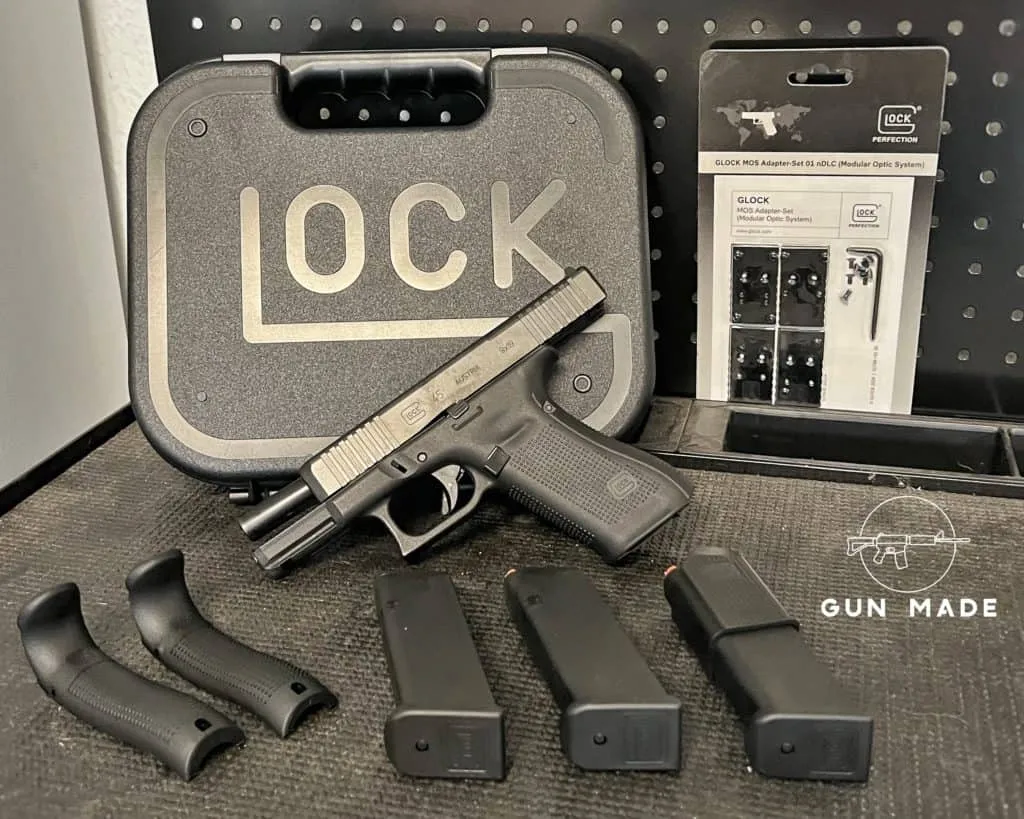 Features
It makes sense that with the newest generation of Glocks, they would have the most features and improvements. Especially with this Gen5 MOS model, you're all set to go out of the box. All you really need are your accessories and some ammo. 
Slide and Sights
The slide steals the show with this pistol, which now has forward serrations and comes optic cut from the factory.
The forward slide serrations help with press-checking and, in certain cases, reloading. I would have liked to see some better sights come on it as opposed to the standard square-notch OEM Glock sights, but those can be easily swapped out for some aftermarket night sights.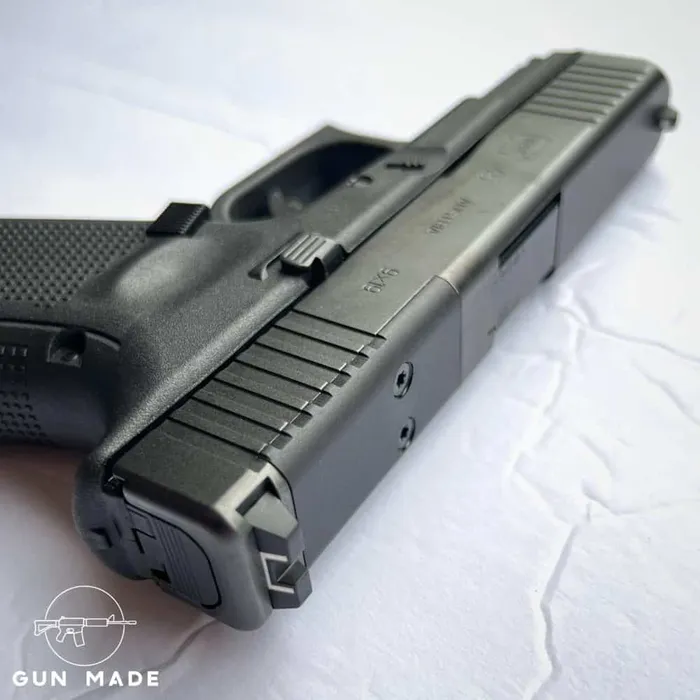 Controls
I believe that ambidextrous controls should be standard on all guns these days. Thankfully, the Glock 45 has an ambidextrous slide stop lever and a reversible mag release, so all of you left-handed shooters will be covered. 
The slide stop lever can definitely stand to be larger and more aggressively textured, but it works just fine.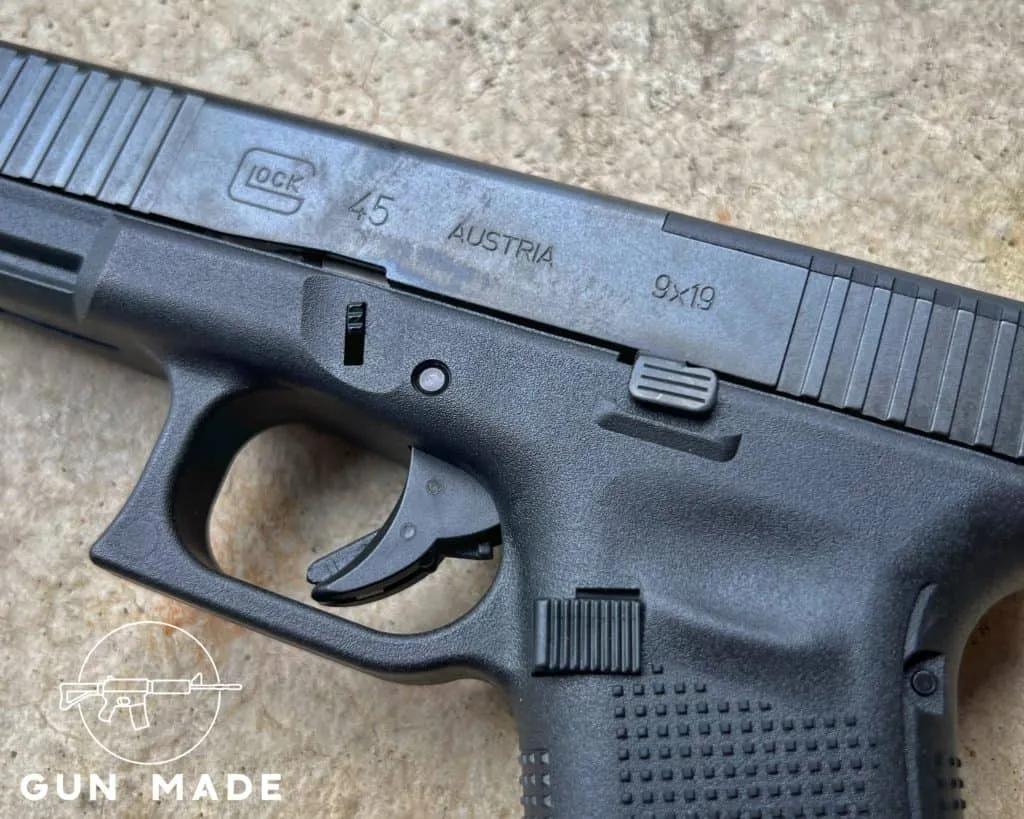 Magazine
It feels good to leave the house with 18 rounds (17+1), without having to carry an extra magazine. There are no magazine capacity issues here! 
The polymer Glock mags have sturdy metal feed lips to keep them running smoothly, and they've held up to quite a bit of rough handling through reloading drills and the like. And best of all, you get three of them!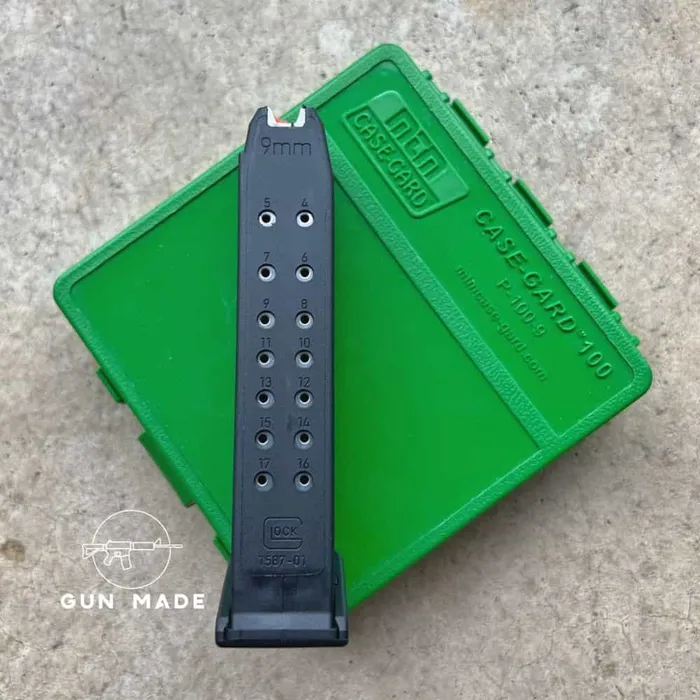 Trigger
While it's still not a great trigger by most measures, it is a better trigger than any of the other Glock generations. I've found it to be smoother than the others, and to have a nice short and defined reset. 
The trigger pull is consistent and makes it easy for accurate follow-up shots. I do, however, wish the trigger guard was a little more open for easier use if shooting with gloves. Even though in the past, I've swapped out several of my Glock triggers, this is one that I'll be keeping.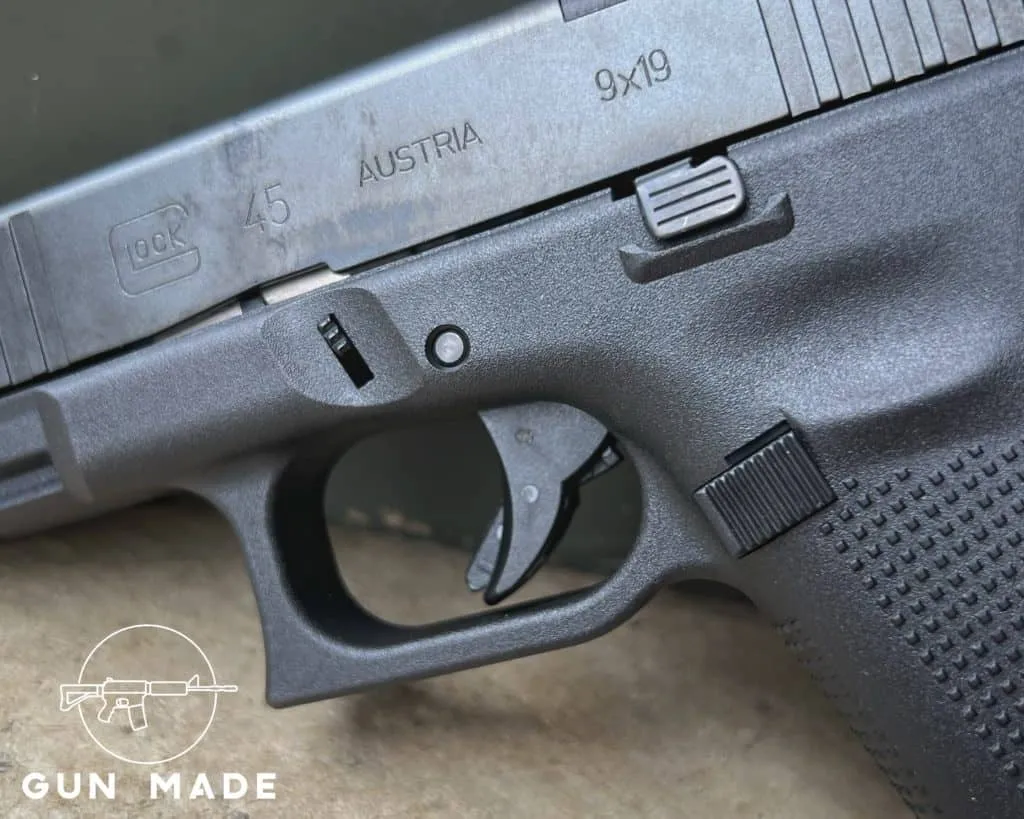 Grip
The full-sized grip is another great aspect of this gun. The taller grip is great for large-handed folks like myself. Since it also has a modular backstrap system, you can make it even more custom fit and comfortable. 
The Gen 5s also have the finger-grooves removed, which to me is wonderful. I haven't met many people that actually liked the finger grooves. It also has aggressive texturing and a flared magwell that makes reloads quick and easy. 
Accuracy and Reliability
Glocks are known for their reliability. I've never had one that wasn't, nor do I know anyone personally that complained that theirs was not. This one so far has proven to be reliable too. 
I've brought the G45 to my last several range trips and have put 180 rounds through it. I haven't had a single malfunction. It has handled every type of ammo I had with me, that included FMJ rounds, JHP rounds, both from several different ammo manufacturers. 
My first shots between 20 and 45 feet yielded fist-sized and smaller groupings. After a couple of magazines to get acquainted with the gun, my groupings tightened up quite a bit and I was able to push it out to 60 feet with the same results. 
I'm not sure how much difference the marksman barrel makes compared to the previous OEM one, but I'm not complaining regardless. I'm really looking forward to seeing the accuracy once I add a red dot to it.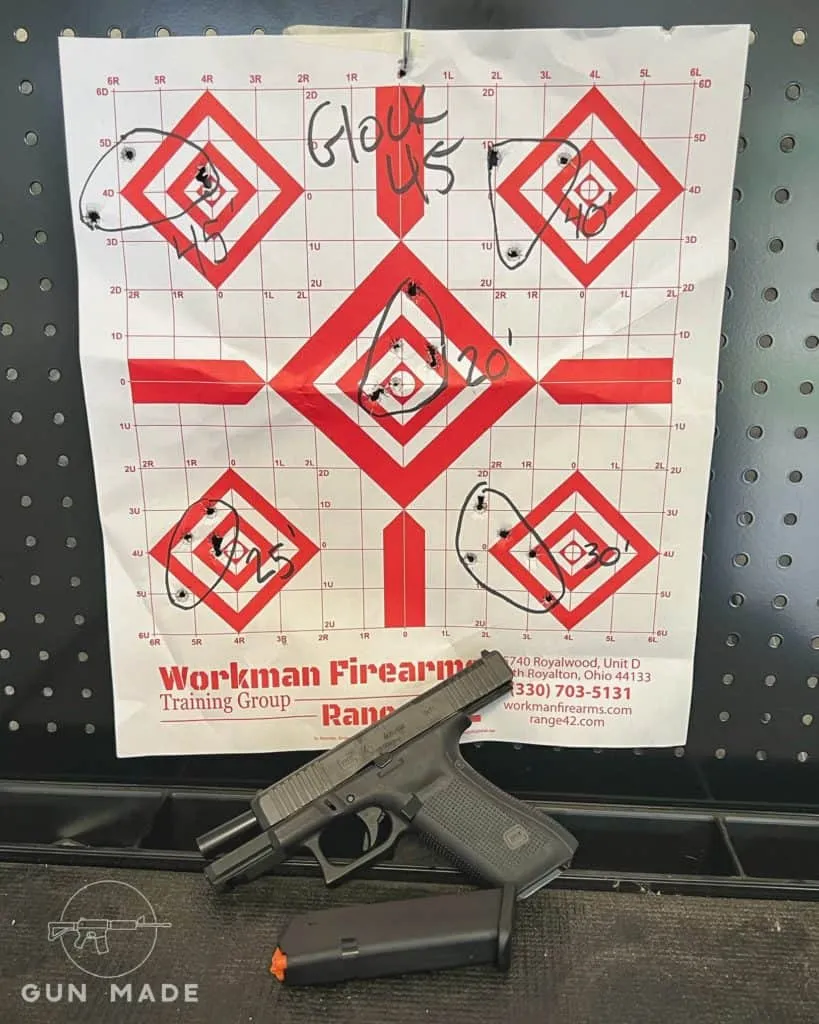 Glock 45 Gen 5 Pros and Cons
Pros
Extremely Reliable
Low Maintenance
Easily Customizable
Recoil Management
Accessories
What else am I going to grab for the G45, you ask? I'm pretty set on a Holosun SCS as far as the optic goes, but I'm still debating on which light. I'm leaning towards the Streamlight TLR-7, but until I decide, I'll be running my G45 without a light. Light or not, the Black Arch Holsters Rev-Con will be my holster of choice here. 
It's actually a convertible holster, so it can be used inside-the-waistband or outside-the-waistband. Once I decide on a light, I'll be ordering another Rev-Con. Lastly, I may opt for an extended slide stop lever. But for now, I'm having fun shooting the G45 just as it came.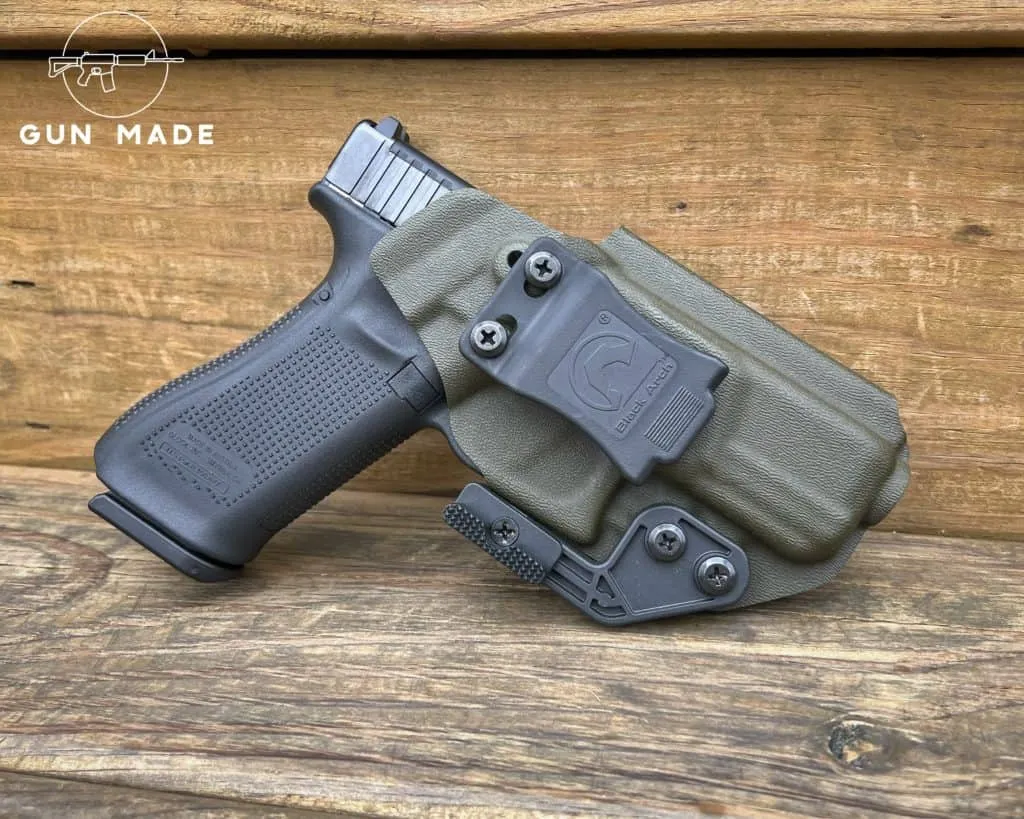 Frequently Asked Questions
Is the Glock 45 better than the Glock 19?
That's totally personal preference. Since they are essentially the same gun, just with different grip lengths, it really comes down to comfort and concealability. For me, the taller grip was worth switching from the G19 to G45. I can still easily conceal the G45, and I shoot it better than the G19. 
How to clean a Glock 45?
Cleaning your Glock 45 is going to be no different than most other handguns out there. Shoot, clean, lube, repeat. I typically stick to either Hoppes or Breakthrough Clean products for solvents and lubricants.
How to disassemble a Glock 45?
With a few easy steps, you can have your Glock 45 field-stripped and ready to clean. The various models are going to disassemble the same way, so once you learn how, it's transferable to them all. 
Alternatives
For those of you who may not be looking for another Glock, but something similar in size and features, here are some alternatives to consider. I tried to keep them around the same price point, so you don't fall in love with one and realize it's actually 4x the price of the actual gun being reviewed.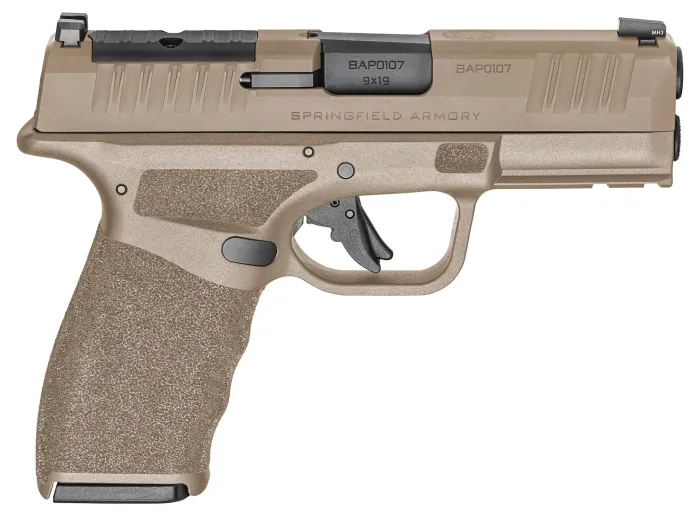 The Hellcat Pro delivers high capacity in a compact size. It features a 3.7" hammer forged barrel, an upgraded tritium front sight, and an optic-ready slide. Even though it's more compact than the G45, you still get a 15+1 capacity.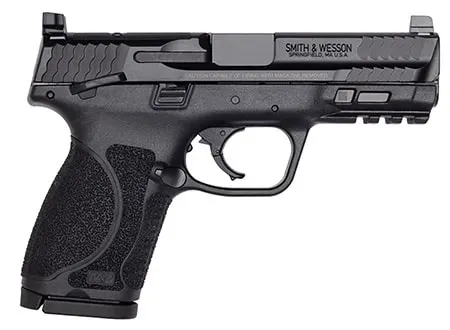 The new M2.0s now have a flat face trigger, optic ready slide, and tall white dot sights. Right out of the box, you're ready to go with a 15+1 capacity. You'll also get various-sized backstraps like you do with the Glock for a nice custom feel.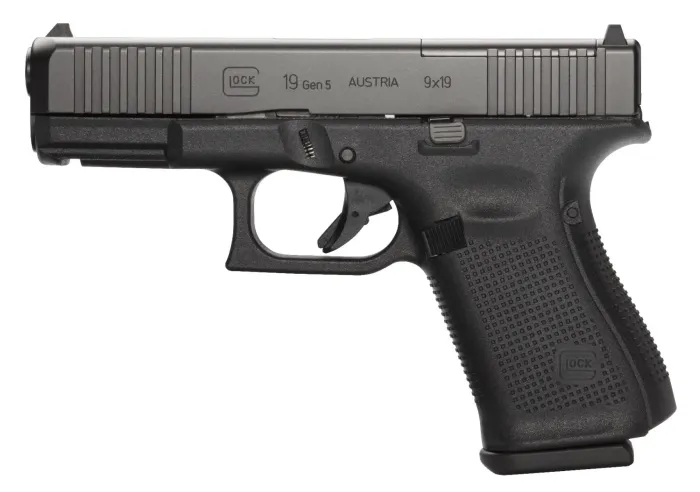 A Glock to replace a Glock? Sure, why not?! If you don't need the additional grip length, the Glock 19 will be a tad easier to conceal for you. You can also still use 17-round mags if you wish, they just won't be flush. The Glock 19 was my favorite Glock up until the 45 came along. 
Final Thoughts
Even though the model number may be confusing, since the Glock 45 is actually chambered in 9mm, the fact remains that it is an extremely popular model among law enforcement and civilians alike. 
Disclaimer: A bold statement is about to follow…If I had to pick only one of Glock models and only one, the Glock 45 Gen5 MOS would be it. It is simply a well-balanced pistol all around. The full-size grip, high capacity, optic-ready slide, and front serrations make this the best Glock to date for my needs.

Add all of that on top of the reliability that comes with Glocks, the G45 is a great choice for home defense, concealed carry, duty carry, or competition. I highly suggest you give the Glock 45 Gen5 MOS a shot if you are in the market for a new 9mm.
Explore more