Springfield Armory Hellcat Pro Review: A Solid EDC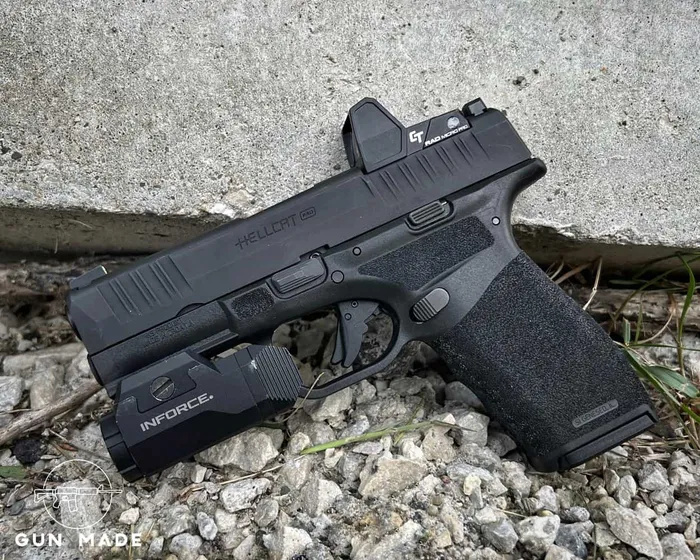 Springfield Armory Hellcat Pro Review: A Solid EDC
Back in 2019, when Springfield released the original Hellcat, I liked it, but I didn't love it. I appreciated many of the features, but I found the recoil to be a bit sharp, and my hands were simply too large to get a solid grip on it, so I never wound up buying one. Once the Hellcat Pro was announced, featuring its taller grip and longer barrel, it was a no-brainer for me. 600 or so rounds later, I'm very glad that it's part of my collection.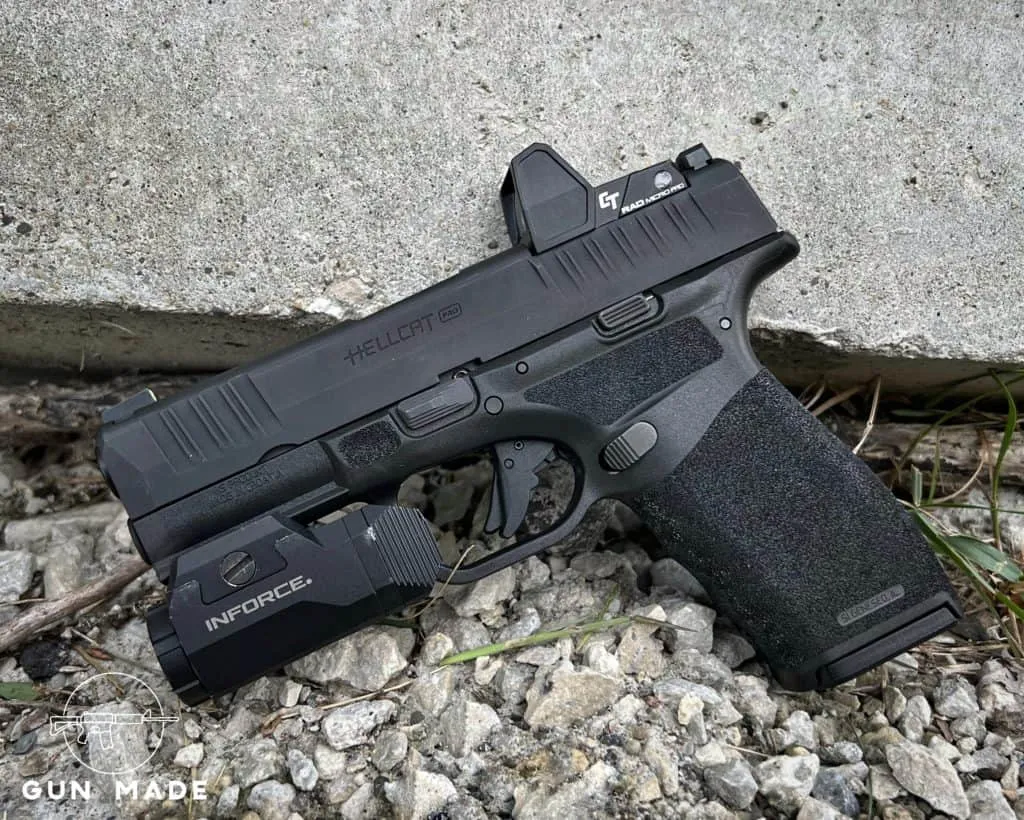 Springfield Hellcat Pro Review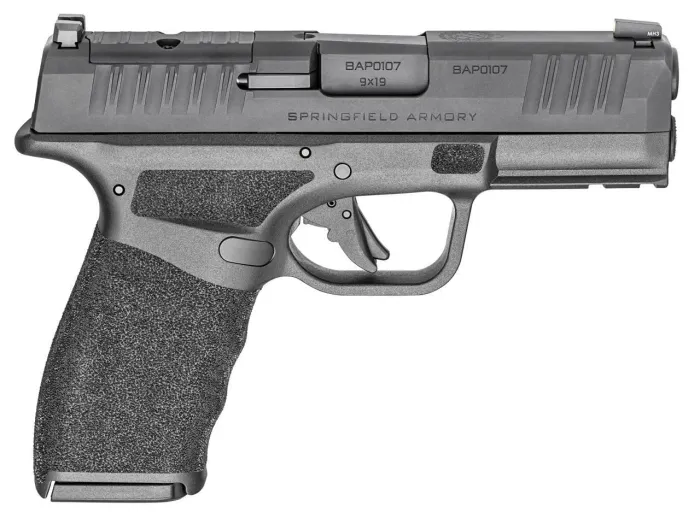 Specifications
| | |
| --- | --- |
| Caliber | 9mm |
| Capacity | 15+1 Rounds |
| Length |   6.6 Inches |
| Grip Width |   1 Inch |
| Height | 4.8 Inches |
| Barrel Length | 3.7 Inches, Hammer Forged Barrel |
| Weight | 21 Ounces |
| Frame | Polymer Frame with Adaptive Grip Texture |
| Sights | Tactical Rack U-Dot Rear Sight and Tritium Front Sight |
In the Box
The Hellcat Pro may come in a cardboard box like many other guns do these days, but inside the box is a nice little surprise. The pistol is protected comfortably by a soft zippered Springfield branded case. 
You'll also find two 15-round magazines and a mag loader. I've said it before, and I'll say it again, I love those little mag loaders. They may not be necessary, but when you're going through a dozen or more magazines in a single range session, they can sure help save your fingers! 
Hellcat Pro Features
Out of the box, the Hellcat Pro comes packed with features, to the point where I haven't had to swap out any part of the gun. The only thing I've done is added one of my favorite weapon mounted lights and optics. Let's go over some of the features to help you understand why I haven't needed to change anything! 
Grip
Back when I first handled the adaptive grip texture on the original Hellcat, I was not a fan. It felt like a fine sandpaper to me, but I didn't spend enough time with it to really formulate an experienced opinion. 
Now, after shooting for months and carrying it often, I've really grown fond of it. Just as it was designed, it does not seem to catch your clothes as much as some other aggressive grip textures, but then it really sticks in your hand once pressure is applied while shooting. It's still not the most comfortable grip I've handled, but it's not uncomfortable at the same time. 
Thankfully, the Hellcat Pro has a longer grip than the original Hellcat, which is great for someone with large hands like myself.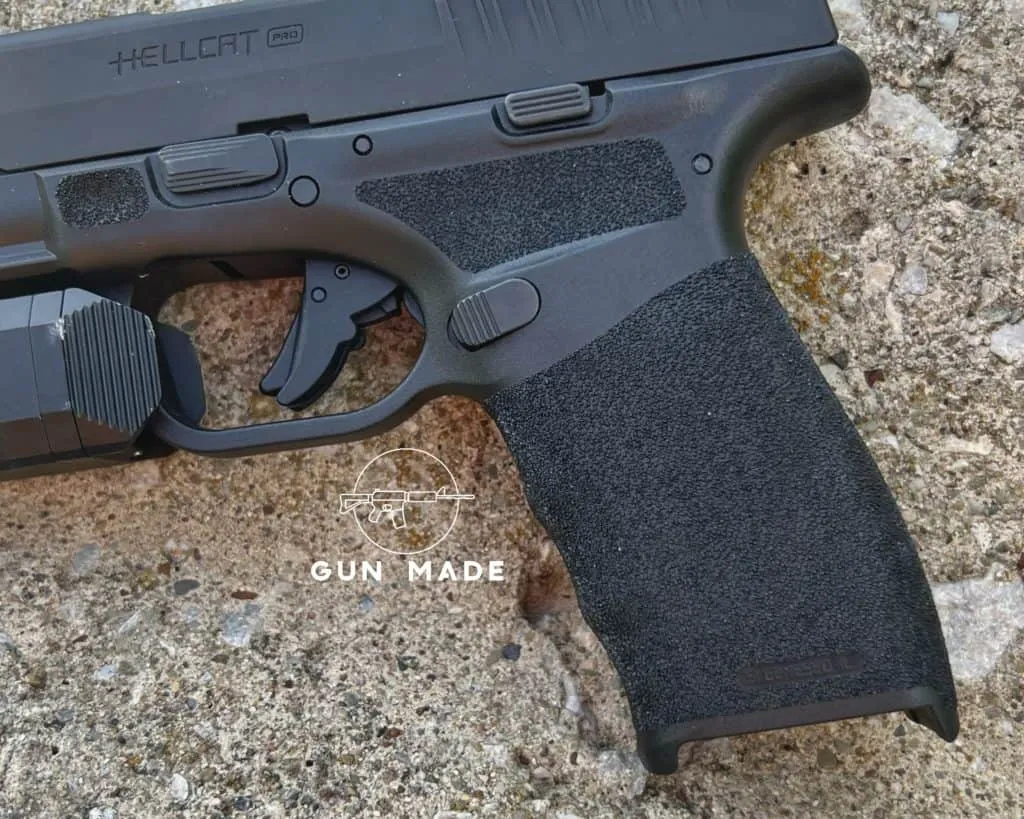 Sights
Many of my handguns have square-notch rear iron sights, which I've really gotten used to. However, these specific U-notch sights on the Hellcat Pro are some of my favorite of that style. 
The front sight is slightly smaller than the rear "U" cut-out, so you're able to see exactly where on target you're aiming. The high visibility tritium & luminescent front sight is easy to pick up for quick target acquisition too. 
I almost enjoy shooting the Hellcat Pro without an optic just as much as with one because of these sights.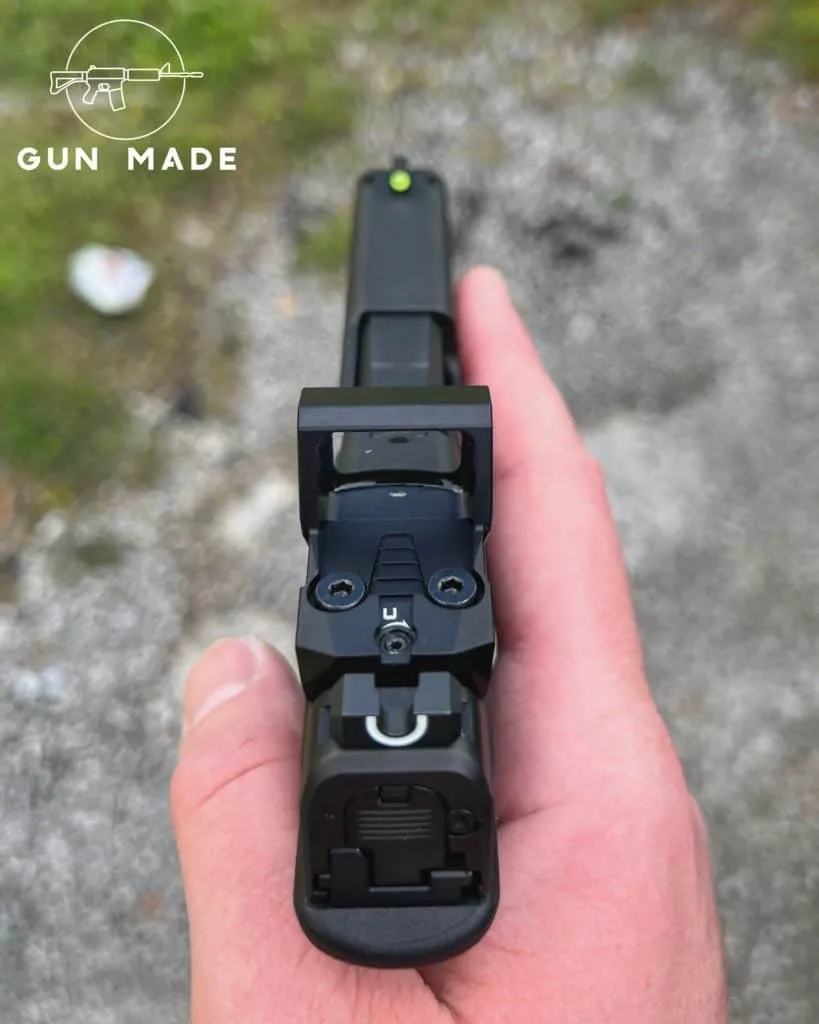 Slide
Optics-ready slides seem to be a standard on more and more pistols these days. The Hellcat Pro is no exception. It comes milled straight from the factory in the Springfield Micro footprint. 
Of course, adding your favorite optic can add to the aesthetic of the gun, but I actually like the look of it without one too. The slide comes with a cover plate that actually has serrations on it as well. So, adding those top serrations to the ones already found in the front and rear of the slide, you have multiple points for manipulating the gun and reloads. 
The serrations could stand to be a bit more aggressive, but I haven't had any "issues" with them necessarily, just prefer deeper cuts for easier, quick reloads.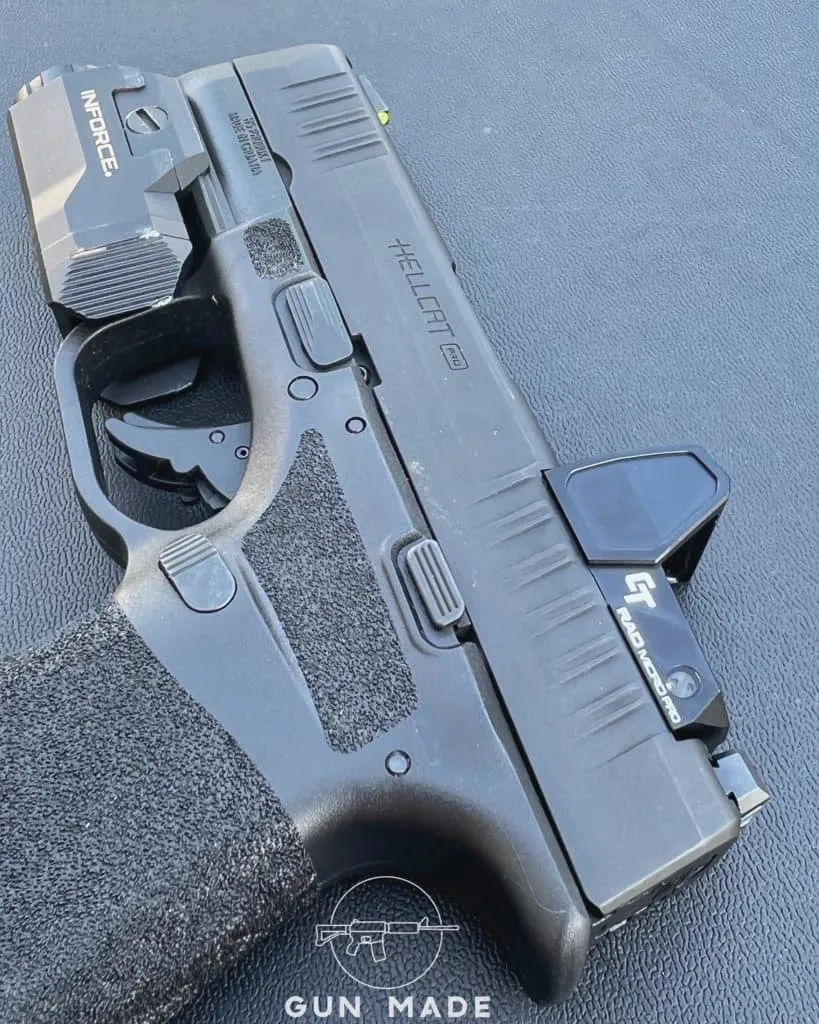 Controls
The controls on the Hellcat Pro are one of the features that don't feel very "Pro." While the mag release is reversible, the slide stop is not ambidextrous. For left-handed shooters, that's a big bummer. 
Luckily, I'm right-handed, but I still prefer to have ambi-controls just in case. Also, the controls are very flat and streamlined, which I assume is to avoid snagging on clothing. But, they are almost too low-profile when trying to manipulate them quickly, especially the slide stop. 
I've had less speed bumps with the mag release though, and have become quite proficient with reloads with the Hellcat Pro.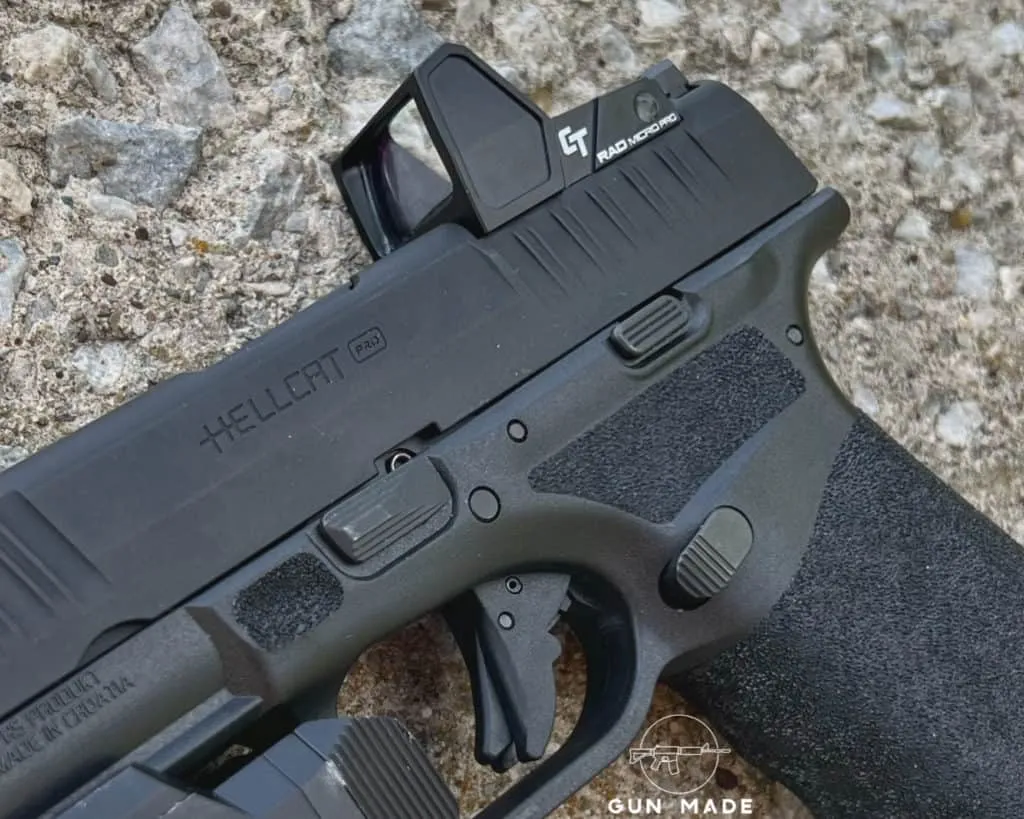 Magazine
Springfield went with durable steel magazines, and I'm glad that they did. The Hellcat Pro's 15-round magazines perform great and remain relatively light given the steel over polymer decision. I haven't had even one issue with the magazines causing any failures. You'll get two magazines with the gun and a mag loader to go with them.
Trigger
Before I picked up the Hellcat Pro, I read quite a few online reviews that the trigger had a certain "grittiness" to it. I did feel a slight level of grittiness with the original Hellcat's trigger, so I was hoping that would not be the case with the Pro. Upon picking up the Pro from my FFL, I instantly dry-fired several times to see if I felt what other people had been mentioning. Luckily, I did not. 
The trigger on the Hellcat Pro actually has a smooth uptake with a consistent trigger pull and a nice clean break and reset. A couple of companies make aftermarket triggers for the Hellcat Pro, but I don't see myself swapping this one out anytime soon.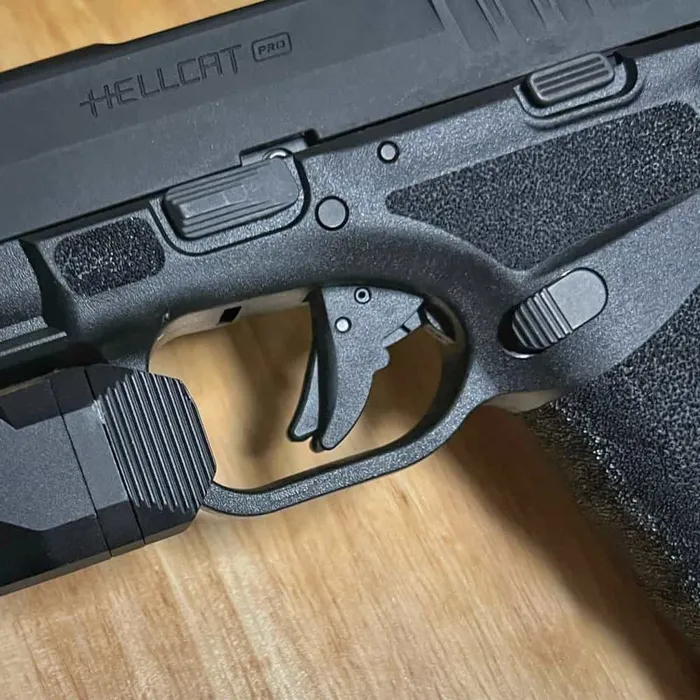 Range Time: Accuracy and Reliability
The range is where this gun stands out to me in a positive way. So I've put just about 600 rounds through it so far, with less than a handful of failures. Literally, less than five failures…four to be exact. It has had no consistent issues with 115-grain to 147-grain ammo, FMJ rounds or JHP defensive rounds. After seeing the reliability, I'm grown comfortable with it being one of my concealed carry guns.
As I mentioned earlier, I'm much more used to shooting guns with square-notch rear sights, so getting more familiar with the U-notch took a few magazines. Once I did, though, I really found myself enjoying these sights and becoming quite proficient with them, especially at defensive distances. 
I do a lot of shooting at defensive distances (15 yards and less), so I captured my first few groupings out to 35 feet during my last range session. Focusing on quick follow-up shots, I could keep the groupings around three inches or less out to 35 feet. I'm happy with those results, as many defensive scenarios occur within 21 feet.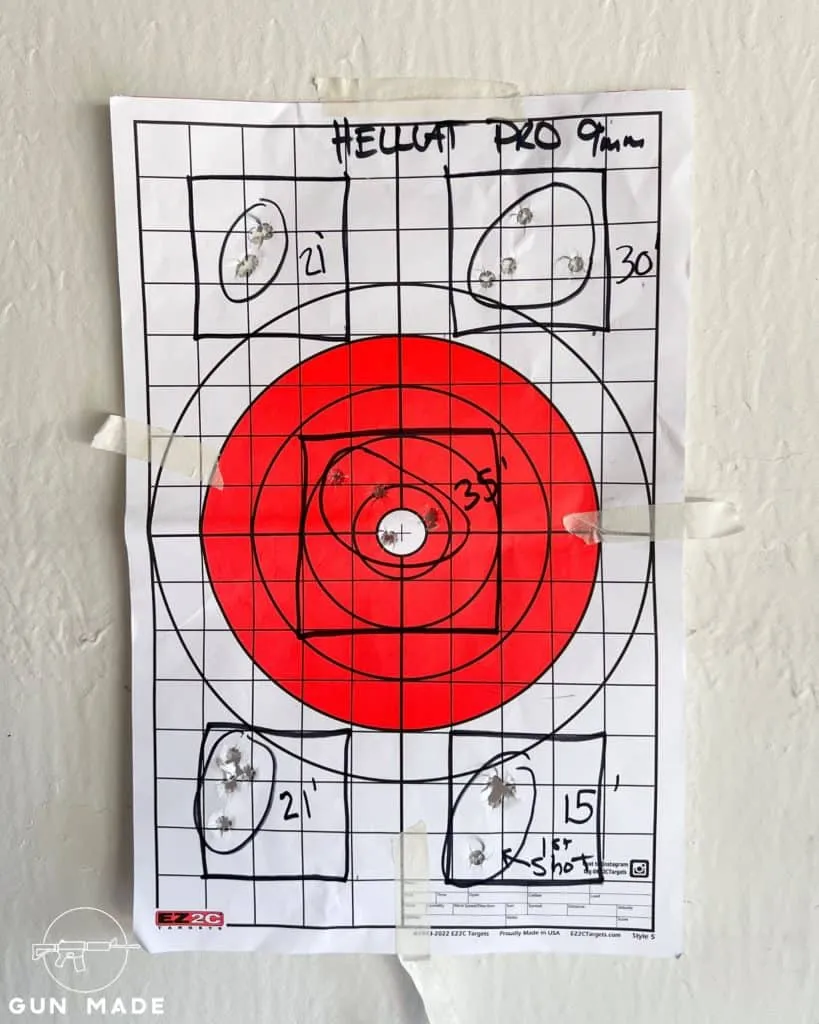 Hellcat Pro Pros and Cons
Pros
Great Stock Sights
Grip Design and Size
Reliable and Accurate
Nice Stock Trigger
Accessories
Accessories can play a crucial part in any firearm setup. For my Hellcat Pro, I've decided to add a red dot and a weapon-mounted light.  
I've been switching back and forth between two optics, trying to decide. The first optic is the Hex Wasp. It fits the Springfield Micro footprint perfectly. Why? Because it's made by Springfield! They designed the Wasp to be a direct-mounting and low profile option, and they succeeded. 
The other optic is the Crimson Trace RAD Micro Pro. It has an auto-on and auto-brightness feature, and has a 5 MOA green dot. The larger dot is great for concealed carry and quick target acquisition. The accessory rail can accept various lights, but I went with the INFORCE Wild1. It's small but mighty, putting out 500 lumens.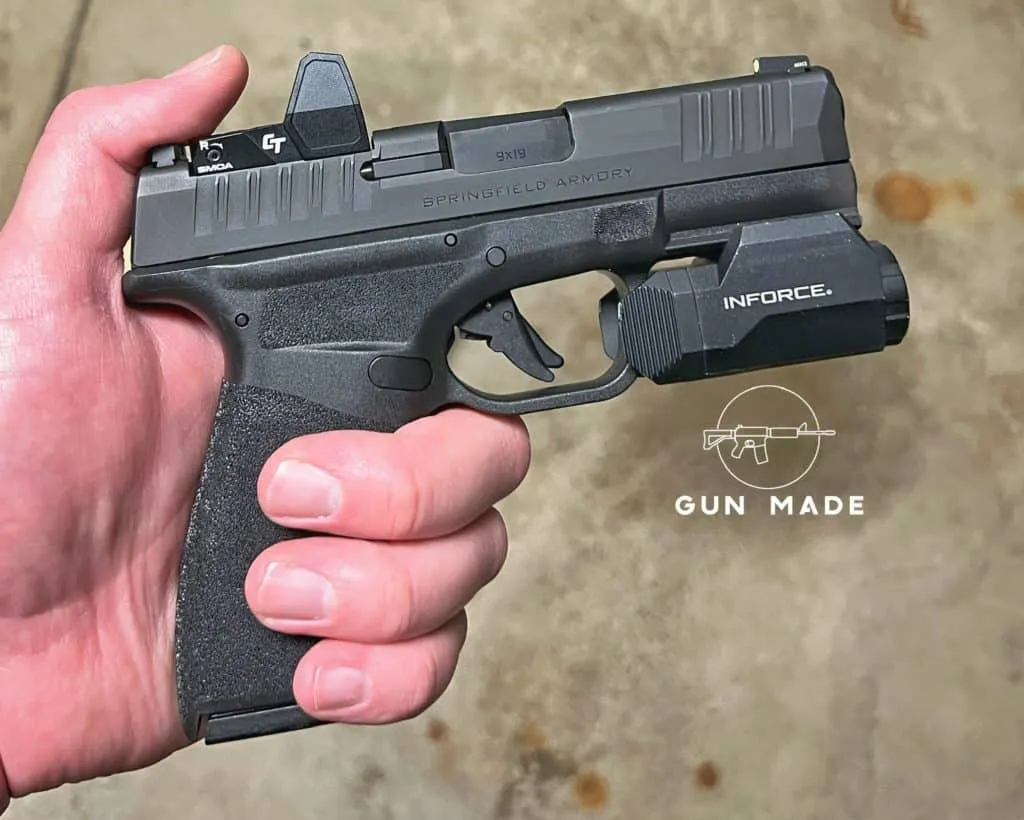 Alternatives
Do you feel like the Hellcat Pro isn't quite what you're looking for? If not, that's fine. No specific gun is right for everyone. Here are a couple of great alternatives just in case.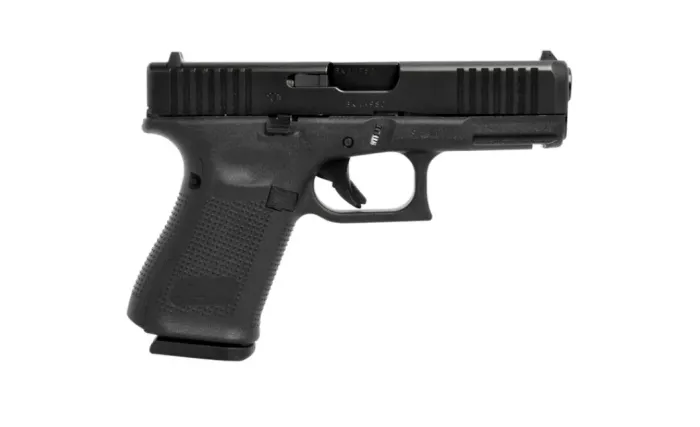 One of the most popular compact handguns year after year is the Glock 19. And it's for good reason too. The G19 is very reliable, easily customizable with many aftermarket parts available, and can run the larger magazines that come with the Glock 17. You still get a standard 15+1 capacity and depending on which generation you purchase, can opt for an optic-ready slide too.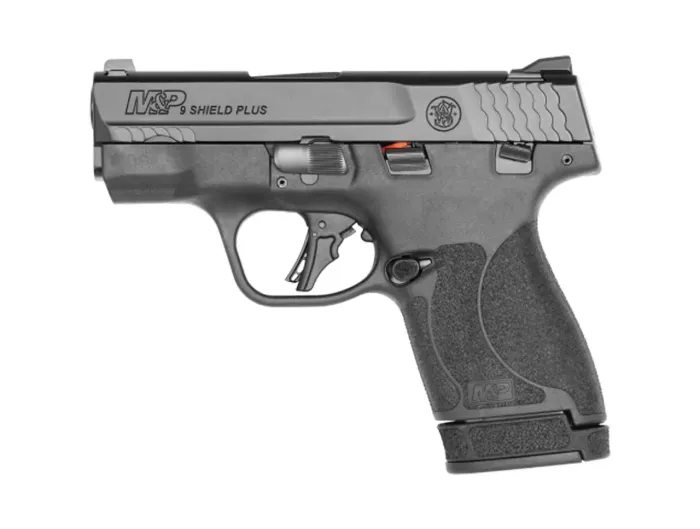 If you're looking for a concealed carry option that's a little bit more compact, check out the Smith and Wesson M&P Shield Plus. The micro-compact frame will mean you'll get a slightly lower capacity of 13+1, but it comes with a flat face trigger, optic-ready slide and night sights. S&W's Shield line has been very popular over the years and is one of my personal favorites for concealed carry. 
Final Thoughts
I've really been enjoying my Hellcat Pro over the last several months. Springfield knocked it out of the park with this one. It entered my EDC rotation after a few hundred rounds of testing, and I don't see it going anywhere. Whether you're looking for a concealed carry gun, home defense gun or a new range toy, the Springfield Hellcat Pro is a great option.
Explore more