Heritage Rough Rider Review: A Western Classic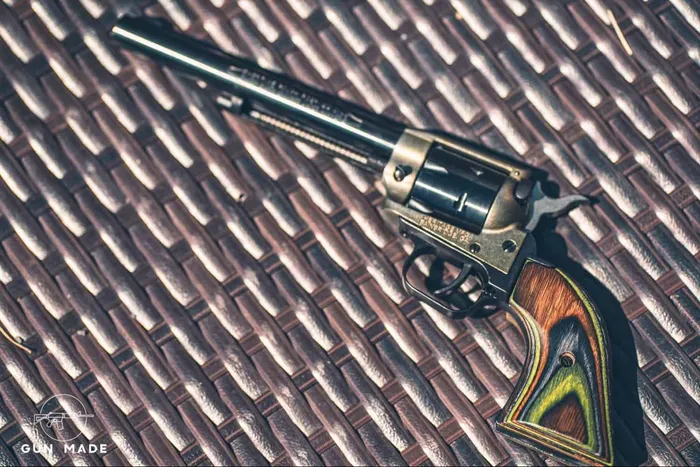 Heritage Rough Rider Review: A Western Classic
Today, we are getting "western" so to speak. I will cover my impressions of the Heritage Rough Rider .22LR. I am excited to take a closer look at this little 6-shooter and share what I have found with you. I will go over the details and the factory information with you but will also talk about what I like about this little gem. 
Heritage has been making firearms for nearly 150 years, and they happen to specialize in the good old-fashioned single-shot "six-shooter" style pistols.  Everyone from ranchers to lawmen and soldiers, or even the outlaw type, has found the Rough Rider to be useful. 
I have a thing for rich and unique history, so straight out of the gate, this Revolver appeals to me on a deep level. Heritage is a fitting name for this firearms company, as I purchased this .22LR Rough Rider to be able to teach my kids how to shoot pistols and create memories around a wheel gun. 
Wheel guns hold a special place in my heart, reminding me of all the old western history. It is time to saddle up and dive into the western world of the Heritage Rough Rider .22LR, so without further ado, here is what I thought of the Rough Rider.
Heritage Rough Rider Review
Specifications
| | |
| --- | --- |
| Caliber | .22LR / .22WMR |
| Capacity | 6 rounds |
| Action | Single Shot |
| Finish | Black |
| Lands and grooves | 6 |
| Front sight | Fixed |
| Rear Sight | Notch at rear |
| Safety | Thumb / Hammer |
| Grips | Custom print depending on firearm chosen. |
| Weight | 33.40oz |
| Overall length | 11.78'' (with 6.5'' barrel) |
| MSRP | $195 |
First Impressions
Out of the box, this pistol is everything that you would expect it to be: big and bulky with a lot of steel and, in the case of my personal Rough Rider, a green blended with wood gripped handle. I opened this box and thought to myself, "REACH FOR THE SKY.'' I know it is cheesy to quote Toy Story, but man, oh man, did I get that kid's level of excitement when I unboxed this little .22LR revolver.
I don't know what life would be without being excited about the little things. Heritage, I was every single bit pleased, and thrilled when I got into this box. You guys exceeded my initial expectations with this pistol.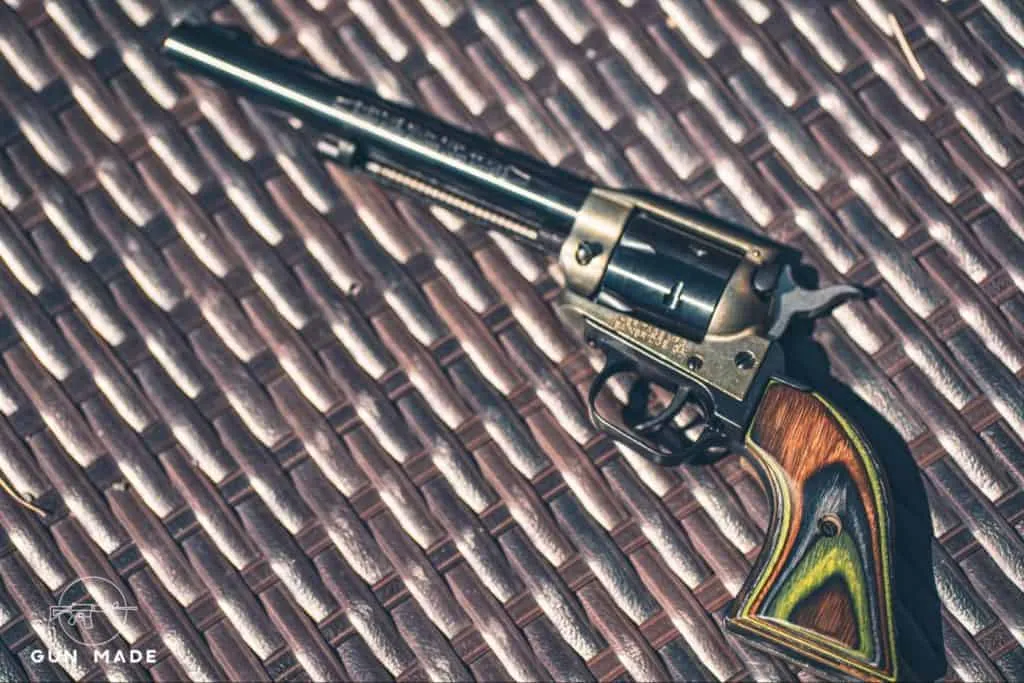 As I just went over in my introduction, this Heritage Rough Rider is a beautiful revolver. Wood grips, brass plated sides, heavy steel, the Rough Rider has all of the things that make a revolver sexy.
I know that how a pistol looks has nothing to do with how it performs, but there is something to be said about being pleased every time you look at your revolver. Heritage made this single-shot revolver very personal to the customer base, as you can find them in all sorts of configurations and colors. Single shot is the keyword here, as you do have to cock the hammer each time before shooting. This is not a double action. 
I was curious about what we could expect out of a pistol with a $200 price tag. I have zero issues with affordable and cheap shopping, heck, I shop for the best deals all the time for my firearms accessories, but when it comes to a firearm, I am usually a little bit more reserved about budget guns. 
I was surprised in all the right ways unboxing the Rough Rider, as my fears surrounding the cheap price tag were quickly resolved. I think that you would be hard-pressed to find a revolver better put together for the money. 
Pros & Cons
Pros
Price point
Different options / color/ length schemes
Suitable for all ages
Cons
Single shot
The safety (see safety heading)
Unboxing
Here is a video I found that unboxes a similar Heritage Rough Rider to the one I own. 
Features
Ergonomics 
As you might have guessed, the Heritage Rough Rider isn't the lightest wheel gun. I wouldn't expect it would be with the steel frame and barrel, wood grips, brass side plates, and overall length of the pistol.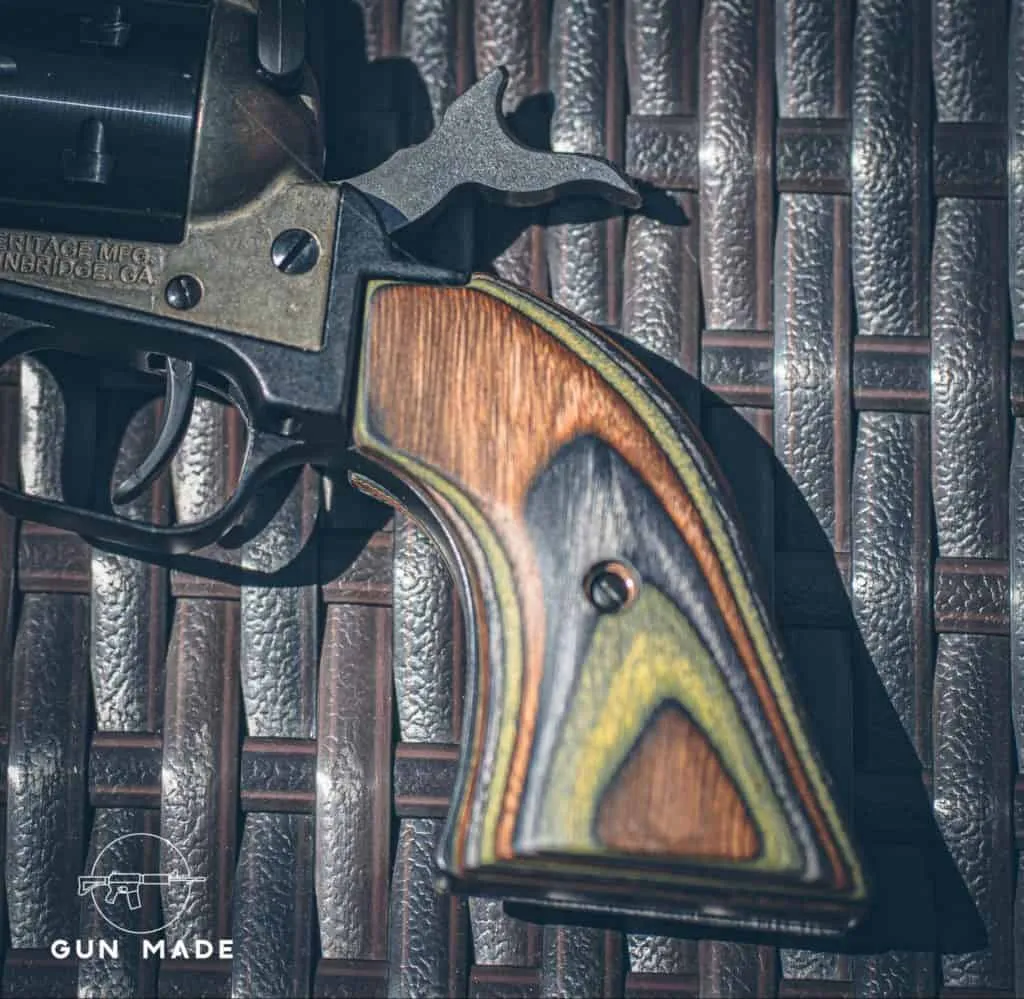 Featherlight is NOT how I would describe this little revolver, but I would definitely label it as durable.
I don't think there is a single-wheel gun out there that you would put in the lightweight division regardless of the caliber. I was not disappointed with the weight of this firearm, and I would say that it played to my favor by being more stable in hand to shoot.
I was happy with the way that this pistol felt in hand. Also, Heritage did an excellent job building this to be a comfortable and fun pistol to shoot. My Rough Rider, in particular, was built with wooden handle grips, which are comfortable. 
I am a rather large human being and have a large hand, but I was able to get a good purchase on the grip and have no issues being all "bunched up" when holding the Rough Rider. I was thrilled to find this pistol to be so comfortable in hand and not feel crowded.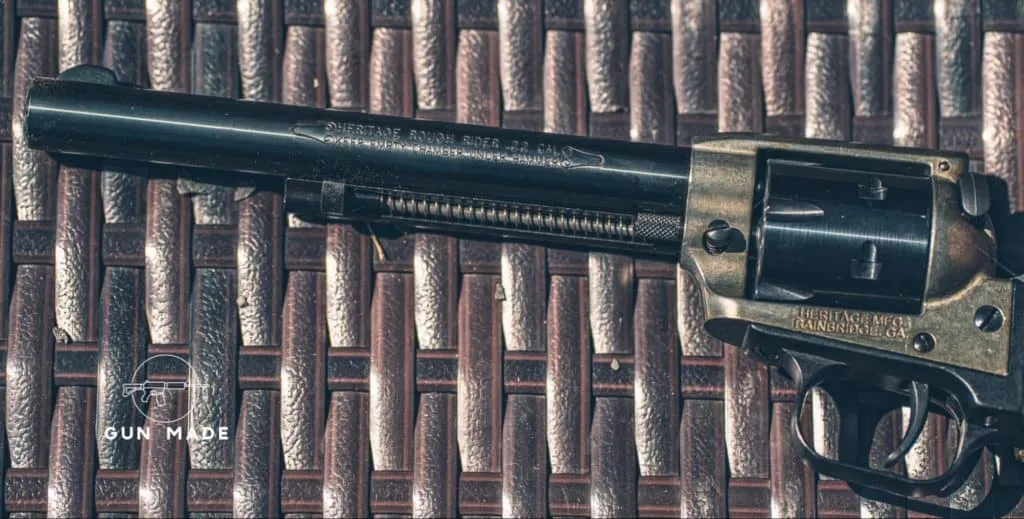 Action & Trigger
Heritage modeled this .22 caliber to mirror or stylistically and functionally mimic the Colt. It is a single shot .22LR or .22WMR, depending on the cylinder you inserted. I was happy to see this revolver come out of the box with a tight cylinder. Heritage built this very well because there is not a lot of play in the cylinder. 
The hammer on the Rough Rider has four different positions, also a Colt feature.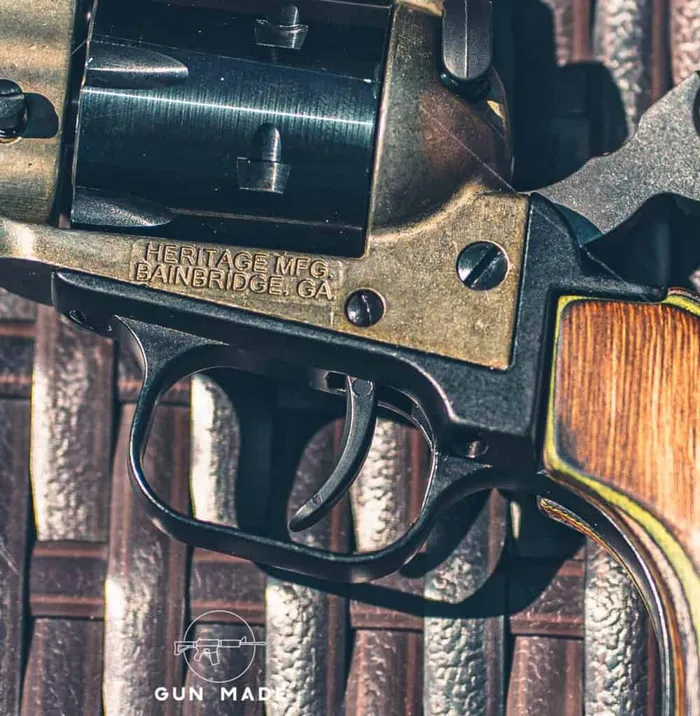 Heritage made this little .22LR slick, and the trigger is clean and smooth. It is no surprise that I am a fan of the "Gucci" triggers and making most of my pistols custom or swapping out of a stock trigger. Heritage made the trigger on this wheel gun just fine and is more than sufficient for what it is. 
I am very picky about triggers, but for a .22LR trigger, this will do.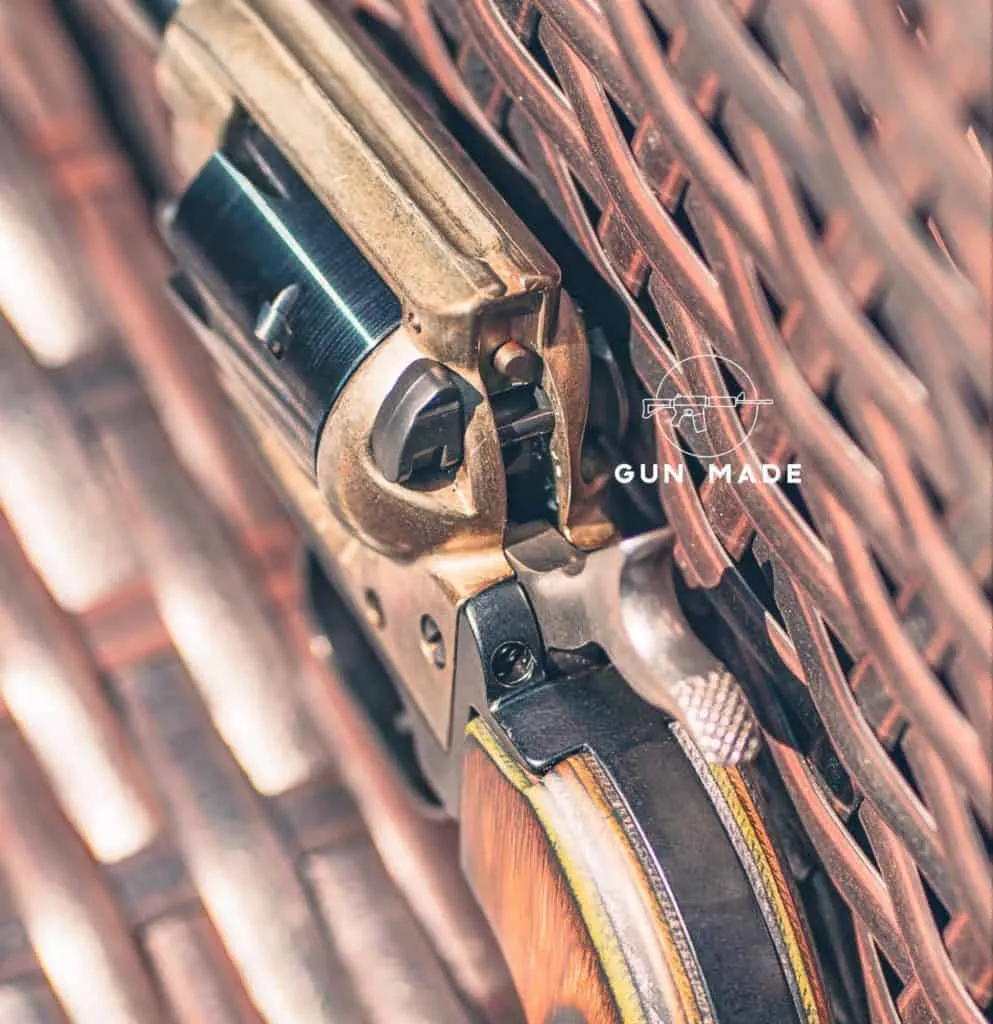 Safety
I did find the safety on this pistol not to be my favorite. It has the typical safety selector on the hammer's left side. Heritage built this so that when the safety is engaged, a little bar slides across the front of the firing pin and blocks it from contacting the round in the cylinder. 
I am not the biggest fan of this kind of safety, as it is unnatural to me to be able to actuate the trigger of a firearm when the safety is engaged. I ran my personal Rough Rider against the safety for about three full rotations, and it did its job and held. I understand this kind of safety, although uncomfortable to me personally, is a pretty common practice amongst these revolvers.
I would like to add a few more notes on safety as this is important information to have and know. Heritage made this very comparable to the Colt, as I have stated a few different times now. 
That being said, if the hammer gets bumped, you drop the gun, and it hits the hammer, or some random sort of contact occurs, and the safety isn't on, the firearm can go off! I would highly suggest that you always store this firearm unloaded and be cautious with it if loading it to the full capacity of six rounds. 
I found a video where a gentleman demonstrates and talks about a method: you only load the revolver with five shots, keeping the gun stored with an empty chamber. 
I would also like to add that it is important to treat ANY firearm as if it is loaded and exercise extreme caution when handling or storing it. I went into a little more depth on this safety with the Heritage Rough Rider because I found it to be essential to highlight. 
Sights
Wheel guns are not your tactical or "Gucci" kind of rig. The sights on these are old-school and extremely simple. I like that these are not overdone as I think this is a great platform to learn on, and being a single shot, you can take the time to work on target acquisition and aligning the target within the sights.
Heritage built this handgun with your basic front and rear sight post. On the end of the barrel is a single pin with a dot, and on the rear is a basic rear sight post with a notch. You are not a cowboy if you can't line up the dot in the center of the rear sight on your target. I'm mostly kidding, but I am serious… cowboy up a bit. 
Why I Bought a Rough Rider
I think this is a fantastic firearm for newer shooters and even kids. I really like this platform in the use of a training firearm to get people comfortable behind a pistol and to get some trigger time. Heritage made this revolver perfect for a farm gun or something you can carry to handle pests out on the property.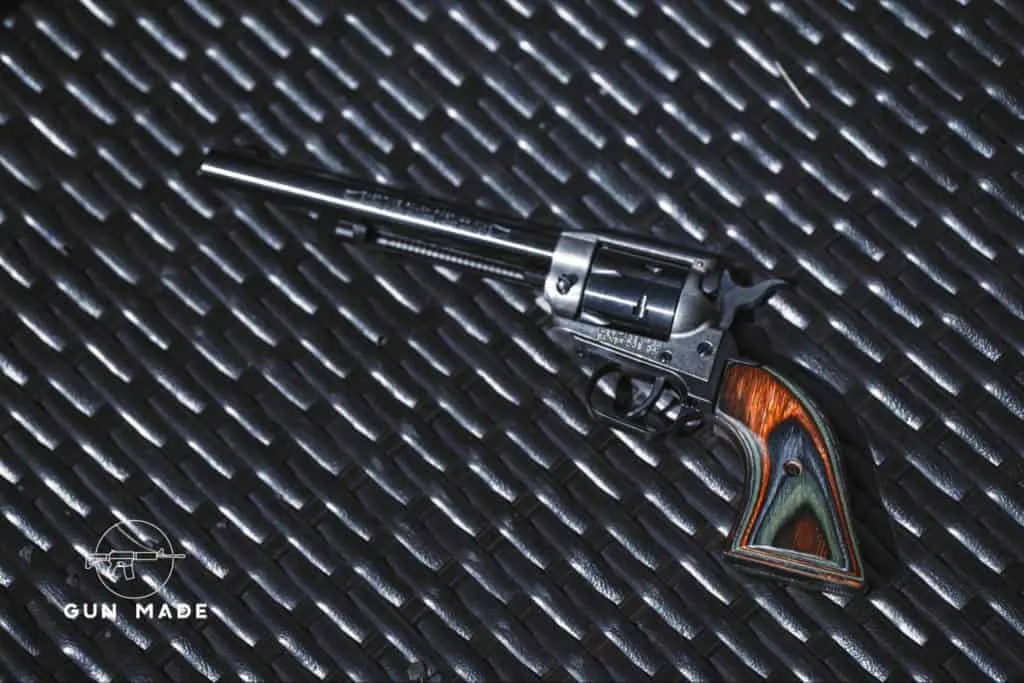 I bought my Rough Rider to spend some time with my kids at the range and help teach them the basics. If I lived on a farm or a ranch or was doing chores around the yard and needed a "snake gun," this would be the perfect candidate for that also. 
I also like that it can be purchased with a separate cylinder for .22WMR once your shooter gets a little more comfortable behind the trigger. You can swap out the cylinder and give it a little more bark with the .22 mag. 
I like that this could be a smooth and uncomplicated progression for those younger shooters without having to jump up to a .380 or 9mm caliber. The Heritage is a basic and uncomplicated pistol and is everything a person could ask for as a first pistol. 
Alternatives
Heritage made the Rough Rider at a very affordable price point. That, and the fact that there are multiple color schemes, styles, and editions of this revolver, make it hard to beat. I think you would be hard-pressed to beat the offerings that Heritage has with the low-price tag they offer.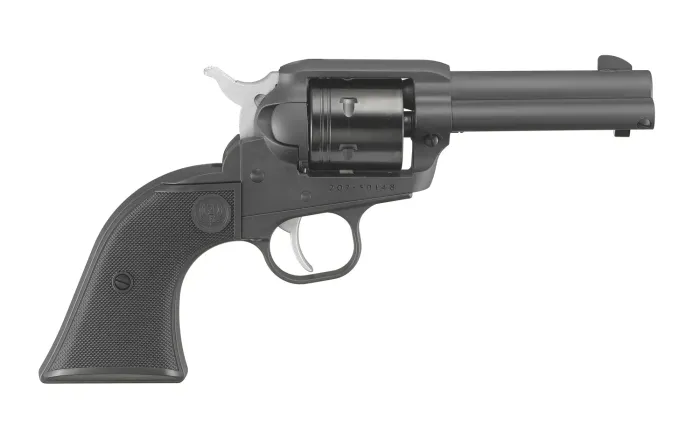 Ruger makes a .22LR called the "Wrangler." Ruger's Wrangler is an awesome wheel gun and would be a great beginner's firearm. However, it is going to cost you a little bit more.  Ruger's Wrangler is commonly purchased for a "starter" gun and has been more than reliable over the years. Ruger would be my personal choice if I wasn't purchasing a Rough Rider, and is about the same size as the Heritage. 
Colt Peacemaker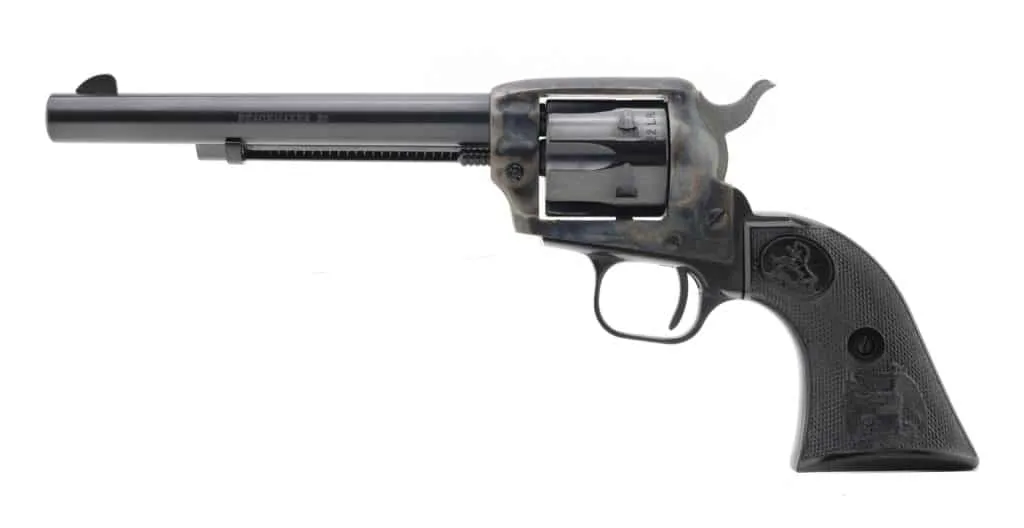 Colt makes a .22LR called the "Peace Maker." I would tell you the same thing as I did with the Ruger, you cannot go wrong with this firearm. 
Colt is a tried-and-true brand and has been making incredible firearms for a long time, but with that reputation comes a price tag! Colts' Peacemaker is heavier than both Ruger and Heritage, but that would be a considering factor for me. 
I have very limited time with the Ruger and the Colt, but I would offer either of these as alternative options to the Heritage. 
Here is a video I found where they unbox and compare the three revolvers. 
Conclusion
I have really enjoyed diving down the rabbit hole of the western world of wheel guns. I had shotton these little single shots as a kid a few times but hadn't got the chance to take a deeper look. 
Heritage did a fantastic job with this pistol. I would say that it would be nearly impossible to beat this pistol for the price tag. I have seen them on sale around black Friday sale time of the year for as low as 100$. I would purchase a second one of these if I ran into it at a deal like that. 
I will stress the importance of only loading it to five shots and storing it empty as it is dangerous with that hammer. I want to be clear that this is normal for these single-shot pistols, and would not let it discourage you from purchasing one. 
Heritage gets a gold star from me on this build, and I would suggest you do yourself the service of going and getting a Heritage Rough Rider to add to the safe. Please exercise extreme caution when handling these firearms, and be sure to do your research to draw your conclusions. I believe that you will love this pistol as much as I have, but I would always encourage you to find out for yourself!
Explore more