Holosun AEMS Review: A High Quality Reflex Sight [2023]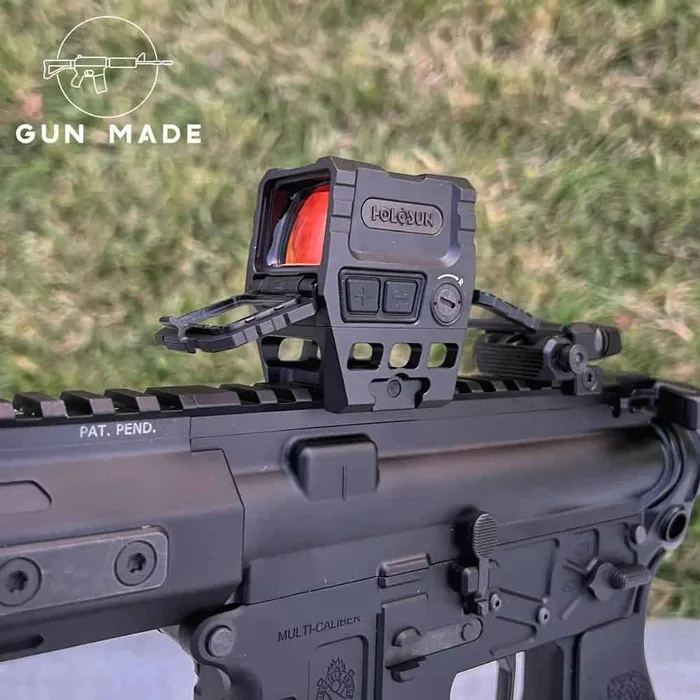 Holosun AEMS Review: A High Quality Reflex Sight [2023]
Introduction
I've been a fan of Holosun's pistol red dots for quite some time, as I've found them to be a nice balance of quality, reliability, and aesthetics. So, when the AEMS (Advanced Enclosed Micro Sight) came out, I knew I had to snag one for one of my ARs and write a Holosun AEMS review.
Well, life happened, and I didn't get around to it until just recently. Thankfully, GunMag Warehouse had the green dot AEMS in stock and could get it to my door quickly for this review.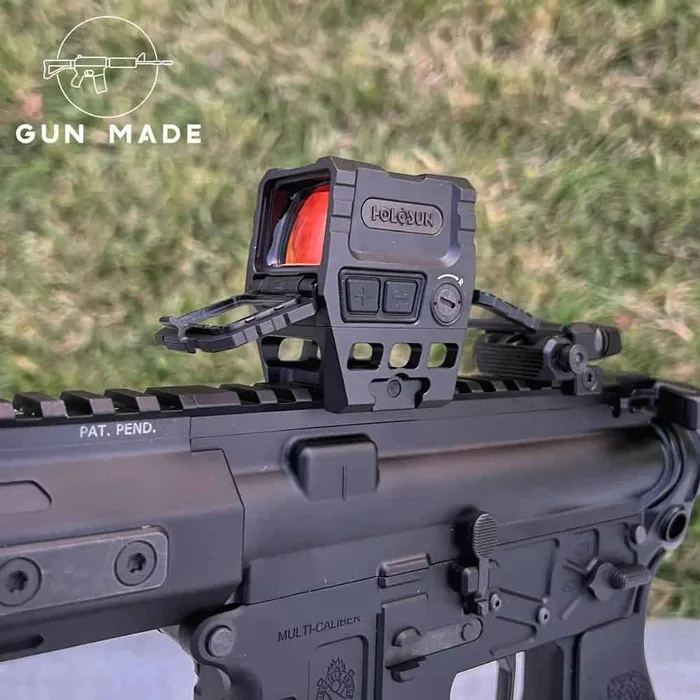 Holosun AEMS Review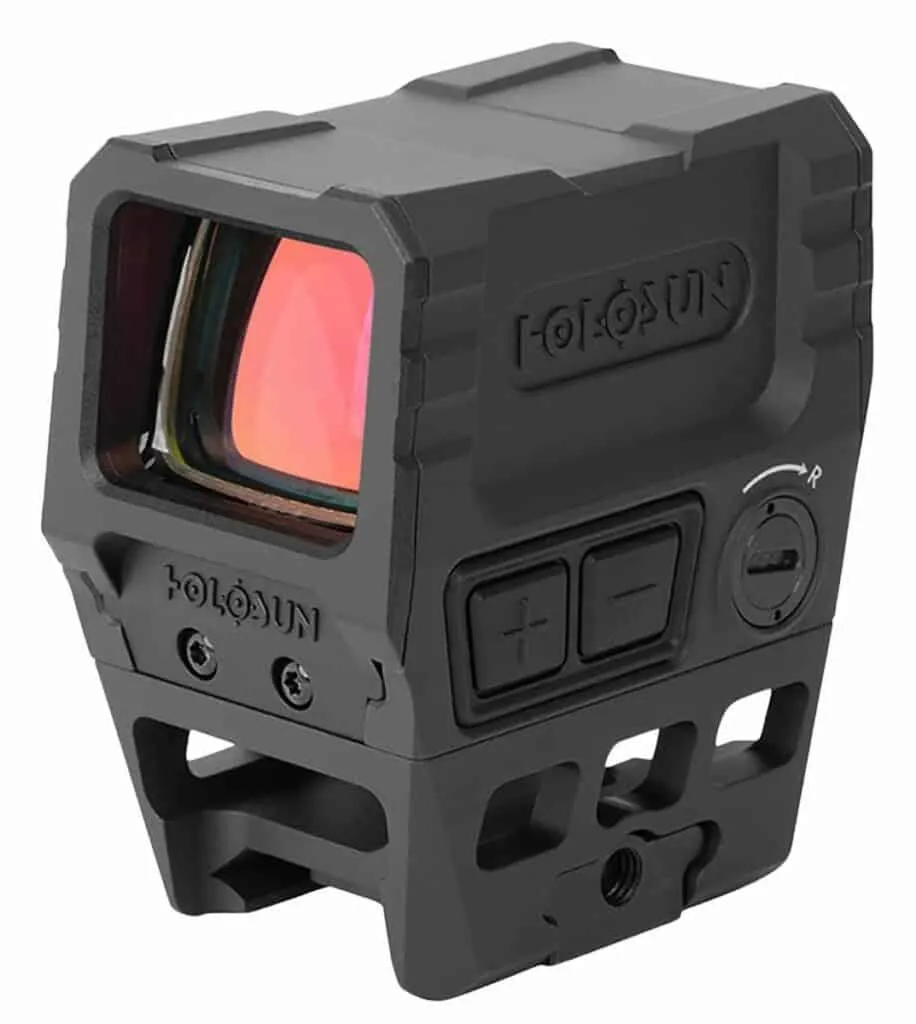 Specifications
| | |
| --- | --- |
| Reticle | 2 MOA Dot and 65 MOA Circle |
| Reticle Color | Green |
| Magnification | 1x |
| Power Source | Solar and Battery |
| Battery Type | CR2032 |
| Battery Life | 50,000 Hours |
| Brightness Settings | 8 DL and 4 NV |
| Window Size | 1.1 Inches by 0.87 Inches |
| Weight | 3.9 Ounces |
| Housing Material | 7075 T6 Aluminum |
| Adjustment per Click | 0.5 MOA |
| Submersion | IPX8 |
| Parallax Free | Yes |
| Unlimited Eye Relief | Yes |
Pros & Cons
Pros
Solar Failsafe and Shake Awake technology        
Multiple reticle options
Durable – T6 aluminum housing and IPX8 submersion rating
50,000 hour battery life
Cons
Pricey – but you get what you pay for
Looks bulkier than it really is
Proprietary footprint makes it incompatible with many mounts
First Impressions and Testing
I couldn't wait to hit the range with the AEMS once I got it. Right out of the box, I noticed how large and clear the viewing windows were. The green reticle is very sharp and easy to pick up in any light setting. As usual, Holosun included its nifty little multi-tool that made mounting it an easy task.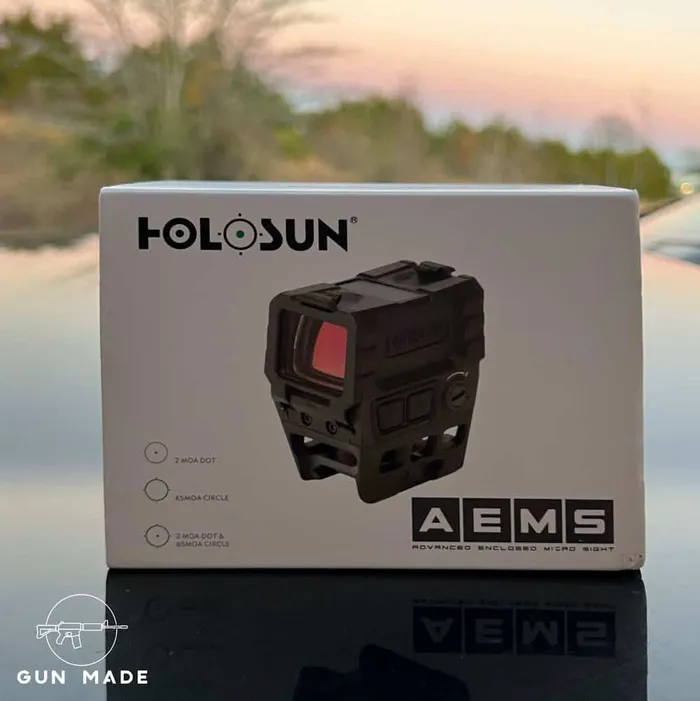 Reliability
Trust me, I wish I had already put thousands of rounds down range with the help of the AEMS, but I've only sent about 400 so far. While that's a rather "small" sample size compared to what it will wind up seeing, it held zero perfectly fine and I didn't notice any loosening of the optic itself once it was mounted.
It got a bit wet during one of my range sessions, but with the IPX8 rating, I wasn't worried about it. Now I see; I was right to not worry.
Accuracy
Of course, to an extent, the optic can only be as accurate as the gun it's mounted to, and vice versa. I had access to a 25 yard and 100 yard range since I got the AEMS, and I had no problem out to 100 yards ringing the range's 12" gongs consistently.
I also found it very easy to transition between targets at varying distances and acquire them quickly each time. For 100 yards and closer, I'll definitely be keeping the AEMS as one of my go-to options. It's not meant to replace a long-distance scope, but I wouldn't expect it to.
Overall Feel
Since you're not going to be sitting there feeling your optic for hours on end, it doesn't need to be super ergonomic and comfortable, but you don't want it to be a pain to handle either.
Even though the AEMS is a decent-sized "square," the edges are rounded, making it comfortable to handle.
The brightness adjustment buttons are rubberized and easy to manipulate. They seemed to work each time I needed to adjust brightness with no lag time. Overall, I was left with a sturdy feeling after handling and mounting the optic.
Features
Solar Failsafe
One of the features that make Holosun stand apart from many others is its innovative Solar Failsafe technology. If your battery fails, which after time many do, the Solar Failsafe will kick in and use the natural light to keep your optic running.
In addition to saving you in a time of need, it also will change your brightness setting to match your current lighting conditions. The prepper side of me loves the idea of having the solar backup just in case.
Reticle
The more options, the better, in my opinion. The AEMS features a multiple-reticle system in which you can pick between a 2 MOA dot, 65 MOA circle, or a combination circle-dot.
Being able to change your reticle based on the distances you're shooting at or the speed needed to move between targets makes for a very versatile optic. I've found myself running the circle-dot combination the most and would highly recommend it.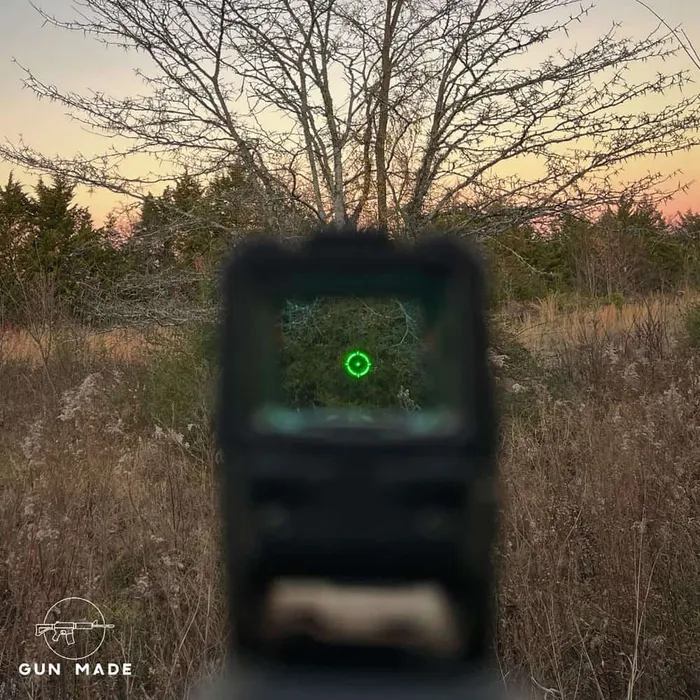 Shake Awake
Many optics out there on the market feature some version of "Shake Awake". Some people love it because it saves battery life by shutting off the LED during periods of no motion, while others don't want to rely on it in a time of need and prefer an "always on" optic.
I can see both sides of the argument, but I tend to lean towards the shake awake. With the AEMS, I can't raise my gun fast enough to beat the optic before it turns on.
Controls
As I mentioned earlier, the brightness adjustment buttons are easy to find in a hurry.. The windage and elevation knobs are also easy to adjust, and provide a 0.5 MOA adjustment per click. Thankfully, none of the controls are "too easy" where they seem loose or as if they will adjust with getting bumped.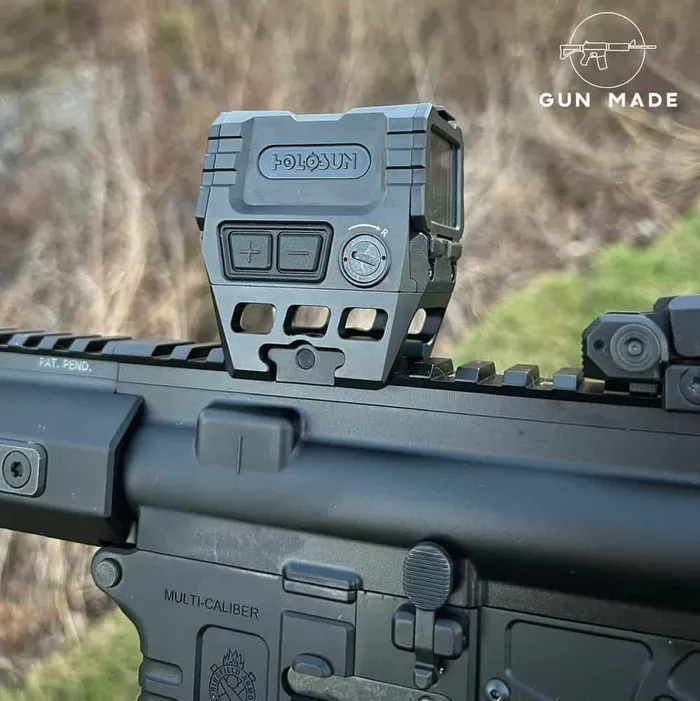 Other Features
There are plenty of other attractive features to note aside from the fancy and innovative ones mentioned above. Having clear flip-down lens covers is a nice change compared to many of the all-black solid ones that I've seen lately.
It also has a 50,000 hour battery life (that's side loading by the way), eight-day light, and four night vision brightness settings, and a nice large window size.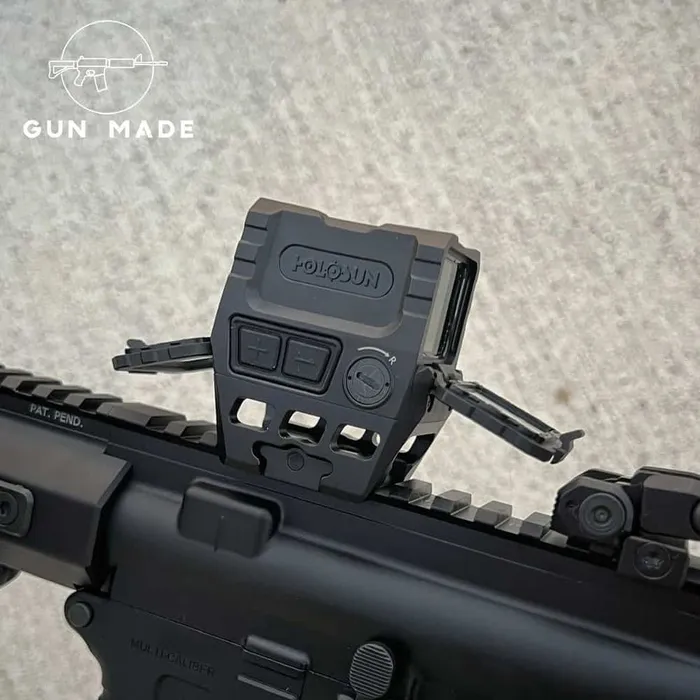 Alternatives
Whether it's your budget causing you to look at other optics, or the AEMS is simply not your style, here are a couple of other options to consider.
EOTECH pops up on many of the "best optic for XYZ" lists and for good reason. It has built a reputation for itself that has been backed by performance. You'll get a 1 MOA dot surrounded by a 68 MOA ring in one of the most durable optics on the market. It's even more pricey than the AEMS, but I have yet to hear of someone with buyer's remorse with one.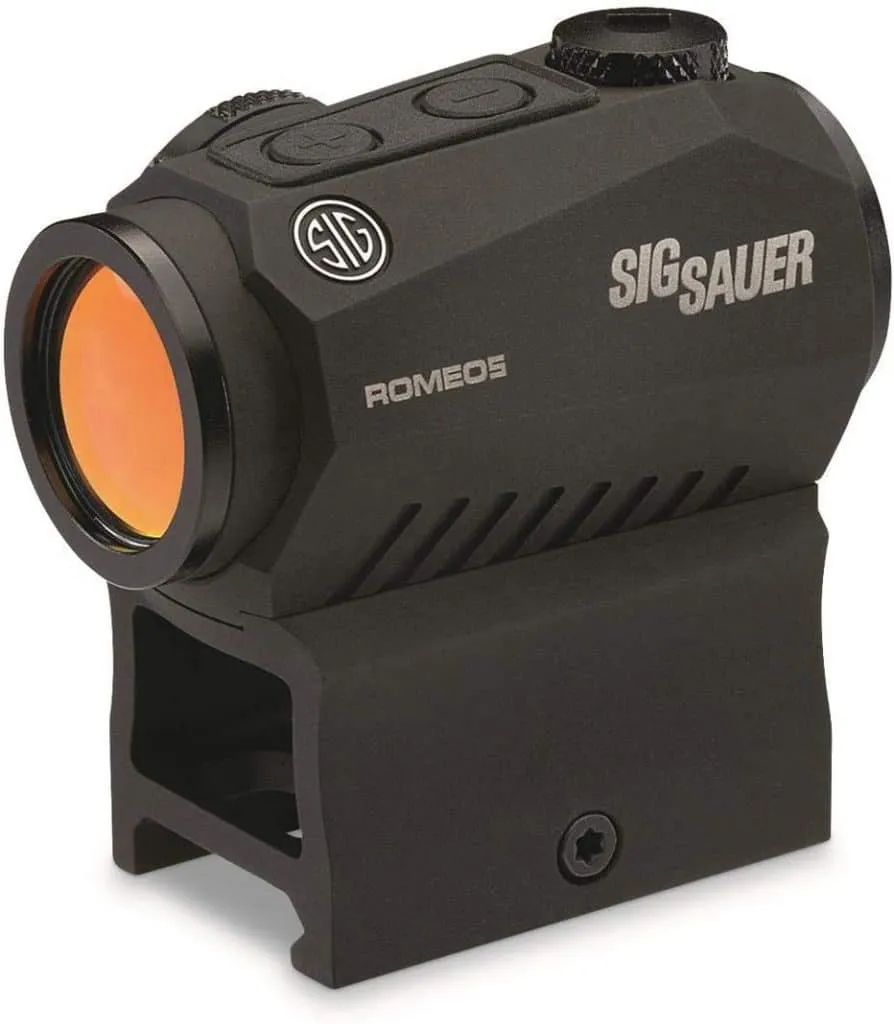 The Romeo5 is going to be my budget recommendation. Often found right around $125, you get a ton of bang for your buck. It comes with a simple 2 MOA red dot, but simple is not a bad thing in this case. You'll get 10 brightness settings, motion activated illumination and it's IPX-7 rated. It may fall into the budget category, but you probably won't be able to tell when you use it.
FAQs
Is the Holosun AEMS good?
Yes. After reading the article, do I need to say much more?
Is Holosun AEMS holographic?
It is not holographic; it is a reflex sight. We may just have to do a full article on the different optic types soon…
What footprint is the Holosun AEMS?
It features the proprietary Holosun AEMS footprint. This means you will not have compatibility with many of your other optic mounts.
Final Thoughts
While I haven't conducted a torture test on the Holosun AEMS, I don't have any reservations about its durability or keeping it on one of my main rifles. I can already tell that after I spend more time with it, I'll like it even more. If you're looking for a quality reflex sight with a ton of advanced features, I suggest you take a look at the AEMS for yourself.
Explore more