Holosun SCRS Hands-On Review: Never Change A Battery Again?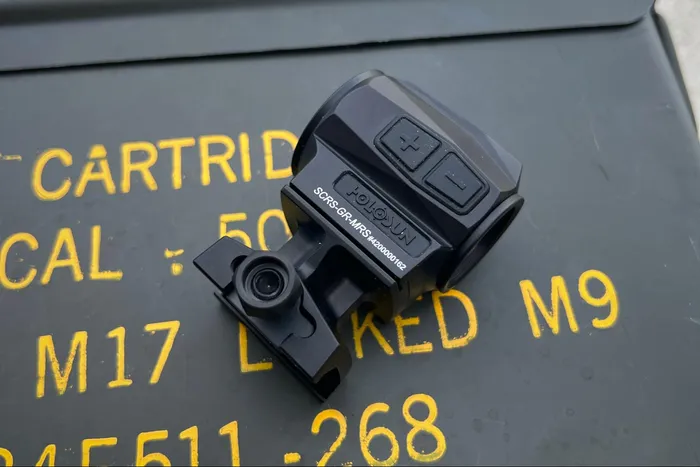 Holosun SCRS Hands-On Review: Never Change A Battery Again?
Introduction
With so many new firearms and accessories being announced and introduced at SHOT Show every year, it can be challenging to remember them all when you return home after a few days in Vegas.
One product that I definitely didn't forget checking out though, was the Holosun SCRS MRS (Solar Charging Rifle Sight, Multi-Reticle System).
After several months of waiting and checking for updates on the release, I finally got my hands on one a few weeks back. Holosun was nice enough to send one out to review, but let's be honest, I would have bought one anyway.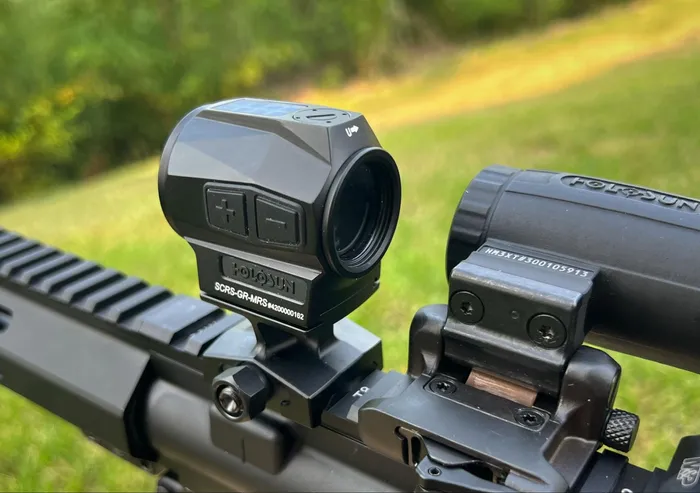 Holosun SCRS Review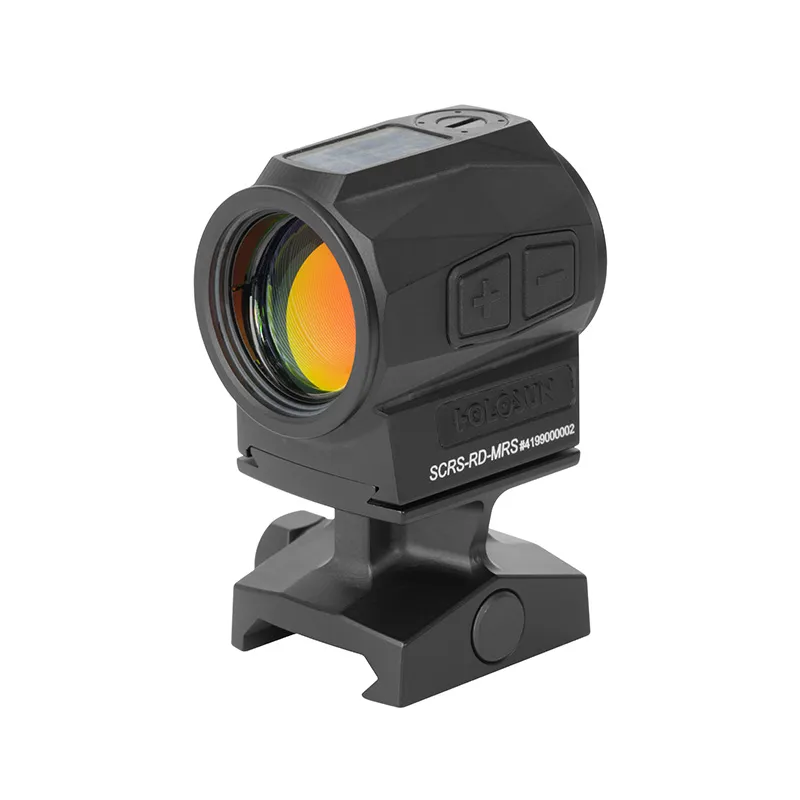 Specifications
| | |
| --- | --- |
| Reticle | 2 MOA Dot, 65 MOA Circle or combination |
| Reticle Color | Green (also available in red) |
| Magnification | 1x |
| Brightness Settings | 12 (four of which are night vision compatible) |
| Power Source | Solar & Battery |
| Battery Type | Internal Rechargeable Battery |
| Battery Life (Hours) | Unlimited! |
| Dimension | 1.7 x 1.35 x 1.6 inches |
| Weight | 2.45 ounces |
| Housing Material | 7075 T6 Aluminum |
| Submersion | IP67 |
Pros & Cons
Some of the cons stem from the pros of the SCRS being so compact.
Pros
Unlimited battery life

Ability to change between reticles (dot/circle)

12 brightness settings – four of which are night vision compatible

Durable – 7075 T6 housing and IP67 rated

Parallax-free & unlimited eye relief

Compact and lightweight
Cons
No quick-detach mount

Buttons can be hard to press in a hurry

Looks dainty/fragile on a 16" AR-15 (but looks don't matter if it performs!)
First Impressions & Range Time
I knew the SCRS would be small, but opening the box still surprised me. It's hard to imagine all that technology in such a small package.
Also, in the box, you'll find a lower ⅓ co-witness mount, a rubber lens cover, lens cloth, and Holosun's little multitool.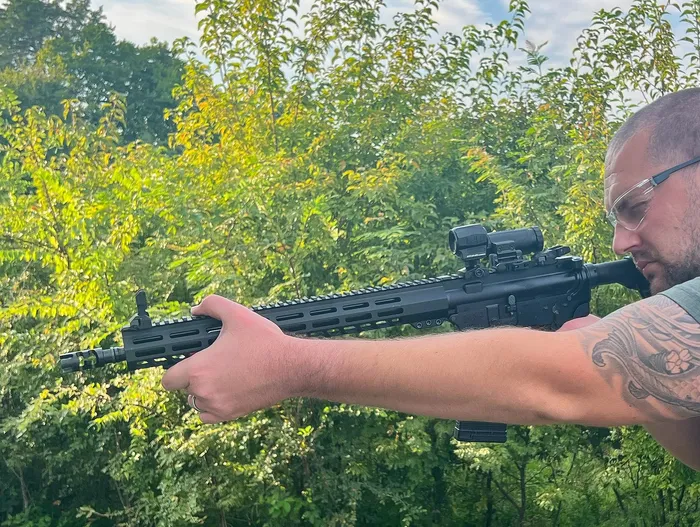 I wasted no time mounting the SCRS to my Smith and Wesson M&P Volunteer XV Pro and heading to the range. With the brightness set in the middle, the illumination level was great for indoor shooting at the range. Those 25-yard targets had no chance! Big shock, right?
Taking it outside, I had to increase the brightness quite a bit naturally, but the reticle remained crisp and defined. Within 100 yards, depending on how well you shoot, 12" gongs or similar are no problem.
Pairing it with a magnifier will easily allow you to push out well over 100 yards; I just didn't have the range that allowed over for it.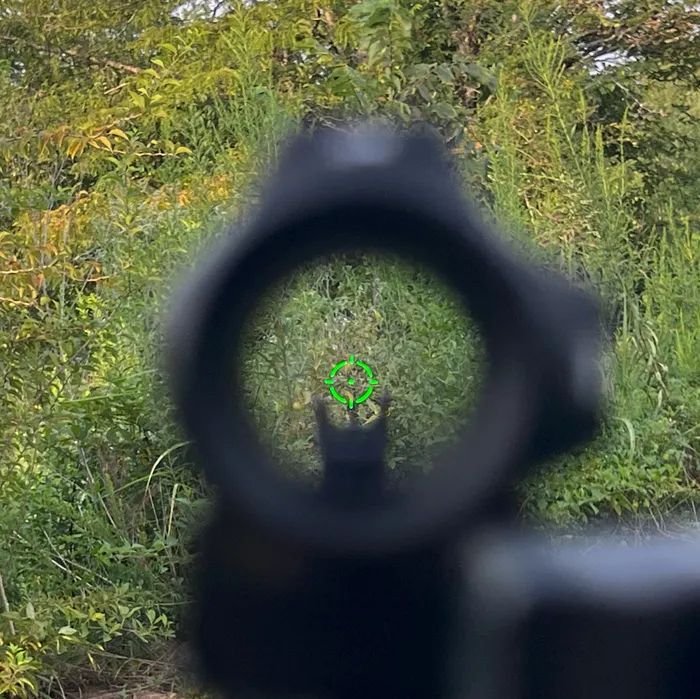 Since I've only had the optic for a little while, it's only seen a couple hundred rounds on my AR, but it has remained zeroed, and I've had no issues to note.
Features
Solar Charging System
With the term "solar charging" in the name of the optic, this one is obvious. While many Holosun optics have Solar Failsafe and can supplement the battery life, the SCRS can actually be run entirely without a battery, given strong enough light to harness.
I believe I heard somewhere that you could leave the SCRS in your safe for almost 2.5 years, and it would only take about 50 hours in overcast lightning conditions to recharge. Sorry, I can't say that I've tested that for you, so don't quote me on that!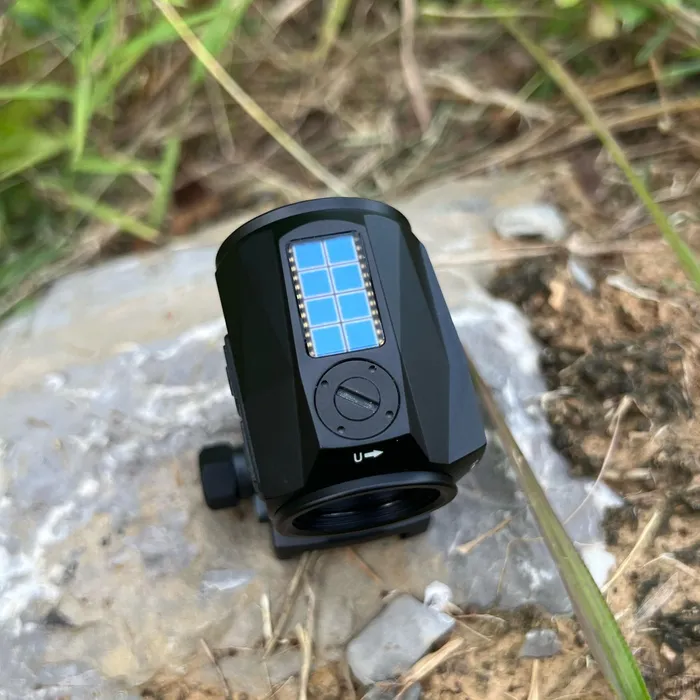 Multi-Reticle System (MRS)
Having astigmatism leaves most red dots looking like starbursts for me, so I love the option to choose which reticle I want to run.
With the SCRS MRS model, you can choose between a 2 MOA dot, a 65 MOA circle, or a combination. I almost always run the circle/dot combination and have found it ideal for both quick target acquisition and helping line up your shots further down range.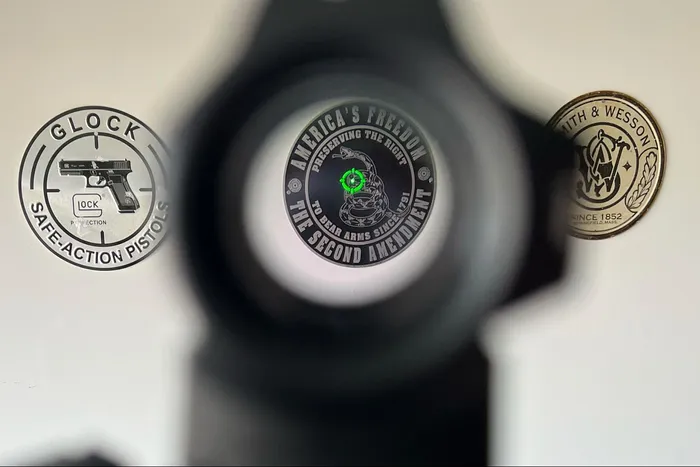 If you know you only want a 2 MOA dot or a red reticle, there are other models to fit your preference and save you a few bucks at the same time.
Auto & Manual Brightness Control
If you want to save hassle, battery, or both, the SCRS can be switched into Auto Mode, which will change the reticle intensity based on the ambient lighting conditions. Conversely, you can run the optic in Manual Mode if you prefer to set reticle intensity yourself.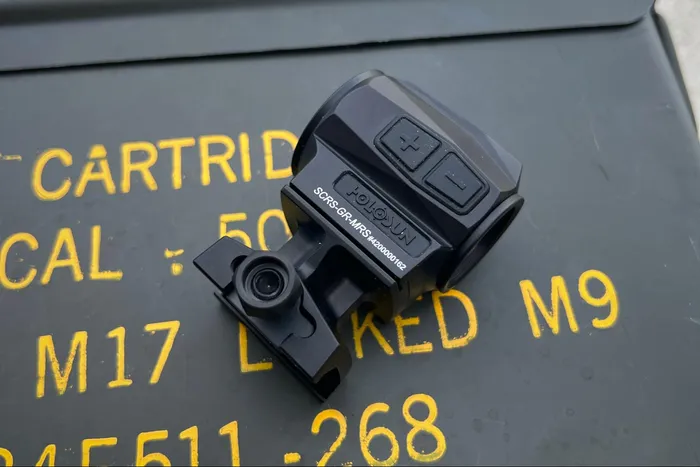 You can consider the Shake Awake feature part of the brightness control since without turning the optic on, you wouldn't even have to worry about the intensity! By the time you raise your optic to look down range, it will be on and waiting for you. Shake Awake will also turn the optic off after a period of motionlessness, which you can set from 10 minutes to 12 hours.
Accessories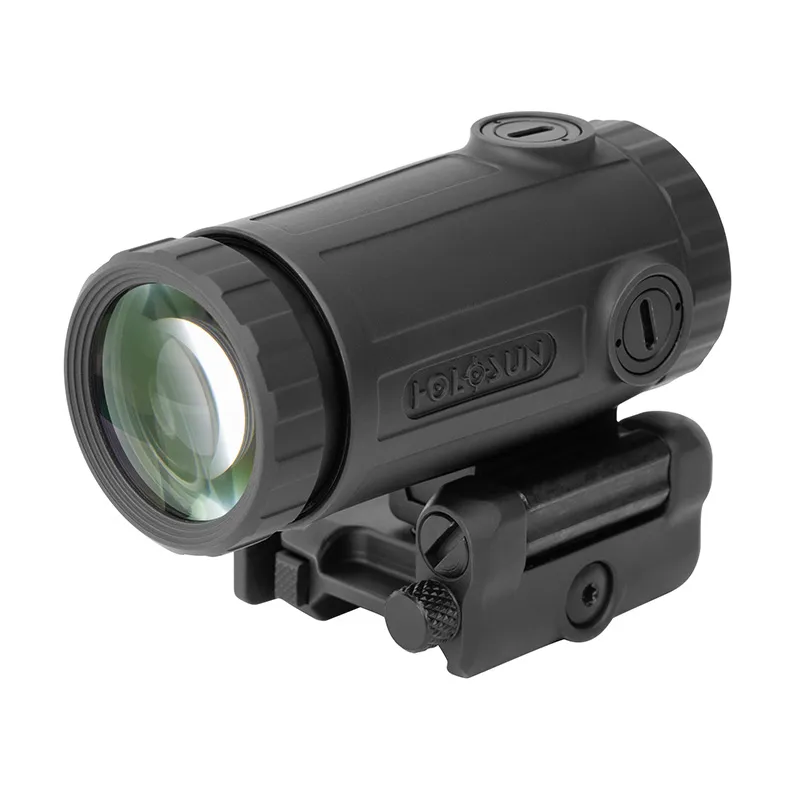 To go hand-in-hand with the SCRS, the Holosun HM3XT is a solid option to pair it with.
This titanium-bodied 3x magnifier features a quick-release ambidextrous flip-to-side mount, is IP67-rated, and has a built-in adjustment tool. This is the way to go if you're like me and like to have "matching" accessories.
Compact, lightweight, and still durable, the SLx 3x from Primary Arms is a solid budget option for a 3x magnifier.
I don't believe it comes with different mounting options, so be sure to know which height mount you'll want and grab one to go along with it.
Alternatives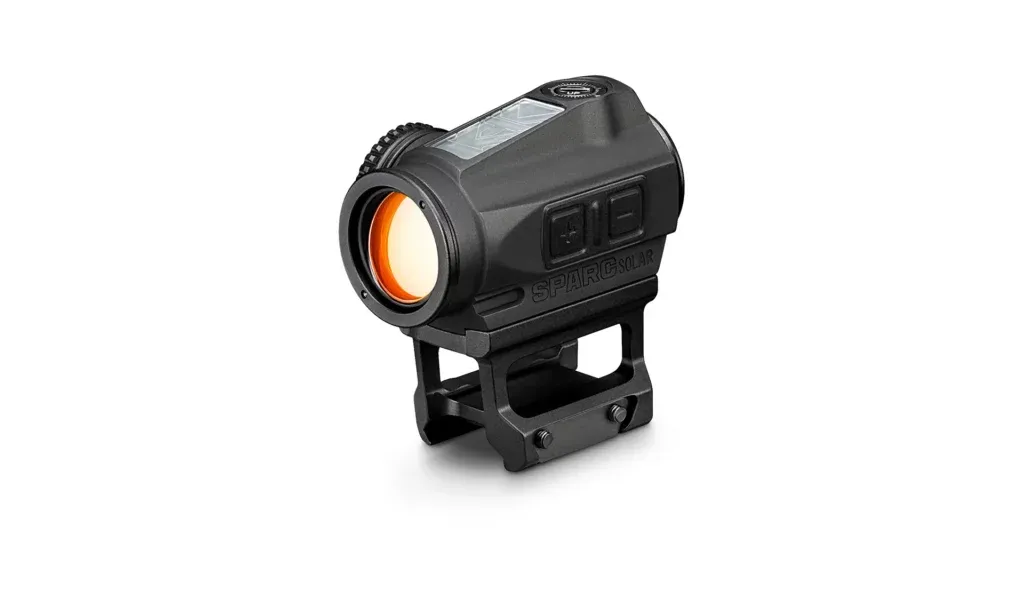 Vortex also offers solar technology with the SPARC SOLAR to provide a battery life of up to 150,000 hours. It switches from solar to battery if the sun can't power it and has motion activation.
The 2 MOA dot has 10 daytime settings and two night vision compatible settings, so you should be covered in almost any lighting scenario. Lastly, it's covered by Vortex's lifetime warranty, so you can rest easily for a long time.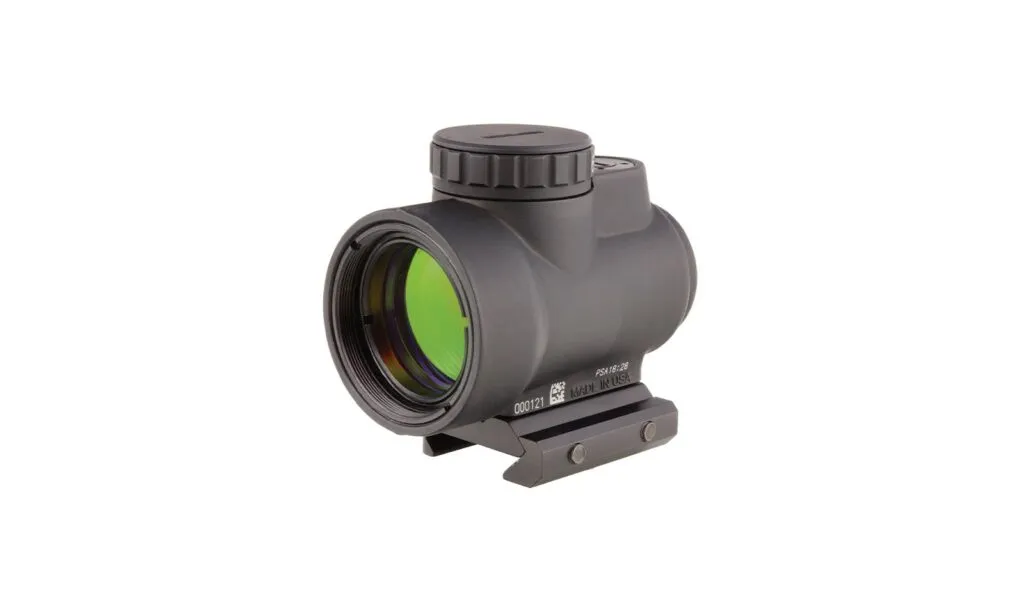 If you're looking for an optic that is 100% made in the USA, take a look at the Trijicon MRO (Miniature Rifle Optic). Your wallet will hurt more up front, but this optic should last you for the long haul. Its durability is definitely its main selling point (in my opinion), as it has a forged 7075 housing that is fully sealed to protect it against the elements.
It features a 2 MOA red dot, with eight illumination settings and a battery life of five years on setting five of eight. You'll get multi-coated lenses for virtually zero distortion, and it's backed by a limited lifetime warranty.
Conclusion
It's hard for me not to sound like a Holosun fanboy when I say that Holosun absolutely knocked it out of the park with the SCRS. The fact that you get solar charging and multiple reticle options in such a lightweight and compact optic is awesome. Then, to only have an MRSP of $352.93, which we all know you can usually find most accessories under MSRP, is just icing on the cake.
If you're looking for a new rifle or shotgun optic with innovative features that won't break the bank, I highly suggest you take a look at the Holosun SCRS MRS.
Explore more