KelTec P15 Review: A Worthy Concealed Carry Weapon?
KelTec P15 Review: A Worthy Concealed Carry Weapon?
Introduction
KelTec announced and showed off the Keltec P15 in early 2022 at SHOT Show, where I was able to get my first hands-on experience with it.
Without really knowing any of the specifications behind it, I remember thinking how shockingly thin it was for a double-stack 9mm with a 15-round capacity. Come to find out, at least at the time, it was being promoted as the lightest and thinnest double-stack 9mm handgun on the market.
The P15 happens to be KelTec's first striker-fired pistol, so having the specs that it does helps it stand out in an already saturated market. With so much competition in this area of the industry, I'm always trying to find new guns that have the potential to be solid budget carry options for those looking to get into firearms.
A low price point and impressive specs are great on paper, but the gun needs to be reliable and accurate to be considered a contender. I'll give a recap of my experience with the P15 and ultimately, if I feel it's one worth checking out for yourself.
KelTec P15 Review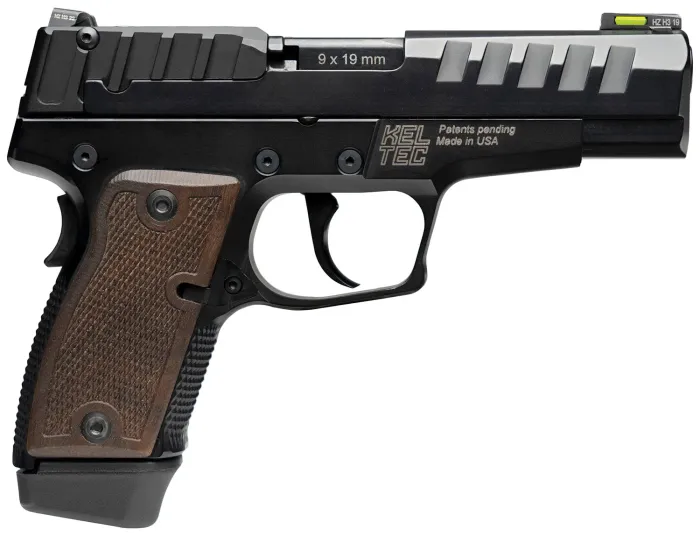 Specifications
| | |
| --- | --- |
| Caliber | 9mm |
| Capacity | 15+1 |
| Barrel Length | 4 Inches |
| Overall Length | 6.6 Inches |
| Slide Width | 0.875 Inches |
| Height | 5 Inches |
| Weight (unloaded) | 14 Ounces |
| Trigger Pull | 5 Pounds |
| MSRP | $450 |
Pros & Cons
Pros
Affordable – MSRP of $450 but often found lower

15+1 capacity

Tritium + fiber optic sights

Optic ready

Reliable – wasn't picky with any of the ammo tested
Cons
Lack of ambidextrous controls

Not a fan of grip safeties

Magazine release kept sticking 

Grip felt too small for the gun
Range Report: Reliability and Accuracy
Reliability
Throughout my time with the P15 I put a total of 175 rounds through it. I'm pleased to reveal that I had no malfunctions at all.
Even with alternating ammo types within the same magazine and rapid firing, the P15 proved reliable. If there is one thing I highly dislike, it's a gun that you have to use certain ammo with, so thankfully, this isn't one of them.
Accuracy
My accuracy wound up suffering due to the size of the grip. What would be considered a pro for many, was a slight con for me because of my large hands.
I found myself having to adjust my grip every few shots since the grip is so thin and narrow. I would say that it shot like a micro-compact for me, despite being compact. By the end of my testing phase, I could at least maintain groupings like the one below out to 15-yards.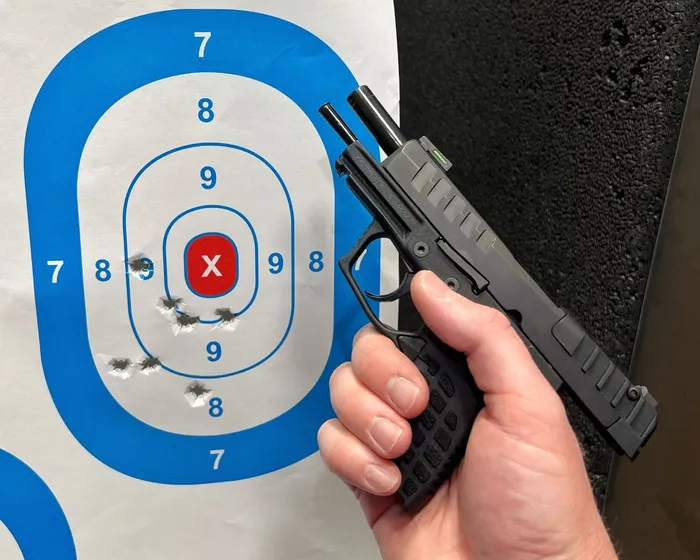 Overall Feel
The P15 feels much smaller than it looks, at least in my hands. It's also very lightweight, even fully loaded, so it would be great for concealed carry purposes.
Ideally, I would like to see some more girth…to the grip. Where did you think I was going with that?! Overall though, it feels decent in hand.
Features
Hi-Viz Sights & Optics Ready Slide
I would consider the slide the star of the show. The slide has very aggressive front and rear serrations which I found to be very useful when racking or press checking. The rear serrations especially, are deeper than most others I've tested lately and I really enjoyed them.
Up top, you'll notice the slide is optic cut and comes with Hi-Viz sights. The fully adjustable rear tritium sight paired with the front fiber optic sight made for quick target acquisition in both daylight and low-light. They are much better than the standard white three-dot setup.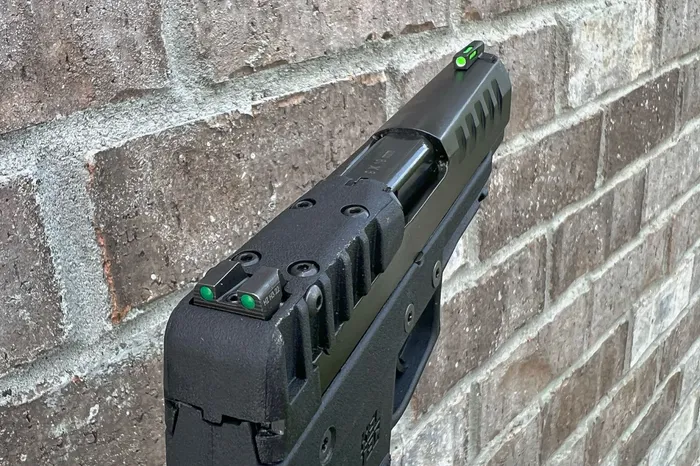 Double-stack Capacity
Despite how compact the grip is, KelTec managed to fit a 15-round double stack magazine inside of it. Being able to leave the house with 16 rounds without having to carry a spare magazine is great.
If you want an even more compact configuration, there is a flush base plate that you can run on the magazine, but it reduces the total capacity to 12+1. If I had one of each mag, I would likely carry the 15-round in the gun and reserve the 12-round as a backup.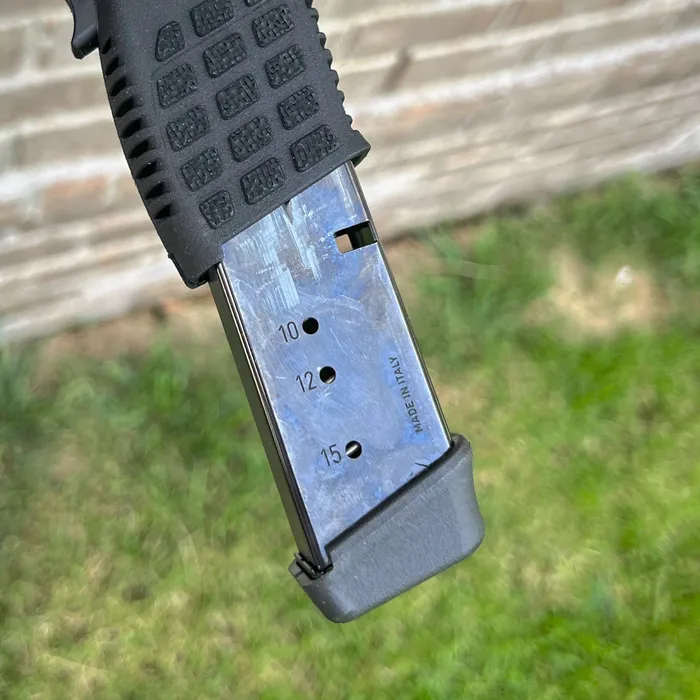 Now look, I'm not completely knocking the controls, but I definitely wish they were a bit different. The main issue I experienced was with the mag release.
The mag release got "stuck" several times, to the point I had to apply significant pressure on the opposite side of it. If this was intended to be a carry pistol for me, that would be a red flag. Maybe there is a fix out there, though, but I am not sure.
This next point is very likely a personal "problem," but I found the grip safety to be too small. Granted, I should have had a high and full grip each shot, but I did have a couple of instances where I had to intentionally shift my pressure to the top portion of the grip.
To end the section on a positive note, though, I did like the slide stop lever and found it very easy to manipulate!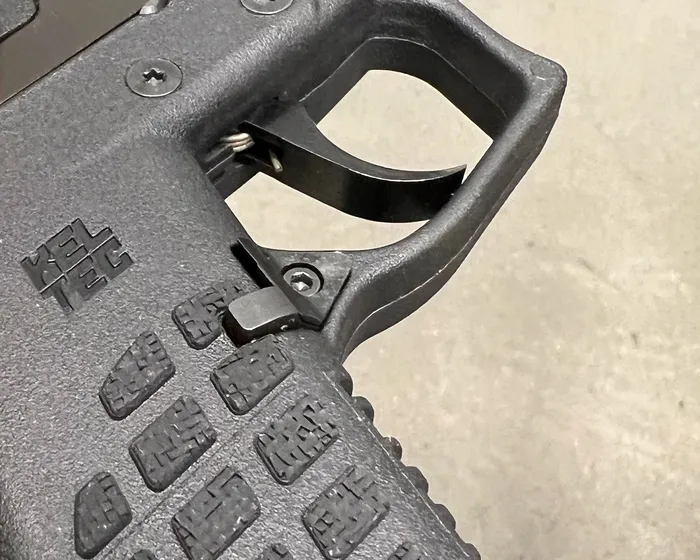 How We Tested
I stuck to the indoor range with the P15, at the Outpost Armory in Murfreesboro, TN. I put several mags through it each of the three times it accompanied me to the range. I mostly shot between 7 and 15 yards, but I did take it to 25 yards for a couple of magazines.
Ammo Used
I just received a case of 115-grain Winchester White Box FMJs from Natchez Shooting & Outdoors, so that was the majority of ammo I put through the P15.
I also put some 124-grain Blazer Brass FMJs and 115-grain Hornady Zombie Max polymer tips, all of which resulted in zero issues.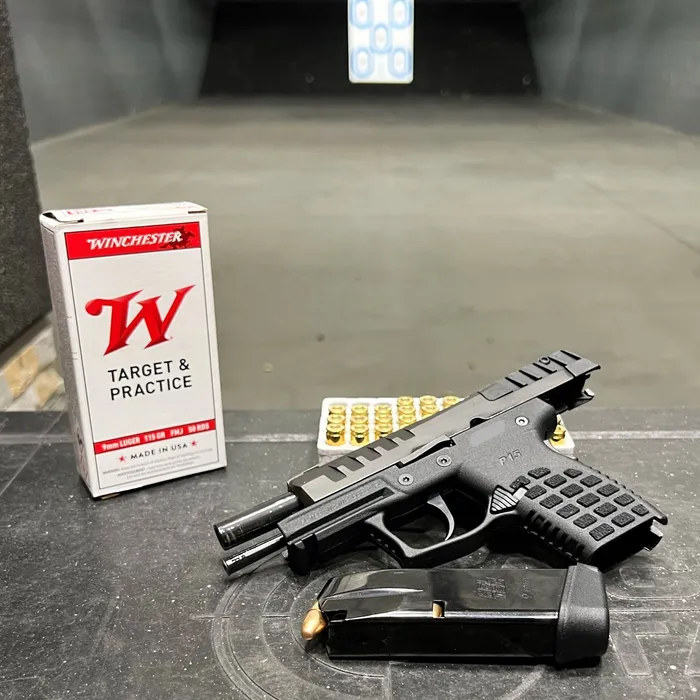 Score Card
Reliability (10/10)  
I didn't have any malfunctions during testing.
Ergonomics (8/10)
The grip feels too small for the gun and especially my hands, but it does have a nice grip angle and texture.
Customization (8/10)
You can add optics, lights, and sights but may have a limited selection of aftermarket parts and holsters.
Appearance (8/10)
I've actually grown rather fond of KelTec's aesthetic.
Value (8/10)
Despite the $450 MSRP, you can typically find them for closer to $350.
Accessories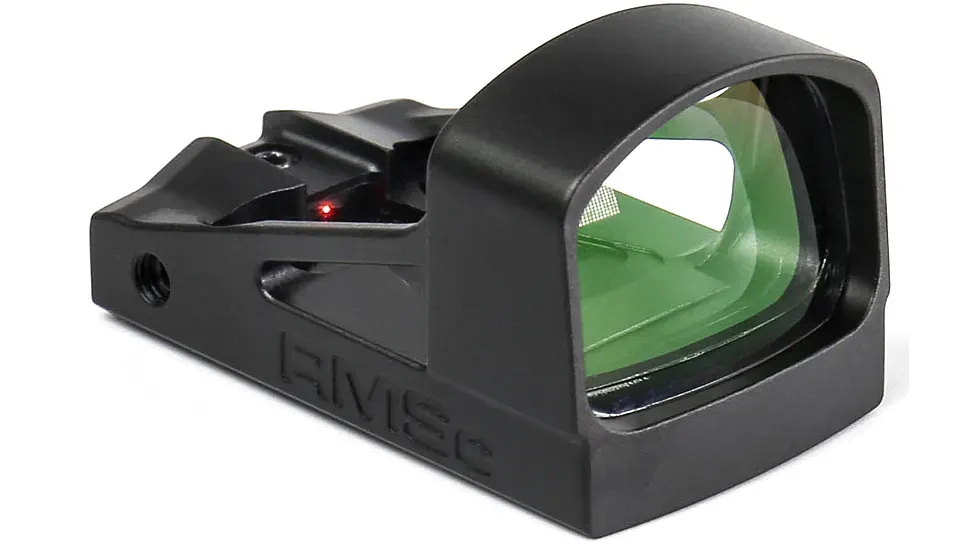 The RMSc comes in either a 4 MOA or 8 MOA dot and features an aerospace-grade aluminum body for extra durability.
It has night vision compatible brightness settings, an automatic brightness adjustment feature and a battery life of 2 to 3 years. I've run one in the past extensively and had no issues at all to note.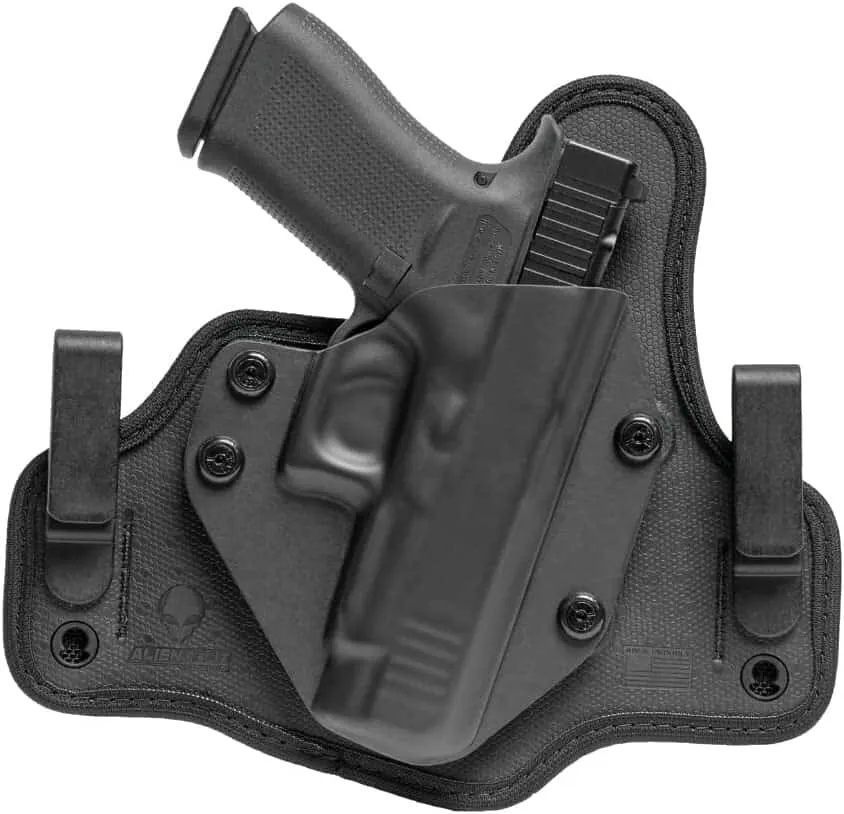 If you're thinking about carrying the P15, you'll need a holster.
You won't find as many holsters for it as, say, a Glock 19, but they are out there! Alien Gear makes one of the most comfortable and breathable IWB holsters I've worn.
The Clock Tuck 3.5 has adjustable cant and right height, along with tool-less clips. The backing against your body is CoolVent neoprene which is soft and breathable for extra comfort on those long days out and about.
Alien Gear even backs it with a Forever Warranty for the life and functionality of the holster.
Alternatives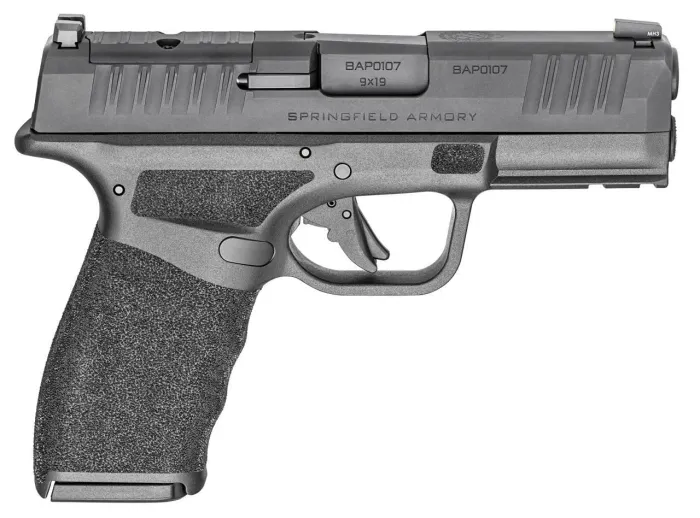 The Hellcat Pro is another 15+1 9mm that is great for concealed carry.
It features an optics-ready slide, tritium U-Dot sights, and one of my favorite grip textures out there. Front slide serrations, an accessory rail, and great stock trigger are among some of the other pros of the gun.
Right out of the box, it proved to be accurate and reliable for me, and I've now had several hundred rounds through it with very few malfunctions.
Check out our Springfield Hellcat Pro review for more info.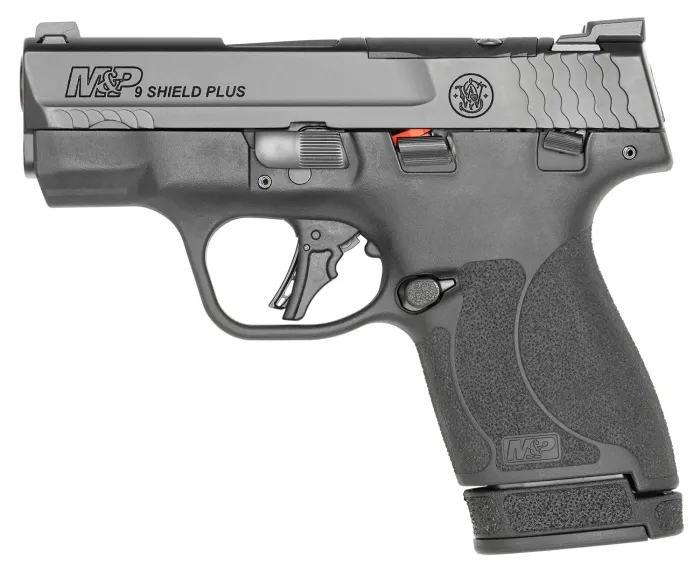 The M&P9 Shield Plus may only have a 13+1 capacity, but it's still one of my favorites. It's been accurate and reliable since day 1 when I brought it home.
It comes optics ready to mount your favorite sight, and there are a ton of accessories out there for it. The flat-face trigger is one of the best stock triggers I've shot in recent years, and the grip angle is set at 18-degrees for a natural point of aim.
Overall, the Shield Plus delivers a great bang for your buck.
Conclusion
With so many guns on the market today, I can't say for sure if the Keltec P15 is still the lightest and thinnest double-stack 9mm, but it's likely very close if not.
It may not win any beauty pageants or shooting competitions, but it is reliable. If you're looking for an affordable and compact 9mm pistol, the P15 is worth checking out for yourself.
Explore more