Kimber Micro 9 Review [2023]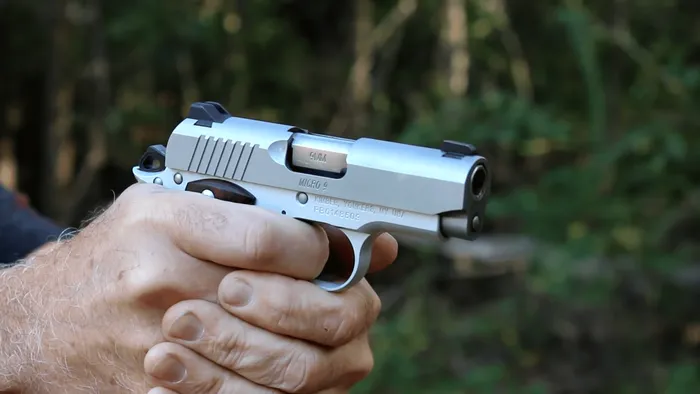 Kimber Micro 9 Review [2023]
What a time to be alive.
Ever wanted a Colt 1911 handgun that's small enough for concealed carry? Well, you can have one now.
Today, we'll take a closer look at Kimber's Micro 9 series and its many models that are chambered in the versatile 9mm Luger cartridge. I'll be specifically covering a Kimber Micro 9 review of the Stainless variety.
I'll talk about its main features, what makes it tick, its advantages and disadvantages, and overall shootability. I'll also recommend some cool aftermarket parts as well as list some handguns that are similar in essence and function.
Shooting the Kimber Micro 9 was super fun. I've rarely had the chance to shoot a 1911-style compact handgun besides the SIG Sauer P938, which shares a striking resemblance both in aesthetics and action.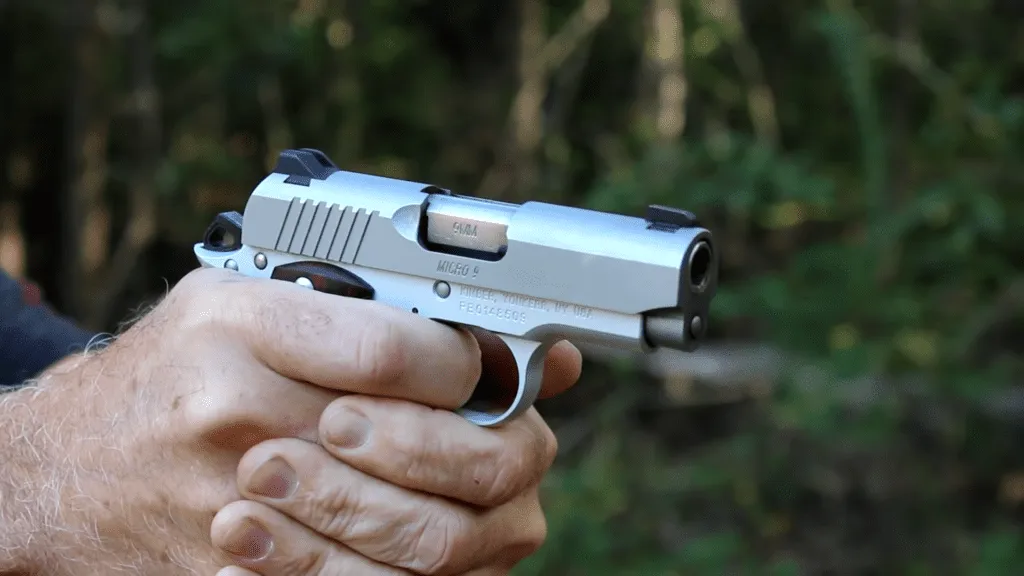 There's still the question of the overall functionality and CCW efficiency the Kimber Micro 9 offers.
Is it reliable and flexible enough for everyday carry and self-defense? Or is it just another cool-looking handgun (just for show or occasional range fun) that'll sit idly in your collection?
Before we answer that question, here's Kimber's take on this ambitious model.
Kimber's Idea Behind the Micro 9
Any shooter can recognize John Browning's Colt 1911 handgun.
This single-action Colt handgun, chambered in the .45 Auto cartridge with intuitive thumb and grip safeties, has been a staple of sidearms for the civilian market and has served the U.S. military for more than 80 years.
Now, here's Kimber, an Oregon-based old handgun manufacturer that has kept it together for 40 years. Most of you don't know, but Kimber has had lots of turbulent times trying to keep the company from shambles.
After almost four decades of financial setbacks, management changes, buy-outs, legal stallings, manufacturing machine-dumping in landfills, and insane embezzlement lawsuits, they somehow kept rising through the mud and managed to keep the Kimber name strong.
Call it dumb luck or just sheer stubborn business practice, they are now well-known for their attractive polishing, classic hardwood stocks, and almost exclusive production of expensive 1911-style pistols.
Unlike Colt, who never made a 9mm version of a 1911, Kimber offers us a brand new way of using a 1911 for concealed carry purposes with their Micro 9 series.
How the Kimber Micro 9 Became Popular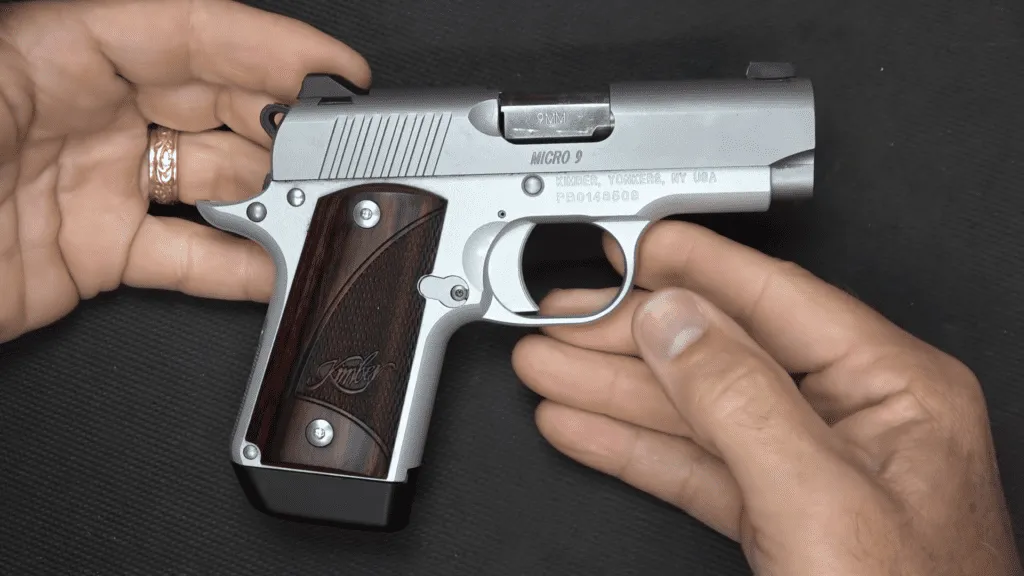 Based on their Micro 380 from 2014, Kimber's Micro 9 series follow a similar 1911-style fashion that definitely made it one of their most popular and sought-after products.
Their Micro platform boasts up to 14 Kimber Micro 9 models with different sights, grips, slide porting, cocking slide serrations, and barrel coatings for corrosion resistance, all of which have an extended 7-round magazine.
Kimber has been enthusiastically expanding this line of micro pistols, the newest being the Micro 9 Nightfall models. But, we're focusing on the Kimber Micro 9 Stainless, a regular, well-balanced classic among the many models.
The Micro 9 Stainless features the main essence of a Government 1911 with a regular single-action trigger, classic slide stop and mag release, and comfy Rosewood grips.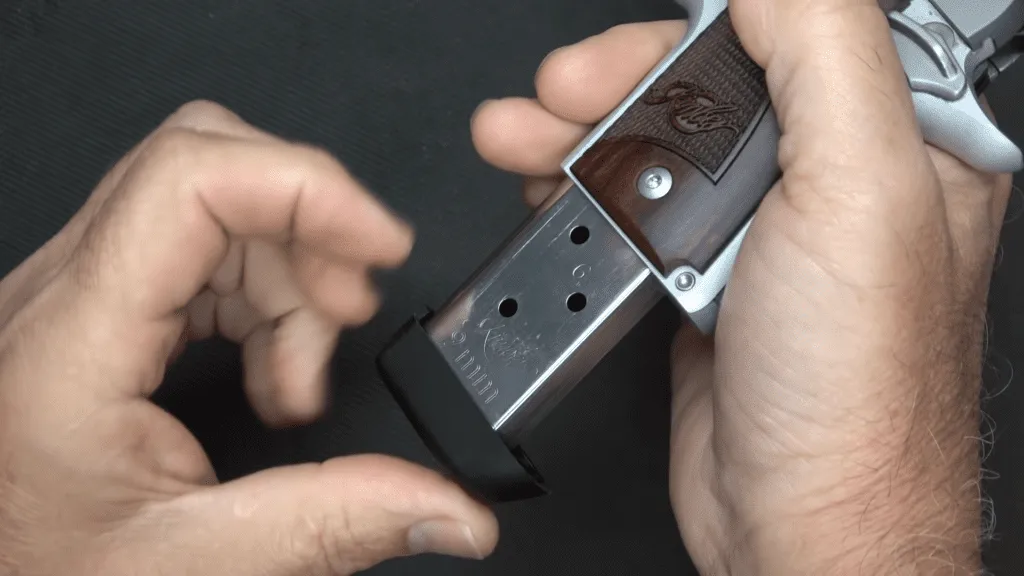 I'm guessing they hope to touch the more budget-oriented audience. Merging their trademark 1911-style pistols within the micro platform is a manufacturing no-brainer.
Overview of the Kimber Micro 9 7+1 9mm Luger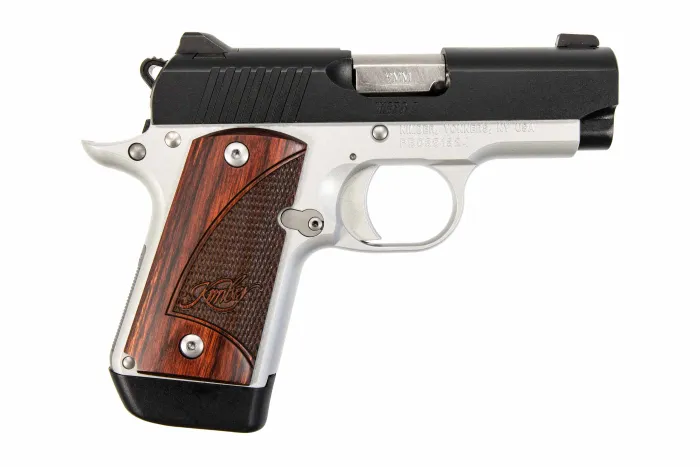 Specifications
| | |
| --- | --- |
| Manufacturer | Kimber |
| Model | Micro 9 |
| Caliber | 9mm |
| Action | 1911-style single action |
| Magazine | Single-stack |
| Capacity | 7+1 (6+1 flush fit and 8+1 extended models available) |
| Trigger pull | ~7 pounds |
| Safeties | Thumb safety on the left side |
| Barrel length | 3.15-inch stainless steel |
| Overall length | 6.1 inches |
| Overall height | 4.1 inches |
| Overall width | 1.06 inches |
| Weight | 15.6 ounces (empty) |
| Grips | Rosewood grip (Crimson Trace and other grips available) |
| Sights | Three-dot sight, dovetailed |
| Slide | Stainless steel |
| Finishes | Satin Silver |
Grips and Ergonomics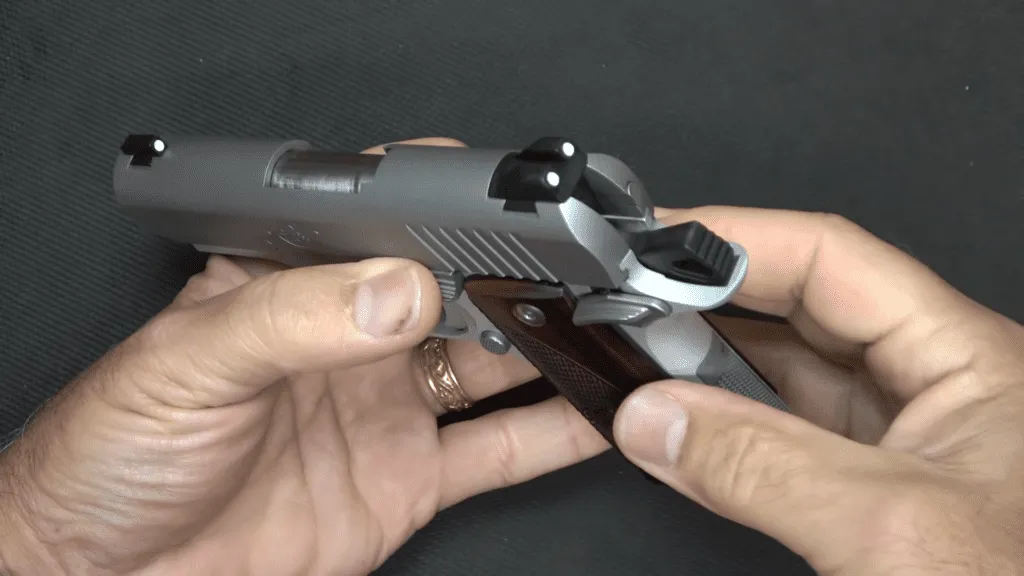 How a gun feels when holding it is very important, especially since it's a 9mm micro 1911-style handgun. You need to be positive that you'll be able to handle a bit of mild recoil.
The best way to put it, in our experience, is that the Kimber Micro 9 Stainless feels fitting in hand, especially with the meticulously laser-etched, old-school Rosewood grips. For a sub-compact 9mm, it's hefty, and the steel and aluminum construction do all they can to tame the recoil.
But, if you want a more aggressive grip, the Kimber Micro 9 Raptor has Scale Pattern Zebra Wood grips for a higher price. I don't know anything about Zebras, but the grips remind me of snake scales and bird feathers that grab right back.
Lefties will also appreciate how your shooting hand's right thumb will lay on the slide stop's pin, which offers a bit more stability.
I'm certain that shooters with smaller hands will have a field day with this one. However, I can't say the same for people with longer fingers. For me, putting the index finger on the slide just feels natural when I take a resting position.
I have a pretty firm and stable grip, thanks to the beaver tail and checkered grip texture on the backstrap panel. It just locks in alright, so I guess I have medium-sized hands for it.
You can also check out the Stainless model with Black Hogue Wraparound grips or the CDP LG (Custom Defense Package with Crimson Trace laser grips).
Slide
The slide is commendable on this gun. It's an aluminum construction that works well with the stainless steel barrel, and it's carefully machined to prevent moisture and durability.
One thing you should know is that the spring tension on the slide is super tight. So, Kimber went with relatively deep slide serrations, which make it really easy to hold and rack the slide.
Most Micro models have those serrations on the rear, but some models like the KHX have a hexagonal slide pattern, while the ESV has front-cut serrations for whatever reason.
Other than that, the boxy frame and slide look classy and pay their homage to the Colt 1911.
However, some folks really don't like how Kimber makes them via MIM (metal injection molding), and I've seen lots of unhappy customers complain about rusting on their Kimbers.
The MIM method gets a harsh bias from handgun nerds, I know. But, I personally think that MIM-made handguns with proper procedures are just fine.
For instance, Ruger uses MIM parts, and their models do just fine in terms of reliability. The culprit here might just be Kimber's terrible quality control, not to mention the higher price tags that simply warrant more on that front.
One more thing; I've seen somebody complain about the slide locking when shooting on more than one occasion. Apparently, the slide will lock open in the middle of the mag when it's not even on the last round. This is a serious mishap, especially since we're talking about a handgun that's supposed to be concealed carry.
Sights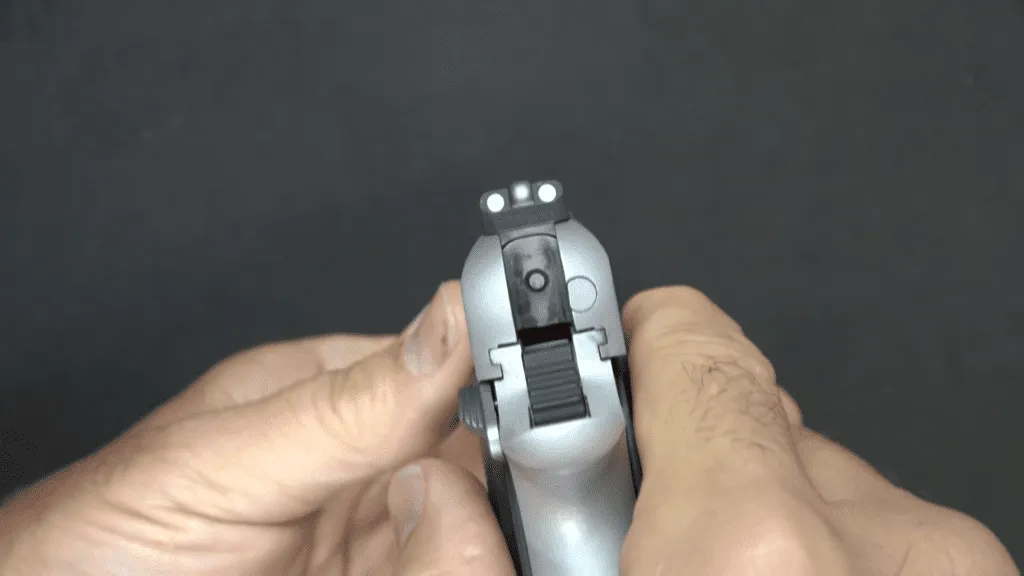 Not much to say about the sights. Instead of plastic, they're steel sights that are mounted in machined dovetails.
The rear sight is drift and windage-adjustable and can be removed with a sight pusher. I recommend you get yourself some Tru-Glo TFX Pro sights.
Why Kimber didn't go with factory night sights is beyond me, but it's not a big deal.
Once again, I advise you to take a look at all the Micro models because they have different sights for different eyes.
Magazines
Nobody cares about the 6-round magazine model because the difference in price is seriously marginal. That's why I went for the 7-round model.
The single-stack 7-round magazine is flush with the frame, and it's pretty easy to reload. The base pad on the magazine will give folks with bigger hands some gripping space for their pinkie.
However, I had some weird issues with it when I dropped the full mag. The last round got caught on the walls and dropped to the ground as a loose round.
It's no biggie, but this is probably the MIM-machining (or rather the subpar QC) I was talking about. Luckily for me, I didn't receive a lemon Micro 9.
For a handgun of this price tag, I wish Kimber had added two more spare magazines. Just take a look at S&W and Glock, where they throw in free mags with their popular handgun models.
Trigger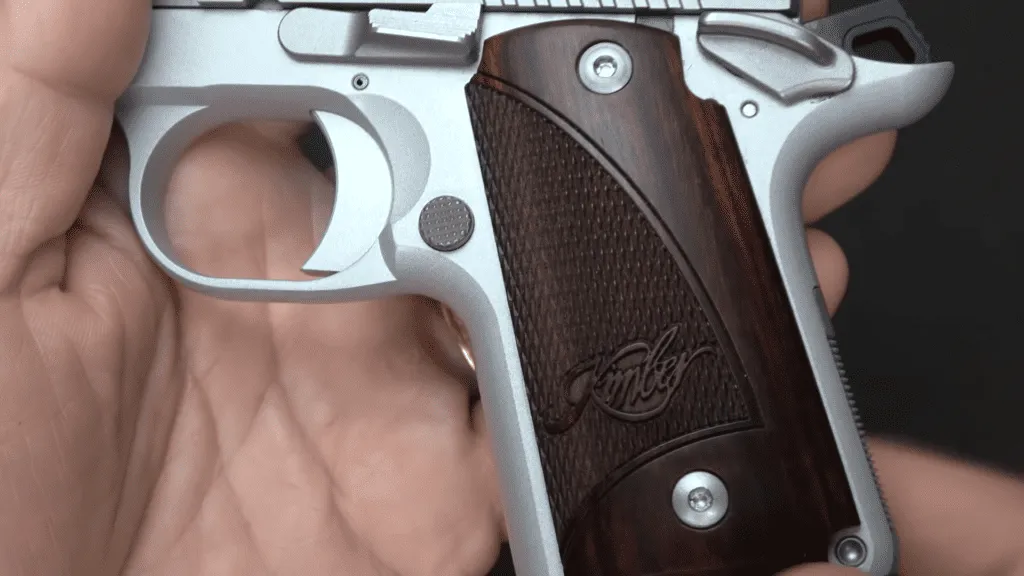 One of the main highlights of the Micro 9 is the advantages of its single-action trigger.
Modeled after the 1911 blueprint, the single-action trigger is heavy yet crisp. It somehow feels weird, and it works almost like your classic pivot trigger, but I guess that's just me. I tend to expect smoother triggers from small handguns.
The roll pin is visible, and after the reset, the trigger has just a tiny bit of take-up. Breaking it in is relatively cleaner than your full-size 1911, and this is a big plus.
Still, it really gives leverage to your accuracy and comfort in shooting at distances greater than 5 yards. It's important for when you want to practice, and you need all the comfort you can get when self-defense is in question.
So, you're probably going to be more accurate with the Micro 9 if you're one of those people that like to push or jerk to compensate for recoil. You won't see this trigger break coming—it'll break before you know it, which is good.
Shooting, Accuracy, and Ammo Recommendation
You might have heard that the Kimber Micro 9 likes to spit out casings directly into your face.
This is often a sign of excess recoil going back into the pistol, and this is bad news because it can wear out the slide rails. This rude malfunction might explain the slide issues of the Kimber Micro 9 in newer models.
That being said, shooting the Micro 9 Stainless was fun, all thanks to the ergonomics and overall trigger feel. It has that 9mm "bite," but the recoil is still manageable.
I emptied 10 magazines (that's 70 rounds total), and I came across 2-3 malfunctions, which I think might be due to the ammo type.
That said, I used my trusty Winchester White Box 115-Grain FMJ, which was relatively accurate, and I managed to pair up some constellations at around 7 yards with 5-shot groups.
Don't expect absolute pin-point accuracy. I only used these practice shots along with some Perfecta FMJ boxes because they were the cheapest.
I also suggest Blazer FMJ 115-grain, Gold Dot +P 124-grain, and Gold Dot 147-grain. These are a bit expensive for practicing, so I'd recommend them for self-defense, but you do you. The Remington 115-Grain HTP is another great option.
My personal choice of EDC carry ammo is the Hornady Critical Duty +P 135-grain, and it decisively had the softest recoil out of all of them.
When I tested out the Hornady Defense 115-grain 9mm FTX, I had a weird malfunction where the brass got caught up within the chamber before it ejected. I don't know what that was, and I don't have enough proof of it, but I suggest you stay away from this one.
Safeties
The Micro 9 Stainless has a thumb safety, slide release, and magazine release that are pretty much 1911-style by design and mechanism. There's no de-cocker, but the hammer allows you to dry-fire it.
Personally, I'm not too keen on thumb safeties. Pushing it up is a bit awkward and feels stiff, but it's like that in most 1911 handguns, and the clicks on all safeties are pretty audible.
The slide release is really smooth with a well-made mechanism. It's easy to pull it down and push the slide forward, even while the magazine is still inside.
The magazine release is relatively small, but it's metal, and it has a pretty abrasive texture. It ejects like a standard 1911, and the lowered and flared ejection port allows a really fast and smooth ejection.
The beveled magazine just slides off instead of rapidly dropping out if you don't press it hard enough. If you press once quickly, your mag won't drop all the way down.
A word of advice, since the Kimber Micro has mild recoil, some customers complained that the slide lock loosens up when it recoils. This can be easily repaired, but it's still regarded as an issue since we're talking about CCW here.
Disassembly and Maintenance
Cleaning and disassembling the Micro 9 is very similar to taking down a 1911.
Before you empty the chamber and drop the magazine, make sure you don't point the gun at anyone or anything. First:
Start by pulling the slide back an inch in order to line up the rounded slot with the slide stop pin
Push the pin out from right to left and take it off.
Gently pull the slide off the frame. Keep in mind that the recoil spring isn't captive.
Remember that when you're putting the slide back on the frame and are closing in the rear, keep the ejector down until the spring-loaded slide passes over it.
Once it's down, pull the slide back until you're able to put the slide stop all the way to the gun past the keeper spring.
Rack the slide, and you're set.
Kimber strongly advises that you do it as the user's manual says.
Pros & Cons of the Kimber Micro 9
Pros
High-quality, aluminum/steel construction
Lightweight and compact for a metal handgun
Mild recoil for a 1911-style sub-compact pistol
9mm cartridge is an advantage by itself
Quality fit and finish
Colt 1911 aesthetics
Cons
Magazine is sometimes difficult to eject
May eject loose casings into shooter's face
Problematic feeding with Hornady Critical Defense
Ejector must be pushed down for the slide during assembly
Slide lock may activate from excess recoil
FAQs
Is the Kimber Micro 9 a Good Self-Defense Handgun?
The Kimber Micro 9 is a decent self-defense handgun, but just "decent" doesn't cut it.
It's a single-stack 1911-style handgun that could fit your concealed carry profile. However, the 7+1 round capacity, moderate weight, and unreliable slide lock and magwell make it a questionable choice for self-defense situations. Read on for our suggested alternatives.
Is the SIG Sauer P938 Better Than the Kimber Micro 9?
The SIG Sauer P938 is smaller, but it's wider and weighs heavier than the Kimber Micro 9. However, both models are strikingly similar, both in feel and function.
Both handguns rely on the classic 1911 platform, but if you're looking for more choices, I suggest you browse the Micro 9 series.
Does the Kimber Micro 9 Have a Lot of Recoil?
The Kimber Micro 9 has a relatively manageable recoil for a 1911-style handgun, but it definitely kicks more than your regular 9mm subcompacts. It's not exactly your standard choice for the gun range, and if you have arthritis, this is not the gun for you.
What Do the Others Have to Say?
Alternatives to the Kimber Micro 9
If you feel that the Kimber Micro 9 is not for you, here are some similar handguns.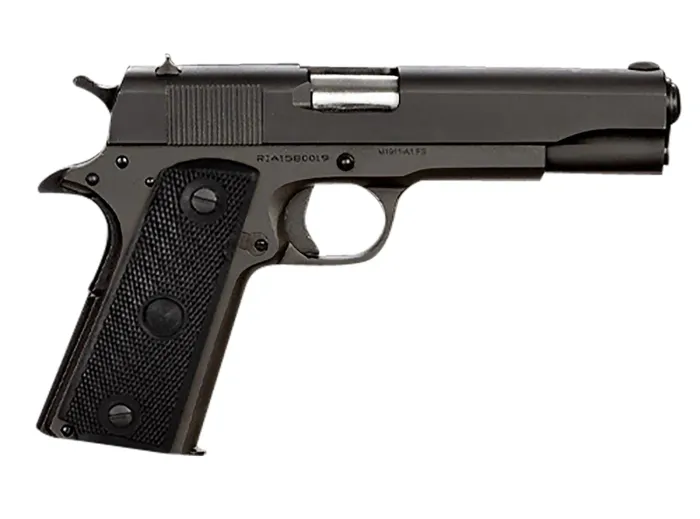 If you're looking for a full-size, 1911-style handgun for a fair price, there's no beating the Rock Island M 1911 GI. It has fixed low-profile sights and a 5-inch barrel for that much needed-accuracy and recoil control.
The smooth wood grips might not be for many, but the fixed, low-profile sights and crisp 4- to 6-pound trigger pull makes it an excellent choice. Customizing your M 1911 GI is easy, and aftermarket parts are highly accessible. When the time comes to sell it, keep the old parts.
I highly recommend this one. Your grandpa will definitely approve of your old-school choice and economic savviness.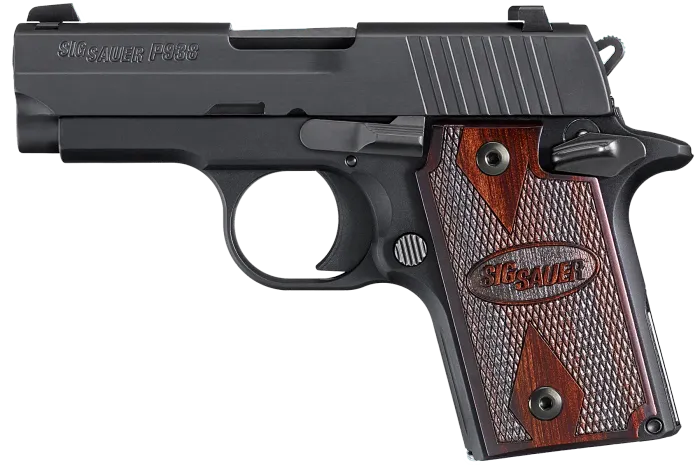 Looking for the exact same handgun, only more reliable? Perhaps one that you might not need grandpa's approval for? Here's the Sig P938.
The specifications are strikingly similar, only the Sig P938 is wider and slightly heavier. Still, the operation is just as smooth, and the cocked-and-locked single-action trigger feels different.
This one has a Hogue Blackwood grips, and the controls are ambidextrous. What's more, it's much cheaper than the Kimber, but you'll have a hard time looking for one in stock, and there are not many models circling about.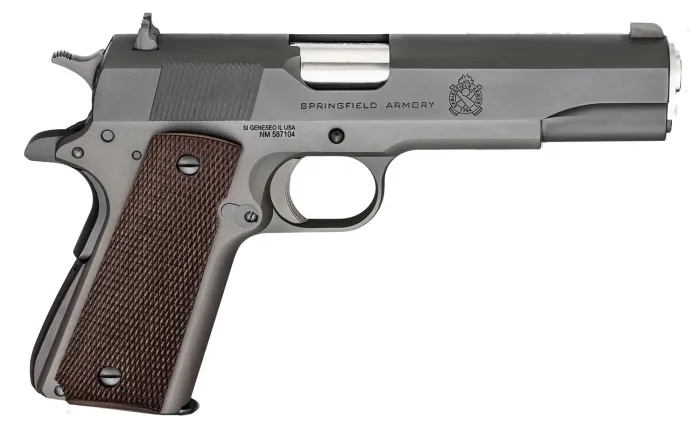 Finally, the Springfield Armory 1911 Pistol, more specifically, the Defender Series, is one of the best budget 1911 options. Only this time, it's a .45 ACP caliber, with even more serious firepower.
The Mil-Spec Defender series is one of the best .45 caliber handguns with an unbeatable price. The classic Mil-Spec model is a 5-inch handgun with match-grade stainless steel and carbon steel construction.
It cycles like a champ, has low-profile Tritium 3-dot Combat sights, and a 30-ounce weight, so it's not your everyday CCW option. The only thing that keeps me from owning one is the really expensive .45 ACP ammo.
Conclusion – The Kimber Micro 9 Is Fun To Shoot for a 1911-Style Sub-Compact 9mm
The Kimber Micro 9 is a 1911-style, single-action, single-stack, subcompact handgun that's chambered in the 9mm cartridge. If you ever needed a small 1911-style handgun, this is your first bet.
With a 4.1-inch height and 6.1 inches in overall length, it obviously caters to a defensive concealed carry platform. An ideal choice for shooters with small hands.
It's pretty much identical to the Kimber Micro 380, only it's 3 ounces heavier. This one is really tiny, and I know a lot of .380 ACP handguns that could dwarf the Micro 9.
The only features that set the Stainless apart from a standard Colt 1911 are that it has no grip safety, and the non-swinging-link barrel is different.
Other than that, the Stainless has a cool 45-degree angle frame. The aluminum and steel construction screams quality build.
Besides this Stainless model, there are the Two-Tone, KHX, ESV, Eclipse, Raptor, CDP LG, and Nightfall, all of which have a little something for everyone. These other Micro 9 models are pretty much the same in function and controls. They just might have different coatings, sights, slides, and grips.
Now I know that a lot of folks are having second thoughts about this one, and only because it's a Kimber. This isn't your best self-defense option, but I'll be lying if I say it's not fun to shoot.
If it was introduced like 25 years ago, it could have been an absolute classic.
Stay safe, shoot straight.
Explore more