Mantis BlackbeardX Review: New Dry Fire Training Tool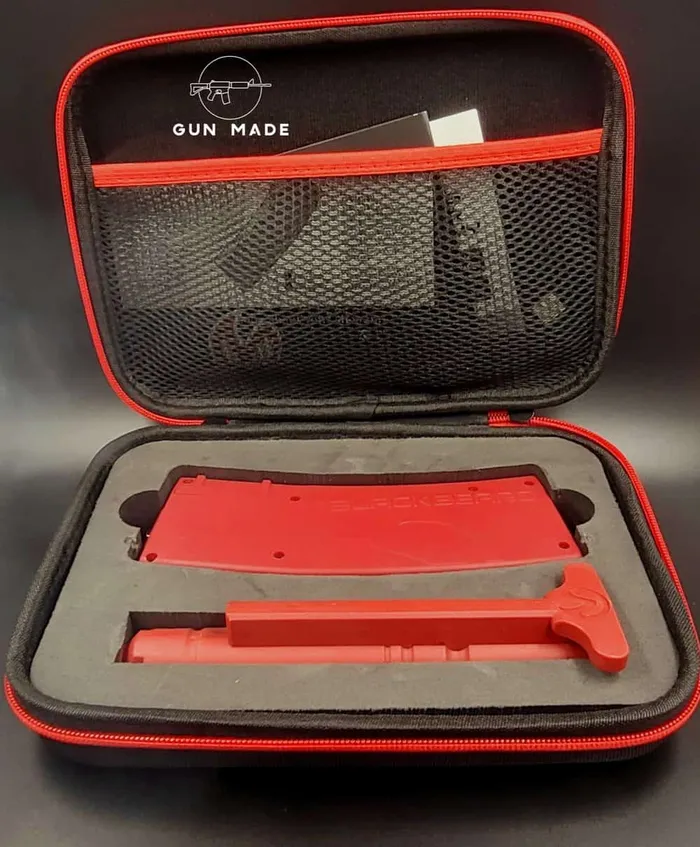 Mantis BlackbeardX Review: New Dry Fire Training Tool
Apologies for that; who passes up a DMX reference!? Many of you who have been diligent in your dryfire practice have surely looked into the MantisX Dry fire training tools.
Did you know they have a new upgraded BlackbeardX for your AR pattern rifle dry fire practice? I'll get you up to speed on all details. The MantisX product line has been a boon to my dry-fire and my students. The new addition to the lineup is very promising and will be a great addition to every diligent student of the AR platform.
Background & History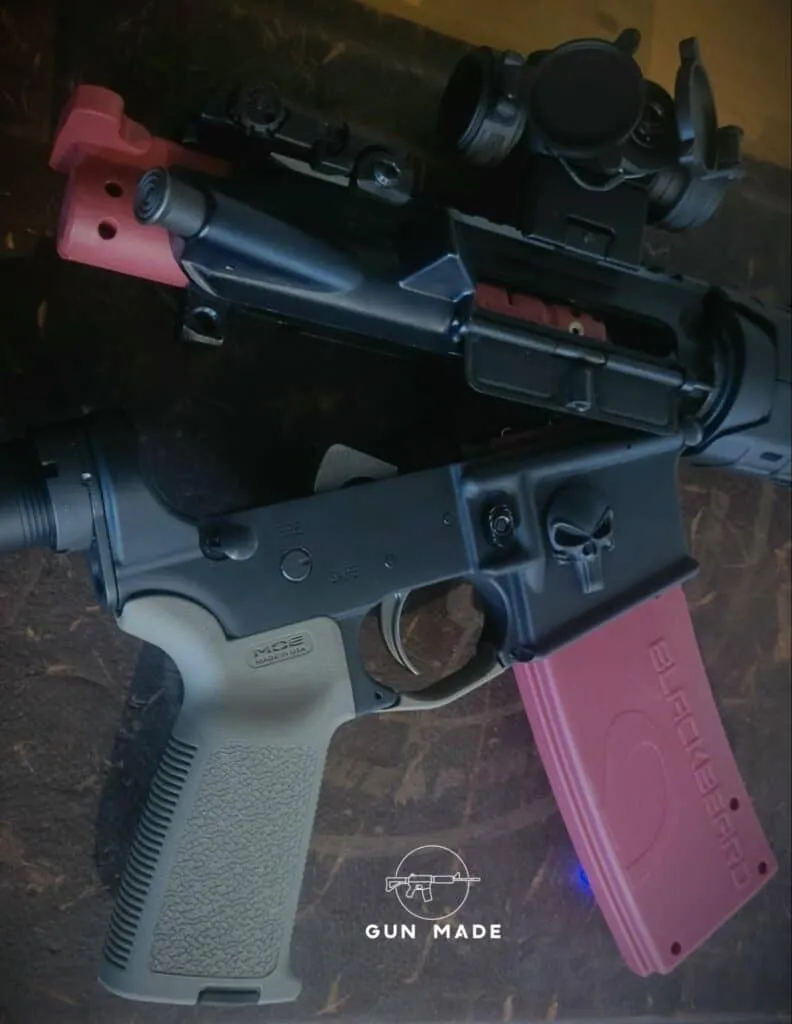 MantisX has made a splash in the firearm training arena since its debut in 2016 with the MantisX Firearm Training System. Since then, they have released upgraded versions, and in 2021 they released the MantisX Blackbeard for the AR-15 pattern rifle.
Back in 2021, you could combine the Blackbeard trigger reset and laser system with your MantisX and use the app to provide you with piles of feedback on your shooting, either live fire or dry fire.
Now Mantis is releasing the new BlackbeardX (BBX), which combines the benefits of both the Blackbeard and the MantisX into one awesome AR pattern rifle training system. The new BBX will have a MantisX included in the 30-round-sized AR magazine power block, which also houses the battery for the BlackbeardX system.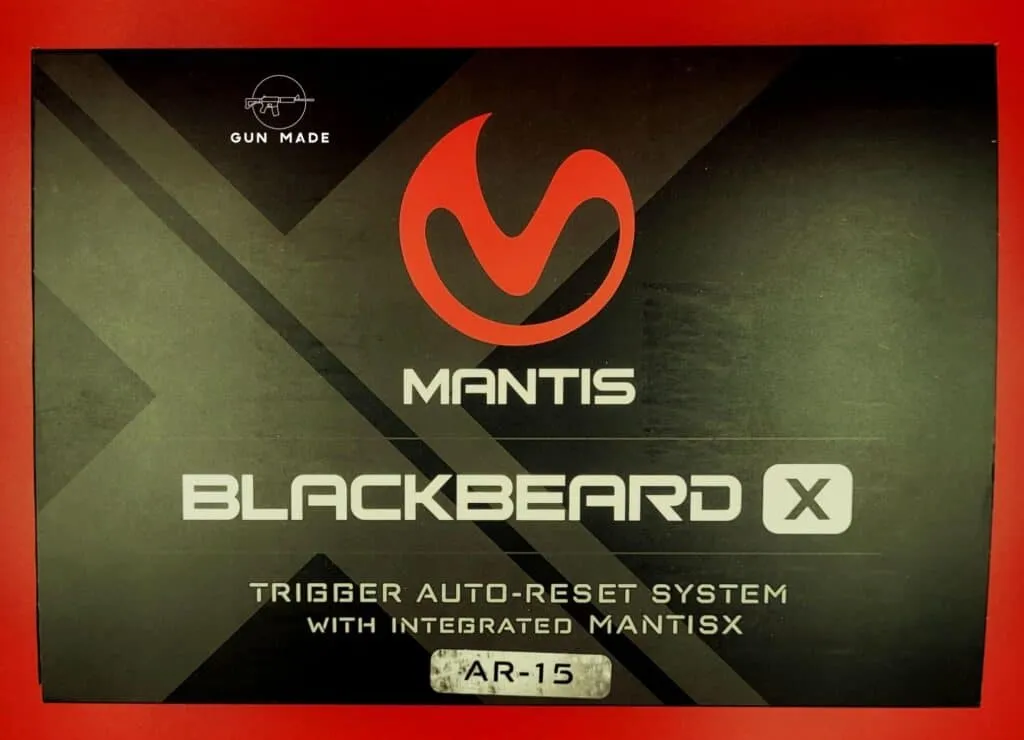 First, let's back up a bit and look at the basic offerings of the Blackbeard X and MantisX system. The system comes with a drop-in Bolt Carrier Group and magazine power block that works with your existing trigger maintaining the same weight, break, and reset.
It takes less than a minute to crack open your AR, remove your Bolt Carrier Group, slide in the Blackbeard BCG, close up the rifle and insert the Blackbeard Magazine power bank. The Blackbeard allows you to take up to 10 dry fire shots per second, quickly resetting the hammer between each shot. It's the ultimate AR trigger reset machine.
Plus, it can be purchased with a red, green, or infrared laser that can be used for laser sensing targets, Laser Academy, visual feedback, or in my case, it works great with my shooting simulator.
The New Kid – Introducing the MantisX Blackbeard X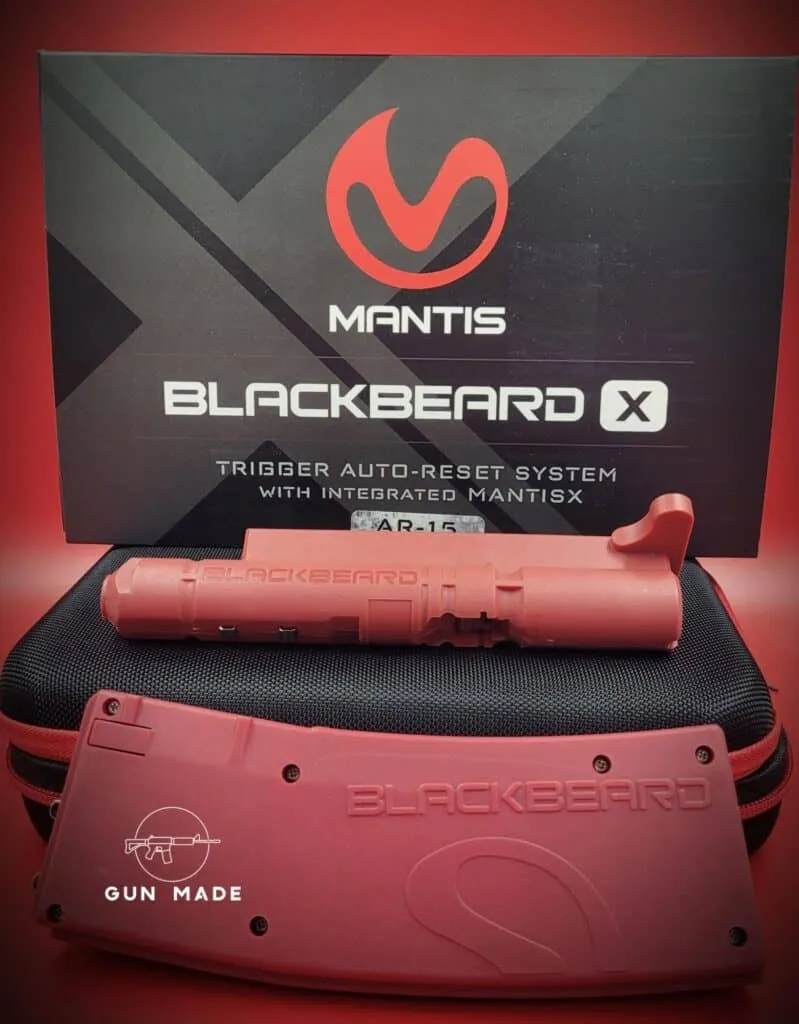 Now to the new and improved Blackbeard X (BBX) being released on October 5th, 2022. The new BBX includes a MantisX in the Blackbeard X magazine power block. In addition to the laser and trigger resetting MantisX BCG, the new BBX connects directly to your MantisX app for running drills, exercises, and challenges.
The Blackbeard X is now able to see a high-speed multi-target engagement. I received one of these for this review and was stoked to see how many new benefits it brings to the table. Some may overlook one of the greatest benefits of the MantisX System, data collection and historical comparison.
Practice is great. Practice with quantifiable data is far superior. The ability to compare and review progress from session to session, month to month, and year to year is invaluable. The scoring system provides great motivation for improvement, and the visual and auditory feedback provides immediate gratification (or not if you sucked). Still, it allows for comparison and analysis, a key component many miss when chasing perfection.
Blackbeard X and the MantisX App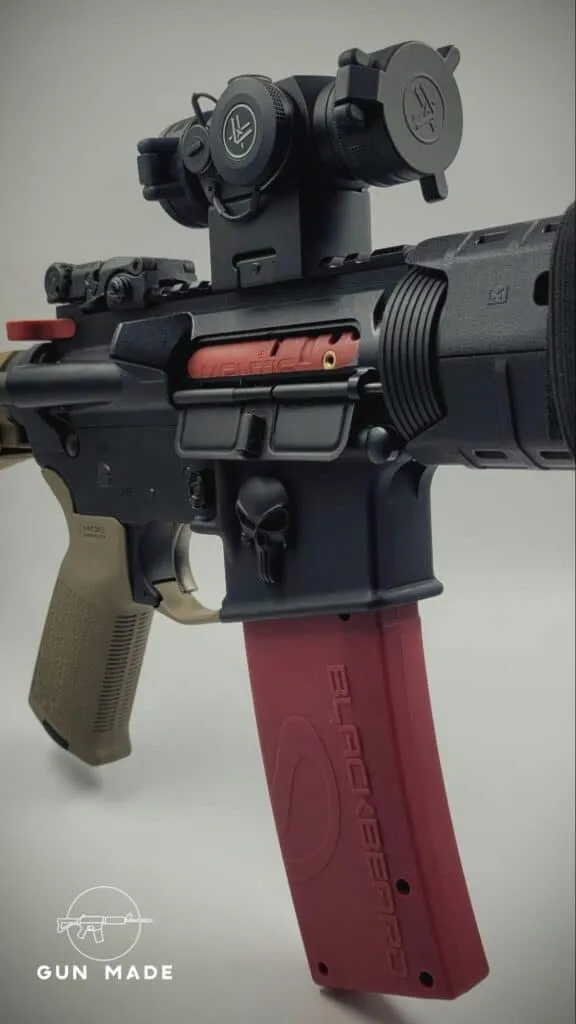 Combine the Blackbeard X trigger reset and laser system with your MantisX app to provide you with piles of data feedback on your shooting, either live fire or dry fire. The app provides drills, training courses, and pistol and rifle practice exercises.
The daily challenge is great for motivating you to train regularly. Most years, they have special holiday-themed drills like their notorious Gecko45 Ninja Challenge on an April Fools day challenge (it was mind-numbing).
The MantisX system gives you an uncanny amount of data feedback, showing you accuracy, draw speed, recoil management, and a ton more real-time performance feedback analysis.
The addition of their Laser Academy provided even more options by reading your laser hits on an included target and providing an after-action report on your progress. I have used all of these products thousands of times and continue to be impressed with the range of practice options it provides. I have used many of these options when training students and in our regular dry fire training classes. The speed of improvement is uncanny.
How We Tested the BBX
Once charged and connected to the app. I called up the new Blackbeard X drills (BBX Dynamics, Transitions, and Plates) and got to work. I also ran it on my firearms simulator at distances of 3 to 15 yds physical distance to test the laser interaction.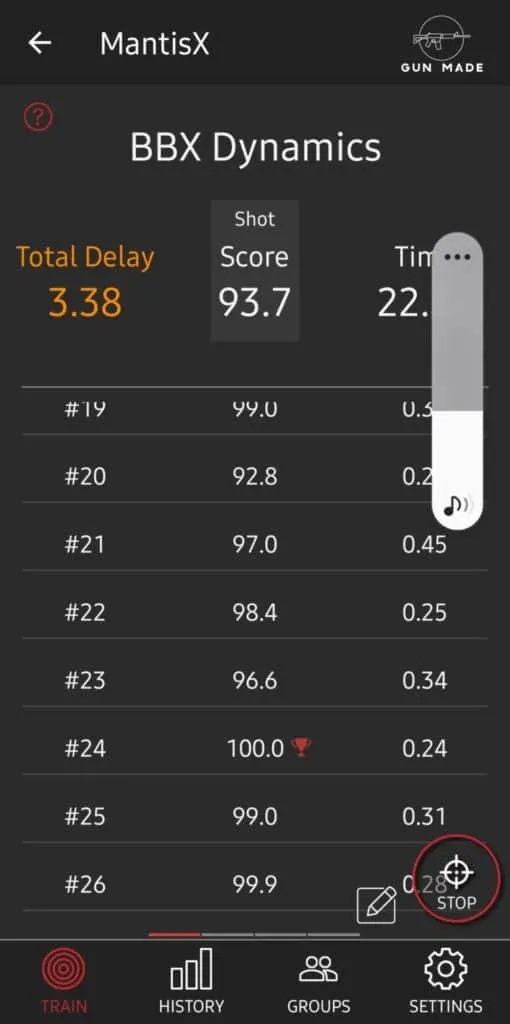 Testing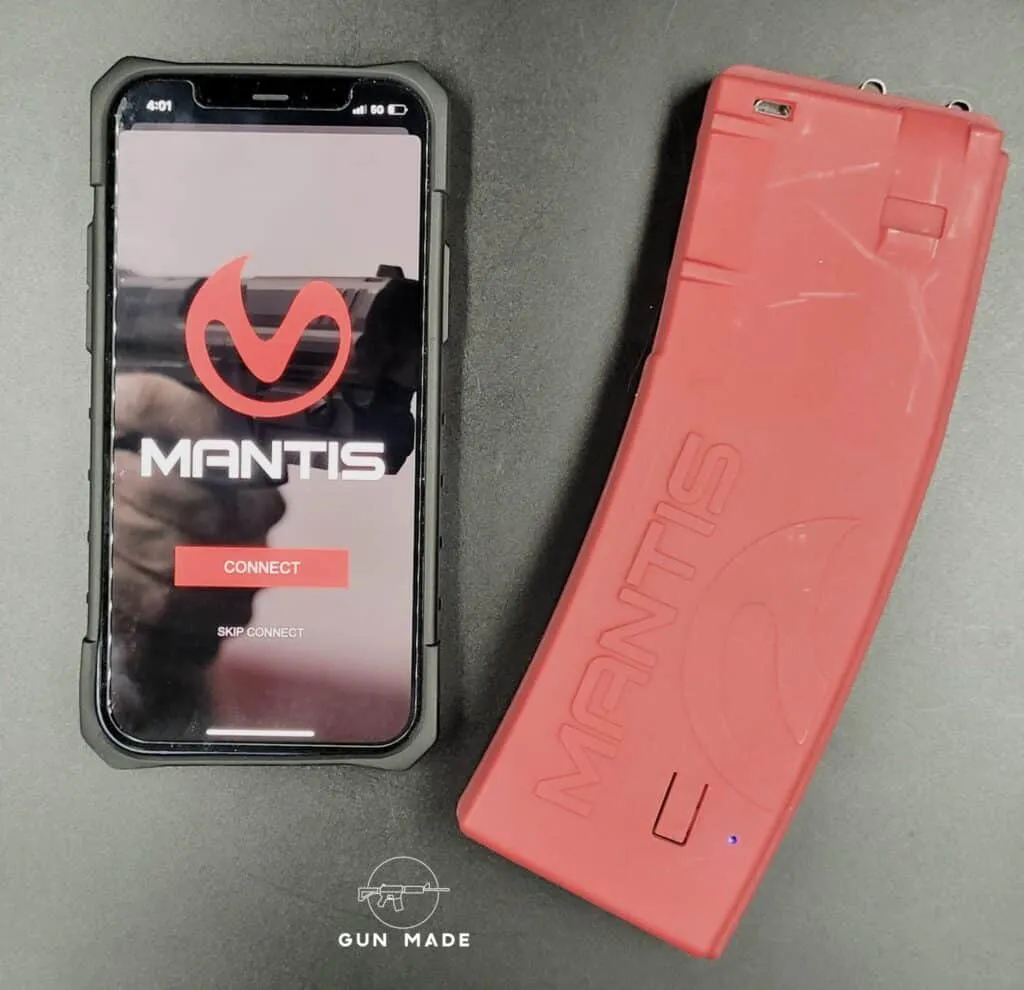 Upon arrival, I plugged in the 30-round mag power block. Blackbeard takes hours to charge, so I waited until the battery charge indicator got to three bars, about two hours, so that I could get started.
Now time to sync to the MantisX app. The magazine has a button near the middle for Bluetooth pairing. Open the app, hit the button on the side of the magazine (not the battery level button near the charge indicator), and then the CONNECT button on your app.
Once you get connected, go to settings, click on the rifle icon, set up an identity for the rifle you will be using, and complete the following choices. Once you are all set, click on "Train" in the lower left corner and look through the drills and courses and pick one. I started with Basic Rifleman for my test.
The pairing went off without a hitch, and I got started using a B.O.B for my target. Luckily the laser was well sighted out of the box so that I could jump right into training. The BBX performed as expected. It reset my trigger quickly and soundly. (be advised it will not work with certain trigger groups like the Fostech Echo, see website for more details).
The new drills are a blast, especially the BBX dynamics transitions drill.
Features
Auto Resetting Trigger
The Blackbeard system resets your trigger automatically. That means you can shoot as fast as you like (up to 10 shots per second, maybe Jerry Miculek could outrun it?) No more recharging the rifle after every trigger press. This provides opportunities for multiple target engagement, multiple shot strings, and more.
Laser System 
The Blackbeard system can be purchased with a red, green, or infrared laser that can be used for laser sensing targets, Laser Academy, visual feedback, or in my case; it works great with my shooting simulator.
MantisX App integration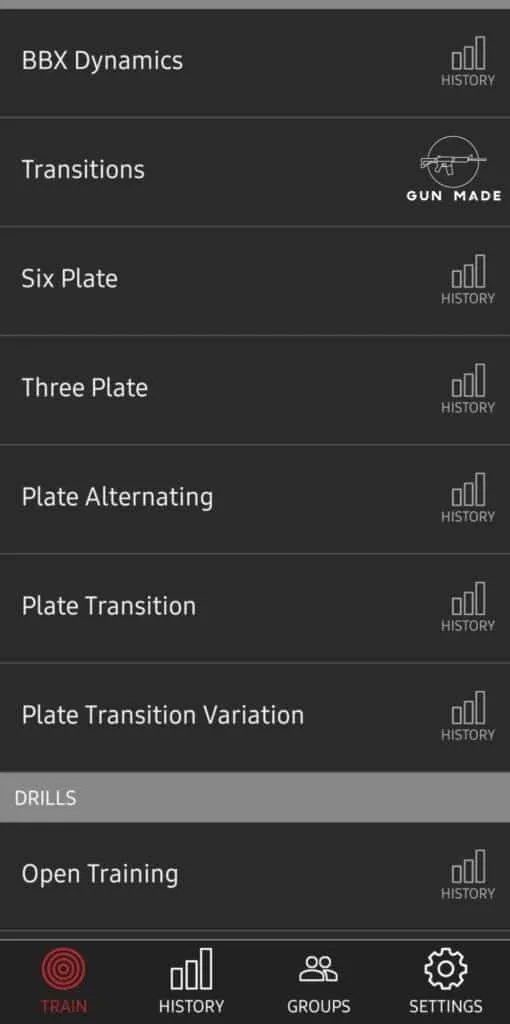 The Blackbeard X system links directly to the MantisX app on your phone or tablet, providing a multitude of training drills and exercises while providing real-time feedback and historical data collection.
Pros & Cons
Pros
Greatly improves your dry-fire practice sessions
Resets your trigger
Laser visual feedback and target activation
MantisX dry fire training app with custom drills
Ability to purchase just the magazine to upgrade your existing Blackbeard system
Trade in program
Cons
Long charging time (provides up to 100,000 shots per charge)
FAQs
Why upgrade to Blackbeard X?
The original blackbeard is a great tool. The Blackbeard X takes it to a new level of effectiveness with the integrated MantisX module in the 30-round-sized magazine power block. Works better than mounting MantisX on the end of the rifle. Trade in credit and the ability to purchase just the new BBX magazine power block to upgrade your existing Blackbeard.
What are the benefits of dry-fire practice?
Dry-fire is safer, low cost, quick skill development, can be done at home, and data collection for review and adjustment.
Are there any issues with the MantisX Blackbeard X?
I had no issues with the BBX. The product performed as expected, with good build quality, from a company that backs their products with great service.
How long does it take to charge the MantisX Blackbeard X?
It took a long time to get it to full charge. Best to charge overnight. A watched pot never boils, you know.
Conclusion
The new Blackbeard X from MantisX is an incredible kit that will greatly enhance both your live and dry-fire training with your AR pattern rifle. The ability to run drills and exercises from the app keeps training lively and interesting.
The data collection and real-time feedback are amazing tools for improvement. The app's challenges and morale patch rewards are also super cool features. If you own an AR-style rifle and want to improve accuracy, speed, and confidence, I guarantee the Blackbeard X from MantisX will get you there! Assuming that you put in the training time.
Explore more