Mossberg 590S Shockwave Review: A Small But Mighty 12 Gauge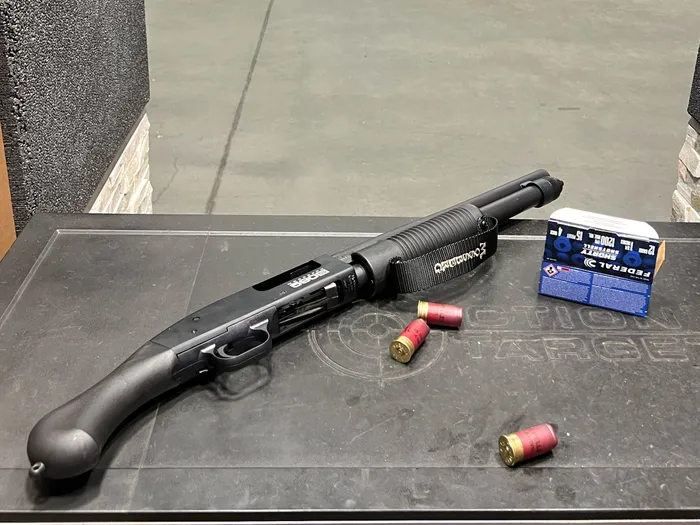 Mossberg 590S Shockwave Review: A Small But Mighty 12 Gauge
Introduction
Before we jump into the review, you'll notice that I often use the term "pump gun" or "scatter gun" instead of shotgun. That's not because I like to use more slang than actual terminology but because the Mossberg 590S Shockwave is not a shotgun in the eyes of the law.
If you go to Mossberg's website to look for the 590S Shockwave, you definitely will not find it under the shotgun category, where you may have thought to look first.
The 590S Shockwave is not designed to be shoulder-fired due to the bird's head style Raptor grip, so it doesn't fall under the legal definition of a shotgun. And since the grip is very much horizontally oriented, it gives the gun a little extra length to push it over the 26-inch mark. Therefore, you're good to go!
Just don't try and make your own version of a Shockwave by replacing one of your shotgun stocks with a grip like this one; that's a big no-no!
Oh yeah, and just to be safe and cover my rear, I urge you not to swap out the grip for a different style or a stock, fire it from the shoulder (which would suck anyways), or try to conceal carry it (I've seen pictures, it can be done, but really?!).
Now that we got all that legal nonsense out of the way, we can get to the fun part!
The Mossberg 590S Shockwave is one of those pump guns that just screams truck gun or close-quarters combat. It's also just a blast to shoot (pun intended). The ability to cycle shells between 1.75 inches and 3 inches opens the versatility aspect immensely.
But does it cycle all of them without issue? Is the recoil manageable to rely on this mini pump gun for defensive purposes?
Keep on reading to find out the answer to both of those questions.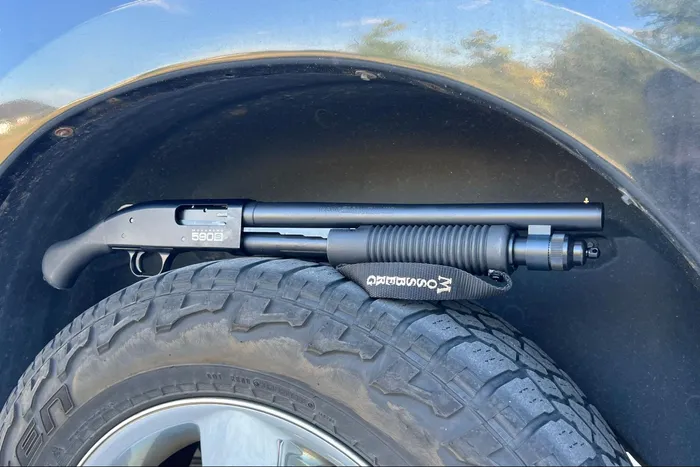 Mossberg 590S Shockwave Review

Specifications
| | |
| --- | --- |
| Caliber | 12 gauge |
| Capacity | 4+1, 5+1, 8+1 |
| Chamber Size | 3" chamber with 1.75" short shell, 2.75", and 3" cycling capability |
| Action | Pump-Action |
| Barrel Length | 14.38 inches |
| Overall Length | 26.37 inches |
| Weight | 5.3 pounds |
| Choke | Cylinder Bore |
| Sights | Bead |
| Stock | Raptor grip, Corn Cob forend w/ strap |
Pros & Cons
Pros
Cycles 3", 2.75" and 1/75" shells without the need for a mini shell adaptor

Up to an 8+1 capacity

Top-mounted ambidextrous safety (works well with this style of grip, not so much with pistol grip, though)

Shorter length is ideal for close-quarters

Reliable with a wide variety of shells

Forend strap is a nice touch

Plenty of aftermarket support
Cons
Recoil is harder to handle compared to full-size shotguns

Aiming is difficult
First Impressions
Overall Feel
I was surprised at the heft of the 590S Shockwave as I picked it up out of the box. I'm not even sure why I expected it to be lighter, but I suppose the weight is good for helping to mitigate some of the recoil.
The Raptor grip is smooth but not slippery, the corn cob forend has just enough texturing and ribbing for a solid hold, and the strap on the forend gives you that extra reassurance you won't accidentally drop it.
The action was smooth right out of the box, and I didn't feel it needed any extra lubrication.
Overall, it feels even more solid than it looks.
How We Tested
With the big selling point of the 590S Shockwave being that it can cycle and shoot a variety of shell sizes without the need for an adaptor, I hit the range with several different loads. I was lucky to get one of the smaller ranges to myself, so I didn't annoy the other shooters.
Reliability
I had exactly zero issues out of the 110 rounds I put through the 590S Shockwave. It didn't matter if it was buckshot or birdshot, long or short shells, or a mixture of them; the gun simply worked.
The only "issue" I had, if you will, was with the literal first mini-shell fed backward. I noticed it before I went to shoot it, but it never happened again after I ejected it and reinserted it.
Ammo Used
I wanted to try a variety of shells through it, so I brought some mini shells, 2.75-inch buckshot shells, and 2.75-inch birdshot shells.
The bulk of the ammo I ran with no issues:
I also had a pocket in one of my range bags with a bunch of random leftover shells that helped prove the reliability of the 590S Shockwave.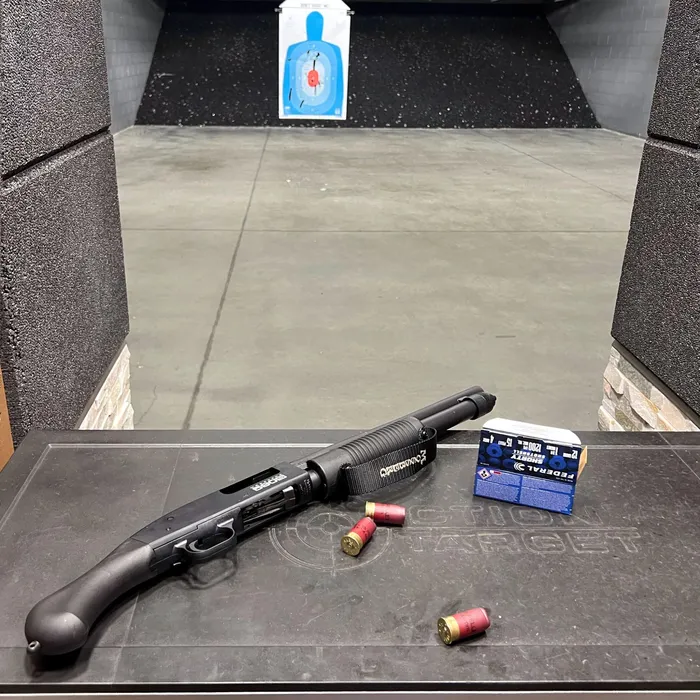 Accuracy
I hadn't shot a Shockwave or comparable length pump gun in several years before getting the 590S Shockwave in. I kept all of my shooting between five yards and 12 yards, which allowed me to absolutely destroy torso-sized targets.
Let's be honest: a pump gun like this one is meant for extremely close quarters, so even 12 yards is a little far. Since this isn't meant to be shouldered (obviously), you're not really using that front bead sight and, more so, selectively hip/gut firing. I say gut firing because I use the side of my stomach/lower chest to help brace my wrist on my shooting hand.
After running a quick dozen or two of mixed shells, it was easy to keep the pellets' scattering closer to that 8/9/10 area.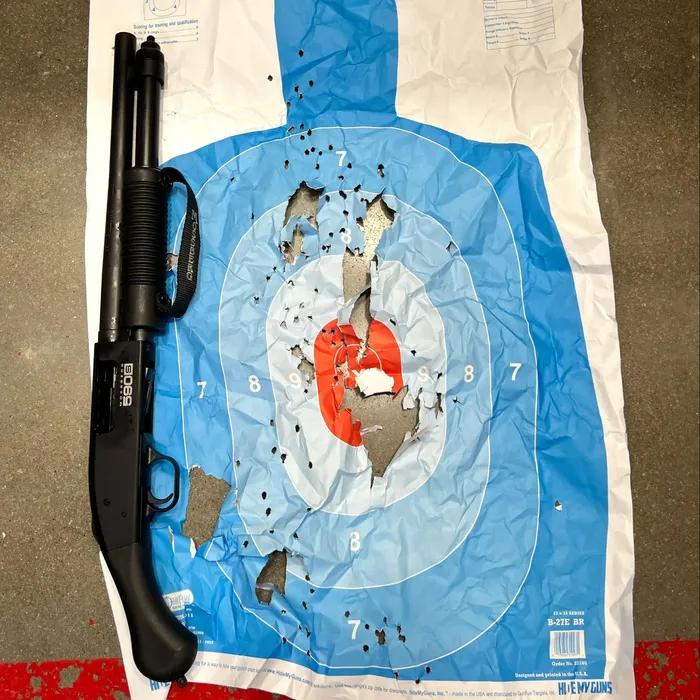 Features
Versatile Cycling Capability
Easily, the most significant selling feature, at least to me, is that you can shoot any shells from 1.75 inches to 3 inches without needing a mini shell adaptor. You can even go as far as alternating sizes and running them one after the other.
As I mentioned earlier, I ran 1.75-inch mini shells and standard 2.75-inch shells with no problems.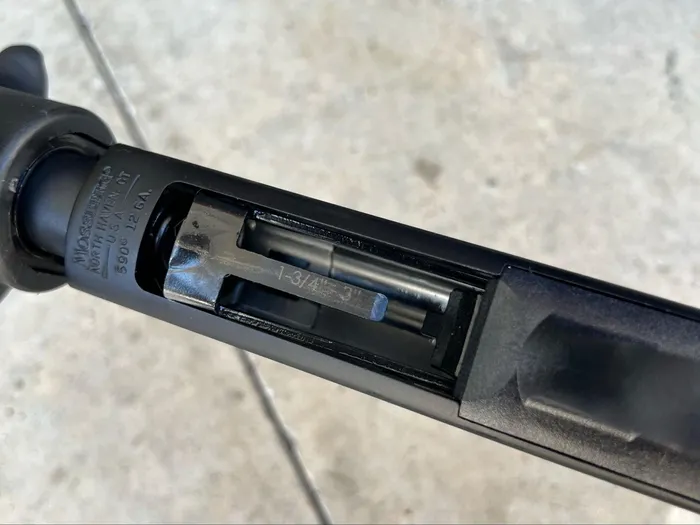 Top-mounted Safety
The top-mounted safety works perfectly with this style of grip. You don't have to break your grip to manipulate the safety, and I found it very easy to find in a hurry. The cross-bolt style safety would still work fine, but I'll go with the top-mounted every single time with this style of pump gun every single time.
It also has a red dot to indicate when the safety is off or remains blank, like pictured below when engaged.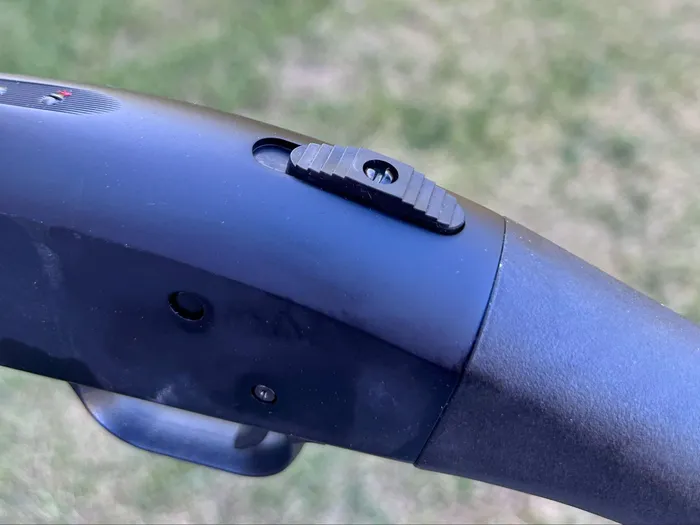 Corn Cob Forend & Strap
The forend is relatively standard but provides adequate texturing to maintain a firm grasp. The part I like about the forend is the included and attached strap. It's a simple addition, but it provides some assistance when holding the gun and getting that next shell ready.
However, I wish the strap was tighter or at least adjustable. Even with my larger-than-average hands, the strap was very loose, so it lost some of its potential.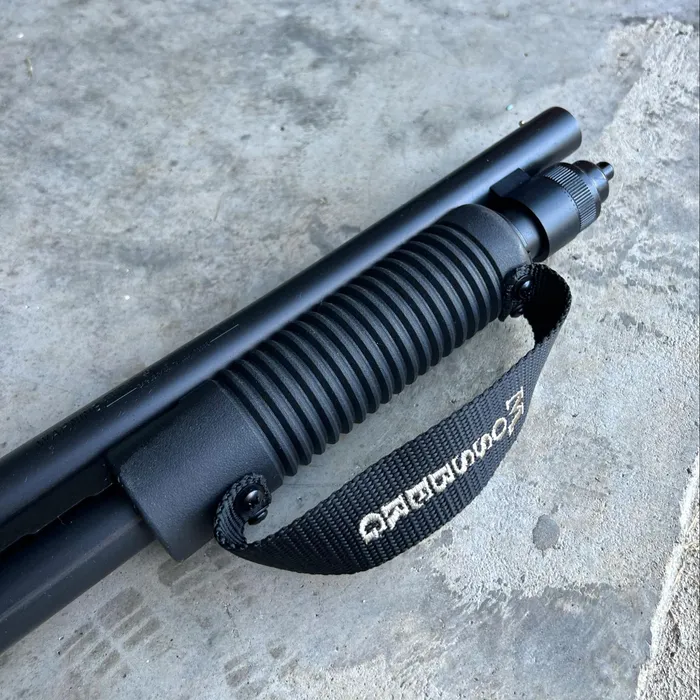 Raptor Grip (Bird's Head Grip)
From looking at the grip, I didn't think it would help to manage recoil much, if at all. I was pleasantly surprised with my first few shots at just how wrong I was. I don't know all of the scientific reasons behind it, but the unique angle of the grip supposedly minimizes the felt recoil.
Since I didn't have another model with a different grip to compare, all I can say is that there was much less recoil than I anticipated. For that, I am not complaining one bit!
I read that if you buy this grip separately, it won't come with the sling swivel stud installed, and you can install it anywhere you'd like with a simple ⅛" pilot hole, but this one came installed from the factory. I'm kind of glad, too, so I didn't have to drill into a brand-new gun.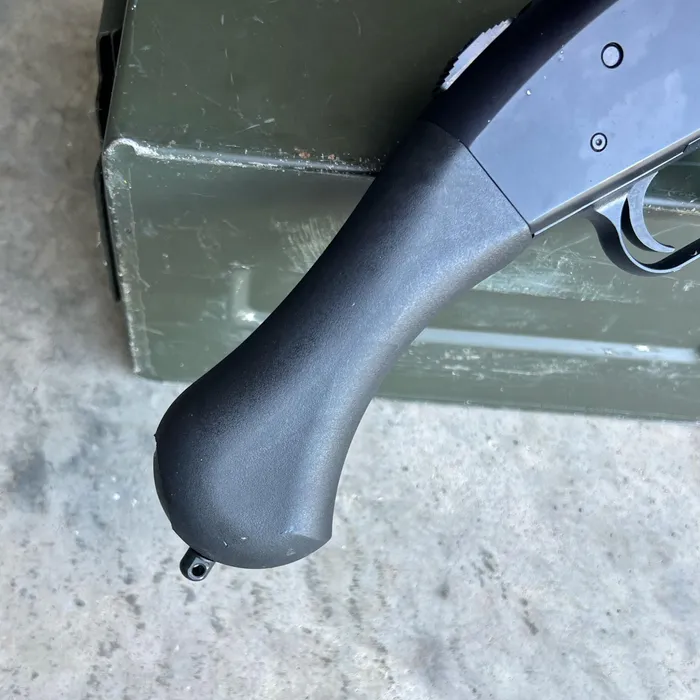 Score Card
Reliability (10/10)  
I had zero issues, even alternating between 1.75" and 3" shells.
Ergonomics (9/10)
As much as a 14.38-inch barreled firearm with a Raptor grip can be ergonomic, this one is. The top-mounted safety adds to it as well.
Customization (8/10)
Add a sling, side saddle, light, etc., but don't add a stock!
Appearance (8/10)
It's nothing fancy, but the finish is on point, and the gun has a naturally "cool" look from its shortened stature.
Value (9/10)
With its reliability, higher capacity, and many accessory options, you get great bang for your buck.
Accessories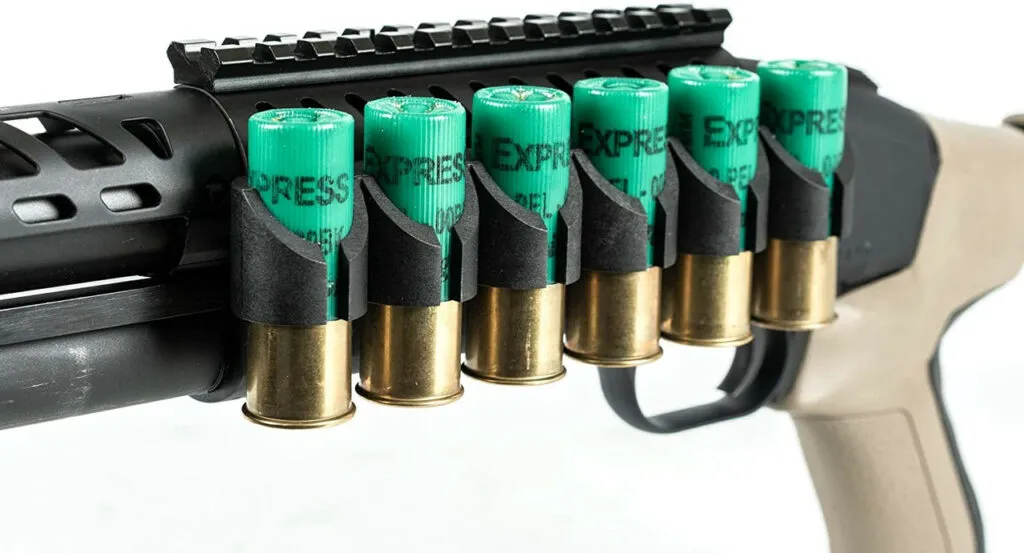 If I had to pick only one accessory for the Shockwave, it would be the Monstrum Side Saddler Shell Holder. It allows you to have six more 12 gauge shotgun shells at your disposal, gives you a Picatinny rail to mount optics to, and is ambidextrous. It's a win-win-win in my book.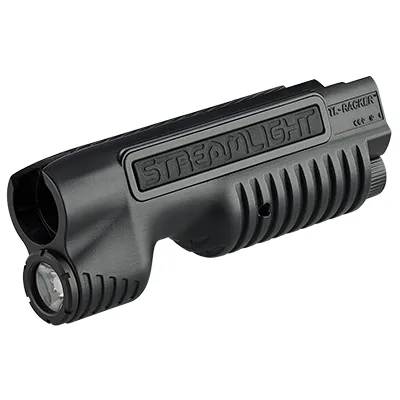 The ergonomic and all-in-one design of the Streamlight TL-Racker makes it an excellent accessory for your Shockwave. It puts out 1,000 lumens with an hour-and-a-half run time, has an ambidextrous switch, and is IPX-7 rated. It's ideal for close-quarter operations, just like the Shockwave is intended for, and is backed by a lifetime limited warranty.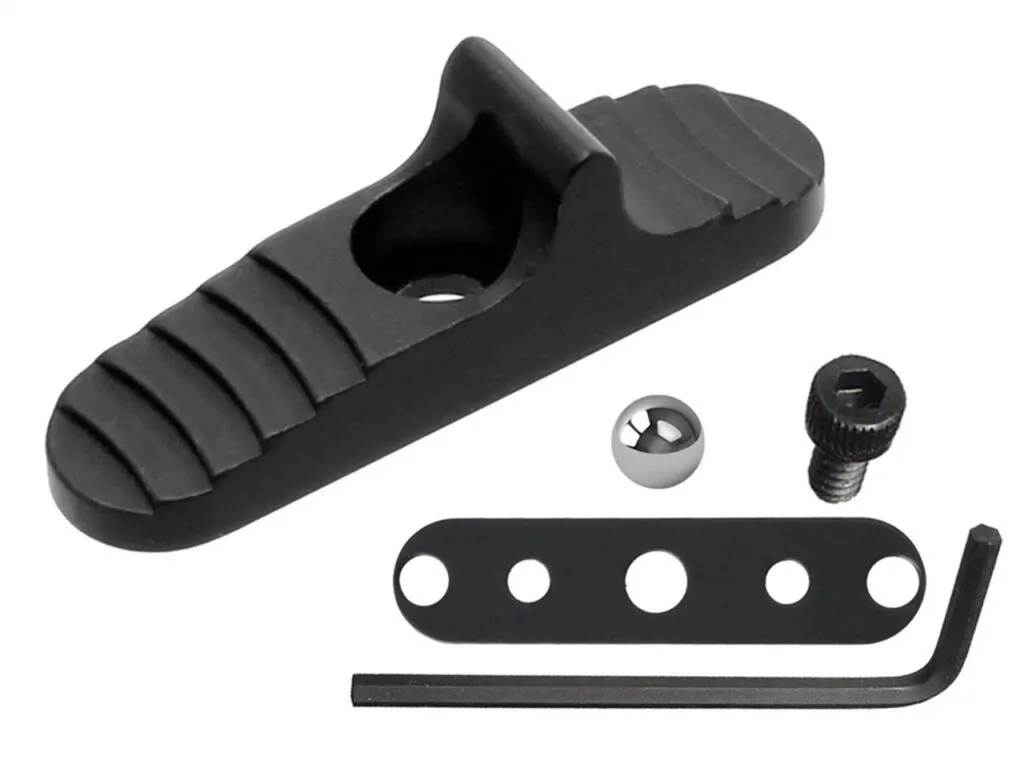 This is a minor and affordable upgrade I didn't even think of until I started "Googling" for this review. The NDZ Performance Enhanced Safety Selector is a drop-in replacement for the stock Shockwave one.
It has curved ridges and an extended stop for a more natural and secure activation. It's made out of aluminum for durability and even comes in multiple colors if you want to add a splash of color to your Shockwave.
Alternatives

Another small but mighty 12 gauge, with a shorter barrel (14") and a Raptor grip like the Shockwave, is the Remington 870 TAC-14. You get the reliability of the 870 line in a compact package and with a nice Magpul M-Lock forend.
You'll be more limited in capacity (4+1) and accessories, but it's a reliable and affordable personal protection option.

If you're looking for an actual shotgun with the same shell versatility as the 590s Shockwave, check out the 590s Optic-Ready 18.5" shotgun.
Up to a 9+1 capacity and many of the same features as the Shockwave, such as the ambidextrous top-mounted safety and anti-jam elevator, it's an excellent choice for home defense and other tactical applications.
Conclusion
At the end of the day, I had a lot of fun with the Mossberg 590S Shockwave. It performed well, served as a conversation starter at the range, and fit perfectly under my rear truck seat (I was curious for "science" purposes).
Would the 590S Shockwave replace one of my home defense shotguns? Probably not. Would I not hesitate to grab it in a time of need if it was close by and feel confident with it? You bet.
Being able to load it up with up to nine shells means you have plenty of chances to stop a threat. And it's less reloading at the range!
If you're looking for a compact and high-capacity scatter gun, I would at least check out the 590S Shockwave to see if it will suit your needs.
As always, stay safe, train hard, and have fun.
Explore more