Mossberg 930 SPX: Hands On Review + Photos [2023]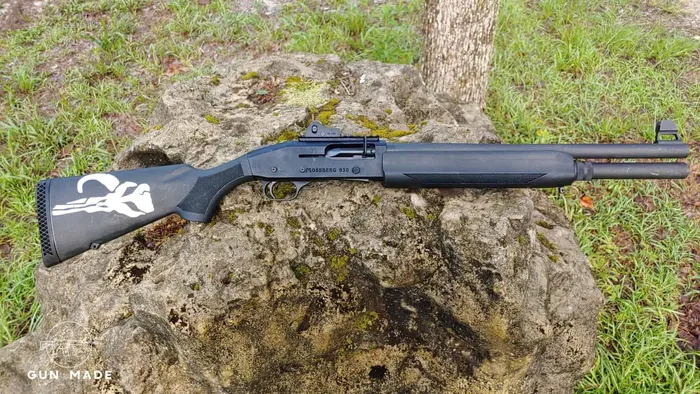 Mossberg 930 SPX: Hands On Review + Photos [2023]
Mossberg is one of two major American shotgun firms producing high-quality shotguns, and today we are bringing you a Mossberg 930 SPX review.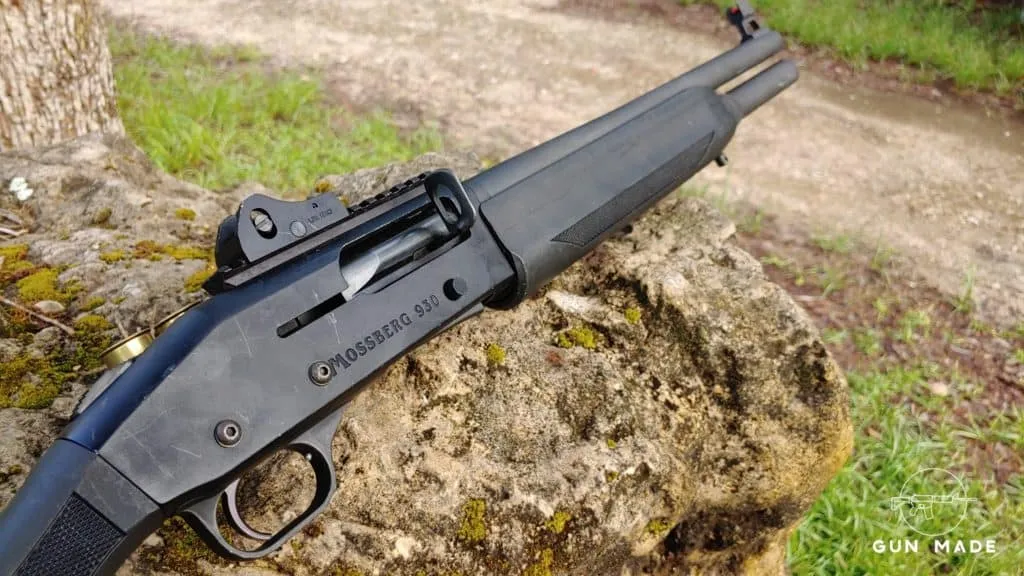 I go way back with the Mossberg 930 SPX. It's been in my collection since 2015 or so and was a gift to myself when I completed my first wildfire support assignment in California. For many years the Mossberg 930 SPX was my bedside room broom, designed to allow me to bump back when something went bump in the night. 
In my years of ownership, it's become the semi-auto shotgun by which I've measured all others. It's also been a firearm I've taken to classes, trained with, and generally beat up to see if continues to be worthy of a home defense role. 
The Mossberg 930 SPX – BLUF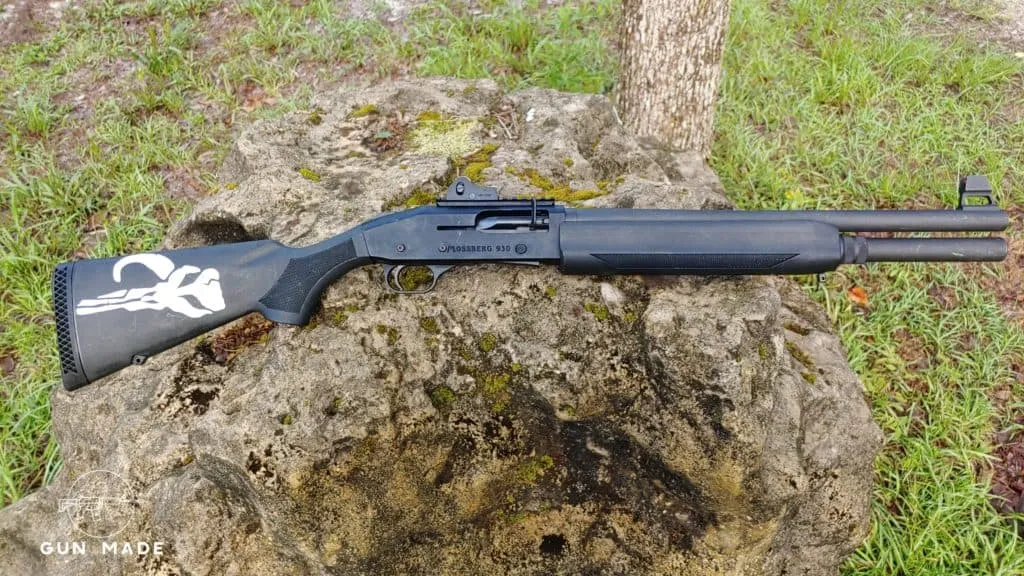 Want the bottom line up front? The Mossberg 930 SPX provides shooters with an affordable semi-auto tactical shotgun designed to serve as a serious home defense shotgun. It's easy to handle, comes accessorized and ready, and provides a weapon reliable enough for home defense. 
The Mossberg 930 tactical shotgun isn't perfect, and users will have to do their part in keeping the gun clean to keep it running. If you can clean your shotgun every 500 or so rounds, then the 930 will provide you with plenty of reliability. 
What's Next 
Today we are going to explore my years of ownership with the Mossberg 930 SPX and dig into its strengths, weaknesses, what the guns are for, and if it's right for you. We'll explore the gun inside and out and talk about features, price, reliability, accuracy, and ease of use. 
We'll answer your burning questions regarding what loads work with the gun and how it handles from a home defense perspective. I've become quite familiar with the platform and how it functions, and I aim to spare you the need for hundreds of rounds to figure out its ins and outs.
Hold on and keep reading to get the fine details of Mossberg's mighty 930 shotgun. 
Mossberg 930 Tactical SPX Review

Specifications 
| | |
| --- | --- |
| Barrel Length | 18.5 inches |
| Overall Length | 39 inches |
| Magazine Capacity | 7+1  |
| Length of Pull | 14 inches |
| Overall Weight | 7.5 pounds |
| Caliber | 12 gauge 3-inch chambe |
Breaking down the 930 SPX 
Mossberg produces a number of 930 variants, from your traditional hunting shotgun to the tactical-ready Mossberg 930 SPX. It's Mossberg's gas-operated, semi-auto shotgun that feeds from a traditional fixed magazine tube. 
The SPX, in particular, comes in a pistol grip stock variant and a more traditional shotgun-style stock option. I have the traditional stock variant of the weapon. Shooters can also choose from a matte black option and an FDE option.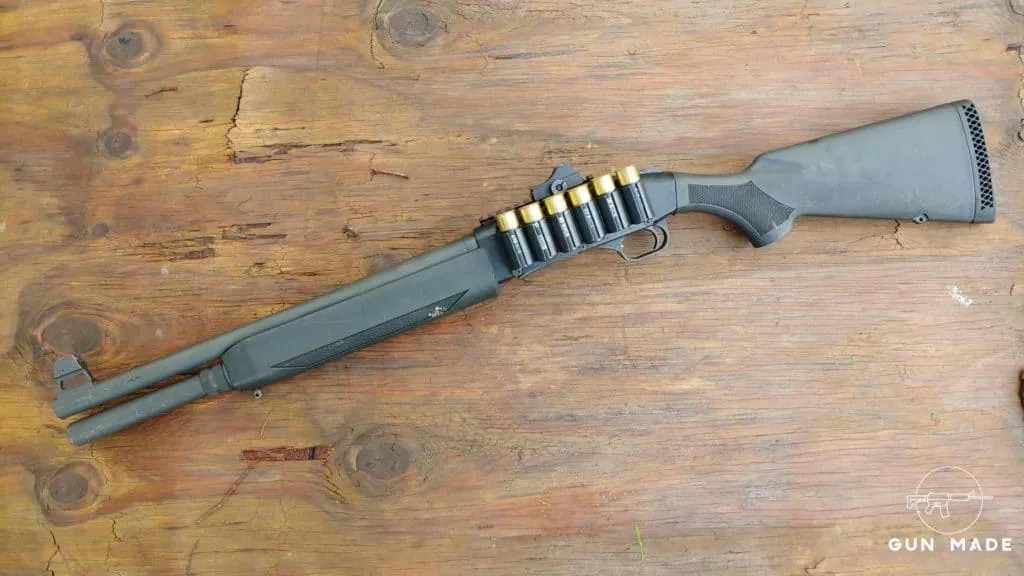 The Mossberg 930 SPX is one of the most feature-filled shotguns on the market, and I have to respect Mossberg's dedication to providing a rock-solid and reliable shotgun for the masses. Not everyone searching for a home defense gun is a gun nerd looking to accessorize and build the gun they want. Mossberg offers shooters that option. 
SPX or Special Purpose Extreme is the tag reserved for the very best Mossberg tactical shotguns. Mossberg sells the SPX with all the bells and whistles you could ever want. It's a tactical shotgun that would be perfect for home defense or even more intensive tactical applications. 
Does The Gun Run? 
That's the big question anyone has about semi-auto shotguns. Do they run reliably? Most of the time, the 930 SPX will run like a clock. Where it might fail is if you go too long between cleanings. It's more sensitive to carbon fouling than guns like the Benelli M4 and Beretta 1301 but is also less than half the cost. 
Besides reliability, the gun offers you a plug-and-play, no upgrade necessary package. It's ready out-of-the-box for defensive use. Sure, you can add an accessory or two and benefit from them, but they won't be necessary for success. To me, that makes this a great budget-friendly tactical shotgun. 
Pros and Cons
Pros
Light Recoil 
Reliable Action
Out of the Box Ready
Excellent Sights 
Cons
Maintenance Heavy
Long Length of Pull 
Let's Talk Reliability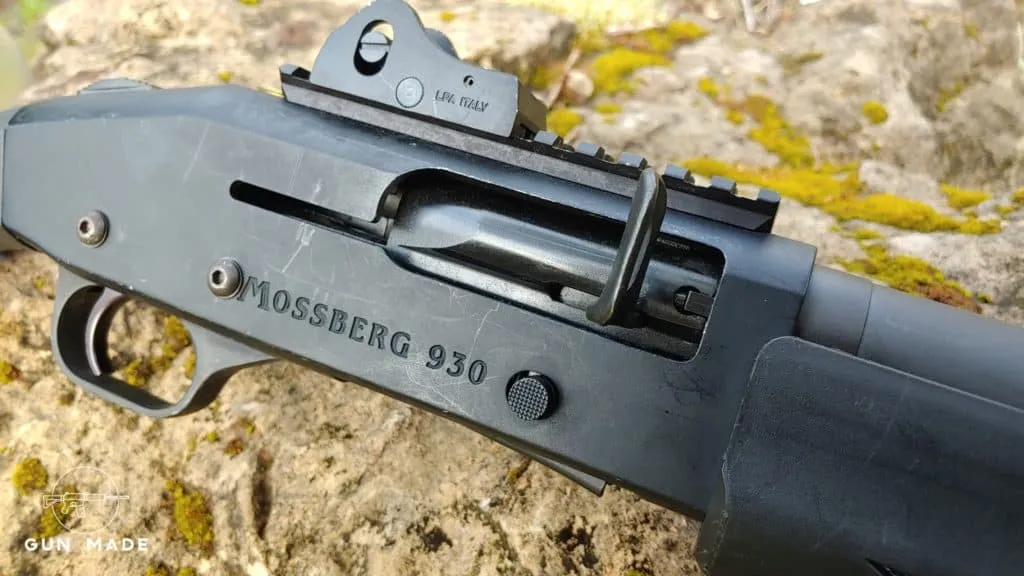 First and foremost, the Mossberg 930 SPX will run with just about every load on the market. Do you want to shoot light and cheap birdshot? Great, you're covered. In the first year I owned the gun I put over 500 rounds of budget birdshot through this thing without issue. I follow that up with 225 rounds of cheap buckshot. In between testing optics, accessories, and just shooting for fun my 930 SPX has seen well over 3,000 rounds. The gun eats standard load buckshot and reduced recoil loads all the same. 
Where your biggest issue comes from is when the gun gets dirty. After that initial 500 or so rounds it would choke, especially with those cheaper, lighter birdshot loads. After a breakdown and cleaning the gun got right back to running. The Mossberg 930 SPX has never failed to cycle a full-powered round of buckshot, even when dirty, but I haven't pushed it to absurd points beyond 1,000 rounds without a cleaning. 
When it comes to modern, high, quality buckshot, the Mossberg obviously doesn't mind. To me, the best tactical buckshot is Federal Flitecontrol, reduced recoil, 00, 8 pellet buckshot. The Mossberg 930 SPX eats those low recoil loads without a problem, even though most semi-automatic guns don't care for reduced recoil loads. Multiple loads of varying sizes and power levels work fine in the Mossberg 930 SPX.
What About Mini Shells?
It will properly cycle the standards shell without complaint, however, there are a few rounds that the gun won't run. This includes mini shells of the 1.75-inch variety. There are also uber lightly powered shotgun loads designed for trap and skeet that don't break 1,000 FPS, but they won't cycle in any semi-auto gun. 
The Ergonomics 
I do have a few ergonomic complaints. First, reduce the length of pull. It's super long at 14 inches and doesn't work well for most shooters. It can work, but the long stock makes it harder for shorter shooters. My other complaint is the bolt release is a little small.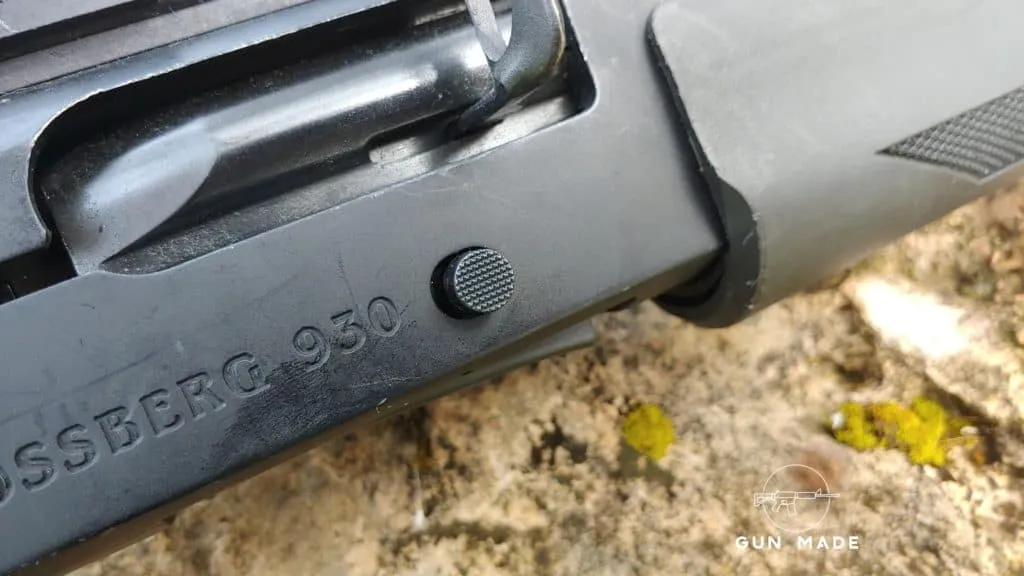 Reloading the gun presents an interesting challenge. The shell lifter sits inside the loading port and must be pressed up and your thumb follows the shell into the magazine tube. However, that shell lifter applies a mighty mean pinch if you aren't careful. 
Other than that everything is super solid. I did get a bigger charging handle, but that's not necessary, just something I wanted personally. My next upgrade will be the bolt release.
Get a Grip
The forend of the Mossberg 930 SPX is perfect for a semi-automatic shotgun. It's heavily textured and hand-filling. You get a grip and keep it. The aggressive texture makes it easy to use a push/pull method of recoil mitigation. Your hand won't slide, and that makes the gun easier to control. 
Mossberg wisely used their famed tang safety that's ambidextrous and natural to apply and remove as necessary. The ejection port is nice and wide, and doing emergency port reloads is easy.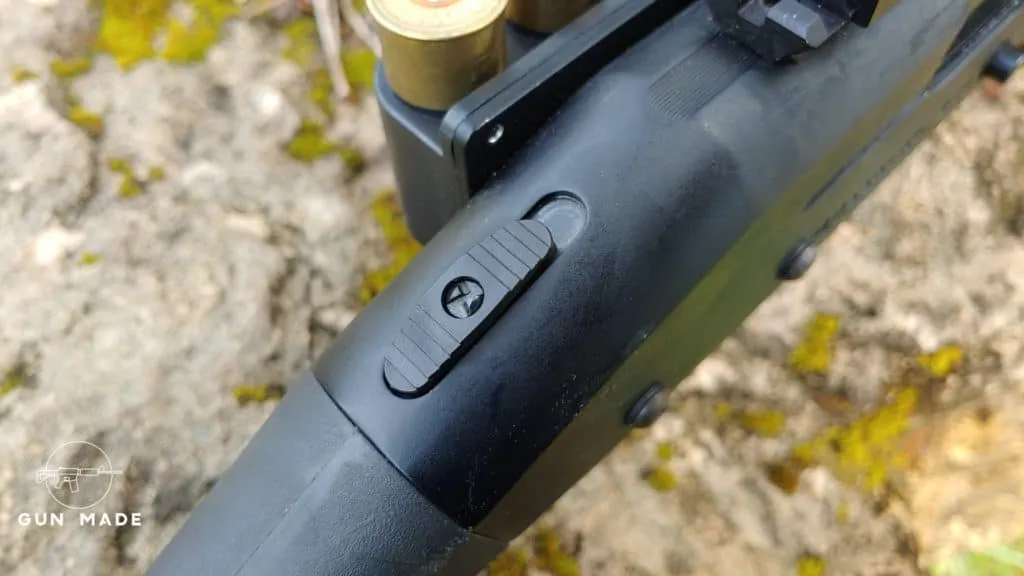 Sighting In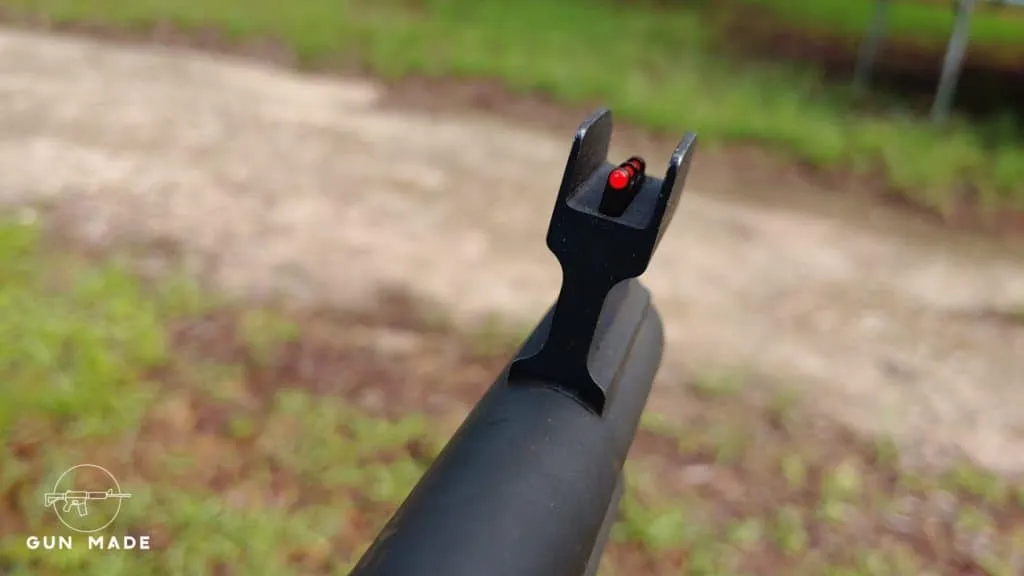 One of the big features of SPX shotguns is the ghost ring sights. The rear sight is a simple peep sight design with an eye-catching, fiber optic front sight for rapid target acquisition. These ghost ring sights are made by LPA and are very well made and well respected in the industry. They are adjustable, and that allows you to fine-tune them for slugs.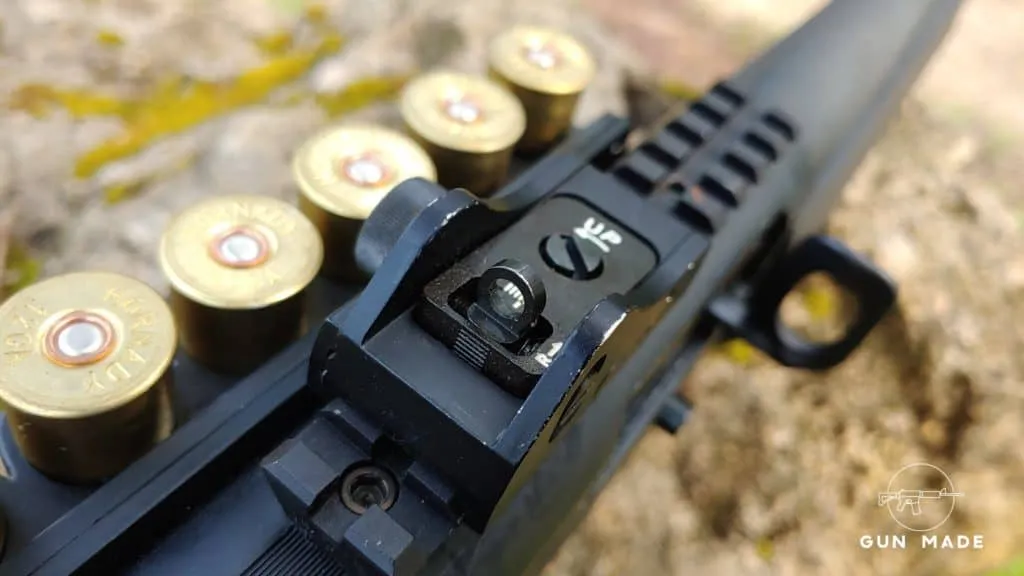 A Straight Shooter
Shotgun accuracy is important, but due to the nature of shotguns and shotshells we don't necessarily measure groups in MOA. With that said, we want to know where our loads are landing and if the Mossberg 930 SPX delivers.
Out to 100 yards, those ghost ring sights are great for accurate slug shots. Up close, they also work well for buckshot, and you'll put those pellets right where you need them. 
When we move back to the trigger we find the typical shotgun trigger. It's not quite a great trigger, but it's plenty fine for a shotgun. A little take-up and a short and light wall that's just a bit spongy. 
The cylinder bore choke keeps things simple, and patterns are what you expect. Different buckshot patterns differently, but cheaper buckshot tended to pattern out to 6 inches on the wide side at 10 yards. 
Optic Ready
In front of the rear sight sits a nice section of Picatinny rail. This optics rail makes it easy to add a red dot to the whole setup. Adding a red dot is an awesome option for a shotgun, and with the Mossberg 930 SPX, the iron sights will co-witness with low-mounted red dots. 
Red dots are the ultimate close engagement optic and are at home on a shotgun. Hardcore shotgun aficionados have embraced the red dot, and we aren't going back! One of the big reasons to choose a semi-auto shotgun over a pump-action is the speed of follow-up shots. 
A red dot embraces the speed semi-auto shotguns offer and will always be faster than iron sights. 
Dispensing Lead 
That extended magazine tube that offers you seven rounds of buckshot makes it mighty tempting to dispense lots of lead. The 930 SPX's gas operation makes it possible in more ways than one. Gas-operated semi-automatic shotguns are quite reliable and cycle quickly.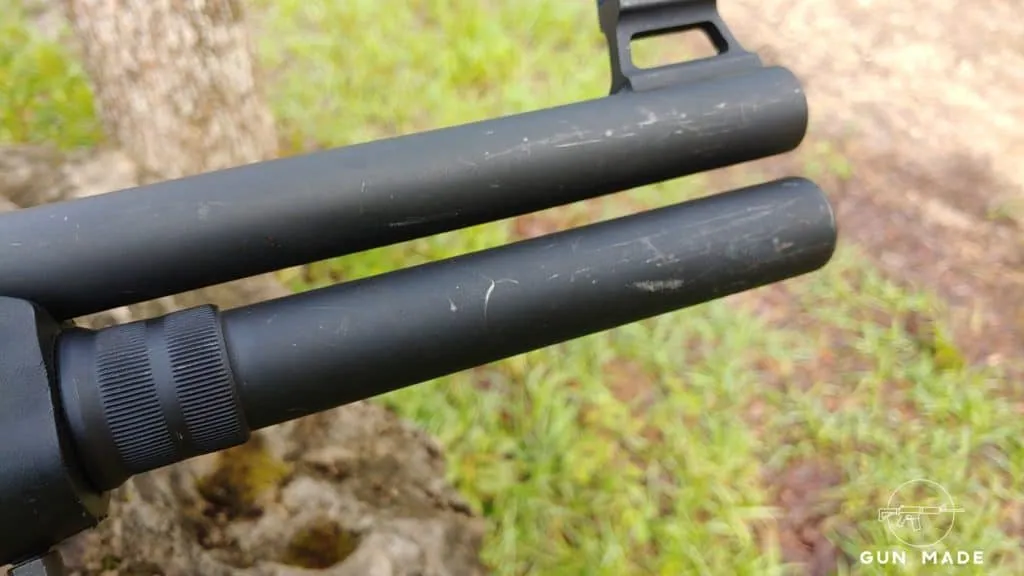 They also take a lot of the sting associated with shotguns out of the picture. They tame the boom to a pew, at least when it comes to your shoulder. Pump guns are great, but man, the recoil they offer isn't for everyone.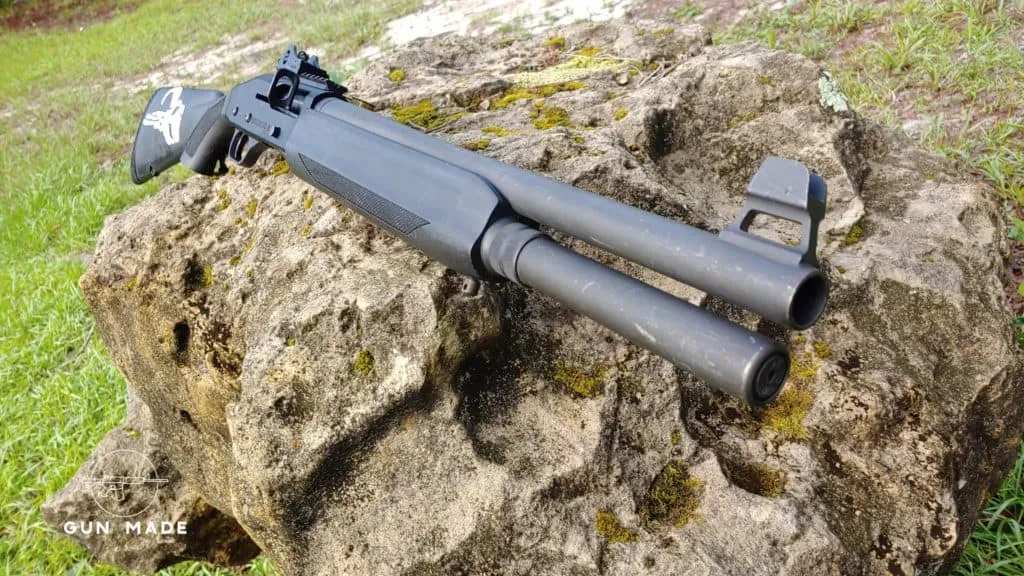 Pump guns hit hard, semi-auto guns not so much. This makes the semi-automatic shotgun a great choice for new shooters. The Mossberg 930 SPX offers minimal recoil and muzzle rise. You still need good recoil mitigation, but you'll find the 930 SPX easy to control. You won't feel beat up after an extended range session.
Accessorize It 
The 930 SPX comes ready to rock and roll out of the box and is already well suited for most tactical scenarios, but that doesn't mean it can't be better. Let's look at a few accessories I think are amazing must-haves. 
Holosun 507C 
The Holosun 507C is a mini red dot that's perfect for shotguns. It's small, lightweight, and offers a ton of features without breaking the bank. The 507C's biggest selling point is the multiple reticles. 
That high visibility fiber optic front sight is great, but a big 32 MOA circle is bigger and easier to see. That section of Picatinny rail shouldn't be left empty. The 32 MOA circle allows you to pattern your buckshot inside the circle for maximum pellet accountability. 
The Holosun 507C comes with a solar backup, big, easy adjustment buttons, and the ability to mount to Trijicon RMR mounts. 
Magpul MS1 
Mossberg gave you a forward sling mount and rear sling swivel loop for a reason. Add a sling, but not just any sling. Choose a high-quality, modern, tactical two-point. The Magpul MS1 is just that. 
It's a simple, highly adjustable sling at a great price point. You can rapidly adjust the sling to make it super tight for hands-free use or loose for max mobility. It's dependable and made by one of the best firearm accessory makers out there. 
Mesa Tactical Sureshell Carrier 
Even with the magazine extension, you might feel under gunned with seven rounds of buckshot, so carry some spare ammo! The best way is on the gun with the Mesa Tactical Sureshell sidesaddle. This polymer side saddle allows you to carry six more shotgun shells. 
Mesa Tactical is one of the best companies for shotgun accessories, and this side saddle is super tough and made to last. It's dependable and minimalist in nature. 
Alternatives to The 930 SPX 
Mossberg's 930 SPX is a great gun, but it's not the only option out there. Let's look at two alternatives to the 930. One is a little pricier, and one is a fair bit more affordable. 

If you don't mind spending close to 1,000 dollars, the Beretta 1301 is one of the best shotguns on the market. The BLINK system makes it about 36% faster than other gas-operated shotguns. The BLINK system uses a piston that doubles as gasket to increase cycling speed by increasing the efificnecy of the gas operated gun. Beretta's premium shotgun offers less recoil than most and is a lightweight shotgun option. 
This ultra-modern design isn't cheap but is widely considered one of the best combat shotguns on the market. 

If you are still wanting a high-quality shotgun that's a little cheaper than the 930, then maybe pump-action shotguns are the way to go. The Mossberg 590 is one of the best pump action guns on the market. It's super affordable and offers you a purpose-built tactical design within the pump-action sphere. 
SPX versions are available, as are numerous other variations of the 590. The 590A1 serves as the military's pump-action shotgun of choice and is the only pump shotgun to pass the US Army's grueling 3443E test, which involves 3,000 rounds of full powered buckshot. 
Pew Pew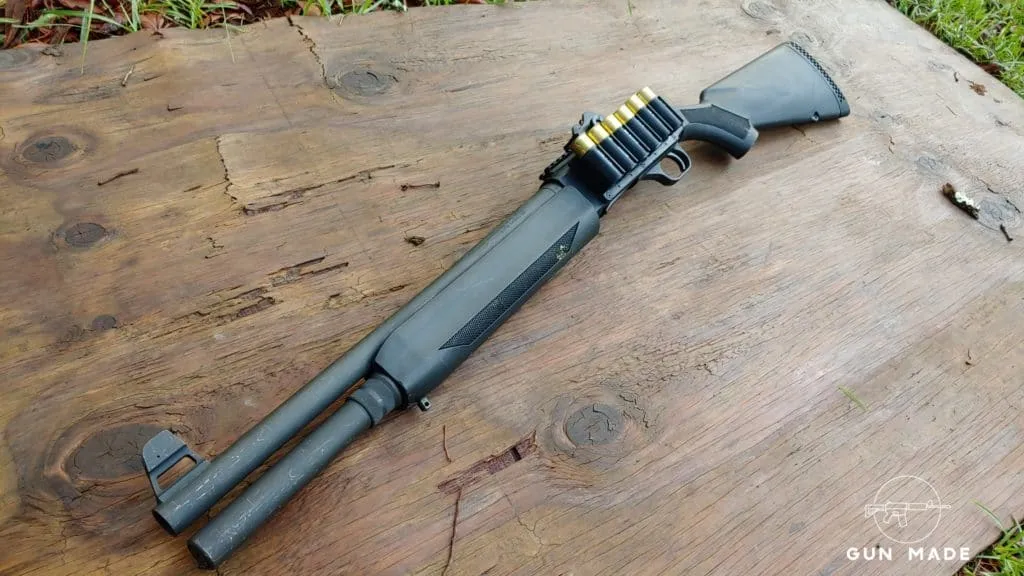 Mossberg's Mighty 930 SPX is a tough shotgun to beat. It offers you a gun ready for action that's a plug-and-play design. It's accurate, ergonomic, fast firing, and quite reliable. You do have to keep it clean, but if you can do that, the gun won't let you down. 
If you need your 930 fix, check out some buying options on our shopping tool. 
Explore more