Oracle Arms 2311 Review [2023]: Another Staccato Killer?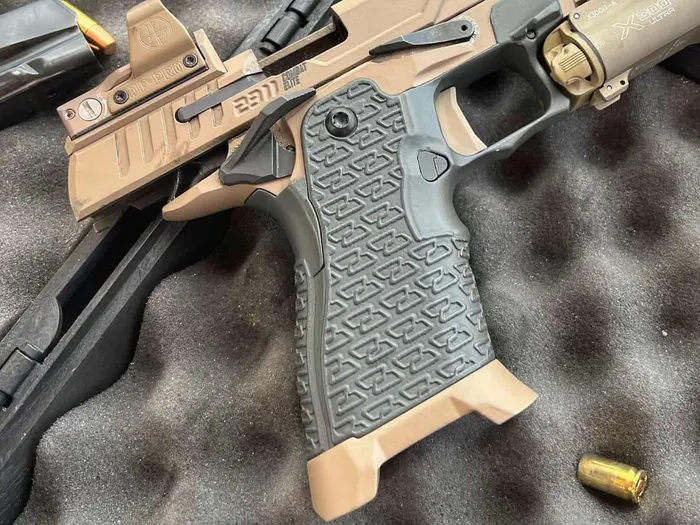 Oracle Arms 2311 Review [2023]: Another Staccato Killer?
Introduction
Going into SHOT Show 2023, I had a list of guns I wanted to make sure and get my hands on and shoot, if possible. The Oracle 2311 was one of those guns I wanted to review.
Thankfully, I even tested two different 2311 models at SHOT Show's Industry Day at the Range.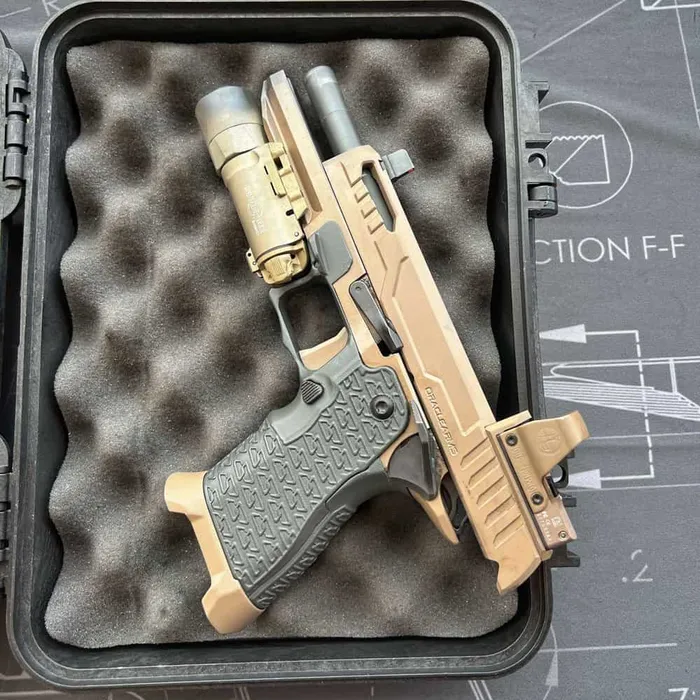 I'll admit, I still don't know what 2311 is meant to stand for, but I guess it adds to the suspense, as the first model isn't even supposed to begin production until late March. Regardless, imagine if a Staccato and SIG P320 had a baby…that's the 2311.
Is the 2311 just a standard double-stack 1911 (2011) with a unique name? To help you decide if it's worth the hype, here's a closer look at the Oracle Arms 2311.
Oracle 2311 Review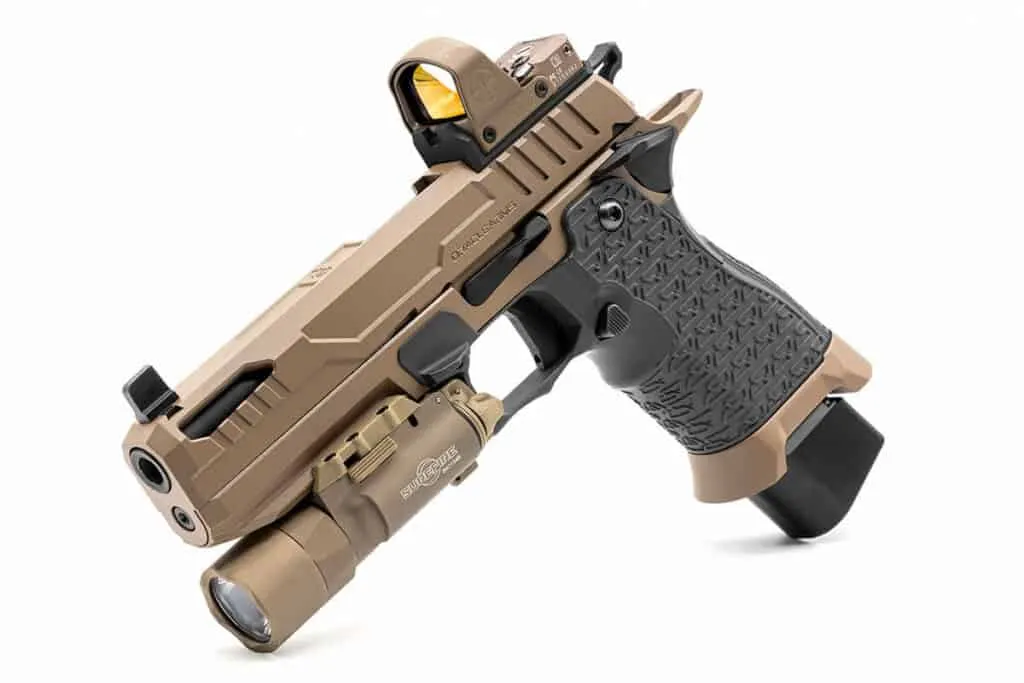 Oracle's full website hasn't even launched yet, so I wasn't able to find all the specs, but here's what is provided on the landing page.
Specifications
| | |
| --- | --- |
| Caliber | 9mm |
| Capacity (Compact) | 15+1 |
| Capacity (Combat Elite) | 17/21+1 |
| Frame (Compact & Combat Elite) | 7075 Aluminum |
| Grip (Compact) | Polymer |
| Grip (Combat Elite) | 7075 Aluminum |
Pros & Cons
Pros
Modular grip and magwell

Uses SIG P320 mags

Ergonomic and feels great in hand

Optics-ready

Flat-shooter with minimal recoil
Cons
Pricey for a new entrant to the market

Heavier trigger than expected

Will likely have limited aftermarket parts at launch
Range Day Results
Reliability
There were quite a few people in line behind me waiting to shoot the 2311, so I wasn't able to take as much time with it as I would have liked.
However, I was able to put a few magazines through both the Compact and Combat Elite models.
Out of the roughly 100 rounds between the two, I didn't experience any malfunctions. I would need many more rounds through them before making a true reliability statement, but so far, so good.
Accuracy
A Leupold DeltaPoint Pro sat on top of the Combat Elite and made easy work of hitting the various targets downrange that were randomly placed out to about 50 yards.
The Compact model only had the stock iron sights, but they did the trick, and we were still pinging steel left and right. They are too hard to compare the two from an accuracy perspective, with only the one having an optic, but they both seemed to be on par with what you'd expect.
I would like to note that the trigger felt much heavier than you'd expect. I believe I heard one of the reps saying it should be around the 4.5-5 pound mark, but it felt more like 6 or 7 pounds. I could be way off, though, as I'm just going on feel.
Overall Feel
With a fully loaded mag inserted, it's definitely a hefty gun.
The weight helps to mitigate recoil and keep it shooting flat though, so it's not necessarily a bad thing.
The grip width and angle (modeled after the SIG grip angle to accept the magazines) are comfortable, and the gun feels great in hand.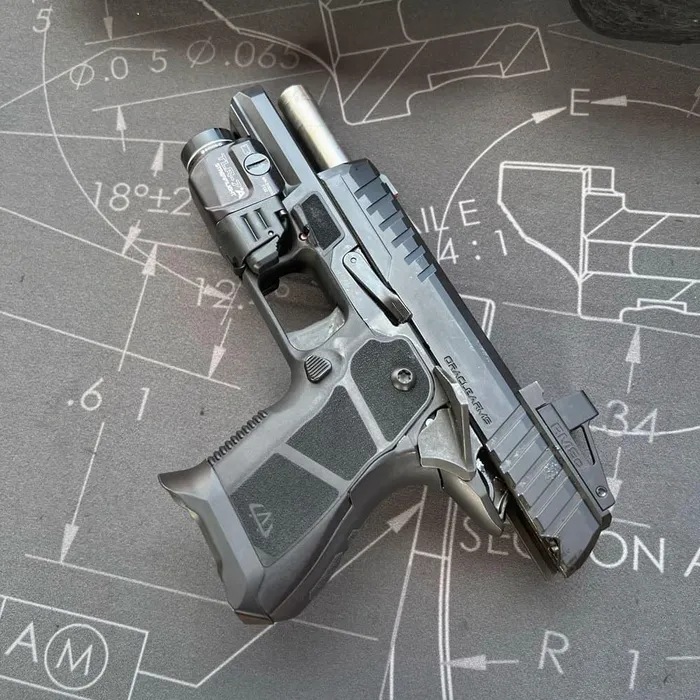 Features
Modular Grip
These days, it's expected that guns like this have modularity when it comes to their grips.
With the 2311, you'll find the grip and magwell to be modular, with four interchangeable side plates included with each gun.
The grip on the Combat Elite model is 7075 aluminum with a really nice rubberized grip texture over top. The Compact model, though, is polymer with a grip texture that can use some serious improvement.
It's like you're holding two completely unrelated and different guns.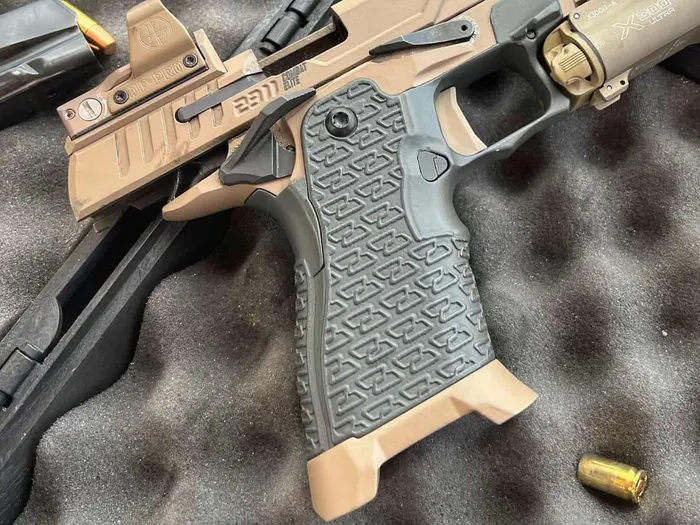 Ambidextrous Controls
I don't have any negatives to note when it comes to the controls. The safety and slide stop are both ambidextrous, while the mag release is reversible. You'll also have a finger ledge on each side to help with control while shooting.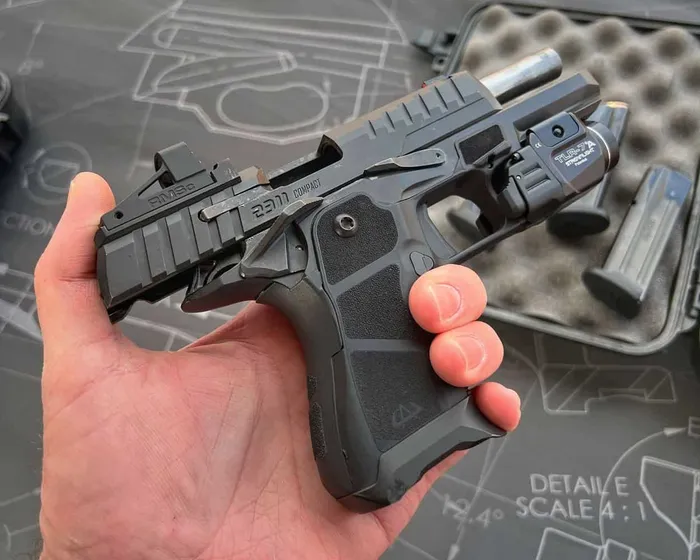 Optics-Ready Slide
I actually really like the serrations and contouring on the slides.
The serrations are deep and aggressive, great for racking the slide. The slides also come optic-ready from the factory, and the Combat Elite features some porting on the front of the slide.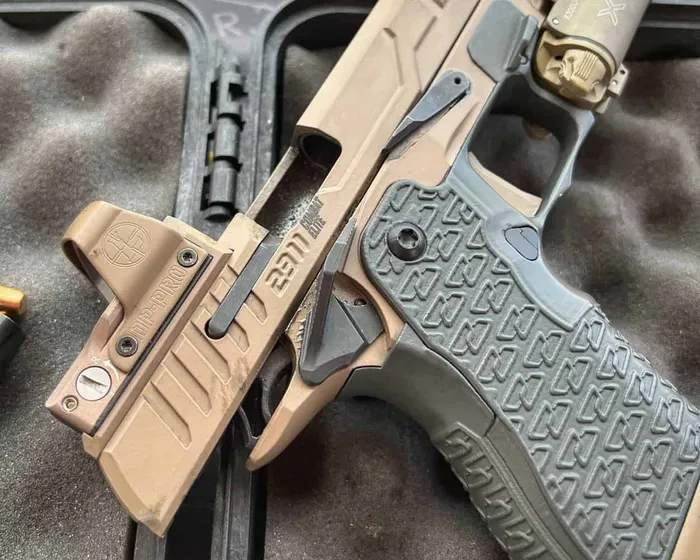 Patented Debris Clearance Channels
I wasn't able to list these channels as "pros" of the gun, because they weren't something I was able to verify from shooting or really see.
Apparently, Oracle has machined channels to more effectively clear debris when shooting in less-than-ideal conditions. They sure sound cool, but I'd like to see more of how they work…if Oracle ever gets the website up and running.  
How We Tested
It was a cold and extremely windy day in the desert with several steel targets placed down range. There was some off-and-on drizzle, followed by a full-on rain later in the day.
I shot the 2311s before the full rain, but the moisture and sand mix that was present seemed to be no problem for them.
I transitioned between fast and slow shooting and even ran a reload or two. It was smooth sailing throughout everything.
Ammo Used
The ammo that was provided at the booth was 115-grain Winchester FMJs and 115-grain Federal FMJs. I shot a little bit of each, and they both ran fine through the Compact and Combat Elite.
Score Card
Reliability (10/10)  
For the limited amount of ammo I put through them, I had no issues.
Ergonomics (9/10)
Grips are angled nicely and feel great in hand. Controls were easy to manipulate as well.
Customization (8/10)
It's optic-ready and has an accessory rail, but aftermarket parts will likely be limited at first.
Appearance (7/10)
I like the look of the Combat Elite, but not so much of the Compact.
Value (8/10)
Hard to say for sure, but it seems a bit overpriced for a brand new gun trying to enter the market among very popular alternatives.
Accessories
Especially with the Combat Elite model, you need a great weapon light.
The TLR-1 HL puts out 1,000 lumens for one and a half hours and is durable as heck. It comes in black, flat dark earth, and flat dark earth brown.
Since it looks like there will be FDE versions available, at least for the Combat Elite, the FDE TLR-1 HL would pair wonderfully.
You might as well throw on one of the best optics on the market if you're going to be splurging on one of these 2311s.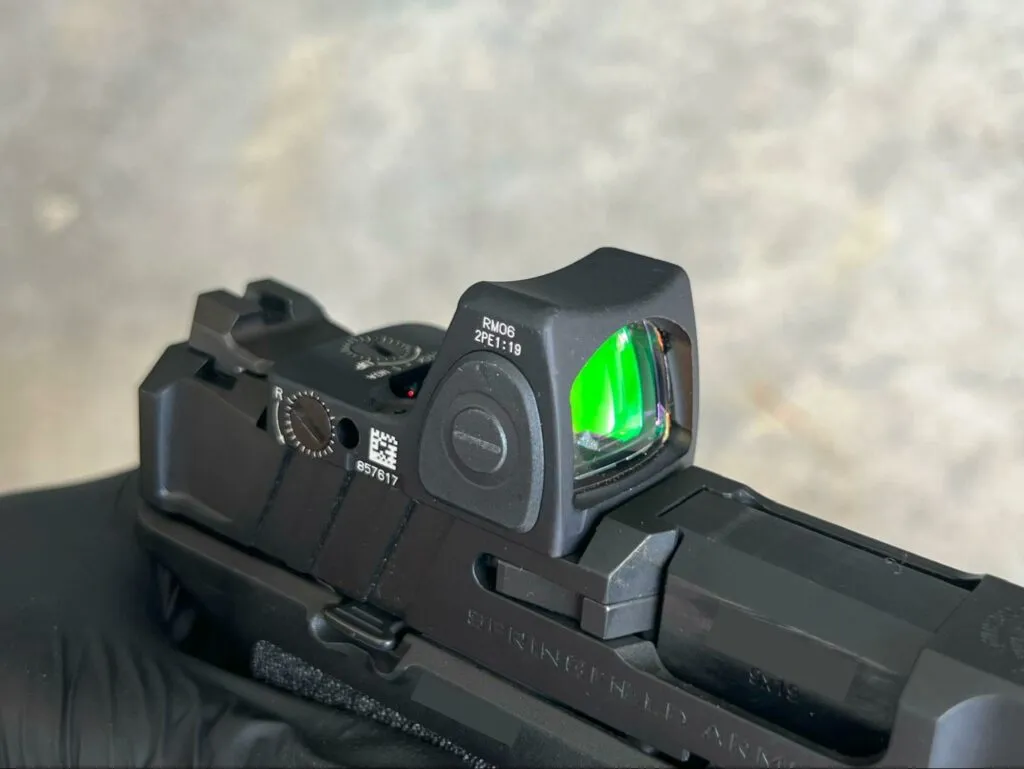 Depending on your preference, you can choose between a 1 MOA, 3.25 MOA, or 6.5 MOA dot. It's a pricey optic, but you get outstanding durability, high-quality glass and electronics, plus a limited lifetime warranty.
See our Trijicon RMR Type 2 review if you want all the information.
Alternatives
Another double-stack 1911, the Prodigy provides a very modern take on a proven platform. You'll get a 20+1 capacity, an optics-ready slide, and ambidextrous controls.
You can actually find it closer to $1,250 as opposed to the $1,499+ MSRP, so you'll have some extra cash to spend on ammo!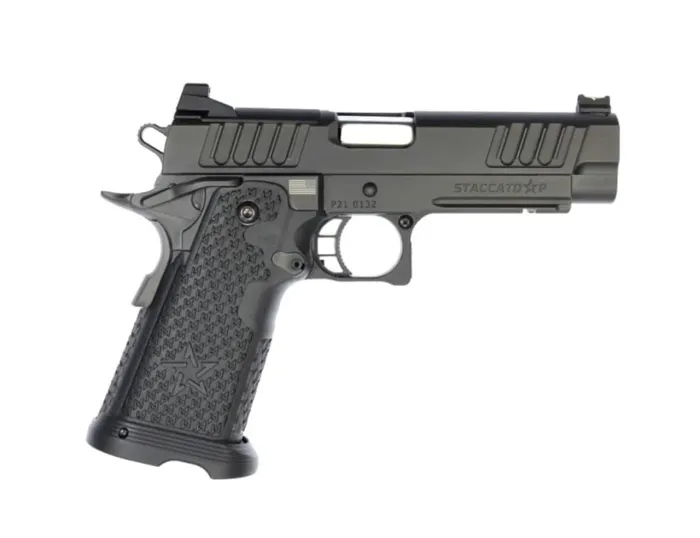 It wouldn't feel right not to include the Staccato P, since many of these new guns are competing for that top spot that Staccato has been striving for.
The Staccato P features upgraded components such as Dawson Precision sights and a Dawson Precision recoil system, has a fantastic trigger, and is extremely accurate.
Conclusion
The Oracle 2311 has definitely captured the attention of many, myself included.
With the limited time that I spent with each model, I found them to be accurate, reliable, and ergonomic. However, I don't yet see what will truly set them apart, aside from being able to use the SIG P320 mags.
If that's the main difference from the competition, the suggested MSRPs of $1,699 for the Compact model and $2,599 for the Combat Elite model seem high.
Either way, I'm excited to see the market feedback once they are released.
Explore more