Pelican Protector 1700 With EZ-Click MOLLE Panels Review: Protecting Your Guns During Transport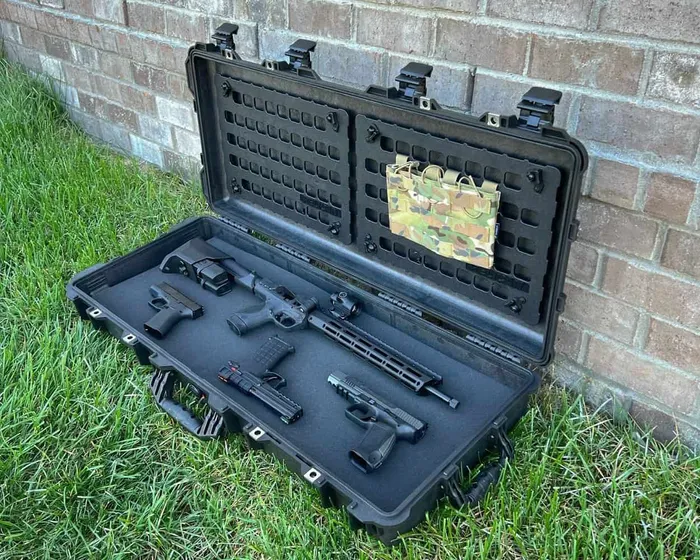 Pelican Protector 1700 With EZ-Click MOLLE Panels Review: Protecting Your Guns During Transport
Introduction
When you need to transport your firearms, whether flying with them or not, having a durable and secure case to keep them safe and away from prying hands is essential.
For such a case, Pelican is considered the "gold standard" by many, including myself, which is why I'm excited to review the Pelican Protector 1700.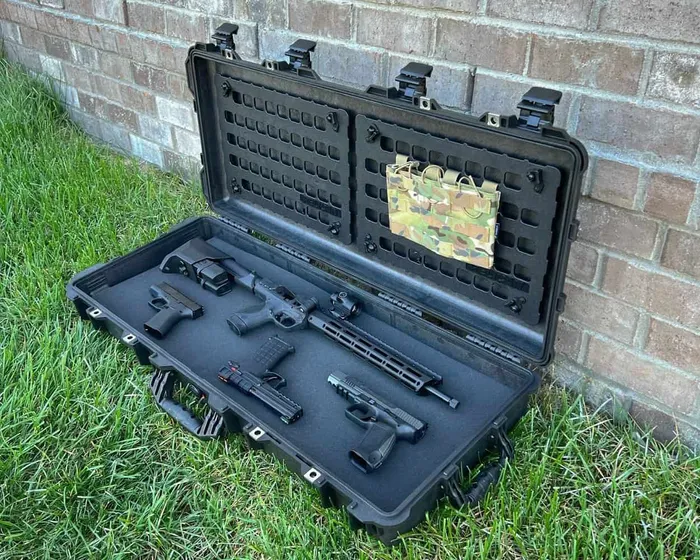 This is the first rifle case from Pelican I've personally had, but having used some of its pistol cases in the past, I had a good idea of what I could expect…a tank of a case that can handle almost anything you throw at it.
While I didn't go out of my way to "torture" test it like some have, I don't have any reservations about how it will hold up in any realistic situation.
The price is steeper than some of the comparables on the market today, so let's see if the term "you get what you pay for" applies to the Pelican Protector 1700.
Pelican Protector 1700 Review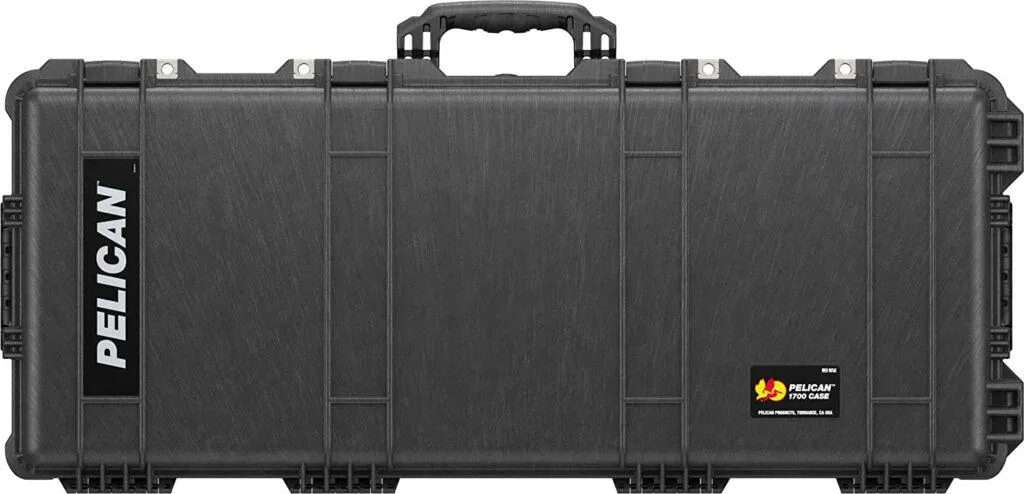 Pelican Protector 1700 Specifications
| | |
| --- | --- |
| Overall Length | 38.47 Inches |
| Overall Width | 16.42 Inches |
| Overall Height | 6.14 Inches |
| Interior Length | 35.76 Inches |
| Interior Width | 13.73 Inches |
| Interior Height | 5.35 Inches |
| Weight | 16.85 Pounds (w/ foam), 15.10 Pounds (w/out foam) |
| Body Material | Polypropylene |
| Latch Material | ABS |
| Temperature Rating | -40°F to 210°F |
Pros & Cons
Pros
Extremely secure (several latches and locking points)

Configurable – multiple foam inserts and MOLLE panels

Easy to carry/travel with – multiple handles and wheels

Protector case comes in multiple color options 

MOLLE panel twist-cam locks make for quick attachment/detachment
Cons
On the pricey side

EZ-Click MOLLE panels only come in black (where's my OD Green option?!)
First Impressions
Durability and Overall Feel
Everything about this case screams durability.
From the over-molded handles to the double-throw latches and everything in between, there are no flimsy feeling components. It's been bounced around the bed of my truck (secured under a closed and locked bed cover of course), knocked over plenty of times on concrete and dirt, and in case you were wondering if it can be used as part of a scaffolding, it can.
It can hold a lot of weight…at least 250 pounds to be more specific. Yes, I'm working on getting that number down!
From the second I opened it, I could tell how well-made it was. The finish is great, the edges are nice and smooth, and everything lines up/closes just how it should. It definitely gives you an expensive feel.
Features
Automatic Pressure Equalization Valve
There are plenty of cases on the market that are airtight, but not all of them equalize the pressure within the case.
The Pelican 1700 features an automatic pressure equalization valve that adjusts the interior pressure according to the air pressure of the atmosphere outside of the case.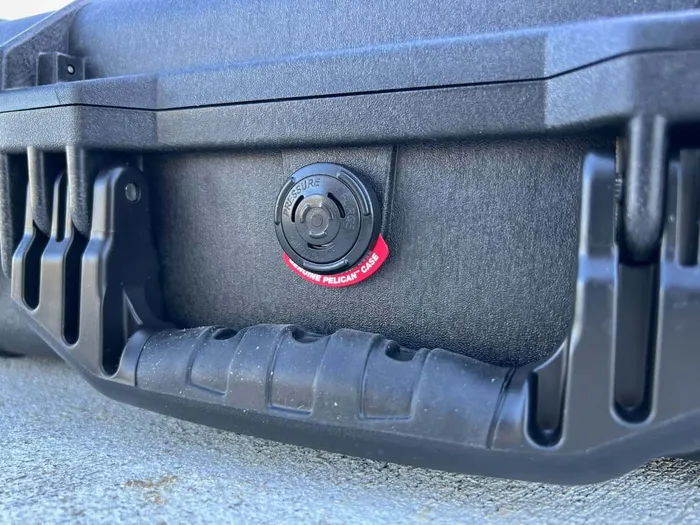 For those of you who fly with your firearms, this means the case will remain easy to open pre and post-flight. The case even stays watertight as the pressure equalizes.
Multiple Locks and Latches
You get four double-throw latches and four padlock points to keep the case closed and secure. You can have the most durable case in the world, but if you fail to keep it securely shut and away from prying hands, what good is it?
If/when I fly with this case, you better believe I'll be utilizing all four of those locking points! Better to be safe than sorry…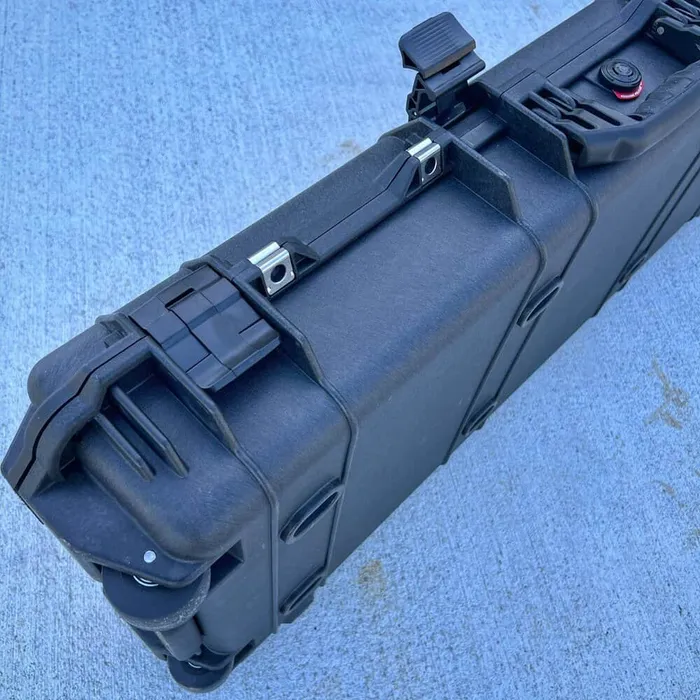 Element "Proof"
Mother Nature can throw whatever she wants at the Pelican 1700. The case is watertight, crushproof and dustproof. Of course, no case is literally indestructible, but this one is very durable.
I have seen dozens of Pelican case torture tests and am amazed at just how strong they are. From submersion tests to extreme drop tests, they simply perform and protect.
We're taking you back all the way to 2008 with this video, so imagine having roughly 15 years to make improvements since this was shot.
Accessories
I mean, we talked about and showed the MOLLE panel earlier in the review, so we might as well touch on it one more time. If you want that extra level of organization within your case, grab yourself a MOLLE panel or two. To save time if you're using the same case for multiple scenarios or outings, you can keep pre-configured panels with different gear to swap them out as the occasion calls for.
If you're going to spend the time and money to secure your firearms in a Pelican case, you might as well spend the extra few bucks to lock it properly. Yes, most small locks can be picked or cut with the right tools, but the average TSA person or wandering eye at the baggage claim conveyor belt will think twice if they see four locks on your case.
This specific lock has 10,000 combination possibilities and a heavy duty shackle, so it will help you sleep easy on the plane knowing your guns should be safe.
Is It Worth It?
If you're someone who travels with long guns or multiple firearms in general, the cost to protect them as well as this case does, is priceless. Well, technically it's not because it would be the price of the guns, but you know what I mean!!
With that being said, not everyone needs a large case like the Protector 1700.
Pelican has cases as small as a wallet, though, so you'll more than likely be able to find one that makes sense for you. If you do find yourself needing one of this size, I highly recommend considering the Protector 1700.
Explore more