Gun Case Review: Pelican Vault 730 & Magpul DAKA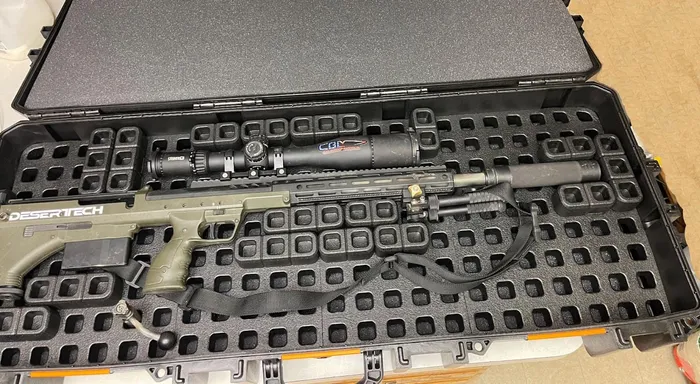 Gun Case Review: Pelican Vault 730 & Magpul DAKA
Introduction
Pelican cases have been the standard for firearm protection for years.
Their new Vault series, combined with the new Magpul DAKA case organizer, is proving to be a truly innovative firearm storage option.
The Vault series carries the Pelican name and warranty; like other hard gun cases, it features six locking latches that seal the case water-tight using an O-ring seal around the perimeter of the case.
From my perspective, the Vault line of cases appears to be a more affordable line of cases for those who take protecting their firearms seriously.
The DAKA grid organizer from Magpul makes customizing your hard gun case much simpler than before and gives you the option to alter it as well. If you were one of those weird Lego kids growing up, you're gonna love this.
I've owned Pelican cases for years, and I've hauled guns all over the world in various case configurations with hard foam, soft foam, and textile interiors. So I was very excited to see an actual development regarding hard-case storage options.
Vault 730 & Magpul DAKA Organizer Review
As I mentioned, I've owned quite a few hard cases over the years.
It seems that there comes a time in a gun owner's life that he wants to take his most prized rifle and cut the foam in a hard case to fit it so he can pretend to be the assassin in a Bond film as he un-cases it out at the range.
It's nice to have a custom foam-fit hard case for your rifles, but it also usually means you need several hard cases or sets of foam for each rifle.
The DAKA organizer system allows you to custom-fit the foam in your hard case to fit your rifles without using a knife. And you can also rearrange it to fit the next rifle by simply pulling the foam pieces apart and stacking them into the position you want them in.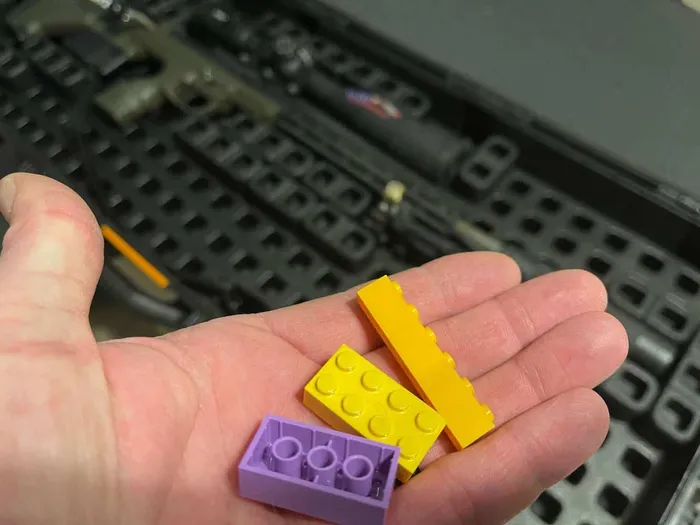 The DAKA system is much like Legos, they are foam blocks with molded lugs that allow them to be stacked together like the famous toy blocks.
They come with a base plate that is essentially a foam pegboard, and an assortment of two and three-lug sections that you can plug into the baseplate in whatever configuration fits your chosen firearm.
Then just as easily as they went in, you can pull them apart to reconfigure the case for a different firearm.
The whole system, when dropped into the Vault 730 case, makes for a very multi-use and secure transport for your weapons. The secure locking latches of the Vault 730 keep it secure, and it has the typical lugs at the ends to secure it with padlocks.
Handles on three sides make it easily maneuvered and/or tied down, and the low profile wheels at one end are nice for rolling the case across hard surfaces like those long walks through airport security.
The Vault is available in a couple of different sizes, so you can customize your options.
Pelican Vault 730 Specifications
| | |
| --- | --- |
| Length | 47.1 inches |
| Width | 19.2 inches |
| Height | 6.9 inches |
Pros & Cons
Pros
Affordably priced

Secure locking capabilities

Latches are easily opened single-handed

Multiple carry handles and wheels for transport

Easily adaptable foam for multiple firearms

No knife needed

Additional foam pieces can be added
Cons
Not quite as rigid as original Pelican cases

Wish it came with more foam blocks
First Impressions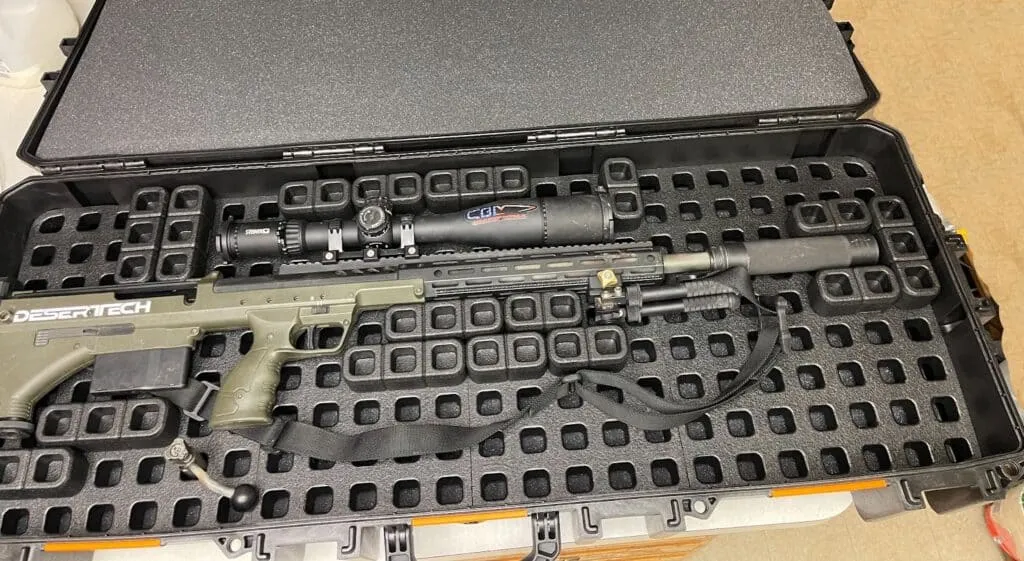 I was excited to see the case when it arrived, I had seen several of the Vault cases while at SHOT Show 2023. And if the DAKA system lived up to my expectations, I knew I would have a very handy transportation system for my rifles.
First thing I opened was the Vault case. It came with a few layers of its own foam. I was quite pleased with how easy the latches were to open single-handedly.
Many cases I've used in the past have been far too stiff to release easily, and they sometimes seemed to bind on the locking mechanism. These were extremely easy to undo, and while opening all six latches to get into the case can sometimes feel like a bit much, I would rather have them than not. Especially after watching luggage workers toss things at the airport.
The lid of the Vault case is sealed with an O-ring. It also features a few interlocking molded dowel pins around the lid mating surface to help secure and keep the two parts aligned.
Inside I found a few sheets of the standard foam that comes with the case. I set them aside as it was time to open the box from Magpul.
The DAKA system came in a smaller box than I had anticipated, and I was even further surprised to see it appear nearly half empty. I thought they had surely sent me half of what I needed, but to my surprise, as I opened up the pieces, everything was there to make my case a safe storage place for my rifle.
I installed the base plate of foam into the bottom of the Vault 730, it was a snug fit, but I assume that is by design to keep things from sliding around inside the case.
I then laid my rifle into the case and started lining up with the patterns in the foam to see where my best fit would be. Installing the foam blocks came next, fitting them as close as I could to the rifle without compressing it.
I quickly was made aware of one thing I'd consider a drawback, attaching the foam blocks in such a way that would tightly hold my rifle was harder than I thought.
The interlocking teeth of the DAKA system are an inch or so wide, meaning that unless your rifle has the perfect proportions to match those spacings, you will have a little movement inside the case.
For the most part, that may not be a big deal, but if you have a very heavy firearm, this could result in significant shifting and potentially breaking through the foam blocks.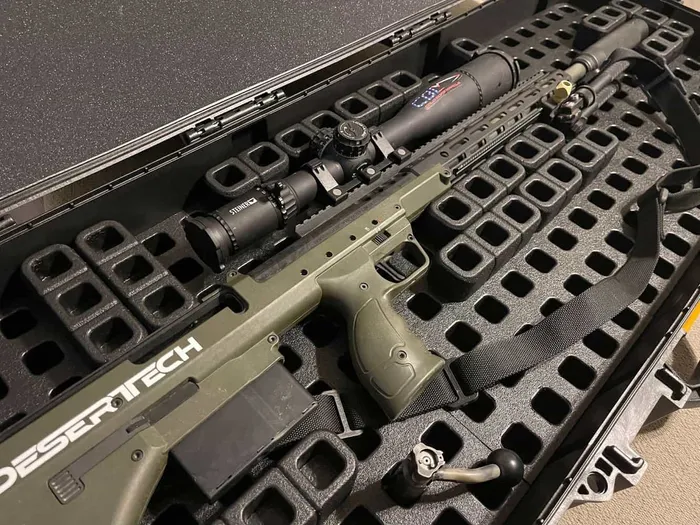 After I got my rifle situated and surrounded with foam blocks, it actually looked pretty good and snug. I closed the case to see how it carried, only to find that there was just enough flex in the case to cause a slight deformation from the installation of the foam baseplate.
The case mouth opened just enough to have to squeeze it to get it closed and latched.  Having let the case sit and rest with latches closed for a day or two has helped reduce the issue as both foam and plastic learn their new locations.
Making room in the case for things like accessories, boxes of ammo, and such was very easy. Much like an old game of Tetris, you could organize the blocks of foam to hold both your rifle and some shooting accessories around it in a very organized manner.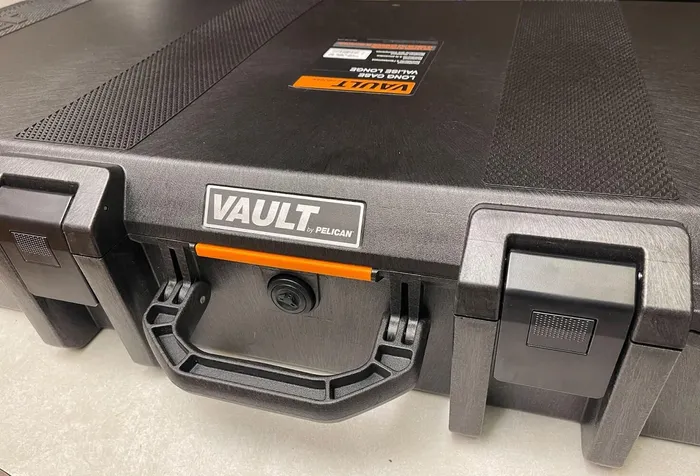 Durability
Hauling the case back and forth to gun shops and shooting ranges, I have come to appreciate it.
The case does seem to handle better than my old Pelican or SKB cases, perhaps due to less overall weight making it easier to handle.
The handles themselves are also pretty robust and big enough that even when the case is loaded fairly heavily, it's easy on the hands. The latches and other parts of the case seem very reliable and robust, so much so that I don't anticipate any issues to come.
Overall Feel
My impression is that the Vault case and DAKA organizing system are worth their asking price.
It does seem just a little less robust than the actual Pelican branded cases, but with a price of $200ish, it is still worth it in my opinion.
And the DAKA system gives you some impressive improvisational gun storage options, though I think it came with even a few more blocks. Looking at Magpul's website, it appears that they even have differently shaped blocks and other accessories on the way to improve the system.
Features
Locking Latches
The self-locking latches are quick and easy to open and close. A spring-loaded lock button is centrally located in the middle of each latch.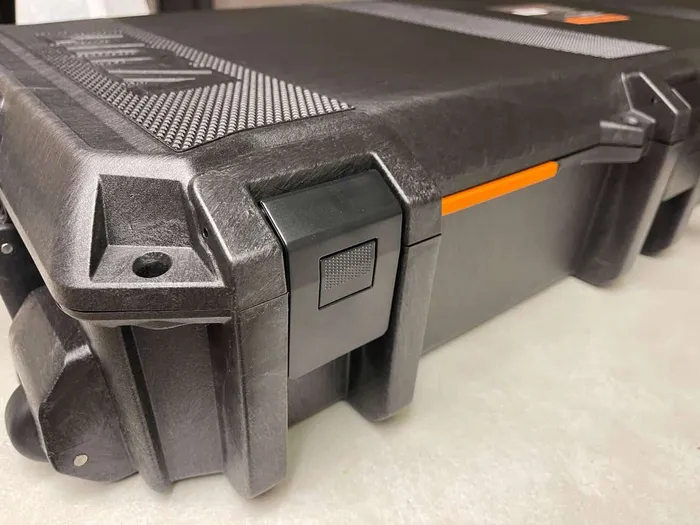 Security Lock Locations
The Vault 730 features four heavily reinforced padlock eyes to allow the owner to securely store their property inside.
Weather Resistant
The O-ring sealed case keeps water, dirt, or other contaminants out of your case.
Adaptable
The DAKA system allows you to adapt the inside of your case to fit whatever firearm you wish, and in just a few moments, you can reset the foam for a different firearm.
Conclusion
The Vault 730 and Magpul DAKA system is a great way to store your rifles, particularly if you are a guy like me constantly using something different.
I suppose you could say that the DAKA system for $139 is a bit spendy for foam, but when you consider that you don't have to buy twenty different sheets of custom-cut foam, it starts to make more sense.
These two products combined make a strong and intuitive way to safely transport your rifles. I look forward to traveling more with mine!
Explore more