Primary Arms Advanced Micro Dot Red Dot Sight Review [2023]
Primary Arms Advanced Micro Dot Red Dot Sight Review [2023]
The world of red dot sights is dominated by top-shelf names like Vortex Optics, Aimpoint, Trijicon, EOTech, and even Sig Sauer, making waves with products like the Romeo5.
These manufacturers pretty much run the whole show and hold a firm grasp on the optics market with their well-proven models, so it's very rare to see newcomers on the market.
It doesn't have to be that way though. Even though hardly a newcomer, the Texas-based manufacturer Primary Arms has graced us with innovative and well-built optics. Their SLx line with mid-range prism scopes with an ACSS reticle was very well-received and proved itself as a fine addition to the market.
But, what really caused a ruckus is their SLx Advanced Micro Dot line of red dot sights, which proved to the people that you can have your cake and eat it too.
In this Primary Arms Micro Dot review of the Primary Arms SLx MD-20 Micro Red Dot Sight, I'll talk about the Primary Arms SLx Advanced Micro Dot red dot sight that's based on the MD-ADS model. It's the new and improved Advanced Micro Red Dot Sight, with push button adjustments, a 50,000-hour battery life, and impressive durability.
I'll showcase the characteristics, point out some interesting features, compare it to other similar models, and help you decide whether or not you'd want this red dot on your AR-15 rifle.
Primary Arm's Idea Behind the Advanced Micro Red Dot Sight
When I first saw the red dot sight's characteristics and price, I really thought that there's no way for PA to lower the price so much and still make me believe that these are not some borderline airsoft optics that burst into pieces after an AR-15 target practice session.
Somehow, that's exactly what happened. Me getting convinced of the quality, that is; not the scopes blowing up.
Why Is the Primary Arms Advanced Micro Dot So Cheap?
You see, there have been many cool technological advancements in optics manufacturing. It's definitely not like it used to be 10 years ago. Lots of overseas production lines are constantly learning how to improve optics quality while keeping relatively low prices.
Now, Primary Arms is an established manufacturer that's well-known for their guns, optics, and fantastic customer service above all that's sort of been flying under the radar. Their Micro Dot red dot sight has become a top-seller series and a perfect example that quality can be presented at a reasonable price.
They are sturdy, durable, easy to adjust and mount, and are inexpensive. Why bother with an Aimpoint Micro when you can purchase a Primary Arms SLx MD-20 Micro Red Dot Sight with a QD riser for roughly a third of the price?
It's pretty obvious that their business model is focused on the budget end of firearms manufacturing while maintaining absolute quality control.
The trick is, Primary Arms maintains low prices by sourcing the red dots from China while they tighten quality control tests, which really filter out the best of the best.
That explains the downright heartless torture tests of their scopes with drowning, dropping, and microwaving. Their SLx MD-25 micro red dot sight has a Silver-tier rating by the NTOA. You'd be surprised how many "decent enough" red dot optics have been mercilessly rejected.
Looking for cheap AR-15 rifles with standard quality? Check out our buyer's guide.
Aimpoint Micro T1 Similarities
I immediately recognized the Aimpoint Micro T1 similarities. The T1 has been long discontinued, but the MD-ADS series acts as its honorable successor. They are a classic and a fan favorite when mid-range red dots for AR-15s are in question.
Primary Arms kind of copied the design, but—fair enough; they pretty much improved on every aspect. They shaved off some weight with the aluminum design, tweaked the glass clarity, added 12 different brightness levels, and a whopping 50,000 hours of battery life.
What's more, they're so confident in the scope body and construction that they slapped a lifetime warranty on the Gen II Advanced Micro Red Dot Sight. You rarely see other manufacturers doing this with such justified audacity.
Let's check out what they are so ballsy about.
Overview of the Primary Arms SLx Advanced Micro Dot Red Dot Sight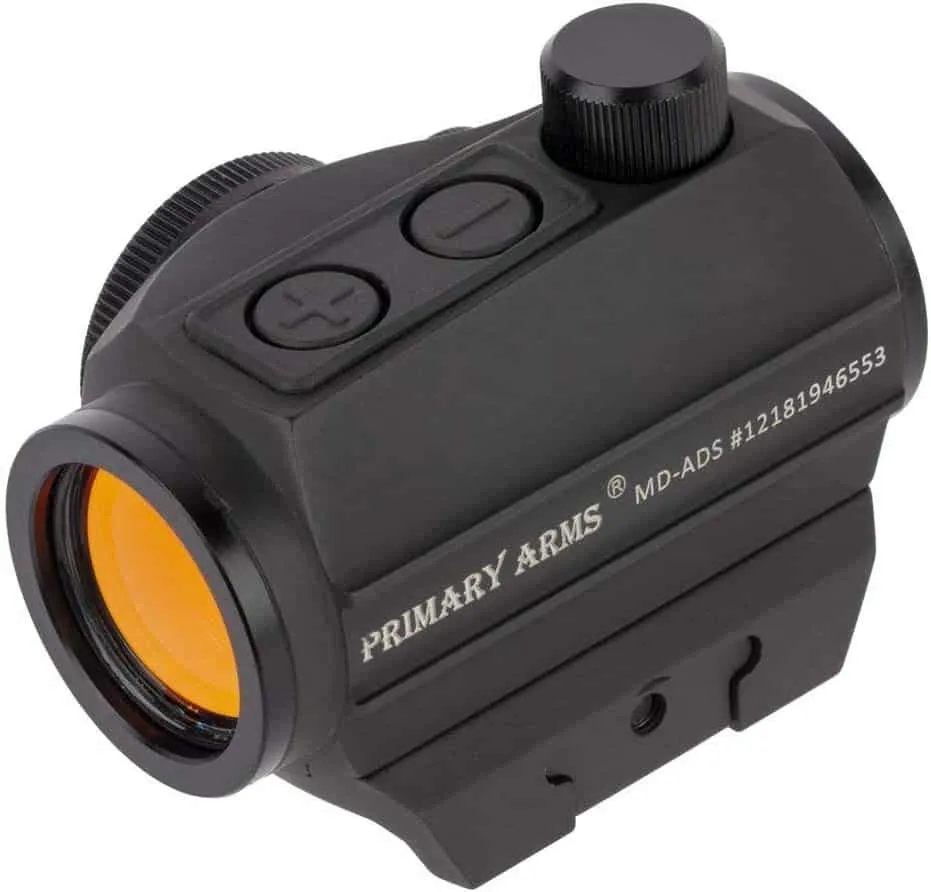 The Primary Arms SLx Advanced Micro Dot red dot sight is an excellent budget option that really proves its durability and value.
The PA-SLX-MD-20 (not to be confused with similarly named models) has adjustment settings that work at the push of a button. The "MD" stands for micro dot, while the "ADS" stands for advanced sight.
You also have the rotary knob model, the one with the FDE finish, and the slightly more expensive SLx MD-25 with a wider field of view, an ACSS-CQB reticle, and a bigger (25mm) red dot. More on the differences—later.
If you prefer red dot sights over holographic ones and you're an avid enjoyer of long AR-15 target practice sessions, I strongly recommend this one.
Design and Construction
The Primary Arms SLx MD-20 Micro Red Dot Sight is lighter compared to most red dot sight models, all thanks to its sturdy and durable 6061-T6 aluminum construction with a hard coat anodized non-reflective finish.
It's a careful blend of the MD-ADS and the SLx MD-25 red dot with a fully potted emitter, fully supported pivot tube, better springs, and the turret internals are stainless steel instead of brass. There's no wonder why it's so popular among AR-15 enthusiasts.
The MD-20 micro comes with an industry-standard micro mount and bikini lens covers as well.
It weighs around 3.8 to 4.2 ounces with the batteries, has a low-profile styling, 2-meter waterproof rating (with turret caps off!), fog resistant, snag-free shielded adjustment turrets, and its main feature: ambidextrous top-mounted push button controls.
Why push-button controls? Because there have been complaints about the MD-RB-AD model's rotary knobs being too close to each other.
Multicoated Anti-Reflective Lens
I've heard complaints about the lenses being weirdly tinted blue, and it might be annoying for some, but I seriously don't think it's much of a big deal.
The MD-20 has fully multicoated, anti-reflective lenses that function well during brightly-lit, sunny days. The dot is crisp and the glass clarity is spot-on (pun intended) when compared to the other three models we mentioned, though the MD-RB-AD glass is much clearer with less of the bluish tint.
When comparing it to the Vortex Crossfire, it's pretty much neck-and-neck. Comparing it to an Aimpoint red dot, on the other hand, does not bode well for the MD-20; the Aimpoint has a crisper dot with marginally better clarity, but it's still there.
Adjustments for Windage and Elevation
You can zero the sights with the top buttons, and the push button design is, for me personally, much more convenient because knob turners are prone to mess-ups, with your fingers accidentally rubbing the windage and zeroing adjustments.
The windage and elevation turrets have rubber O-rings that are waterproofed as well.
Additionally, it's clearly better for left-handed people because the brightness buttons can be adjusted with both left and right hands.
2 MOA Micro Red Dot Reticle
The reticle is a standard 2 MOA reticle that's pretty decent for a micro red dot. The red dot sight is also night vision compatible, gives decent co-witness, has a crisp 2 MOA dot, and the click adjustments are ½ MOA.
When compared to the Aimpoint T-1, both have a crisp, non-scattered dot with a clear view and decent light transmission.
Check out this PA manual for more info on zeroing, mounting, and lens care.
Parallax Adjustment
I like how the parallax error on the MD-20 is minimal, but if you want even less parallax error, you should consider getting yourself a holographic sight.
No optic is absolutely parallax-free. The industry standard for a so-called 'parallax free' optic is in the 30 yards to infinity range, and this sight offers an absence of parallax shift past 33 yards.
Overall, the MD-20 has a larger parallax error than an Aimpoint PRO, but you won't need a cheek weld to fire accurate shots with confidence.
Brightness, Battery Life, and the Motion-activated Feature
What I most like about this red dot sight is the 50,000-hour battery life with night vision compatibility. It's one of the main features why it's so popular in the Advanced Micro Dot series.
The SLx MD-20 red dot sight uses a high-power emitter that offers true "daylight bright" settings, not to mention the AUTOLIVE™ motion activation feature. When not in use, it's off, but turns on once you move or pick up the scope. This is why the battery and the emitter life are so long.
The red dot sight uses a standard CR2032 battery and it offers 12 brightness settings that value energy conservation. You won't need any weighted solar panels like the other high-conservation red dot sights.
Specifications
| | |
| --- | --- |
| Manufacturer |  Primary Arms |
| Model |  MD-RB-AD |
| Reticle |  2 MOA dot |
| Reticle Color |  Red |
| Battery life |  50,000 Hours |
| Battery type |  1X CR2032 3V lithium coin |
| Brightness |  12 Settings |
| Adjustment click value |  1/2 MOA |
| Mount |  Aimpoint T1/H1 compatible; MIL-STD-1913 Picatinny rail mount compatible |
| Weight |  4.2 ounces |
| Base |  Picatinny/Weaver |
| Night vision compatible |  Yes |
| Finish |  Hard coat anodized non-reflective finish |
| Construction |  6061-T6 Aluminum |
| Size |  Microdot |
Pros & Cons
Pros
One of the best values for micro red dot sight optics
50,000 hours battery life with a motion-activated feature
Lightweight, compact, and highly durable
Waterproof, shockproof, and fogproof with quality o-rings
Surprisingly high-quality lens
Cons
Slightly annoying bluish tint on the lens
Not recommended for law-enforcement or military use
FAQs
Here are some frequently asked questions about the Primary Arms Advanced Micro Dot Red Dot Sight.
What Are the Differences Between the Primary Arms SLx Advanced Micro Dot Models?
There are three distinct models that are popular in the Advanced Micro Dot line: the Primary Arms SLx Advanced Push Button Micro Dot Red Dot Sight, the Primary Arms SLx Advanced Rotary Knob Micro Dot Red Dot Sight, and the Primary Arms SLx MD-25 Rotary Knob Micro Dot with a 2 MOA red dot reticle.
The Rotary Knob, or the MD-RB-AD model has a rotary dial knob that adjusts the brightness and zeroing. The Push Button Micro, or the SLxMD-20, has "+" and "-" buttons for adjustment, and a better emitter with the true "Daylight Bright" settings. The Rotary Knob has 11 brightness settings, while the other two have 12.
The SLxMD-20 Micro dot weighs 6.5 ounces, the MD-RB AD Micro Dot weighs 5.5 ounces, while the MD-20 has 3.8 ounces, the lightest of all three.
The MD-RB-AD has better glass than the other MD-ADS models with less of a bluish tint, better emitter protection, and construction, while the springs and internals are made of stainless steel and durable brass.
Can I Lead Targets With the Primary Arms MD-ads Red Dot Sight?
If you're going for a red dot scope for leading targets, the SLx MD-25 model is all yours. It has an ACSS-CQB reticle that's made for it.
Although the MD-ADS models aren't SHTF-grade for home defense, it's perfect for range guns or hunting rifles.
Can the SLx MD-20 Handle Heavy Recoil From a .308 Caliber Rifle?
For non-military, rookies, and casual AR-15 shooters, this red dot sight is an excellent option, especially if you're reluctant to burn a lot of cash. It's a no-brainer budget alternative for mid-range red dot optics with otherwise higher price tags.
The MD-20's construction is compact, durable, and can take heavy recoiling firearms like it's nothing—for its price, that is. It's durable enough for recreational target practice, but if you're going for home defense, I'd recommend you aim for a higher price range.
What Do Others Have to Say?
Here are some interesting testimonials and review snippets from customers that bought the SLx MD-20.
Alternatives to the Primary Arms SLx Advanced Micro Dot Red Dot Sight
If you feel that the SLx MD-20 isn't your type of thing, check out these alternative red dot sights.
While we provided some worthy adversaries below, we already went deep into AR-15 red dots in another list, so be sure to check them out as well.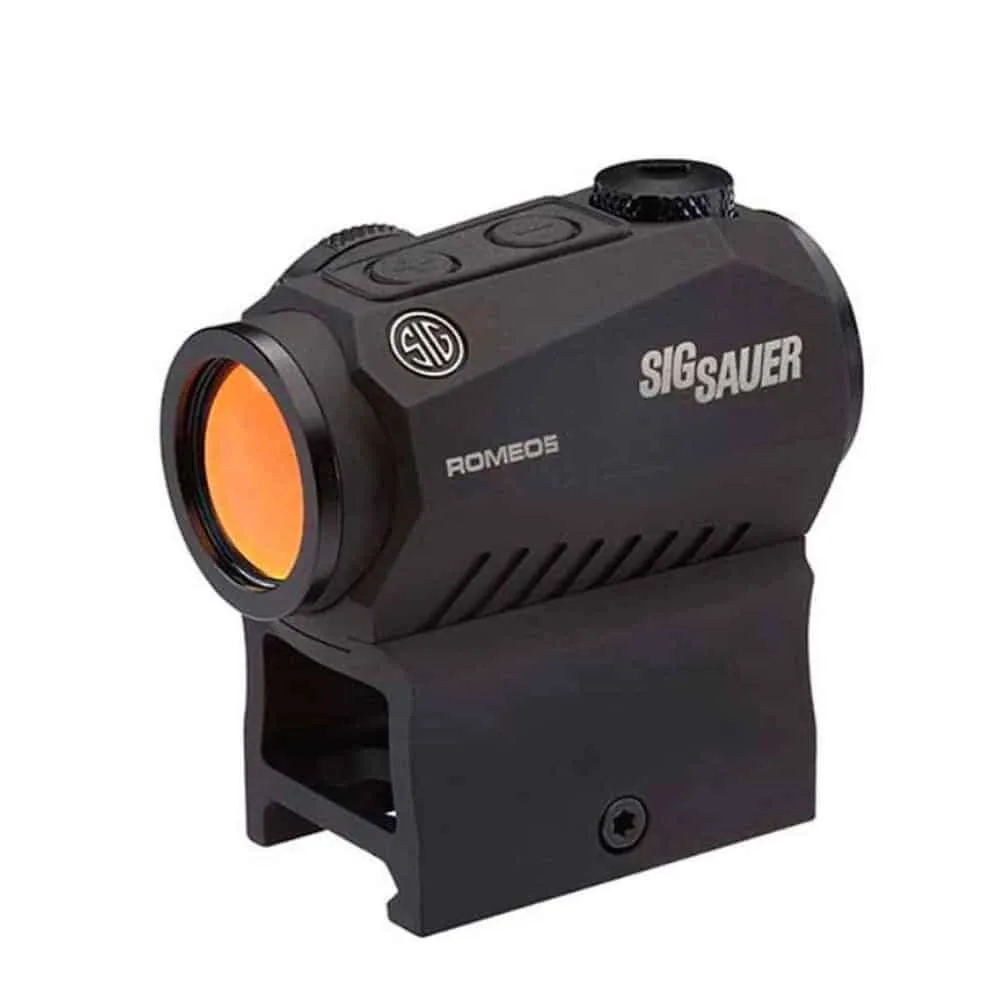 Looking for something even cheaper? Check out the Sig Sauer Romeo5.
It's a 1X20 magnification red dot sight with robust durability and very low parallax. This is a perfect red dot scope for MSR rifles, shotguns, and carbines for target practice and hunting applications around the 200-yard range.
It has 40,000+ hours of battery life, it's fog proof and waterproof and IPX-7 rated for complete water immersion, and the 2 MOA red dot offers 10 brightness settings with night vision compatibility, as well as a motion-activated illumination feature.
The integrated M1913 Picatinny interface and low mount, co-witness 1.41" riser provides industry-standard mounting options for a wide range of applications, when mounted correctly, of course.
You can also check out our best rifle scopes under $500, while we're economical and all.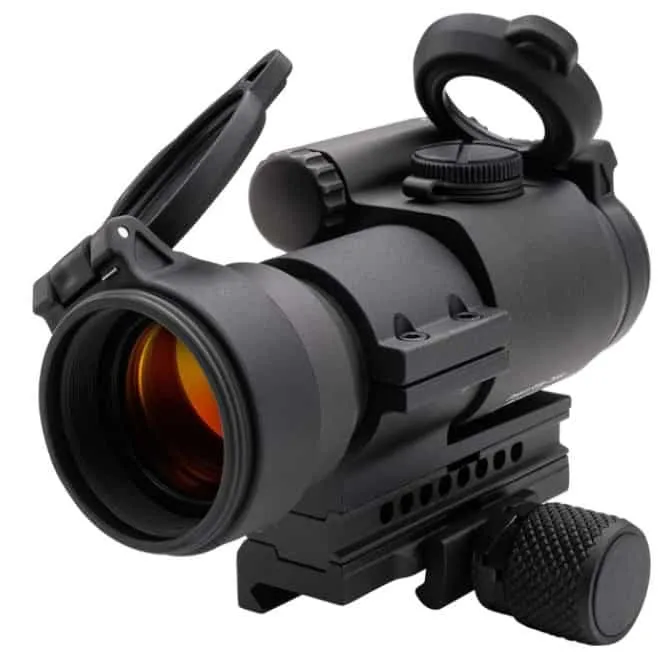 Here's the originator that started the red dot sight business in the 70s. The Aimpoint PRO (the 'PRO' stands for 'Patrol Rifle Optic') is a lot more expensive than the PA MD-ADS models, but you can bet that it one-ups the SLx MD-20 by a long shot.
It has all the features one might need for self-defense, competition shooting, target practice, and hunting.
The 2 MOA dot sight, low-light condition brightness, 38mm objective lens, unlimited eye relief, fully multi-coated lenses that are anti-reflective, and adjustable click value of 0.6 inches at 100 yards offer your AR-15 profound accuracy and precision.
For some, it might be a premium option, but it offers solid target acquisition, convenience and ease of use, and unmatched durability with a hard-anodized aluminum alloy that can withstand harsh temperatures from -50°F up to 160°F.
You can also check out the Aimpoint Micro H-2 Red Dot Reflex Sight, as a more lightweight if you want something more lightweight.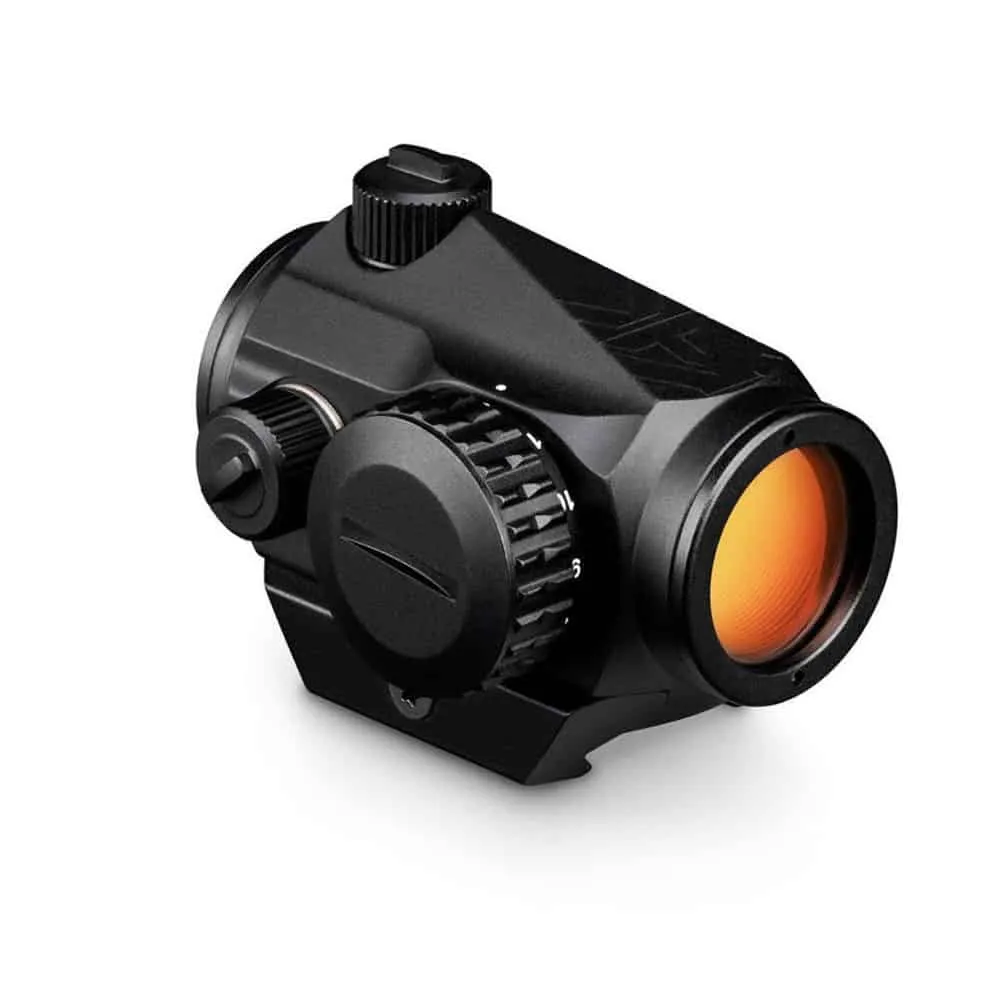 Last, but not least, here's the Vortex Optics Crossfire 2 MOA Red Dot Sight that's almost entirely head to head with the Primary Arms SLx MD-20 and the MD-ADS models, in price and what they have to offer.
Though heavier than the SLx MD-20 with 7 ounces, some of you may notice that the 2 MOA dot reticle is slightly crisper than the MD-ADS.
Both have a 50,000-hour battery life, 11 brightness settings with night vision compatibility, and a shielded elevation turret. However, the unlimited eye relief is what sells this one over the SLx MD-20.
Conclusion – The Primary Arms Advanced Slx Micro Dot Sight (MD-20) Is an Absolute Powerhouse Among Budget Red Dot Sights
To sum it up, all of the SLx MD-20 Micro Red Dot's features are combined to form an outstanding, cost-effective red dot sight that's perfect for those who don't like to keep babying their AR-15 optics and worrying about their well-being all the time.
It's a decent option if you want to spare your hard-earned dollars on other stuff, like rifle bipods. Its sturdy construction and overall impressive red dot clarity aside, I wouldn't recommend this if you're a law enforcement officer or in the military.
The thing is, I'm very pleased with how Primary Arms handle customer service, as well as overall feedback and criticism that they ardently use to perfect their firearms designs. It's just exemplary etiquette that's deserving of attention, and I'm really looking forward to newer models or maybe new improvements in the optics business.
While there's still time for them to fully immerse into their craft of more high-end equipment, the MD-ADS models stand their ground and have proven themselves to be a durable standard among red dot optics.
Stay safe and shoot straight.
Explore more