Primary Arms SLx 1-8x Scope [Review]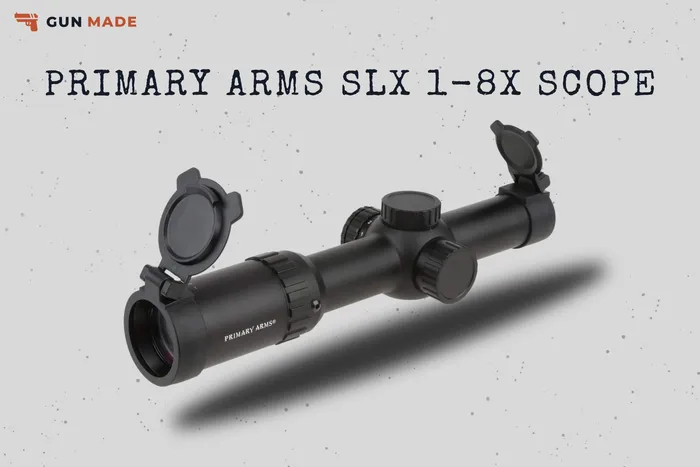 Primary Arms SLx 1-8x Scope [Review]
From forums to user reviews, to user comments, I've got the lowdown on everything you need to know about this rifle optic from Primary Arms. Today, I'll break down the key features, advantages, and disadvantages of using this rifle scope.
I found the Primary Arms 1-8x to be an overall good budget product that gives you a lot of value for the cost. It has some excellent features but also some drawbacks that can be deal-breakers for some prospective buyers.
And if I ultimately sway you away from the 1-8x, not to worry! I've got some great alternatives that might be more suitable for you if the Primary Arms 1-8x isn't your cup of tea.
Keep reading to find out if the Primary Arms 1-8x Variable Rifle Scope is a good fit for your gun budget.
Primary Arms 1-8 Overview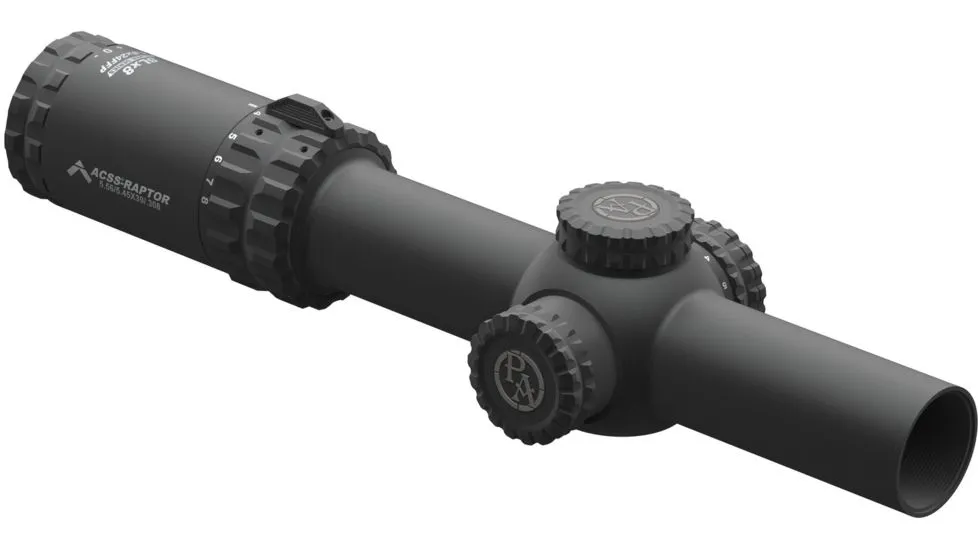 The Primary Arms 1-8x is a variable rifle scope with an ACSS reticle. 
This scope is mounted to your rifle through rings attached directly to the receiver of your rifle or through the use of a Picatinny rail that allows the scope to be slipped on or off. Just make sure to get the right scope rings to attach to the rail.
Primary Arms 1-8x Specifications
| | |
| --- | --- |
| Lens Diameter | 24 mm |
| Magnification | 1-8x, Variable  |
| Field of View | 100 – 14.5 ft at 100 yds, Linear |
| Weight | 16 oz |
| Color | Black |
| Reticle | ACSS 5.56/4.45/.308 |
| Tube Diameter | 30 mm |
| Eye Relief Measurement | 3.3 – 3.5 in |
| Reticle Focal Plane | Second Focal Plane (SFP)  |
| Field of View | 110 – 14.5 feet  |
| Scope Width | 3"  |
| Finish | Smooth matte |
| Fabric/Material | 6063 Aluminum    |
| Overall Length | 10.4"  |
| Overall Width | 3.63"  |
| Overall Height | 3.5"  |
| Illumination | LED, Red |
| Additional Features | Capped Turrets |
| Weather Resistance Features | Fog resistant  |
| Water Resistance Features | Waterproof |
| Shockproof | |
Pros/Cons
These specifications and features contribute to some of the strengths and weaknesses of this rifle optic.
Pros
Lightweight
Low-cost
Durable
12 brightness settings
Cons
Not compatible with night vision
Glass quality is middle of the road
Primary Arms 1-8x Features
Next, we will go over the features that make the Primary Arms 1-8x scope unique.
Great Value for 1-8x Magnification
Usually, scopes that go all the way up to 8 magnification can start to get pretty expensive. 
The Primary Arms 1-8x is relatively inexpensive compared to its competitors, which makes it quite impressive considering the quality of the glass you get for the price.
The 1-8x magnification makes the Primary Arms 1-8x much more versatile, equipping you for all-new terrains and targets. 
The 1 power of the optic can be used for close-in shooting quite well because it is fast to track static targets, comparable in speed to a red dot sight's performance.
The 8-power allows you to aim reasonably accurately up to around 500 yards depending on the rifle you have it mounted on.
ACSS Reticle
The ACSS reticle combines a system that accounts for bullet drop with wind holds and leads for moving targets to give you a sophisticated targeting system.
The design stems from other successful rifle designs, such as the Advanced Combat Optical Gunsight (ACOG), auto range scopes, and bullet lead scopes. 
The designer combined the best features of these scopes into the ACSS reticle, which gives it the ability to have all of these complicated tracking features in one compact and excellent value scope.
These scope features make it user-friendly and very reliable.
Great Budget Scope for Hunting
Because the Primary Arms 1-8x is very durable and low cost, it is an excellent choice for a hunting rifle. 
Often in the woods, more premium scopes will take a beating in dense brush and during activities like climbing in and out of tree stands. 
If you take the expensive optic glass out on hunts, you are asking for something to happen to it and require it to be replaced sooner rather than later.
The Primary Arms is excellent because you don't have to worry about a few dings comprising the scope, and you can focus on the hunt rather than focusing on protecting your scope glass.
Waterproof And Fog-Resistant
Fog proofing and waterproofing add to the cost of production to a scope, so the Arms 1-8x has these features while still being a budget option speaks to its value for your dollars.
These features are essential to ensure you can continue aiming accurately in different weather conditions like rain or humid weather. 
Fog can turn your optic scope into an expensive paperweight without fog resistance. Oxygen and moisture into your scope can cloud the glass lens and make it hard to use.
Manufacturers combat this by purging the moisture through a process called nitrogen purging, where nitrogen is used to replace the air inside.
Twelve different Brightness Settings
The Primary Arms feature red illumination with twelve different brightness settings at your disposal.
These brightness settings give you excellent illumination for a long distance. They are adjustable from dim to daylight bright, thanks to the extra brightness options compared to other scopes, which only feature 5 or 6 different brightness settings.
These brightness settings are great for the price, and while it isn't the best illumination on the market, it is serviceable for a generalist budget scope.
Great for Plinking or Competition Settings
Thanks to the ACSS reticle design being quick to acquire targets at short ranges, this scope is a great choice to enter an informal plinking or shooting competition.
It has speed comparable to a red dot sight on static targets, perfect for static shooting like plinking.
Adjustable Elevation Turrets
The Primary Arms 1-8x has capped turrets that have adjustable elevation levels that make it easy to acquire targets without spinning lots of dials in between each target.
These turrets are cheap to make and are great for shooting in similar conditions. The capped turrets make this scope ideal for hunting or competition shooting, where you don't need to fiddle around with your zero mark to get a fix on the target.
A capped turret is also ideal for avoiding accidental turret movement during the operation of your rifle. When walking around with your rifle, you can accidentally bump your scope in a way that causes your turrets to move and get misaligned.
Capped turrets ensure that you don't get frustrated that your zero has changed after a long trek searching for a deer, and you finally pull up your rifle to find that your zero is ruined.
Limited Lifetime Warranty
This lifetime warranty from Primary Arms gives you complete coverage for mechanical or electronic failures.
The inclusion of a lifetime warranty is significant for the reliability of the Primary Arms 1-8x because many similar companies only include this level of warranty for a red dot sight or another similar product that is inexpensive to replace.
The warranty doesn't require that you are the owner or have ever purchased anything from Primary Arms. They just need the product, and they will investigate any damage from manufacturer defects, materials, or workmanship errors.
They even cover damage from normal wear and tear and will work to fix or replace broken parts or offer store credit if the product is unsalvageable.
It is quite a generous warranty that will give you peace of mind out in the field, so a costly rifle handling mistake isn't put you out financially.
Alternatives
If the 1-8x doesn't seem like the right fit for you, here are some other scope options that make good alternative products for it.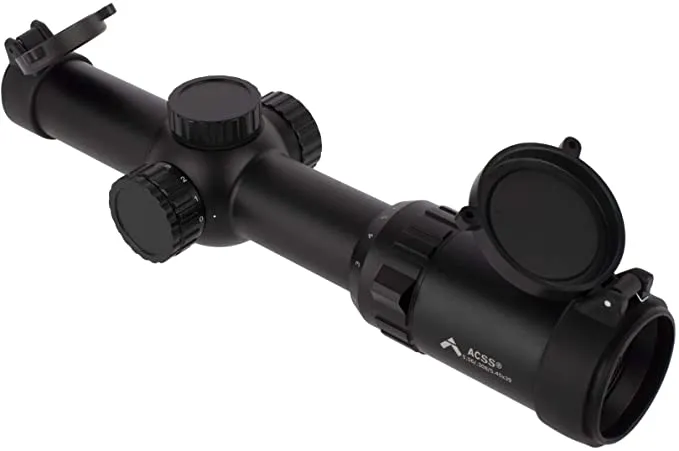 If you don't need a high magnification or can't justify spending the extra money just to get it, the Primary Arms 1-6 is cheaper, and you still get a lot of the same product benefits.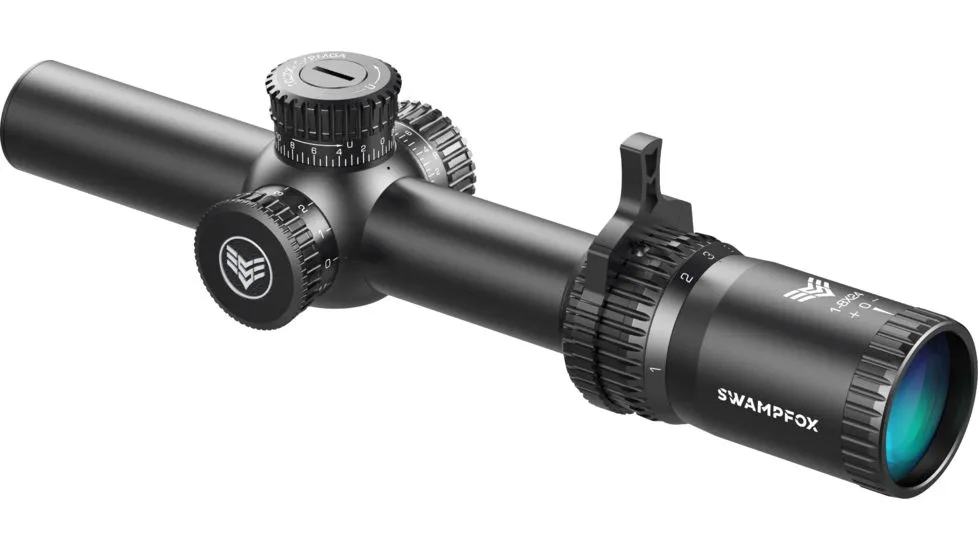 The Swamp Fox Tomahawk is an excellent alternative 1–8 that is slightly less expensive than the Primary Arms 1-8x. However, it is not entirely waterproof and has an inferior eyebox compared to the Primary Arms 1-8x scope. 
This disadvantage means that the eye box is not as forgiving, and you will need to employ greater accuracy and experience using this scope to produce similar results to the Primary Arms 1-8x.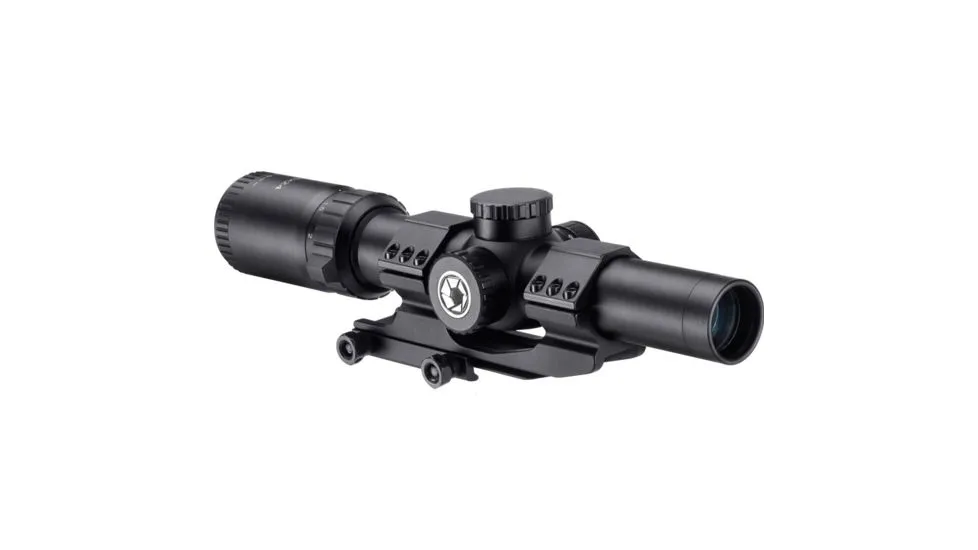 This alternative scope is around the same price as the Primary Arms 1-8x and performs similarly. It only has five brightness levels but is nitrogen purged to allow for waterproof, fog proof, and shockproof scope.
Final Thoughts
The Primary Arms 1-8x variable rifle scope is a great budget all-rounder that is lightweight and exceptionally durable for the price.
You get a decent quality optic glass that is waterproof and fog proof. It is a solid close to mid-range optic that performs well during hunting, competition, and general home defense situations.
The innovation ACSS reticle combines the best features of past reticles into a sophisticated scope that makes target leading, dealing with wind holds, and coping with bullet drop simple.
Explore more