Primary Arms SLx 1X MicroPrism Scope Gen II Review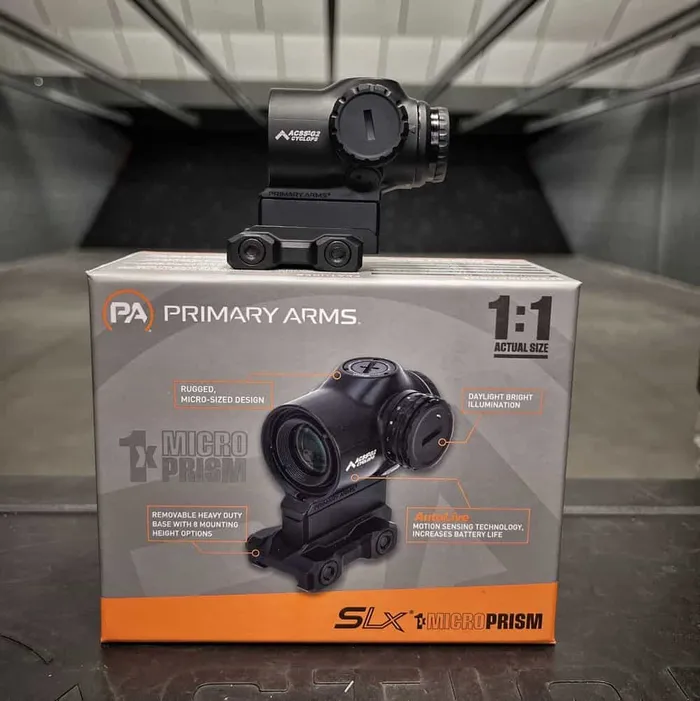 Primary Arms SLx 1X MicroPrism Scope Gen II Review
Introduction
Having an astigmatism myself, I've found prism scopes to be extremely beneficial. The typical red dot often looks like a starburst for me, so I'm always one of the first to raise my hand when a prism scope review is up for grabs.
The Primary Arms SLx 1x Microprism Gen 2 fits many of the criteria that I typically look for from a quick glance. It's compact, has that nice etched reticle, and plenty of brightness settings that include night vision compatible ones. In addition, it isn't glaringly overpriced like some others on the market.
While boxes seem to be getting checked from the specs alone, you always have to test the optic for yourself. Keep on reading for my two cents on the SLx 1x after shooting with it.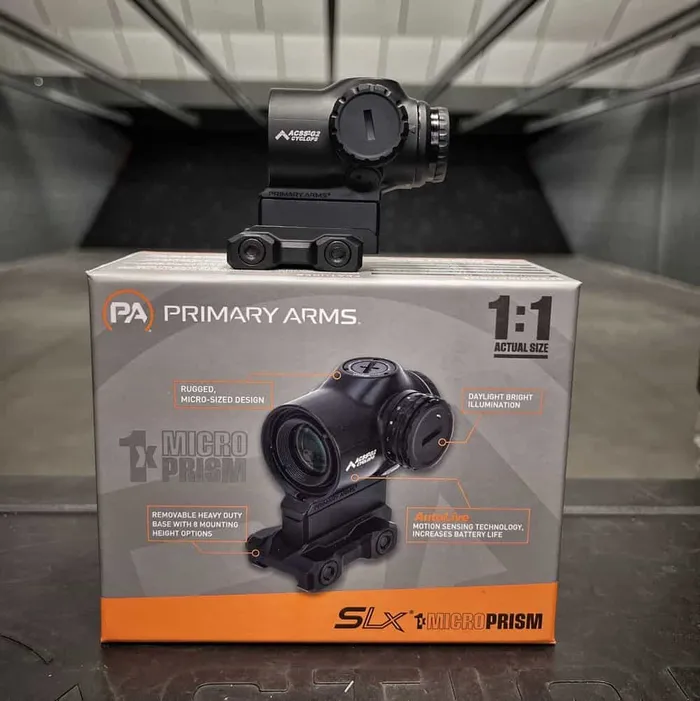 Primary Arms SLx 1x Review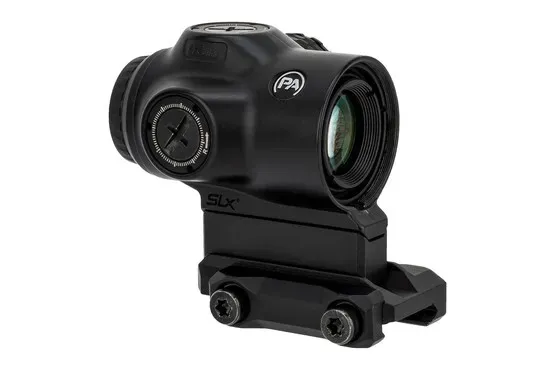 Specifications
| | |
| --- | --- |
| Reticle | ACSS Cyclops Gen II |
| Magnification | 1x |
| Illumination Settings | 13 Settings Including 3 Night Vision |
| Battery Life | 29,000 Hours at Medium Setting |
| Battery Type | CR2032 |
| Field of View | 76.5 Feet at 100 Yards |
| Weight | 7.6 Ounces (w/ riser) / 5.5 Ounces (w/out riser) |
| Waterproof | IP67 |
Pros & Cons
Pros
Easy to adjust (brightness, elevation, and windage)

Long battery life

Night vision compatible

Several included mounting options
Cons
Uneven reticle brightness (sporadically)
Shooting the SLx 1x
Reliability
When it came to holding zero, staying illuminated on the same setting and turning off and on automatically, I had no issues.
The one issue I did have however, was that the reticle would randomly have one side get brighter or dimmer compared to the other. It wasn't a crazy difference, such as a level 1 vs. 1,000, but you could definitely notice it. It didn't happen often, but it shouldn't happen at all.
Accuracy
The SLx 1x was extremely easy to get zeroed with just a few shots.
No tools were needed to adjust windage or elevation, and once it was locked on, you are set. While you can use a 1x prism scope out to a couple hundred yards, I only had access so far to 50 yards.
But, at various ranges within 50 yards, I had no problems adjusting my aim and maintaining tight grouping with both 9mm and 5.56.
Features
ACSS Cyclops Gen II Reticle
Especially with prism scopes, the reticle is the star of the show. The ACSS Cyclops gives you a ton of power with that one eye you're aiming with! You can estimate target distances, adjust aim accordingly from short to long distances using the Chevron tip.
Depending on what caliber or gun you're shooting, you can get even more specific with aiming suggestions.
While the reticle is easy to see in daylight or low light conditions, I did have a slight issue off and on with it, as I mentioned above. Every so often, one side of the reticle would get significantly darker than the other. Hoping it was just a one-off.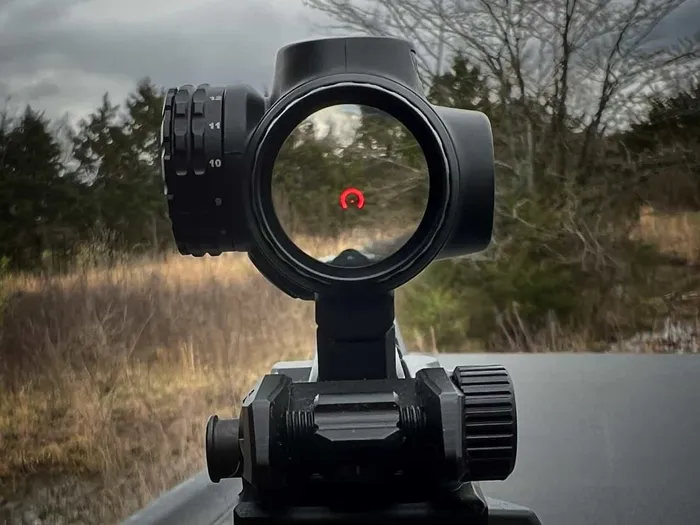 Night Vision Compatible
You get three night vision compatible settings with the SLx 1x.
You just have to keep turning the brightness dial until you land on N1, N2 or N3. The three settings are low, medium, and flood. Unfortunately, I didn't have the right gear to test these settings.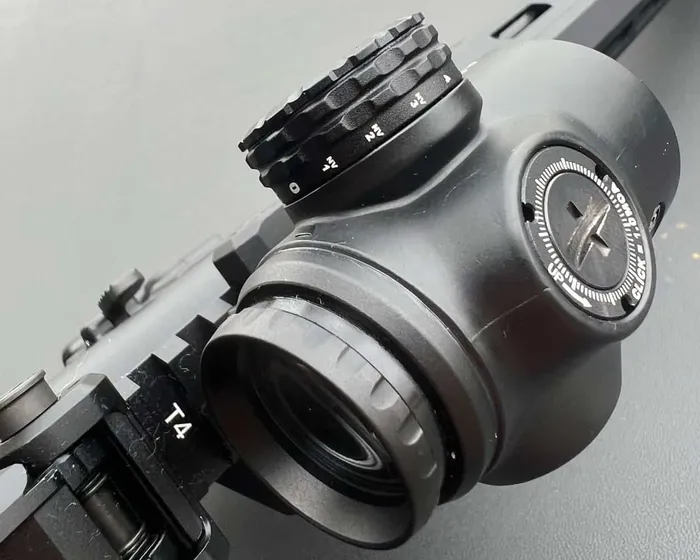 Mounting Versatility
This is one area where the Slx 1x definitely does not disappoint. It offers eight different mounting height options thanks to the included spacers.
I kept mine pretty standard and didn't have to mess with the spacers, but having the ability to mount it so many different ways is a great plus.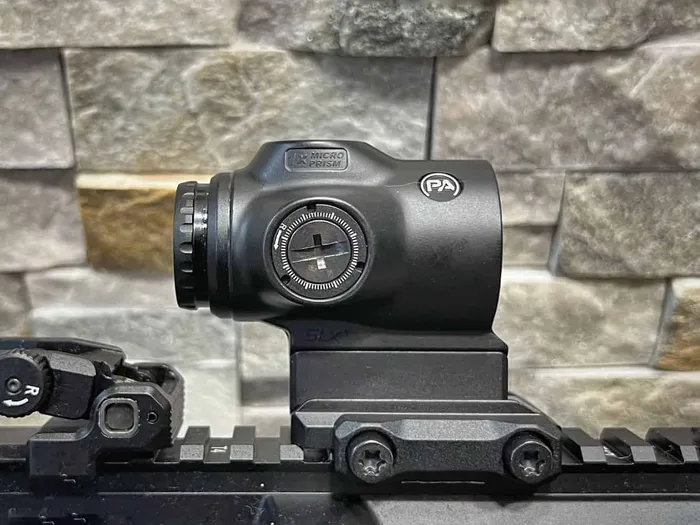 Auto On/Off
Can't really take a picture of this feature, but I can confirm that it works. The second you pick up the optic and move it, it's already on. You'd be hard-pressed to "beat" the optic.
Score Card
Features (8.5/10)  
13 brightness settings, 8 mounting height options, and auto on/off to name a few.
Ease of Use (9/10)
The windage, elevation, and brightness were simple to adjust. It also mounted quickly and easily.
Appearance (8/10)
It's small, sleek, and smooth.
Value (8/10)
With an MSRP of $269, it delivers a solid value but I would like to see it a little bit lower in price to really stand out.
Accessories
There aren't many accessories to add to the scope itself, but there is one I would recommend.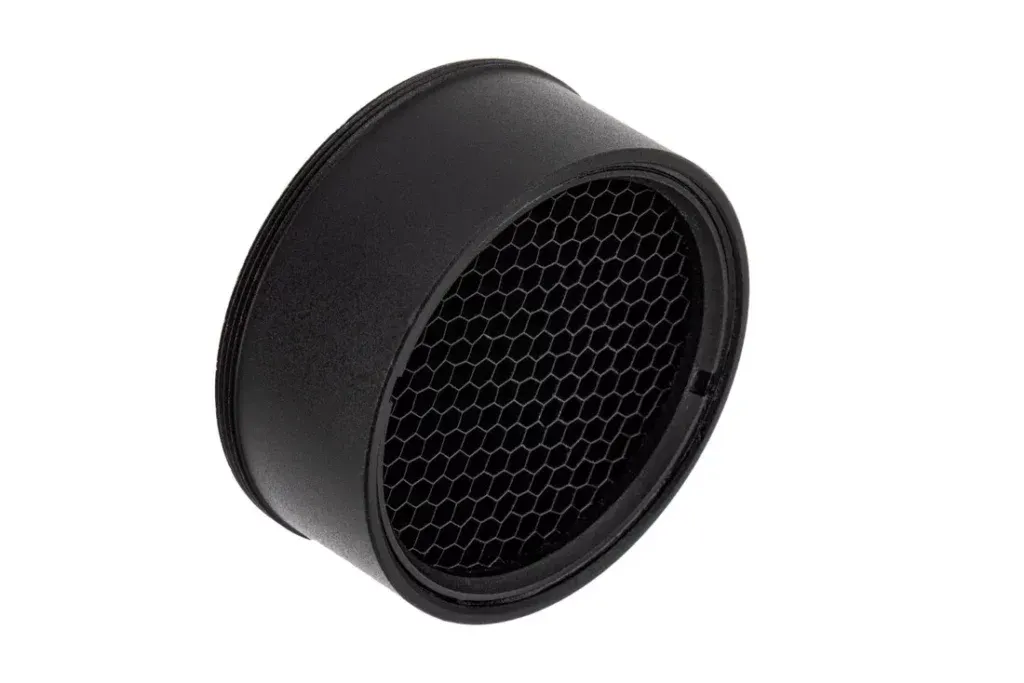 Often used by military and law enforcement, anti-reflection devices are just what they sound like.
Their main objective is to reduce or eliminate excess glare given off from your scope, to avoid giving away your position. They also can help minimize scratching of the lens by keeping debris out.
Alternatives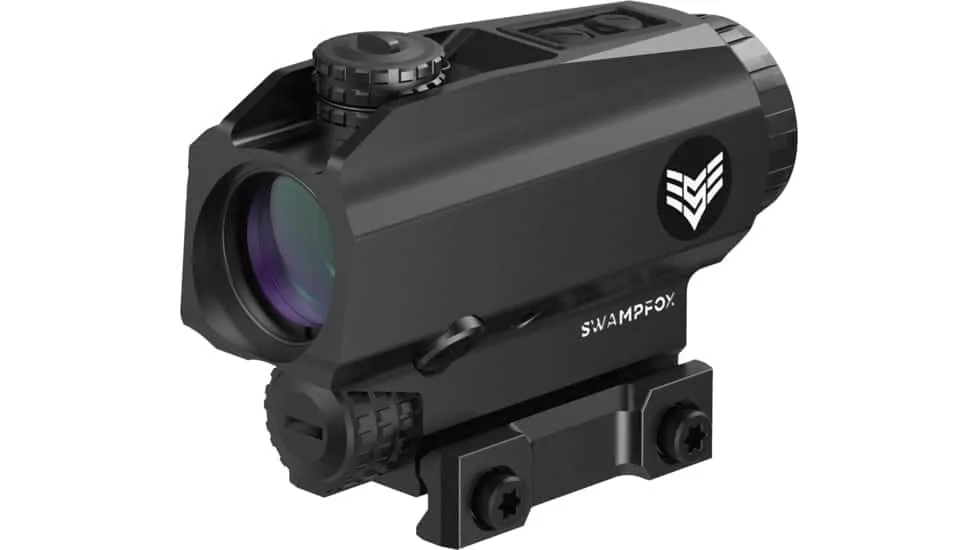 Sticking with the 1x prism scopes, the Blade offers shake 'n wake auto on/off, a Bullet Rise Compensating reticle, and has dedicated holds for 5, 10, and 15 yards.
You can order it with a red, green, or amber reticle, all of which are night-vision compatible. It even comes with a flip-up lens covers and an anti-reflection device.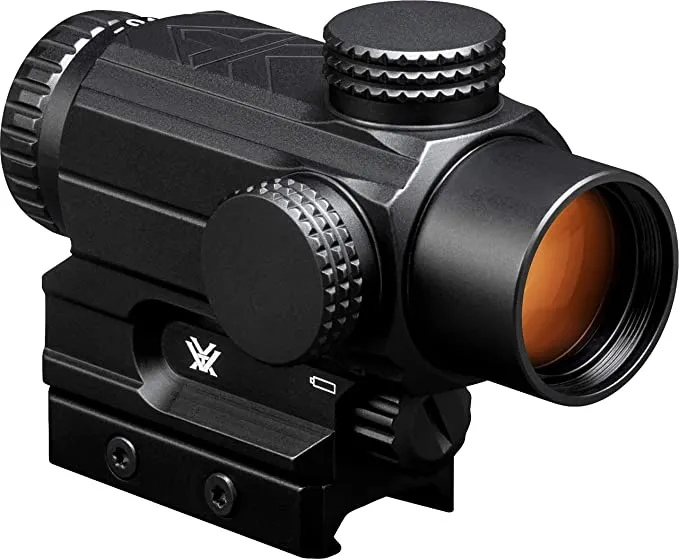 The priciest of the bunch, the Vortex Spitfire features a 5.56 BDC turret which allows for configurations to 700 yards with popular AR-15s. Battery life is up to 3,000 hours on the lowest setting or 250 hours on the highest.
It has a red or green circle dot reticle, which makes target acquisition very easy. Vortex also offers a lifetime warranty.
Conclusion
Primary Arms has developed a solid reputation in the optics field, and for a good reason.
You get a quality optic, with many of the leading features you'll find in the competition for a decent price.
I would like to test another to see if this reticle brightness issue was just a one-off or a recurring issue, but otherwise, I don't have any reservations about running this optic.
The price isn't horrible or great, so I'd say the value is average. With that being said, if you're budget is keeping you around the $250 mark, I would say it's at least worth checking out the Primary Arms SLx 1x Microprism Gen 2 for yourself.
Explore more