Palmetto State Armory AR9 Lightweight Pistol Review: Low Price but High-Value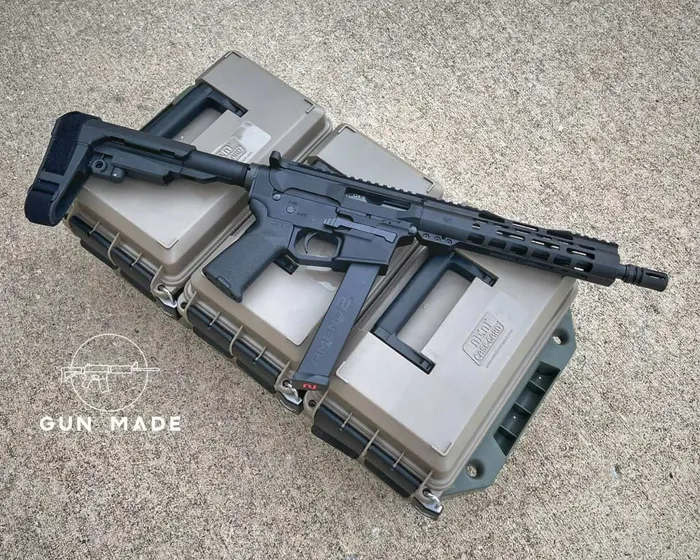 Palmetto State Armory AR9 Lightweight Pistol Review: Low Price but High-Value
The PSA AR9 was my first Palmetto State Armory firearm, and to be honest, I don't see it being the last. As much as I love my AR-15s, I've been getting into the pistol arena more lately and am really enjoying it. 
The versatility that the compact size brings makes them ideal for home protection, and they are great fun at the range. With this specific pistol being chambered in 9mm, you have even less to worry about with potential over-penetration, and it's much more affordable to shoot all day than its 5.56 counterpart.
I've been able to spend some time shooting, cleaning, and familiarizing myself with the PSA Gen4 10.5" Pistol, and I am excited to share my experience so far in this PSA AR9 review. 
Palmetto State Armory (PSA) AR-9 Pistol Review

Specifications
| | |
| --- | --- |
| Caliber | 9mm |
| Capacity | 31 Rounds |
| Weight | 8.2 Pounds |
| Barrel Length | 10.5 Inches |
| Barrel Twist | 1:10 Twist Rate |
| Upper and Lower Receiver | Forged 7075 T6 Aluminum |
| Bolt Carrier Group | Gen 4 Hybrid 9mm |
| Muzzle Thread | 1/2 – 28 |
| Muzzle Device | Birdcage Flash Hider |
| Fire Control Group | Single-Stage, Mil-Spec  |
| Handguard | PSA 9" Lightweight M-Lok |
Pros and Cons
Pros
Low price point
Upgraded and custom furniture
Reliable with the right magazines
Lightweight but durable
Cons
ETS magazine is unreliable
No backup sights
Unboxing
Unboxings are still always exciting to me. They make you feel like you're opening a present on Christmas morning. 
The box is one of the nicest I've seen in a while. Aside from the standard literature and lock, you'll find the pistol itself and a 31-round clear Elite Tactical Systems (ETS) magazine. It doesn't come with any sights or optics, so I added the optic you see below after getting it home. I didn't expect to find anything else in the box, so I'd say expectations were met.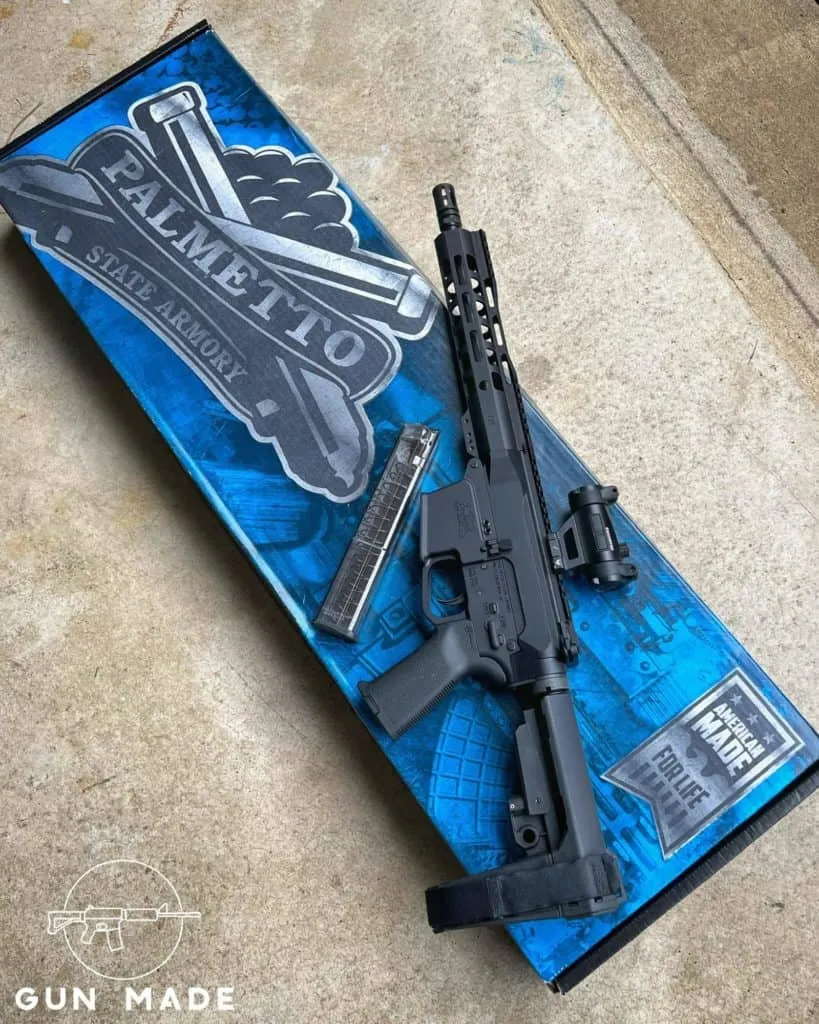 Features
At such an impressive price point, it's nice to see the upgraded furniture and custom PSA parts. While you've probably seen some of the furniture on other guns, this AR-9 includes everything you need, plus more, such as the custom PSA lightweight handguard.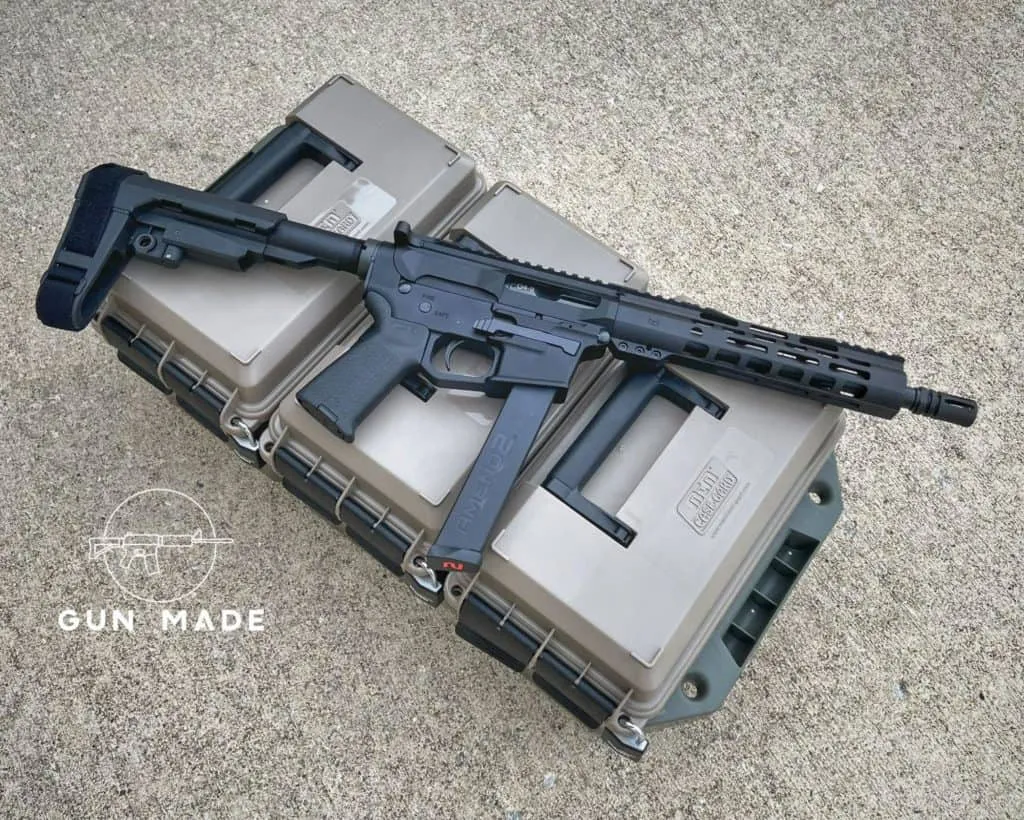 Handguard
The pistol features a 9" lightweight M-Lok free-float handguard with a pretty unique rail. As you'll notice in the photo below, there is a break in the rail about two-thirds of the way down the barrel, before it resumes at the end to allow for mounting backup sights if you want. 
I would assume it's to reduce as much weight as possible, but it also creates an extremely comfortable place to grip. There is still plenty of space to mount your favorite optic or attach any M-Lok compatible accessories on the handguard. Overall, I really like this handguard and would even potentially upgrade to it if it were an option.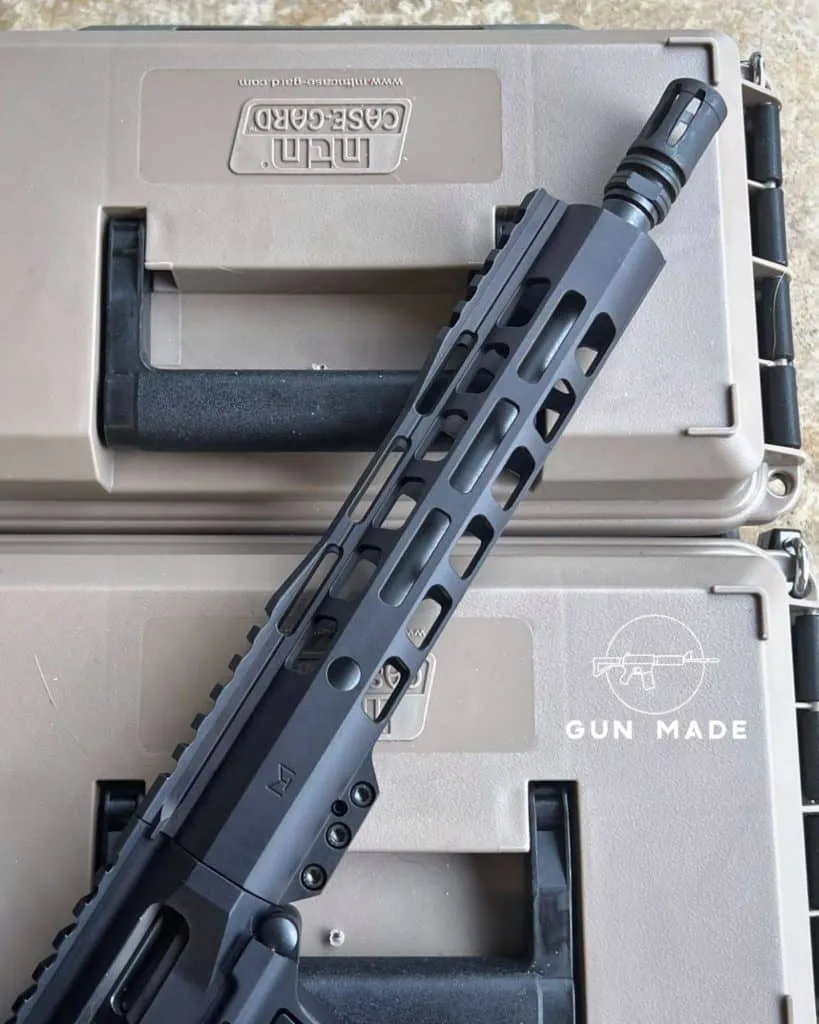 Pistol Brace
Probably one of the most popular pistol stabilizing braces on the market, the SB Tactical SBA3 is a great choice for this gun. It has five adjustable positions, an ambidextrous QD sling socket and is made in the USA. Its minimalist design helps to cut weight as well. It was a great option to go with the lightweight theme. I do prefer a slightly more robust cheek weld, though.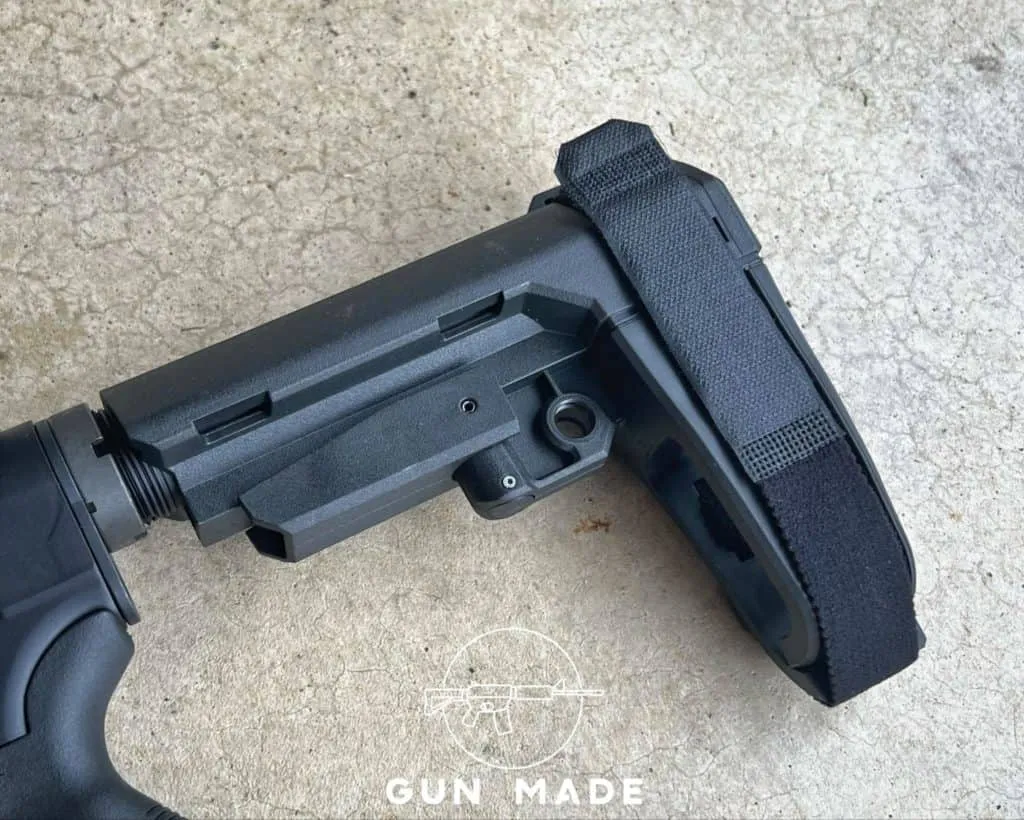 Grip
I despise the standard A2 pistol grip that comes on many of the budget rifles or pistols. It's uncomfortable, unattractive, and non-value adding. There are honestly too many well-priced aftermarket grips that are so much better. I don't see why any companies ever wouldn't include a better one on their builds. Luckily, PSA must have agreed for this one. 
The Magpul MOE is one of those affordable grips that are super popular. It has a nice 25-degree grip angle and internal storage for your batteries or an extra couple of rounds. The texturing is average, allowing you to keep a solid grip in most conditions.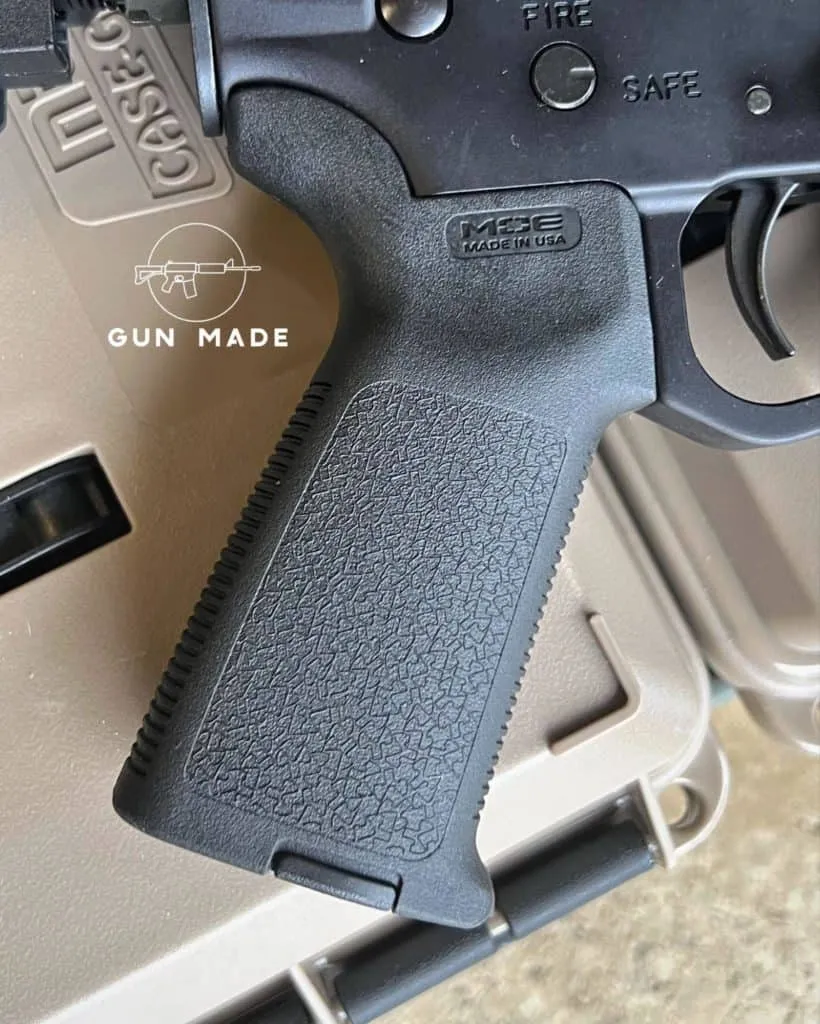 Magazine
The 31-round Elite Tactical Systems magazine is by far my least favorite aspect of this setup. On a positive note, it's not made by PSA, so you can't really fault them per se. 
Every five to ten rounds or so, I would get a failure to eject or a round stuck in the feedlips of the magazine. Once I switched over to a Glock OEM mag or Amend2 mag, I literally did not have another failure. The capacity is nice, but useless if the mag keeps failing!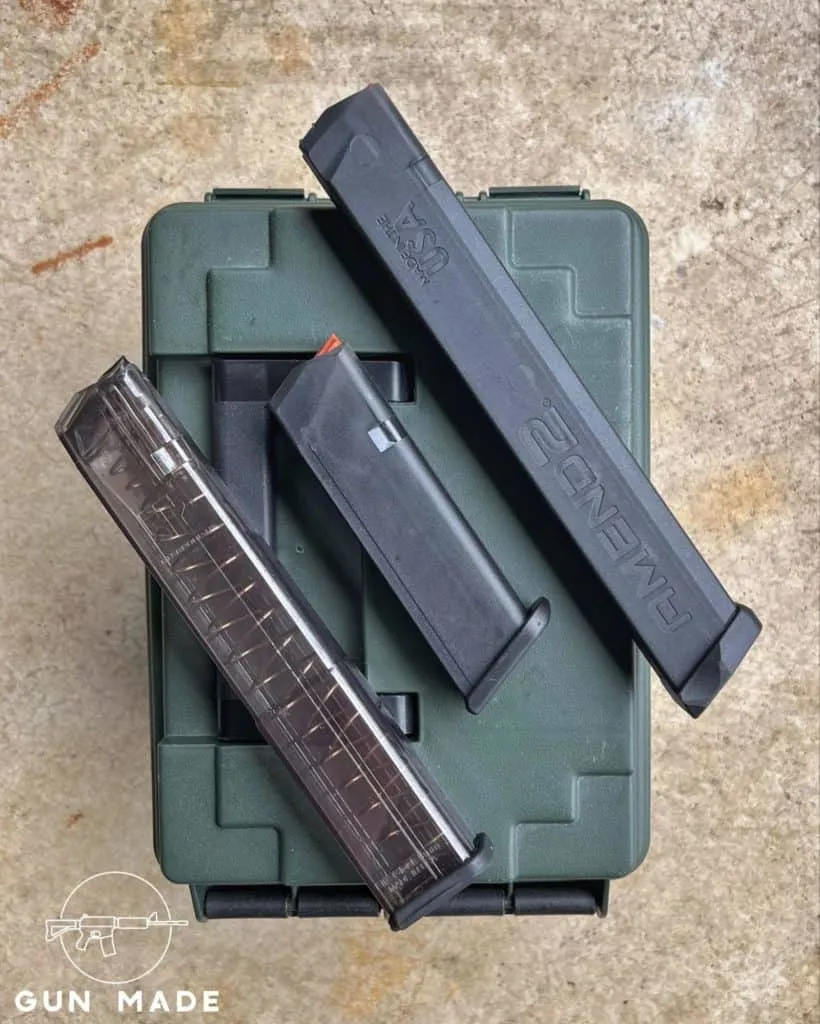 Controls
The only real basic aspect of the gun is some of the controls. You won't get an ambidextrous safety or charging handle, but I wouldn't expect it at this price point. Both of which I'll likely upgrade eventually. 
The stock trigger is your standard single-stage, mil-spec version that you find on many entry-level AR-15s and pistol caliber carbines. The trigger pull is consistent and functions well enough to not need replacing.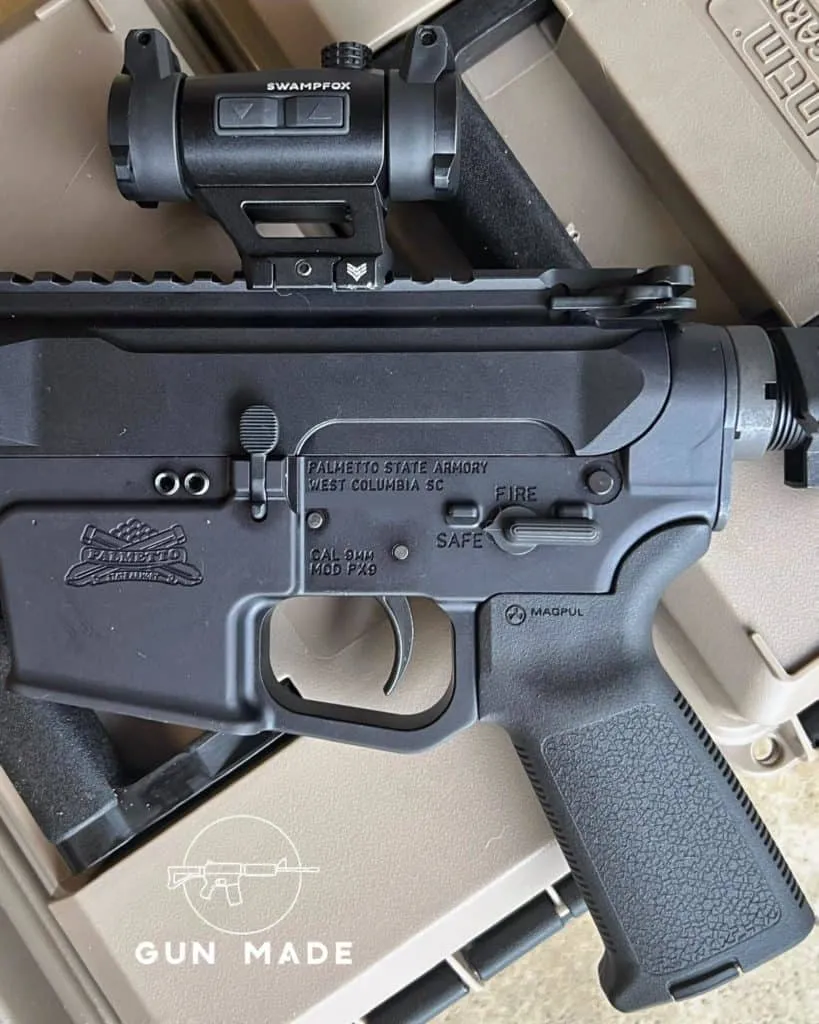 The magazine release, though, is wonderful. It's placed perfectly and is very easy to manipulate. I like it better than many of the others found on even the most expensive pistol caliber carbines. It made practicing reloads very easy from the get-go.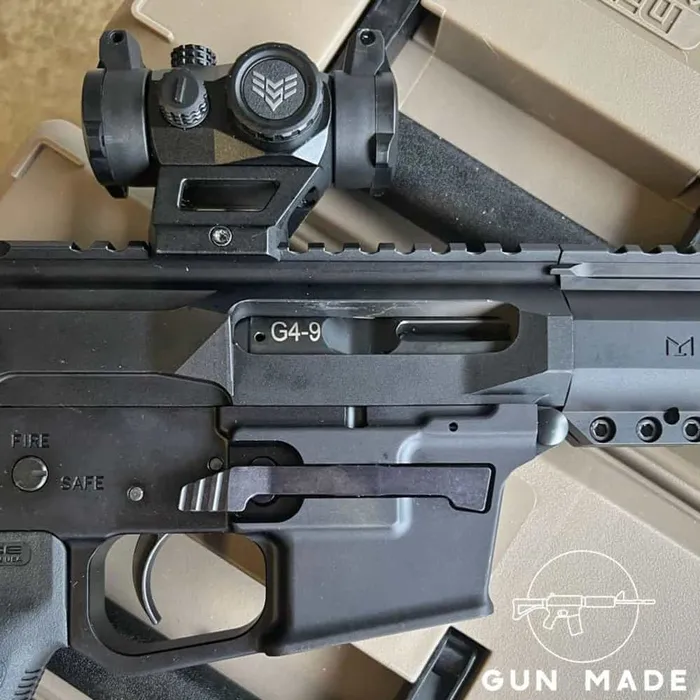 Range Report: Reliability and Accuracy
Reliability
Reviewing AR-9s like this is always a blast when it comes to the range time…pun intended! I've quickly put 225 rounds through it, with very few issues. As I mentioned earlier, I experienced several failure-to-ejects and jammed magazines, but only with one specific magazine, which is why I still consider there to be only a "few issues". 
The 31-round ETS mag that came with the gun wouldn't go more than 10-rounds without having a round get stuck in the feed lips or causing a failure to eject. I made sure to test several different types of ammo as well, so I can confirm it wasn't an ammo issue. Thankfully, we had plenty of ammo to also test the different magazines with, thanks to GunMag Warehouse, who helped stock us up right before the review. Once I switched over to Glock OEM mags and Amend2 mags, I literally did not have one more issue. 
Here is an example of how the ETS mag caused issues, while the Glock OEM and Amend2 mags did not. 
Accuracy
The 10.5" chrome-moly steel barrel features a 1:10 twist and is nitride treated for durability. Being a tad longer than a few of the other pistols I've shot recently, it seemed to make the accuracy all that much easier to attain. 
I decided to add my Swampfox Liberator II red dot sight and had no problems from three yards to 50 yards, and every distance in between. I have a range day coming up at my not-so-local 200-yard outdoor range, so I'm excited to see how far I can push the AR pistol.
Since it shipped without any sights, it's hard to completely say how accurate the gun itself is, since optics play a huge part. However, since I'm used to the optic and know how well it can shoot, I felt the PSA AR-9 played its part in the accuracy just fine.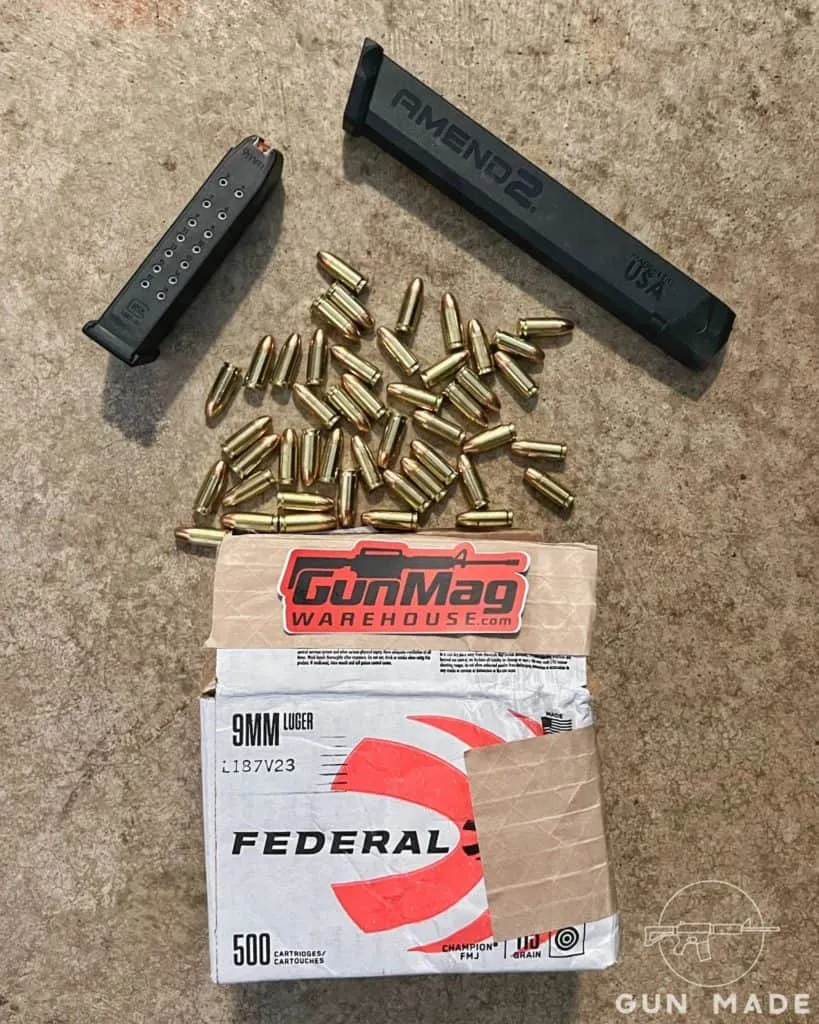 Accessories
Since the accessories can be a bit limited regarding pistols due to "legal" reasons, I'll focus on braces, optics, and magazines. The PSA AR-9 already comes with one of my favorite braces, but doesn't have any sights or optics. Let's take a look at an alternative brace and some optics and mags to consider. 
Pistol Stabilizing Braces 
When it comes to stabilizing braces, I almost always stick with SB Tactical. They invented the original stabilizing brace and have rolled out several different models since. The SBA3 is great, but I prefer the aesthetic look of the SBA4, which is similar in features but doesn't have the "minimalist" aspect. You still get the 5-position adjustability and ambidextrous QD sling socket. Both are very popular, and I have run them with no issues. 
Optics/Sights
This is where the options are seemingly endless, and personal preference plays a huge factor.
The one that I've been running is the Swampfox Liberator II. It features Shake n Wake motion sensing, a 2 MOA red or green dot, and is night vision compatible. Best of all, it retails for only $169 and is guaranteed to work for 50,000 rounds. While it may take me a very long time to reach that type of round count, I have no concerns that it will run for a long time. 
For an even more affordable option, check out Sig Sauer's ROMEO5. It also features a 2 MOA red dot, motion-activated technology, and is night vision compatible. It's IPX-7 rated and made in the USA.
Lastly, I'd recommend throwing on a set of flip-up backup sights. Magpul MBUS sights are always a good starting point from a price and performance perspective.
Magazines
Not all magazines are created equal, as you heard me complain about earlier in the article. If you want magazines that are almost "guaranteed" to run well, go and grab some Glock magazines. If you have another pistol caliber carbine, there is a good chance the Glock mags will work with it too. 
Alternatives

The Ruger PC Carbine is another extremely popular and relatively affordable option. There are probably a dozen different models, but if you opt for one similar to the PSA pistol, you'll still get upgraded furniture, including a free-float M-Lok handguard and the ability to use Glock mags. You may find them a little heavier than the PSA lightweight models, but not to the point where it's an issue. 
Check out our Ruger PC Carbine review to get more info!

A high-end 9mm pistol that has become quite popular is the Sig Sauer MPX. It's going to deliver all of the upgraded features, from a Timney MPX trigger to three chamber recoil-reducing compensator. However, it's going to cost you. Depending on the model, you'll be looking at two to three times the price of the PSA pistol. 
Final Thoughts
At this price point, I think you'd be hard-pressed to find another AR-9 pistol with the lightweight but quality features that this one does. I plan to continue putting many more rounds through it to test its longevity and durability, but I don't feel like I'll have an issue. Whether you're looking for a new home defense gun or simply a fun range gun, I think you'd be pleased with the Palmetto State Armory 10.5" AR-9 pistol.
Explore more