Palmetto State Armory JAKL Review [2023]: Your Next Truck Gun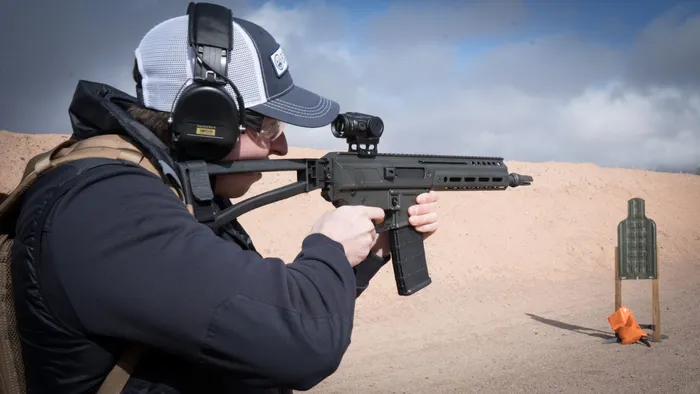 Palmetto State Armory JAKL Review [2023]: Your Next Truck Gun
Introduction
I follow Palmetto State Armory rather closely, as I've found many of its guns to be high on the value totem pole. When I saw the PSA JAKL being teased at SHOT Show in 2020, I followed even more closely because I wanted to get my hands on one for a Jakl review.
After a few production delays, the JAKL was finally released in 2022.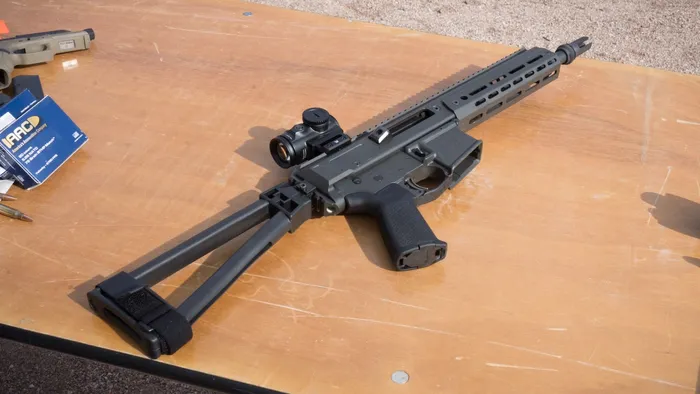 I had the opportunity to handle one soon after it came out, but it wasn't until this January at SHOT Show 2023 that I could finally shoot one! Let's just say that the Gun Made team spent some extra time at the PSA range, getting acquainted with the JAKL.
It's obviously a compact gun, but to be considered a solid option for a truck gun or go-bag gun, we had to see if it was reliable and accurate too. Keep reading to see how it performed and what we ultimately thought of the JAKL in our review.
PSA JAKL Review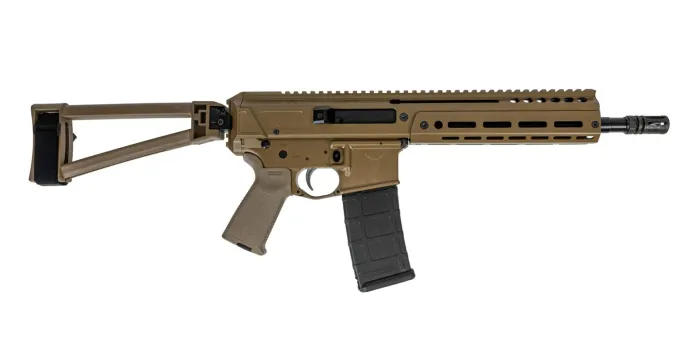 Specifications
| | |
| --- | --- |
| Caliber | 5.56 NATO |
| Capacity | 30+1 |
| Operating System | Long Stroke Gas Piston |
| Barrel Length | 10.5 Inches |
| Twist Rate | 1:7 |
| Thread Pitch | ½ x 28 |
| Overall Length | 29.5 Inches or 21 Inches Folded |
| Width | 1.75 Inches |
| Weight | 6 Pounds 9 Ounces |
| Upper | 6105 Monolithic |
Pros & Cons
Pros
Very compact and concealable

Monolithic receiver that's compatible with any Mil-Spec AR-15 lower

Reliable and accurate
Cons
Basic controls and pistol grip

Feels heavier than expected
SHOT Show Range Report
Reliability
With ammo being supplied and seemingly endless at Range Day, I was able to keep grabbing magazines one after the other. I don't have an exact round count of what I put through it, but I do know how many failures I experienced…zero.
I also checked with some of the other guys with us that were shooting the JAKL, and they all stated they didn't have any issues either.
Accuracy
The JAKL that we were shooting had a Vortex Spitfire HD Gen II 3x prism scope on it, which made easy work of hitting our targets downrange.
I believe it was a 50-yard range, and the steel targets at the end of it posed no issues to quickly hit and transition between. I typically wouldn't be pushing an AR pistol out further than 50-75 yards anyways, so I think this was a great test of how accurate it could be.
With the right optic, you should have no problem hitting your marks.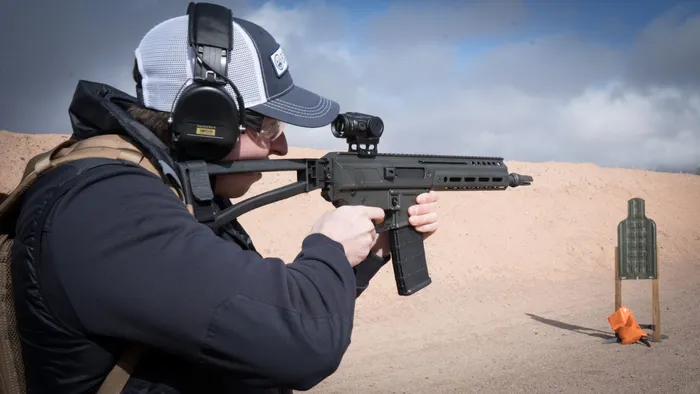 Overall Feel
Despite its small size and having a folding brace, the JAKL feels surprisingly solid when shooting. I had reservations in this department walking up, but I'll definitely admit I was wrong.
Features
Side-folding Brace
On the back of the JAKL, you'll find a Picatinny stock adapter, which will allow you to attach a variety of stocks or braces.
If you decide to buy the complete JAKL pistol, it comes with an SB Tactical TF913. It's lightweight and minimalistic, almost too much for my taste, but it does work well. I thought that it would feel flimsy or "wobbly," but I was wrong.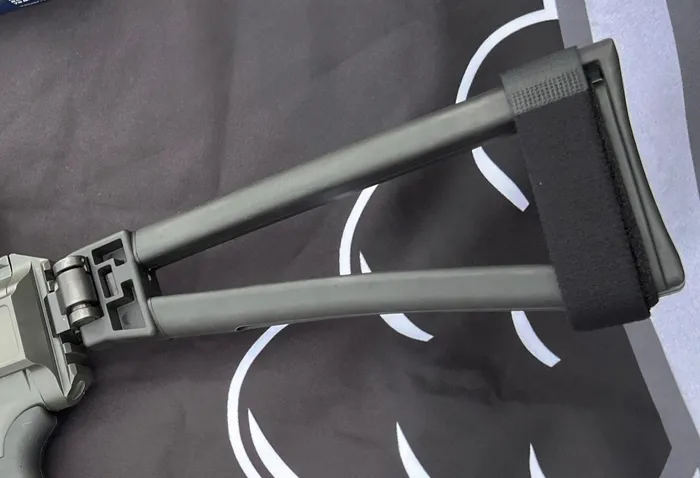 Rail System
Accessories, optics, and backup sights should be no problem to add.
The standard 1913 rail on top of the monolithic receiver runs the entire length of the gun essentially, while the handguard below has M-Lok slots at the 3, 6, and 9 o-clock positions.
I wish the JAKL had some backup iron sights attached, but it does not. Overall, the rail system should have you covered across the board.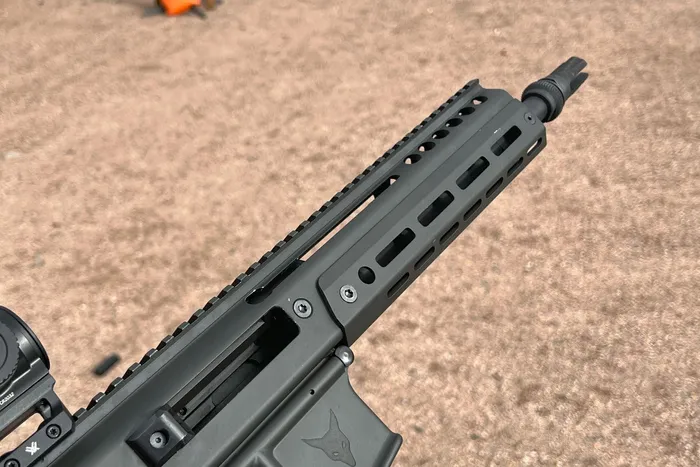 Ambidextrous Charging Handle
You may not even notice at first, but the charging handle on the JAKL is actually ambidextrous and requires no tools to swap sides.
It's pretty easy to pull, and it is large enough to do so in a hurry. I think with some more time with the gun, I would have actually really grown to like the charging handle.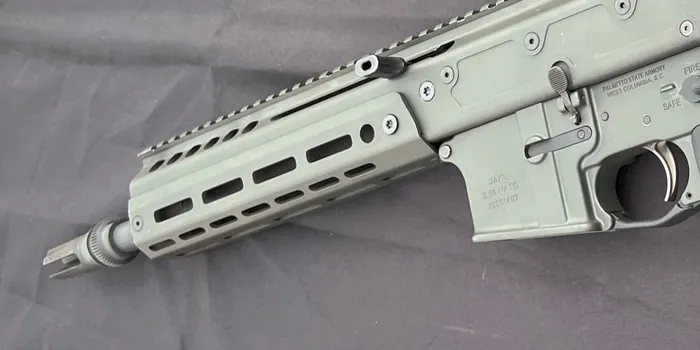 Trigger & Controls
The trigger and controls are a bit disappointing. While they all function fine, once you get around $1,000 and upwards for a gun, I like to see an ambidextrous safety or upgraded trigger at least.
The trigger, mag release, and safety are all very basic, so there isn't much to note here.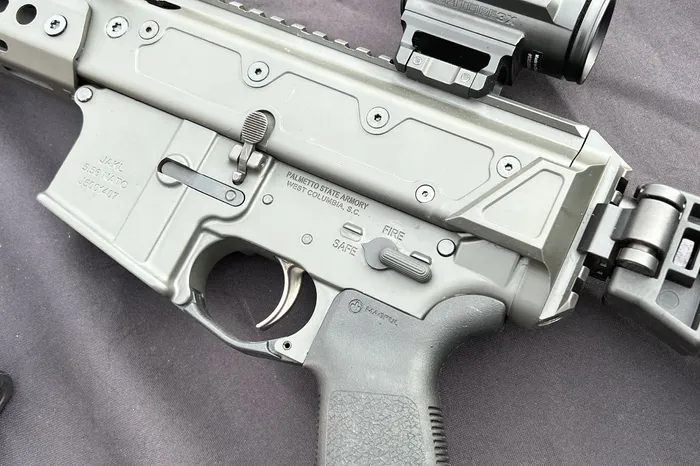 How We Tested
Ammo Used
We exclusively shot 75-grain AAC 5.56 Match ammo.
I honestly lost track of how many rounds we sent through the JAKL since the ammo was essentially unlimited throughout the day. Again, I can remember how many failures we wound up having, though… ZERO.
Score Card
Reliability (10/10)  
Every round went downrange smoothly.
Ergonomics (8/10)
For someone like me at 6'6, many AR pistols aren't the most ergonomic, but there were no out-of-the-ordinary issues with the JAKL.
Customization (9/10)
The JAKL comes in several different colors, has plenty of room for accessories and can be ordered in 300 Blackout too.
Appearance (8/10)
With a different pistol grip and brace, this rating would go up for me.
Value (8.5/10)
As I'm writing this, the JAKL is going for $999 on PSA's site. It's reliable and accurate but can use a few more upgrades (ambi controls, pistol grip etc.)
Accessories
The Spitfire HD may be pricey, but it's one of the highest-rated prism scopes out there.
It utilizes extremely high-quality glass, has five brightness settings, two of which are night vision compatible, and features a BDC reticle with holdovers out to 650 yards. On top of it all, you'll have Vortex's lifetime warranty to back it.
Depending on which exactly JAKL model you purchase, it may come with the basic A2 pistol grip. If it does, that is one of the first things I would change.
The Magpul MOE+ grip has internal storage, anti-slip over-molded rubber coating, and a nice curved beavertail. You can usually find them for $15-20, so you won't break the bank.
Alternatives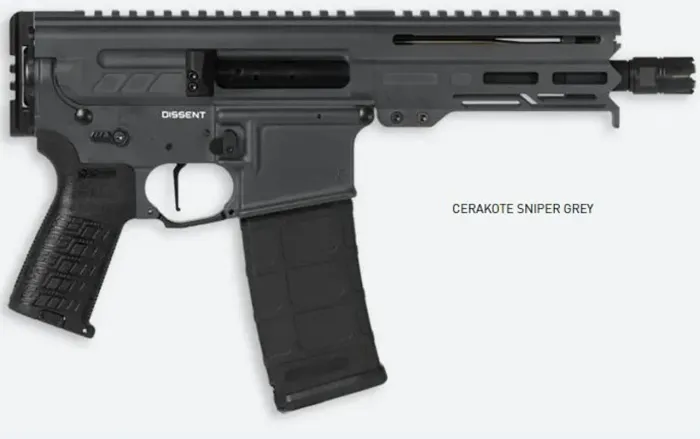 One of my favorite AR pistols I've ever shot is the CMMG DISSENT Mk4. From a quick glance, it doesn't look a whole lot different, but it is double the price tag of the JAKL. To help justify the price difference, it has a fantastic TriggerTech 2-stage trigger that was developed to be fully optimized with the DISSENT. It also features CCMG's patent-pending direct impingement Compact Action, where the entire action and recoil system is housed in the upper receiver. That means there is no need for a buffer system at all. It's a very reliable and versatile pistol.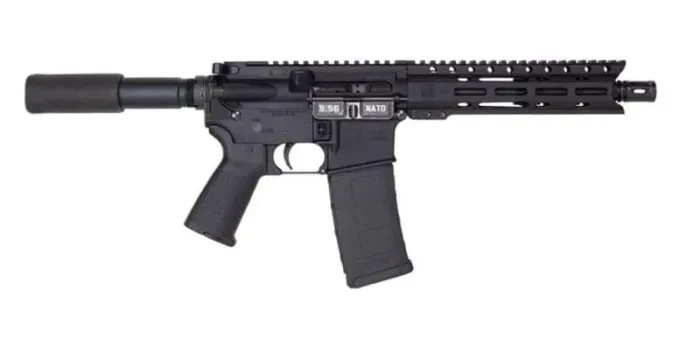 If you want a more affordable option than the JAKL, check out the Diamondback DB15 10" pistol.
You'll save a couple hundred bucks without sacrificing things like the optics-ready Picatinny rail, free float M-Lok handguard, or a quality forged 7075-T6 aluminum upper and lower.
You even get some backup sights with it, which certain other pistols seem to be missing! It's a pretty solid value, as you can sometimes find it under $850.
Conclusion
At first, I thought the PSA JAKL was overpriced…that is, until I really got to handle and shoot it.
The folding brace feels surprisingly sturdy, and the monolithic receiver adds to that feel. The fact that you can fold the brace in and take the JAKL down to 21 inches makes it a great size for the truck or your go bag.
With the JAKL being so compact, reliable, and offering a high capacity (depending on where you live, of course!), I would have no reservations about throwing this in my truck or go bag.
Do you have a dedicated truck gun? If so, what make and model is it?
Explore more