Remington V3 TAC-13 Review + Photos [2023]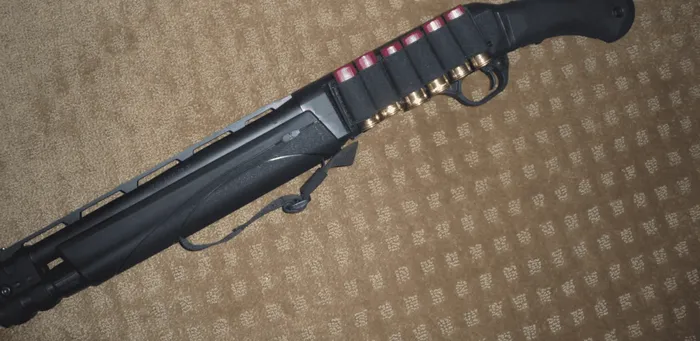 Remington V3 TAC-13 Review + Photos [2023]
If you've ever wanted to test the limits of your wrist endurance in the most insane way possible, a good place to start is short-barreled pistol-grip shotguns. Compact shotguns with a pistol grip are super fun to shoot, but their main purpose is home and self-defense.
Today, we're talking about an interesting piece of semi-automatic shotgun machinery, specifically in our Remington V3 TAC-13 review.
This is Remington's new, patented implementation of the Versaport Gas System into a more compact shotgun with lower recoil, smoother cycling, and a shorter barrel that's riding on non-regulated waves.
The name itself gives it away. Compared to the Remington 870 TAC-14, the V3 TAC-13 has a shorter, 13-inch barrel, and it's available at a hefty price.
But is it worth it?
We'll talk about the V3 TAC-13, its main features, advantages and disadvantages, how it shoots, who it's for, which shells it eats best, and we'll also mention alternative shotguns for comparison.
Before we do that, let's see what Remington were thinking when designing the V3 TAC-13.
Remington's Idea Behind the V3 TAC-13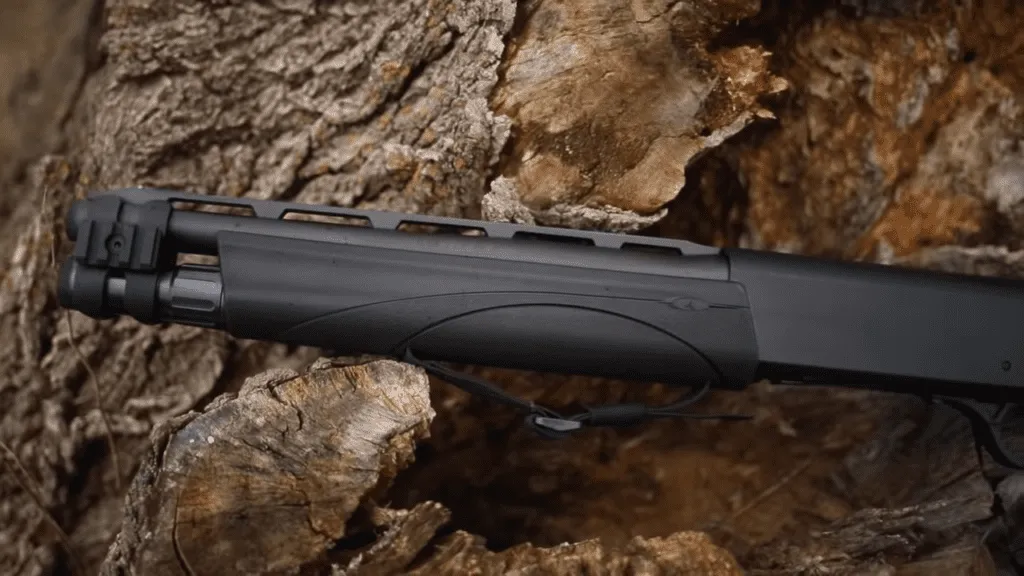 Before 'succumbing' to bankruptcy at the end of July 2020, Remington had some pretty ambitious firearms projects in mind.
One such product is the short-barrel, pistol-grip shotgun like the 2017-made Remington 870 TAC-14, which was a popular opponent to the highly-acclaimed Mossberg Shockwave.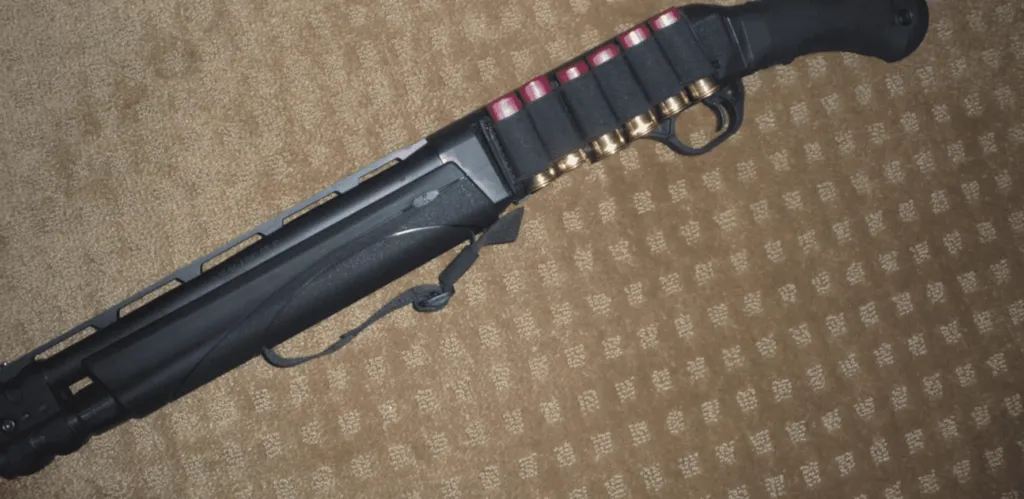 Mind you, this was in a time of political insanity and NFA-entangled gun laws.
The Mossberg Shockwave was designed with a Raptor birdshead pistol grip with a 14-inch barrel pump-action that effectively dodged the NFA's clutches and began an era of non-NFA-regulated, pistol-grip-only, short-barrel firearms.
Both the Shockwave and Remington 870 Tac-14 saw a lot of sales, but people wanted a new pistol-grip-only shotgun that wasn't pump action.
Remington saw this void and filled it with the V3 TAC-13, first introduced in October 2018.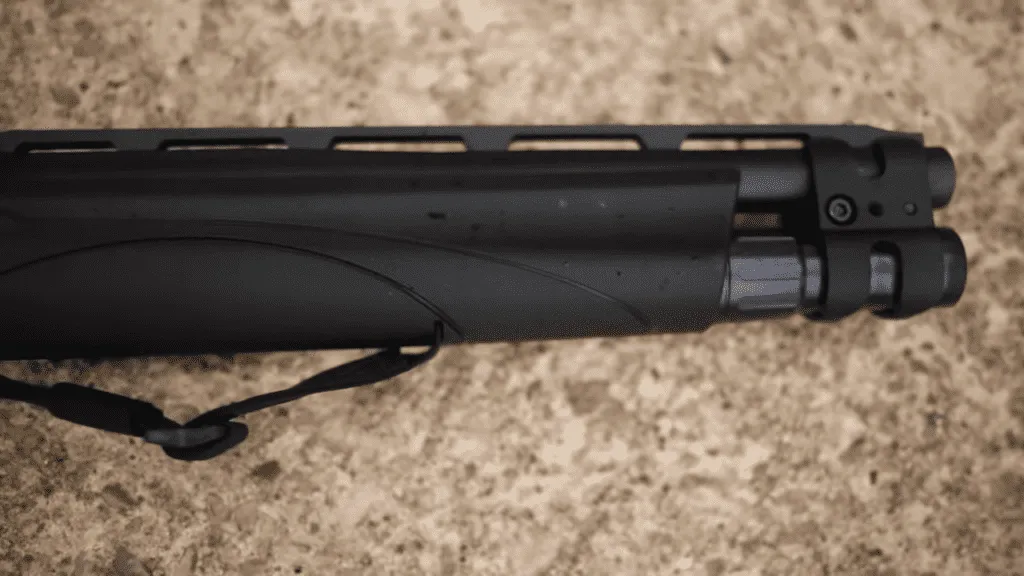 The V3 TAC-13 is a short-barreled, birdshead pistol-grip shotgun that you can't shoulder to meet the demands of the people for a tax-dodging, semi-automatic PGO. They implemented the Versamax cycling system that significantly lowers recoil for such a powerful platform.
Although Mossberg Shockwave was the first pump-action shotgun that started this whole loophole, what makes the V3 TAC-13 stand out from the rest is that it's semi-automatic.
Let's see what the TAC-13 is all about.
Remington V3 TAC-13 Review
Specifications
| | |
| --- | --- |
| Manufacturer | Remington |
| Model | V3 TAC-13 |
| Type | Semi-automatic; Versaport Gas System |
| Gauge | 12 Gauge |
| Choke | N/A |
| Barrel type | Cylinder Bore Barrel |
| Chamber | 3 inches |
| Capacity | 5+1 |
| Trigger pull | 5.4 pounds |
| Length of pull | N/A |
| Barrel length | 13 inches |
| Overall length | 26.5 inches |
| Weight | 5.9 pounds |
| Grips/Stock | Synthetic; Shockwave raptor Birds Head grip |
| Sights | Bead Sight |
| Receiver | Aluminum |
| Finish | Black Oxide |
| Accessories | Picatinny accessory rail; User's manual; Gun lock |
Construction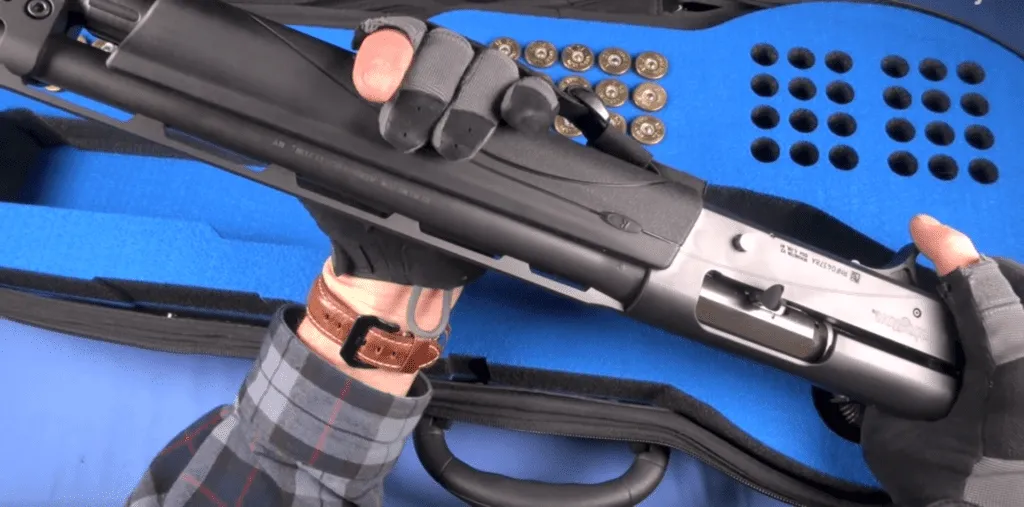 As you can see, the V3 TAC-13 is a plain old matte black shorty shotty with an aluminum receiver and synthetic grips. It isn't supposed to be a looker.
With a standard one-hand shotty construction, you can find the loading port on the bottom of the receiver, while the ejection port, bolt release, and reciprocating bolt handle are on the right.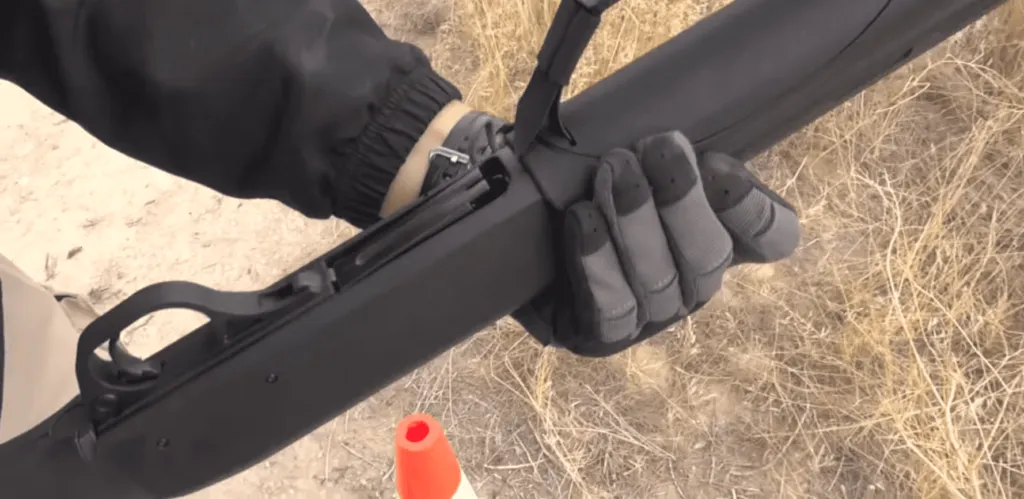 There's a hand strap attached to the TAC-13's forend, which makes up for a great forest shotgun with a controlled muzzle flip—a feature the TAC-14 doesn't have. Additionally, the QD sling swivel port allows you to carry it as a forest gun.
The top side of the TAC-13's aluminum receiver is drilled and tapped for your optics, and with your purchase, you get a free Picatinny rail. So, it makes for a great truck gun or a woodland backup shotgun.
Grips and Ergonomics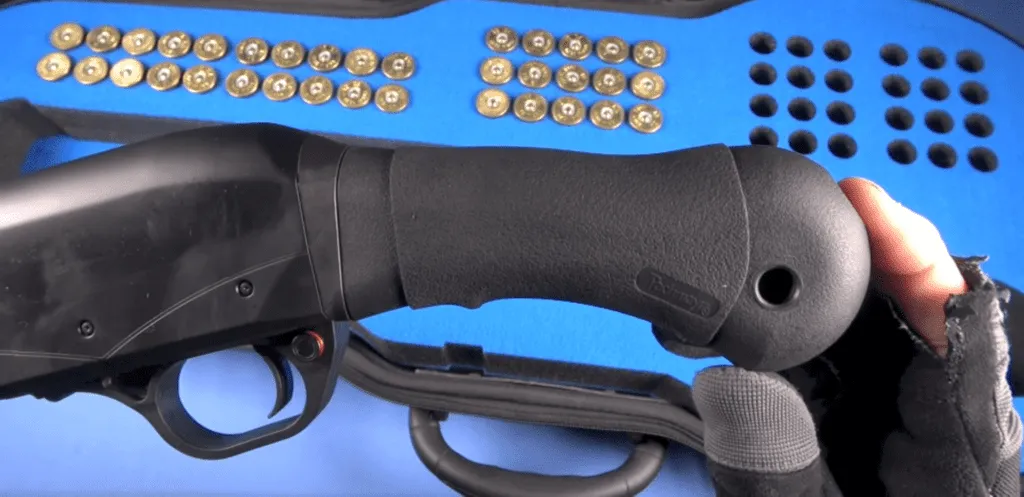 The Raptor Bird's Head pistol grip by Shockwave has an elongated shape to meet the 26-inch ATF standard. It has an adjustable nylon webbing hand strap and a lightly textured forend.
This grip offers solid control, and it's perfect for home defense and CQB. Once you get the hang of this tactical shotgun, it's super fun and can cushion serious shotgun recoil.
The controls are conveniently placed, just like a regular V3. The bolt release is just behind the handguard, and the safety is behind the trigger.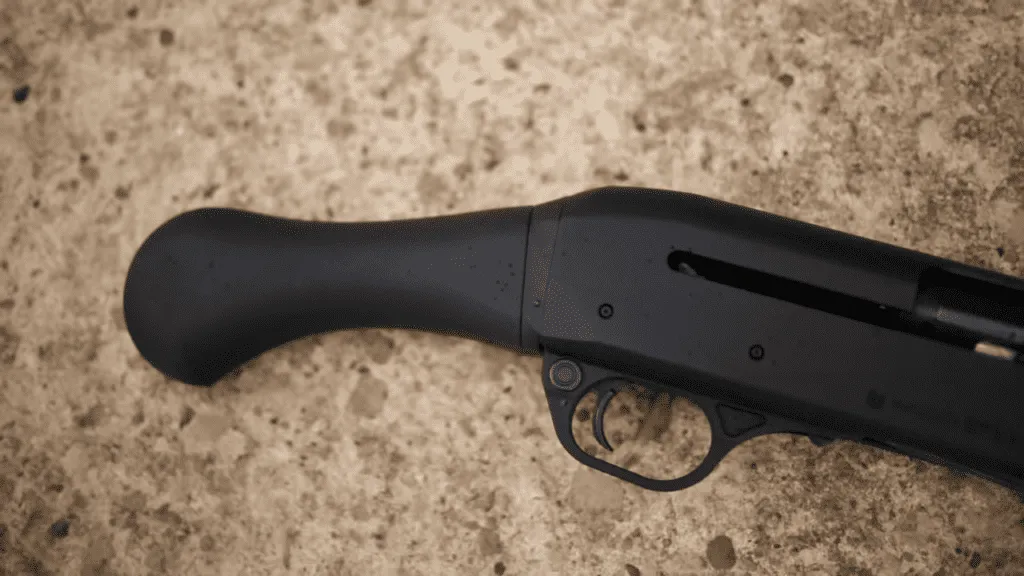 Typically, you have your charging handle on the bolt, a steel bow trigger, and a cross-bolt safety, all housed inside the trigger guard.
Shell Capacity
Sporting a 5-shell capacity, the V3 TAC-13 offers 6 shots of pure shotshell spread. I think that they couldn't design it for more than your regular pistol-grip shotgun capacity.
As far as I can tell, the TAC-13 can cycle and fire all kinds of 1-ounce and 2-¾" light loads as well as heavy buckshot, 3" magnums, and slugs. It's not a heavy carrier as a magazine-fed shotgun, but it can either hold five 2-¾" shells or four 3″ shells.
However, it can't fire mini shells like the Mossberg Shockwave, so that's a major downside for lots of customers.
Semi-Automatic Action
Most people would think that a compact, semi-automatic pistol-grip shotgun is impossible, as short-barreled, semi-automatic tactical shotguns can't redirect gasses at such a fast pace.
But not this one.
Remington implemented the Versaport—a unique, self-regulating gas-operated approach to the V3 TAC-13's action.
Similar to the Versamax, the famous Versaport gas system effectively cuts down recoil, offers highly reliable feeding of various shells, and puts the pump action to shame.
How the Versaport Works
The Versaport utilizes six front-side ports on the chamber. Depending on the size of the shotgun shell, it channels a balanced amount of gas into the action.
Additionally, this configuration is joined with two operating springs in the receiver that don't go through the buttstocks.
When a 3-inch shell is used, the system covers four gas ports for balanced channeling, and when two ¾-inch shells are shot, the system uncovers eight ports. It is exactly this special configuration that makes the V3 TAC-13 so expensive.
Shooting the Remington V3 TAC-13
Since it's a defensive platform, Remington went all the way with reliability. I experienced zero feeding or cycling issues with the V3 TAC-13, despite the mixed shotshells I used.
Now, I'm not used to beaded sights on these compact shotguns, so I set up my targets at an 8-yard range. I used the Aguila Standard Velocity 2 ¾ shotshells.
As for the slugs, I used the Hornady SST Slug, 12 Gauge, two ¾" 300-Grain, and for the light ammo, I used the Winchester AA Target Extra Light Ammo 12 Gauge 2 ¾".
The ~5.4-pound trigger pull really feels well-balanced with the pistol grip. Not too light, not too heavy.
Seeing a shorty shotgun (especially semi-auto), I instinctively braced for impact every shot and expected a lot of recoil. Thanks to the Bird's Head pistol grip, my hand didn't slip one bit.
A word of advice: when shooting, hold the TAC-13 low and near your hip. Do NOT, by any means, hold the shotgun against your hip, unless you won't mind a few medical bills.
Accessories
While there aren't many necessary aftermarket modifications for the V3 TAC-13, one of the most important parts you can have for this firearm is a nice little pistol brace from SB Tactical.
The SB Tactical TAC-13 SBA4 Adjustable Pistol Brace is a must-have add-on for this pistol-grip firearm. It's a complete kit that's ready for assembly right out of the box.
I personally recommend it in case the semi-auto slugs and buckshot prove too powerful for your hands and you want to add even more stability to this platform.
Pros & Cons of the Remington V3 TAC-13
Pros
Highly ergonomic Shockwave Raptor grip
Guaranteed reliability and cycling with the Versaport gas-operated system
Greatly lowered recoil
Hand strap on the forend helps with muzzle rise
Doesn't need tax stamps
Easy operation and fast follow-up shots when compared to pump-action shotguns
Cons
Very expensive
Heavier than the Mossberg 590 Shockwave
Can't shoot minishells
FAQs
Here are some frequently asked questions about the Remington V3 TAC-13.
Is the Remington V3 TAC-13 a Good Shotgun for Hunting?
No, the Remington V3 TAC-13 isn't accurate for hunting.
The TAC-13 has a short 13-inch barrel, a 26.5-inch overall weight, and the Shockwave Bird's Head pistol grip that can't be shouldered.
However, it's a great self-defense shotgun with immense power that allows you to quickly brandish and use it against dangerous wildlife like bears.
Is the Mossberg 590 Shockwave Better Than the Remington V3 TAC-13?
The Remington V3 TAC-13 is a semi-automatic pistol-grip firearm that's more expensive and 1.5 pounds heavier than the Mossberg Shockwave, which is a pump-action firearm. It offers faster follow-up shooting, and it's perfect for home and self-defense situations or as a good backup shotgun.
Both firearms are 12-gauge and have the same shell capacity, similar dimensions, lengths, and durability. However, while the TAC-13's reliability is guaranteed via the Versaport gas-operated system, the Mossberg Shockwave can shoot mini shells.
Is the Remington V3 TAC-13 Legal?
By the NFA's standards, the shotgun isn't exactly a shotgun. It's NFA-compliant, just like the TAC-14, because they don't have shoulder stocks but pistol grips.
According to the National Firearms Act, if your rifle has a barrel length above 18 inches, has a stock, and can be shouldered, you're all set. However, firearms with a stock, full length below 26 inches, and barrels that are shorter than 18 inches need to be regulated and tax-stamped.
Despite having a 13-inch barrel, the V3 TAC-13 has birdshead grips, so it barely meets the obligatory 26-inch overall length.
Alternatives to the Remington V3 TAC-13
If you feel that the Remington V3 TAC-13 isn't your type of thing, check out these alternative shotguns.

In contrast to the V3 TAC-13, the Shockwave is a fairly-priced pump-action shotgun. It's the first compact shotgun that exploited NFA's legal loophole, so you won't have to pay additional tax stamps.
The Shockwave has a corn cob strapped forend, which allows a firm, pump-action control. There's a lefty-friendly ambidextrous top-mounted safety as well.
The heavy-walled, 14-inch barrel has a cylinder choke bore with a nice spread.
The shotgun itself has an overall durable construction, but if you're looking for something with a longer barrel and stock, the Mossberg 590 Retrograde is a great choice.

For a higher price, here's the Remington 870 TAC-14 pump-action shotgun.
This nickel-plated 12-gauge CQB shotgun precedes the V3 TAC-13, and it's based on the Remington 870 pump-action reliability that cycles without any issues. Compared to the TAC-13, it has a longer barrel, but its overall length is shorter.
The TAC-14 has a 14-inch cylinder bore barrel, a durable black oxide finish, and a Magpul M-LOK forend with accessory slots for aftermarket sights and lasers. This, along with the obligatory Raptor pistol grip, brings you a new take on CQB maneuvers in home defense scenarios.

And now, for something completely different.
Here's a pistol-grip lever-action .410-gauge shotgun from Henry Rifles. Based on Henry's "Mare's Leg," it's a shortened rifle that was popularized by Steve McQueen.
The Henry Lever-Action Axe has a 15-inch barrel with a blued finish, a fancy walnut stock, and a 2.5-inch chamber.
What's great about the Henry Axe is the loading gate that allows you to keep the round capacity topped off, so you won't have to remove the tube mag.
Conclusion – The Remington V3 TAC-13 Is a Costly Pioneer in Semi-Automatic Pistol-Grip Firearms
A semi-automatic shotgun like this one is specialized for rapid shotshells for close ranges. With a 13-inch barrel and no choke, there's a lot of spread, and it's not made to be accurate. Instead, its strong suits are the comfy grip, enhanced reliability, and reduced recoil, thanks to the Versaport.
Although the Remington V3 TAC-13 is pricey, the Remington-patented Versaport system fairly justifies it.
What we're looking at is a pioneer of the semi-automatic, non-NFA-regulated, pistol-grip platform that most people thought impossible to design.
The V3 TAC-13 is completely legal to buy and doesn't require tax stamps and regulations. Still, check your state laws just to be safe and sure.
Stay safe, shoot straight.
Explore more