RocketFFL Review: The Ultimate Guide to Getting Your FFL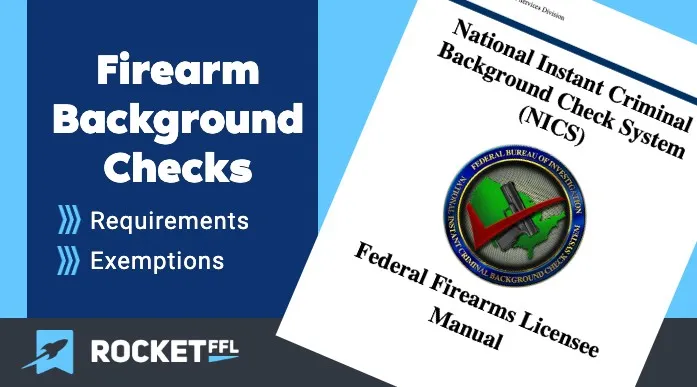 RocketFFL Review: The Ultimate Guide to Getting Your FFL
Introduction
Many of us have thought it would be cool to get our Federal Firearms License (FFL).
The reality is that most of us also have full-time jobs, a family, and other obligations that prevent us from doing the research or figuring out the required steps to complete our FFL.
Rocket FFL, created by the people behind Gun University, seeks to relieve the stress of getting your FFL.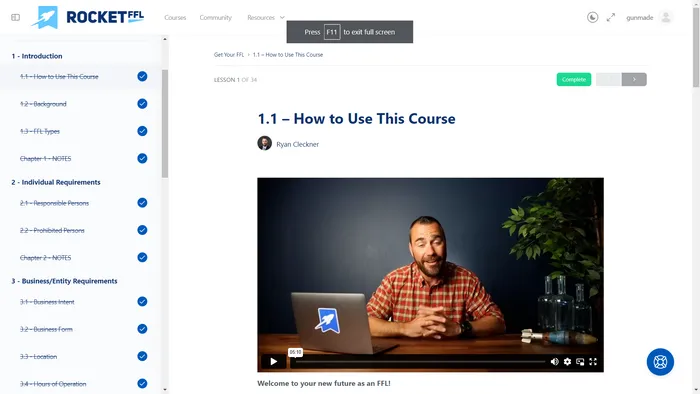 FFL Course Overview
To make getting your Federal Firearms License as painless and simple as possible, Rocket FFL's program breaks the process down into seven easy-to-follow sections. Each section then has subsections that you work your way through. The whole process is pretty straightforward.
The seven sections that make up the course are as follows:
Introduction
Individual Requirements
Business/Entity Requirements
The Application
Basic Firearms Compliance
The ATF inspection
Receipt of FFL/Starting Business
If you want to know what is in each part of each section, you need to grab the program. I am going to give a brief overview of a couple of parts that I really thought were useful.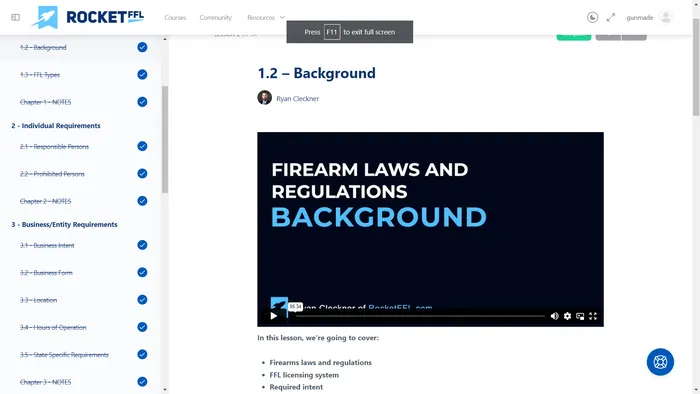 The introduction is just that.
Ryan Cleckner is an attorney specializing in firearms and is the instructor/your guide for the course. He sets the stage for the rest of the course by discussing how to use the Rocket FFL course.
He goes into the background information you should know, like firearms laws, definitions, and types of Federal Firearms Licenses.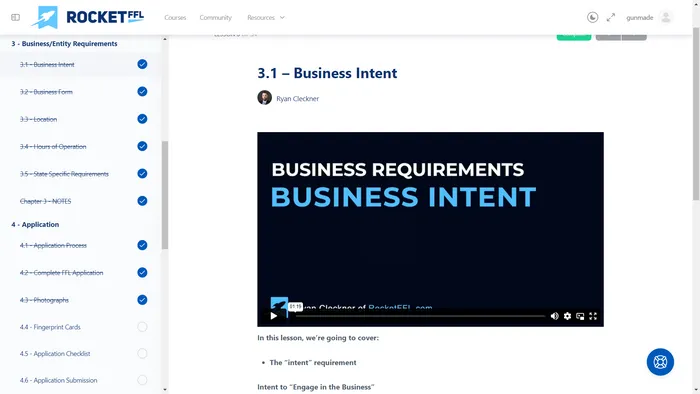 Sections 2 & 3 were really helpful for me, personally.
As a writer about guns, the ability to have firearms I am reviewing shipped directly to me instead of to an FFL is important. I didn't want to be dealing with the transfer fees and the time to travel and fuel costs cut into my income.
I was unsure, though, how the ATF would view needing an FFL for writing instead of primarily being a dealer. Ryan actually mentions helping people get FFLs for exactly this reason, and it helped to put my mind at ease.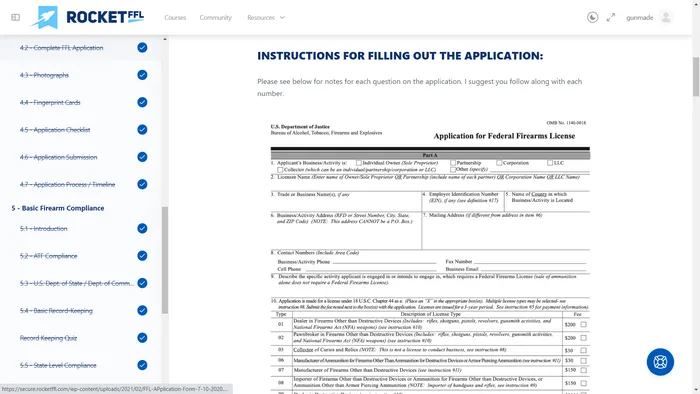 Section 4 covers filling out the actual application. In this section, each part of the application is covered and, when necessary, discussed more in-depth to help you fill out your application. They also provide a sample application that is filled out that you can compare your application to.
In addition to covering the paper application, Section 4 covers the photo and fingerprinting requirements for getting your FFL. While getting your photo and fingerprints might seem straightforward, there is practical advice provided in this section to ensure you get it right the first time.
Section 5 of the course is about making sure you stay in compliance with local, state, and federal laws and regulations. Nobody wants to have the ATF or other law enforcement agency showing up at their door to ask uncomfortable questions or worse.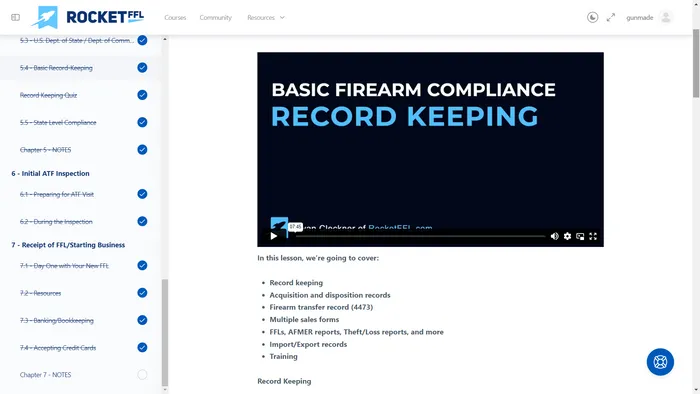 Section 5 also covers another important aspect of being an FFL, record keeping.
Your acquisitions and dispositions that are part of your business or relate to your FFL must be tracked. This is often called your "bound book." You also must use form ATF 4473 when you are acting as an FFL, and keeping track of these records is of paramount importance.
Rocket FFL discusses this and gives advice on how to manage your records best.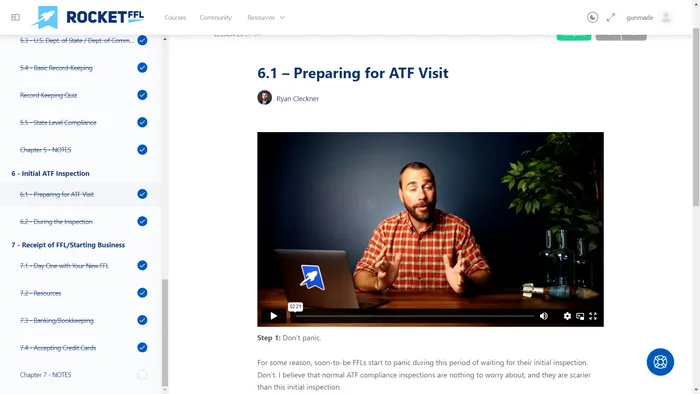 Section 6 of the course covers inspections by the ATF. The course discusses mainly the initial inspection by the ATF. Overall, Ryan encourages you not to overreact and gives solid advice on how to prepare for the inspection and what to expect.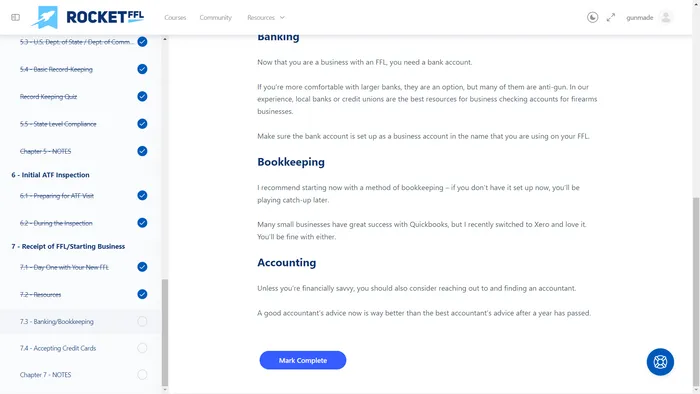 Section 7 covers what to do once you receive your Federal Firearms License. This section has some excellent advice that should be followed as soon as you receive your FFL. Seriously, Ryan knows what he is talking about. Section 7 discusses business aspects of running a firearms business, things like bank accounts, accounting, and payment options.
Last Thoughts
Do you need to use Rocket FFL to get your Federal Firearms License? No, you don't need it. Will having Rocket FFL make the process much easier and answer many of the questions you have? 100 percent.
I have wanted to get my FFL for years, but every time I thought about it, I had questions and either didn't have the time or the resources to get them answered. Rocket FFL seeks to and, for the most part, fills that void. Are there a few things that could be added to the program? Sure. That's true for just about every guide in existence.
It also adds to the overall cost of getting your Federal Firearms License. That extra cost, though, is made up for by saving you time that you would have otherwise spent researching various aspects of getting your FFL on your own or searching the internet for the answers you needed.
If you are getting your FFL, you don't need Rocket FFL to get your FFL. But if you want some help to get everything done right and don't mind spending a few extra dollars on saving time and help alleviate potential errors, Rocket FFL is money well spent.
Explore more