Ruger AR-556 Review & Buyer's Guide [2023]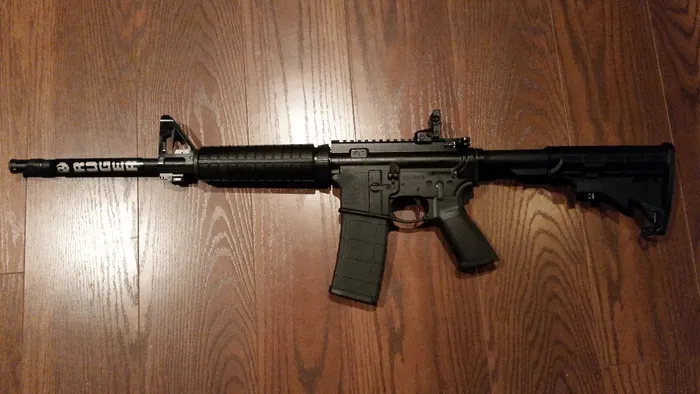 Ruger AR-556 Review & Buyer's Guide [2023]
There will never be a shortage of cheap AR-15s on the market today, and that goes for high-end semi-automatic rifles as well. However, not all of them get the job done. When budget semi-automatic rifles are in question, you often get exactly that: a budget AR-15.
Not this time.
If you're tired of browsing fancy, over-the-top AR-15s with expensive components you won't need, get yourself a Ruger AR-556 semi-automatic rifle.
The Ruger AR-556 is a very affordable AR-15 with excellent reliability and ease of use, and today we'll be doing an in-depth review of its features, specifications, key components, and find out why it's so popular.
We'll also highlight some interesting alternatives that are similar to the AR-556 for comparison.
Let's look at Ruger's main idea behind this cost-effective semi-automatic rifle in our Ruger AR-556 review.
The Ruger AR-556 – The Manufacturer's Idea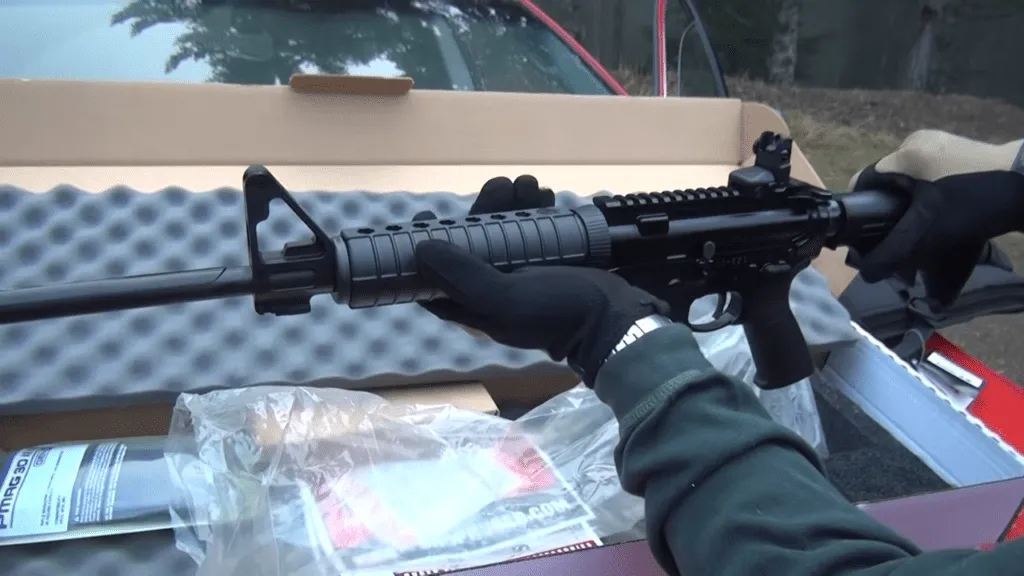 Over the years, the almighty AR-15 has drastically gone through multiple transformations—for better or worse—ever since the first model by Eugene Stoner in the 50s.
There have been so many painstaking modifications to the Armalite AR-15 by many manufacturers, but none remain as true to the original as Ruger's AR-556.
In 2009, long before the AR-556, Ruger Firearms announced their long-awaited debut, the SR-556 AR-style semi-automatic rifle, much to every gun enthusiast's excitement. This gas piston-operated AR-15 platform was an instant success, but it was a high-end semi-automatic rifle with a hefty price.
That's why Ruger went for the conveniently priced, stripped-down AR-556 to cater to the folks who like to spare a few bucks for aftermarket customizations.
Before we jump into all the details about the AR-556, let's take a look at the predecessor, SR-556, which is now discontinued, and the new AR-556 MPR model with some slight differences.
The Ruger SR-556
The Ruger SR-556 was discontinued in 2016, but we'll look into the differences in order to create a clear picture of what's been improved.
Mainly, the Ruger SR-556 is more expensive, heavier, and—of course—the mechanism and features differ a lot.
The SR-556 is a semi-automatic AR-15 style semi-automatic rifle in the .223 Remington/5.56×45mm NATO cartridge. It uses op-rods to unlock the bolt once a shot has been fired.
There was also a Ruger SR-762, an AR-10 variant in the .308 Winchester cartridge. Both of them use a gas piston system similar to other semi-automatic rifles like the AK, M14, and the M4.

…As it relates to the AR-556
Unlike the SR-556 piston-driven system the new AR-556 semi-automatic rifle has a new and improved gas-impingement system, staying true to the AR-15 blueprint.
Simply put, the AR-556's gas-operated rifle is better than the SR-556 piston-driven system.
The gas piston mechanism has a cleaner firing system, and the gunk and grime from shooting stay on the piston's end. On the other hand, the AR-556's direct impingement system is dirtier, and the gunk builds up in the bolt carrier group, but it's far more accurate, so it's a good trade-off.
For me, the original AR-556 with a traditional direct impingement system is a lot more reliable, and judging by the price tag, it's a no-brainer.
The Ruger AR-556 MPR Model
There's a new model of the AR-556, called the Ruger AR-556 MPR, which stands for 'multi-purpose rifle.'
The AR-556 MPR has a longer 18-inch barrel with a free-float aluminum handguard, in contrast to the AR-556's 16-inch barrel and fixed front sights with a round polymer Magpul handguard.
Additionally, the Ruger MPR has a Magpul MOE grip and stock, so if you're a fan of the Magpul feel, you can go for this alternative model. The MPR also has a rifle-length gas system, unlike the AR-556 which uses a carbine-length gas system. Usually, longer gas systems have a slower bolt speed and are softer shooters with less recoil.
Now that that's out of the way, let's check out the Ruger AR-556 in all its glory.
Ruger AR-556 Review
Pros & Cons of the Ruger AR-556
Pros
Excellent budget value
Handguard is super easy to remove with the threaded Delta Ring
Great reliability and feeding
M4-style Mil-Spec stock, handguard, and buffer tube
Traditional AR-15-style feel
1:8 twist for increased accuracy with ammo from 35 to 77 grains
Available hole mount for slings
Ruger birdcage flash hider
Includes a bayonet lug for customizations and attachments
6-point adaptable buttstock
Lightweight
Cons
The single-stage trigger might be gritty for some
A moderately stripped-down design in comparison to other AR-15s
Ruger AR-556 Specifications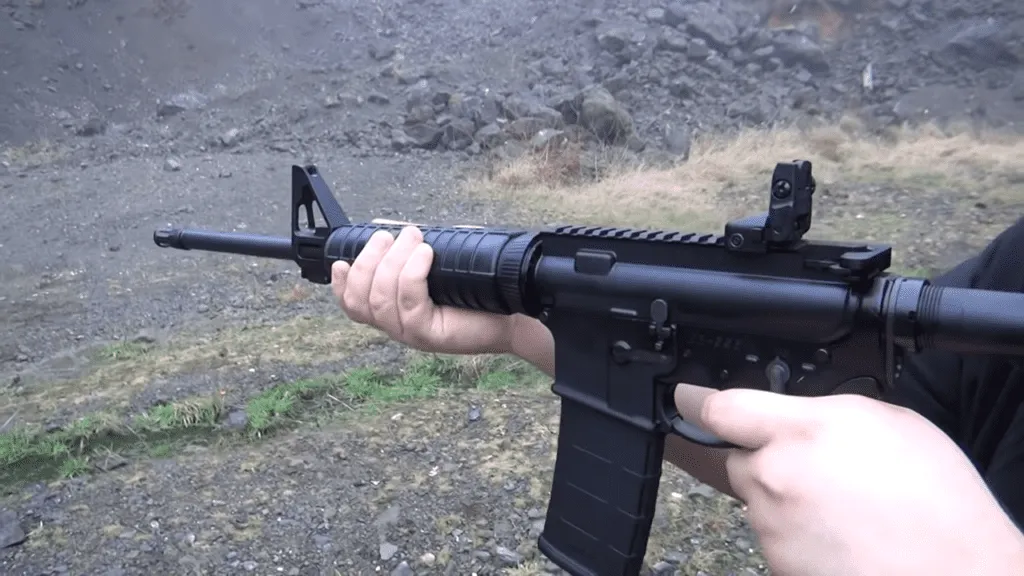 Once you receive your AR-556, you'll see that it presents itself as a standard, basic semi-automatic rifle that's catered to gun enthusiasts who like to build and customize their own platform.
Let's take a look at the numbers so you'll see what I mean:
| | |
| --- | --- |
| Model | 8500 |
| Manufacturer | Ruger |
| Action | Semi-automatic direct impingement gas system |
| Gas system length | Carbine |
| Caliber | .223/5.56mm  |
| Twist rate | 1:8 |
| Thread pattern | 1/2″-28 |
| Handguard | Heat-resistant glass-filled nylon |
| Magazine type | Removable 30-round Magpul P-Mag |
| Capacity | 1+30 rounds |
| Overall length | 34.4 inches |
| Barrel length | 16.1 inches |
| Length of stock pull | 10.25 to 13.5 inches |
| Weight | 6.5 pounds |
| Stock | 6-point black synthetic, collapsible stock |
| Receiver finish | Type III 7075-T6 hard-coat anodized (shot-peened and proof-tested 9310 steel bolt, and 8620 steel bolt carrier) |
| Barrel coating | Manganese phosphate |
| Muzzle | Flash hider |
| Front sight | Adjustable post |
| Rear sight | A2-style adjustable Ruger Rapid Deploy® |
| Groves | 5 |
Ruger AR-556 Construction
The Ruger AR-556 semi-automatic rifle has a very straightforward, stripped-down build that's perfect for aftermarket customizations. With Mil-Spec stock and handguard furniture, you'd be hard-pressed to find better features at this price point.
It has a 7075-T6 aluminum forging upper, and a lower receiver with the same forging, plus a Type III hard coat anodized finish. The rifle also stays put with multiple sling-attachment points, but more on that later.
There's also a brass deflector, an unjam button if you run into any malfunctions, a dust cover—which is super rare to find on a budget rifle—and a nice forward assist.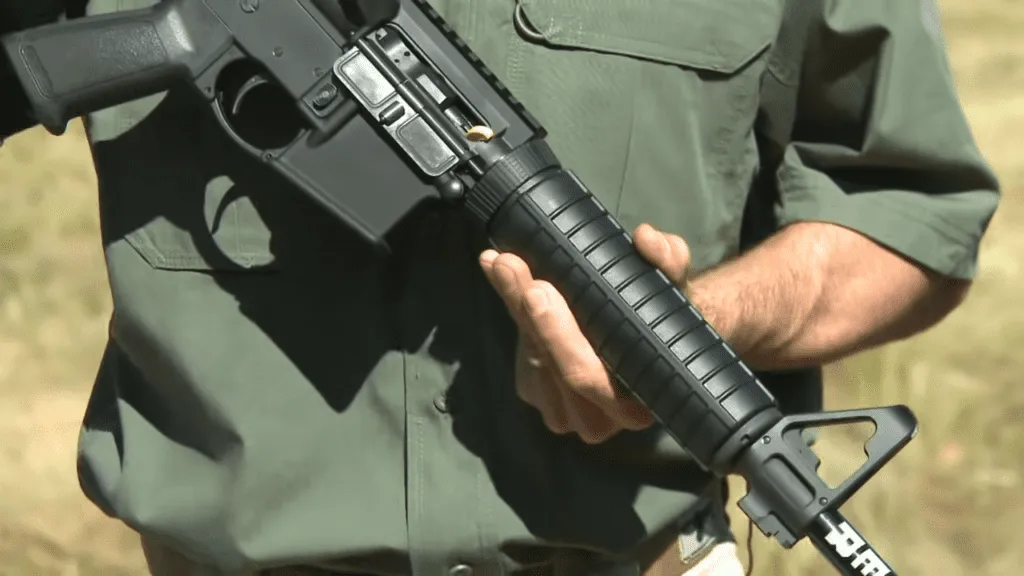 What I like is the polymer heat-retaining handguard that guarantees you'll be shooting at the range for a long time. The AR-556 has an M4 feed ramp and you can expect superb reliability when feeding.
This AR platform has fine, bulky grips that are suitable for most hands, and the handguard is small enough for all kinds of accessories. You can also add pistol grips, but there are other models with similar grips and a Picatinny rail for even more add-ons.
Additionally, it has a bayonet lug, and you can install a Colt Tactical Sling Mount without gunsmithing.
The Gas System
The AR-556 has a traditional direct impingement carbine length (mid-length) system, while the former model, the SR-556 has a piston-driven gas system.
There are many gun enthusiasts who swear by the direct impingement, and it's a well-known fact that with this system that the AR's parts have far superior longevity. This may be true, but you still have to do regular cleaning and maintenance.
Direct impingement systems tend to vent back powder into the rifle's action, and this builds up a lot of debris and fouling, heats up the parts quicker, and might channel toxic gases. With a piston-driven system, all the fouling and gases are vented through the barrel and directly in front of the gun.
The AR-556's direct impingement system offers softer recoil (not to mention that it uses smaller ammo), a more lightweight feel, and better accuracy. The materials also cost less, and this might explain the low cost of the rifle.
Reliability & Recoil Management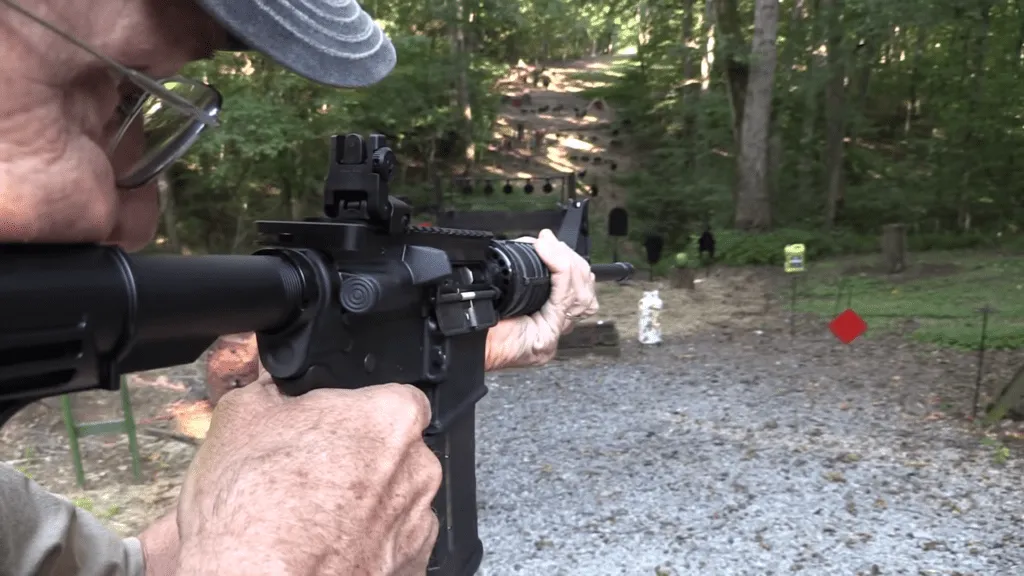 A short disclaimer, though:
I'm in no way taking part in a direct impingement vs. gas piston debate; I'm just pointing out some of their advantages and disadvantages, and it all comes down to your preference.
Ruger has rifles with both systems, so there is no clear victor here.
The Bolt & Barrel
The bolt is 9310 alloy steel with a staked gas key, the BCG is chrome-plated, and the external finish is matte black oxide for added durability. The milled gas block is A2, while the muzzle brake is threaded to 1/2×28.
You can check out our buyer's guide for the best AR-15 muzzle brakes if you're interested.
The steel tube is a cold hammer-forged 4140 chrome-moly with a .223 Remington/5.56 NATO chamber with a 1:8 twist rate. What this means is that it can eat everything from 35 grains to 77 grains and can shoot heavy bullets with this twist rate.
You can shoot freely and accurately from 50 to 100 yards with no problems.
The Handguard & Delta Ring
What I like most about this rifle is the barrel nut and delta ring which are patent-pending designs that suit carbine-length handguards and use a standard wrench. You can swap it with all kinds of Mil-Spec nuts, but I suggest you go with this simple design.
The handguard is heat-resistant glass-filled nylon. Usually, removing the handguard takes a little help from your friends, but not with this one.
The Delta Ring can be screwed on at the bottom of the handguard instead of just pulling, which can be difficult as this usually takes three hands.
Simply screw the ring off and the handguard comes apart. As far as I know, you won't find this feature on other budget semi-automatic rifles.
The Trigger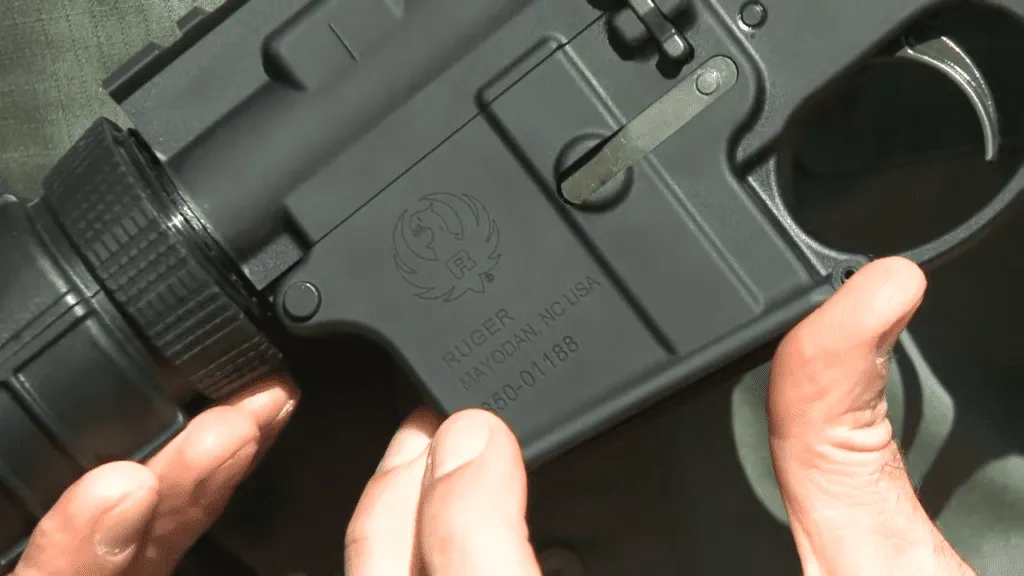 The trigger can be quite gritty, and this might be a downside for some. It's pretty heavy for a single-stage trigger and it averages from 7 to 9 pounds of trigger pull weight.
I strongly suggest you go for aftermarket options like Ruger's Elite 452 AR-Trigger, which was a direct response to criticism for the heavy trigger pull. It's a two-stage 4.5-pound trigger, making things easier for any gun owner.
The Buttstock & Grip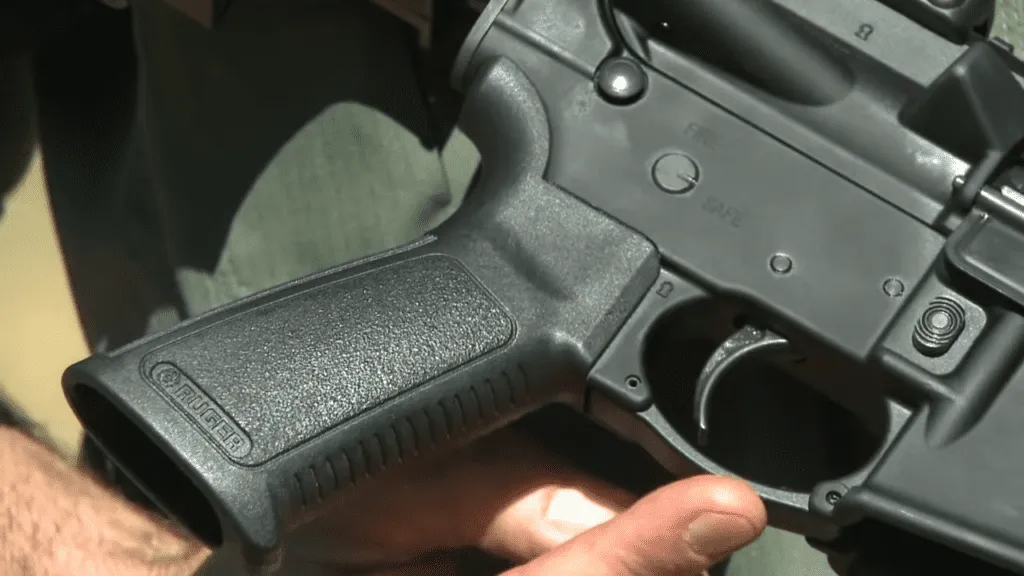 The buttstock is pretty ergonomic, as it's collapsible in the famous M4 style and can be adjusted in six positions. The length of pull ranges from 10.25 to 13.5 inches.
Trigger access feels just right in all of the positions, but if this isn't your cup of tea, you can go for the MPR version of the rifle that has a wider aluminum trigger guard.
The buffer tube is Mil-Spec, just like the handguard.
The Sights
The AR-556 rear sight is Ruger's Rapid Deploy folding sight with windage adjustability, and this is probably all that you'll need from the manufacturer's box sights.
The front post sight is adjustable for elevation and it's in the A2 style.
Magazine & Reloading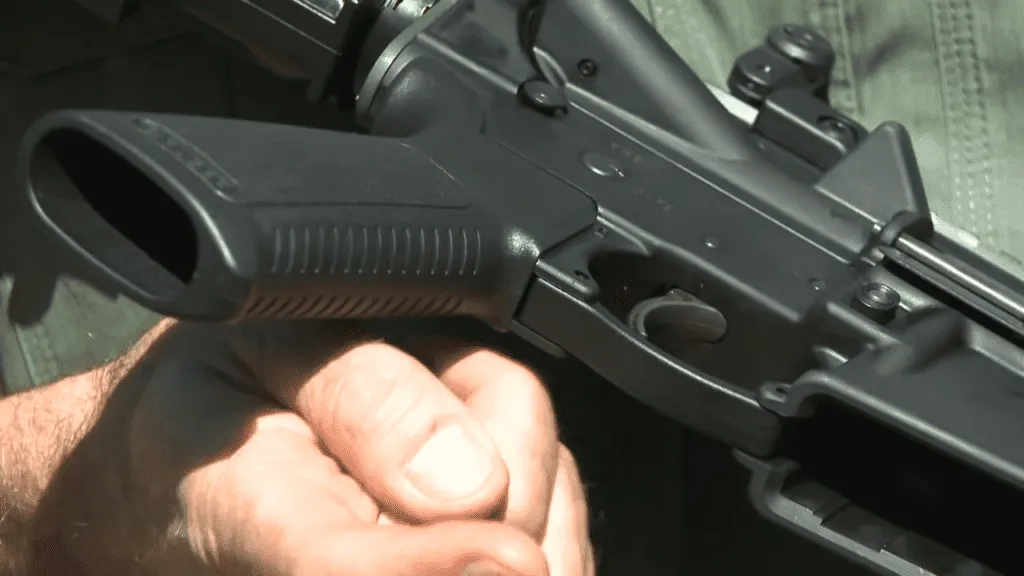 Most folks will love that the AR-556 comes with the thirty-round Magpul P-Mag because it's the main standard for traditional AR-15 mags.
Check your state laws if they prohibit 30-round magazines. If that's the case, you can easily get yourself the California-compliant 10-round rifle model.
Ammo Recommendations
The AR-556 is chambered for .223 Remington/5.56x45mm NATO.
For this specific caliber and its 1:8 twist rate, I strongly recommend you the Winchester 5.56 NATO 55-grain full metal jacket ammo, or the Hornady Superperformance .223 Remington 55-grain GMX with ballistic tips.
For more info on magazines, check out our AR-15 magazine guide.
Alternatives to the Ruger AR-556
Here are some similar AR-15 designs if you're looking for lightweight budget options.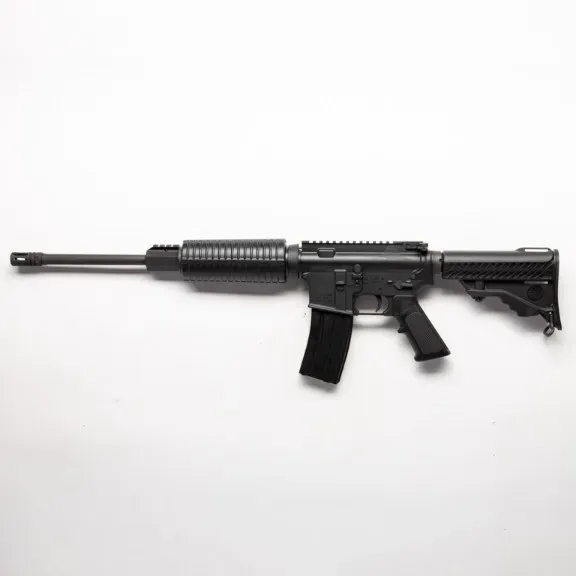 The DPMS Oracle AR-15 is a perfect marriage between a sporting and a tactical design, and it feels just right when shooting bursts for prolonged periods of time, all thanks to the six-position Pardus buttstock.
It's slightly lighter than the AR-556, it has a railed gas block, forged 7076 T6 Lower Receiver and A3 upper receiver with Picatinny rail, and a heat-retaining GlacierGuards handguard.
The A3 upper opens up a window of opportunities for a new optic and sights, and the 16-inch barrel offers a decent velocity when shooting.
The difference is that it has a 1:9 twist, so if you want to shoot lighter grains, this may be a rifle for you.

The DB-15 is an overall excellent budget semi-automatic rifle with a gas impingement system just like the Ruger AR-556, Magpul pistol grips, and a slightly heavier feel.
It's for both experts and those of you who are beginners in the modern sporting rifle business.
With a smooth matte black design and forged aluminum metal, Mil-Spec 8620 bolt carrier, and a chrome-moly free-float barrel, the feel and durability of the DB-15 will satisfy the needs for those long hours at the shooting range.
It has a 6-position collapsible stock, A2 pistol grips, and works like a charm.

The Ruger AR-556 doesn't have ambidextrous controls, much to the dismay of left-handers. But don't worry, here's Stag Arms worrying about everyone.
The Stag 15 ORC is a semi-auto semi-automatic rifle with direct impingement and carbine-length gas system, thank heavens. It has 7075 T6 aluminum receivers, a 6-position Mil-Spec stock and Mil-Spec single-stage trigger, and a chrome-lined barrel with an A2 flash hider (or flash suppressor).
It comes with a P-Mag and has a twist rate of 1:7 if you want to shoot bullets with a heavier grain. ORC stands for Optics Ready Carbine, and boy howdy, you can customize it with lots of aftermarket parts specially designed for lefties.
With a thermoplastic handguard with superb heat mitigation, Mil-Spec manganese phosphate coated M16 bolt carrier group, and a Mil-Spec pistol grip, it's one of the greatest, best-value, semi-automatic rifles that cater to left-handed AR-15 enthusiasts.
For more on left-handed AR-15 semi-automatic rifles, check out our guide here.

There's no escaping Smith, is there?
The gas-operated Smith & Wesson M&P 15 Sport II semi-automatic rifle is one of the most popular AR-15s for a reason, and it's not just the convenient price.
It has an aluminum receiver with a hard-coat black anodized finish, but there are different models with a melonite or chrome-lined barrel for better longevity. The barrel is 4140 steel with a 1:9 twist.
The integral trigger guard, forward assist dust cover, 30-round P-Mag, and 6-position telescoping buttstock offers excellent handling and easy operation. It's compatible with other AR-15 Mil-Spec parts and accessories, all thanks to the Picatinny rails.
For an semi-automatic rifle of this price, customers rarely report jams and malfunctions, so it's definitely one of the most reliable budget-friendly semi-automatic rifles.
Conclusion – The Ruger AR-556 Semi-Automatic Rifle Is an Outstanding Budget-Friendly AR-15
I hope this little guide explains how the Ruger AR-556 is so inexpensive, and yet so reliable and popular. You get a rifle with Mil-Spec furniture and near-exact features of a standard AR-15.
There are many among us gun owners who are sick and tired of the unnecessary features and constructions on expensive firearms, and manufacturers who neglect those who favor simpler designs.
The AR-556 is a definite must-have if you're looking for a plain, straightforward semi-automatic rifle that can shoot straight. If you feel that something's missing, the rifle is one of the easiest AR-15s to disassemble and you can install scopes, lights, sights, grips, butts, etc.
What I like about this rifle the most is that it's very easy to take down in contrast to other rifles that need three hands to disassemble the upper receiver. With the AR-556's convenient delta ring, you just need to unscrew and take down the upper. It completely takes away the hassle and frustrations.
If you're a first-time AR-15 buyer, or you want a simple design to customize, I strongly recommend this semi-automatic rifle. Just be sure to clean it regularly with proper solutions because it uses a direct impingement system which dirties up quite easily.
The downsides are almost non-existent once you see the aftermarket opportunities.
Explore more