Springfield Armory Saint Victor 9mm Carbine Review: The Awaited PCC
Springfield Armory Saint Victor 9mm Carbine Review: The Awaited PCC
Introduction
Since Springfield Armory introduced the original Saint AR-15 back in 2016, it has continued to expand the Saint line to include models ranging from entry-level to premier and precision. The Saint Victor falls somewhere in the middle, balancing upgraded features with a moderate price tag.
What the Saint line hadn't had until recently (December '22, to be specific) was a pistol caliber carbine (PCC) option. With the Saint Victor 9mm Carbine now available, I have to say, it seems that it was worth the wait, and I'm excited to share everything I learned from my Saint Victor 9mm Carbine review.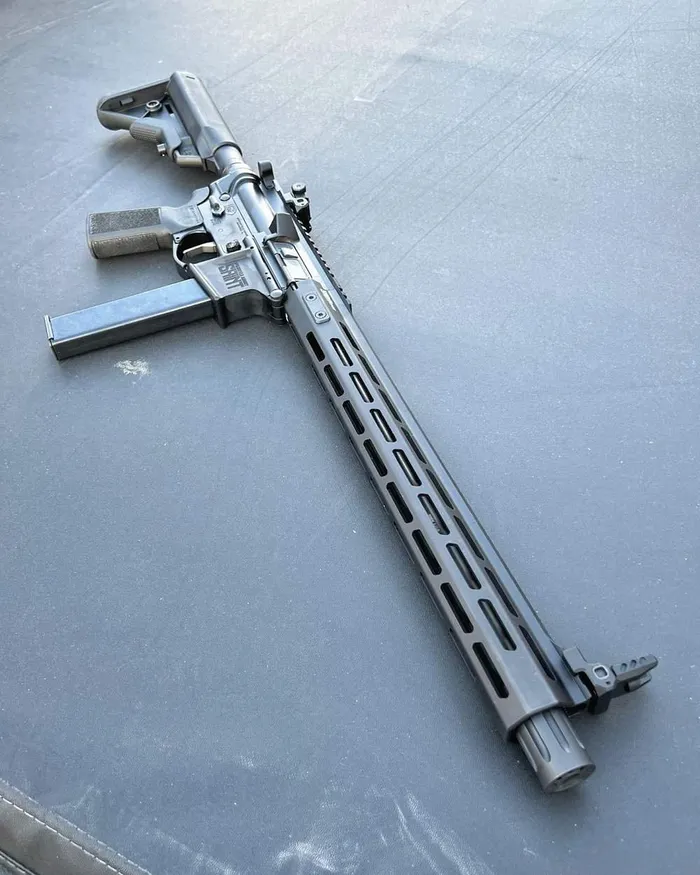 Springfield Saint 9mm Carbine Review

Specifications
| | |
| --- | --- |
| Caliber | 9mm |
| Capacity | 32 Rounds |
| Barrel Length | 16 Inches, 1:10 Twist |
| Overall Length | 31.75 – 35 Inches |
| Weight | 6 Pounds 15 Ounces |
| Sights | Spring-loaded Flip-up |
| Safety | Ambidextrous |
| Trigger | Nickel Boron Coated Flat |
| Upper and Lower Receiver | 7075 T6 Aluminum |
Pros & Cons
Pros
Reliable and accurate

Upgraded internals and furniture

Great training tool – especially if you have a Saint Victor in 5.56

Longer barrel helps avoid any "pistol" regulations
Cons
Not fully ambidextrous (charging handle)

Only comes with one mag – wouldn't be a con if it accepted Glock mags!
Range Report: Reliable, Accurate & Fun
Reliability
I've put close to 700 rounds through this gun and can count on one hand the number of failures I've had…and it's not even a full hand at that. It's eaten a huge variety of ammo that includes 115-grain Winchester White Box FMJs, 124-grain Speer Gold Dot JHPs, and 124-grain Blazer Brass FMJs, to name a few. With other AR-9s that I've shot recently, I've experienced quite a few more issues regarding ammo-related failures, so the 9mm Victor running so smoothly was a nice surprise.
Accuracy
I was very happy with the accuracy right out of the box. My first 500 rounds or so were all shot with only the iron sights, and it only got better after I mounted an optic.
I started shooting indoors between about 7 to 25 yards, where I could maintain roughly 1.5" to 2" groupings while shooting quickly.
Taking it outdoors, I was transitioning between and pinging 6" gongs with ease and then 8" gongs out at 75 yards. This thing is an absolute blast to shoot and saves a bit of money on ammo compared to its AR-15 counterpart.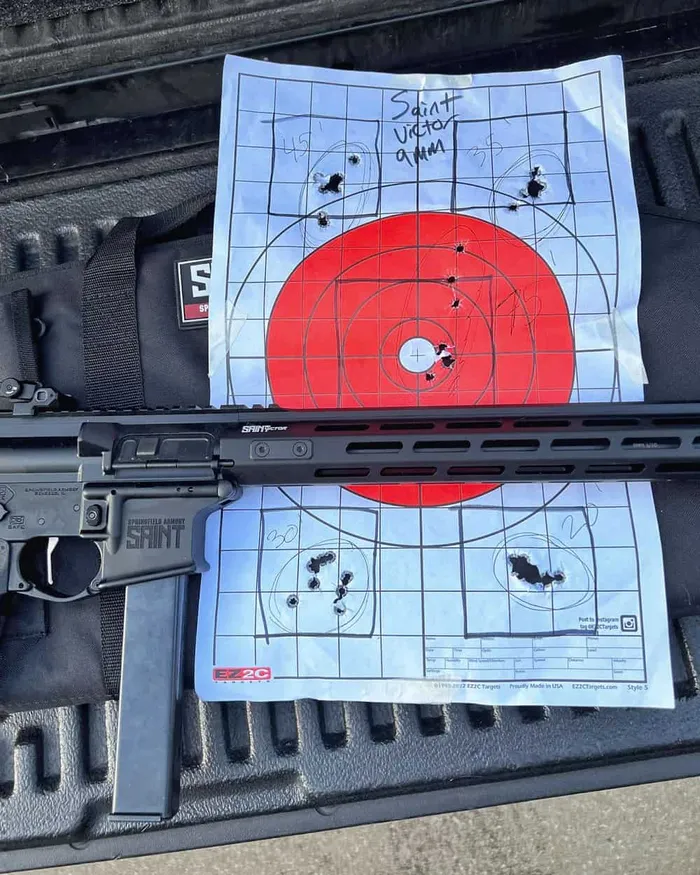 Overall Feel
This is a well-balanced rifle with a nice middle-of-the-road weight.
Even though it only weighs in at 6 pounds and 15 ounces, it feels like an absolute tank thanks to the aluminum full-length handguard.
Overall, I really like the feel of it and it doesn't have any areas that are uncomfortable during longer shooting sessions.
Features
Sights
I've said it before, and I'll say it again, the Springfield flip-ups are some of my favorites.
They are low profile, spring-loaded, and made out of aircraft-grade aluminum. I used to run almost strictly Magpul MBUS flip-ups, but these Springfield sights have started to take their place on some of my builds.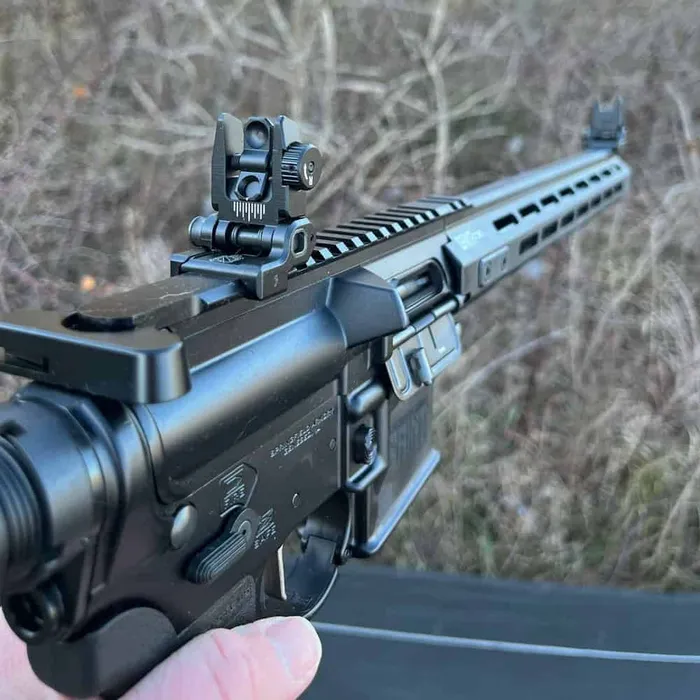 Trigger & Controls
I love the trigger on this gun…seriously. The flat face, light pull, and quick reset make my follow-up shots very easy to keep on target. Also, a flared trigger guard allows you to shoot with gloves on easily.
The controls, on the other hand, are a weak point of the build, in my opinion. Outside of entry-level rifles, I don't see why both the safety selector AND the charging handle wouldn't be ambidextrous.
Even on entry-level rifles, the cost is so low to have ambidextrous controls. They really should always be included. The controls on the 9mm Victor all work just fine, though; no functional issues with them.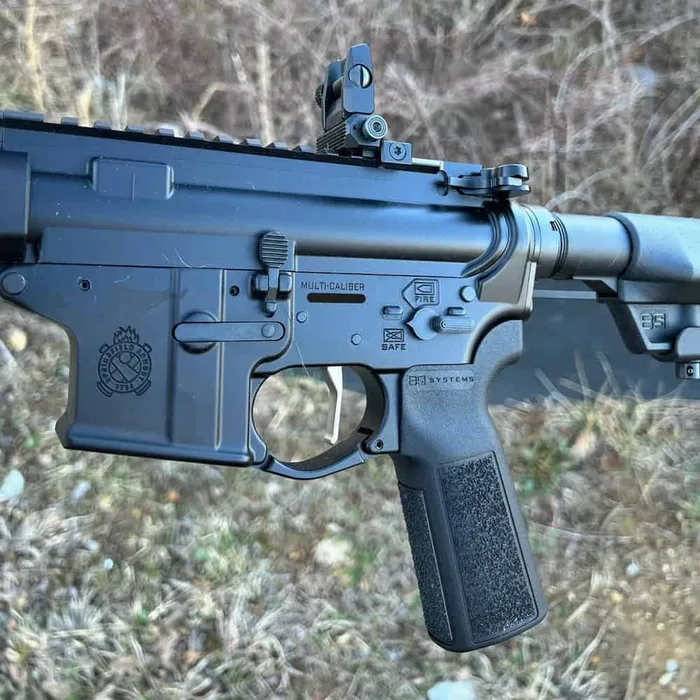 Buttstock & Grip
The buttstock, grip, and even the trigger guard are all from B5 Systems. I appreciate not having to change any of the furniture, especially at a price point of around $1,000.
The grip has a texture that isn't overly aggressive, and the grip itself is angled nicely. I would have liked the cheek weld to be a bit larger on the stock, but that's just more of a personal preference.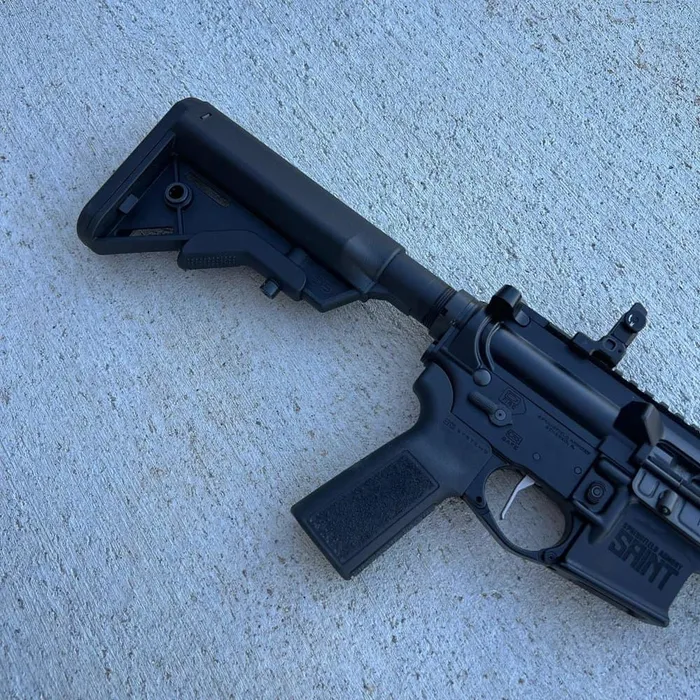 Magazine
At first, I wished it accepted Glock mags, but after experiencing the reliability of the steel Colt-pattern magazine, I'm happy with Springfield's choice. They've been very reliable, durable, and easy to load from the first round to the last so far.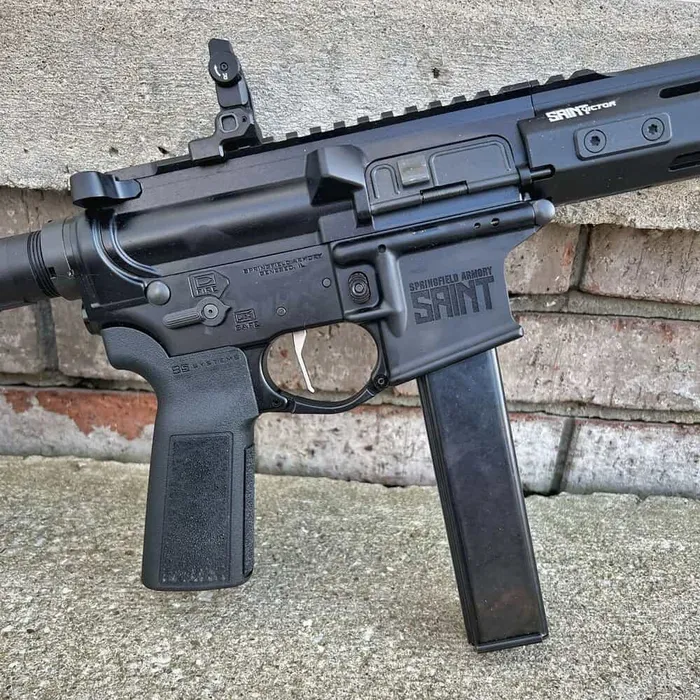 Blast Diverter
Although this blast diverter was designed with short barrels in mind, it works nicely on this 16" barrel. It has seven forward-facing ports that help direct the sound and debris forward and away from the shooter. I love how Springfield recessed it under the handguard to keep the aesthetics nice and clean.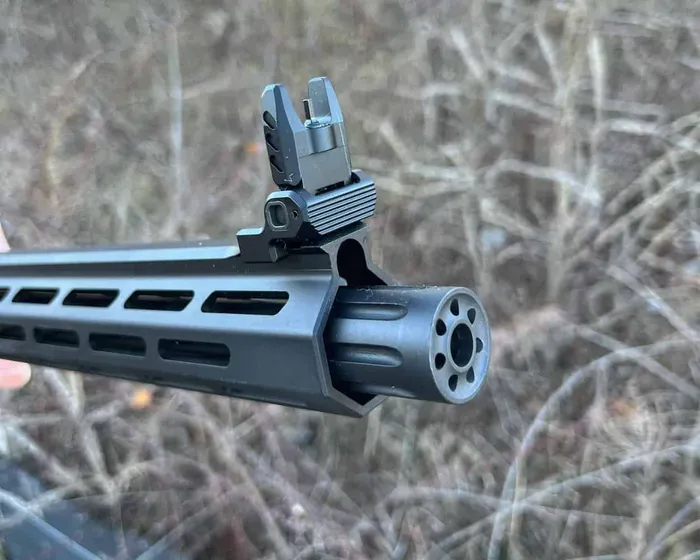 Handguard & Rail
M-Lok handguards provide so many accessory options that appeal to many people. I'm one of those people! The handguard on the 9mm Victor is a full-length free float aluminum one that is packed with M-Lok slots.
Some people prefer the rail to run the barrel's full length, but that's not always the case for me. As long as backup sights are mounted along with a decent-sized rail for an optic, I actually prefer the rail doesn't run the whole length. This way, if you prefer a thumb-over grip on your handguard, it's much more comfortable.
Accessories
The Sig Romeo 5 is a budget-friendly red dot that I think fits well with the PCC platform. It is compact, features a 2 MOA red dot, and is motion activated to save on battery life.
The side-loading battery means you'll never have to remove the optic and re-zero it if you don't want to, and it's IPX-7 rated to keep you covered in wet conditions.
This is probably one of the smallest and more affordable accessories I've suggested in a while, but it simply works.
Springfield's Saint Edge Pistol Hand Stop is compact but very sturdy. It's made out of aluminum as opposed to polymer and provides that extra stability for your support hand.
Alternatives

The Wilson Combat AR9 comes with a higher price tag but also has exceptional reliability. One of the best parts about this rifle is that you can order it with different receivers that will accept different magazines.
You can get it with a Glock receiver, Beretta receiver, or EDC X9 receiver. You can't really go wrong with any of them.

Palmetto State Armory offers some awesome rifles at great prices. This one will run you a couple hundred dollars less than the Saint, and you won't sacrifice quality, either.                                                                                                                                                      
It doesn't have all the bells and whistles you'll find on the Saint, but it does have a nice free-floating M-Lok handrail and accepts Glock mags, which is a huge benefit for some people.
Score Card
Reliability (9/10)  
700 rounds with less than a handful of failures. I consider that reliable, especially for a PCC.
Ergonomics (10/10)
The handguard is nice and smooth without the rail extending all the way up top, and the B5 grip feels good in hand.
Customization (10/10)
M-Lok real estate is plentiful; it has rail space up top, and easy to swap out furniture.
Appearance (8/10)
The upgraded furniture looks good without being overly "tacti-cool."
Value (9/10)
The fact that you can find one of these under $1,000 brand new is awesome!
FAQs
How accurate is the Saint Victor?
Very. Of course, accuracy has a lot to do with operator skills. Still, the 9mm Saint Victor comes standard with a quality barrel and great iron sights to make accuracy easily attainable.
What is the difference between the Springfield Saint and Victor?
The Saint Victor is essentially an upgraded version of the Saint. The upgrades range from simple furniture to enhanced internals and components. It's well worth the upcharge, in my opinion.
What is the effective range of a 9mm carbine?
I'm sure I'll see a few comments about how a 9mm can go 109 miles in the right conditions (joking, of course), but I would say 100 yards is about the max to also keep accuracy tight.
Conclusion
I'm sure you've been able to tell, but I'm a huge fan of this carbine.
I've found it to be reliable, accurate, and fun to shoot. Especially for the price, I believe the Springfield Saint Victor PCC is going to be hard to beat. Whether you have a Saint Victor in 5.56 or no Saint at all, I still think this is a gun to consider if you're in the PCC market.
How does the Saint Victor stack up against your favorite PCC? Drop your thoughts in the comment section below!
Explore more