Best Sig P365 Holster For Concealed Carry – Reviews For 2023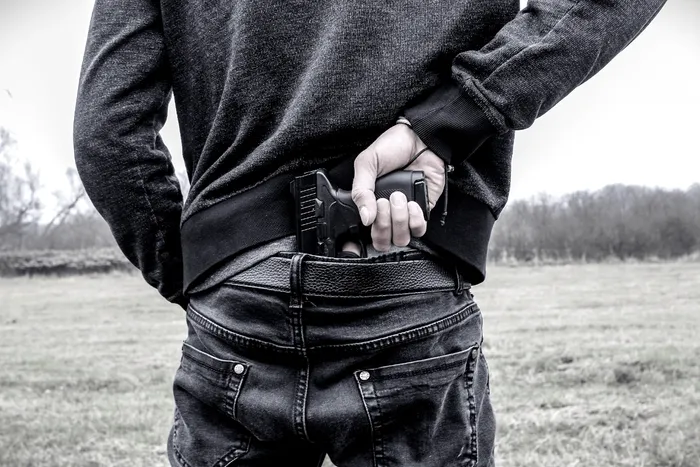 Best Sig P365 Holster For Concealed Carry – Reviews For 2023
So many holster choices on the market, but which one is right for you?
Like Goldilocks, you need one that fits just right. So, let's narrow down your choices!
Keep reading to find out how to pick the best Sig P365 holster for your lifestyle and read reviews for some of our favorite options on the market.
Best Sig P365 Holsters For Concealed Carry
This Sig Sauer holster is a collaboration with Black Point Tactical, resulting in an IWB simple design for maximum comfort. They're available in left or right draw configurations and explicitly molded for a P365 firearm.
The holster is highly customizable with a 'mini' wing that pushes against your pants. That means the grip is closer to your body, and you're less likely to get printing. If you're not a fan of it, you can remove the wing with the included hardware.
Overall, this holster has excellent retention with a snug fit against the body. The metal claw is a bit aggressive and results in some scratching depending on your draw. But it does keep your firearm exactly where it should be.
Of course, you'd expect the gun makers to have one of the best IWB holsters for Sig P365 on the market. And this one doesn't disappoint.
Pros
Slim-fit design
Mini wing minimizes printing
Appendix or IWB
Cons
Relatively pricey
Not ideal for overweight body types
The Gunhide pocket holster is a decent choice when you consider the low price. Does it have some of the problems inherent with pocket holsters? Yes, but you may think that the price is worth the potential drawbacks.
Depending on what you're wearing, the gun may still print because of the contoured shape. In other words, if I'm wearing a comfortable pair of cargo shorts and a long t-shirt, the holster is great. Even a baggy or relaxed fit pair of pants with a generous pocket would work if my top was a little long.
However, don't count on wearing skinny jeans if you're looking for an inconspicuous carry. And depending on the type of clothing you're wearing, it may show if you're sitting, too. That may be concealed 'enough' for some people if not 100% discrete.
It's not a great holster, but for the price, it may just be 'good enough' for many people's needs.
Pros
Relatively inexpensive
Fits different P365 varieties like SAS and XL
Cons
May partially come out of pocket withdraw
If you're looking for the most comfortable IWB holster, this Tulster model may be a good option. It features a minimum drag and adjustable points for cant and retention to wear it exactly how you want with minimal fuss. You also get that satisfying 'click' when you holster your P365, so you know that your gun is secure.
One of the most significant downsides of this holster is its price. You're going to pay a premium price point just for the name alone. But this little polymer blend holster may be worth it when you consider how comfortable it is to wear.
Pros
Lightweight
Responsive customer service
Available in a variety of colors
Cons
Relatively pricey
Extra belt loops sold separately
Amberide has a great Kydex holster with a price point that fits most budgets. This smooth plastic holster is lightweight and comfortable to wear all day long. And it covers all the basics that you're looking for in a holster.
Good retention? Check.
Trigger cover? Check.
The draw resistance is pretty reasonable, too. It's not so loose that your gun falls out, but at the same time, you're not yanking your belt over your head, drawing in a hurry. And you do get that positive 'click' for retention.
Amberide even painted over that obnoxious white logo that they used to have on this holster. Now, it's a more understated black.
Pros
Minimalist design
Great starter holster
Cons
Large clip and positioning may print
May dig into the skin
Sometimes you need the comfort of leather mixed with the ruggedness of Kydex. You get both in this Crossbreed IWB holster. Just remember that there is a break-in period for the leather. The leather is stiff and rough when you first get it; that's why it needs to 'warm-up' to your body. The more you wear it, the softer it gets.
Unfortunately, the biggest problem isn't necessarily the way this holster fits. It's not ideal for smaller frames, but that's not its biggest flaw. That comes with the lack of adjustment points.
The holster does allow for positioning from 3 to 5 o'clock, but that's where the customization options end. Unlike other holsters on the market, you can't change the retention. So, after you break it in, you can't tighten it to secure the gun if needed.
Cons
Can't make retention adjustments
Uncomfortable for smaller body types
If you're looking for a rugged holster with minimal maintenance requirements, you may want to check out this Cytac OWB holster. Unlike other holster materials, all this one needs is a cleaning cloth, soap, and water. It's designed for law enforcement and military personnel, but it's available to the civilian market at a reasonable price.
Best of all?
It has a Level 2 Retention rating with an index finger release auto-locking system. It's one of the best OWB holsters for sig p365 options on the market right now because it features a 360-degree paddle holster and that secondary auto-locking system. It's hard to find both features in one holster at this price point level.
Pros
Secondary retention system
Comfortable paddle holster
Easy care materials
Cons
Fit may be a little too snug
Awkward to adjust the cant
How to Choose the Best Sig P365 Holster
In a perfect world, you could pick out a holster online or from a catalog, and it magically fits 'just right.' But we don't live in a perfect world. That's why so many owners have a box full of holsters. They go through different models until they find one that's perfect for their needs.
The Four Factors for Picking Out a Great Holster
Accessibility and Concealment
You may think you have to choose between getting to your firearm or hiding it, but the right holster is a combination of the two. It's impossible to find the 'perfect' holster because everybody's needs are different. So, ideally, you're looking for a balance between accessibility and concealment.
Carry Types
Generally, Sig P365 owners are looking for holsters for concealed carry. But what type of 'conceal' do you need?
You'll typically find two types of concealed carry holsters on the market: IWB and OWB. There are other types of holsters available, but these two are the most ideal for carrying a Sig P365.
'In the Waistband' or IWB holsters tuck into the inside of the waistband of your pants. Some like it because the holster feels more secure when it's directly against their body, while other people find the extra bulk uncomfortable.
Another choice is the 'Outside the Waistband' or OWB holsters. These are the holsters that you see attached to a belt on the outside of the pants.
Holsters carried in this way may feel more comfortable, but you also need to consider the printing that may occur. Printing is when you can see the outline of the gun and holster. If you're trying to conceal your firearm, you can imagine that this isn't ideal.
Occasionally, you may find a P365 pocket holster. They're not as popular as IWB and OWB holsters, but they're a good option if you don't like wearing your gun.
Retention Methods
How do guns stay in their holsters until you need them? It depends on the holster's retention method. There are a few to choose from:
Friction − molded holsters that rely on friction between gun and holster; okay for everyday use
Flaps – traditional military-style holster; flap across butt keeps gun secure and safe from dust, rain, and mud; not ideal for civilian carry
Thumb break strap – alternative to flap, quick release, favored by traditional police; can be easily taken by an assailant
Trigger guard lock – a modern solution for police force, rigid material with hooks or posts that lock into the trigger guard
More retention isn't necessarily better. Your gun may be safer, but it may impede the speed of your draw.
Material
Leather is the most traditional material for holsters, and there's a reason why people still love it today. It's versatile, lasts a long time, and let's face it – it looks great! Leather is also a good choice because it doesn't add much bulk and eventually molds to the body and gun.
But the major downside to leather holsters is the maintenance involved in keeping it in tip-top shape.
Kydex may be another option you'll see a lot on the market.
This heavy plastic is excellent for retention, but it's uncomfortable for some people. And it's a bit bulkier and more evident than other materials.
Lastly, you may see hybrid synthetic fabrics used to make holsters. These fabrics nestle snuggly between the extremes of leather and Kydex. They're tougher and lower maintenance than leather but keeping them clean is harder than Kydex.
The Best Sig P365 Holster for Your Money
Buying a holster can be a long and involved process. There's no 'one-size-fits-all' option because each person has different preferences. But there is one on the market that comes pretty close to filling most needs: The Sig Sauer Appendix Carry holster.
This holster may be at a higher price point than other holsters, but it is one of the most comfortable Sig P365 holster options out there. With a slim fit design and multiple adjustment options, it strikes a nice balance between accessibility and concealment.
Of course, not everybody has the budget for a Sig Sauer holster. If that's the case, you can always try the Cytac OWB or the Amberide IWB options. Both offerings cover the basics of a good holster without breaking the bank.
Explore more