Sig Sauer P365 SAS Review: Streamlined Concealed Carry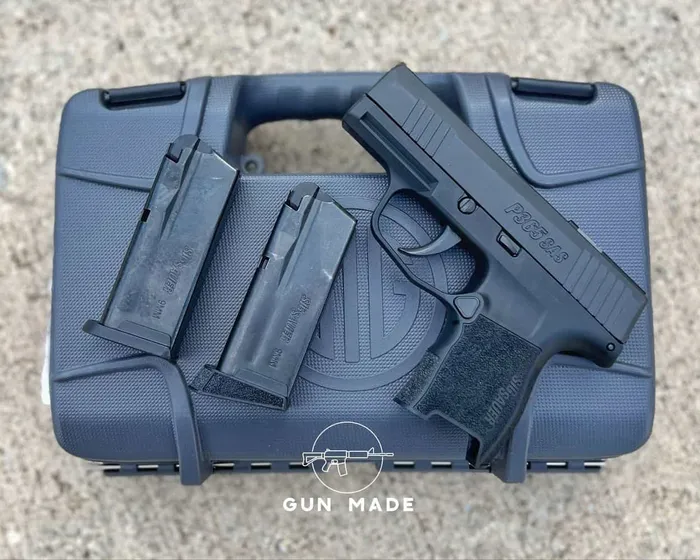 Sig Sauer P365 SAS Review: Streamlined Concealed Carry
Introduction
The micro-compact Sig P365 was released back in 2018 and has remained very popular ever since. There are now many different variants of the P365. Some are larger. Some are more tactical. The one we are looking at today is the streamlined and concealed carry-driven variant, the P365 SAS (SIG Anti-Snag).
To be honest, I didn't feel that the P365 needed to be slimmed down or streamlined for carrying purposes, so I never really paid much attention to the P365 SAS. But, once the opportunity popped up to review it, I jumped at it. I wanted to see if I was missing out on a hidden gem. I don't want to spoil the review within the first section, so keep on reading to see if I wound up liking the P365 SAS or not!
Sig P365 SAS Review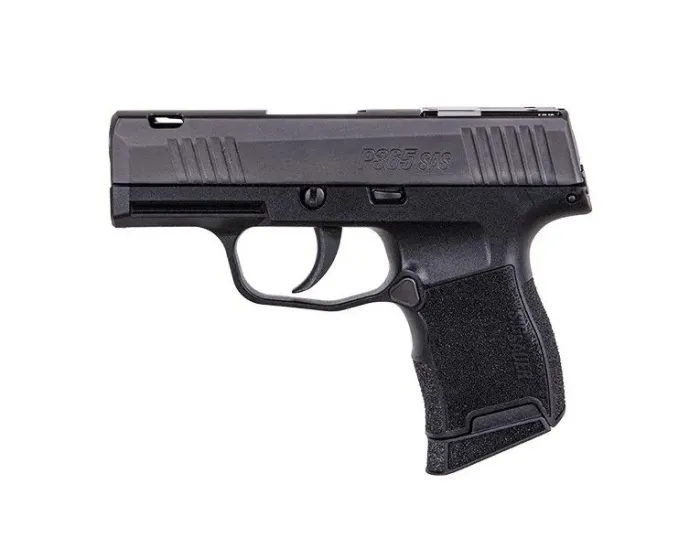 Specifications
| | |
| --- | --- |
| Caliber | 9mm |
| Capacity | 10+1 Rounds |
| Barrel Length | 3.1 Inches |
| Overall Length | 5.8 Inches |
| Width | 1.0 Inch |
| Height | 4.1 Inches |
| Weight | 17.8 Ounces |
| Sights | FT Bullseye Fiber-Tritium Sight |
Pros & Cons
We like to avoid the very obvious, but not mentioning the anti-snag design as a pro when it comes to carrying just doesn't seem right.
Pros
Anti-snag design if utilized for concealed carry
Reliable – No failures during testing
Smooth and repeatable trigger pull
Cons
Embedded sight significantly different than normal sights
Controls are too difficult to manipulate
Lack of customizability (can't replace the sight or add an optic)
First Impressions & Range Time Fun
In the Box
Aside from the standard lock and literature, you'll find two 10-round magazines tucked nicely inside the plastic Sig pistol case, along with the gun itself.
One of the magazines comes with an extended base plate, thankfully, because without it I would definitely not be able to rest my pinky on the grip.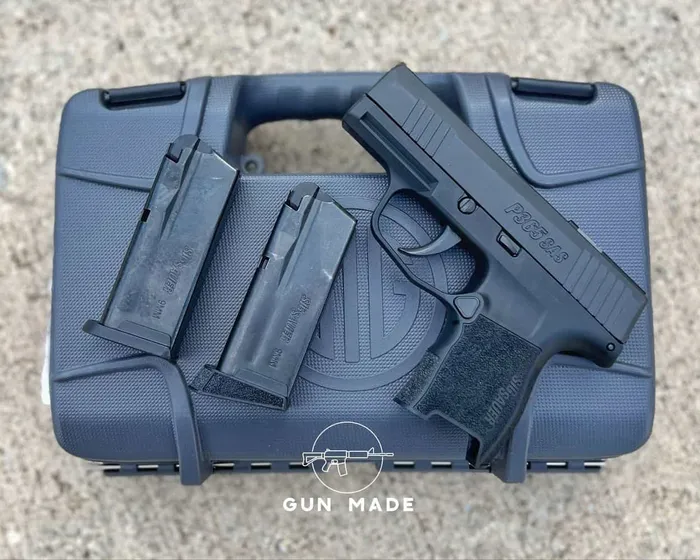 Reliability
I've known the standard P365 to be extremely reliable and the SAS has been no different. Out of the 190 rounds I've put through it so far, I haven't had any failures. It had no issues cycling through 115-grain Blazer Brass FMJ or 124-grain Federal Punch JHP. I wouldn't anticipate the next few hundred rounds to be any different.
Accuracy
For as much as I don't see the need to incorporate this embedded bullseye-style sight, I was pleasantly surprised with how easy it was to get acquainted with. It only took a magazine or two to feel comfortable within 10 yards.
Once I pushed out farther than 10 yards, it was a bit difficult for me to maintain tight groupings, but I'm assuming if I had a decent-sized gong or silhouette down range, I could at least hit them at 25 to 50 yards.
Overall though, I would consider this a 10-yard and closer defensive option.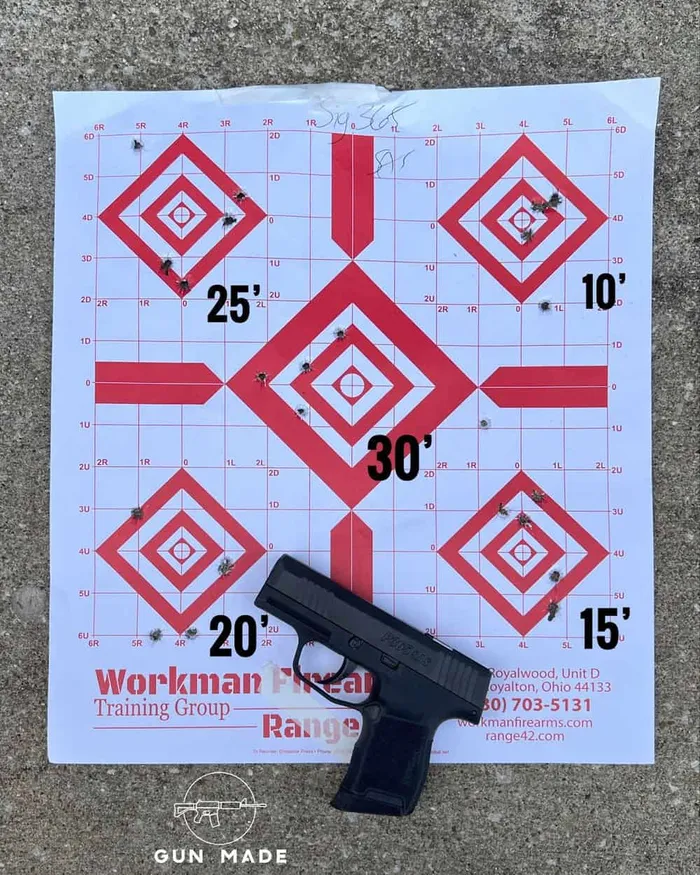 Overall Feel
Being so smooth and compact, I can see this being a very comfortable gun for someone with small to medium-sized hands. For those of us with large or extra-large hands, though, it's a difficult pistol to really get a good grasp on.
When you do find that sweet spot of a grip, though, it has a nice feel in hand. I'd prefer the grip to be a tad longer and wider, but I understand that would defeat the overall purpose of this gun.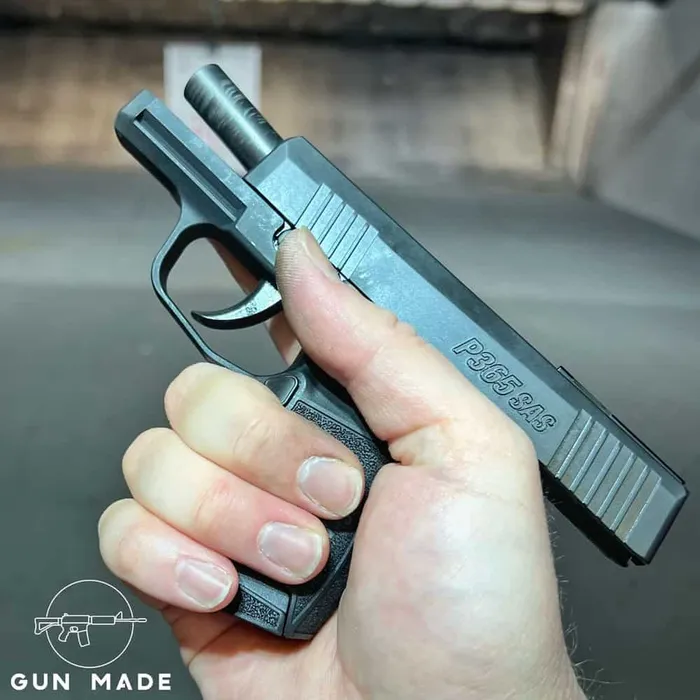 Features
The P365 SAS definitely has some unique features to highlight. The people I have talked with who have shot this gun seem to have mixed reviews, especially regarding the sights and the controls. Hopefully, by the end of this article, you'll know without a doubt if the P365 SAS is for you.  
Sights
One of the main areas that Sig wanted to reduce potential snagging on was the front sight. To accomplish that, you won't find any front sight on the P365 SAS. Instead, Sig decided to go with a single, embedded FT Bullseye sight instead of your standard rear sight. It features fiber optics for daylight visibility and tritium for low-light visibility. This was my first time utilizing a sight like this, so I wasn't sure what to expect.
Surprisingly, it was very easy to pick up and get used to. Within about 10-yards, the sight was accurate if I took my time shooting. Once I pushed out farther than 10-yards…let's just say I wouldn't want to count on this gun to save my life. I'd like to see how I fare after a few hundred more rounds, but I think I'd still prefer a standard three-dot setup.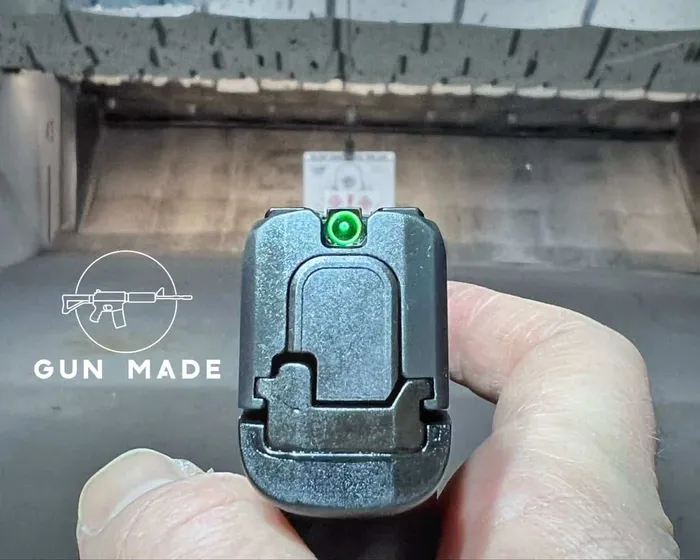 Controls
While some may consider the EXTRA low-profile controls to be a benefit, I despise them. I literally could only manipulate the slide stop lever maybe once out of every five times unless I completely shifted my grip or used two hands. That could be a result of me not taking my time or shooting thousands of rounds through it to practice, but I don't think you should have to.
The magazine release wasn't as bad, but there were a couple of times when my thumb glazed right over it, and I had to do a double-take. Overall, I'll take my standard controls any day, as I don't have any trouble with them snagging.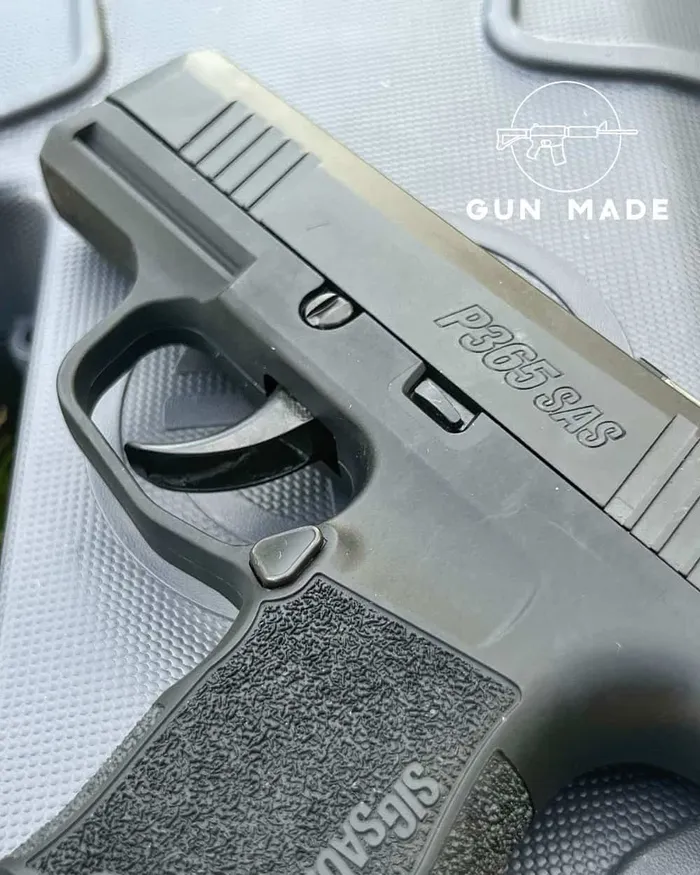 Trigger
If you like the trigger on the standard P365, you'll like this one because they're the same. It has a smooth and consistent pull, with a light take-up and defined reset. It's not my favorite trigger, but it's far from bad.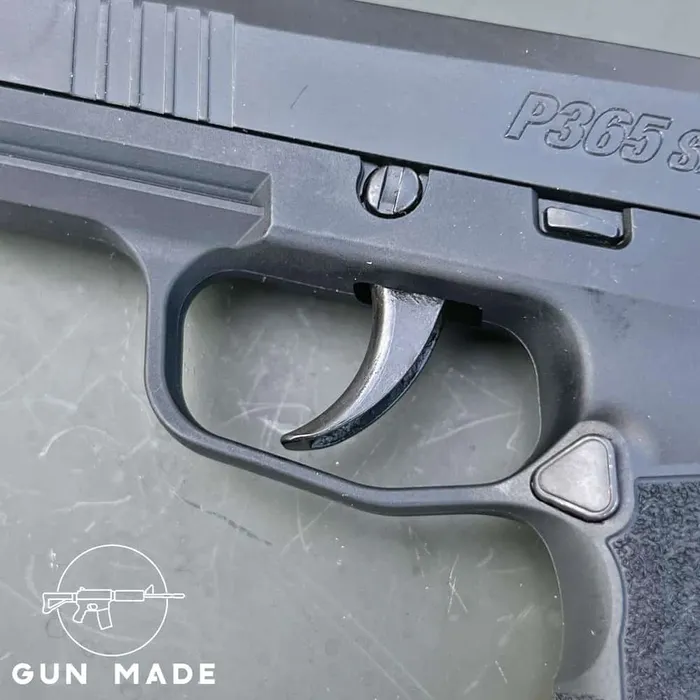 Magazine
For a gun of this size, I wouldn't expect much more than 10-rounds, as nice as that would be. They are easy to load, though, and I didn't have any failures while shooting. I like that Sig added the extended base plate on one of them and a couple of witness holes on both. If I were purchasing this gun and carrying it, I would definitely be carrying both magazines.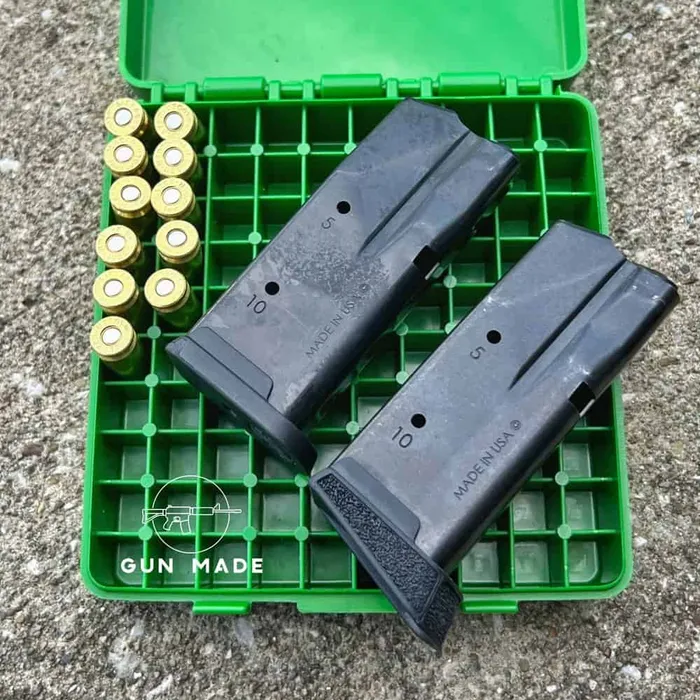 Grip
The grip may be small, but it's comfortable (when I can find the right placement for my big hands). If you have small to medium hands, though, you're set. I love the actual texture on the grip and the slight contouring on the front and back. If only it was a bit taller!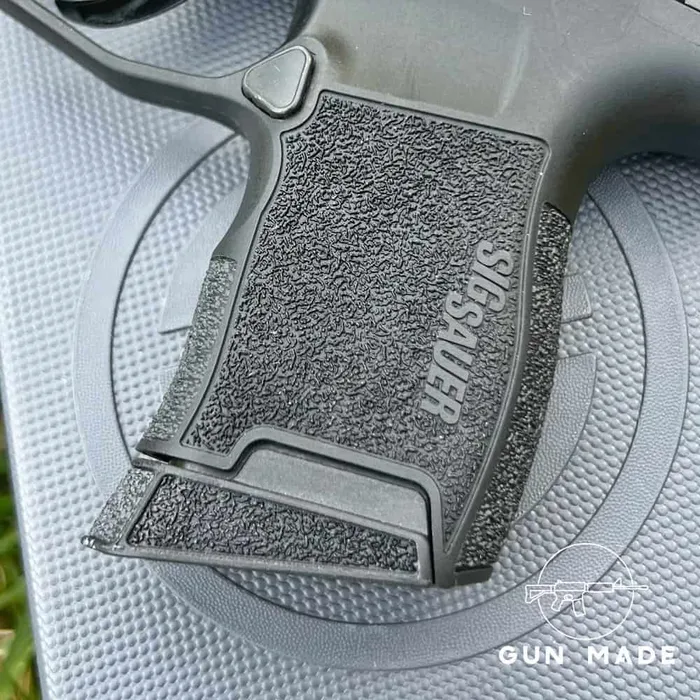 Accessories
I normally would suggest some aftermarket sights or an optic in this section, but that's obviously not going to be the case with this one. Adding a light would only add bulk to your carry, which, if you're entertaining this gun, I'm assuming you wouldn't want. So, I think going with a solid IWB holster would be my first and most important recommendation.
The Cloak Tuck line from Alien Gear is one of the most comfortable hybrid holsters that I've personally tried. Even though I've switched to appendix carry, this was one of my go-to hybrid holsters. You can even switch out the Kydex shell to accommodate other pistols while using the same backing. It's versatile, comfortable, and affordable.
Want a sturdy but simple Kydex IWB holster? Check out Tulster's Profile IWB holster. It has adjustable retention and cant, a full sweat shield, and comes in a variety of colors or patterns. You can carry your P365 SAS in essentially any position you'd like with this holster, from the appendix to the strong side or kidney carry.
Alternatives
If you're like me, where the flat controls and embedded sights aren't necessarily your style, but you still want something extra compact, go take a look at the Glock 43X and the Springfield Armory Hellcat.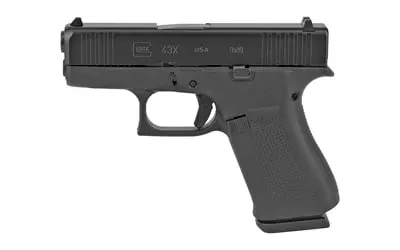 The Glock 43X is a subcompact 9mm with a compact-size grip length. It has a 10+1 capacity, just like the P365 SAS does, but you'll get the familiar front and rear sights, easy-to-use controls, and a match-grade barrel. It's also affordable, typically found under $500 if you search.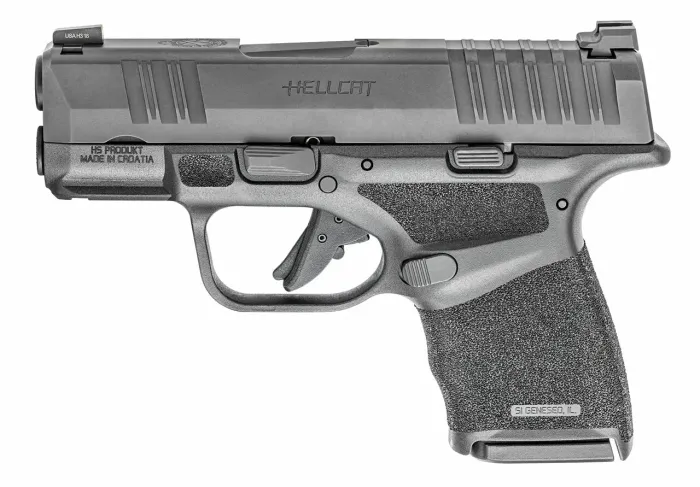 In a life-or-death scenario, a couple of extra rounds can save you. With the Hellcat, you have a standard capacity of up to 13+1 with an extended magazine or 11+1 with a flush magazine. It has really nice U-Dot sights, excellent grip texturing, and a non-proprietary accessory rail.
FAQs
How should you clean your SIG P365 SAS?
Just like with any semi-automatic handgun, you should disassemble the firearm, and clean and lubricate (where necessary) the slide assembly, barrel, frame, recoil spring, and magazine. I suggest cleaning your P365 SAS after every shooting session.  
What is the difference between P365 and P365 SAS?
The P365 SAS was designed specifically to reduce snagging while carrying, so it's much more streamlined. It features flat controls, an embedded sight within the slide, and a rounded SIG anti-snag slide treatment.
Does the P365 SAS have night sights?
Yes, the P365 SAS has a night sight that is embedded into the slide. It has fiber optics and tritium for increased visibility in daylight and low-light scenarios.
Conclusion
The Sig P365 SAS is a reliable and ultra-concealable handgun made with concealed carrying in mind. With that being said, it's not for me personally.
I'll gladly accept the risk of potential "snagging" if it means I can have standard sights and controls that I can consistently use. If your #1 concern is concealability and mitigating as much of a snag risk as possible, I'd suggest checking out the P365 SAS for yourself. If that's not the case, the standard P365 may be better for you.
Explore more