SIG Sauer MPX Review & Photos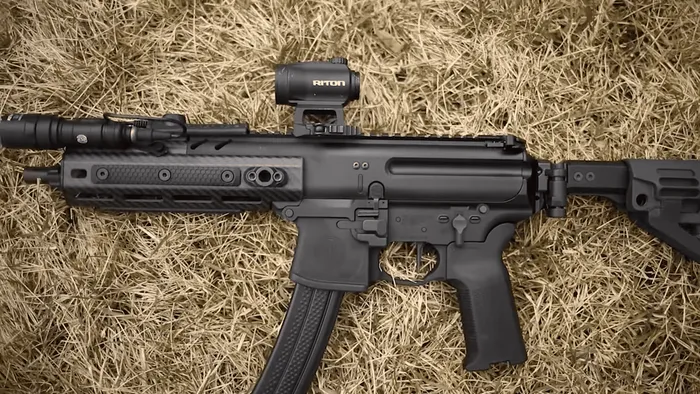 SIG Sauer MPX Review & Photos
It's 2022, and shooting 9mm caliber firearms has never been more fun. At first, one might question the purpose of a 9mm PCC or a submachine gun. Most folks usually go for .22 LR rifles or an AR-15 in the .223/5.56 caliber and enjoy a fine day at the ranges.
However, there's a little something called the SIG MPX, and it's here to change your mind.
Today, I'll be doing a long-awaited SIG Sauer MPX review in the 9mm chamber. I had the chance to shoot this submachine pistol a couple of months ago, and I'd love to voice my opinion on this fine piece of machinery and SIG Sauer ingenuity.
Keep in mind that we're talking about the "semi-automatic only" pistol variant for civilians, also called the SIG SBX Pistol with a stabilizing brace, unlike the fully-automatic version the military uses.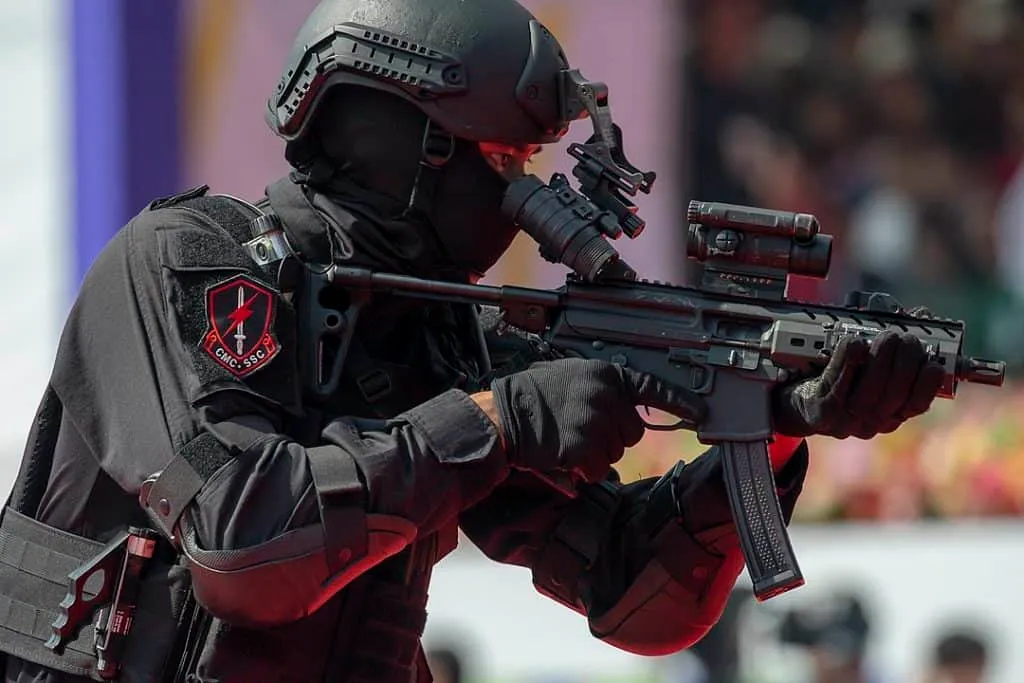 In this SIG MPX review, I'll go into full detail about its main characteristics, its advantages and disadvantages, compare its other variants and barrel lengths, and, as usual, I'll also list essential aftermarket parts and optics.
A word of caution: the SIG MPX is a serious firearm with a hefty price tag, and it's rarely in stock. However, this review will hopefully help you understand its overall purpose and application so you can see whether or not it's for you.
One thing's for sure—it's one of the best top-performing home defense platforms with AR-15 handling and modularity, not to mention it's in the venerable 9mm cartridge. It's highly reliable with its gas-operated system with a closed, rotating bolt that's rarely seen in submachine guns.
Here's how the SIG MPX came to be.
SIG Sauer's Idea Behind the MPX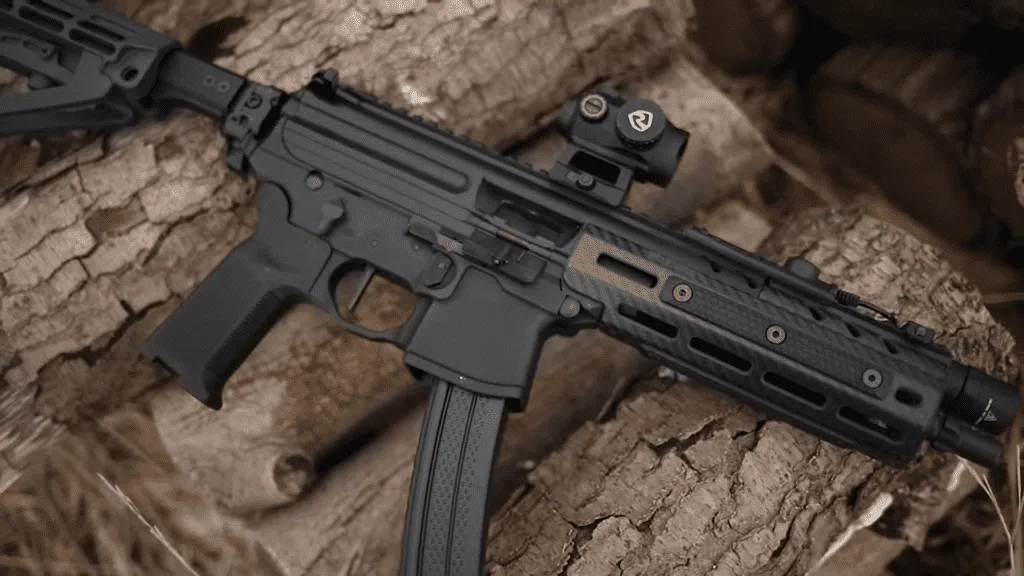 When someone's talking about pistol-caliber submachine guns, I immediately picture an H&K MP5. Developed in the 60s, the MP5 submachine gun has quickly become the most iconic and best-selling firearm in SMG history.
Now that more than 50 years have passed, it's safe to say that the seemingly timeless blueprint of the MP5 is now obsolete.
The stamped and welded receivers just don't cut it anymore, and though the roller-delayed blowback is a tried-and-true mechanism, it doesn't come with its reliability issues. Not to mention the massive price tag that still hangs heavy on the MP5.
That's why SIG Sauer went for a design that would fill those voids and offer a new treat for the civilian market—the SIG Sauer MPX Pistol. Though the retail price is still high, it's more than halved of the MP5, and the firearm is much easier to handle and maintain.
The Difference Between the Military-Grade MPX and the Civilian Model
SIG Sauer developed the MPX Pistol as a pistol-caliber (which explains the 'P' in the name), a short-barreled rifle (SBR), and it also ticked the box of a submachine gun.
The first blueprints and prototypes were thought up in 2013, but the final version of the standard MPX was released on the market in 2015.
You can easily spot how the manufacturer had a military blueprint in mind, despite the MPX being semi-automatic instead of fully automatic. The aim was to develop a submachine gun that would take up the mantle of the H&K MP5 and upset the iconic round.
SIG actually knew what they were up against. It's a daring move to start producing pistol-caliber submachine guns with all these new AR-style rifles that dominate the market.
The SIG MPX Variants
SIG Sauer introduced the MPX in several variants. There's the SIG Sauer MPX K, the compact MPX Copperhead, and the MPX PCC with a 16-inch barrel.
The standard MPX is a gas-operated SMG in the 9mm cartridge, and it has the patented SIG short-stroke pushrod gas system that not only enhances reliability but also reduces the 9mm recoil even further.
The MPX Gen 1 was vastly different from what we have today because the steel inserts were on the left side, and the injection port, mag release, fire selector along with the stock were much different. Though the bolt catch was ambidextrous, this model didn't exceed expectations.
Then in 2015, the Gen 2 was introduced. This model was further enhanced for conversion calibers, and the KeyMod handguard, ambidextrous charging handle, and scalloped top rail were a fantastic improvement.
The current semi-automatic pistol version that was finally improved in 2019 has an M-LOK handguard.
The MPX K is a professional-grade SMG with a closed bolt gas piston system. It also sports modularity with the M-LOK handguard, which allows various customization with handguards, an optional suppressor, the excellent Timney Trigger, and different barrel lengths.
However, what makes the MPX K stand out is the SIG PCB (pistol caliber brace) folding brace, enabling you to turn it into an even more compact SMG.
SIG Sauer MPX Review
Specifications
| | |
| --- | --- |
| Manufacturer | SIG Sauer |
| Model | MPX PCB Pistol |
| Caliber | 9mm Luger |
| Action | Gas-piston with a closed, rotating bolt |
| Capacity | 30 rounds |
| Trigger pull | Tuned 4.5-pound trigger pull |
| Safety | Long lever selector |
| Barrel length | 4.5 inches |
| Overall length | 22.25 inches |
| Overall width | 2.4 inches |
| Weight | ~5 pounds |
| Grips | Polymer |
| Sight | N/A |
| Stock | PCB polymer |
| Length of pull | 12 inches |
| Twist rate | 1:10 |
| Brace | PCP Brace |
| Rail Type | M-LOK |
| Receiver | Hard coat anodized |
| Barrel construction | Cold hammer-forged carbon steel |
| Finish | Black |
| Accessories | 30-round polymer magazine; Owner's manual |
Grips and Ergonomics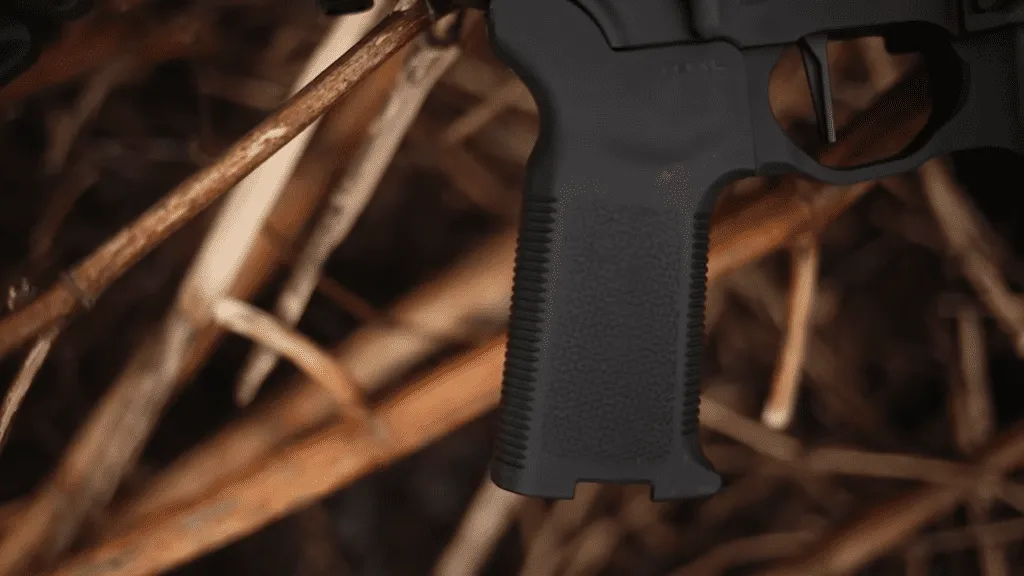 Let's start with the grips of the SIG MPX.
At first sight, the SIG MPX's pistol grip looks like a factory AR-style grip. The grips are polymer, and the handle is very diagonal, like an M16. That said, it's not as steep or vertical as regular pistol grips. Simply put, it bears a strong resemblance to the Magpul MOE.
Even so, it feels surprisingly fitting, and the already light recoil doesn't cause any inconveniences to your wrist or how you hold the MPX.
I don't see how the AR-15-style grips would bother anybody. Anyhow, what's great about the MPX is that it has massive customization possibilities in comparison to the MP5, or let's say, a CZ Scorpion EVO 3. You can just easily switch out the grips with a model of your choice.
Stock and Brace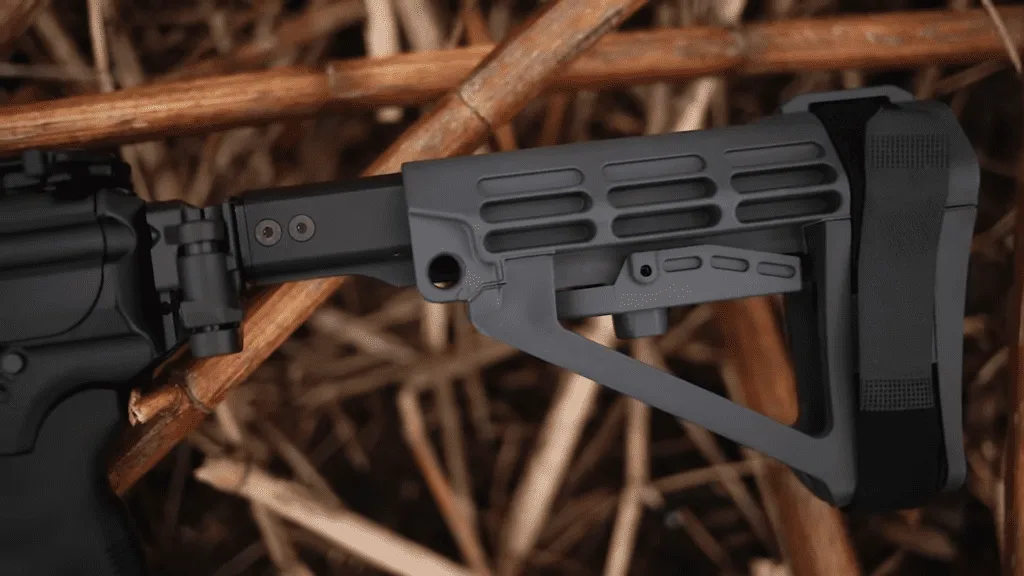 The SIG MPX has a cut receiver with a Picatinny rail, which allows you to mount some cool braces. SIG's braces are cool, but I decided to go for the SB Tactical M1913-style brace, which feels a bit different than the factory ones from SIG Sauer. The length of pull isn't affected much—only by a quarter-inch longer.
The MPX is made to be customizable to your liking. So, if you want to make it a bit narrower, there are two channels on the side in which the brace can collapse and shorten the width. It worked for me.
What's so special about this uniquely collapsible brace is that it really makes the MPX more compact and accessible for many users. Just tweak and adjust it and practice shooting it with the two different configurations.
Now onto the charging handle.
The Charging Handle
Again, we see an AR-15-style charging handle with ambidextrous use that reminds me of Geissele charging handles with a smaller frame.
Racking the handle is smooth, but you can easily swap it with another one, and I recommend a Radian Arms MPX charging handle that feels a bit different than the factory one.
Go right ahead and practice racking the charging handle; it doesn't matter if you have big or small hands. It's well-placed, has a small frame, and it's pretty much snag-free.
Handguard
Depending on the model of your MPX, there are multiple handguard lengths that fit the barrel length. We're talking about the regular handguard for the standard SIG MPX model.
It's a standard M-LOK make that's upgraded from the former models. The handguard is made to be modular and suitable for suppressors and muzzle devices.
I advise you to save your cash because you'll need a good suppressor. The SIG MPX has relatively low recoil, but it's relentlessly loud, so you'll do well to lower the volume with a muzzle device.
Bolt and Upper Receiver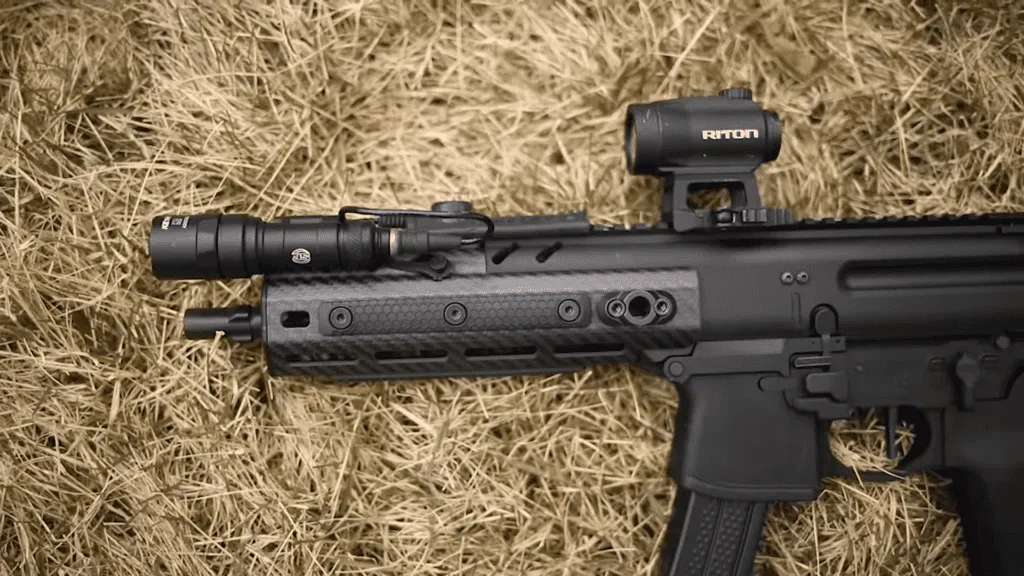 The SIG MPX has a very AR-like bolt carrier group made of aluminum, but it has its own unique flair.
Normally, an AR-15 has a direct impingement recoil system within the stock, but the MPX's recoil system is located inside the upper receiver.
The locking mechanism is cam-based with lugs around the bolt for breech locking. When shooting, the spring-attached BCG (bolt carrier group) recoils inside the receiver, and the springs push the bolt back every shot.
SIG Sauer made it that way for the gun to function properly with an attached stock or folded brace, and the shortened bolt carrier group cut down the weight. For added reliability in round cycling and most likely safety measures, the lowest bolt on the bolt face is extended.
This is what makes the MPX a very adaptable powerhouse with an enhanced recoil system that can take a serious beating in longer shooting sessions as well as negating the need for tuning the springs for proper cycling.
Safeties and Bolt Release/Hold-Open
Speaking of controls, the safety selector, bolt release, and magazine release are ambidextrous. The safety selector is essentially an AR-15 lookalike. The lever on the right is designed to be shorter so that it doesn't hurt your hands when handling the safety.
Having said that, the bolt release/hold-open feature on the MPX is slightly more complex. It's a ping-pong-style release with an extended lever, which allows you to quickly lock the bolt back. The right side has an ambidextrous release that serves as a bolt release only instead of a bolt hold-open.
Magazine Release
The magazine release is yet another AR-like safety that's ambidextrous. It's fairly positioned for both right-handed and left-handed shooters.
The mag well is steep enough for magazine handling in an AK-47 manner. Stripping a mag is a piece of cake with the thumb magazine release. I don't recommend ripping the mag out this way because it might cause wearing.
I have the impression that this feature kind of cuts the slack more for left-handed users, but don't let the ambidextrous mag release scare you. You only need a bit of practice and muscle memory before you realize it feels a lot like handling an AR-15.
Trigger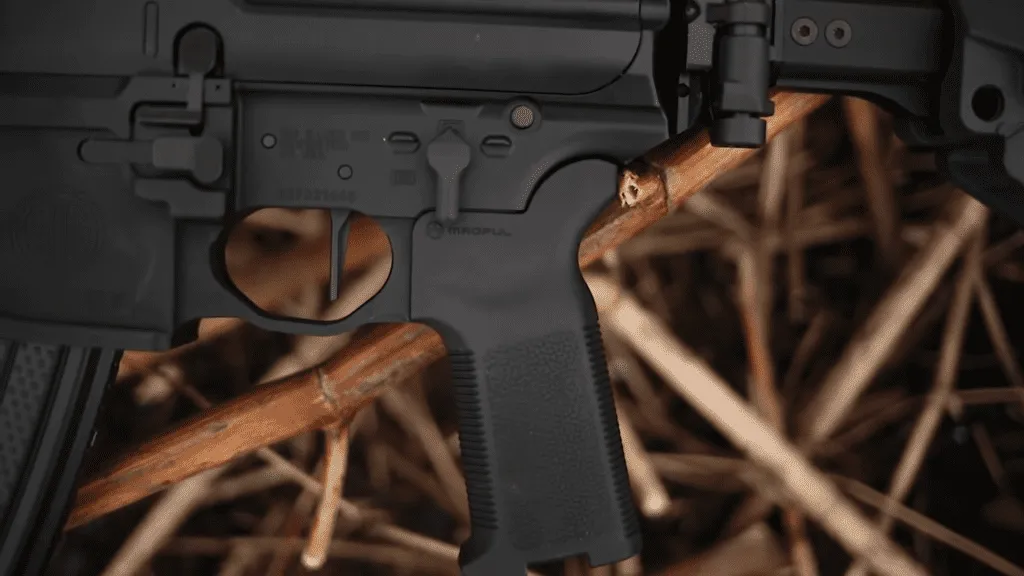 So far, so good, but here's how the standard version of the MPX flops.
While you have a brilliant little Timney trigger on the MPX K version, the regular MPX has a standard mil-spec trigger that fails to impress.
Instead of dazzling us with a new trigger, SIG went for an AR-style trigger just like the other parts. I don't know if it's cutting production costs or something, but it doesn't make sense. It's rigid and uncomfortable, and it's absolutely made to be replaced.
Remember when I said, "save money to snag a muzzle device?" Well, scrounge up some spare change for the trigger too.
Thankfully, SIG Sauer took a standard AR-15 trigger housing that lets you choose many different triggers on the market. I recommend a Hiperfire 24E, but whatever your choice may be, I guarantee it'll fit perfectly, so treat yourself with a more than acceptable trigger pull.
Shooting, Sights, and Ammo Recommendation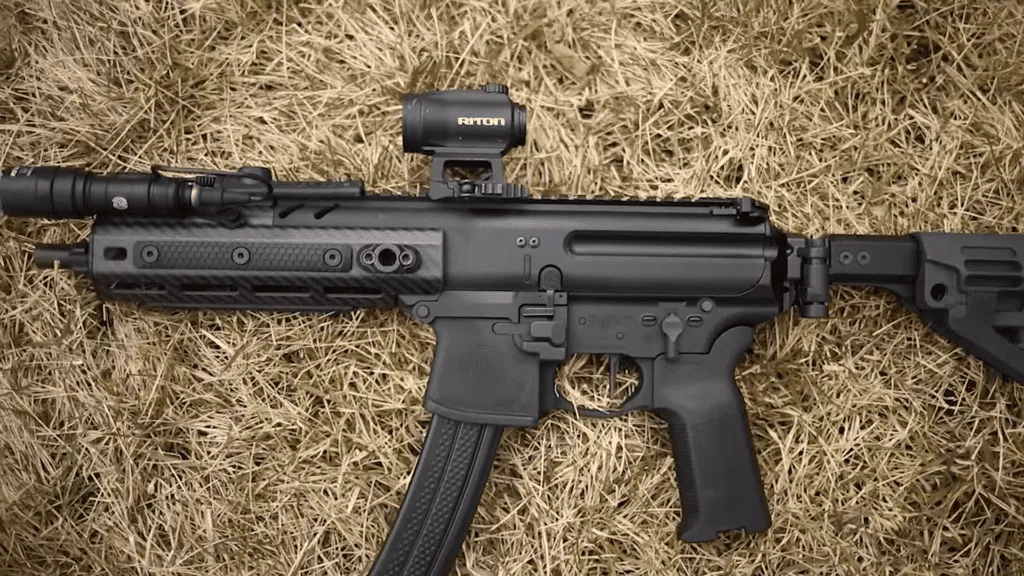 At the ranges, the MPX is super fun to shoot. The first thing you do is pull out the gun, insert the magazine, pull back the charging handle, turn the safety off, and shoot!
Shooting the MPX has been a lot of fun for me, but the thing is that it came off as too loud when I shot it on my first tryouts. Naturally, I immediately stuck a suppressor.
Apparently, the MPX has a rotating-bolt system that makes it quieter, but that doesn't do much. I can only imagine the infernal racket it would make with a blowback system!
To make matters worse, the SIG MPX is really inaccurate with a suppressor, or I was really on an off day. It ran very smoothly with around 100 shot rounds from Fiocchi FMJ 147-Grain rounds, Remington UMC 115-Grain, and Federal FMJ FP 147-Grains each.
However, I didn't manage to hit proper groups, so I don't think you should expect any accuracy shooting at 100-yard ranges.
The bright side is that the ergonomics were on point for the whole hour I spent there, and my hand didn't feel the tingles after the session. You can bet you'll have a blast at indoor ranges that don't allow rifle cartridges.
Sights
Once you receive your purchase from SIG Sauer, besides the MPX, you'll notice the magazine and the owner's manual, but no sights in sight.
The MPX doesn't come with factory sights, and that's because the MPX is made for stocking up on some good red dot sights.
I understand that iron sights on submachine guns are pretty much redundant, but this might not bode well with other shooters. I strongly recommend the tried and true classic, the fitting SIG Romeo 5, for the ultimate SIG package.
As for disassembly, here's an informative video on how to take the MPX down and reassemble it.
Pros & Cons of the SIG MPX
Pros
Superb reliability with the closed and locked, short-stroke gas system
Very soft recoil
Good barrel length for adding a suppressor
Made to be as modular as possible, almost like an AR-15
Tapered barrel
Large aftermarket
Cons
Expensive
Lack of 1/2×28 thread pitch might be a problem
Very loud 9mm
FAQs
Here are some frequently asked questions about the SIG MPX.
Is the SIG Sauer MPX Good for Home Defense?
Like most 9mm submachine guns, the SIG Sauer MPX is made to be as modular as possible for home defense use.
The 9mm Luger caliber is just perfect for self-defense, and it doesn't go through walls, unlike bigger calibers like the .300 AAC Blackout.
John Brasseur, the top project manager for SIG Sauer, explains that there are a lot of law-enforcement agencies that dismiss pistol caliber carbines while going for 9mm-converted AR-style rifles.
According to Brasseur, this isn't optimal at all, given that the 9mm round isn't as piercing as the .223/5.56 cartridge, of which the ballistics are especially important in home defense, close-quarter, and corner situations.
What Are the Best Red Dot Sights for the SIG Sauer MPX?
Thanks to the Picatinny rail that goes from the front to the rear of the receiver, the SIG MPX is suitable for excellent red dot sights and optics.
I personally recommend the SIG Romeo 5, but other red dot sights like the EOTech Holographic with wider lenses work perfectly with the charging handle of the MPX.
Then, there's the excellent budget option, the Primary Arms Advanced Micro Red Dot Sight, with 50,000 hours of battery life and a ½ MOA adjustment click value.
The MPX doesn't have iron sights, but you can easily mount flip-up sights if you prefer.
Are Magazines for the SIG Sauer MPX Gen I and Gen II Interchangeable?
Last I checked, SIG Sauer doesn't advise putting Gen I MPX mags in a Gen 2 MPX or vice versa. Gen I mags have different contours, so there's a possibility that you'll have issues.
What's the Difference Between the Sig MPX Copperhead and the Sig MPX K?
Some of the most popular SIG MPX variants are the Copperhead and the K model. The SIG MPX K has a 4.5-inch barrel length and an overall length of 22.25 inches, cold hammer-forged carbon steel, and a Timney trigger.
The Copperhead is the shorter variant with a smaller frame and an overall length of 15.5 inches, but it has a downside because of the inability to change handguards. This variant doesn't have a retracting stock and brace.
Is the SIG Sauer MPX Legal?
The fully automatic MPX variants are not available to the civilian public, and only military and law enforcement agencies have access to sales.
The semi-automatic versions like the MPX K, the MPX PCC, and the Copperhead are made for the civilian market. The MPX semi-automatic variant is a short-barreled rifle, and it's perfectly legal in the US.
Alternatives to the SIG MPX
There are lots of 9mm pistol-caliber carbines, AR-9 pistols, and AR pistols to choose from, but these three guns come close to the excellence of the SIG MPX. They're pretty similar in their function, but the price tags vary.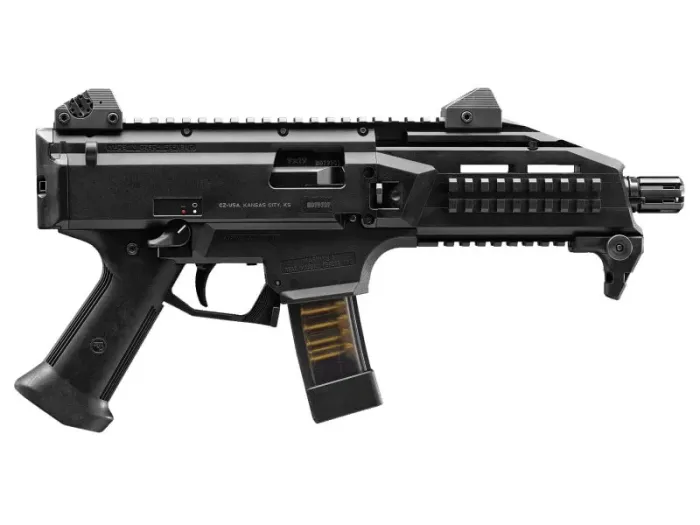 Manufactured by Česká Zbrojovka, the Scorpion EVO 3 might as well be just as recognizable as the modern MP5.
Unlike the AR-15, which has a direct impingement system, or the MPX's short-stroke system, the CZ Scorpion EVO 3 has a blowback system that's similar to the MP5. This semi-automatic variant is CZ's third line of submachine guns with folding adjustable stocks.
There's a Picatinny rail on the handguard for your grips, optics, and flashlights, and it's pretty much moddable like the MPX, only it's much cheaper. There's also a model with a longer barrel—the CZ Scorpion EVO 3 S1 Carbine.
If you'd like to own a gun like the MPX but you want to spend some money on aftermarket parts, the CZ Scorpion EVO 3 is for you.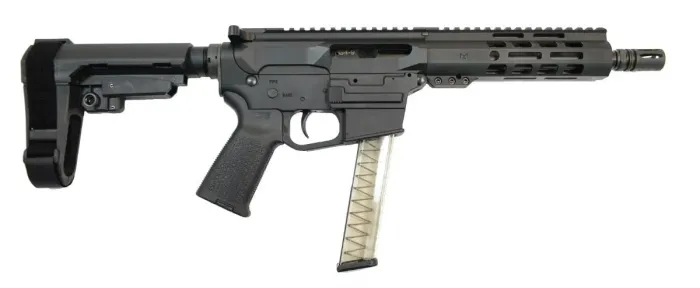 Here's Palmetto State Armory with their semi-automatic pistols modeled after the classic AR platform. It's a literal AR-15, only much smaller, more modular, and chambered in a 9mm cartridge.
The PSA Gen4 Shockwave Pistol has an 8-inch barrel, Magpul grips, KAK Shockwave Blade pistol brace, and a Gen 4 Hybrid BCG with a nitride-treated 8620 steel bolt, which makes it compatible with lots of aftermarket fire control groups and trigger housing models.
Overall, the PSA Shockwave Pistol is an astounding semi-automatic powerhouse with a fantastic price. It's a bang for your buck, and it shoots well with the PSA Enhanced and Polished Trigger (EPT), aircraft-grade aluminum 6061-T6 anodized upper, and a 30-round clear magazine.

Last but definitely not least, the CX4 Storm is right up there with the MPX and the CZ Scorpion, only it looks like a futuristic bullpup plasma rifle.
Beretta's iconic CX4 Storm is truly a "either you love it, or you hate it" situation. Most folks are distracted by the modern look but fail to understand that it offers more than they pay for it.
It has a 16-inch chrome-lined, hammer-forged barrel, a comfy buttstock spacer for dampening recoil, and a full-length Picatinny rail for your optics and mods. Expect sound accuracy and 1-inch groupings at 25-50 yards with a solid red dot sight.
One more thing: I recommend you replace the polymer firing hammer with a steel model if you want this one to last.
Conclusion – The SIG MPX Is a Brilliant Little H&K MP5 Alternative for Half the Price
What SIG Sauer wanted with the MPX was to design the highest quality pistol-caliber platform with a completely unique blueprint from the ground up.
Every MPX model is designed with multiple purposes in mind, like modularity, performance, and a well-balanced mechanism that will last for a long time. Most importantly, the gas-operated system makes sure the firearm keeps running and doesn't need much cleaning after a session.
Ultimately, it's a semi-automatic pistol-caliber gun that's inspired by the AR-15 platform, the MP5, and with its short-stroke pushrod gas system, it offers unmatched performance in follow-up shooting and reduced recoil.
Though it's one of the most expensive pistol-caliber platforms on the market, it's made to be the modernized replacement to the almighty MP5 with a halved price. So, keep that in mind. What the MPX offers is top-tier performance at the ranges and the ultimate in home defense.
The flexible modularity of the MPX means that it could also be used as a camping or trucking gun, and the small frame and adjustable stock and brace offer a plethora of uses. Just remember to go for a suppressor once you buy yours. It's really noisy.
Stay safe, shoot straight.
Explore more