Sig Sauer P210 Carry Review: A Modern Classic [2023]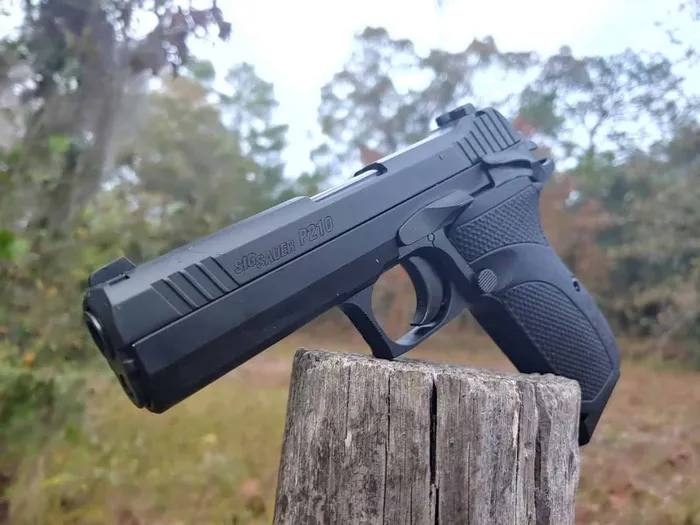 Sig Sauer P210 Carry Review: A Modern Classic [2023]
Introduction
Have you ever wondered how the Swiss put all those holes in their cheese? I bet it was with a classic SIG P210, and I say that because it has been a blast putting holes in everything in this Sig Sauer P210 Carry review.
The P210 is nothing new. It's been alive and kicking since the 1940s when the Swiss needed a new service pistol. For decades it was out of production and unobtanium until SIG released the P210 Classic, and a little while later, they followed it up with the P210 Carry.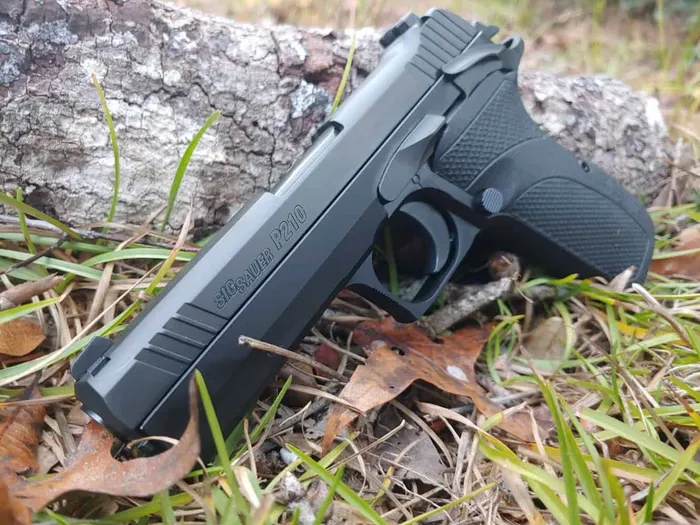 While the classic is a great target pistol, the P210 Carry is modernized and trimmed to make it more carry-friendly and much more modern. I've always been fascinated by the P210 Series, mainly because they've been unobtanium for so long. The design of the P210 and its long service life has always fascinated me, and when the P210 Carry was announced, I was a bit doubtful about the gun.
The question of why kept running through my head, and it culminated in me needing to get one in my hand to really figure it out. So after a few hundred rounds of ammo, I think I've figured out the why.
Sig Sauer P210 Carry Review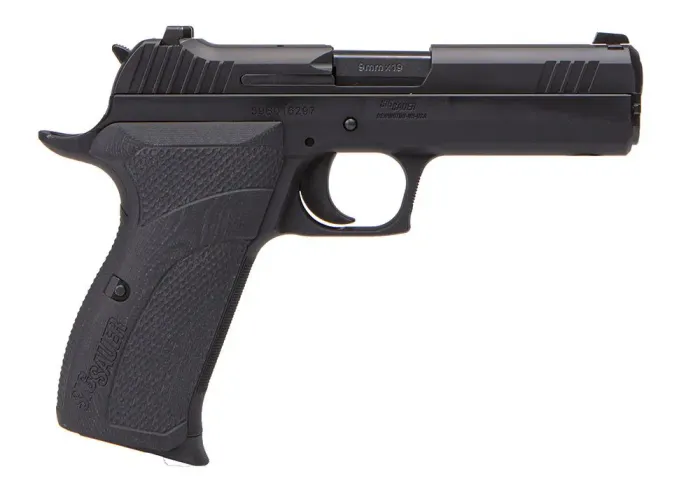 Specifications
| | |
| --- | --- |
| Caliber | 9mm |
| Capacity | 8 rounds |
| Barrel Length | 4.1 inches |
| Overall Length | 7.75 inches |
| Height | 5.63 inches |
| Width | 1.44 inches |
| Weight | 29 Ounces |
Pros & Cons
Pros
Uber Crisp Trigger

Excellent Sights

Massive Controls 

Outstanding Accuracy
On The Range With the P210 Carry
Don't let the Carry in P210 Carry deceive you. It's not a small gun and doesn't give off P365 vibes by any means. The P210 Carry is a compact-sized handgun that falls into the same category as the Glock 19 but a good bit thinner. The all-metal design makes the gun a little hefty, but not obnoxiously so. The gun is seven ounces more than the Glock 17 unloaded. The P210 Carry uses the same magazines as the original P210.
What makes the SIG P210 Carry different than the standard P210 in size is that they trimmed the barrel and slide from 4.7 to 4.1 inches. That's really it in terms of size. What makes the P210 Carry different is the various features and modernizations SIG made. All those upgrades and features ended up making the P210 Carry a sweet little pistol at the range.
Accuracy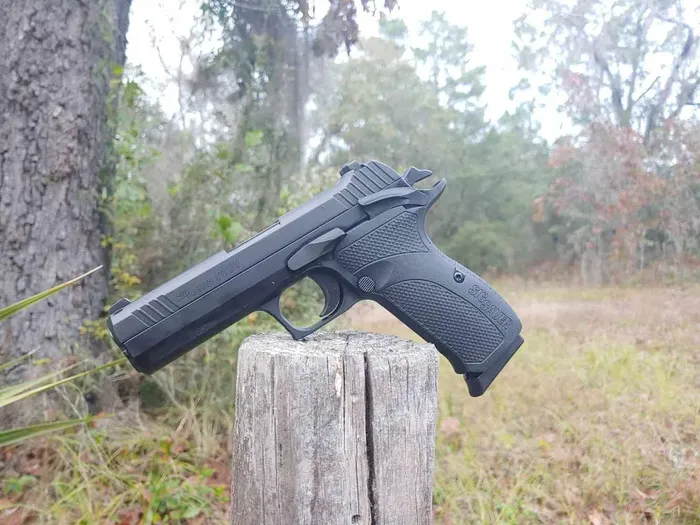 The P210 series of pistols have always been known for their inherent accuracy. These guns became popular for competition and bull's eye shooting for decades. There is a reason why the target model was so popular for so many decades. Does the P210 Carry hold up to that reputation?
I'm happy to say it very much does. The P210 Carry comes with a single action trigger that's ultra-light and very crisp. Surprisingly so. You feel a little bit of takeup followed by a wall that's short and light, then the break. Single-action triggers have remained popular for a reason, and it's easy to see why.
SIG installed a set of SIGLITE Night Sights on the P210. The sights feature a white background with a tritium lamp in the middle. They are very easy to see and glow very bright in low lighting. The sights are easy to see and somewhat small, so they don't completely obscure your target. To really top things off, SIG included a carbon-steel match-grade barrel.
In a slow-fire accuracy test, it's easy to produce tight groups at 25 yards. The P210 Carry is more or less designed for fast shooting and tactical use. In that realm, the P210 Carry dominates quite well. The big sights are easy to see and fast to get on target. From a practical shooting perspective, the gun dominates.
Shooting drills like the 10-10-10 Drill, failure drills, and box drills all resulted in clean runs with ease. The P210 is not only an inherently accurate gun but also suitable for tactical shooting.
Control
SIG set the gun up with a set of G10 grips that are heavily textured and wrapped around the rear of the gun. The front strap of the gun features aggressive texturing as well. The grip design is built to be aggressive and to stay locked into your hand when shooting. In practice, the gun locks in and stays put even when you are firing the weapon rapidly. When you start shooting, the gun stays put and doesn't shift in your hand.
The P210 Carry features a hefty little beavertail that allows your hand to get nice and high on the gun, which also enhances control. It allows you to keep your gun locked in your hand. Shooting fast feels natural and controllable. Even with heavy 147-grain loads, the gun isn't tough to control.
Ergonomics
SIG made some big changes to the gun's ergonomics. As we mentioned, gone are the wood grips, and here we have G10 grips. The Beavertail is nice and keeps the hand safe from slide and hammer bite. The reach to the trigger is nice and short and makes it easy to reach for shooters regardless of their hand size.
In terms of controls, we have massive safety mounted to the frame. It's a big wave that greets your hand and allows you to easily press the safety upward and downward. It is only for right-handed shooters and isn't terribly friendly to left-handed shooters.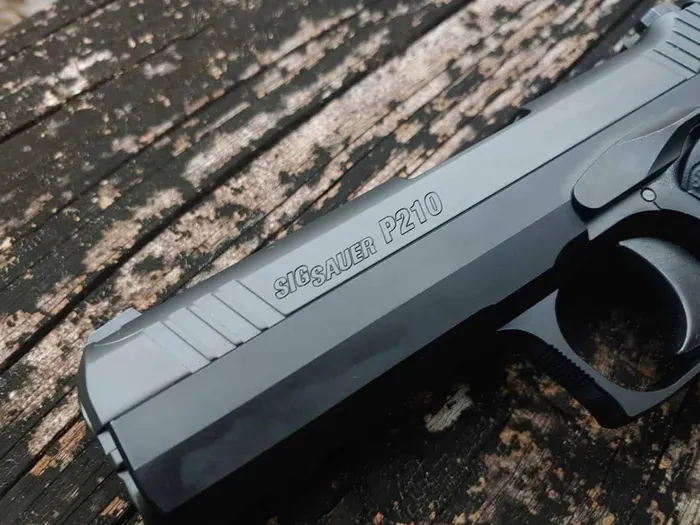 The slide lock and release are absolutely massive as well. It's got a nice fat lip that allows you to press the thing down or up with your thumb to lock or release the slide. Most SIG slide locks are these tiny little things that inevitably get stuck under my thumb. This often renders them useless to me, but that's not the case with the P210 Carry.
Finally, the big magazine release button is heavily textured and certainly large enough to easily engage with. SIG's G10 grips are cut to allow for easy access and a quick press. The P210 Carry's changes are mostly locked into its ergonomics and some of the modernized design.
Reliability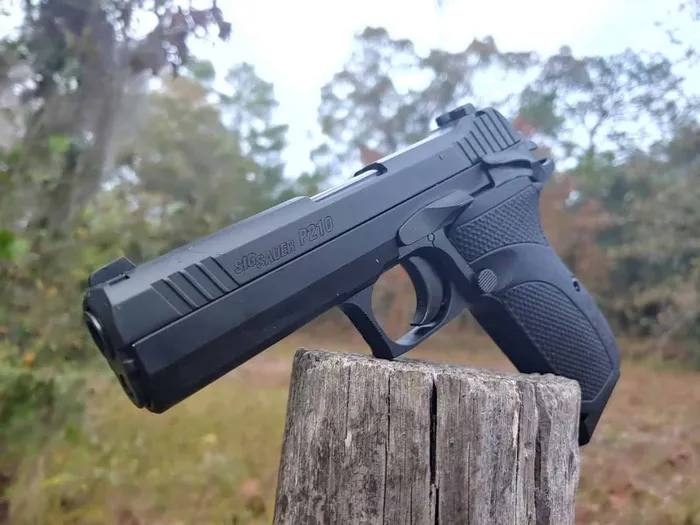 At the end of the day, none of the above matters if the gun doesn't go bang. Luckily, the SIG P210 Carry goes bang and bang and bang without issue. The gun chewed through a mix of steel, aluminum, and brass-cased ammo without any stress. While most of the ammo was ball, I did mix in a variety of JHPs to ensure they cycled without issue.
The P210 Carry cycled and ate everything. It wasn't picky. The gun fired 400 rounds with only a single malfunction. The malfunction was with a round of Winchester Forged ammo. It failed to fire, and I tried it a few times, and the round just wouldn't ignite. I'm comfortable in saying it was an ammunition issue.
Features
SIGLITE Night Sights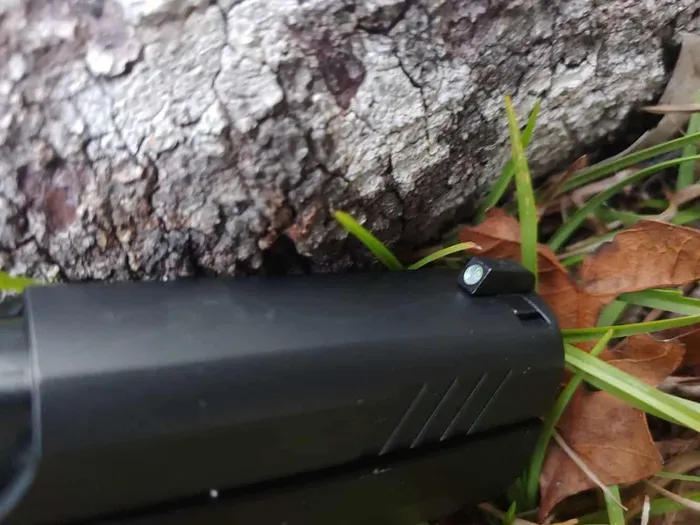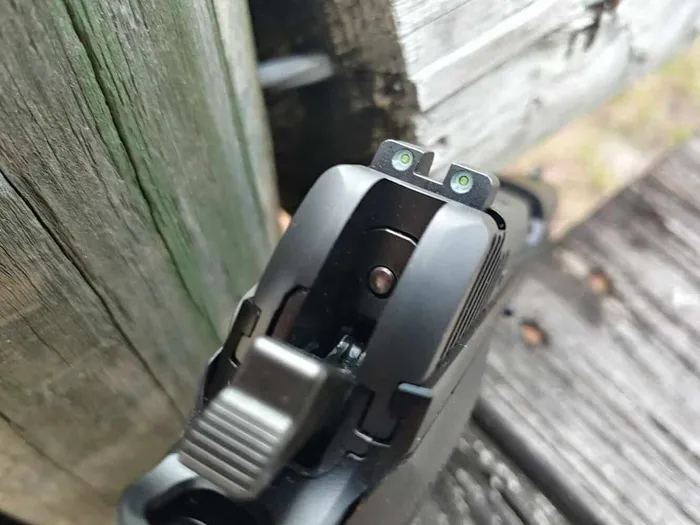 The SIGLITE Night Sights are designed to provide the best of both worlds when it comes to night sights. The SIGLITE sights provide an option for easy visibility on both the brightest days and in low-light situations. In low light, that tritium glows very brightly and provides an easy-to-see option.
Finally, the front sight isn't massive in size, which is a bit different than most other night sights. It's just the right size to be easy to see but also thin enough to prevent obscuring a small target at longer ranges. These are great sights and honestly make sense on a gun with Carry in the name.
G10 Grips
Traditionally, the P210 grips are often wood or a bakelite material. They are fairly thick and often large, which is fine for a target or duty gun, but can be obstructive on a carry gun. The P210 Carry features a set of thin G10 grips.
G10 is a fiberglass laminate material that can be customized and heavily textured for a solid grip. That's exactly what SIG did here, and they provided a fairly thin set of grips. This is a more modern example of grips for a more modern gun.
Alloy Frame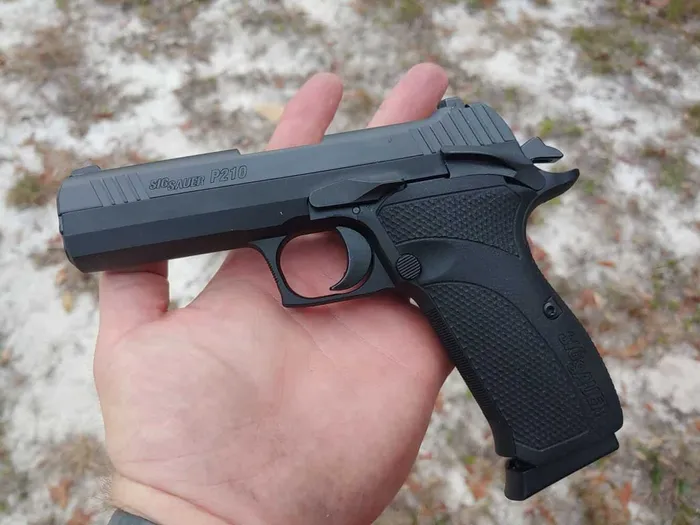 An alloy frame is an overlooked feature that allows the gun to be a bit lighter. A lighter gun is admittedly an easier-to-carry gun. Alloy frames are quite common these days, and, again, it is a modern feature placed on a gun that's trying to claw its way into modernity.
How We Tested The P210 Carry
There were two main tests for this gun in terms of function. The first was a basic slow-fire accuracy check that involved a bench and a B-10 target that allowed me to see what the gun could do mechanically.
The second test was a more practical shooting style that mixes speed with accuracy. This included several combative drills like the failure to stop and practical drills like the 10-10-10 drill.
Ammo Used
Along the way, we used several different ammo types. This includes the cheapest steel-cased crap I could feed it. Tula and Winchester Forged ammo were tossed into the mix alongside some Winchester White Box and SIG JHPs. The end result was a very accurate and capable gun that eats it all and doesn't complain.
Accessories
The P210 Carry is a bit of a new gun and a bit of a niche weapon, so there aren't a lot of accessories on the market, but there are two notable options.
A classic gun requires a classic holster. The Mitch Rosen leather holster offers you a premium quality holster that gives the P210 Carry a comfortable place to ride. This belt-mounted OWB holster is designed to provide a tight-to-the-body design with a bit of a forward cant.
It offers a passive retention system that does lock the weapon in place. The Mitch Rosen rig is the perfect old-school option for a rather old-school pistol.
Eight rounds doesn't really seem like enough, does it? If you feel the same way, you can add an Armory Craft +1 base pad to increase capacity by a single round without exactly extending the magazine.
The +1 Basepad comes for both Swiss-made and American-made P210s, so make sure you choose the right option.
Alternatives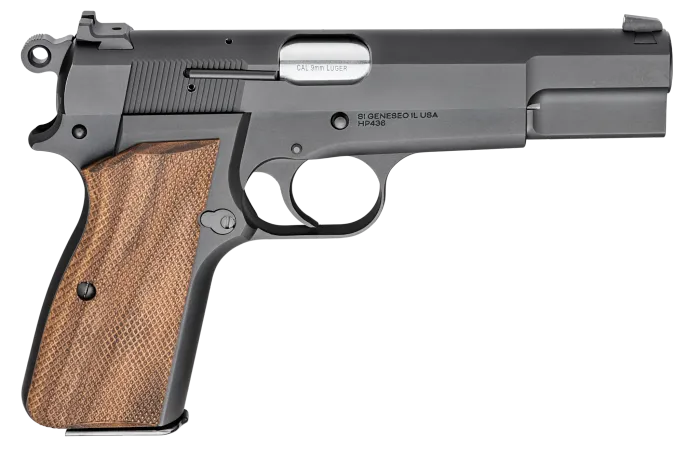 The Browning Hi-Power was created in 1935, and the Springfield SA35 modernizes the Hi-Power the same way SIG modernized the P210. The SA35 removes the magazine disconnect, increases capacity to 15 rounds, and adds a hammer bite, beating beaver tail. The SA35 is another cool, old-school gun with a bevy of modern features to bring the gun into 2022.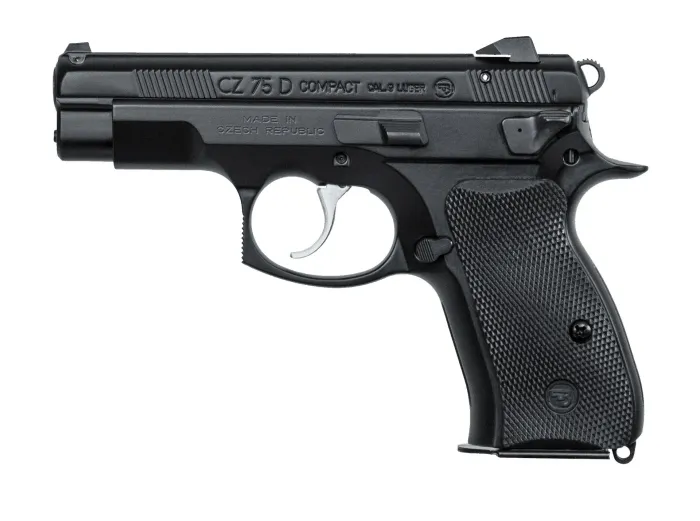 What happens when the P210 And the Hi-Power make a baby? It becomes the CZ-75. The Czech designers of the weapon clearly drew influence from the two guns to produce the CZ-75.
This DA/SA pistol design is incredibly ergonomic and well-known for its reliability and winning design. The CZ-75 is still produced, and CZ offers numerous variants in different finishes, so you can get whatever you want.
FAQs
Can the P-210 Carry safely fire +P ammunition?
There is nothing in the manual that states you can or shoot +P ammunition. However, the manual does state you should only shoot ammo to SAAMI and Military specifications. Mil-Spec ammo is loaded to +P pressures so take that for what you will.
Is the P210 carry offered in ambidextrous or a good option for a left-handed shooter?
The P210 Carry isn't ambidextrous. It's very clearly designed for right-handed shooters, and lefties will be left out. (Pun intended.)
Does the P210 Carry use the same magazine as P210A-Target?
The P210 Carry can use P210 magazines designed for American-made P210s. This includes the American-made P210A Target model.
Classic Carry Awesome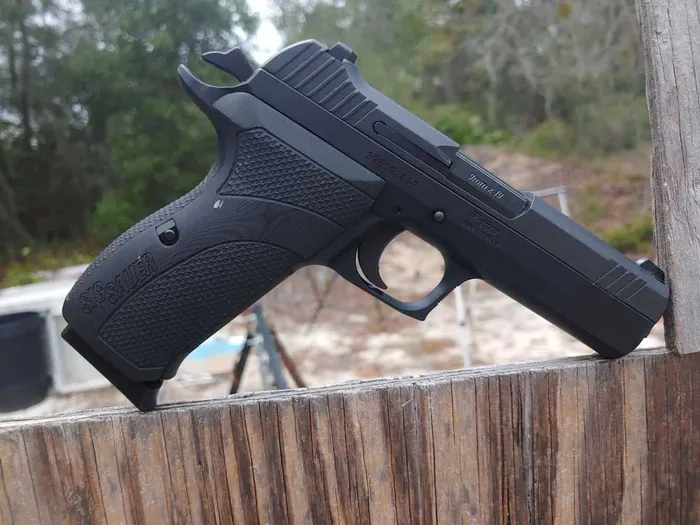 The Sig Sauer P210 Carry is a very accurate, reliable, and fun-to-shoot pistol. It's taken the P210 platform and pushed it into the modern light with a number of features that make it excel for practical shooting.
The biggest downside will be the size versus ammo capacity. It's way bigger and heavier than a P365 or even P365XL while holding significantly less ammo and being substantially heavier.
That being said, there is no placement for an all-metal, hammer-fired pistol. This is the concealed carry equivalent of a sports car. Sure it might not get great gas mileage, but you'll enjoy driving it a lot more than a Prius.  
Explore more