SIG Sauer P238 Review With Photos [2023]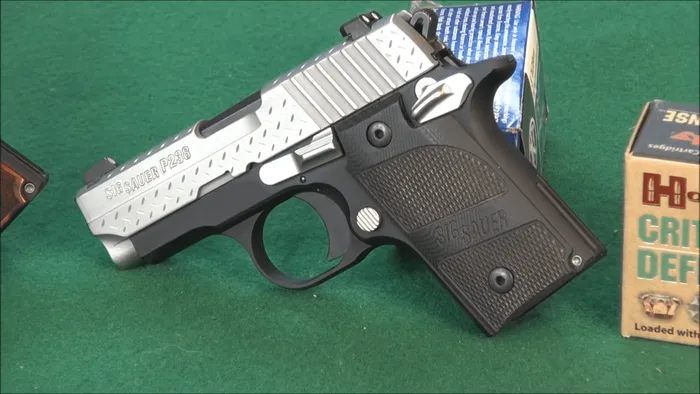 SIG Sauer P238 Review With Photos [2023]
Concealed carry firearms are serious business. There's absolutely no room for error when it comes to protecting ourselves with a proper EDC.
For most, a 9mm semi-automatic pistol comes to mind. Other folks like to walk freely around town without letting everyone know they pack heat. I'm talking about the .380 ACP—a small cartridge that's perfect for concealed carry.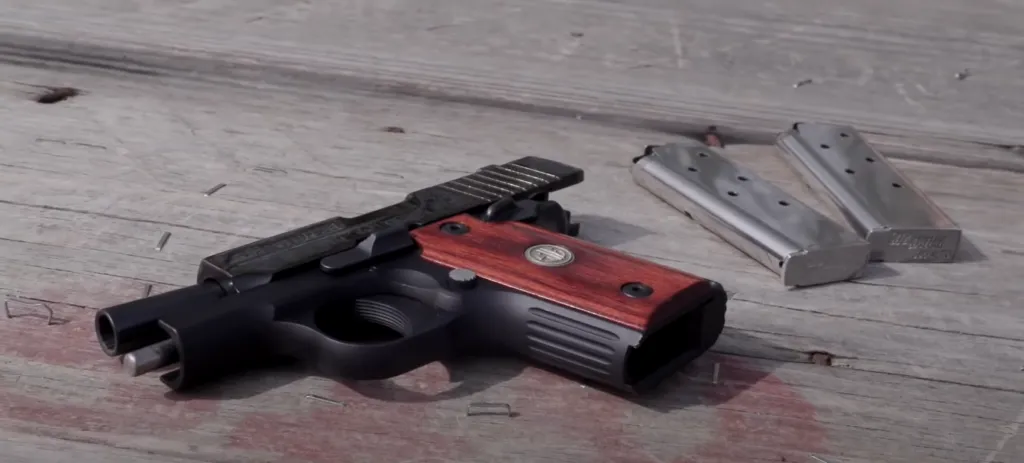 Today, we'll be doing a SIG Sauer P238 review. It's a popular, 1911-inspired "pocket rocket" in the .380 chamber with a 6-round capacity that's small, concealable, and perfect as a self-defense or backup gun (or BUG). It doesn't snag, doesn't print, and doesn't mess around.
There are truckloads of P238 models and variants with many different grips and finishes, but for now, we'll cover the standard version with rosewood grips that I own and carry.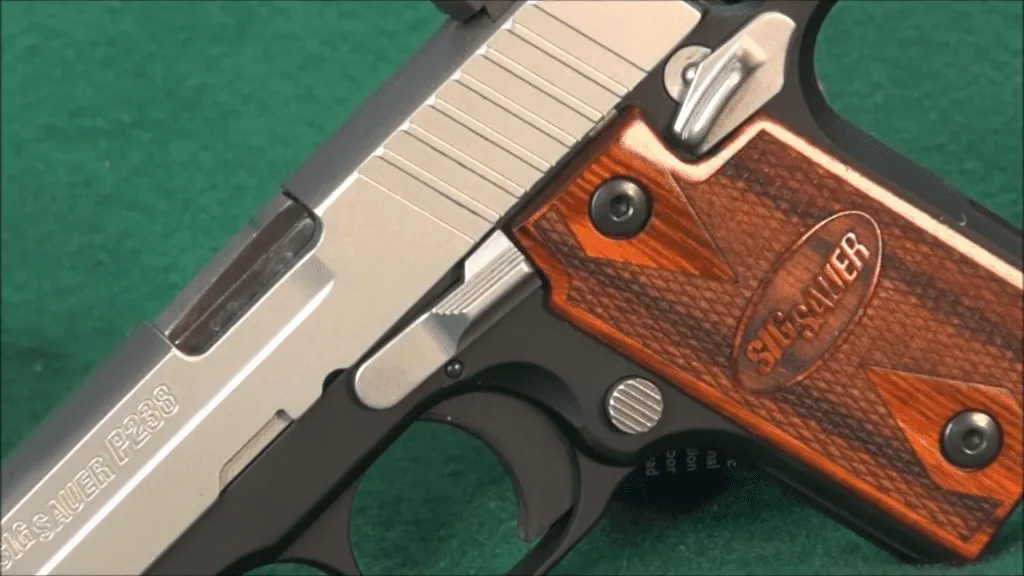 Before I give you front-row seats to what this handgun is capable of, let's first see how the P238 came to be.
SIG Sauer's Idea Behind the P238
It's not a bad guess to think that the SIG Sauer P238 is fully inspired by the American .45 caliber legacy that is the Colt M1911 pistol, but it's more complex than that.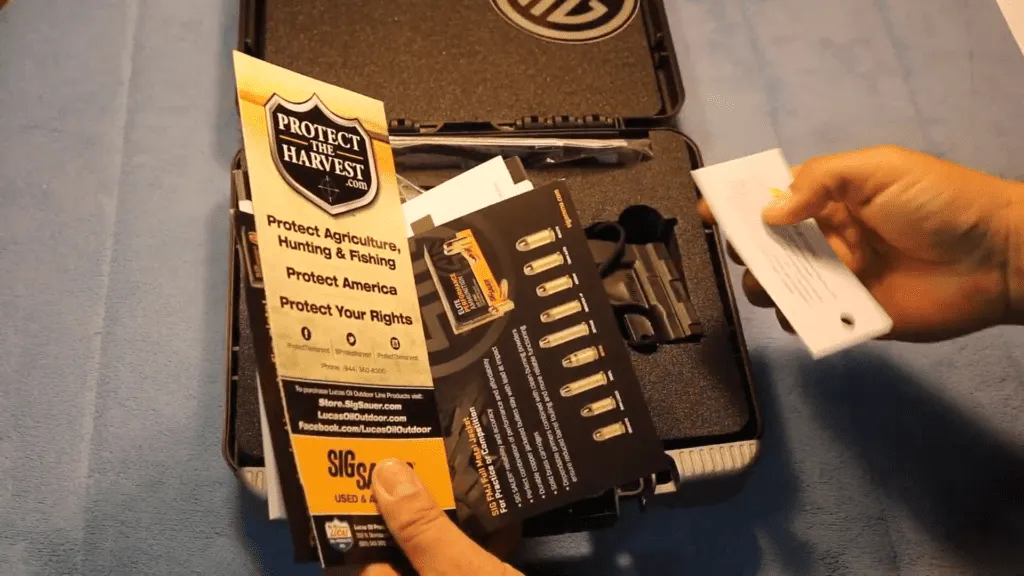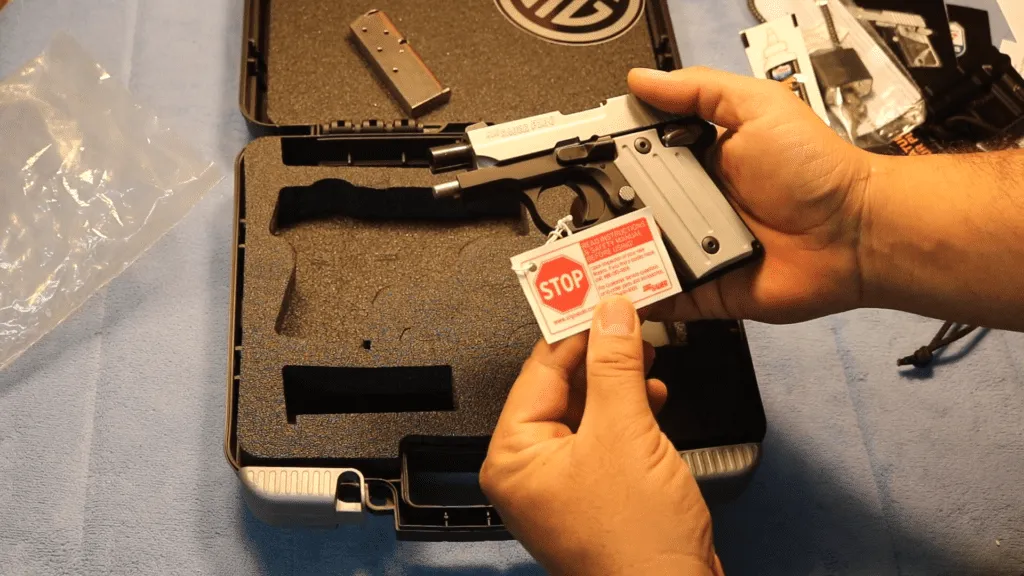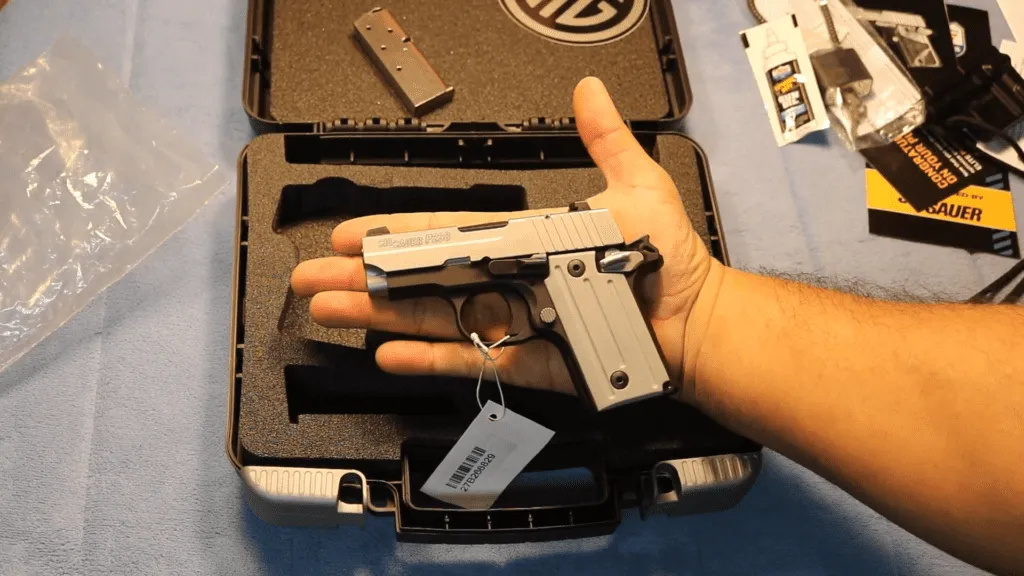 Shrinking the 1911
As the whole thing for concealed carry began to gain more popularity in the 80s, Colt's first attempt at the .380 Automatic was on their Colt Mark IV Government Model.
In order to design the Mark IV Government Model, they stripped the 1911 down to fit it into a smaller platform, and this meant taking away the famous 1911 grip safety.
Meanwhile, SIG Sauer set up their brand in the US around 1985, and it's really obvious how their products are in no small part based on the stainless steel perfection of Colt pistols.
To be more exact, it's actually the Colt Mustang that is the P238's paternal blueprint. The Mustang was Colt's second try to fully adapt the 1911 into the .380 caliber, and it was a much lighter and smaller pistol than the Mustang.
SIG Sauer saw their golden opportunity. They bought the rights to the Mustang, pushed the concept of EDC a bit further, and released the handgun in 2009.
Early Recalls
SIG Sauer was forced to recall some of the early P238 models because there were some safety issues, not to mention the possibility that the gun might fire unintentionally once dropped.
While no customer ever reported this, SIG Sauer went with the upgrades either way and made some definite improvements and necessary tweaking.
Today's P238 model has enhanced reliability, overall shootability, and a cemented reputation as a pocket pistol.
Overview of the SIG Sauer P238
Specifications
| | |
| --- | --- |
| Manufacturer | SIG Sauer |
| Model | P238 |
| Caliber | .380 ACP |
| Type | 1911-style semi-automatic pistol |
| Action | Single-action only (SAO) |
| Capacity | 6+1 |
| Trigger pull | 7.5 pounds to 8.5 pounds |
| Safety | Manual thumb safety; slide release lever |
| Barrel length | 2.7 inches |
| Overall length | 5.5 inches |
| Overall height | 3.9 inches |
| Overall width | 1.1 inches |
| Weight | 15.2 ounces |
| Grips | Rosewood |
| Sights | SigLight Night Sights |
| Construction | Aluminum; anodized alloy beavertail |
| Slide | Stainless steel |
| Finish | Black Nitron |
| Accessories | Lockable hard case; one 6-round magazine |
Construction and Aesthetics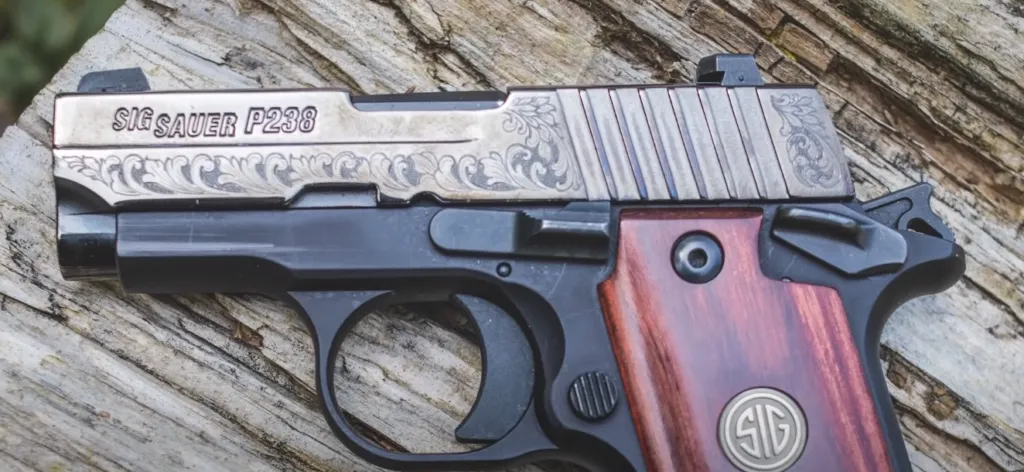 Admittedly, I was a bit skeptical too when I first saw this 1911-style subcompact, as the short and bulky grips definitely weren't exactly attractive.
However, once you get used to the grip's odd dimensions and realize it's a 1911-adapted .380 platform, it's actually a good-looking gun. I chose the model with Rosewood grips.
The P238 has a beavertail frame made of black, hard-coat anodized alloy and a stainless steel frame that meets the standards of SIG Sauer.
If you don't like Rosewood, there are many models that come in many different textures and colors. More on that later.
Size, Weight, and Concealability
Typical for a subcompact pistol, the SIG P238 is 5.5 inches long, 3.9 inches high, and 1.1 inches wide. Compared to a Glock 42, for example, the P238 is smaller but thicker in width, and it's heavier with its 15 ounces.
With a 2.7-inch barrel that's fairly smaller than most popular .380 pistols, its main purpose is stopping assailants at a close range. These dimensions are just your regular backup gun standard, and you can find countless holsters for it.
What's important is that the contours offer a snag-free draw and a print-free carry, especially when fitted into an IWB holster, or maybe an ankle holster at that.
Ergonomics and Grips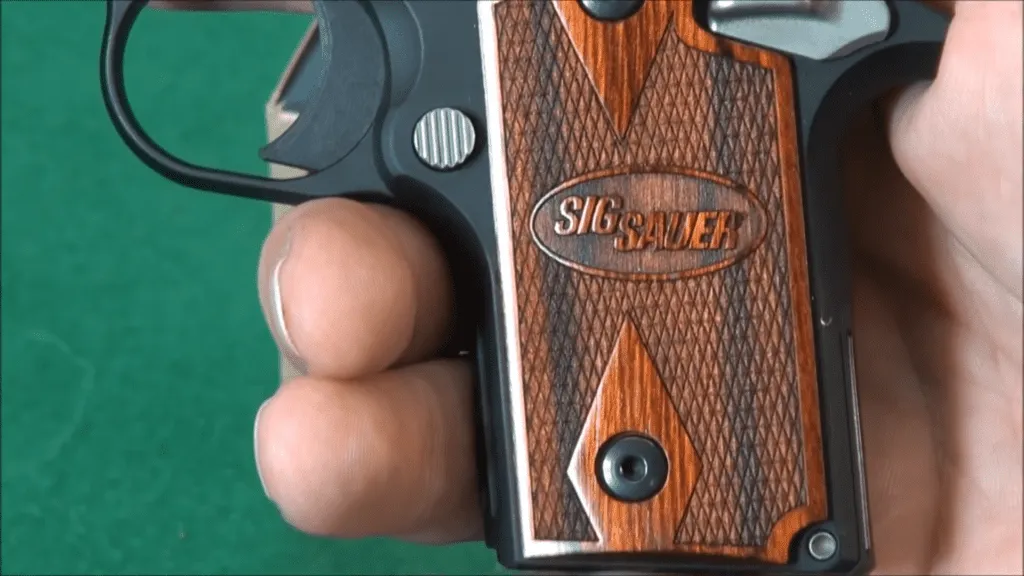 We mentioned the rosewood grips.
The reason why I picked this model is that it looked like the grips were just right for my taste and overall feel. The bad side is that the grip is short, and it's made to leave your pinky finger dangling, so it's not for folks with larger hands.
However, I counted over 25 different models with many finishes, colors, sights, and interchangeable rubber grips to choose from. You can try out the highly popular model with grooved Hogue finger grips.
I recommend you go to your gun store, ask if it's allowed to try one out at the ranges, shoot a couple of rounds, and get an overall feel of it.
Slide and Slide Stop Mechanism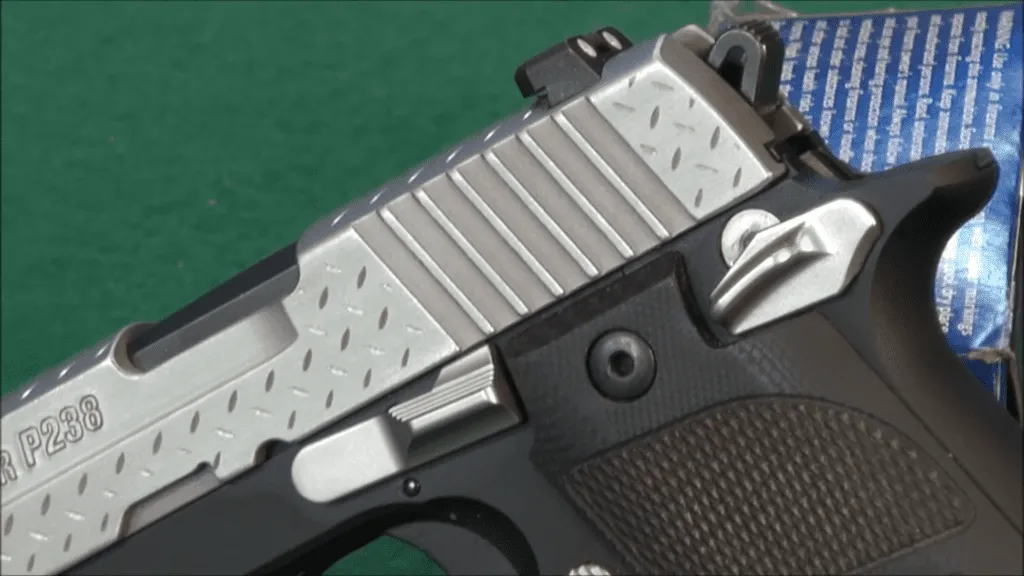 The black, hard-coat anodized aluminum frame and rosewood grips complement the stainless steel slide with a nitron finish.
The front slide has traction grooves, while the rear has enhanced serrations. Furthermore, racking the slide is a cinch, similar to the S&W Shield EZ.
Just like on a regular 1911 pistol, the textured slide stop is conveniently located on the left side behind the hammer, which you can easily reach with your thumb while in a shooting stance.
Additionally, it also operates as a slide release, and you can lock the slide back without engaging the safety.
Overall, this simple design goes far in safety measures and prevents any accidental discharge, and offers smooth handling whether you're experienced or a rookie.
Sights
Of all the advice I can give you about this pistol, take it seriously when I say don't change the factory sights. Most pistols have plain old white sights that beg to be replaced by store-bought Tritium sights.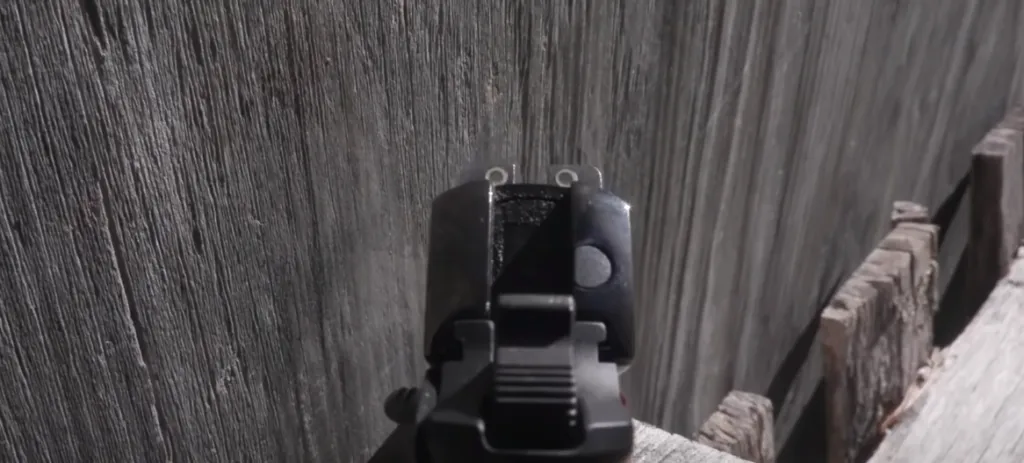 This specific model has the SigLight Night Sights with excellent visibility during the day and night. Target acquisition is key when it comes to backup guns like this, and I'm pretty sure the sights (among other things) are responsible for the P238's high price.
You've probably seen a lot of customers that are satisfied with the overall accuracy of the pistol's 2.7-inch barrel. Well, I think these 3-dot SigLight sights play a huge part in that.
Magazine and Magazine Release
The SIG P238 has a 6-round magazine capacity, which is more than enough for a micro-compact .380 EDC.
I recommend carrying extra mags for practice. If you want more capacity, there are other P238 models with a 7-round mag capacity like the Emperor Scorpion.
The 6-round magazine is made of stainless steel. There's no mag well flare, but it slides in smoothly into the frame, and you can hear when it's locked in.
The non-reversible, metal magazine release has a slightly checkered texture, it's located on your left, and it's easy to reach.
Trigger, Hammer, and Action
Believe it or not, the P238 really does feel and shoot like a shrunken 1911, all thanks to the enhanced trigger action rarely found in other pistols.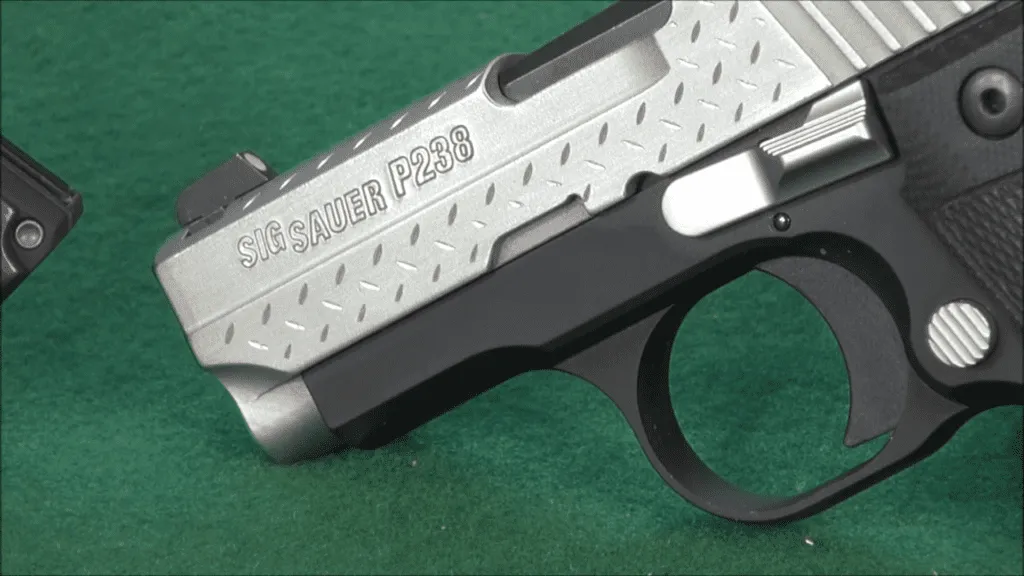 The trigger is polymer, which is an odd one out with all the high-quality parts the pistol has.
There are not many moving parts to this single-action (SAO) mechanism with an external hammer, so expect proper reliability and smooth action.
What you get is a slightly heavy yet crisp and clear 7.5-pound trigger pull. It has a short reset in contrast to most sub-compact pistols.
The semi-auto recoil that cocks the hammer after each follow-up shot, and you can expect to use less force for the trigger, which gives you more accurate shot placement.
Safeties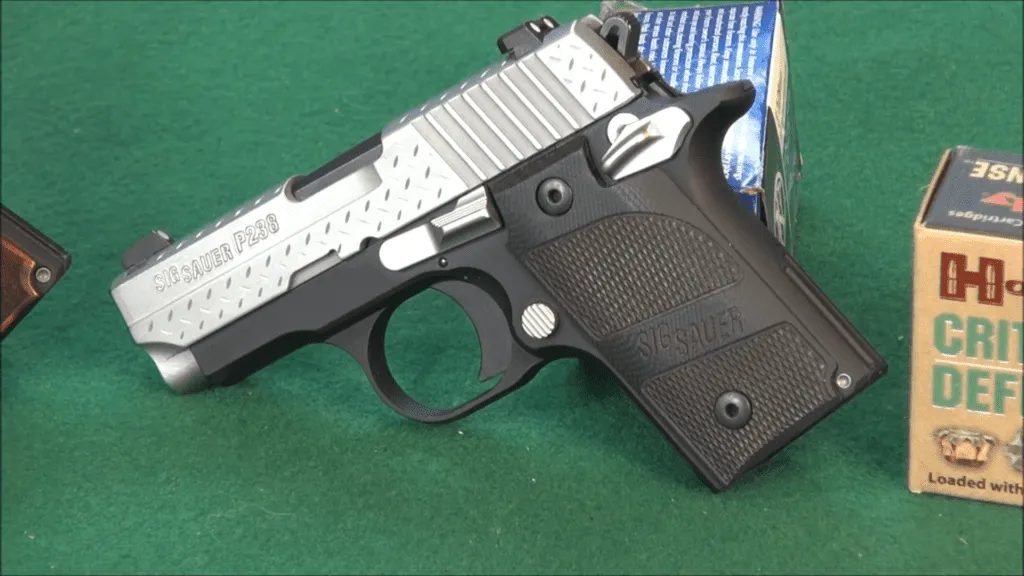 The P238 doesn't have the famous 1911 grip safety. It does, however, have a standard manual safety on the left side of the frame that's easy to reach, manipulate, and disengage.
The difference between your traditional 1911-style safety is that you can still operate the slide and unload the chamber while the safety's on.
The safety doesn't lock on the slide, but instead, a small plunger stops the hammer from falling and discharging a shot.
I don't think this manual safety design would sit too well with shooters who've gotten used to striker-fired semi-automatic pistols. A Cocked and locked "Condition 1" carrying is dangerous business.
That's why SIG added a firing pin safety block, a hammer safety, and a disconnector that prevents the gun from firing when you don't lock the slide.
Shooting and Ammo Recommendation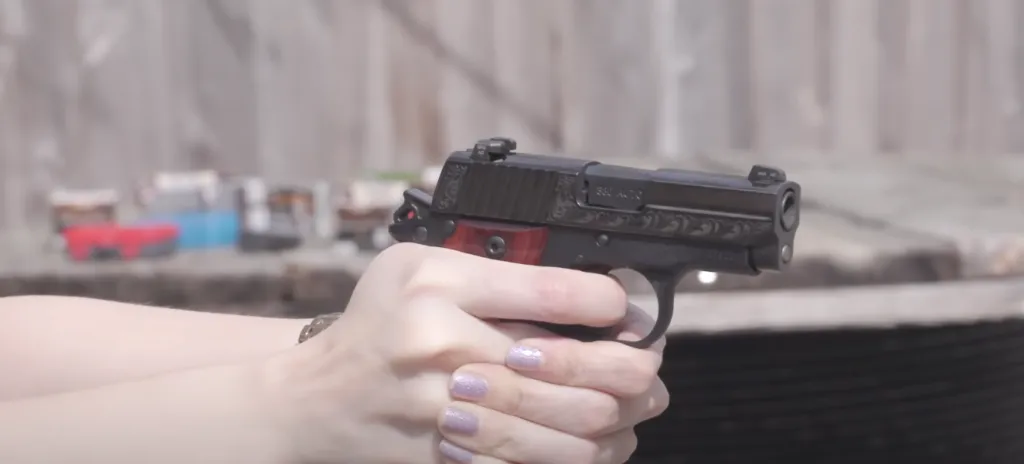 Most folks who are interested in the SIG P238 are actually looking for a 1911 action in a small package. That's exactly what it offers.
The 1.1-inch wide rosewood grips offer a full grip; the serrated slide is there; lastly, as I said, the stock sights are just amazing.
While most pocket pistols are snappy, this one had pretty moderate recoil with its 15-ounce weight. Practicing with it can be decent and enjoyable.
Admittedly, I expected a bit more kick from the small frame and short barrel. Compared to a Ruger LCP, this one has a slightly lighter felt recoil.
I tested the P238 on the 15-yard range.
I got used to the crisp, clean, single-action trigger after 10 rounds. I saw some minor issues with the Fiocchi the first couple of rounds, averaged 7.5-inch groups on the 15-yard range, and called it a day.
Being conservative with the expensive .380 ammo, I shot around 50 rounds worth of Fiocchi FMJ 95-Grain, Winchester White Box 950-Grain, and of course, the Hornady Critical Defense FTX 90-Grain.
A word of advice regarding ammo. What I gathered from my research is that most of the cheap .380 ammo varieties have lacquer-coated steel casings that don't sit too well with the P238.
Disassembly
The P238 field strips in a very similar fashion to a 1911 pistol.
To disassemble it:
Pull back the slide until the indentations are lined up;
Pull out and remove the slide release lever;
Push the slide forward to remove the spring;
Pull out the barrel;
Done!
Assembling it in reverse, you need to keep the ejector pressed down while setting the slide back. This is very important because the ejector is very fragile.
Pros & Cons of the SIG Sauer P238
Pros
Highly reliable 1911-style .380 ACP
Very accurate with the factory SigLight night sights
Low recoil for a 2.7-inch barrel, subcompact pistol
Easy to conceal with many IWB holster options
Durable alloy and steel construction
Light spring for easy slide racking
Great for beginners
Cons
Pinky finger dangles if you have larger hands
Expensive pistol that eats expensive .380 ammo
Low magazine capacity
Fragile ejector
Accessories
SIG Sauer did well by not adding a Picatinny rail for aftermarket options on this one because it would be pointless.
The small P238 isn't made to be upgraded, and apart from the many IWB, OWB, and ankle holsters, there are a few customization parts for your P238. The IWB Kydex Holster or the GunLeather IWB Holster are both good options.
After all, it's a concealed carry pistol that's supposed to sit tight in your holster and not bulge with any red dot sights.
As for spare mags, they're not cheap. You also have the 7-round capacity mags that are compatible with the P238 Legion if you're interested.
If you're a beginner, and this is your first-ever gun, I recommend the SIG P238 Mags, a gun cleaning kit, hearing protection, and a solid gun case.
FAQs
Here are some frequently asked questions about the SIG P238.
Is the SIG Sauer P238 a Good Self-Defense Handgun?
The SIG P238 is a perfectly designed striker-fired, semi-automatic pistol with a 7.5-pound SAO trigger and a small, snag-free frame that's perfect for concealed carry purposes or as a backup gun.
It has a frame-mounted safety, lots of holster options, and great SigLight factory sights for target acquisition.
Although the 6-round capacity might not be enough for some, this is a very reliable 1911-style pistol that offers comfortable shooting and easy slide racking.
How Many Sig Sauer P238 Pistol Models Are There?
The P238 has many variants with many different grips, textures, and color palettes.
If you're looking for more bullets to shoot, there are 7-round capacity models like the Emperor Scorpion, We The People, Elite, Spartan, and Legion models.
Then you have the Blackwood, Nightmare, Black Pearl, Rainbow Titanium, Rose Gold, and the Two-Tone Pistol, among others.
Alternatives to the SIG Sauer P238
If you feel that the SIG Sauer P238 isn't your type of thing, check out these alternative handguns.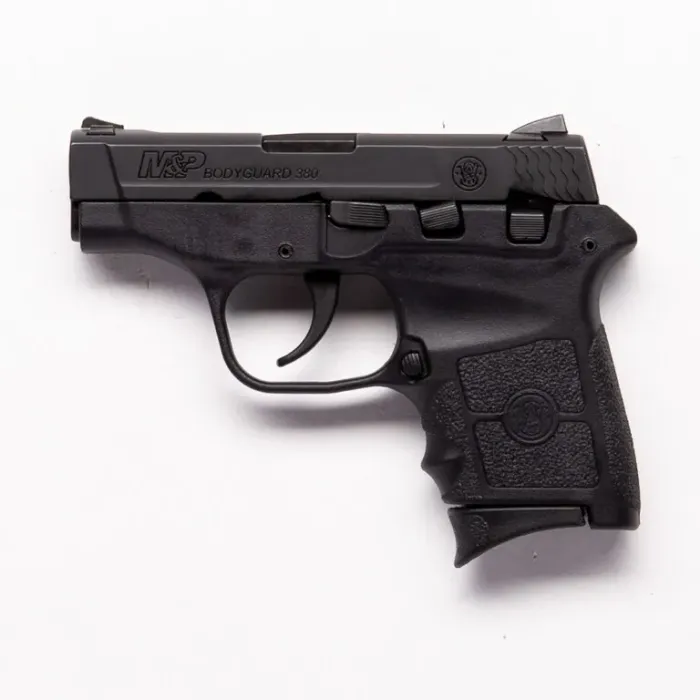 As one of the most popular .380 pistols on the market, the Smith & Wesson Bodyguard has loads of aftermarket grips, sights, and internal parts.
Although the S&W M&P Bodyguard has a slightly longer barrel, the polymer frame makes it 3 ounces lighter than the P238. It has the same 6-round capacity, but what makes it special is its unique double action with a second-strike capability.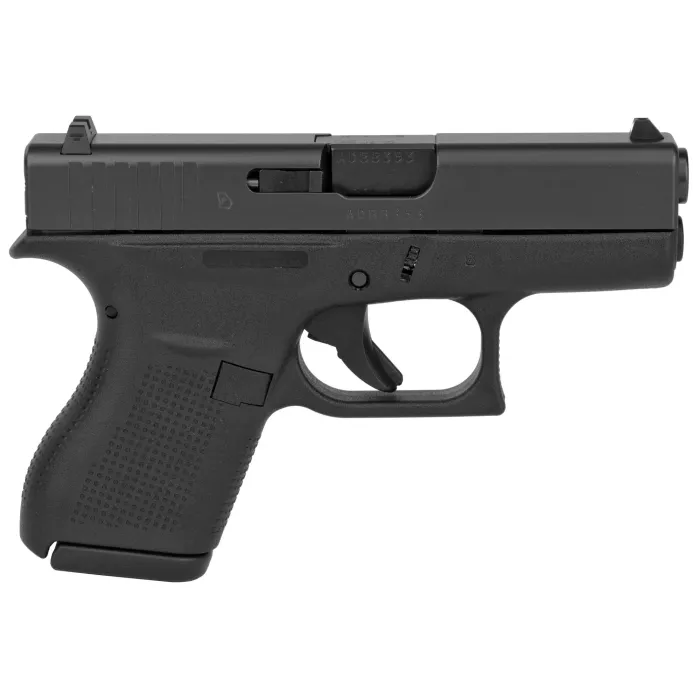 The Glock 42 is the smallest Glock in their arsenal. If you're looking for a reliable but cheaper variant than the SIG P238, this is it.
Constructed into a polymer .380 platform, it works just as reliably as the other famous Glock models.
What's great about the G42 is that it can eat all kinds of FMJs and JHPs without any issues.
With a 3.25-inch barrel, I believe it shoots more accurately than the Bodyguard, and it's great for distances around the 10-yard mark.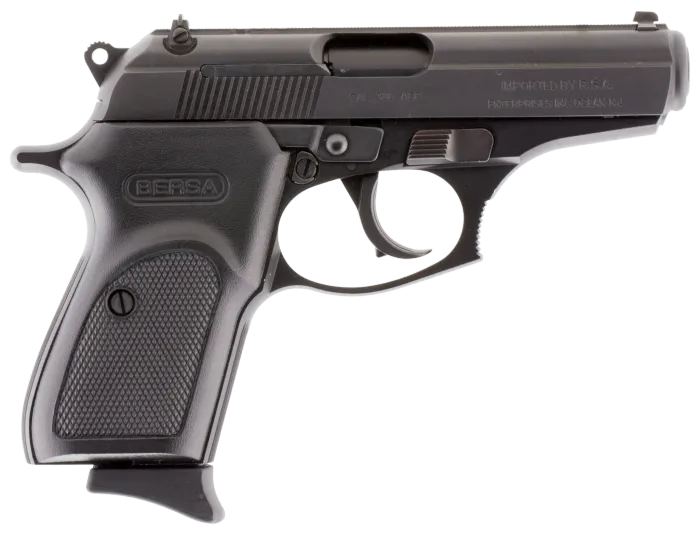 Ever wanted to own a James Bond gun but didn't want to pay the James Bond price? Here's the Bersa Thunder.
As an Argentinian clone of the German Walther PPK, it implements a straight blowback action with a fixed, 3.5-inch barrel into a small steel and alloy frame.
With an 8-round capacity, the Thunder weighs 5 ounces more than the P238, which isn't much of a difference for concealed carry.
My experience is that the gun really doesn't like Fiocchi and Winchester White Box ammo, so Hornady Critical Defense 90-Grain FTX should do just fine.
Conclusion – A Highly Shootable 1911-Inspired Pocket Pistol That Wears Countless Colors
To be fair, I agree that the dreaded .380 ACP can't compete against the raw power, price, and availability of the 9mm.
No doubt SIG P238's rare cartridge definitely repelled would-be customers over the years.
However, the SIG P238 is the type of pistol that encourages you to try this overlooked caliber for yourself. With a 1911-style concealed carry, I'm sure that most would look forward to an EDC or BUG, no matter if you're a newcomer or an avid shooter.
I know that there are similarly-sized pistols with 10- and even 15-round capacities. But, as the P238 relies solely on its 1911-style mechanism reliability and SigLight accuracy, you can rely on it to protect your lives.
Stay safe, shoot straight.
Explore more