Sig Sauer P320 Compact Review: An Excellent Compact Handgun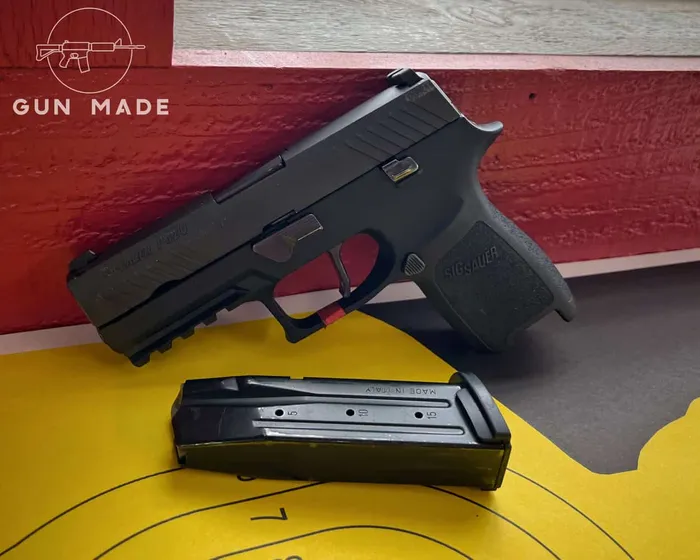 Sig Sauer P320 Compact Review: An Excellent Compact Handgun
When it comes to modularity, the Sig Sauer P320 is basically unrivaled. While most pistols have their serial number on the frame, the P320 serializes the fire control unit (FCU), allowing you to swap the FCU out and use it to run different frames, barrels, or calibers. 
The FCU contains the trigger, rails, slide stop, and the take down lever. Since the FCU itself is the serialized portion of the gun, you can order different frames, slides and barrels online with no background check necessary. You'll be able to essentially build other pistols that are ready to go, that only need the FCU dropped in. 
The P320 is so popular that in 2017 it was chosen as the U.S. Army's new modular handgun system. While the military uses customized versions of the P320, they are still similar to the civilian version. The M17 is their full-size service pistol, and the M18 is their compact version. Many law enforcement agencies also have chosen the P320 as their service weapons due to its modularity.
Let's take a closer look at the P320 Compact to see why it has become so popular over the years.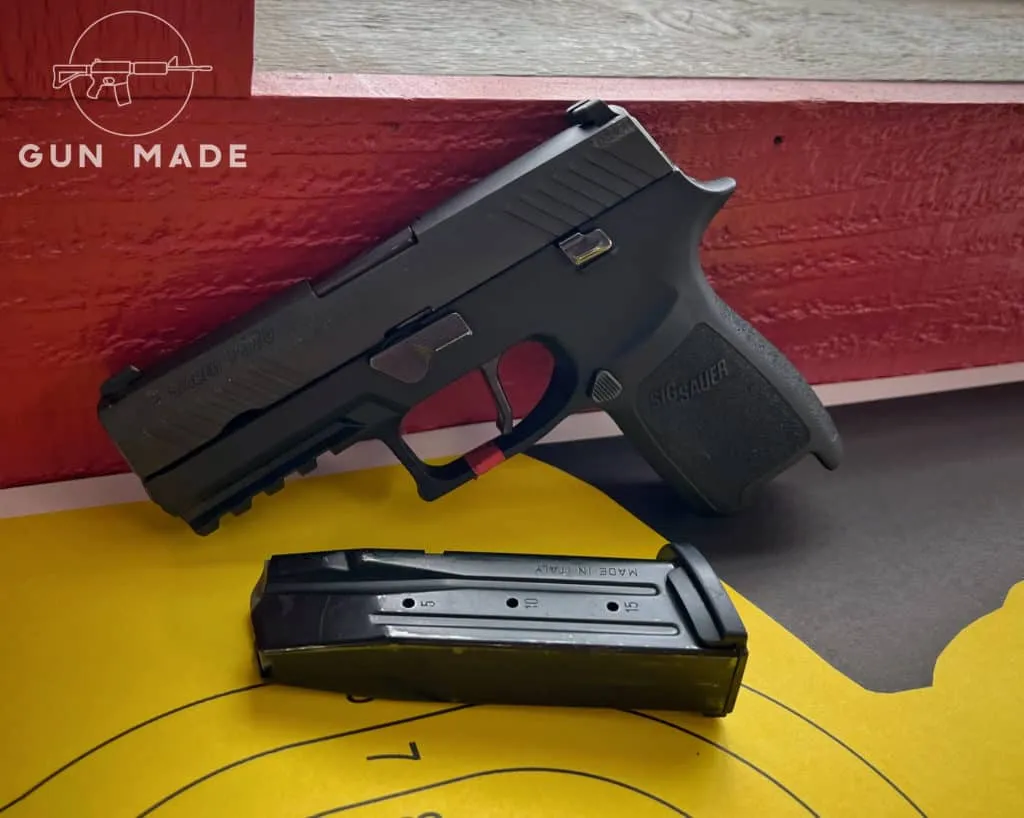 Sig Sauer P320 Review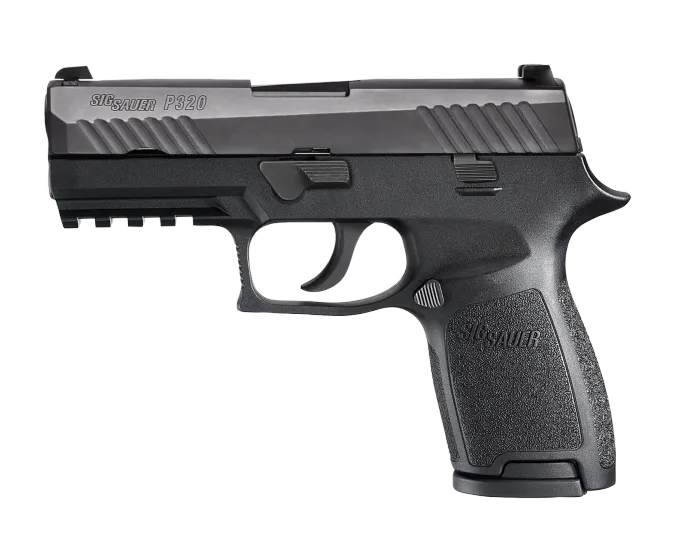 Specifications
| | |
| --- | --- |
| Caliber | 9mm |
| Capacity | 15+1 Rounds |
| Overall Length | 7.2 Inches |
| Width | 1.3 Inches |
| Height | 5.3 Inches |
| Barrel Length | 3.9 Inches |
| Weight | 25.8 Ounces |
| Grip | Modular Polymer |
| Frame | Polymer Frame |
Sig Sauer P320 Pros and Cons
Pros
Modularity – FCU allows for several configurations of various sized frames, slides and barrels
Accuracy – Extremely flat shooter with a consistent trigger pull
Affordablem – Often found under $500 new
Cons
Ergonomics – The grip is short and thick, with less aggressive texturing
Features
There are so many different configurations that you can build with the P320, but for this review we're going to focus on the P320 Compact model. You'll be able to find different barrel lengths, frame sizes, and slide lengths out there, but the Compact seems to be a nice middle ground.
Fire Control Unit (FCU)
As I've already mentioned, the star of the show here is the FCU. It is such a unique feature, it could have a review all on its own. The fact that it provides the modular capabilities that it does, is a true testament to Sig's design team. Containing the serial number and the "brains" of the gun, it's the most important feature of all.
Trigger
It's hard to put my finger on this trigger…pun intended. It's physically easy to place my trigger finger where I need it, but hard to figure out if I like the trigger or not. 
It has no trigger safety like many striker-fired pistols and has a short take-up. The break kind of surprises you, which ultimately helped when adjusting to it, and the reset is nice and defined. The trigger pull seems very consistent, and I had no issues with quick follow-up shots. Overall, the trigger system is not bad, but it's not great.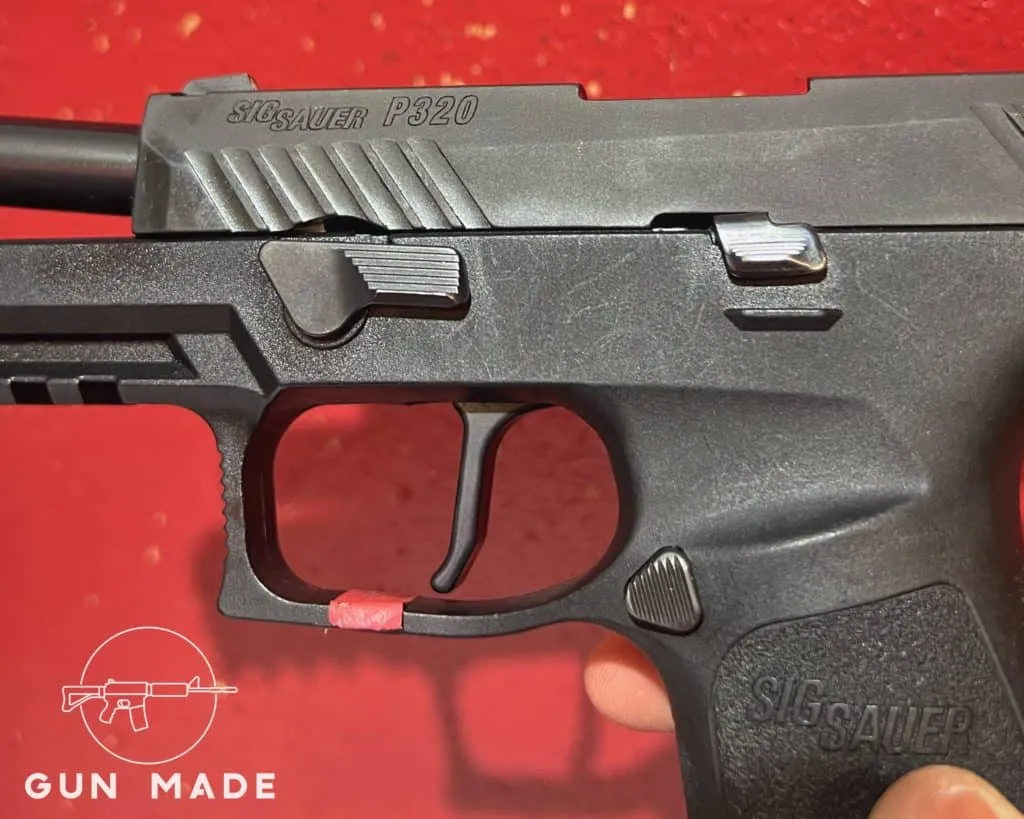 Controls
Ambidextrous controls are always a plus. The slide stop is ambidextrous, while the magazine release is reversible, making it easy for left-handed shooters. Both are easy to manipulate, and I had no issues reloading quickly. 
The takedown lever is actually quite large compared to many others on similar-sized guns, but it doesn't quite get in the way, thankfully. No thumb safety will be found here, which is just how I prefer it.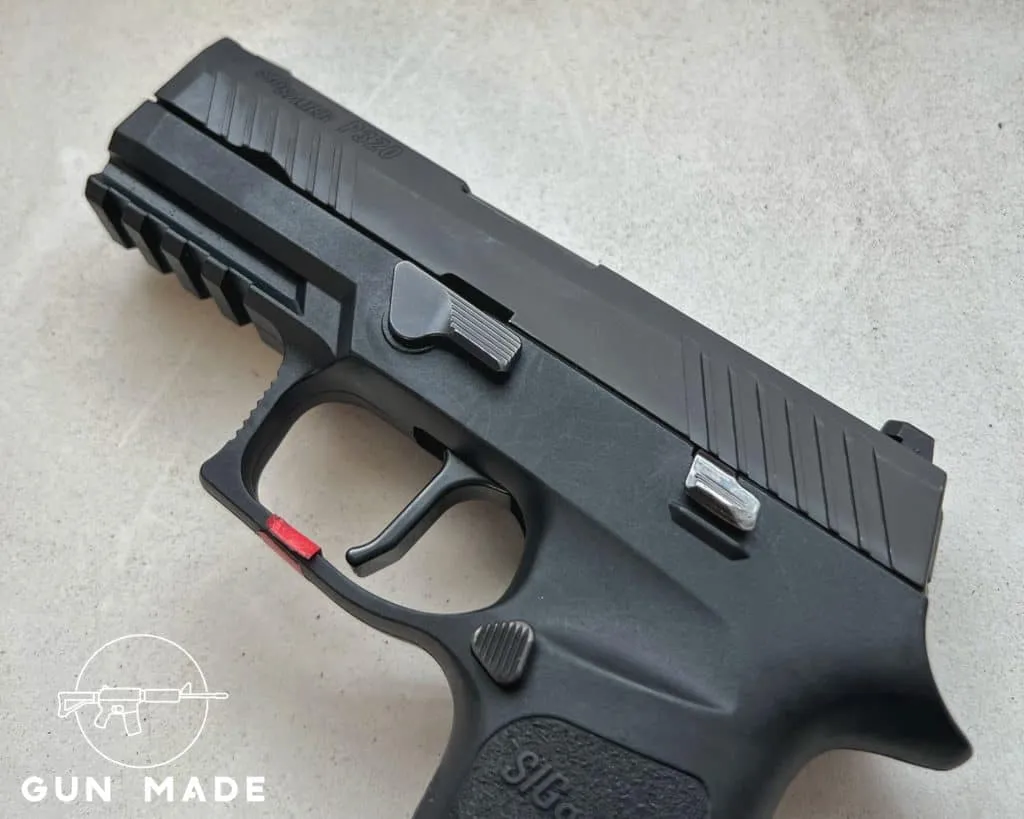 Magazine
The OEM 15-round steel magazines that come with the P320 Compact are simple and reliable. They have factory-drilled witness holes, an anti-tilt polymer follower, and an impact-resistant polymer floor plate. I've heard mixed reviews on many of the aftermarket mags for the P320, so I'd recommend sticking with the OEM ones.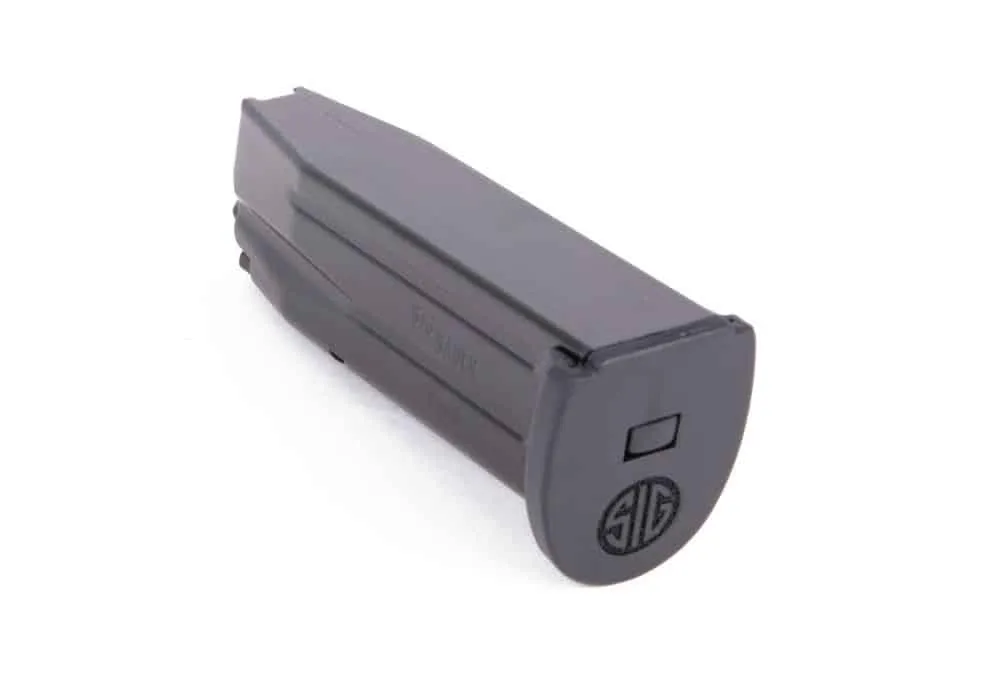 Slide Serrations and Accessory Rail
The Nitron finish on the slide is more of a matte finish, which does seem to help slightly with racking or press-checking. The front serrations also help with press-checking, but I wish they were deeper. They aren't necessarily slick, but they also aren't super easy to grab. 
The accessory rail is non-proprietary and can fit a wide array of lights. Both the slide serrations and accessory rail are positive features of the P320.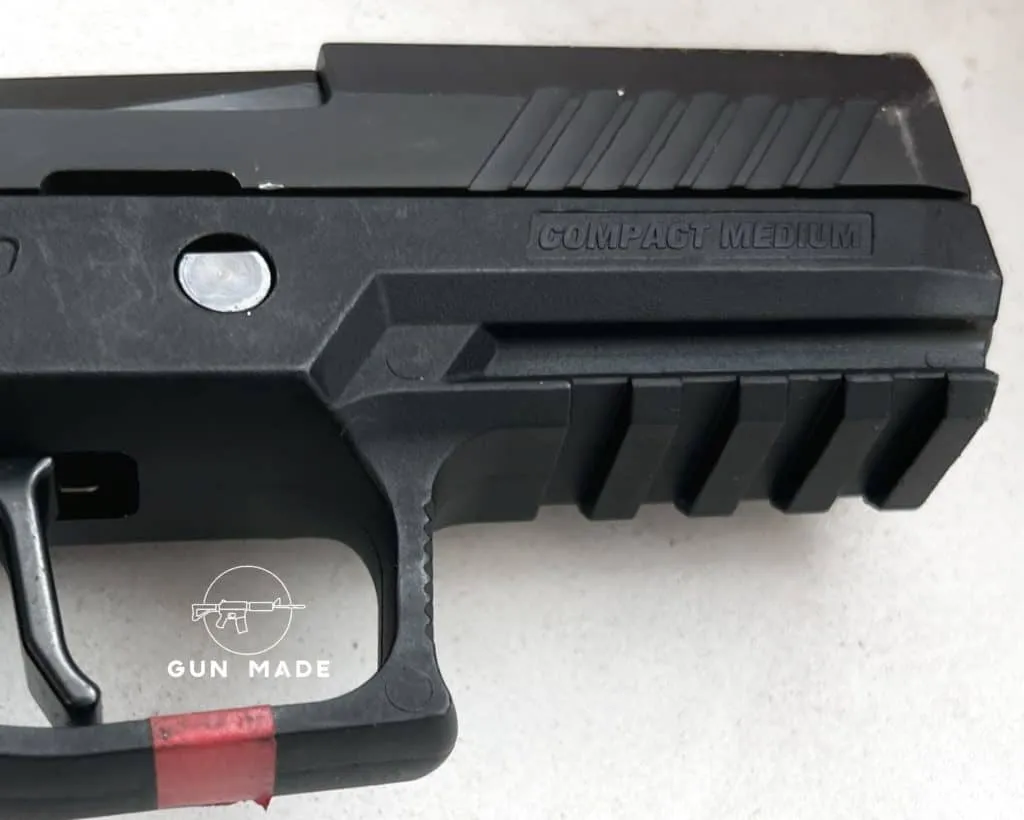 Sights
These days, there are enough aftermarket sights at great prices to not worry about what the stock sights are. On the P320 Compact and other Sig Sauer pistols, you'll find either steel 3-dot contrast sights or Sig's SIGLITE night sights. Both sets feature a square-notch rear sight, so if you're used to Glocks or M&Ps for example, they will be familiar.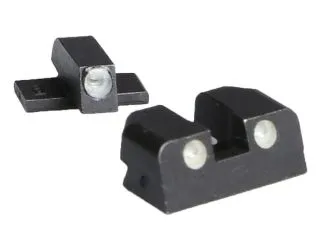 Grip
One of my main complaints about the P320 is the grip. The grip size is barely large enough for me to seat all my fingers on. Granted, I have larger than average hands, but I've even heard complaints from others with small hands too about the size of the grip. 
I like to maintain a high grip on my handguns, but it's hard with this one. The texture is almost like a fine finishing sandpaper, which isn't necessarily bad, but I'd prefer it to be more aggressive in case you have sweaty hands while shooting or happen to be shooting in the rain/snow.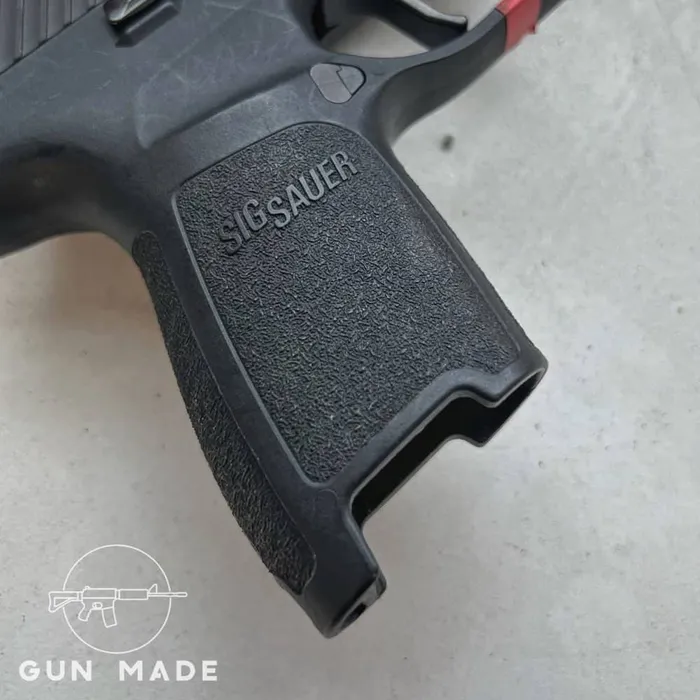 Overall Ergonomics
At the range, a beavertail is just fine and dandy. It can actually contribute to the ergonomics. However, if you're looking to carry a gun with a beavertail and happen to appendix carry, it can sometimes be an issue. With the "shorter" grip and beavertail, there is a very low chance that I would carry the P320 personally.
Accuracy and Reliability
Accuracy was no issue with this gun, even with my first magazine through it. It is an extremely flat-shooter, as you can see in the video below.  By the end of several magazines, I was able to maintain 3-inch groupings out to 20 yards. It's not great shooting, but for me, it's good. I haven't had the chance to get to the outdoor range to shoot any further, but it's on my list of things to do!
There was no ammo that gave me any issues when shooting. 115-grain Winchester White Box, 124-grain Federal American Eagle and 124-grain Federal HST all cycled perfectly with zero malfunctions. I'd like to put more rounds through it to determine reliability, but from what I've seen so far, I don't have any concerns.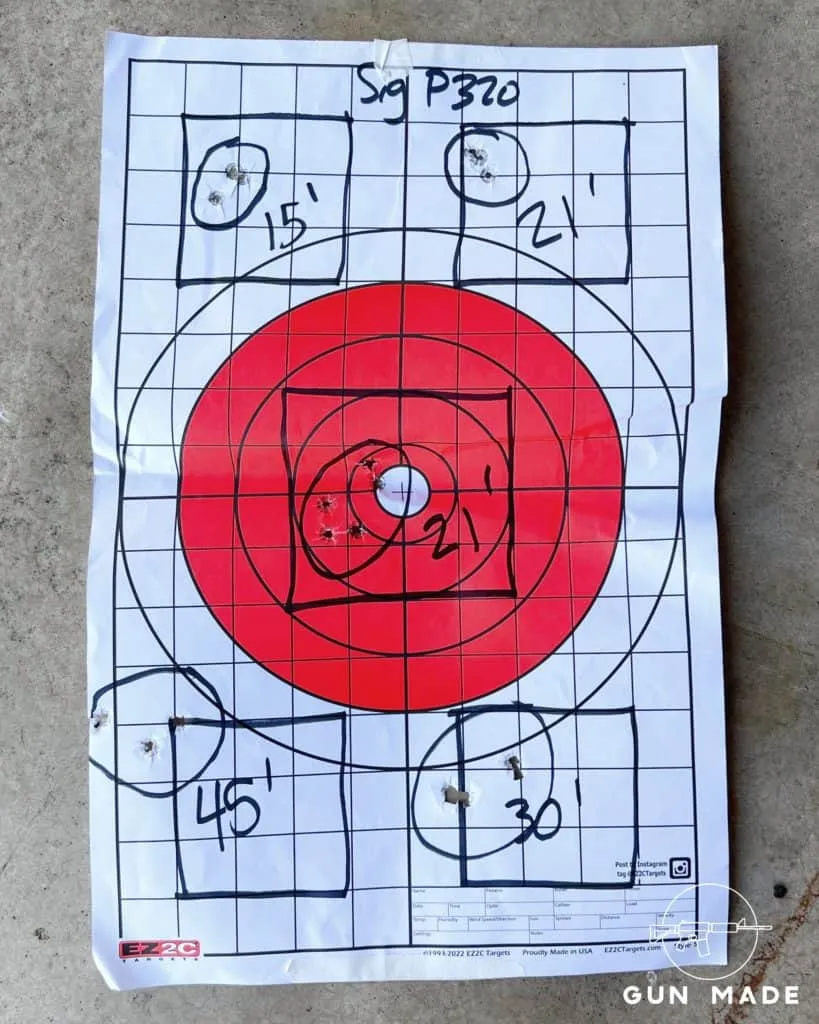 Accessories
With a standard accessory rail, there are plenty of options to consider if you're looking for a weapon-mounted light. If you're looking for a "full size" light, check out the Streamlight TLR-1 HL or Surefire X300U-B. Since we're discussing the compact variant of the P320, a smaller light would also work great. If you're like me and prefer your lights to be closer to flush with the end of the slide/barrel, take a look at the Streamlight TLR-7A. 
I would definitely recommend replacing the sights as well. My typical "go to" sights would be the Trijicon HD night sights or Night Fision's tritium night sights. You can't go wrong with either, and there are plenty of others out there too that are great. 
Frequently Asked Questions
Is a Sig Sauer P320 a good gun?
In my opinion, yes. It's a solid handgun. It's reliable, accurate, and affordable. Even the U.S. Army believes in the weapon or at least a customized version of it. If your definition of "good" includes some of those traits, I think you'd agree then.
Is the Sig P320 better than a Glock 19?
That's a tough question to answer, that really comes down to personal preference. If you're looking for modularity, the P320 is a better option. But, if you're used to the Glock platform and want top reliability, I would recommend the Glock 19. 
Which is better, a P320 or P365?
I prefer the P320 due to it not having a proprietary rail and its larger size. The P365 is still a good gun, but too small for me personally. The P320 is also more versatile, so it's a winner in my book.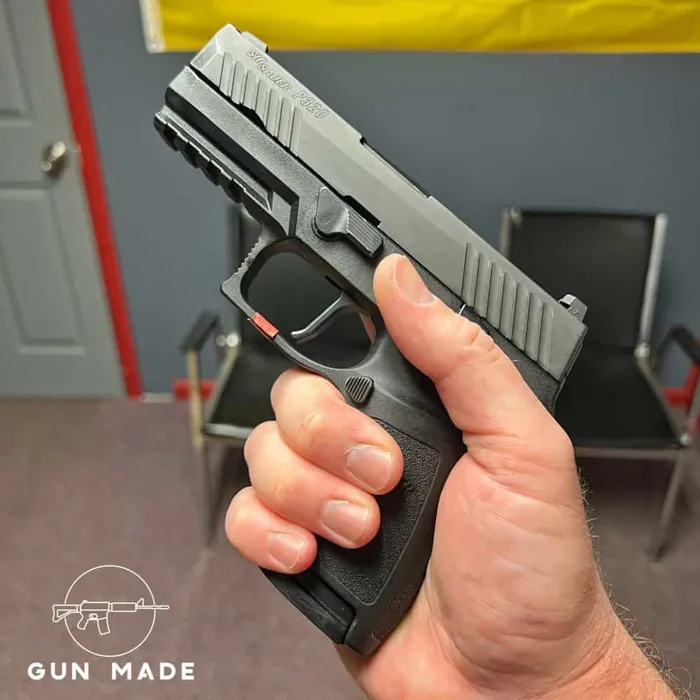 Alternatives
If you're on the fence with the P320, consider one of the following handguns. I have both, love both, and recommend both. They are reliable, affordable, and easily customizable to the point that I use both as concealed carry guns. Or if you're a fan of the features we've been going over, you can always opt for the full size model of the P320.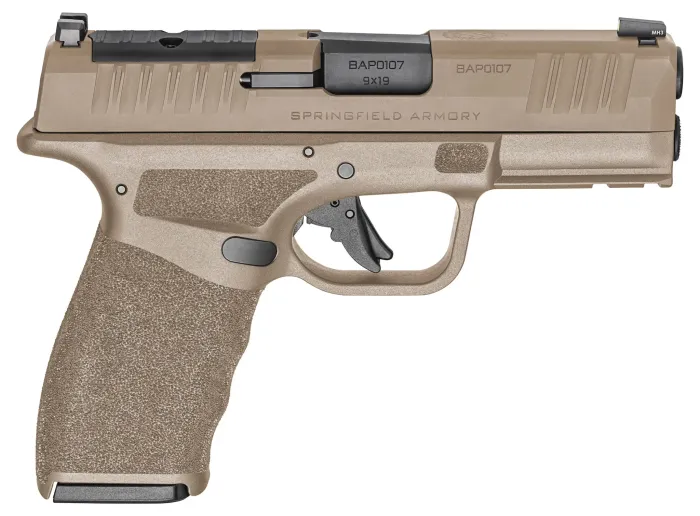 The Hellcat Pro features a 15+1 capacity, optics-ready slide and a fantastic adaptive grip texture. Its slide serrations can be found on the front, back and top, making it very easy to rack and reload. Finally, it has a non-proprietary rail to attach your favorite lights to. It's one of my favorite carry guns at the moment.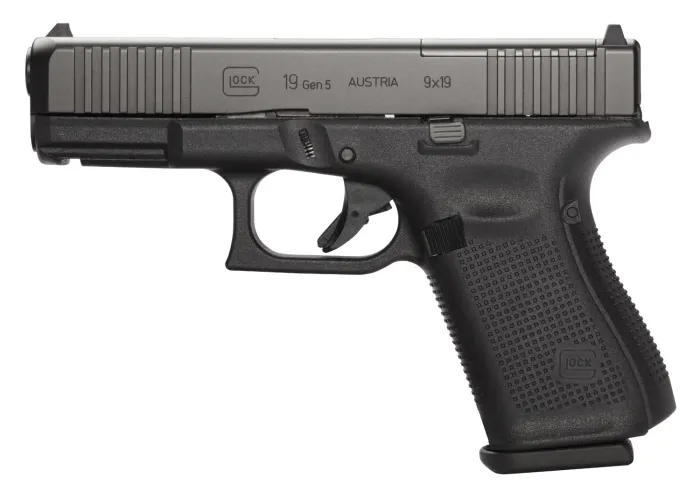 It's a Glock. It's reliable. There are a ton of accessories available for it. One of my favorite features about the Gen 5, is that Glock finally removed the finger grooves on the grip. They also added the optic-cut slide and the trigger feels better than the previous generations. It's really a great gun overall.
Final Thoughts
If modularity and versatility are what you're after, the Sig Sauer P320 Compact is for you. The FCU that can be swapped out and used with various sized frames, slides, and calibers, makes it a very appealing firearm. Many times, the P320 can be found under $500, so the value it delivers makes it a good option to consider if you're looking for a new compact handgun.
If you're interested in reading about other P320 variants, check out our RXP X-Compact review or our M18 review.
Explore more