Springfield Armory Hellion Bullpup Review & Photos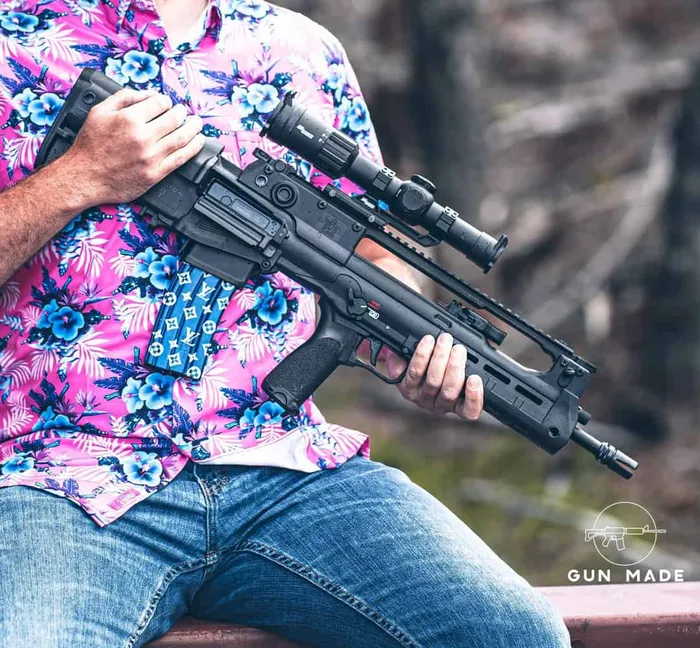 Springfield Armory Hellion Bullpup Review & Photos
Today I am excited to get the opportunity to dive into Springfield Armory's one and currently only bullpup rifle, the Hellion. 
This Hellion review will come from the perspective of a first-time bullpup-styled rifle user, as this is the first one, I have owned. This might be my first bullpup, but I have several different AR platforms, making this an excellent compare and contrast opportunity. I am excited to share my thoughts on this incredibly unique rifle with you and take a bit deeper dive into the Hellion.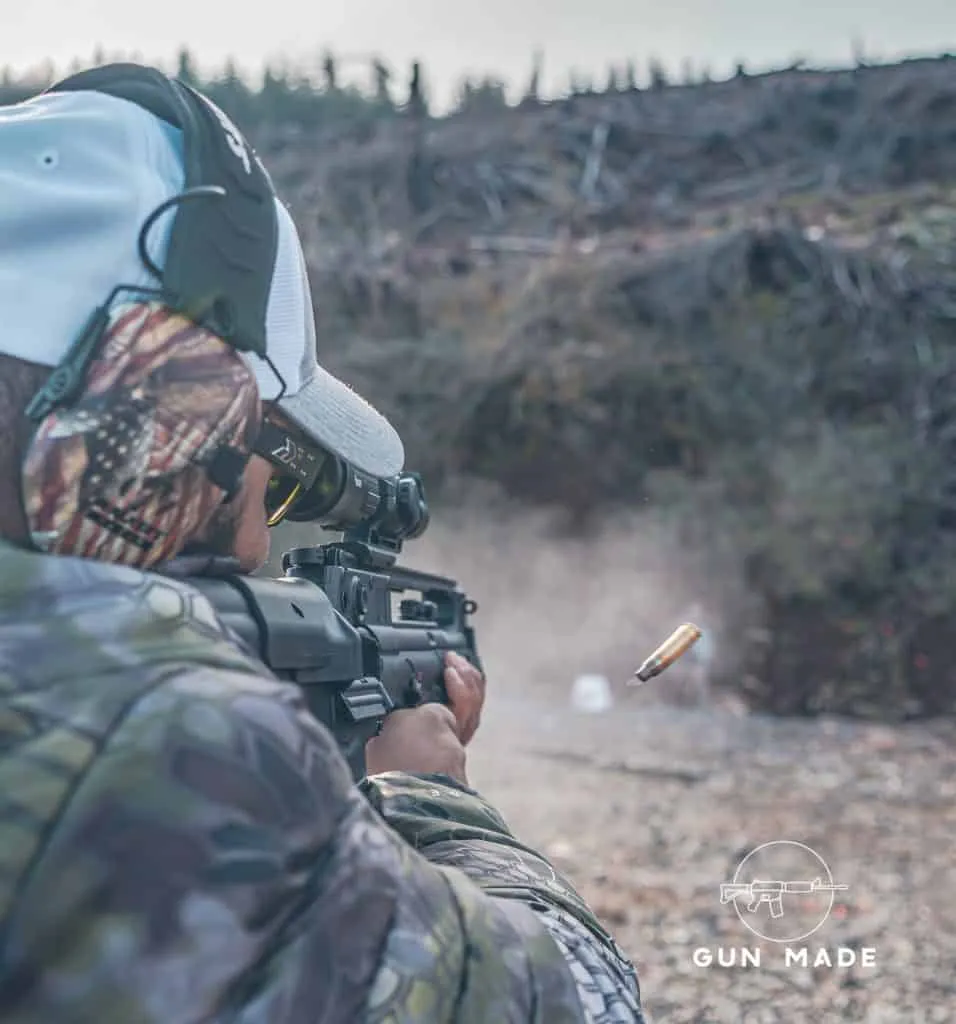 I will cover the basics, including factory data and information, what I liked and did not like, and offer some general comparisons of the Hellion in contrast to a standard AR Platform-styled rifle. 
As always, folks, I would like to remind you that reading an article is only part of deciding if this rifle is right for you. Please do yourself a favor and get your hands on this beautiful AR to ensure it is a good fit for you and your firearm needs. 
Now without further ado, here are my thoughts on the all-new Springfield Armory Hellion.
Hellion Specifications
The following specs are from Springfield Armory's Website, directly from the data sheet provided on the Hellion.
| | |
| --- | --- |
| Caliber | 5.56 NATO (.223 REM) |
| Color | Black  |
| Barrel | 16'' CMV, Melonite with a 1:7 twist |
| Front sight | integrated flip-up, elevation adjustable |
| Rear sight | integrated flip-up, with 5-position aperture |
| Bolt carrier group (BCG) | Proprietary, Melonite  |
| Gas system | 2-position adjustable, short-stroke Piston  |
| Handguard | Polymer, M-Lok  |
| Stock | 5 position adjustable, with a cheek riser |
| Muzzle device | 4 prong flash hider |
| Charging Handle | Non- reciprocating, ambidextrous  |
| Safety switch | Ambidextrous  |
| Weight | 8 pounds (without optic, no magazine inserted.) |
| Length | 28.25''- 29.75'' |
| MSRP | $1,999  |
Springfield Armory Hellion Bullpup Review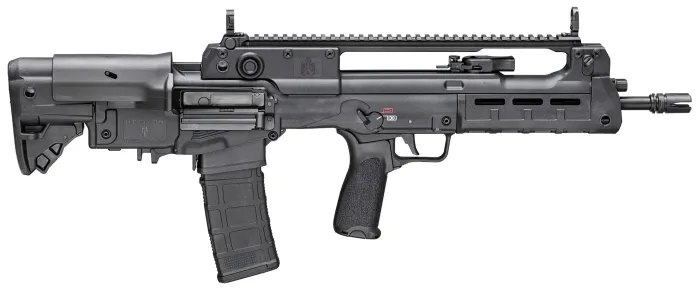 Springfield Armory decided to go into the archives and pull something out of left field with this build. Bullpup-styled combat rifles are not new to the firearms world, just new to the Springfield lineup.
Bullpups have been a tried-and-true reliable platform in European nations like Croatia. Who do we know that Springfield likes to work with in Croatia? Any guesses? You got it HS Produkt! Springfield teamed up with HS Produkt again, only this time not to bring you another service pistol. They dug in and decided it's time to bring a version of their VHS-2 to the civilian market and get it in their customers' hands. 
HS Produkt has worked with Springfield Armory on several projects, some of which we have covered in an article for you before. The Hellcat was another recent project that Springfield built in Croatia. The entire XD, XDM, and XD-family were products done with HS Produkt. 
Springfield decided to throw a curveball at the market, and with the help of HS Produkt, they were able to bring a whole new but strangely familiar firearm into their Arsenal, the Hellion.  I will say at first, I was hesitant and curious as to why Springfield brought in a bullpup, but as a firearms fan and lover of all things gun-related, I find myself asking why not? 
The VHS-2 is a very popular and reliable rifle used by the Croatian military, so it makes sense to try and take a military version of a firearm and figure out how to package it in a way that the civilian market would be able to experience it. That is exactly what Springfield has done by bringing the Hellion to market.  

There is one distinct difference between the VHS-2 and the new Hellion, the Hellion is NOT fully automatic. If only we could have our cake and eat it too, right? Moving forward from the brief history lesson, let's get into the Hellion with a closer look. 
Initial Impressions
I absolutely love AR-styled pistols, so for me, the Hellion was a strange bird at first. Unboxing the Hellion, the first thing you will notice is the futuristic look it has. The Hellion looks like it escaped from the video game HALO or Battlefield.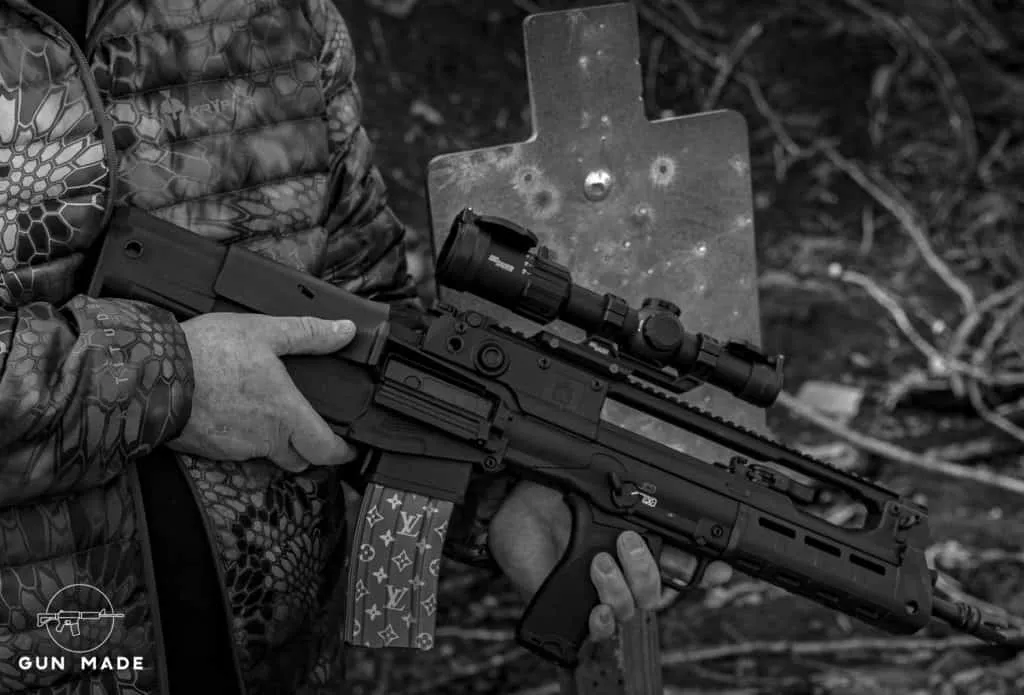 I told you in my Hellcat review that I am a huge fan of aesthetics and that I believe aesthetics sell. Springfield did a great job making a firearm that looks awesome and begs you to ask questions. Outside of the Hellion's time-traveling look, you will notice its compact size.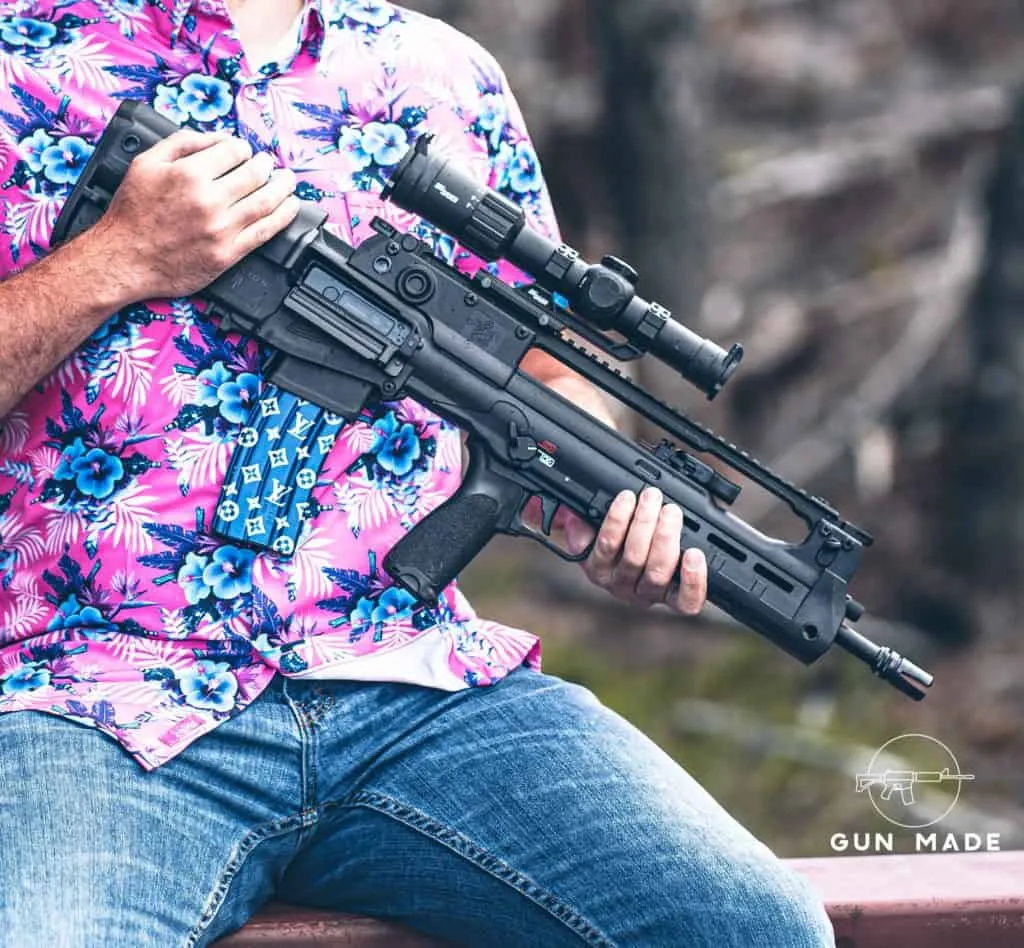 The Hellion is, in some ways, a little monster-looking rifle, but I like it. You will recognize that it looks like its big brother, the VHS-2. Springfield ships this with one 30-round PMAG, which will also be familiar to you if you have any other AR platforms. 
Bullpups are a different species where the action is behind the trigger. This took some adjustment time for me, as I found it to be uncomfortable initially with that trigger so far forward. I will discuss the trigger itself later in the article, as that is another oddball. 
Once you have had some time to adjust and get aquatinted with the Hellion, you will realize that it is extremely well balanced. Springfield designed the Hellion to be fully ambidextrous, another cool design feature. It shows how this firearm was built with lots of thought and user-friendly intentions. 

The Hellion comes with a full Picatinny rail and M-Lok styled accessory holes in the hand guard, allowing you to customize the rifle with all your fancy gadgets like lights, lasers etc. Springfield also made sure to add a cheek riser on the buttstock of the rifle so that you can fine-tune the rifle to be comfortable to shoot for your personal preferences.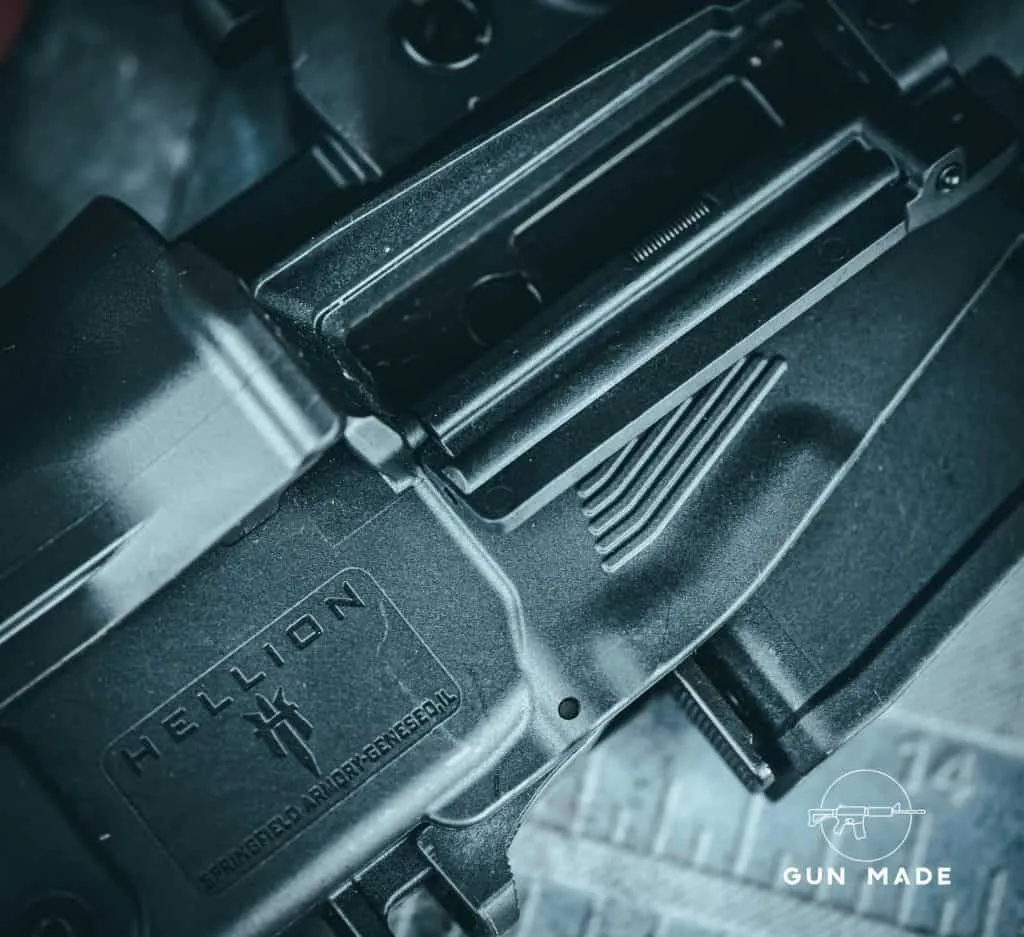 Ergonomics/Comfortability 
The Hellion uses the B5 systems buttstock. The grip is made by BCM gunfighters and is fairly comfortable. It is an AR-style grip. The grip is ok. I say the grip is "ok," but the truth is the grip is just fine and is more than satisfactory.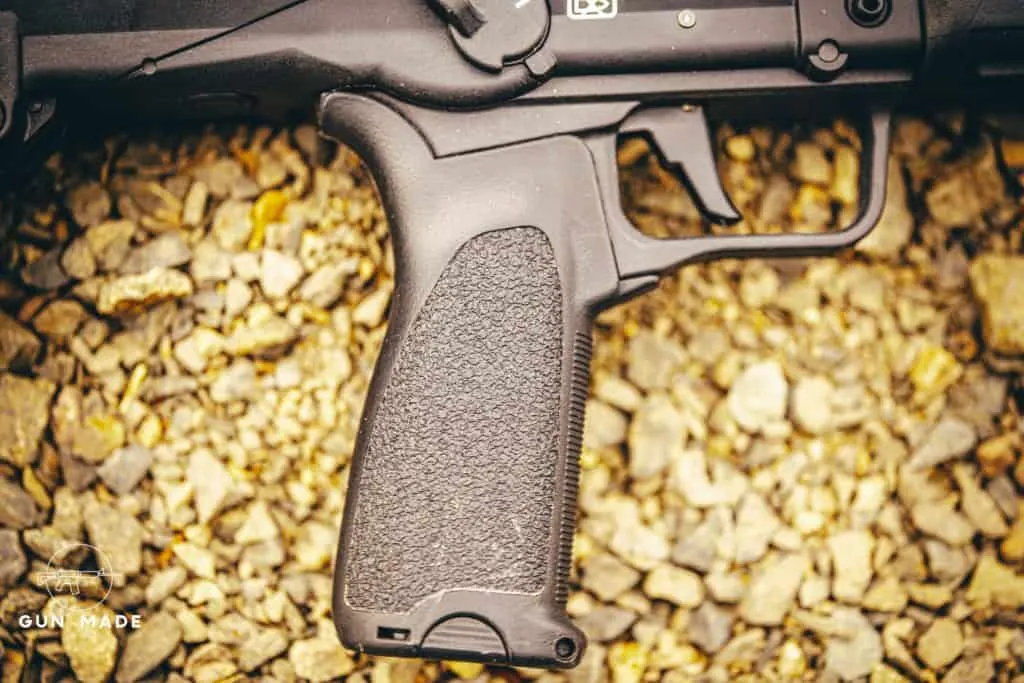 I am spoiled and have found that I like the grips made with softer material. I would personally swap it out with something more comfortable, like a Hogue grip.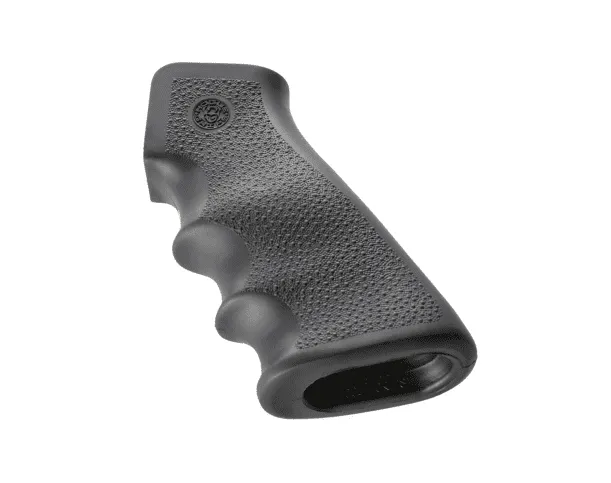 I think BCM Gunfighters makes incredible components, but I wasn't overly happy with the grip. The buttstock is adjustable, adding three more inches of length if necessary. There is a huge setback with that, though, length of pull.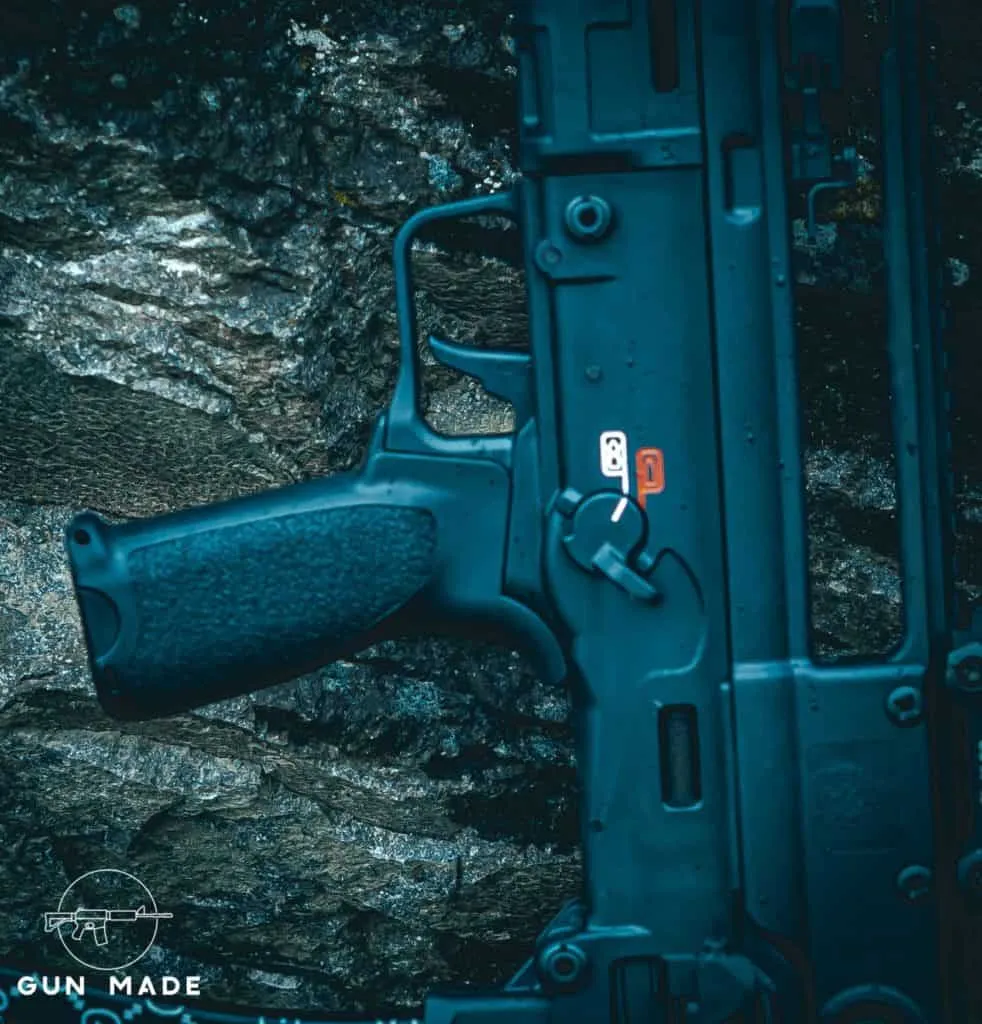 Length of pull on the Hellion is already unusually long. The Hellion being a bullpup is laid out differently with the action behind the trigger, so you have a lot of extra ground to cover in design alone. When I'm referring to the length of pull, the butt stock extending the extra 3 inches is a huge deal when it comes to being comfortable for me, but for others, it may give them exactly what they need. As a stock component on the rifle, though, I would say that it was a component of the build I would not complain about.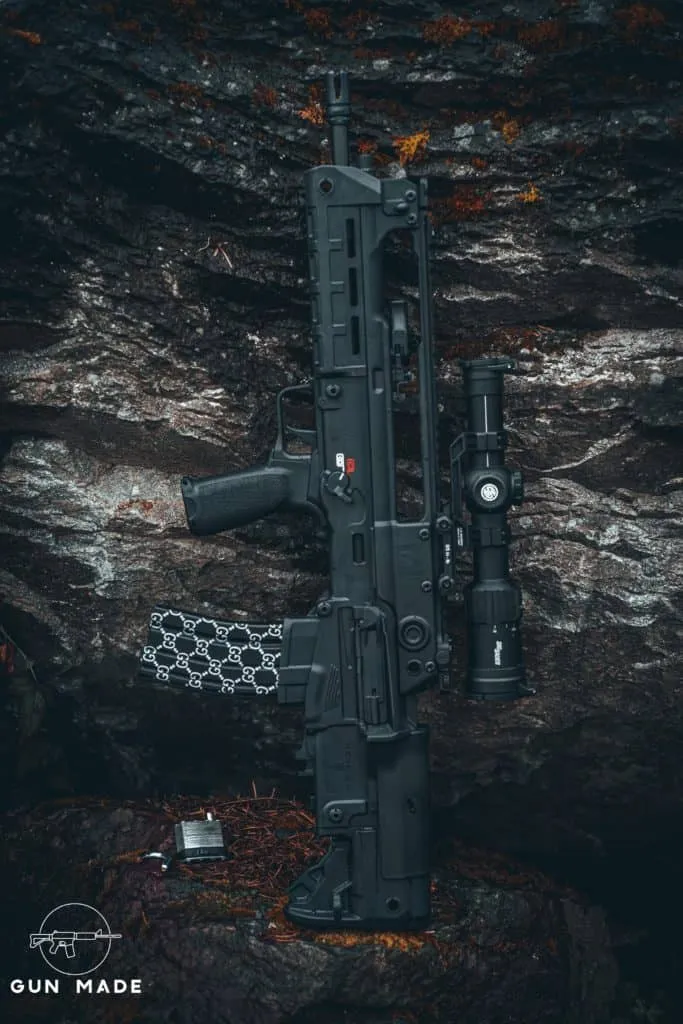 Springfield did choose to provide you with a cheek well on the rear of the rifle, which I think was a fantastic addition. Settling into the rifle, I love the height the optic sits at on the Picatinny rail. That was one of the best features of this rifle.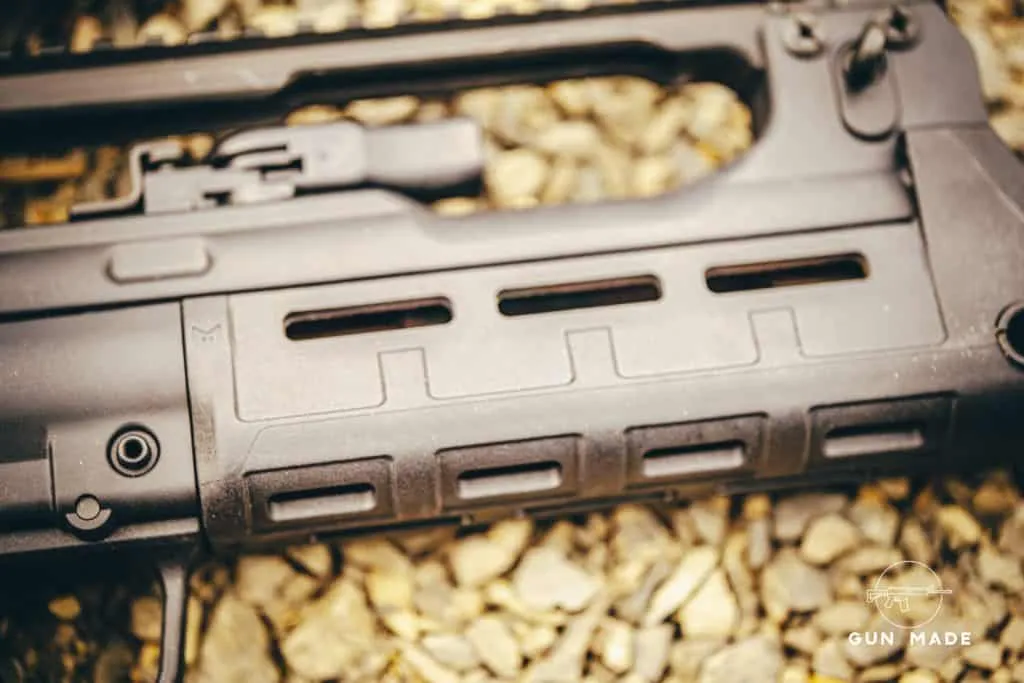 I wasn't thrilled about the bolt release, it's in an unusual place at the rear of the magwell, and it just doesn't seem efficient. The position of the bolt release just isn't very ergonomic. Please remember that this impression is mine, and I have limited time with the Hellion or a bullpup-styled rifle in general. I feel that with more time to get to know the platform, I would become more confident with this feature. 
The hand guards are comfortable and straightforward. I would suggest adding a foregrip of some sort. A few examples of foregrips I like are Magpul, Fab Defense, Unity tactical, and Strike industries. I really believe that this is another personal preference item, but I've had my eye on the Fab Defense rubberized options lately.
As I mentioned earlier, the handguards are M-Lok compatible, so you will have a huge variety of accessories to choose from.  
Trigger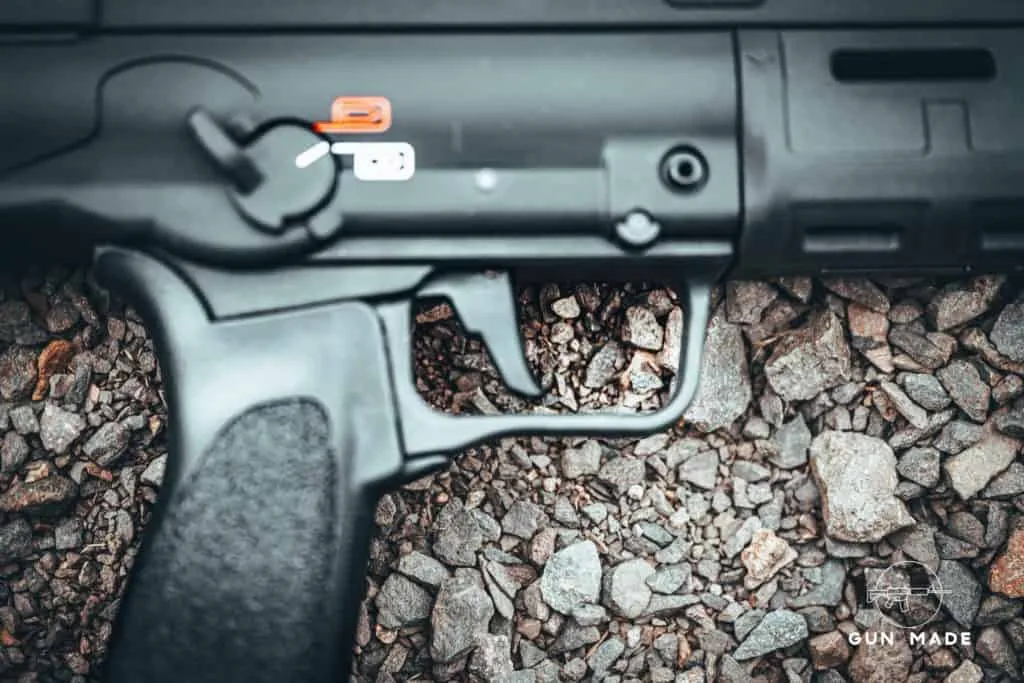 Bullpups are different because of the trigger being in front of the action. I believe that this plays a huge part in how this trigger acts. I do not like this trigger, it's garbage. I found that when I hit the wall, there was a spongy type feeling to the trigger. I don't know how to describe it, it was just different, and I wasn't a huge fan. This trigger flat out will take time to get used to. 
Here is a video I found that I thought did an excellent job of describing what I found in the trigger.
I don't think that this is a Hellion-specific issue. I believe that it is a recurring theme within a bullpup rifle. Even though I didn't like the trigger, when I spent some time on the range, I was able to get comfortable on this platform, and I've got to tell you this much, the Hellion is extremely accurate. 
Accuracy
I could easily keep this rifle on target, and once I settled into where the trigger broke over and engaged, I was able to put rounds on target and sustain a reasonable rate of fire. 
I would go as far as to say that the Springfield Hellion is a lot of fun to shoot, and I look forward to the next range day with it.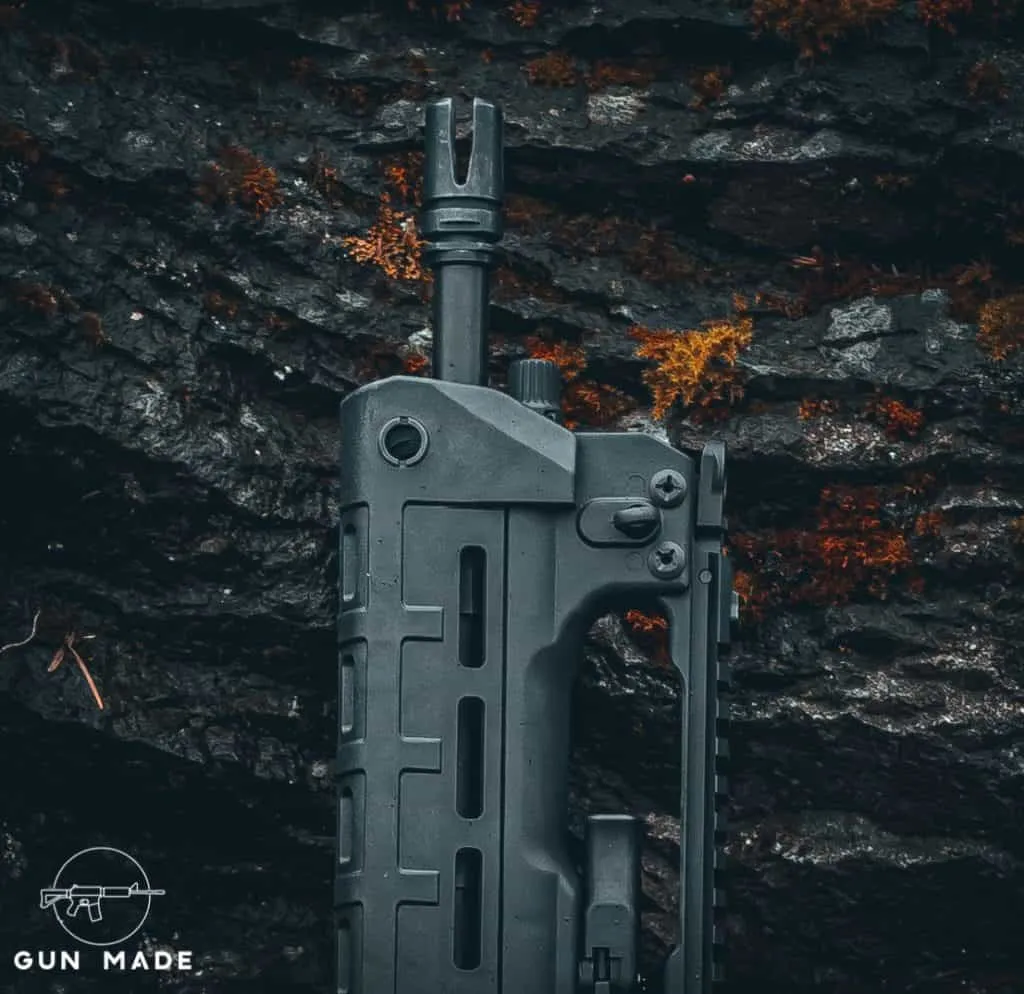 Reliability
I am not a professional, and I don't claim to be, but for a moderate-level shooter, I was impressed with what I could accomplish with the Hellion. 
I've hit the 350-500 round count and the Hellion has performed flawlessly thus far. Keeping with tradition here is a link to a video the Hellion shot to 1,000 rounds and a more in-depth review. 
Ambidextrous controls
Springfield did an Awesome job on making this firearm ambidextrous. The Hellion has an ambidextrous charging handle, ejects from both sides, and is equipped with an ambidextrous safety. This is my second favorite feature of the Hellion because it's something anyone could pick up and make work in a scenario where it was needed. 
Switching it from left to right is a simple and streamlined process. Springfield has a reoccurring theme with the builds they have been cranking out recently, and the sentence that best describes it is "built with intent."
Hellion Bullpup Pros & Cons
Pros
Compact design, shorter overall length than traditional rifles
Comes equipped with a Picatinny rail system and flip-up sights
Cons
One potential issue is reliability; because bullpup rifles have a more complex internal design, they can be more susceptible to jams and other malfunctions
The Hellion's short barrel means that it loses some velocity and accuracy at long range compared to traditional rifles
Accessories
Now, this is where it gets to be a lot of fun! Time to take the Hellion and make it your own. I would take full advantage of the M-Lok slots and add a few "Gucci" items to this bad mamma jamma! I would start with the foregrip as we discussed earlier.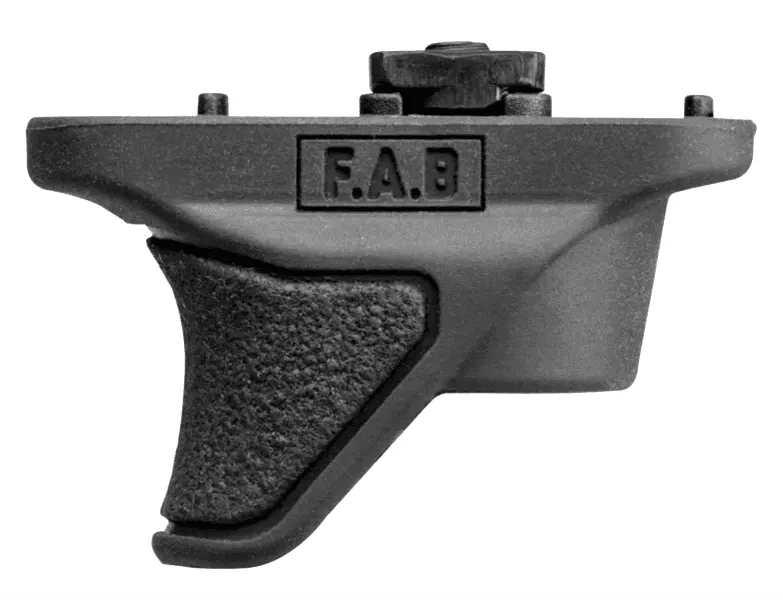 I think it is a must-have item for the Hellion. Building out my rifle more, I would add a flashlight and a laser. This is where you got to do your research because it can get expensive fast! 
I would add an optic on top of this rifle. I like EOTech for a holographic on this gun, but if I was going to do a LPVO-styled optic, I would be looking for something in the realm of 1-8 or 1-6 magnification. I have a secret squirrel Sig Sauer optic on mine, but I suggest checking out their Tango series of rifle scopes.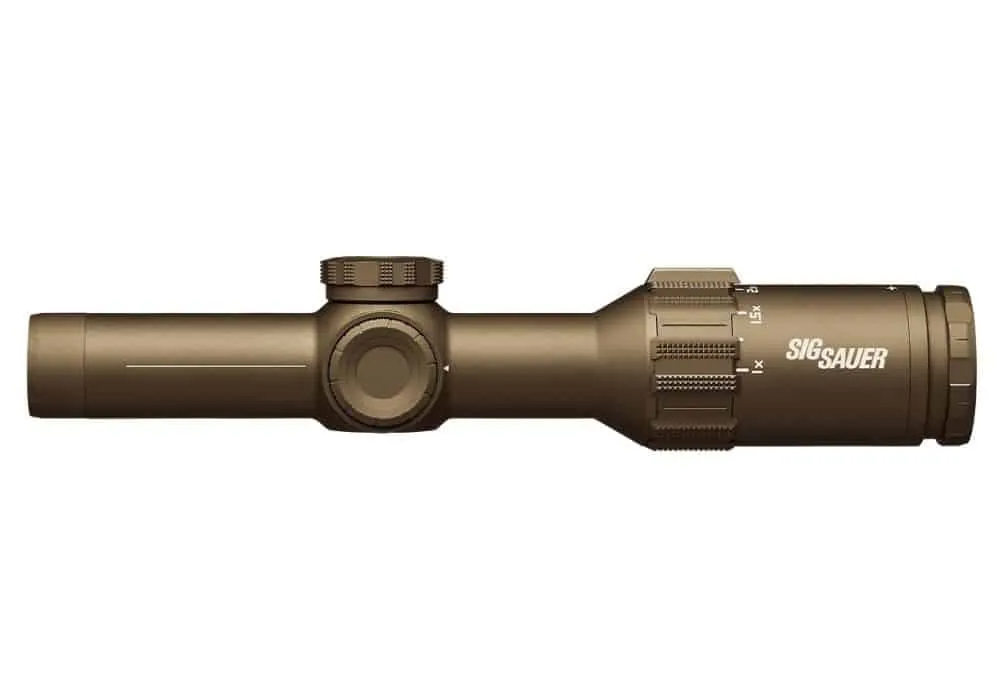 Alternatives
I do not have enough time with any other bullpups to offer you a fair comparison. I would love to tell you that the Hellion is the king of the hill in the bullpup market, but I don't want to talk out of the side of my face. I spent some time digging around on YouTube and found this video comparing several bullpup rifles. I hope you find this helpful in your comparison quest. 
Two alternatives to consider are the IWI Tavor X95 and the Steyr AUG.


Closing Thoughts
The Hellion is not an overly complicated firearm at all. Springfield did an outstanding job keeping it simple. The pop-up sights and adjustable gas block are all sweet and necessary little components that help wrap this rifle up and tie a bow on it.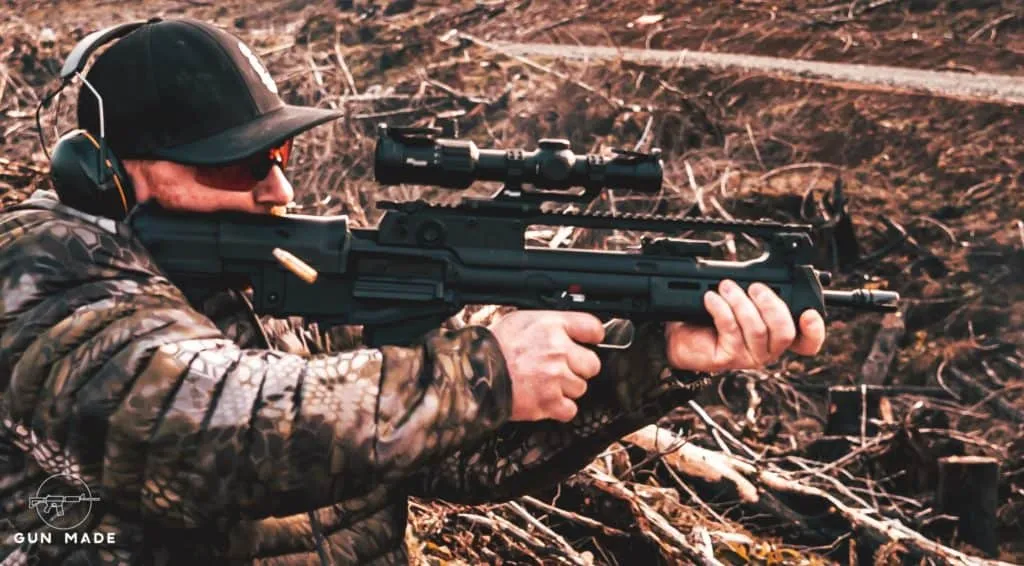 Now the question I know a lot of you are wondering is, does the Hellion take the place of an AR pistol or SBR platform in the house? Is The Springfield Hellion worth the price tag? 
I do not think the Hellion replaces the AR Pistol or SBR in my lineup. I am far too comfortable and proficient with my ARs than I am with the Hellion. ARs seem more practical and, in my opinion, more comfortable. 
I will say that the Hellion is shorter than my SBR, but it just doesn't perform the same. MY SBR is running with an 11.5'' barrel and has a folding brace on the butt of the rifle. I built this rifle to have all the characteristics of an AR that runs a 14.5''barrel but compacted it to be portable, or on the go. This is comparing apples to oranges. 
The AR platform is far more comfortable than the bullpup-styled firearm.  I wouldn't feel comfortable replacing my 11.5'' .556 Spikes Tactical AR with this Hellion.  Springfield Armory did bring a unique and incredibly fun-to-shoot rifle with this build, but it doesn't take the trophy for me in replacing an AR pistols spot. 
Is the Hellion worth the price tag? I thought that this was a little steep on the price, personally. Springfield did make sure to add features to the Hellion that makes it stand out from the other bullpups in the world, but not enough to warrant a $2,000 MSRP sticker. 
I was shocked that they brought this rifle to market so highly-priced, but in the current world, maybe this is what the future holds. I was overall pleased with Springfield's Hellion. I had a ton of fun shooting this rifle. It performed flawlessly, put accurate rounds on target, and looked like something of the future. 
I would say that this rifle is built for those interested in reliability and accuracy. The Hellion is the kind of rifle that belongs in its own spot in the safe. After shooting this rifle, I love that I own one for the simple fact of being able to grow on another unique and incredible platform in the .556 world of rifles. 
The Springfield Hellion is an awesome rifle to go out and compare against your tried and true AR. They both have their own elements that you'll appreciate.  I do not personally feel that you can make a judgment on this rifle until you have it in your hands.
Explore more