Springfield Armory M1A Scout Squad Rifle Review [2023]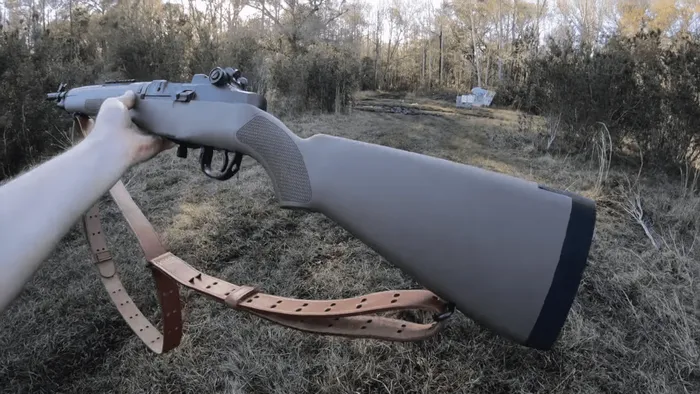 Springfield Armory M1A Scout Squad Rifle Review [2023]
When you're going camping, hiking, or just trekking around the countryside, you'll need to bring a sturdy rifle to keep you company against bears or other dangerous animals. Generally, it would be ideal if the rifle's lightweight and small enough, easy to use, and offers really fast but powerful follow-up shots.
What you're going for is a scout rifle in the .308 Winchester caliber, and it ticks all the right boxes for a solid price.
Now, everyone's heard of the highly respected Steyr Arms Scout Bolt-Action Rifle, but Springfield Armory has something even more interesting in store.
Today we'll talk about the Springfield Armory M1A Scout Squad Rifle. This semi-automatic rifle with an 18-inch barrel is definitely one of the best, most accurate .308 Winchester rifles I've tried.
In this Springfield M1A Scout Squad rifle review, we'll cover the basics of how it works, its advantages and disadvantages, how it embraces the scout-style rifle concept, how it compares to other rifles, and help you decide if it's the right fit for you.
Here's a little bit of history about the M1A Scout Squad so you get the right idea about this interesting semi-automatic rifle.
A Brief History of the Springfield Armory M1A Rifle
Before we talk about the Scout Squad model, let's first take a look at the original Springfield Armory M1A Rifle and how the scout-style rifle makeover came to be.
To put it bluntly, the Springfield Armory M1A Scout Squad is an offshoot of the Springfield Armory M1A Rifle, which was based on the M14 Rifle, which evolved from the almighty M1 Garand.
Let's take it back.
From the M1 Garand…
The M1 Garand, though praised by General Patton himself as the "best battle implement ever devised," was not without faults.
The army was looking forward to a new rifle in a more efficient cartridge than the 30-06 caliber that'd be a lighter rifle with a smaller caliber intermediate cartridge.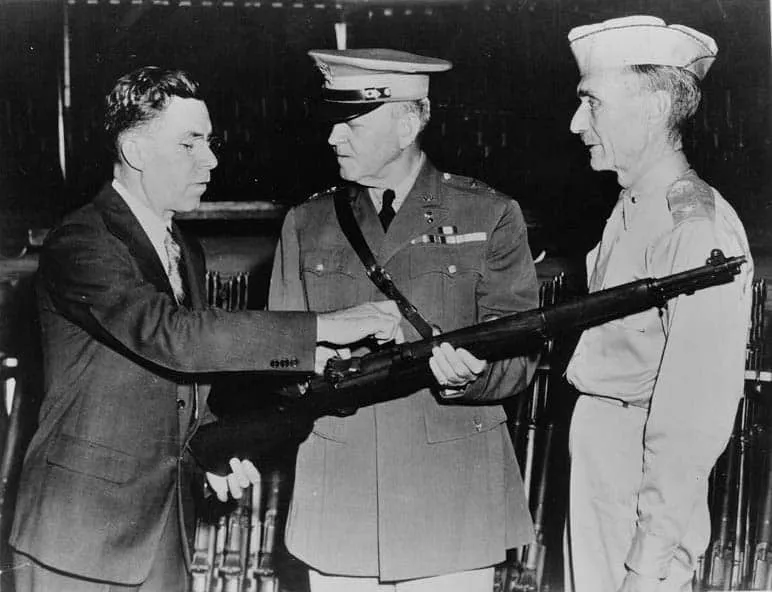 The Allies learned that the Germans used a smaller intermediate cartridge in their StG 44 (Sturmgewehr 44) called the 7.92×33mm Kurz (which means 'short').
This rifle and cartridge had immense power, efficiency, and rate of fire, so this inspired the US to try out some newer ideas.
…to the M14…
The M14 rifle was first produced in 1954 in a 7.62×51mm caliber by Springfield Armory (not to be confused with today's Springfield Armory; more on this later).
With its 20-round magazines and gas-operated reliability, this selective fire battle rifle was specially designed for the military. Moreover, it was a definite replacement for the M1 Garand.
Both rifles were strikingly similar, but the Garand had a vastly greater influence throughout history since WWII.
Springfield hoped to simplify the parts of the M1 Garand and make it more accessible, easier to handle, and easier to take down.
This was, understandably, a very difficult task because the .308 Winchester was too powerful for a submachine gun, and the rifle didn't have enough weight for the recoil.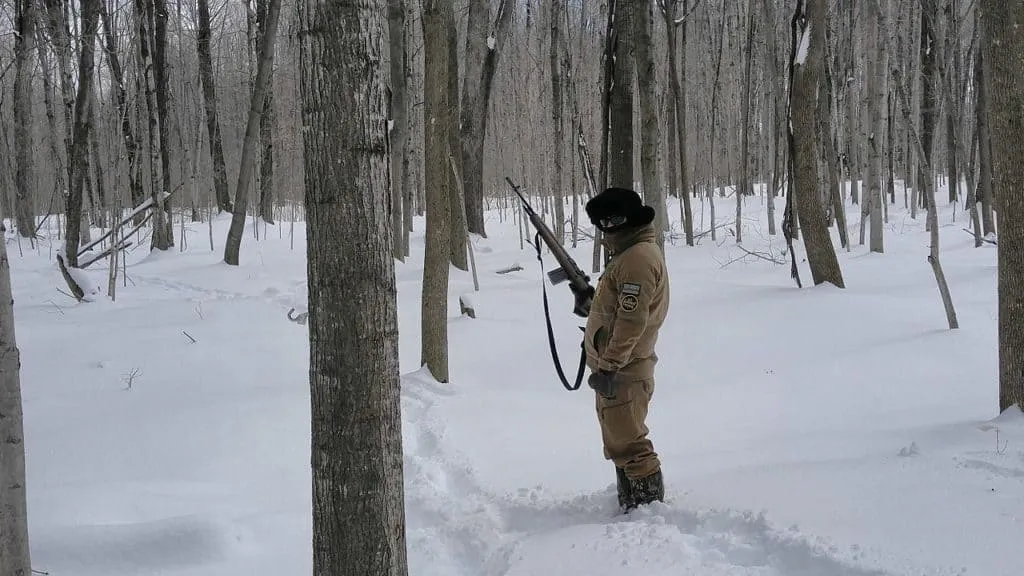 The M14 was actually inspired by four different platforms, including the M1 Garand, M1 Carbine, the M3 submachine gun, and the M1918 Browning Automatic Rifle (BAR). This made the M14 a very formidable piece of engineering.
From the Korean War to the Vietnam conflict, the M14 saw a lot of action as a new standard service rifle, and it really paved the way for a new standard in US warfare.
However, the thick jungle proved too much for the M14 and its long barrels. So, the Army turned to the M16 rifle in 1964, and the rest is history; more specifically, assault rifle history.
…and the M1A
The standard-issue M14 rifle with traditional stock ceased to be America's favorite army rifle around the end of the '60, but this didn't put an end to the M14, though.
The M14 was promptly reworked into various sniper rifle designs like the M21 and M25 sniper rifles, Mk 14 EBR (Enhanced Battle Rifle), and, of course, the Springfield M1A.
Springfield's Idea Behind the M1A Scout Squad Rifle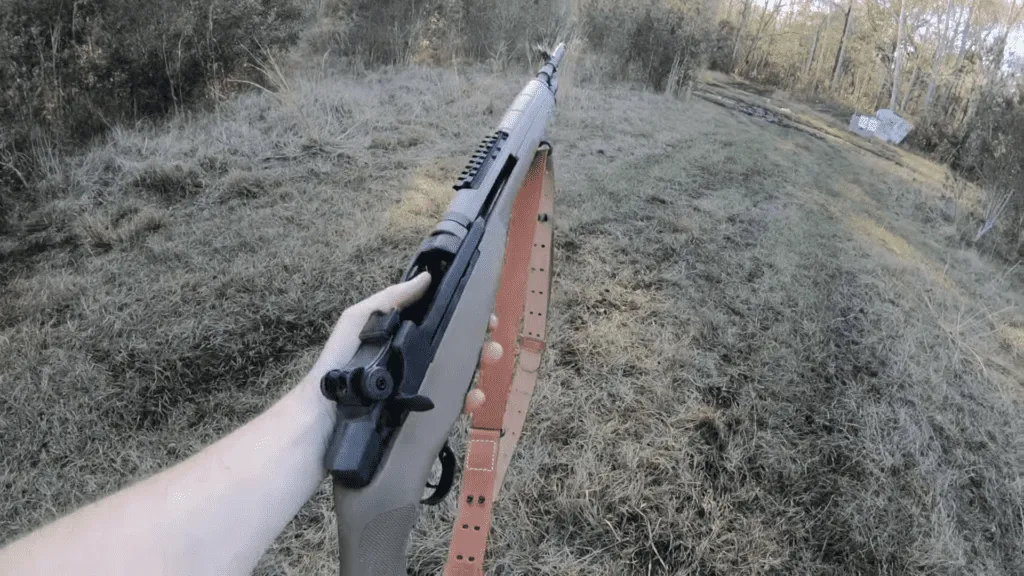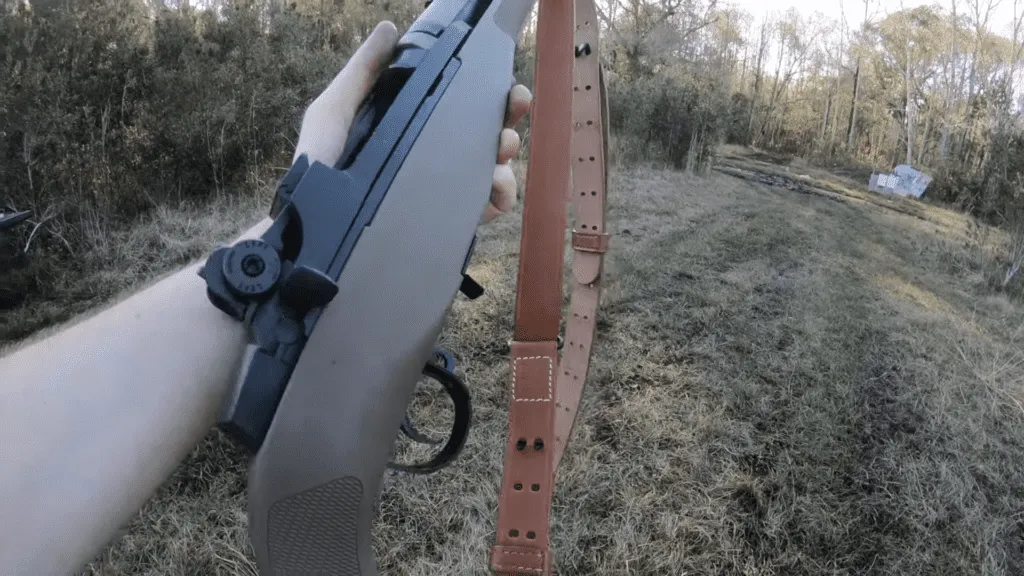 The Springfield Armory M1A was designed by Springfield Armory Inc. in 1974. It was basically a semi-automatic design in contrast to the military select-fire model just to quell the civilian need for a semi-auto M14 with a 10-round magazine.
The M1A quickly caught a lot of wind, people loved it, and it has since been one of the most prolific .308 rifles on the market, with Springfield adding other models to the fold.
You should know that the firearms manufacturer we know as Springfield Armory is not at all the same one from today that made the M14 rifle.
The original manufacturer shut down in 1968, while the modern Springfield Armory is actually a Texas manufacturer named L.H. Gun Co. that actually capitalizes on the legacy name for some reason. The latter is the manufacturer that made the Springfield Armory M1A in 1974.
Designing the New Scout Squad Rifle
Springfield came up with the M1A Scout Squad in a .308/7.62×51 NATO chambering. As a direct derivative of the M1A, this model is a shorter version of the Standard Issue M1A model. It was targeted toward civilians and law enforcement agencies.
They designed it small enough not to cause a hindrance in mobility when you're on the move but heavy enough to soak up all that powerful .308 recoil. Instead of a flash suppressor, the barrel gets a muzzle brake to reduce the recoil from the 18-inch barrel, which is much shorter on this scout-style rifle model.
But, what exactly is a "scout rifle?"
Jeff Cooper's Scout Rifle
Jeff Cooper made up this concept of the scout rifle in the early 1980s. He's a former Marine, prolific gun writer, and firearms enthusiast that thought outside the box.
Additionally, the man invented the self-defense color codes of readiness, and he's also the originator of the modern pistol two-handed handling technique.
What he wanted was an all-purpose compact rifle that was good for hunting and self-defense (we're talking about massive bears here) while visualizing a smaller frame.
Oddly enough, he insisted on a bolt-action rifle because of reliability but wasn't reluctant regarding a semi-auto .308 Winchester rifle either.
His dream rifle was supposed to be:
Chambered in .308 Winchester or 7.62×51;
With a 19-inch barrel;
Fitted with sling;
Fitted with ghost-ring rear and post front sights;
Fitted with a forward-mounted optic with 10-inches of eye relief;
Accurate below 2-MOA;
Less than a meter long (40 inches);
Lighter than 3 kilograms (6.6 pounds).
Although these requirements morphed over time as most models favored semi-auto over bolt-action, this seemingly tall order became an industry standard for the outdoor survival rifle.
Today we have lots of brilliant rifles that fall under this category, and one of the more popular ones is the Steyr Arms Scout, released in 1997. Now, we have the Springfield M1A Scout Squad, which follows suit.
Springfield's take on the scout really honors it with the M1A Scout Squad. It doesn't tick all those boxes, but it sure passes the performance test in accuracy, reliability, and handling with flying colors.
Let's see exactly how.
Springfield Armory M1A Scout Squad Rifle Review
Specifications
| | |
| --- | --- |
| Manufacturer | Springfield Armory |
| Model | M1A Scout Squad |
| Caliber | .308 Winchester (7.62x51mm NATO) |
| Type | Rifle |
| Action | Semi-automatic |
| Magazine capacity | 10+1 |
| Trigger pull | Two-Stage Military Trigger ~5.5 to 6 pounds |
| Safety | Trigger guard |
| Length of pull (LOP) | 13.25 inches |
| Barrel length | 18 inches |
| Barrel twist | 1:11in |
| Overall length | 40.3 inches |
| Weight | 9.3 pounds |
| Sights | Windage and elevation adjustable military aperture rear sight; National Match Model .062" Military blade front sight |
| Construction | Steel and wood |
| Stock | American Walnut |
| Finish | Matte black; Parkerized barrel |
Stock, Aesthetics, and Ergonomics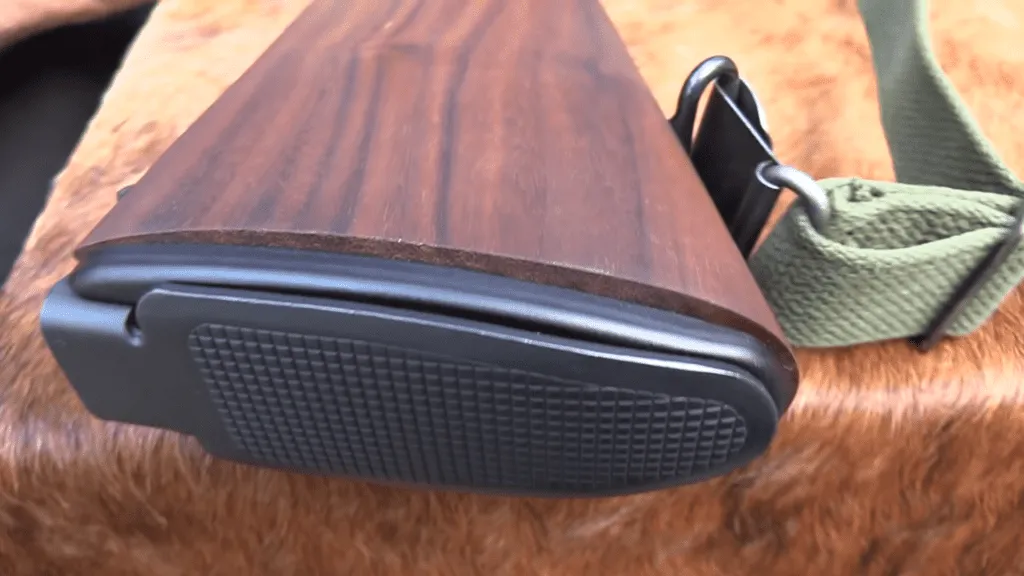 The Springfield M1A Scout Squad's wood stock is made of pure, solid walnut that pays homage to the original M14 design it was conceived from. It's a beautiful firearm with a sturdy walnut stock, parkerized finish, and a very traditional feel.
Obviously, craftsmanship is focused on ergonomics and balance. Personally, I can't resist a quality wood stock—there's just something about a walnut furnish that puts everything together.
The walnut stock model has an added feature: a tiny steel shoulder flap on the buttstock. This steel flap can be used as a stabilizing device when you're proning, and there's a latch and two holes under this shoulder flap to store your cleaning rod.
In addition to the wooden Scout Squad, there's a model with a black synthetic stock. It weighs 8.8 pounds, has a 5-round capacity, and is 44.5 inches long.
There's also the black composite model, which has the same weight, a 10-round capacity, and a 40.3-inch length.
With a synthetic or composite stock, you won't have to worry about the rifle being damaged and tarnished from moisture like the wooden model.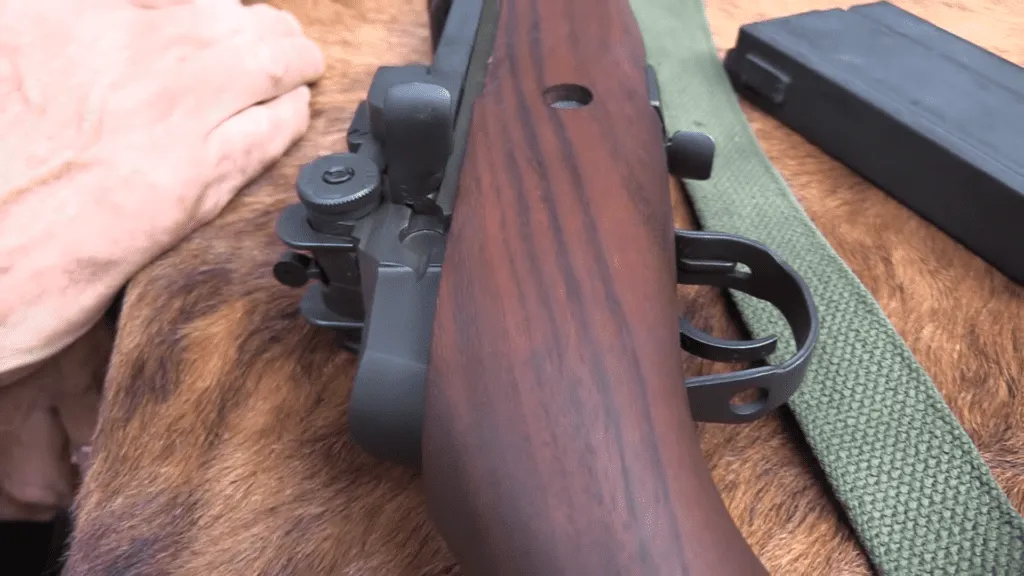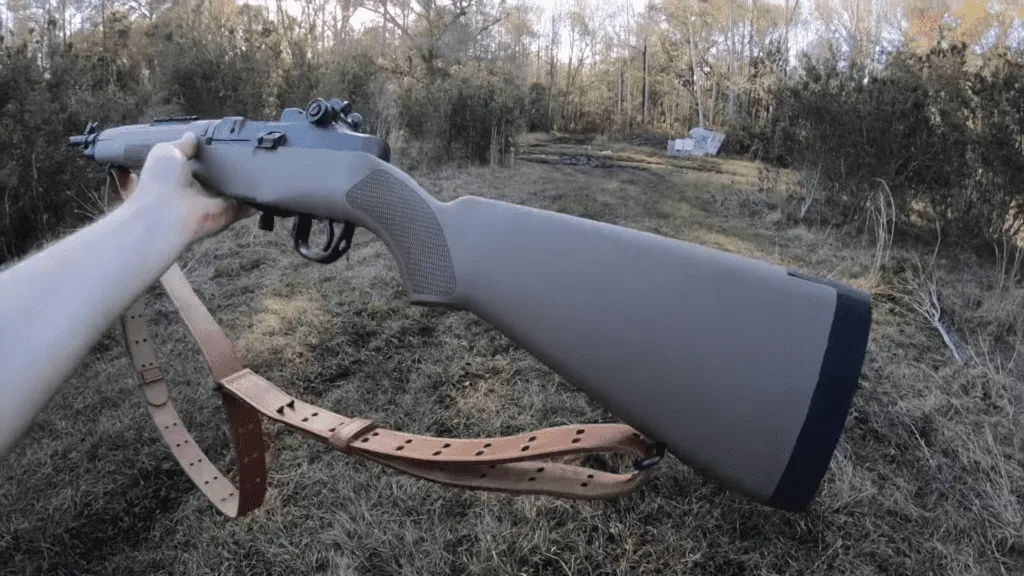 If you're looking for a fully adjustable stock with an adjustable LOP, here's the Archangel M1A Precision Stock that weighs around 4.2 pounds. And for those of you who like to make your rifle a bit fancier, there are cool deals on birchwood stocks for you to check out.
Let's take a look at the internals.
Operating Rod
The Springfield M1A Scout Squad has a metal operating rod that's exposed on the right side, and it functions fairly smoothly. It looks like an M1 Garand op rod, but it feels much like an M14 in handling.
The op rod's function is to serve as a spring guide piston inside the gas cylinder. It moves towards the rear when you fire to set the motion of feeding and cycling.
Be careful when placing your hand near the op rod cycling below the barrel. You'll pinch your hand and perhaps even cause an issue with your rifle. This is because the M1A Scout Rifle has a reciprocating op rod.
If you ever have problems with your operating rod or spring guide, Sadlak Industries and Badger Ordnance have some cool and cost-efficient solutions for you.
Muzzle Device
The muzzle device on the Springfield Armory M1A Scout Squad is one of the most noticeable things on this rifle. It has a short distance from the end to the front sight post with four and five rows of holes on the side.
The muzzle device on the M1A is a proprietary muzzle stabilizer that really helps with reducing the .308 Winchester felt recoil. This is a very important part because it's uniquely made, and it definitely beats any long prong flash hiders you see on walnut stock rifles nowadays.
I personally wouldn't change the factory muzzle device because it's really good. However, if you want to reduce the recoil further, you have a very cool Smith Enterprises muzzle device that you can buy.
Additionally, there's a Springfield Flash Suppressor, which really reduces the blinding flashes on your shots. I recommend you snag one of these just to be sure, as you usually need to break out this type of rifle at night.
Bolt
Another part that the Springfield Armory M1A Scout Squad shares with the M1 Garand is the bolt design.
The bolt is made of steel and is very durable. Moreover, it has two big locking lugs that are connected to the edges of the receiver. Each of the lugs has a roller that helps with cycling and bolt tracking.
Additionally, there's a last-round bolt hold-open feature and a bolt catch. The bolt catch is on the left side of the open-top receiver.
There's still no sign of ambidextrous models from Springfield, so lefties will have to be careful to avoid being hit in the face by flung casings.
And now, the barrel.
Barrel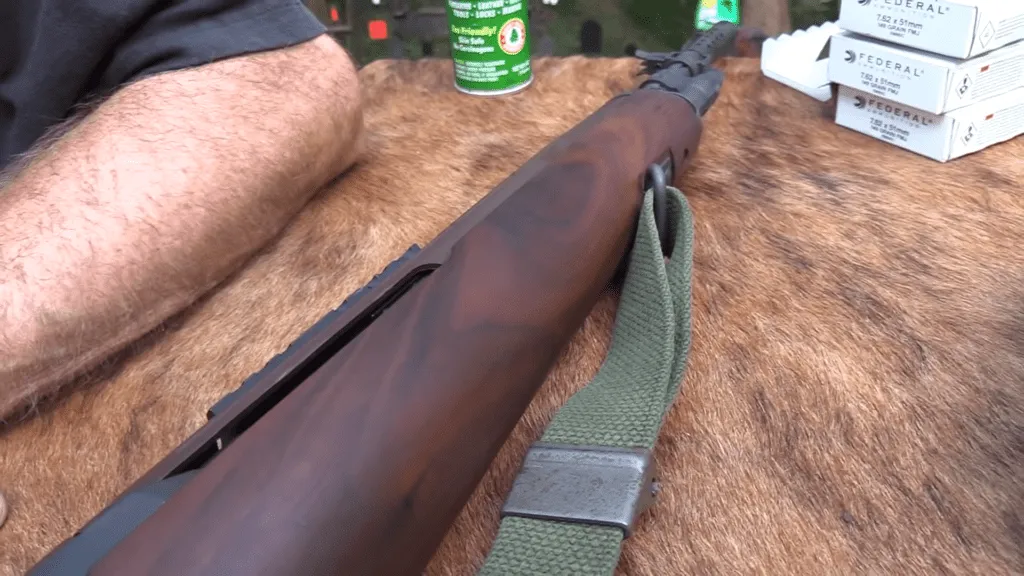 Despite the dramatic introduction, there's not much to say about this 18-inch barrel. It has a 1:11-inch twist with a right-hand, six-groove movement, and it's made of carbon steel for durability and temperature tolerance.
Springfield specifically chose the barrel to allow for a more flexible platform for the .308 Winchester in comparison to the full-sized standard-issue M1A.
If you shoot this rifle, you'll immediately notice how the 18-inch barrel has a bigger muzzle blast than the standard model. This is because the 7.62×51mm cartridge isn't adapted for an 18-inch barrel, as the unburnt powder can easily escape shorter barrels.
Magazine and Magazine Release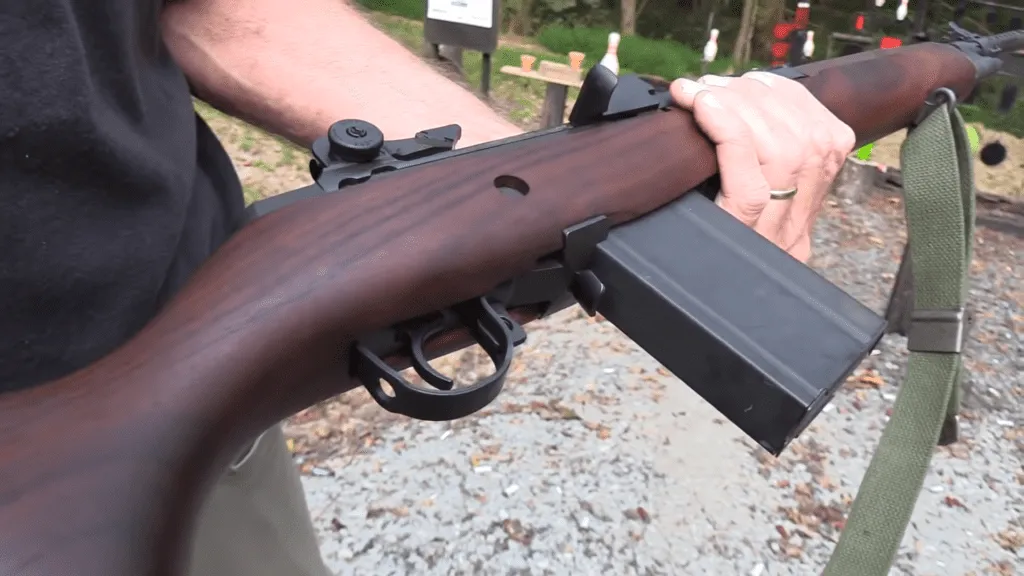 The Scout Squad has a steel box magazine that holds the 7.62×51 NATO or .308 Winchester bullet, both of which feed, shoot, and cycle perfectly.
This detachable box mag is located on the bottom of the receiver. Judging by the model, it comes in either a 5- or a 10-round capacity.
The magazine has a rock-in latching magazine that fits snugly. When you hear the clearly audible and tactile click, you'll know it's tightly locked in.
Typically, the paddle-style mag release is to the rear of the magazine that can be pushed forward to release your magazine.
Finally, there's a fixed stripper clip guide right above the rear sight that allows you to feed the magazine with bullets from your en-bloc clips.
Sights
I love the sights on the M1A Scout Squad. You got your National Match post front sights and standard military aperture rear sights that are adjustable for windage and elevation.
The sights are definitely one of the best features of this rifle. They work in combination to offer you a pristine clear, precise, and very visible picture for fast sight acquisition.
This is in no small part thanks to the generous sight radius and the .062-inch front sights. I can guarantee you'll hit your targets from a 400-yard range just by using the iron sights.
Onto the trigger.
Trigger and Trigger Safety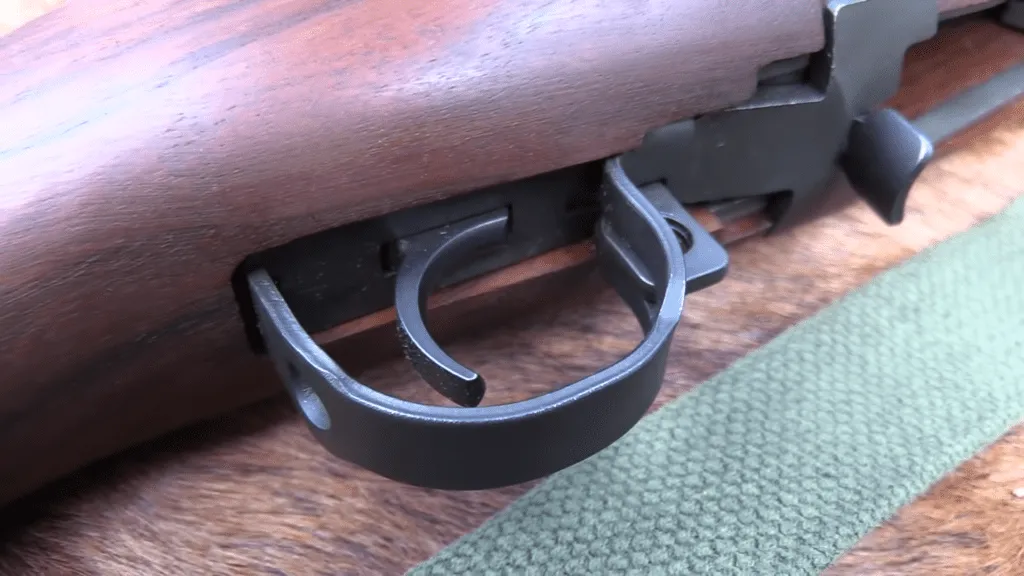 The Scout Squad has a Springfield match-grade model trigger. It's a thin little trigger with a two-stage function that really complements the scout squad profile for fast and precise follow-up shots without much effort.
There's a clean break with a short and crisp reset, so you can expect a very smooth performance with the two-stage, ~6-pound trigger pull.
I only have one complaint: the trigger safety is located inside the trigger guard, and it might hit your finger when engaged, at least according to some concerned customers.
Normally, I don't think this is a major issue because most of us never disengage the safety before we want to shoot, right?
Speaking of trigger-happy, here's how the shooting went.
Shooting, Accuracy, and Ammo Recommendation
Shooting the M1A Scout Squad is nothing short of immaculate. My trigger finger laid perfectly on the trigger's two-stage slack, and the click merged simultaneously into the explosive sound of the .308. Carrying the rifle felt just right, and the added walnut weight didn't bother me at all.
For ammo boxes, I used Federal American Eagle JHP 130-Grain, Federal Trophy Bonded Tip 180-Grain, and the venerable SIG Sauer Elite Copper Hunting 150-Grain bullets because I really wanted to experience some luxury .308 Winchester shooting.
Overall, there was not a single misfire, feeding failure, or any other issue.
However, one thing I noticed is that there was an extraction failure after my fifth try. I shot two to three boxes of each and then some, and I'm convinced the extraction failure occurred because I hadn't cleaned the gun prior. It's not the rifle's fault.
The M1A Scout Squad requires cleaning after every session if you don't want problems, especially if you're a regular shooter. Solvents and lubricants can be of great help.
Rail Attachment and Aftermarket Options
The Scout Squad has a proprietary Picatinny rail mount that sits high and forward from the action for your long eye relief (LER) optic sights or even a classic little red dot scope if you're willing to use a cheek piece.
Personally, I don't see why you'd want to go for scopes other than LER optics on a battle rifle. The optic base is forward-mounted, and you're better off with your factory sights. The thing is, the forward rail doesn't hold zero well because of its stopgap frame.
There's a hole on the left side of the receiver where you can attach a new rail that can be placed to sit atop the ejection port.
If you want to do that, you'll need to use a cheek riser on the stock to keep your eye and scope in line. Otherwise, throw accurate shooting out the window.
I wouldn't change anything when it comes to optics. I'd rather recommend you a Smith Enterprise Extended Bolt Stop for better handling and performance in follow-up shooting.
Disassembly and Maintenance
The Springfield Armory M1A Scout Squad Rifle was made for easy disassembly.
Simply pull down the backside of the trigger guard and push forward. Then, the trigger pack will go loose, and you can take it off the rifle.
Afterward, you can remove all the other parts starting from the action, barrel, and then the internal parts.
Here's an informative video on how to properly take down and clean your M1A Scout Squad.
Pros & Cons of the Springfield Armory M1A Scout Squad Rifle
Pros
Reliable and smooth semi-automatic operation
Classic aesthetics
Durable walnut wood
Excellent 2-stage military trigger
Powerful .308 Winchester caliber
Great sights (National Match Post front; Adjustable standard aperture rear sights)
Mobile, adaptable, and flexible enough for multiple purposes
Cons
You can find cheaper scout rifles
Heavy
Safety's inside the trigger guard
Longer than most rifles
FAQs
Here are some frequently asked questions about the Springfield Armory M1A Scout Squad.
Is the Springfield Armory M1A Scout Squad Rifle Good for Hunting?
Since it uses the .308 Win caliber in an 18-inch barrel, the M1A Scout Squad model is a great rifle for hunting deer, boar, elk, and in self-defense scenarios against bears.
The 10-round capacity is more than enough, and the iron sights offer fast sight acquisition. Additionally, the Picatinny forward-mounted rail allows you to set up optics with decent eye relief.
What Are the Best Optics for the Springfield Armory M1A Scout Squad Rifle?
The M1A Scout Squad is a very versatile rifle that can be used for short-, mid-, and long-range applications, and there's no better optic than the Vortex Optics Crossfire II with a 6-24x magnifying power.
It's sturdy, flexible, has a long eye relief, and can hold zero fantastically well. Many will appreciate the Dead-Hold BDC reticle and the nitrogen-purged weatherproofed glass, which is perfect for the outdoors.
I also recommend the Burris Ballistic Plex 2-7×32, which is a bit more expensive but works wonders on the 400-yard range.
Are M1A and M14 Magazines Interchangeable?
The Springfield Armory M1A magazines are compatible with the M14 magazines, but only with their respected round capacity of 5, 10, or 20 rounds.
What's the Difference Between the Springfield Armory M1A and the M1 Garand?
One of the major differences between the standard-issue Springfield Armory M1A and the M1 Garand is definitely the gas system.
Additionally, the Springfield Armory M1A and the M14 rifle share a similar gas system with the M60 Machine Gun, which is another full-auto gun that inspired the design.
The thing is, the M1 Garand doesn't have an enduring gas system design that could keep up with the massive cycling rate of a fully automatic firearm, so they had to come up with a newer gas system that could regulate the pressure.
Alternatives to the Springfield Armory M1A Scout Squad Rifle
If you feel that the Springfield Armory M1A Scout Squad isn't your type of thing, check out these alternative rifles. All are roughly around the same pricing range and have very similar features.

Here's the rifle that ticked Col. Cooper's every scout rifle requirement except for the 3 kg weight limit.
The Steyr Arms Scout Bolt-Action Rifle has a 19-inch barrel, weighs mere 6.6 pounds, and has a 5- or 10-round capacity via a detachable box mag.
There are features like an adjustable LOP, flip-up open sights, and you have an extra detachable magazine hidden inside the butt stock.
Most importantly, it allows you to mount an extended eye relief scope, and there's a built-in bipod up inside the stock if you ever find yourself in a prone position.
Besides the .308 Winchester, it's available in .223/5.56 NATO, .243 Winchester, 6.5 Creedmoor, and 7mm-08.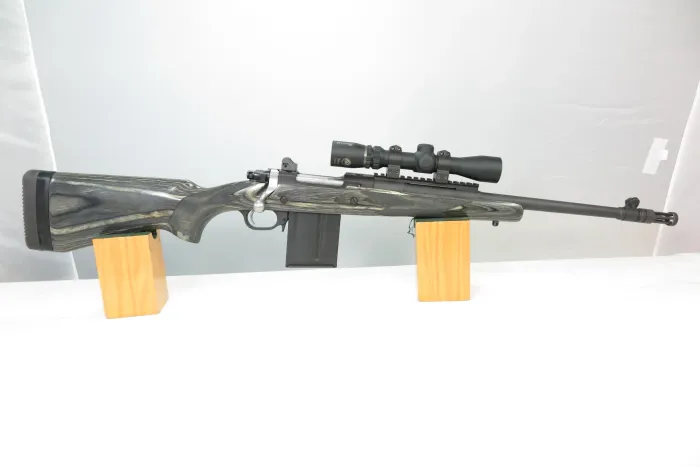 The Ruger Scout Rifle is another versatile number that has a 16-inch barrel with a 7.1-pound weight, excellent sights, a scout scope rail, and a flash hider. Moreover, there's an adjustable length-of-pull between 12.75 inches and 14.25 inches and a 10-shot detachable magazine.
It's one of the more flexible scout rifles, and it comes in the .308 Winchester, .350 Legend, and .450 Bushmaster calibers.
What makes this one special is the free-floating, cold hammer-forged barrel that gives you an edge in precision.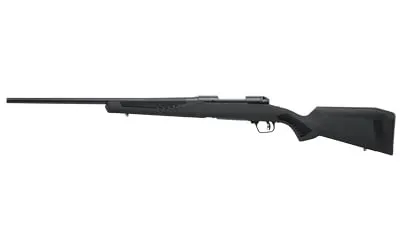 The Savage 110 Scout is one of the newest additions to Savage's bolt-action scout rifle arsenal. It has an 18-inch barrel, 7.8-pound weight, and very smooth action with a recoil-reducing compensator that keeps the .308 under control.
What makes this so special is that it has one of the best triggers in a scout rifle. The AccuTrigger is a user-adjustable trigger with a crisp and clean 5.8-pound trigger pull.
Many folks will appreciate the synthetic Savage AccuFit stock with an adjustable length of pull and comb height for all kinds of optics and cheek welds.
In addition to .308 Winchester, Savage also offers the 110 Scout in .223 Remington, .338 Federal, and .450 Bushmaster.

Normally, I don't recommend more than three alternative firearms, but the Mossberg absolutely needs to be mentioned among the scout rifle favorites. Blame the category.
Mossberg's MVP Scout has lots of features that make it stand out from the rest. Ever seen a scout rifle that accepts M1A and AR-10 magazines? They don't call it the Mossberg MVP for nothing.
The MVP Scout has a 16.25-inch barrel, 6.75-pound weight, a synthetic stock, an adjustable 3- to 7-pound trigger pull, 10-round mag capacity, and a very attractive price.
The main features are the long Picatinny rail, the threaded barrel that accepts standard A2 flash hider muzzle devices, and there's also a combo version that comes with a Vortex Crossfire II Scout scope.
Conclusion – One of the Most Reliable Scout Rifles With a Hefty Price Tag
Let's be real here.
What you're looking at is a piece of history. The Springfield Armory M1A Scout Rifle is a very modern take on the M14 (something that we'll probably never get our hands on), and it still pays its respects to the ancestors.
Straight out of the box, the Springfield Armory M1A Scout Squad will make anyone go, "Oh, look! It's a tiny Garand!"
The original military blueprint of the Garand and M14, the adjustable sights, 2-stage trigger, the detachable box magazine—it's all there.
It'll only take a few shots before you realize why rifles like this steamrolled through so many wars in history.
Although some might say it's heavy, it's extremely well-balanced for shooting or carrying it around the forest, be it in a standing, crouching, or prone position.
Combine this piece of military legacy with Cooper's scout rifle, and you have the ultimate, all-purpose forest rifle. Not to mention the National Match Model tuned trigger, forward optics rail, and the cool sights that render the need for optics redundant.
What Col. Cooper envisioned was a rifle that set a perfect example of how necessity drives innovation, especially when survival is in question.
Simply put, the Springfield Armory M1A Scout Squad only slightly trades firepower for portability and practical accuracy.
Stay safe, shoot straight!
Explore more