Springfield Armory XD-M Elite 4.5" 9mm Review + Photos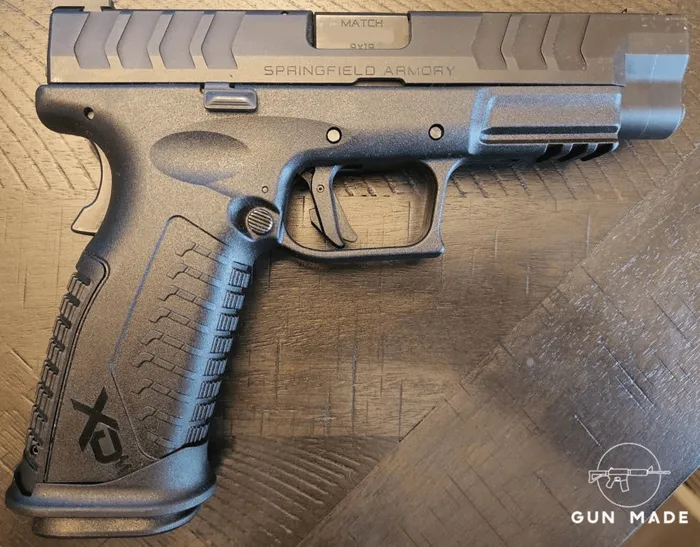 Springfield Armory XD-M Elite 4.5" 9mm Review + Photos
I recently had a student come to a class with a Springfield XD-M Elite 9mm with a 4.5" barrel that a local gun store had sold her to use for concealed carry. If we lived in an open-carry state, I might go along with that, but this is Illinois, and she lives in Chicago.
At over 2.5lbs fully loaded, she would have had a pretty tough time keeping it out of sight. Add a spare magazine, and you will need a pair of suspenders and a belt just to hold it up.
While it might not be the best-concealed carry option, it is excellent for competition shooting. The XD-M Elite line is perfect for shooting IDPA, USPSA, or any other type of competition. The 4.5" barrel length lends to the XD-M Elite accuracy.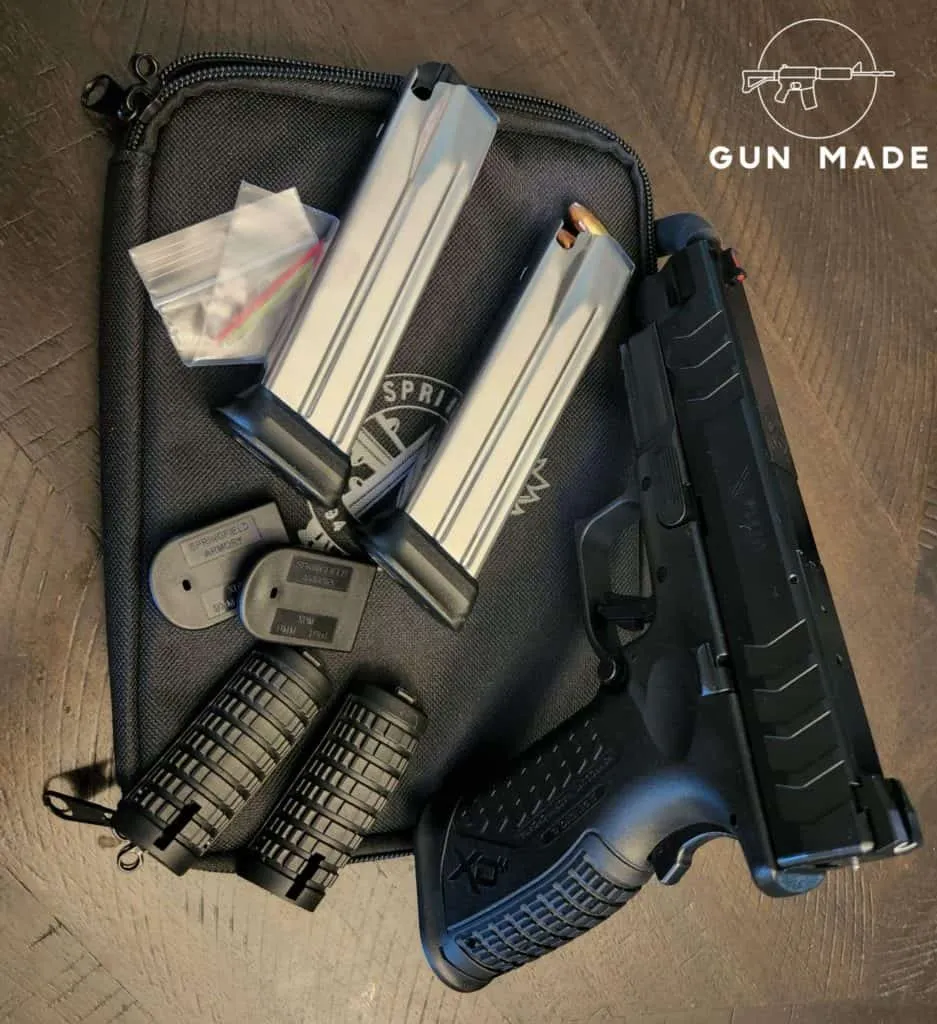 Springfield Armory XD-M Elite 4.5" 9mm Review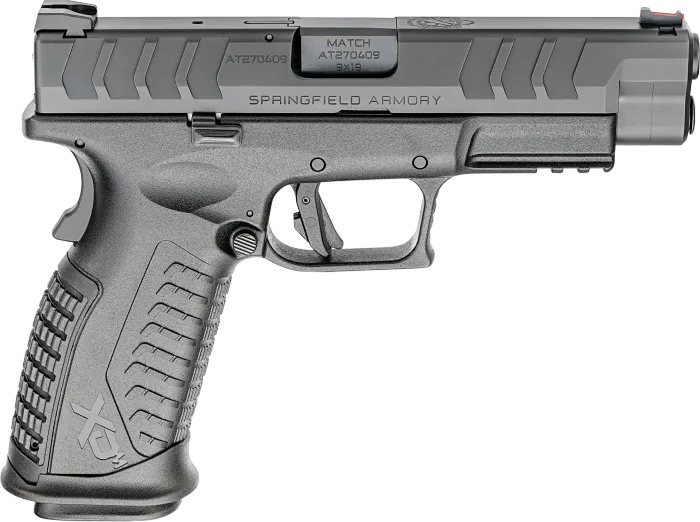 The XD-M series is made by a company called HS Produkt in Karlovac, Croatia, and imported by Springfield Armory. XD stands for "Extreme Duty," and the M is for a match-grade barrel. The XD-M is an improved version of the "base" XD that includes interchangeable backstraps, a larger magazine capacity, and a couple of other improvements. 
I tested the XD-M Elite 9mm version, but it is also available in a 45 ACP for those who want that bigger bang.  
Specifications
| | |
| --- | --- |
| U.S. Distributor | Springfield Armory |
| Manufacturer | HS Produkt, CroatiaModel: XDM Elite |
| Caliber | 9mm |
| Capacity | 20+1 |
| Type | Semi-Auto Pistol |
| Action | Semi-automatic striker-fired |
| Trigger Pull Weight | Between 5 and 5.5 lbs |
| Safety | Ambidextrous manual thumb safety |
| Barrel | 4.5 inches Hammer Forged Steel with a Melonite® Finish |
| Overall length | 7.6 inches |
| Overall height (with Magazine) | 5.75 inches |
| Overall width | 1.2 inches |
| Weight (empty magazine) | 29 ounces  1.81 lbs |
| Weight (loaded magazine) | 2lbs 5 ounces |
| Grip | Black Polymer |
| Front Sight | Fiber Optic It comes with green and red fiber optic inserts |
| Rear Sight | Tactical Rack U-Dot™ |
| Slide Construction | Forged Steel, Melonite® Finish |
| Frame Construction | Molded Black Polymer with Removable Short Magazine Well Extension |
| Finishes | Black |
| Accessories | Two 20-round magazines, three interchangeable backstraps, two short magazine base plates, cable lock, and spare fiber optic inserts |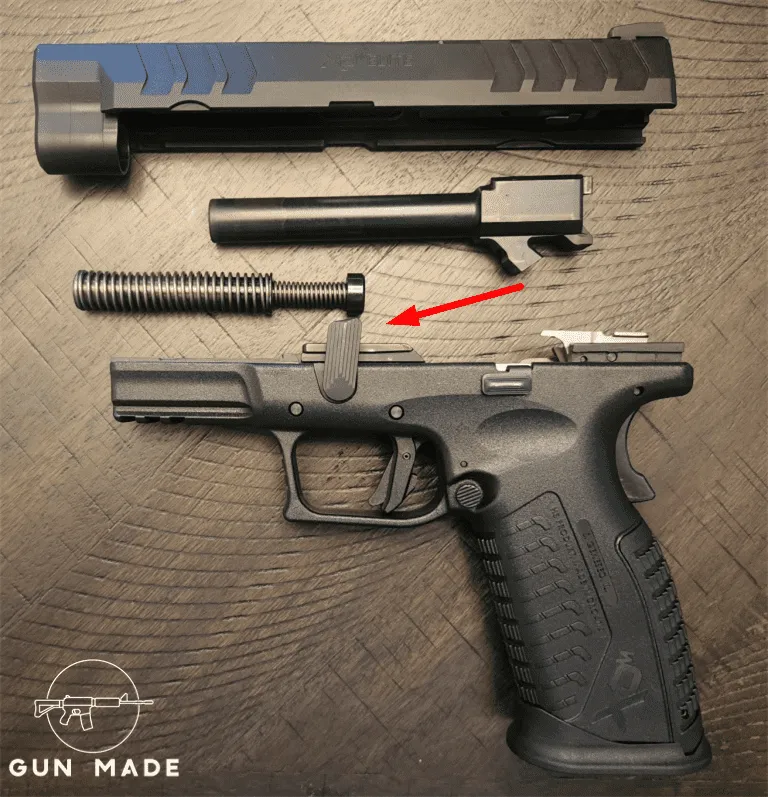 Disassembly/Reassembly
The takedown lever works ALMOST like the one on a Smith and Wesson. The levers look the same except to field strip the Springfield XD-M. The takedown lever rotates up, NOT down, like a S&W. 
Pull the slide back, then engage the ambidextrous slide stop. Next, rotate the lever UP, then release the slide to disassemble. At that point, you have the four major components. 
Trigger
The trigger pull is very smooth. It is so smooth that it seems lighter than 5 to 5.5 lbs, as stated in the specs. The reset point was initially challenging to feel, and it took a few rounds to get that sweet spot. Once I found that spot, it was natural and easy to get used to. 
The Elite line comes with a flat META trigger, an acronym for Match Enhanced Trigger Assembly. It has a trigger safety built in that requires the shooter to have their finger entirely on the face of the trigger before it can be pulled.   
I like the smaller grip safety on the XD-M compared to the style on the S & W Shield because it feels better in the palm of your hand. The safety portion that slides into the frame only goes partially up the backstrap, unlike the longer backstrap safety in the shield.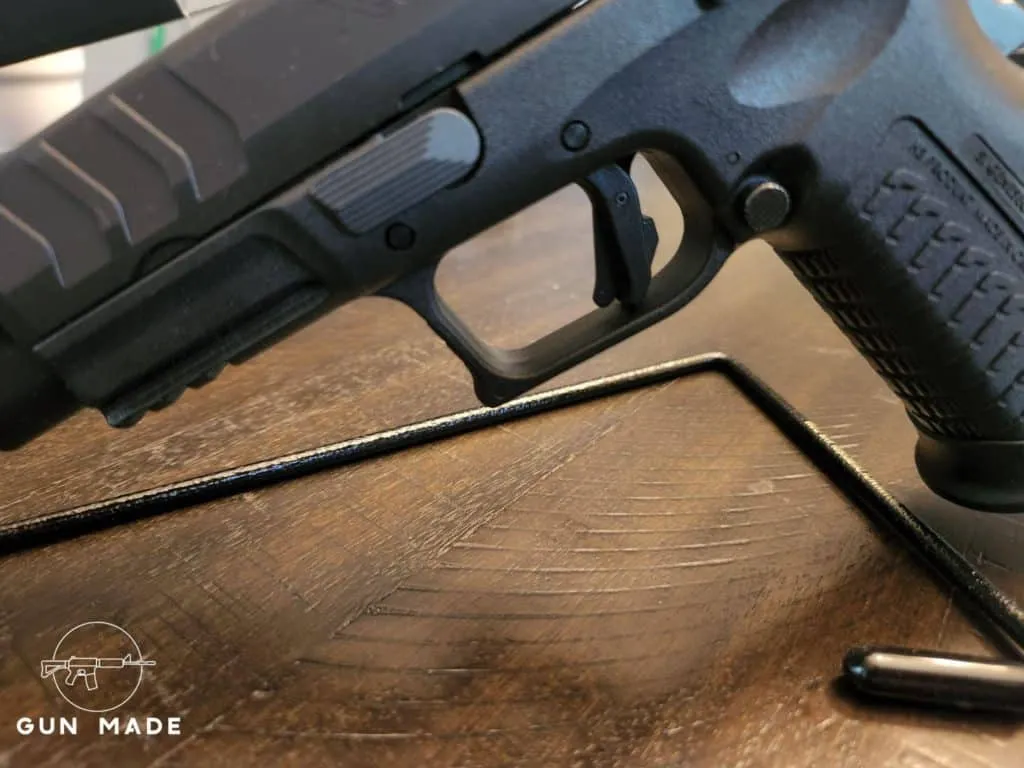 Sights
It has a wide U-style rear sight that makes for fast target acquisition. It includes both green and red fiber optic inserts for the front, but I found the red hard to see in low light. I did not try swapping it out for the green because the color rarely makes much difference. 
Fiber optic sights rely on some incoming light to be effective. That is less than ideal for getting a good sight picture if you need to get a shot off in the middle of the night.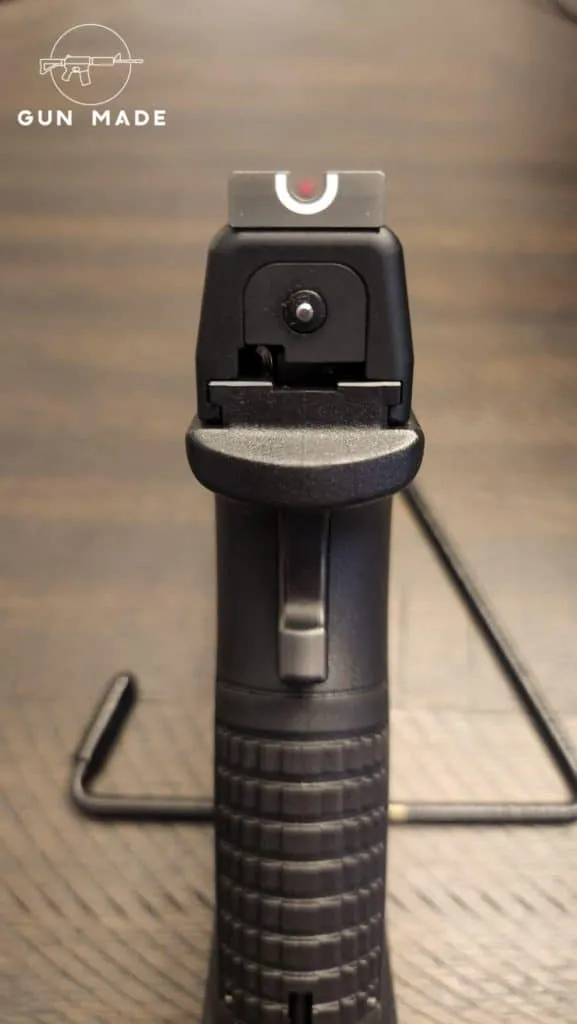 Ergonomics
I typically shoot a Smith and Wesson Pro Series for competition and found this to be a little top-heavy compared to that, so it took some getting used to. The additional weight will help with the muzzle rise and improve shot placement when firing multiple rounds. 
It has a long grip length, and the grip texture is aggressive, so if your hands get sweaty, it's not likely to affect your hold on the gun. It feels great in your hand, and you can tell it is a quality-built gun with tight tolerances.
The slide serrations are deep and well-spaced, which allows you to get a good grab racking the slide. The magazine release and the slide stop are ambidextrous, so if you are one of the left-handed shooters out there, you will be thrilled with the controls on the right side.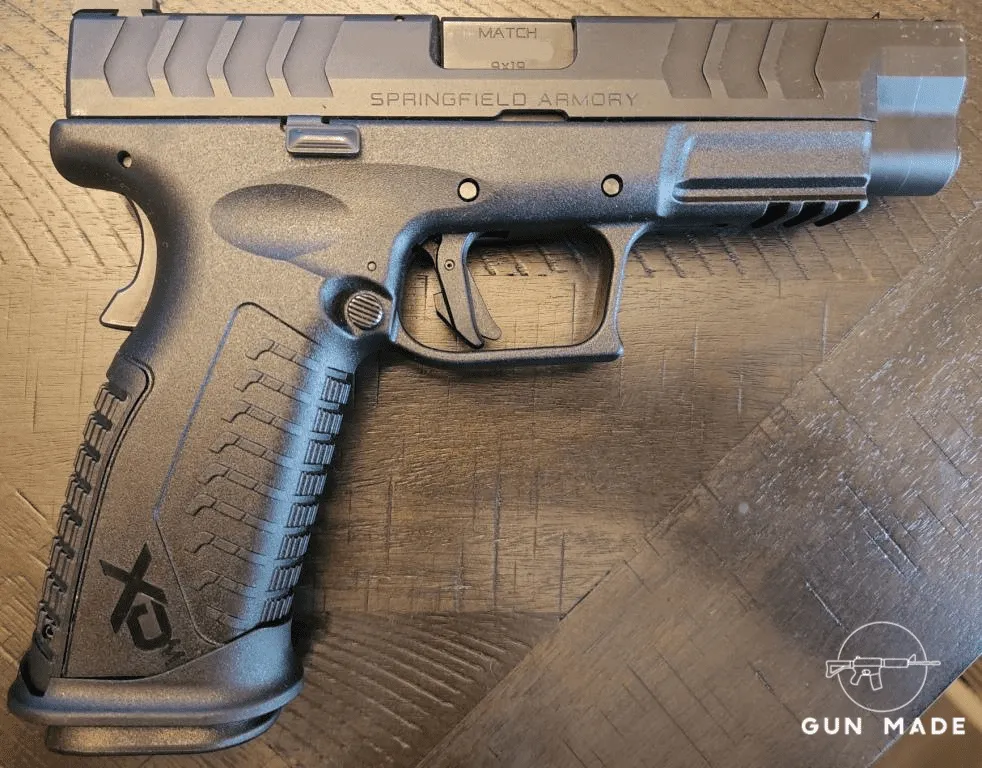 The XD-M Elite comes with three interchangeable backstraps to get that perfect fit.
There is a little trick on the Elite vs. other models because of the second pin that holds in the flared magwell. When you push in the bottom pin for the magwell, the notch in the pin needs to be aligned with the hole for the backstrap roll pin that you push in from the side.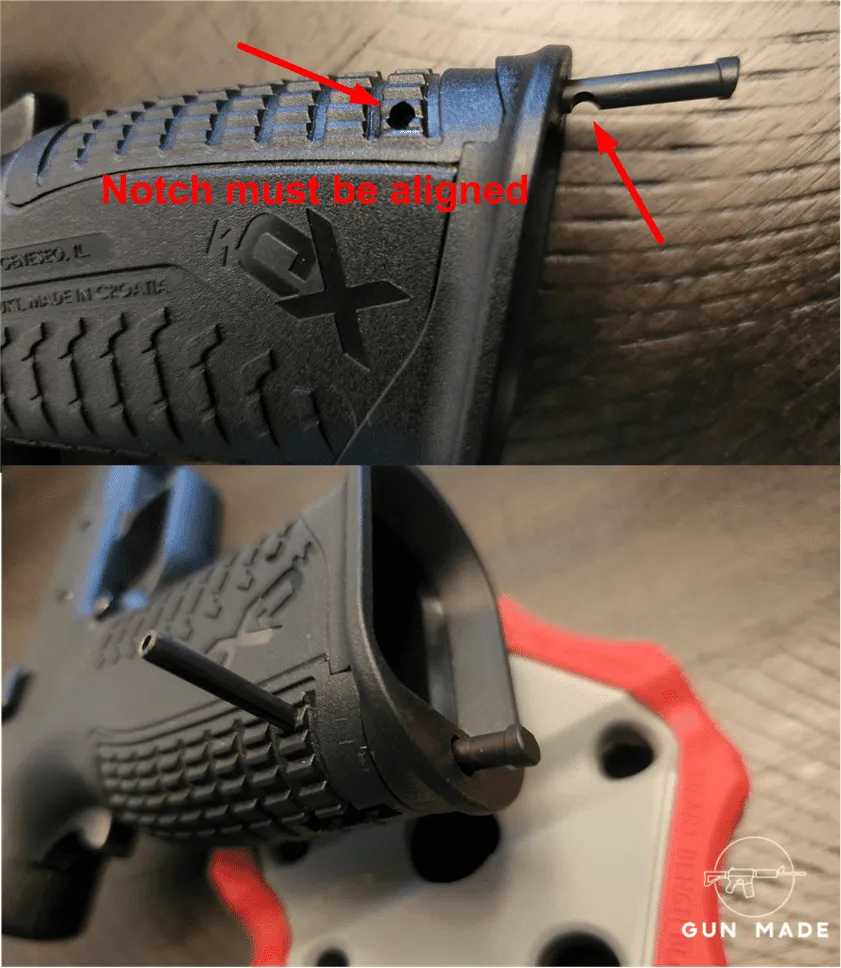 The larger the magazine well, the quicker the reload, and the flared bottom on the XD-M Elite series is a helpful upgrade. It helps to quickly line up its sizeable double stack magazine for fast reloads. 
There is a removable magwell, and the baseplates on the magazines can be changed to match your preferred configuration. The swap-out does not really change the dimensions of the gun.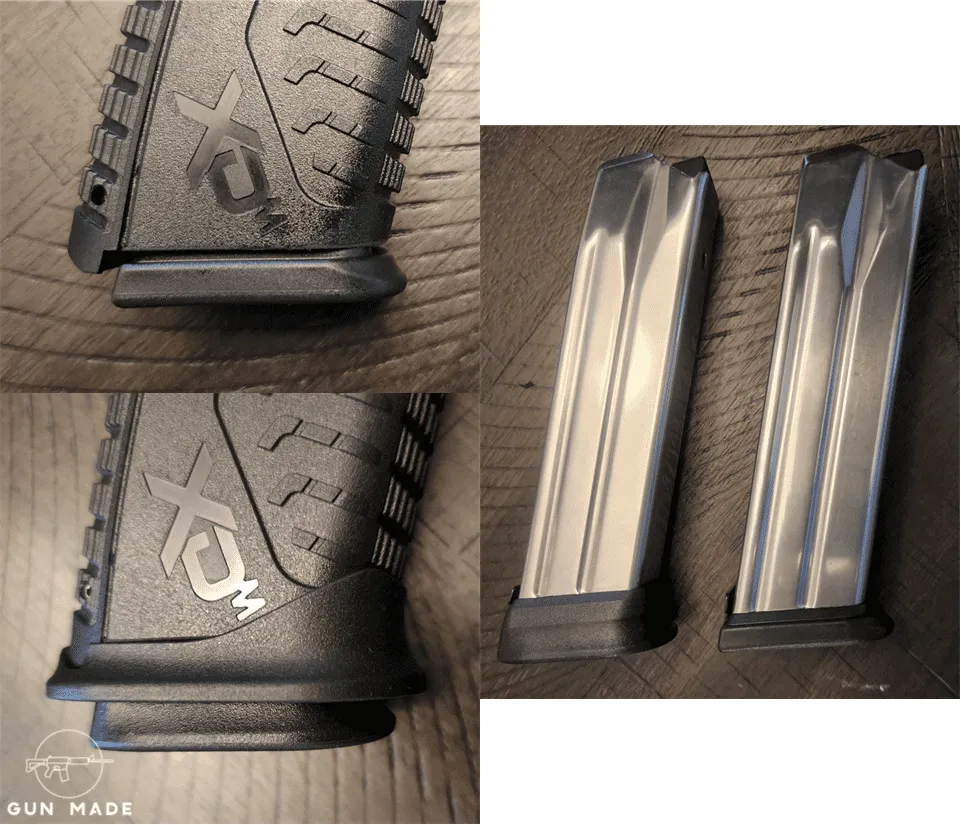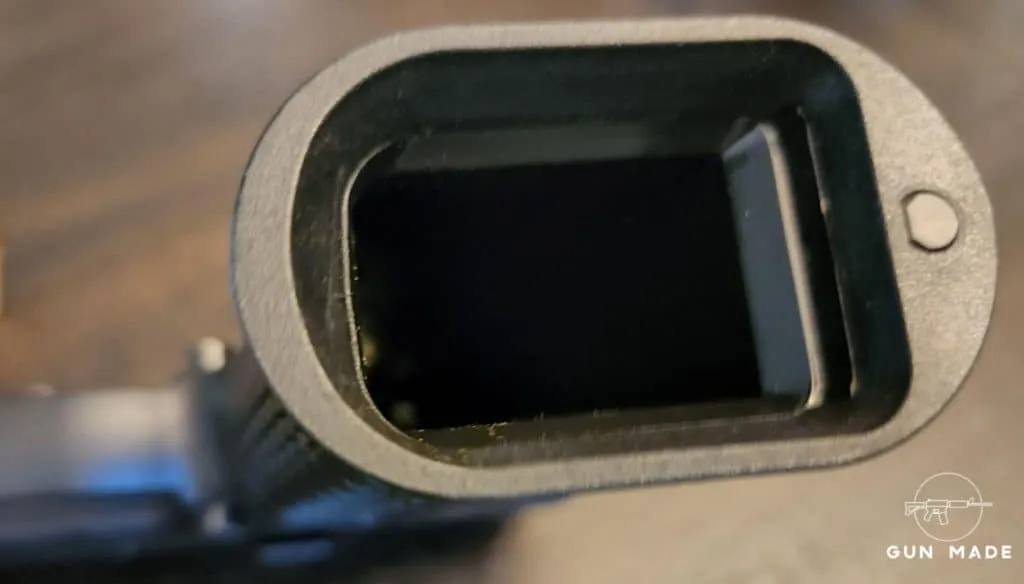 When the striker is cocked, the indicator sticks out far enough from the back of the slide to be seen and felt, which is an additional safety feature.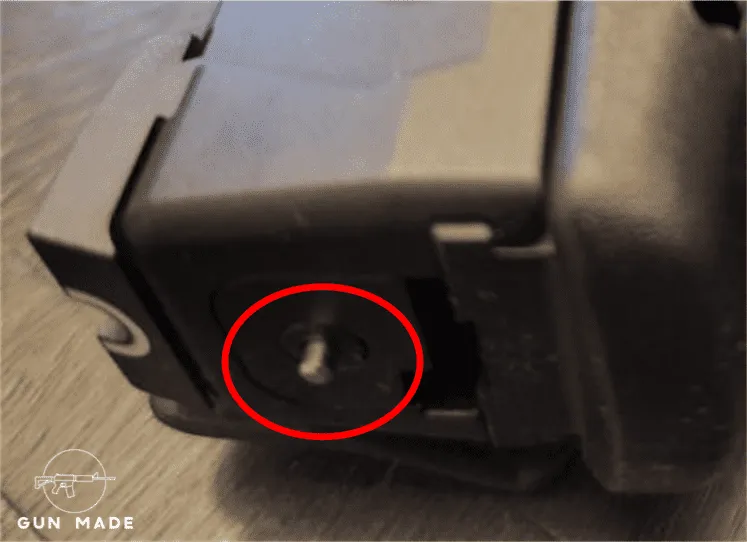 At 2.5 lbs, it's not the lightest gun out there, but it gives you a lot of rounds to put down range or for defensive use against a threat.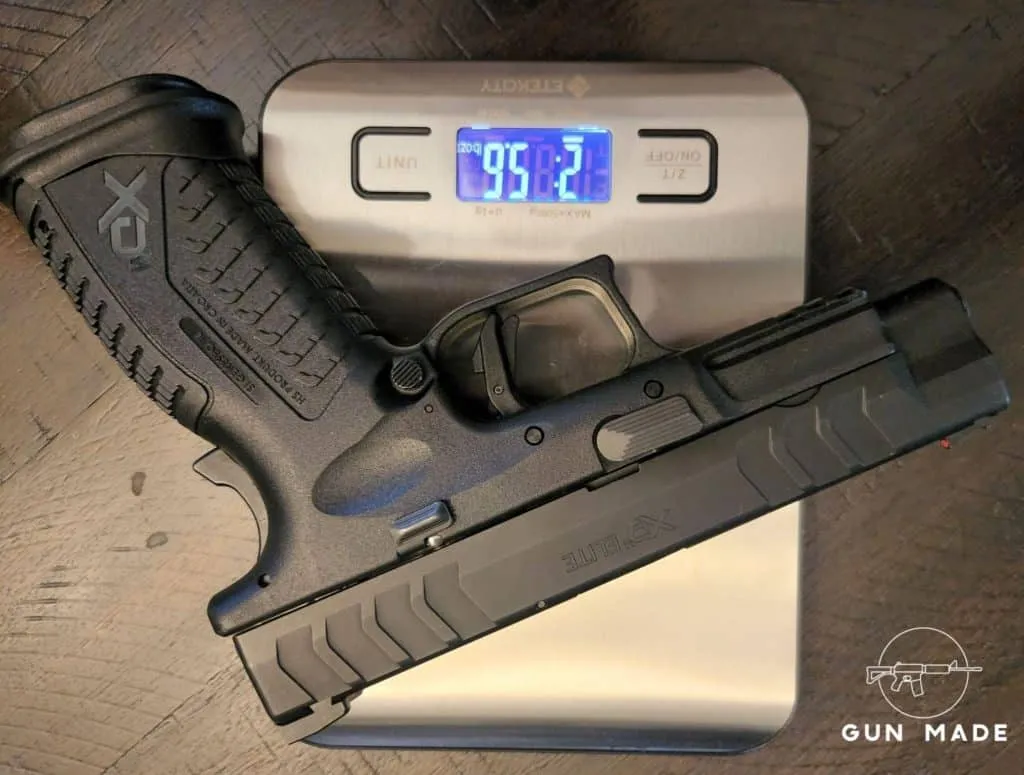 Pros & Cons
Pros
Fantastic smooth trigger
Flared magwell for fast mag swaps
Match grade barrel
Quality gun with tight specs
Cons
The magazine is tough to load with its stiff spring 
With 21 rounds, it isn't light
Alternatives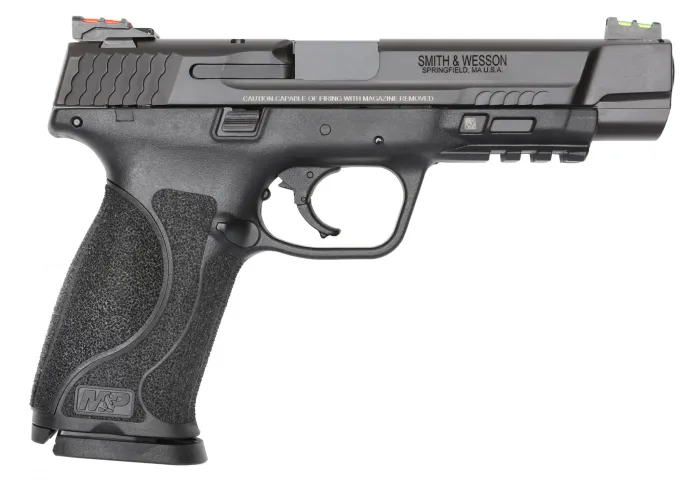 The gun I use for competition is the Smith & Wesson Performance Center M&P 9mm. It comes with only 17 rounds but is comparable in accuracy and comfort. The Smith has a slide release on each side but not a magazine release on both. It also includes additional back straps to customize the grip for the size of your hand.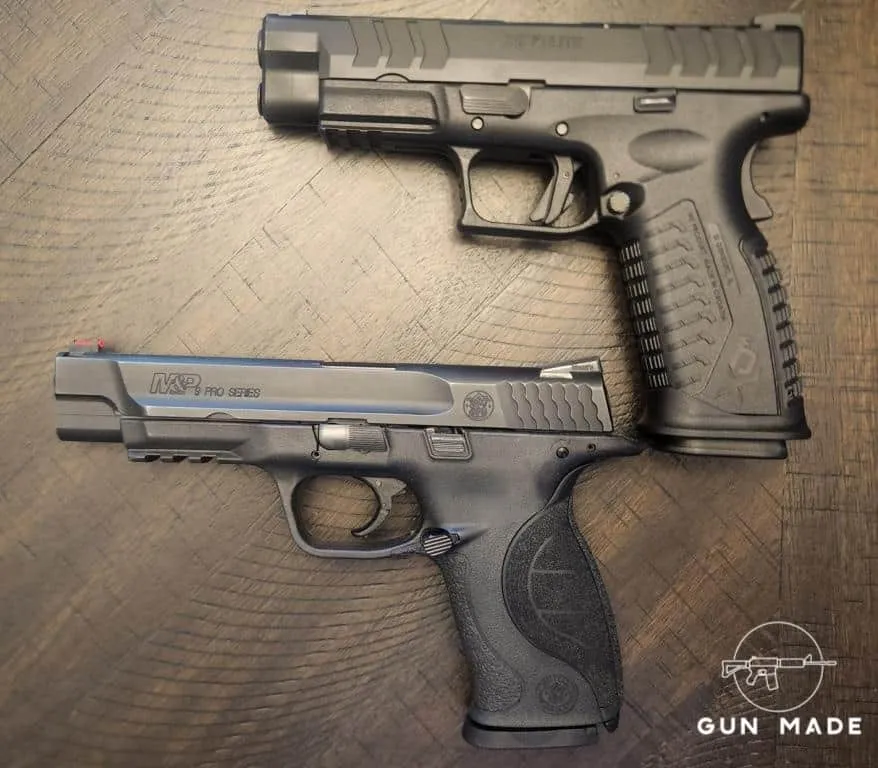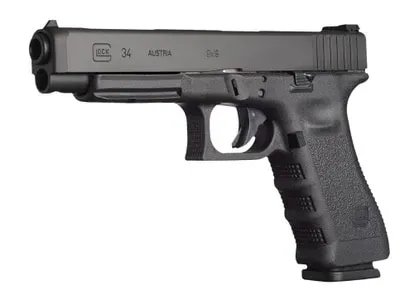 Another gun that has to be considered when looking at a potential gun for an IDPA match or other competition would be the Glock 34. It is in the same price range and a favorite of competition shooters. The Glock 34 has a slightly longer slide, just like the Smith & Wesson Performance Center, that helps improve accuracy because of the distance between the sights. All three guns have modular backstraps and a rough grip texture to help you keep a good firm hold on the gun.
Accessories
Holsters
Holsters are not easy to find partly because of the ambidextrous controls that will rub against the Kydex on some holsters. The gun may slide in, but you may need the help of a hot air gun to get it to fit correctly.

Concealment Express makes an IWB KYDEX Holster for the Springfield XD(M) 3.8 inch Compact that ‌fits like a glove except for the slide lock. This could easily be modified by slightly heating the Kydex and reshaping it to fit. I know it's a 4.5" gun, but I bought the 3.8" holster and it was perfect, so I am guessing either size will fit.
PRP Trigger Kit 
Some people love to do upgrades, so something like a trigger job is popular. Although the stock trigger is fantastic, many people still want to take it to another level and there are several options. One option is a drop-in flat-faced aluminum trigger by Powder River Precision. This seems to be a top choice after reading many of the reviews and comments on different forums.
Conclusion
I did not go into the ammo I used because it shot anything I put through it with zero problems. The Springfield Armory XD-M Elite may not be the smallest or lightest gun but then again, if you are going to get in a fight for your life, having 21 rounds at your disposal is a significant advantage in this day and age. 
The Springfield pistol ships with two magazines, spare fiber-optic front site replacements, and both short/extended magazine baseplates, so you get lots of extras in the package. It is ideal for competition shooters because of the XD-M Elite's accuracy and additional features like the flared magwell to help you shave some seconds off your time.
Explore more