Springfield Armory XD-M Elite 4.5″ OSP 10mm: Hands-On Review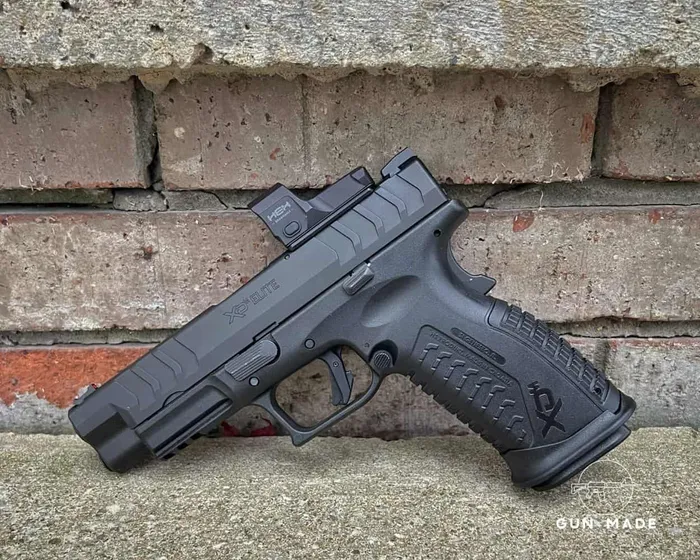 Springfield Armory XD-M Elite 4.5″ OSP 10mm: Hands-On Review
In September of 2021, Springfield Armory released the XD-M Elite in 10mm, which featured a 3.8" barrel. While I enjoyed shooting it, I remember thinking how nice it would be to have a full-size grip and a longer barrel/slide combo to help absorb some of the recoil. 
Fast forward to just a few months ago, May to be exact, Springfield released the 4.5" version. I was lucky enough to get my hands on one right away, and I'm definitely glad I did. Now that I've had a few months and several range trips with the XD-M Elite, I'll go over my personal experience with it and the many impressive features it has.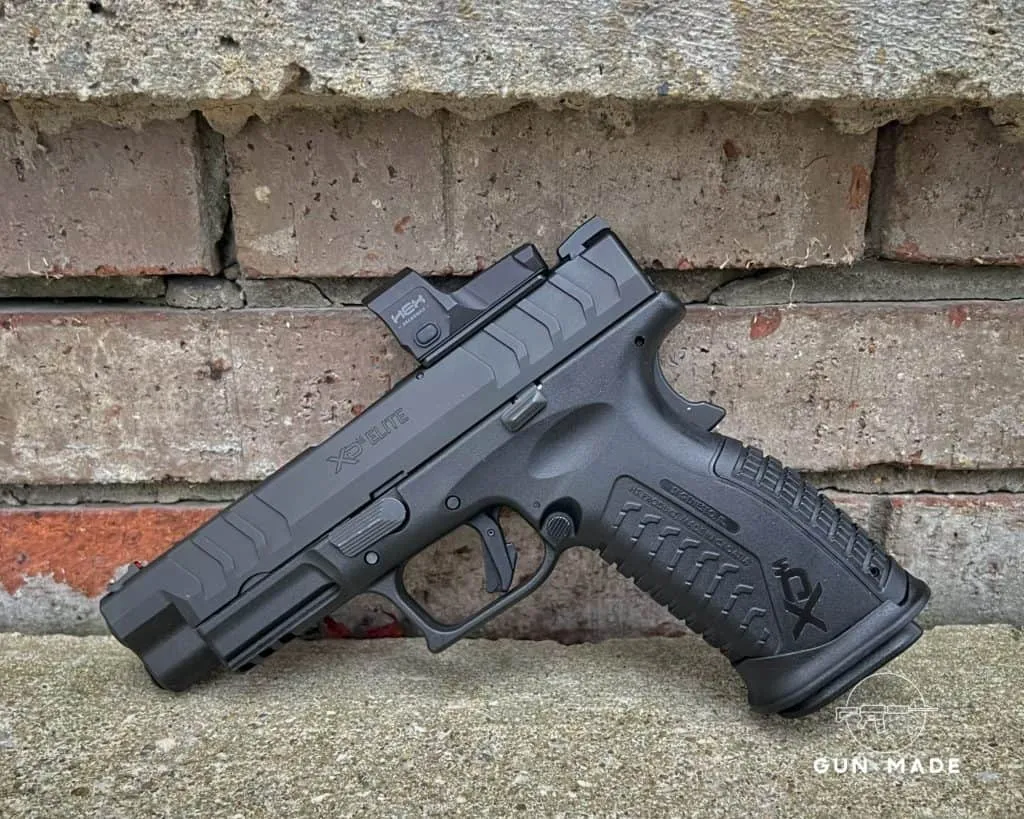 XD-M Elite 4.5" OSP 10mm Review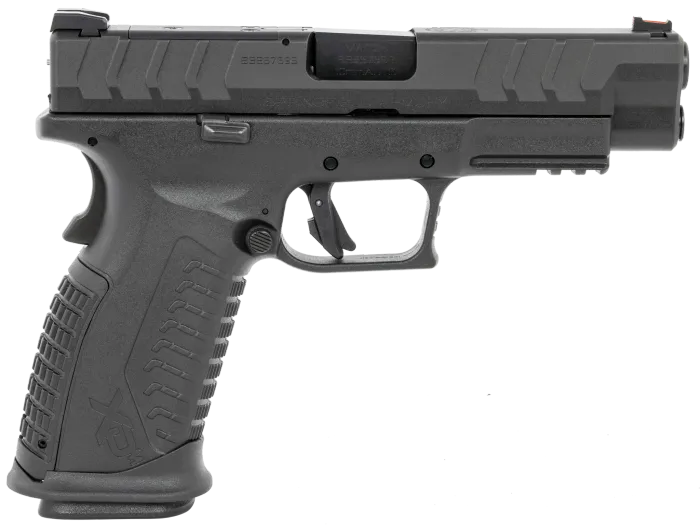 Specifications
| | |
| --- | --- |
| Caliber | 10mm |
| Capacity | 16+1 Rounds |
| Length | 7.6 Inches |
| Grip Width | 1.2 Inches |
| Height | 5.75 Inches |
| Barrel Length | 4.5 Inches |
| Weight | 32.0 Ounces |
| Slide | Forged Steel Slide, Optics Ready |
| Sights | Fiber Optic Front Sight, Tactical U-Dot Rear Sight, Hex Dragonfly Red Dot |
| Frame | Polymer Frame |
In the Box
Aside from the typical literature and gun lock, you'll find some welcomed extras come with your XD-M Elite. A couple of various-sized rear backstraps, an extra magazine, a couple of magazine base plates, and a soft zippered pistol case are all in the box. Inside the soft pistol case is where you'll find the handgun itself and a magazine. If you opt for the model that comes with the Hex Dragonfly optic, it will also be nestled inside of the pistol case.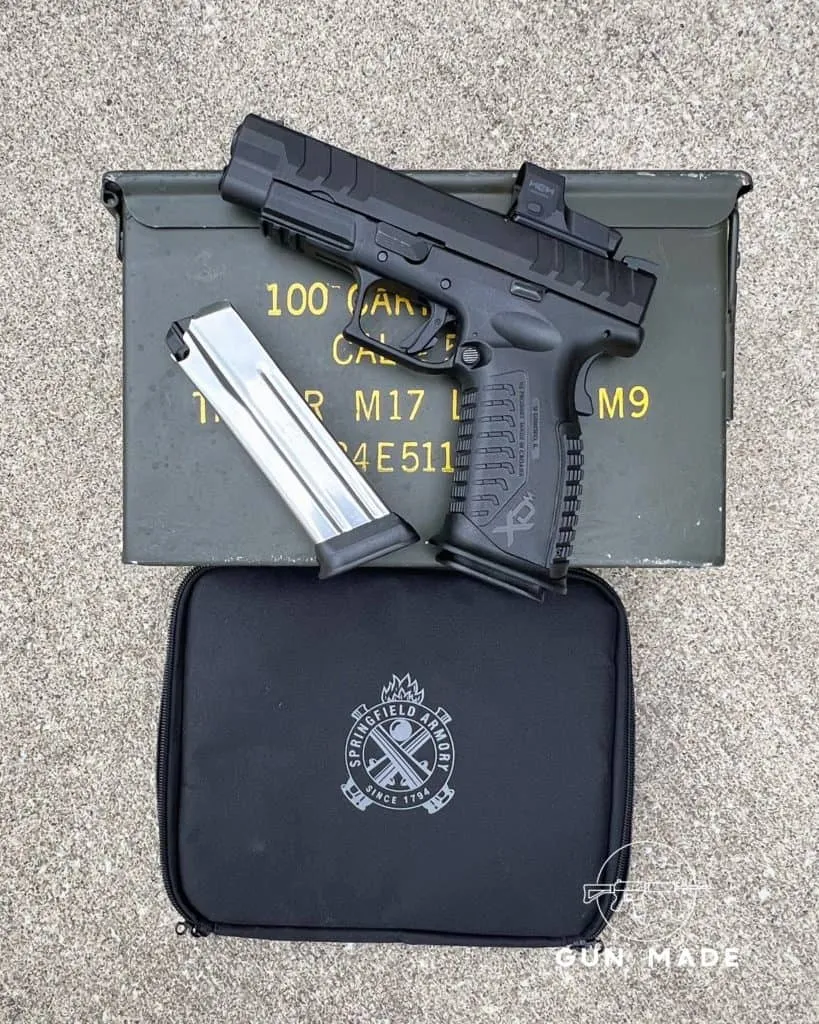 Features
Springfield paid close attention to the details of this gun and loaded it up with features. Coming from someone who loves to modify their guns, this one left me not wanting to do much of anything to it. 
Sights
I typically run square-notch rear sights on my handguns, but I really have been enjoying the U-notch sights that came on the XD-M Elite. Not only is the front sight fiber optic, but the "U" rear sight is wider than the front post to help with quick target acquisition. I would have liked to see the fiber optic rod in the front sight fully encapsulated, though, for increased durability. I haven't had any issues with it, but I like to be preventative. It also would have been nice to have taller sights, so you could use them in tandem with the red dot. 
The Hex Dragonfly came pre-mounted and zeroed, which surprisingly was almost dead on out of the box. It features 3.5 MOA red dot, a three-year run time, and is IPX7 waterproof. The optic has to be manually turned on, but does have a 16-hour auto-off feature. With eight different brightness levels, I haven't had any issue finding one that worked for me in various light settings.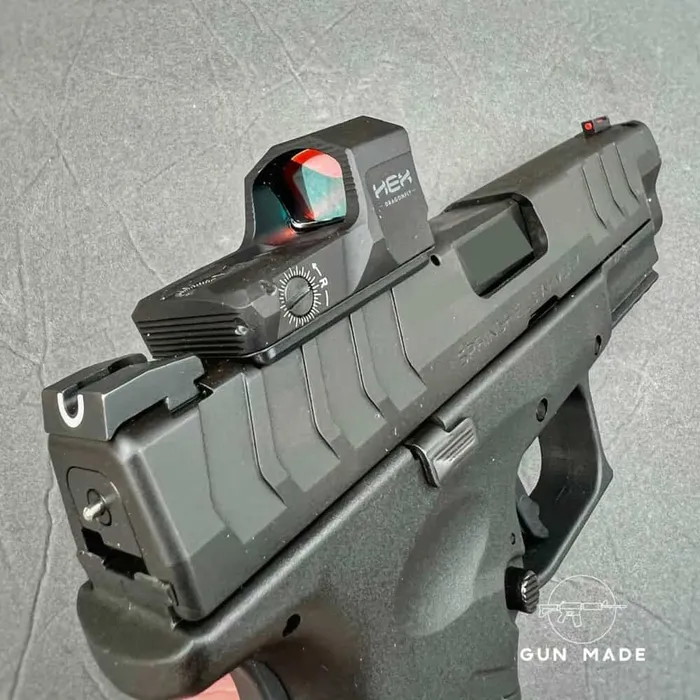 Trigger
To go along with the match grade barrel, Springfield also adds their META (Match Enhanced Trigger Assembly) trigger to improve accuracy potential further. Its flat face helps to keep consistent trigger finger placement when needing quick follow-up shots. It has a nice crisp break and the reset is defined. For a stock trigger, I've enjoyed it so far.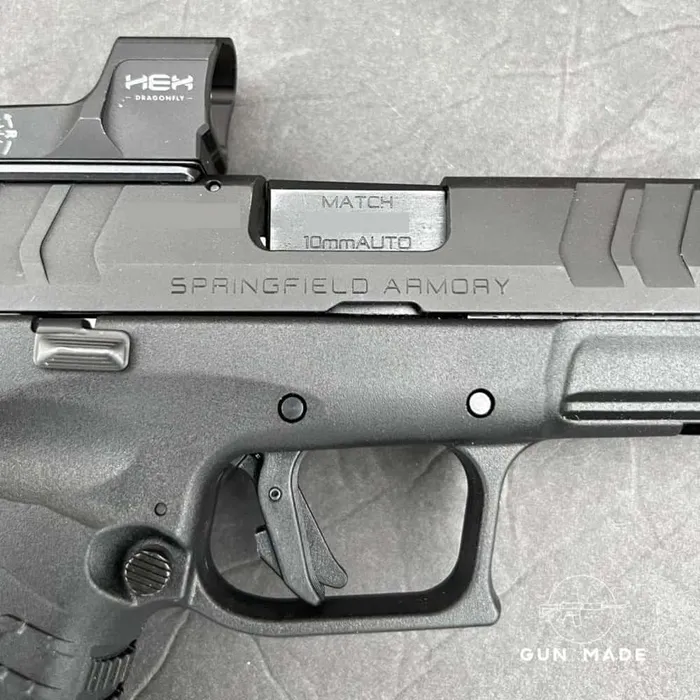 Controls
Left-handed shooters, you're in luck. The XD-M Elite has an ambidextrous slide stop and an ambidextrous magazine release. The slide stop is just big enough to manipulate easily without getting in the way, while the mag release is textured enough to find quickly. I'm right-handed, so I don't have much of an issue with or without ambidextrous controls, but I always prefer to have them just in case.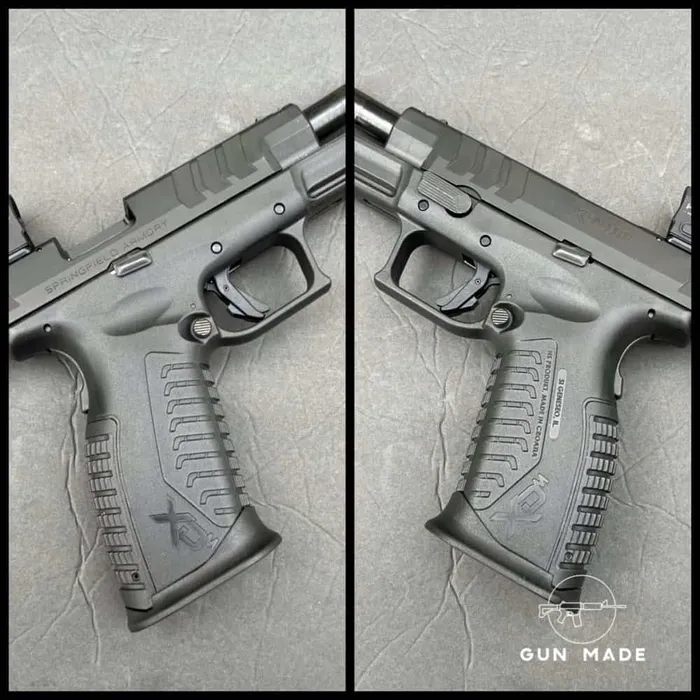 Grip
This is one comfortable grip! Grip comfort is a big deal for me since I have huge hands. The grip texture manages to provide substantial control without feeling like sandpaper. I haven't shot this gun in wet conditions to see how the grip fares, but I wouldn't think any huge issues would arise. 
You'll also notice a magwell at the bottom of the grip. This comes standard with the XD-M Elite and is removable if you're not a fan. I find it helps with my reloads, so I've decided to keep it on.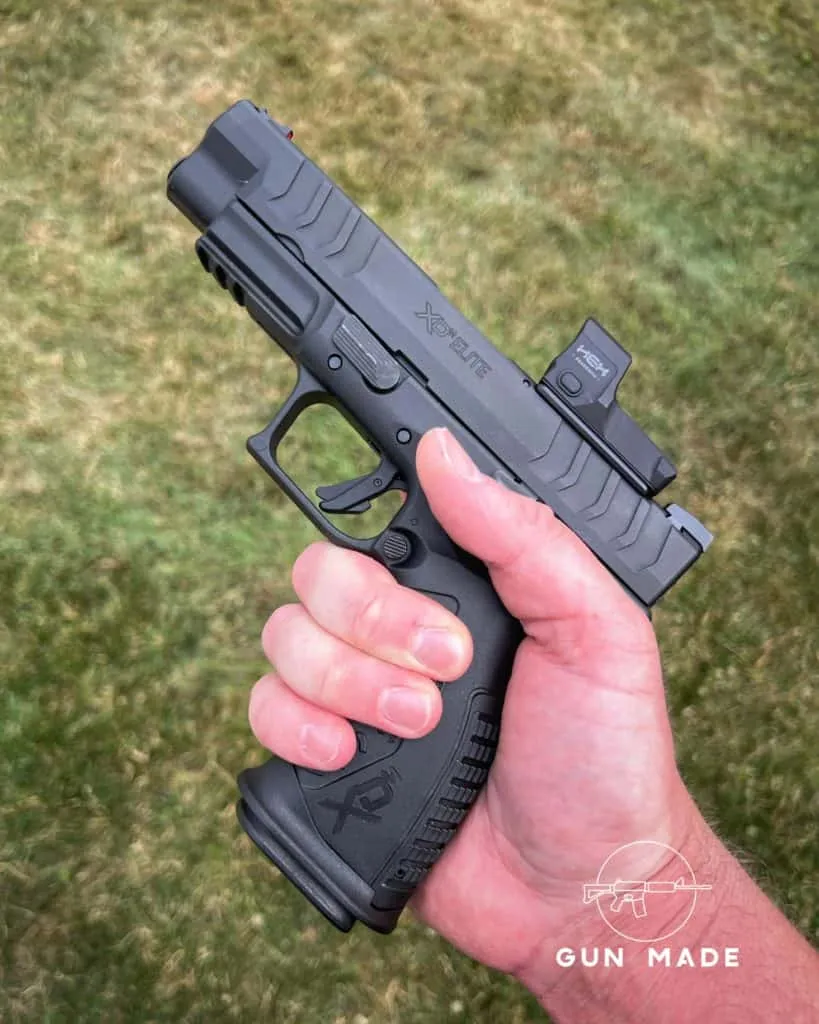 Safeties
There may not be a thumb safety, but that doesn't mean there aren't any safety features. The gun actually has three safety features: a loaded chamber indicator on the top of the gun, a striker status indicator at the rear of the slide, and a grip safety. The striker status indicator and loaded chamber indicator will let you know if there is a round in the chamber and the gun is ready to fire, while the grip safety will stop you from being able to fire until you have squeezed the grip properly.
As long as you practice basic firearm safety, having the additional indicators and grip safety wind up making this a rather safe gun for most shooters to use.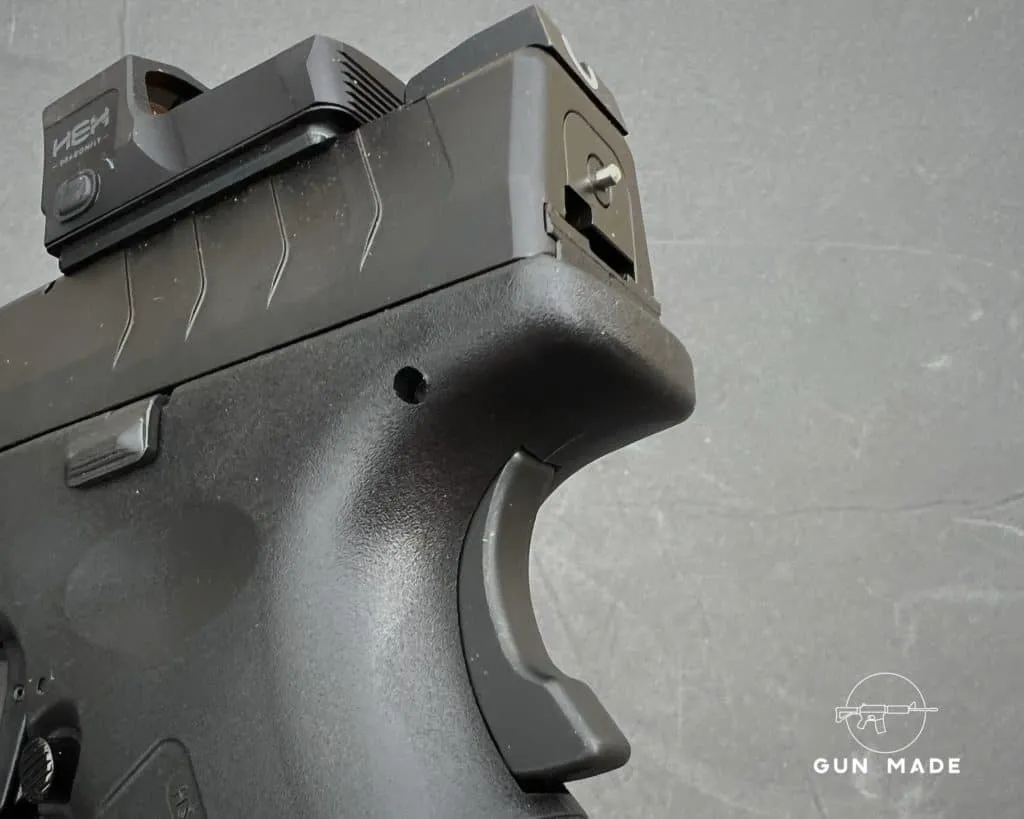 Magazine
Two stainless steel magazines, both holding 16 rounds, come standard with the XD-M Elite. Although the body of the magazines are metal, they have polymer base plates and polymer followers. The polymer parts help to keep the weight down, but are still durable. I have no reservations when it comes to durability with these.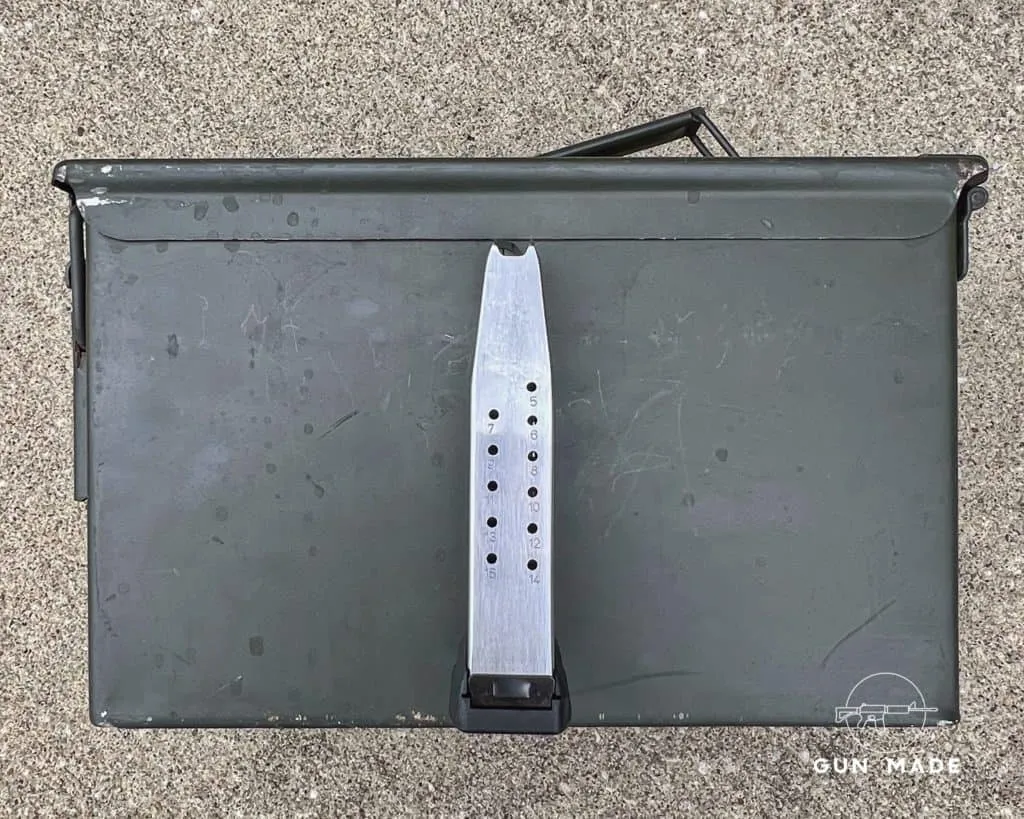 Accuracy and Reliability
With this being my only 10mm firearm currently, I don't necessarily stockpile the corresponding ammo. So, while I haven't put as many rounds through it as I would if it was say, a 9mm or .22LR, I've still managed to put 260 flawless rounds through it in the last few months. I've experienced zero malfunctions, and the ammo consisted of Blazer Brass 180-grain FMJ and Hornady 180-grain JHP. I definitely want to test the gun with other loads as time goes on. 
As far as accuracy is concerned, the large frame and 4.5" barrel definitely help with recoil management, which translates over to the accuracy. I'd like to remind you I'm not the best shot in the world to begin with, especially with 10mm, but I was pleasantly surprised with the XD-M Elite. After my first few magazines, I was able to maintain fist-sized or smaller groupings out to roughly 30 feet or 10 yards. Pushing a bit farther out to 25 yards, I was ringing 8" steel gongs consistently.
Springfield XD-M Elite Pros and Cons
Pros
Affordable
Optic Ready
Ambidextrous Controls
Great Ergonomics
Cons
Grip Safety
No Tall or Suppressor Height Sights 
Accessories
The XD-M Elite does come ready to shoot out of the box, but that doesn't mean you can't snag some accessories too. The Hex Dragonfly that comes with the XD-M Elite is a nice optic, but there are many other quality optics to consider as well. In addition to looking at optics, I always suggest weapon-mounted lights. Here are a couple of each I'd recommend for this gun.
Optics
If you're going to be running a 10mm handgun, you might as well have a beefy and durable optic too, right? Take a look at the Trijicon RMR Type 2 or Holosun 509T. They may be a little bit on the pricey side, but let's face it, you get what you pay for. 
Lights
Having a light mounted on your handgun can come in handy in many different scenarios. Maybe you're clearing a building and need a free hand to open a door, or maybe you're reloading and don't want to lose sight of your target. 
I find many times I wind up going back to the old trusty TLR-1 HL, but I've also been hearing some positive feedback on the SureFire X300.
Alternatives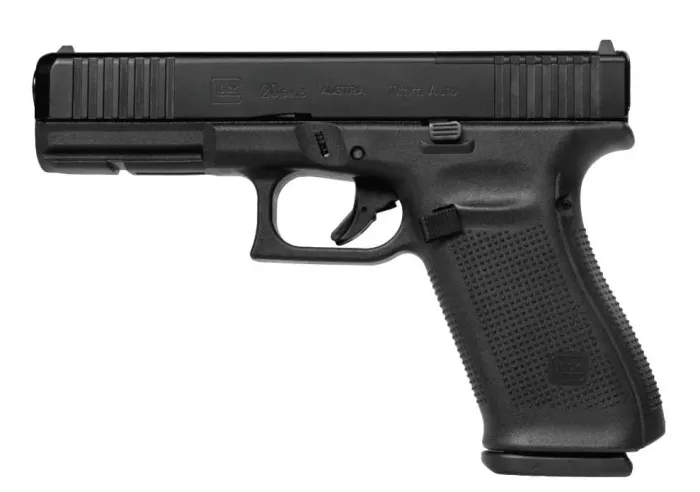 The Glock 20 may not have all of the bells and whistles like the XD-M Elite, but there is a reason it's one of the most popular 10mm handguns on the market. It's reliable. Very reliable.
The barrel is slightly longer than the XD-M Elite, coming in at 4.61" which also means you'll have a longer slide and longer sight radius. It has a 15+1 capacity and interchangeable backstraps to fit hands of various sizes. Especially if you already shoot the Glock platform, the familiarity of the sights, grip, and controls will make it a definite contender for you to check out.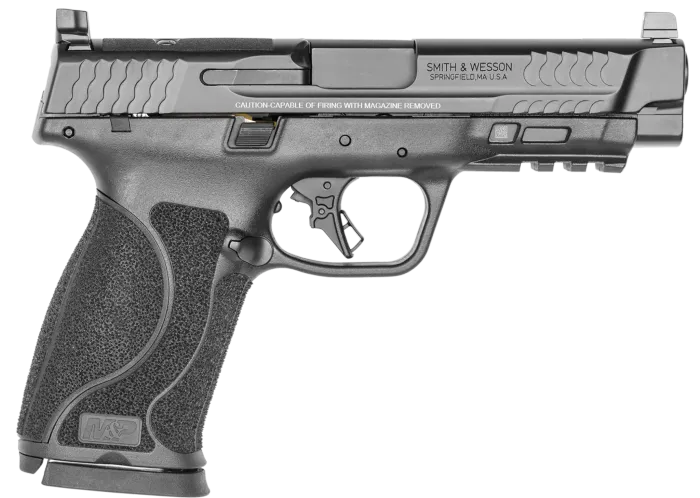 The M&P M2.0 is one of my personal favorites. The new M2.0 line boasts a 15+1 capacity, optics-ready slide, and a flat face trigger. Smith & Wesson also made sure to include optic height iron sights and various mounting plates, so you're good to go once you choose your optic. If you're an M&P fan, this one needs to be on your list.
Final Thoughts
I haven't shot a ton of 10mm handguns, but this one has been a blast… pun intended. Right out of the box, it has everything you need, plus a little more. I didn't have to make any modifications to it for it to be reliable and accurate. From a value perspective, it will be hard to beat the XD-M Elite 4.5" 10mm. If you're looking for a new pistol, I suggest you check the Springfield Armory XD-M Elite out for yourself and see how fun shooting 10mm can be. 
Explore more