Springfield Prodigy Review [2023]: Best Double Stack 1911?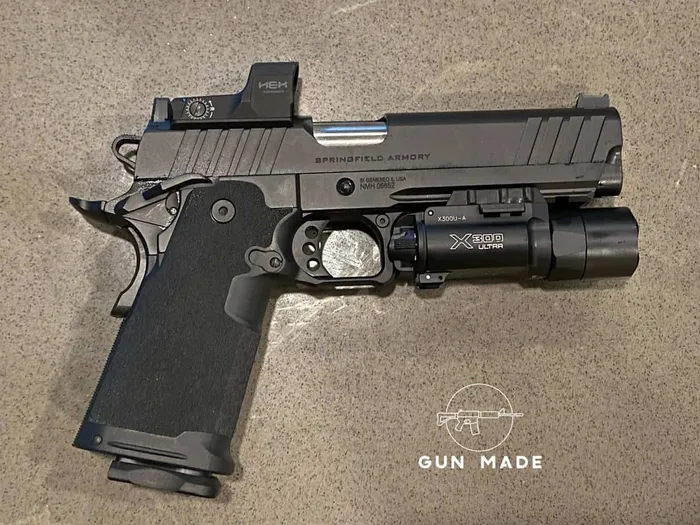 Springfield Prodigy Review [2023]: Best Double Stack 1911?
Springfield Armory has been producing 1911s for a long time now, and I would say that they have been doing it very well. Springfield came out of the gate with a giant left hook that no one saw coming, the Springfield Prodigy. A true first of its kind to the Springfield Armory lineup, a double stack 9mm 1911. 
Springfield has produced some mighty fine 1911s from the custom shop and the main production line. Springfield has even released other 9mm variants of the 1911s they currently produce, such as the Garrison and the Emissary available in both .45acp and 9mm.
1911s are undoubtedly one of the most consistent platforms and truly a staple in the firearm space. Springfield has decided to take that to the next level with this double stack variant of the 1911. This has to be one of the hottest releases I have seen Springfield Armory come out with yet! I am going to dive into the basics of the Prodigy with you, talk about what I like, how it performs, its price point, pros and cons and share with you some "behind the build" information I was able to obtain from a contact of mine at Springfield Armory. 
Springfield Armory came home with a huge win on this Prodigy launch. I was not one bit disappointed with this pistol. I think that this is the best firearm to be released this year so far! This is one you will not want to miss out on, I HIGHLY recommend you order one of these new 1911DS Prodigy pistols. 
Springfield Armory PRODIGY 1911DS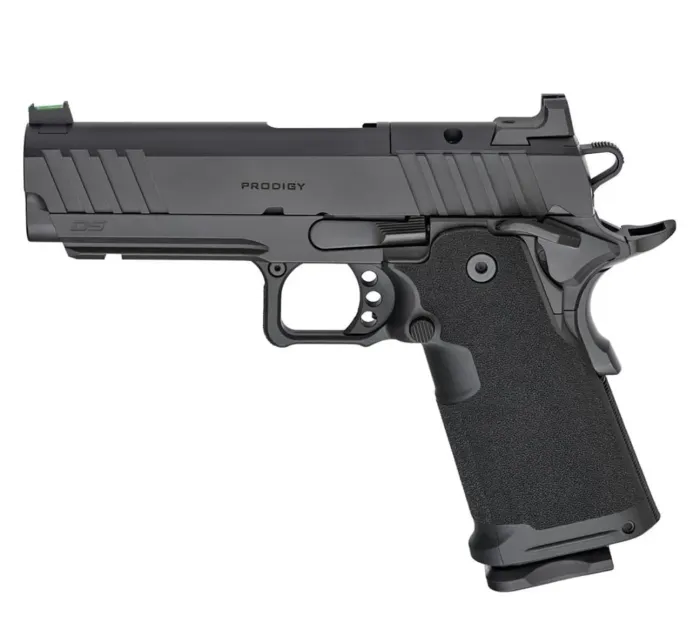 Specifications
| | |
| --- | --- |
| Caliber | 9mm |
| Capacity | 17+1, 20+1 |
| Frame  | Forged Carbon steel, black cerakote |
| Barrel  | 4.25'' or 5" forged stainless steel, match grade bull 1:16 |
| Slide | Forged carbon steel, black cerakote, optics ready. |
| Recoil System  | 2 piece full length guide rod |
| Grips  | Polymer |
| Weight | 33oz |
| MSRP | $1499-$1699 |
Pros & Cons
Pros
Price point
Capacity 
Fun to shoot
Cons
Weight
Only available in one color
First Impressions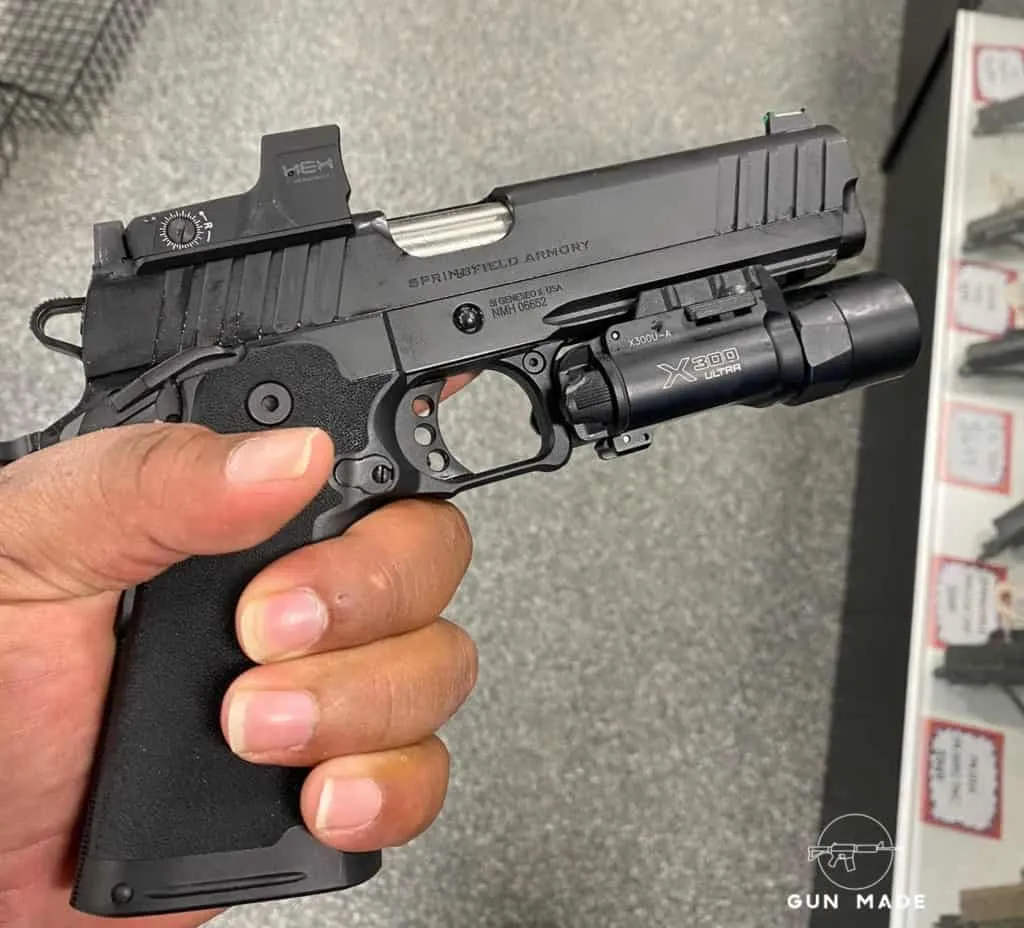 I was impressed with this new 1911DS right out of the box. Springfield Armory did not slack at all in their media launch kits of the Prodigy. I was blown away by the attention to detail with this launch, and I hope each of you gets to experience this new firearm. Springfield really did not disappoint with this new pistol.
Opening the box to see the Prodigy for the first time, I immediately felt like I was a part of Jack Carr's new show, the Terminal List. 
I am serious; this pistol is a beautiful all-black build with deep forward and aft slide serrations giving it an aesthetic appeal that I can not describe satisfactorily with words. Springfield took a James Bond movie and turned it into a vibe with the Prodigy.  I do not think you will find a more beautifully built pistol than this new 1911DS.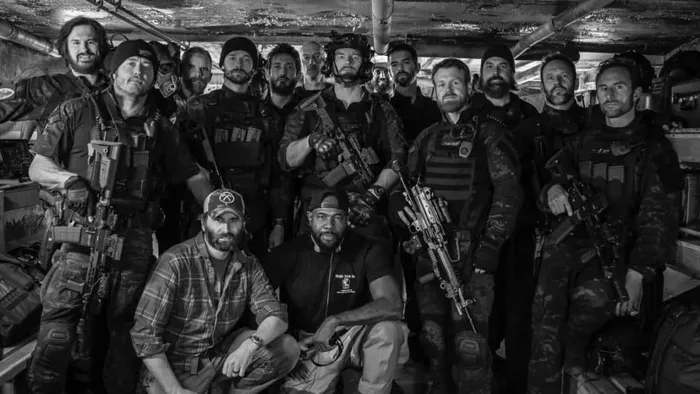 I talk about aesthetics and that you can purchase a firearm with your eyes before ever touching it. When you first lay eyes on the Prodigy, you will know exactly what I mean. Springfield Armory made an incredibly comfortable and beautiful firearm. I would note that this pistol is perfectly capable of selling itself, but this is a very clean and classy 1911. Springfield created a seductive pistol if that was ever a thing. 
Here is a video with Ronin tactics detailing the Prodigy in greater depth. 
Range Testing
Overall Feel
Moving past the Sharp aesthetics and comfortable feel of the Prodigy, it is a very smooth and fun shooting firearm. 
1911s are traditionally incredible on the range, but this double stack 9mm is in a league of its own. I had so much fun shooting the Prodigy. Everything about the Prodigy is awesome. The slide is smooth, the trigger is clean, and it is extremely comfortable in hand.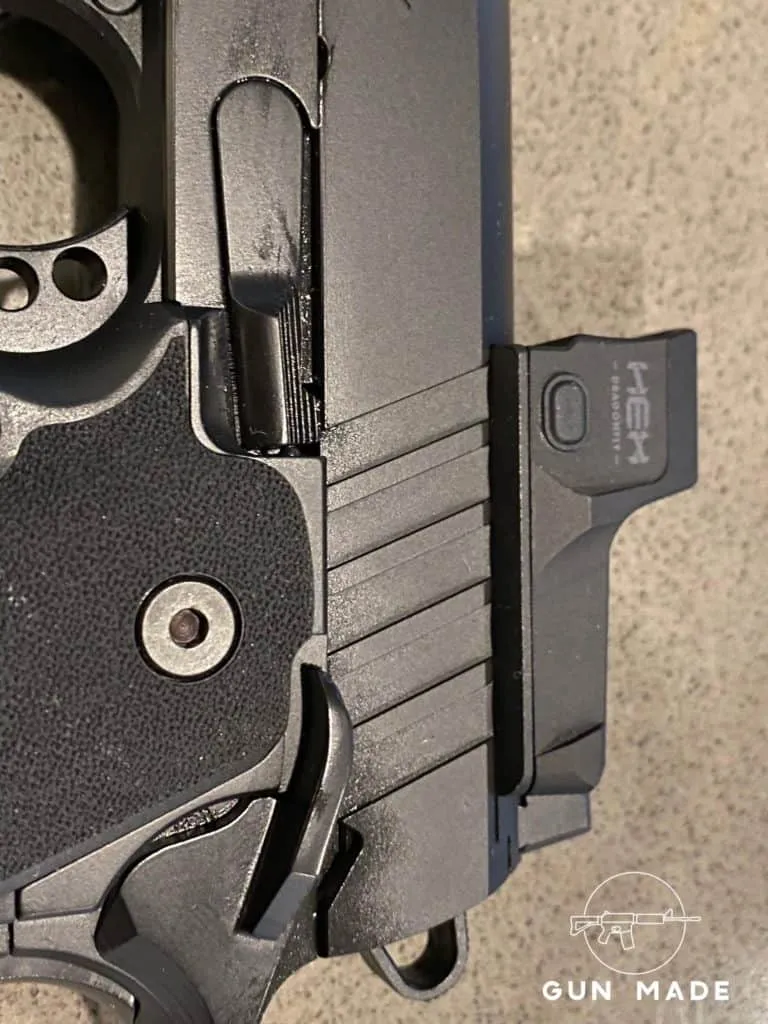 My prodigy came with a Hex optics Wasp red dot, and it came dialed! Springfield Armory spent several years developing a double stack 1911, and it really shows. 
Reliability
I loved shooting this pistol. I absolutely love how the Prodigy performs. I have only run about a hundred rounds through mine so far, but I have zero complaints or concerns with the reliability of the Prodigy. 
Features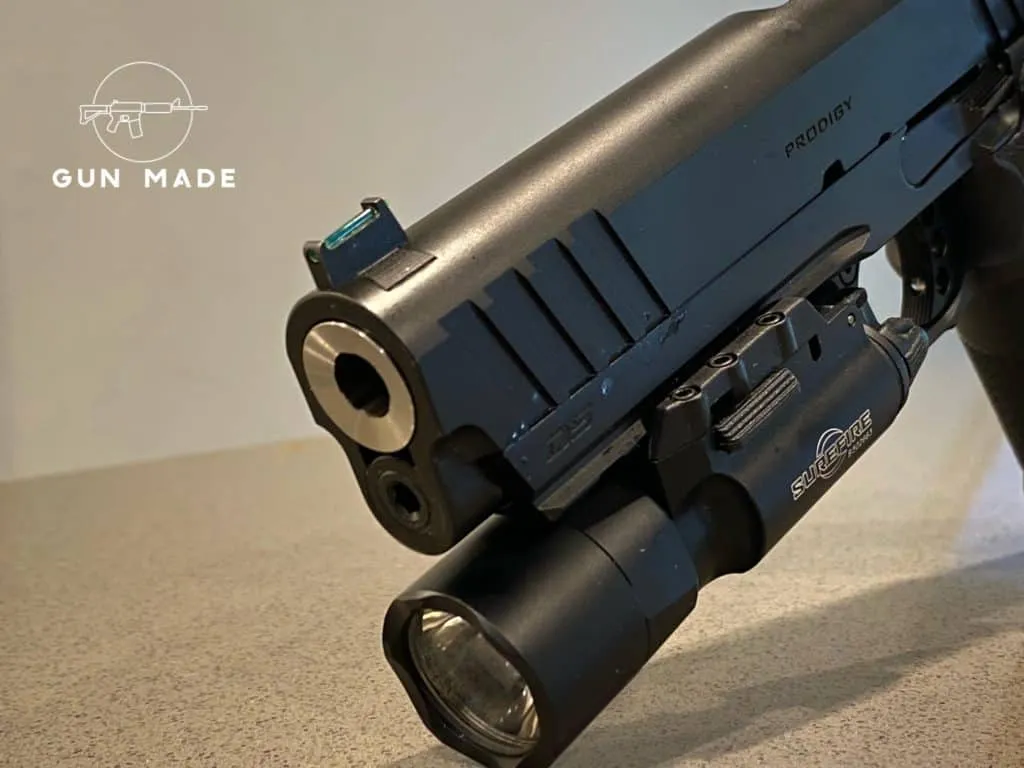 Trigger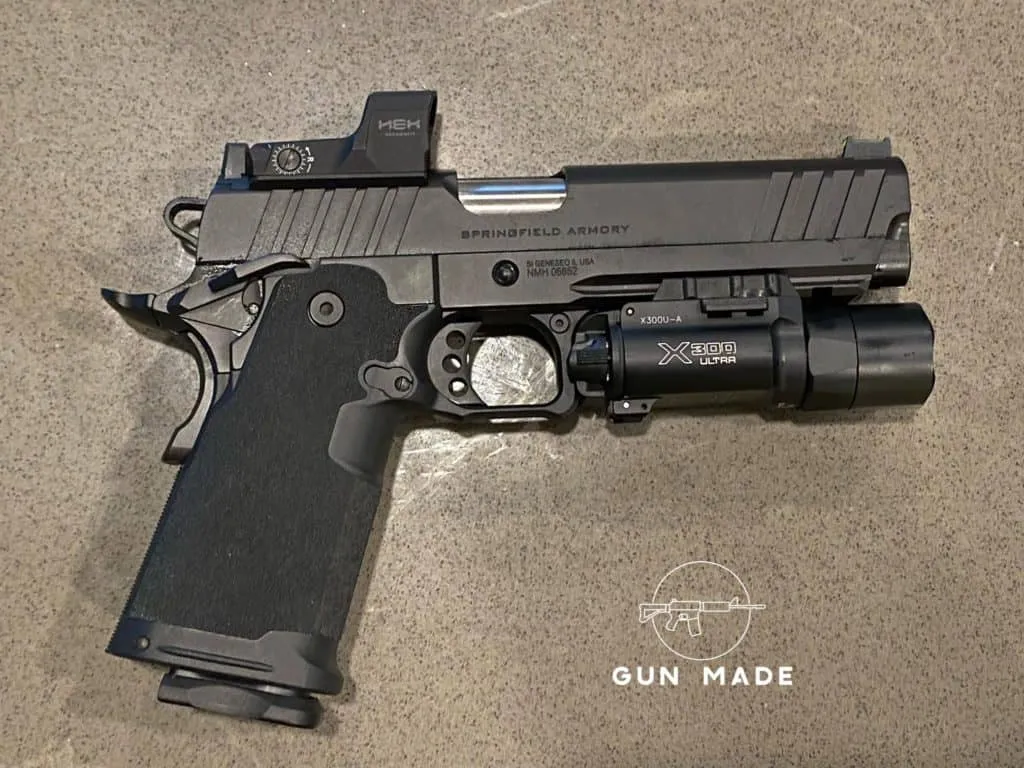 I have been really hard on Springfield in the past on their stock triggers, and I will be the first to admit that I prefer aftermarket triggers. I am happy to share with you that the trigger on the Prodigy is fantastic. I really like the skeleton trigger and hammer on any pistol, but Springfield nailed it with this trigger. It ties the firearm together nicely and helps in its seductive James Bond vibe. 
I was also impressed with how clean the trigger broke on the Prodigy. I found it to be set at a perfect weight for me, as I like a trigger that is not super light but also not set at the heavier or higher weight. Springfield has this trigger right square in the middle, and it works very well.
Grip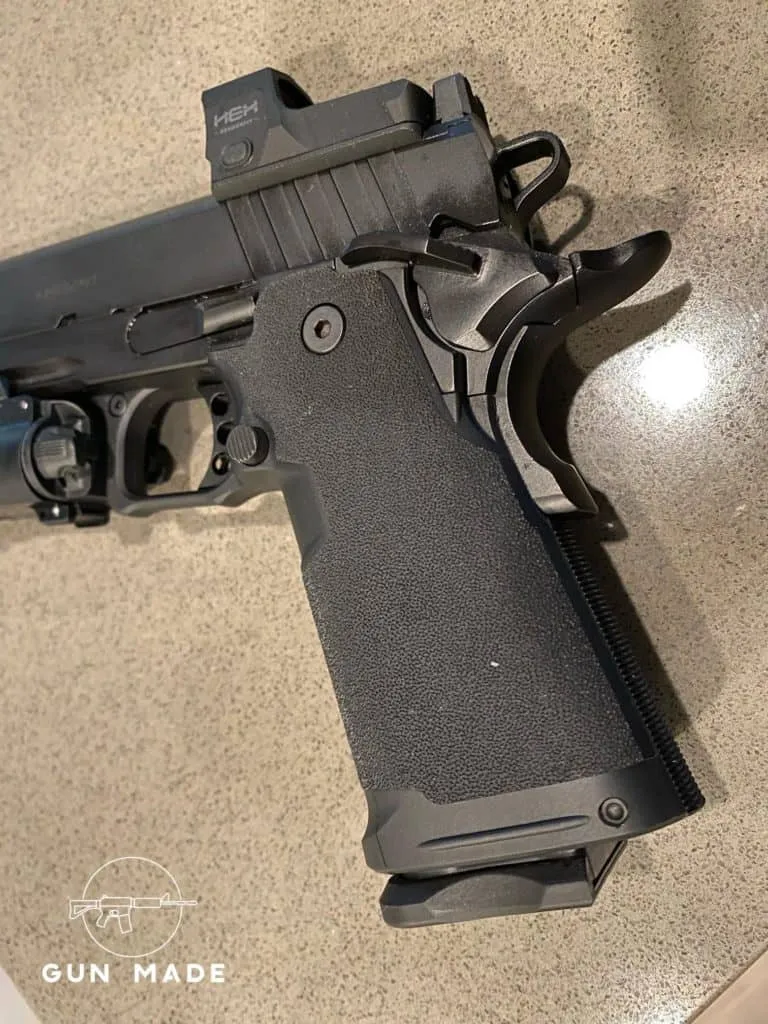 Springfield built the Prodigy with a polymer grip. I thought that was a nice touch when it comes to keeping the weight down. 
I know that there is something to be said about the wood grips or custom scales on a 1911, but I am a fan of the polymer move on the Prodigy. Springfield built this grip to have a unique texture and comfortable grip. I felt very comfortable when handling and shooting it. Another Pro of the Prodigy's polymer grip is that it helps keep the weight down on the 1911DS.  
Agency Optic System (AEO)/Accessory rail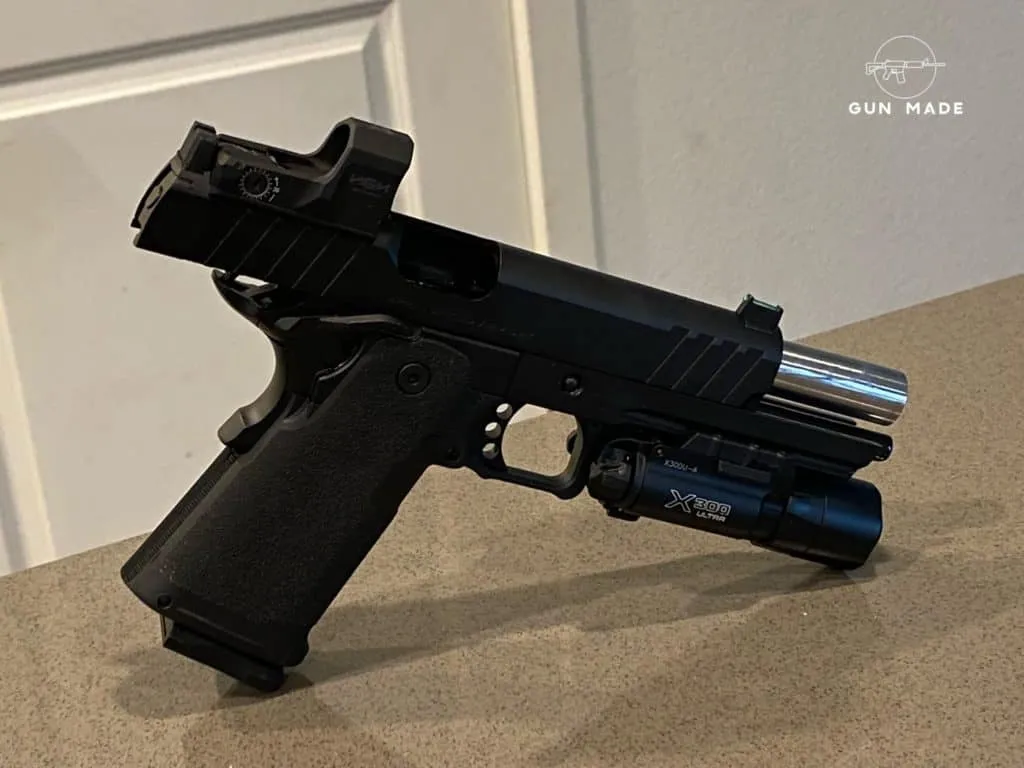 Springfield Armory went to work with Agency Arms on the collaboration for the slide cut. I was happy to see this collaboration because Agency Arms builds and performs some of the best custom work on the market. 
Springfield was very deliberate in this feature, ensuring that you could run an optic on the Prodigy. A 1911DS with an optic makes an already incredibly performing and accurate platform that much more capable. A 1911 topped with a red dot is a play I can and will get behind.  Seeing two powerhouses like Springfield and Agency collaborate on this was one of my favorite features, honestly.  
The Accessory rail under the barrel is another complementing feature I found to be really well thought out. Springfield has added this feature on other 1911's but that doesn't make it any less necessary on the new Prodigy. 
I love that Springfield decided to give you the option to personalize your Prodigy and tailor it for specific uses. I put a Surefire light on mine and unlocked optimal performance in the dark. Springfields Accessory rail is yet another key feature in this new pistol. 
Extended Ambi Thumb Safety
Safety is a key factor in anything firearm related. I can not stress enough the importance of taking extra steps to be safe in handling and firing any firearm on the range. 
I was thrilled to see that Springfield Armory took that into consideration with the thumb safety. Not only did they make it ambidextrous, helping to make it universal from shooter to shooter, but they also extended it. The extended thumb safety is super comfortable and offers really easy use. 
This is a relatively small feat, but I found it to be worth noting as all the little things add up to make the Prodigy what it is; AMAZING.
Accessories
This is where it gets fun. We get to talk about the accessories and dive into our creative minds for tailoring the Prodigy to our personal touches. I will share a couple of accessories that are a good option and necessary to help complete your new 1911DS. 
I would like to note that this is completely subjective to my personal opinion. I believe you will be happy with whatever you decide to deck your Prodigy out with, but here are a couple of items with or on mine.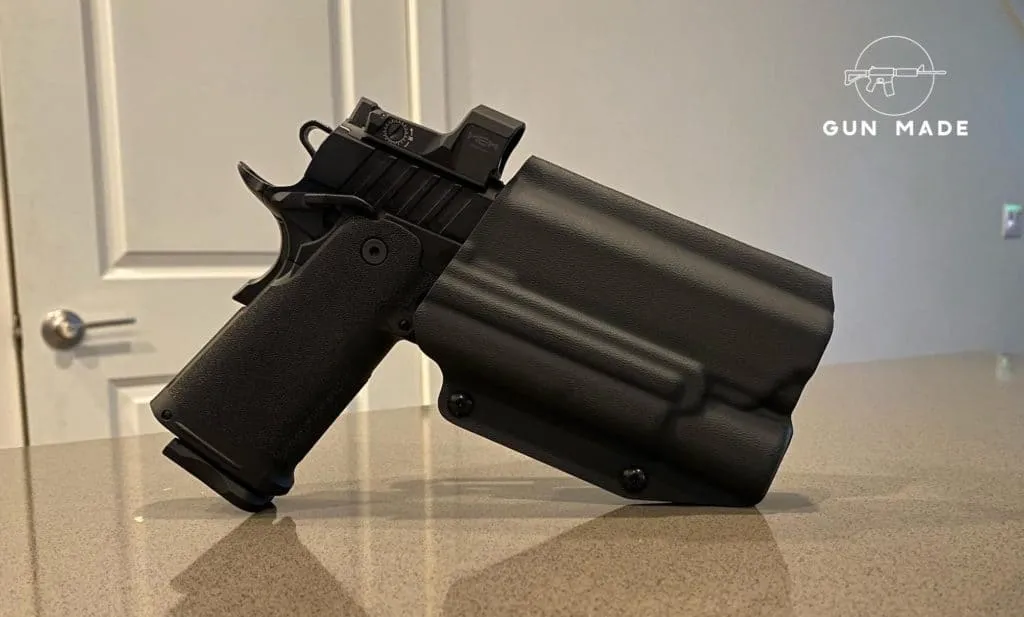 Blackpoint makes some awesome kydex holsters. Springfield sent my Prodigy with the MU, which is designed as an OWB (outer waist belt) holster. I am very impressed with the retention in this holster, as it carries the Prodigy tightly. 
Drawing the firearm from the Blackpoint is nothing other than smooth! Blackpoint's MU is also designed to fit with a laser attached to the accessory rail. Whatever you choose, I think a holster should be the first purchase with your Prodigy.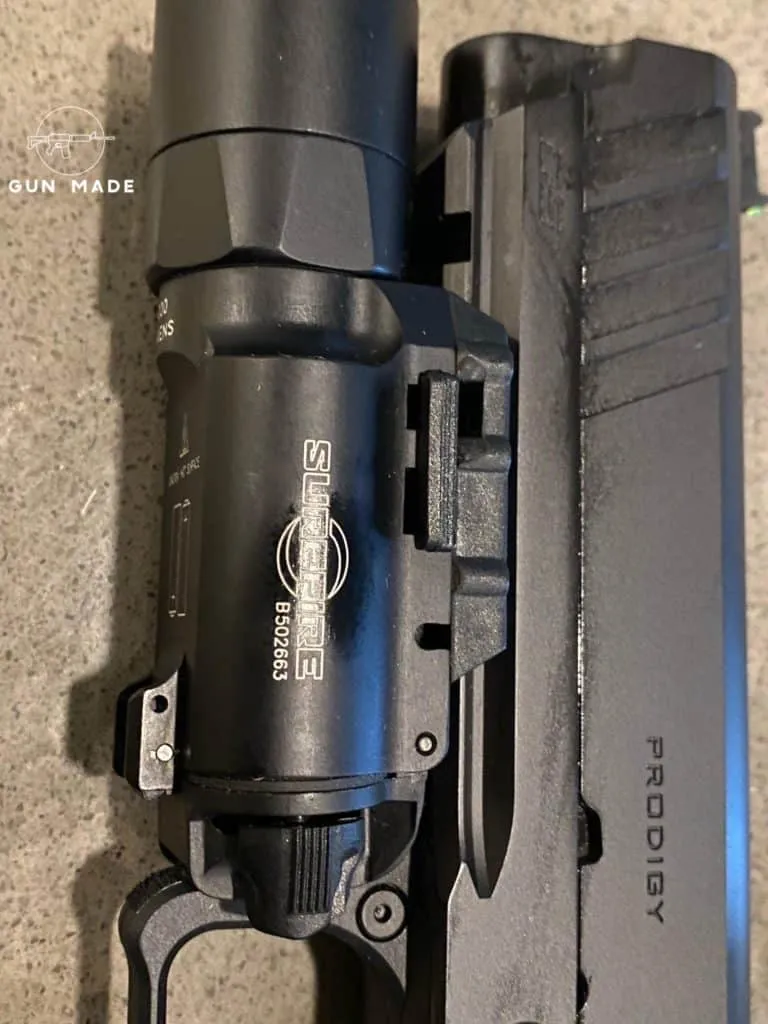 Surefire is notorious for making badass lights for firearms. When I was in the military I used to get excited before deployments because supply would get extra funding and show up shelling out all the cool extras; Surefire Lights were on that list for me. 
Surefire has made many different variations of weapon lights over the years, but the X300U-A is one of the highest-selling models. The newest versions of it are generating 1,000 lumens and are compatible with both rifles and pistols. I would highly suggest that you check this light out for your Prodigy.
Alternatives
I am going to struggle to offer you alternatives to the Prodigy. Springfield did such a fantastic job with this firearm that I think there is really only one comparison to be made: Staccato's "2011." 
Now I am aware that there are other double-stack 1911s on the market. That being said Staccato is known for their rendition of this, the infamous 2011. I will say that a 2011 has been on my wish list for a very long time, and I feel like Springfield satisfied that need for me with their take on a 2011, the 1911DS. 
Staccato is no slouch and they build premier firearms, making them the only firearm I would draw comparison with on the Prodigy. 
Everyone knows Staccato makes the dopest handguns, this is not new, and I am not trying to argue that. Staccato makes firearms I dreamt of having in my safe. If I weren't looking at picking up a Prodigy from Springfield Armory, I would be looking at the Staccato P. 
Staccato keeps this 2011 more palatable with a base price of $2,199, making it more pocket friendly than other models they produce. The Staccato P is a 9mm, like the Prodigy, and also weighs the same as the Prodigy at 33oz. 
This Is slightly more expensive than the Prodigy, but like anything with the name Staccato, it's built very well and reliably. I do not want to comment too much as I have limited experience with the Staccato, but this would be my only alternative personally. 
Some Inside Scoop from Springfield Armory
I was able to connect with Alex Joseph, Director of Marketing for Springfield Armory, and ask him a few questions about the Prodigy.
What made you guys decide to build a double stack 1911? 
"We take a lot of pride in our 1911 pistols and have earned our reputation by adhering to strict quality standards. There are several elements of the 1911 design that have kept it relevant for modern shooters, but we routinely run into capacity limitations. The 1911 DS takes the inherent shootability we love about the 1911 and adds the kind of capacity that many shooters want. With decades spent perfecting the 1911 the addition of a double stack platform was a natural progression for us."
How long have you guys been working on this build? 
"The 1911 DS, specifically the Prodigy, has been in development for several years. The Prodigy went through an intensive development and testing period to ensure that the pistol was everything it should be.  As a premium firearm manufacturer, the stakes are high. We want to be sure we have it right, and that takes time and discipline."
What purpose did you have in mind when designing this build? 
"At the end of the day, we're gun people. We love guns, and we set out to build a pistol that unlocks a shooter's potential. The result of that effort is a firearm that has a vast array of uses. Personal defense, law enforcement, and competition applications can all benefit from a faster, softer shooting pistol."
Can I get a brief statement about what you are most excited about with this pistol? 
"A lot of shooters have migrated to polymer striker guns for a variety of reasons, but we're seeing a resurgence of metal framed firearms. Firearms like our 1911 and now the 1911 DS are inherently easier to shoot and shoot well. When a shooter picks up the Prodigy, it gives them speed and precision they aren't used to. Unlocking that ability for shooters is what excites us most."
Can we expect more of this kind of build and firearms from Springfield? 
"The Prodigy is the first offering of 1911 DS pistols, and customers can expect other models in the coming years."
Favorite features from the manufacturer's perspective? 
"Vastly reduced recoil combined with the trigger you love from a 1911 is just an awesome combination. You can really get on the gas with this gun."
The story of how Ronin was involved? 
"Tu Lam has told us many times, "I'm a big Springfield fan." It just so happens the feeling is mutual. We have tremendous respect for his military career and personal journey. We recently did a short film with him to share his story with our audience. During production, we showed him the Prodigy and let him take it for a spin. We never did get that gun back."
Conclusion
Springfield Armory was firing on all cylinders with the build of the Prodigy. I have yet to be more excited with a firearm as I was unboxing and adding the Prodigy 1911DS to my safe. I was more than impressed with this new handgun, and I can't recommend it enough. I absolutely love that this is duty-designed and duty minded, making this firearm industry-leading in my opinion. 
Springfield made this beautiful, clean, accurate, and fun shooting 1911DS with all their chips bet on it, and they won big! I will honestly struggle to shoot other handguns in my safe now because I am absolutely in love with how the Prodigy shoots. I really love that they made this move and added this firearm into their arsenal.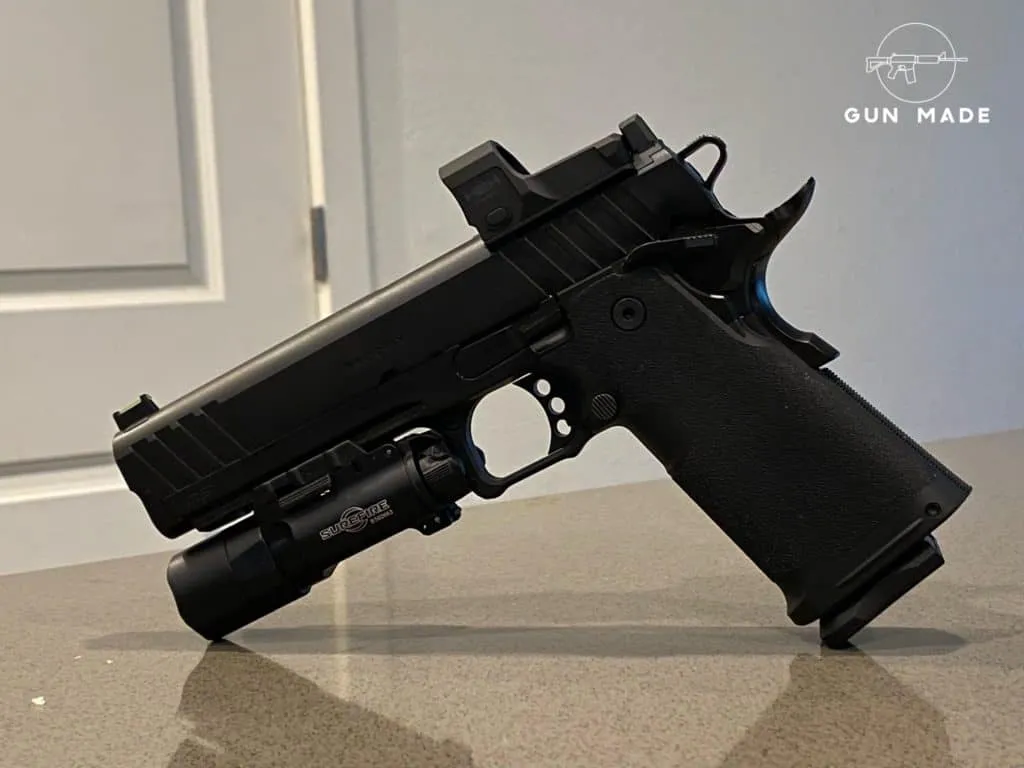 I have never been shy about the fact that I respect when a manufacturer keeps the consumer in mind when pricing out a firearm. That being said the $1499-$1699 price tag on this pistol makes it untouchable. I do NOT think you could find a better pistol on the market currently at this price point. 
The Prodigy is one of the smoothest shooting pistols I have ever got the chance to shoot, and it absolutely dominates on the range. Springfield built this handgun to be fast, reliable, and accurate, and it checks the boxes in all of those categories. 
Look, I only listed two negatives, the weight, and the single color option, in full transparency, that was me grasping at straws because I didn't really find anything that I did not like. The weight isn't really an issue, I would not be carrying this concealed, and the weight is negligible to other duty firearms fully loaded, especially after you squeeze the trigger on the Prodigy. 
Springfield made this firearm so slick and clean looking that I actually really love the black color. I would be lying to say it wouldn't be cool to see an FDE Cerakote version of this down the road, but that's all I got on the color complaints! This was my favorite firearm to unbox from Springfield yet! 10 out of 10 suggest that you pick one of these 1911DS Prodigys up and add it to your safe.
Explore more