Steiner DBAL-D2 Review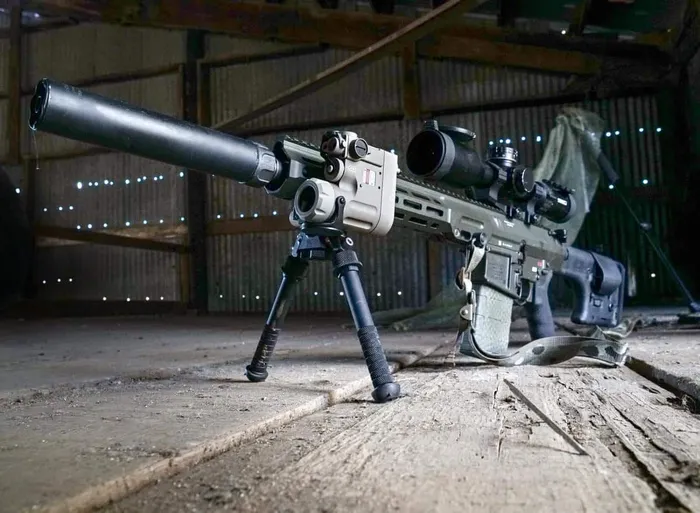 Have you ever wanted to own military-grade infrared laser sights but couldn't afford them?
Most folks just go with regular optics like red dot sights for their AR-15 rifles, but there's something about infrared laser sights that really enhance your accuracy.
Here's the Steiner DBAL-D2 Green Laser, a very interesting Laser and IR illuminating device combo that works in accord with night vision devices to give you an edge when shooting in low-light conditions.
It's a high-performance optic, but its price is quite reasonable when you see its features.
In today's review, I'll cover the Steiner DBAL-D2 Dual Beam Aiming Laser, highlighting its main characteristics, how it works, who it's for, its pros & cons, and see if it's really worth the price. I'll also mention some cool alternatives for comparison.
Let's see what the big deal is in our Steiner DBAL-D2 review.
Steiner's Idea Behind the DBAL-D2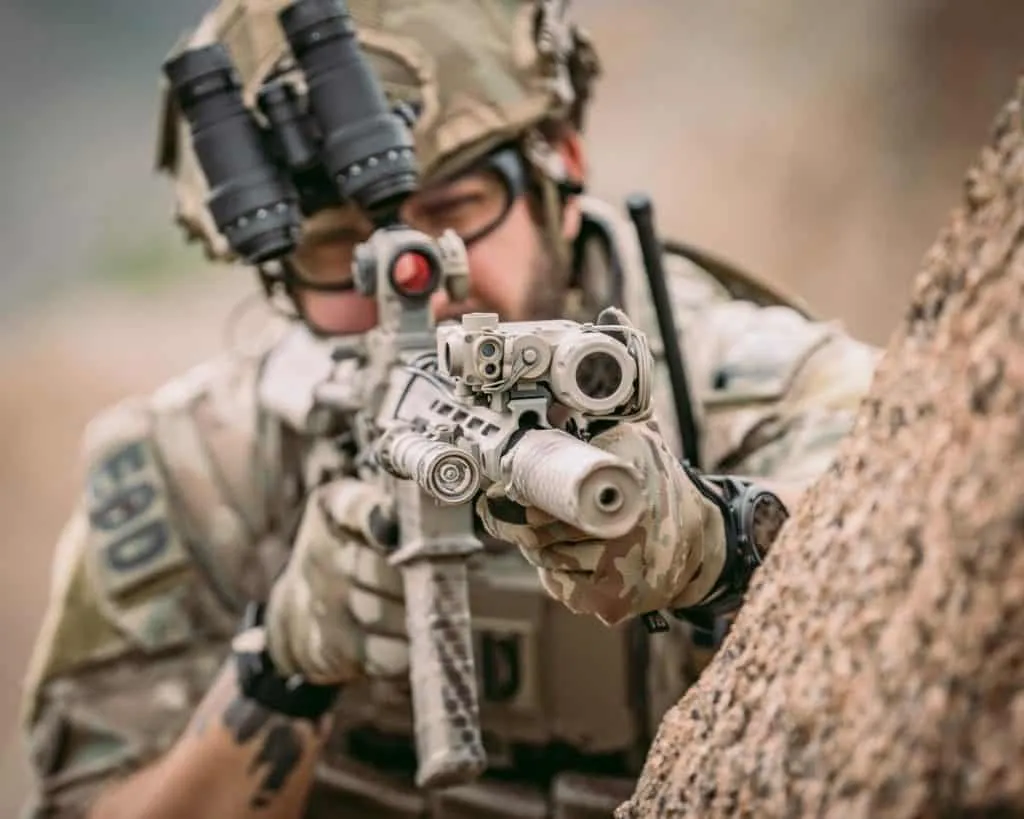 Steiner is a German optics manufacturer that's famous for binoculars, military and law enforcement optics, hunting scopes, and spotting scopes for marine biologists and ornithology.
Shooting with night vision is a lot easier, and you have a clearer picture and target acquisition with an IR laser in comparison to shooting with red dots. However, you can only rely on 2-3 brands that make MFALs, and Steiner is one of them.
I think they rock a very fitting name for an optics company because, allegedly, it's inspired by the works of Rudolf Steiner, a Croatian-born philosopher and clairvoyant.
Steiner has a wide range of multi-function aiming laser optics (MFALs), one of which is the DBAL-A3, and of course, the DBAL-D2 green aiming laser, which I've had the chance to test out.
Today's fast-moving advances in technology give us an opportunity to see for ourselves what infrared sights offer us, as opposed to 10 years ago when these state-of-the-art beam aiming lasers were extremely expensive for civilians.
Steiner aims to achieve that with the DBAL-D2.
Why Choose the Steiner DBAL-D2?
The DBAL-D2 is a powerful green laser, combined with an IR laser and a LED-based 600 mW IR illuminator, making it the perfect partner for your tactical NVD.
It's specifically made for night hunting applications around the 250-yard range, but it can also reach up to 800 yards.
Some might think that the DBAL-D2 is hefty for an optic sight of this type, but, for night shooting, I'm convinced that it has all the features you'll need and none of the addons you don't.
Overview of the Steiner DBAL-D2 Green Laser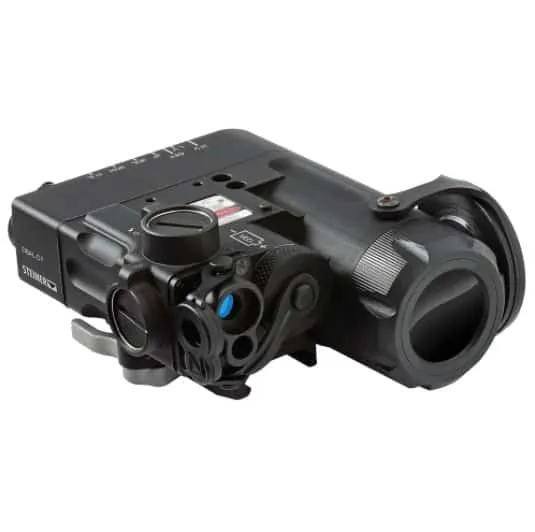 With your purchase, you get:
The DBAL-D2 Multi-Function Laser Device
Quick-Detach H2 throw-lever mount
One (1) CR123A Battery
A 7-inch remote cable pressure pad switch
User's Manual
Specifications:
| | |
| --- | --- |
| Manufacturer | Steiner |
| Model | DBAL-D2 |
| Laser type | Class III IR green laser |
| Submersible | 5 meters |
| Temperature | 5°C – +65°C |
| Battery type | CR123A |
| Battery life | 3 hours |
| Weight | 12.5 ounces |
| Length | 3.95 inches |
| Width | 3.37 inches |
| Height | 1.59 inches |
| Material | Aircraft-grade aluminum |
| Mount | QD HT Mount |
| Windage and Elevation Adjustment | Yes |
| Colors | Black, Desert Sand |
| Visible green laser (Class IIIa) | |
| Output | <5 mW/<1 mW |
| Wavelength | 532 nm |
| Beam divergence | 0.5 mRad |
| Range/Visibility (Night/Day) | 750 m/15m |
| IR laser (Class 1 Eye-Safe) | |
| Output | 0.7 mW |
| Wavelength | 850 nm |
| Beam divergence | 0.3 mRad |
| Range | 250 yards |
| IR Illuminator (Class 1 Eye-Safe) | |
| Output | (High/Low):  <600mW/ <300mW |
| Wavelength | 850nm |
| Beam divergence | 2° to 30° |
| Range | Up to 800 yards |
Design and Construction
The military uses a MAWL-C1+ IR/Visible Laser combo. Don't bother looking it up. It's a high-tier laser, big, heavy, expensive, and super rare to find on the market.
That being said, most would agree that the DBAL-D2 is a relatively close second to it, which is more than enough for most of us.
The Steiner DBAL-D2 is one of those pieces of laser sight equipment with hi-tech interior features that are justified by its overall heft. "If it's heavy, then it's quality, right?", as most would think, and in this case, I concur.
The built-in illuminator and two lasers are housed by a durable aircraft-grade aluminum casing, protective flip caps, and three hours of battery life. What's more, the ergonomics are spot-on and won't cause any discomfort or snag, let alone get in your way.
Despite the lightweight properties of the aluminum, it's still quite heavy, so it takes a bit of getting used to. The D2 also has threaded holes for micro red dot integration, so you can mount your red dot sight on it.
Much like the DBAL-A3, your front sight's location may block the battery compartment, so keep this in mind.
Check out our review of the Steiner DBAL-A3 for more info.
Dual Laser Beams and IR Illuminator
The Steiner DBAL-D2 is not like most laser sights, as it's a triple-combo with a visible laser, IR aiming laser, and an integrated, LED-based IR illuminator.
The LED-based IR illuminator has a power of 600 mW, and both the IR laser and visible laser are co-aligned together for maximum accuracy and easier zeroing. The IR beam is manufactured via hi-def lens technology, and that explains the high price.
The mounted aiming laser has an effective range of approx 100-250 yards, but it can reach 800 yards as well. The illuminator is powerful enough to go head-to-head with the military-grade MAWL-C1, but it can't go as far.
You can adjust it from 2° to 30° to flood for close-range or concentrate the beam on a single target at long range in mere seconds. There are also power settings on the IR illuminator for conserving battery life.
The D2's IR illuminator emits an annoying red light visible to the naked eye if you stare into it directly. People regard this as a downside, but I don't think it's much of a problem because it doesn't really give away your position as most would think.
Night Vision
A word of advice: this hi-tech equipment is not stand-alone. Meaning, you must take into consideration a suitable night vision set, along with a good weapon with a Picatinny rail.
I strongly suggest the Armasight PVS7-3 Alpha Gen 3 Night Vision Goggles
Unlike most lasers, the DBAL-D2 has a large bezel for better IR flooding, close range, and spotlight adjustments, and the outer red ring is bright as day. With higher Gen2 or Gen3 night vision goggles, it's even brighter with an enhanced tube light amplification.
It's the Eye of Sauron of tactical operations.
Installation and Mounting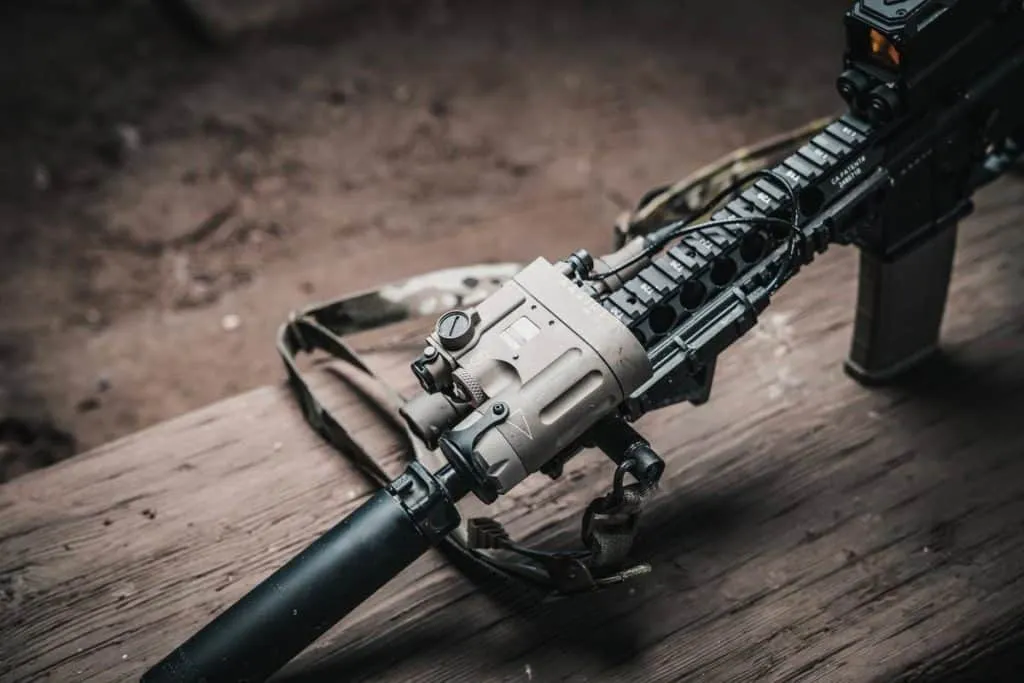 The D2 is easy to mount with a QD (quick detach) on a standard Picatinny rail. Mount it on the forwardmost 12 o'clock position right behind the front sight, and off you go.
You can also mount binocular tubes on your helmet, allowing you a more hands-off approach to easily control brightness and high/low-intensity illumination adjustments on the IR aiming point lasers. There's also a setting to zero your co-aligned laser dots.
To avoid having to buy a separate mount, the D2 has an already built-in Picatinny rail adapter and tension lever for easier weapon mounting.
Mounting it on a 10.5-inch carbine with a 1-6x magnification scope may pose visibility issues, so sometimes it's necessary to mount it at a 6 o'clock angle if it's too bulky for storage.
Sighting, Windage, and Elevation Adjustments
Sighting in the DBAL-D2 is simple.
Just dial the laser to the aiming point of your preferred scope, and make sure it's the same yardage as your laser. Remember, adjusting the laser also adjusts the IR laser.
The D2 has a lot of mode selections, and it's easy to forget which is which, so if you want to isolate the laser pointer, the illuminator, or both, you need to switch through them until you reach your desired mode.
I suggest you skim through the user's manual so you familiarize yourself with the many modes and combinations it offers.
The remote switch at the rear of the device allows you to plug in the single-pad switch, and the "find" button lets you activate your saved position without messing with the buttons again.
Pros & Cons of the Steiner DBAL-D2
Pros
Great illumination with co-aligned visible & IR aiming lasers
Superb construction
Integrated IR and LED-based for better performance
Adjustable beam spread illuminator
Fully adjustable windage and elevation
3-year warranty
Perfect for long-range sniping around the 800-yard mark
Cons
Larger and heavier than similar products
Might be expensive for some
FAQs
Here are some frequently asked questions about the Steiner DBAL-D2.
What's the Difference Between the Steiner DBAL-D2 and the I2, A3, and A4?
While these Steiner DBAL laser models all have slightly different statistics with their respective wavelengths, I managed to break down some of their notable differences.
• The D2 is the most well-balanced "Goldilocks" out of the four models. It has a LED-based illuminator, a bezel for IR illumination, and beam dot adjustments. It's great for both indoors, outdoors, close-quarter, or long-range shooting up to 800 yards.
• The DBAL-I2 model with a 9007 illuminator is cheaper and generally better for close-quarter combat. It comes in red and green laser models but has no visible laser.
• The Steiner DBAL-A3 comes with either a red or green laser, and it allows you to zero your IR laser in broad daylight as well as activate your visible laser when the light in your surroundings changes from dark to light. The A3 uses a laser diode, while the D2 and A4 use a LED-based one.
• Last but not least, the DBAL-A4 is the top dog that's obviously built for military use. It has two IR illuminators, and much like the D2, it uses a LED-based diode. I still can't discern the difference in dot quality, but best believe it's a top-performing device for long-range applications.
Is the Steiner DBAL-D2 FDA-Restricted?
The DBAL-D2 is certified as a Class 1 multi-function IR laser which means that it's completely Eye-Safe and available to the general public. Class 1 IR lasers with a 0.7mW rating are generally not restricted by the FDA.
Why Is the Steiner DBAL-D2 Laser Green Instead of Red?
Simply put, Steiner went with a green laser on the DBAL-D2 because a green-colored dot is twice as visible to the human eye than red.
Green lasers are easy to see both in daylight and at night, though some people prefer red for low-light conditions.
What Do the Others Have to Say?
Here are some interesting testimonials and review snippets from customers that bought the Steiner DBAL-D2.
Alternatives to the Steiner DBAL-D2
If you feel that the Steiner DBAL-D2 isn't your type of thing, check out these alternative scopes.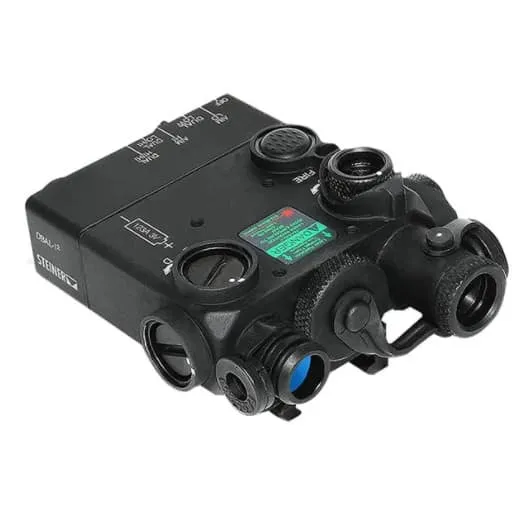 Another mid-tier IR laser/illuminator combo is the Steiner DBAL-I2 that comes in red, non-infrared, or green laser mode, and it can reach up to 800 yards.
Compared to the DBAL-D2, the DBAL-I2 doesn't pair with a LED light, and there's no visible white light source. However, its pressure pad activation interface is convenient, and windage and elevation are fully adjustable.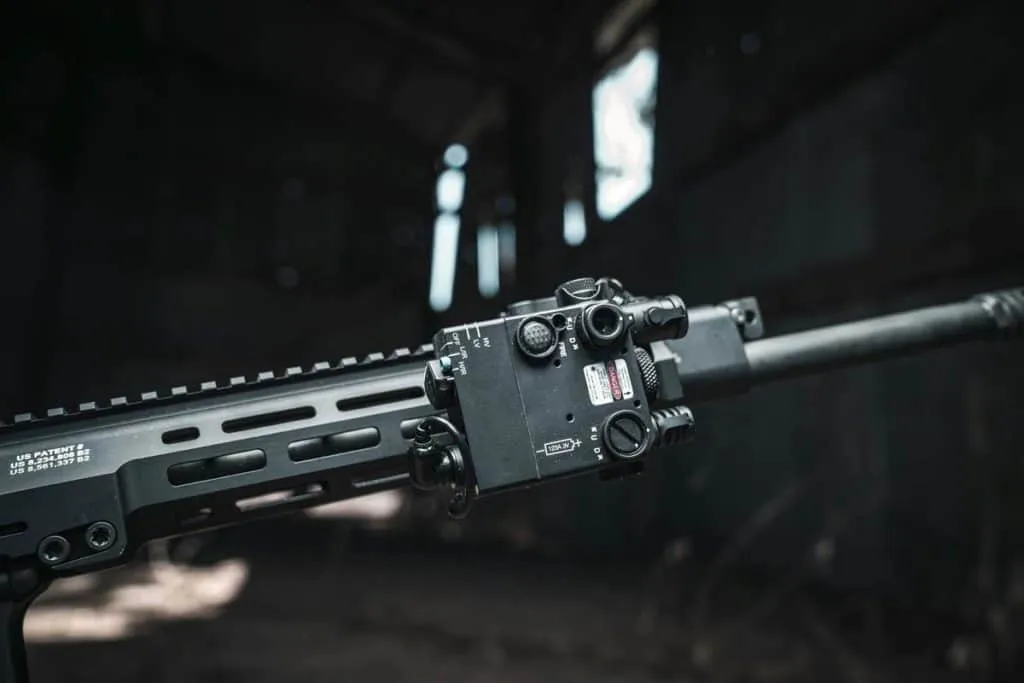 Though it's not as powerful or far-reaching as the D2, it's lighter, has a quick detach HT mount, and is pre-drilled for mounting red dots or other accessories on it. You can also use it as a regular sight with or without night vision.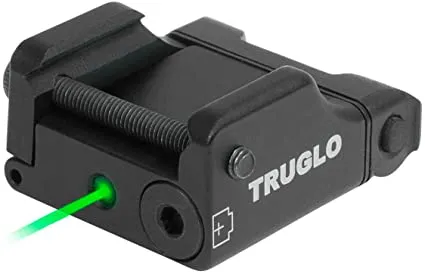 This tiny Truglo laser sight might look like a handgun option, but it fits on any Picatinny or Weaver rifle rails.
Compared to the Steiner DBAL-D2, the Micro-TAC Handgun Micro Laser Sight is a budget option, but the bright green dot with 520 nm of wavelength works perfectly around the 25-yard range.
The push-button activation is convenient, and it saves battery life. The windage and elevation knobs are easily adjustable. Moreover, it's ambidextrous—great for left-handed folk.
However, it's a bit difficult to zero in on handguns with a higher rail and iron sights. That's why people stick this on their AR-15 rifles.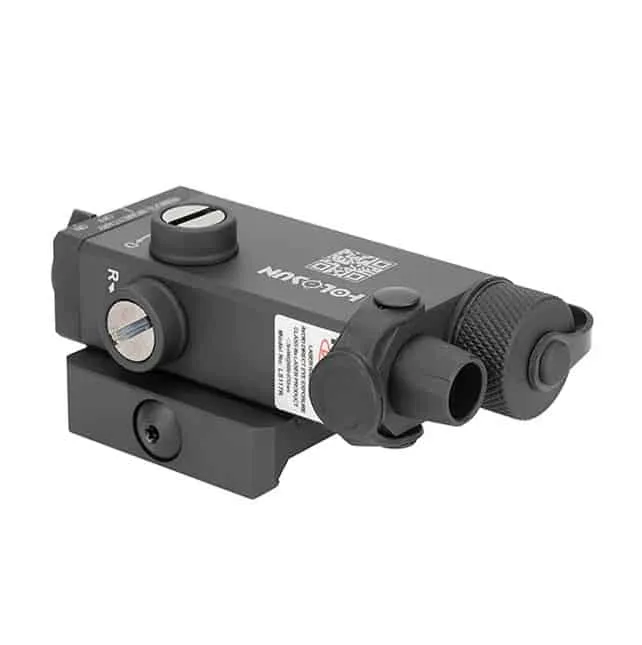 Here's a good entry-level choice.
The Holosun LS117 is for you if you're looking for a tactical budget option with certified Holosun quality.
The Class 2M Infrared laser device and the QD (quick release) rail mount with remote pressure switch makes it a fine choice for close-quarter combat and tactical operations.
The LS117 comes with different beam colors like green, red, or a combination with an infrared laser that works well at night, mainly this one.
Made of 7075 T6 aluminum, it's designed to be compact, lightweight, and shock-proof enough for an AR-15.
Conclusion – A Reasonably Priced Mid-Tier IR Laser/Illuminator Device for Serious Shooters
Among the handful of reasonably-priced laser sights that you can find on the market, I wholeheartedly recommend the Steiner DBAL-D2.
It's a triple-functioning green laser with a crystal clear visible laser that works in accord with a powerful 600 mW IR illuminator and a high-performance IR laser. The laser beam is powerful enough to reach 800 yards.
A 12 o'clock QD mount maintains a stable, unwavering aim, and the intricate controls offer you countless brightness options, modes, and settings that are convenient and easy to tweak.
You know it's a good thing when the most popular downside is that it's ugly and bulky, as the performance for the money is absolutely top-notch.
Currently, this is as far as we civilians can come close to military/special forces-grade equipment without selling the car.
Last but not least, consider this a warning to steer clear of Amazon sales for the Steiner DBAL-D2; there have been multiple reports of fake products that are posing as the real deal. 
The vendors that we pointed you to are your safest choice.
Stay safe, shoot straight.
Explore more