Smith & Wesson M&P 22 Compact Review: Affordable M&P Option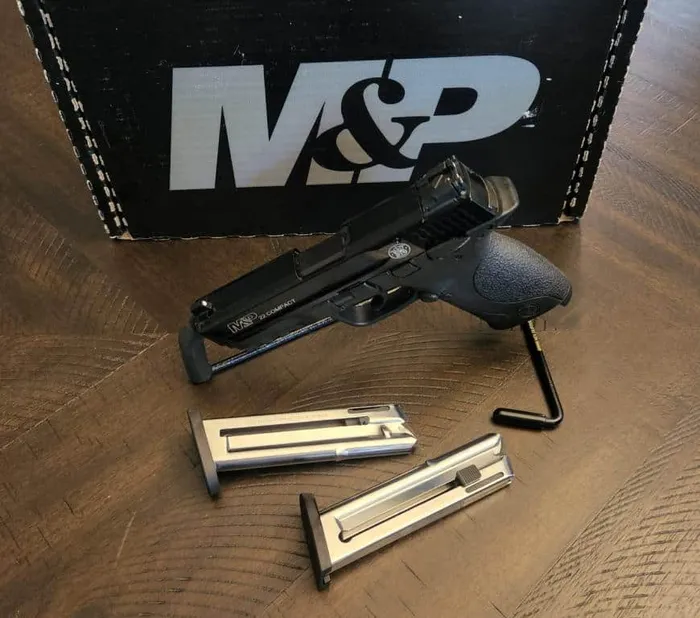 Smith & Wesson M&P 22 Compact Review: Affordable M&P Option
In July, I wrote about the Glock 44, a semi-auto pistol in 22lr that I use to teach new students. Another one of my picks for a training pistol is the Smith & Wesson M&P 22 Compact because it is virtually the same frame size as the Smith & Wesson 9mm Shield EZ, right down to the ambidextrous thumb safety. 
The M&P line is a big seller for Smith and Wesson, and they produce calibers in everything from .380 ACP to 45 ACP. In 2013, they added a 22lr semi-auto, which is a perfect addition. It is a reduced scale, 87.5%, according to Smith and Wesson, of their full-size M&P Series, and Smith and Wesson produces it in the USA.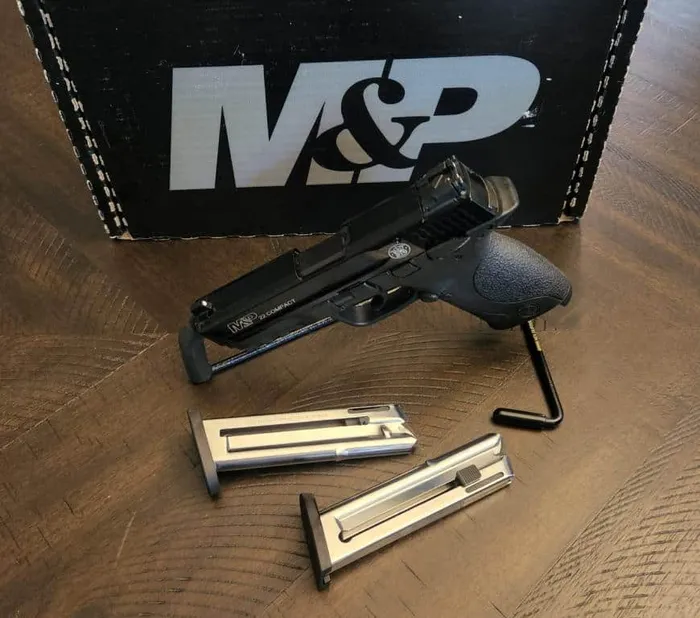 Smith & Wesson M&P 22 Compact Pistol Review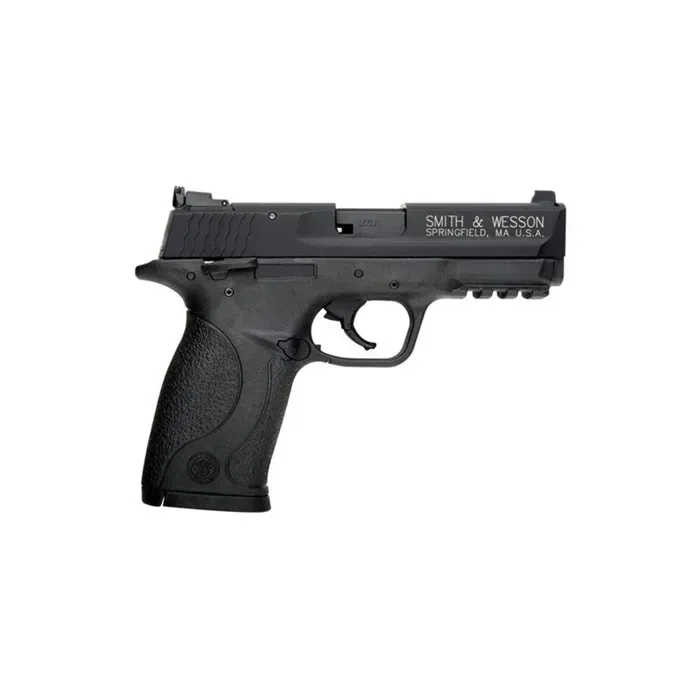 Specifications
| | |
| --- | --- |
| Manufacturer | Smith and Wesson |
| Model | 22 Compact |
| Caliber | 22lr |
| Capacity | 10 + 1 rounds |
| Type | Semi-Auto |
| Action | Single-action; hammer-fired |
| Trigger Pull Weight | Around 6 lbs. |
| Safety | Ambidextrous manual thumb safety |
| Barrel | 3.6 inches Carbon Steel Threaded – 3/8" x 24 |
| Overall length | 6.65 inches |
| Overall height (with magazine) | 5.03 inches |
| Overall width | 1.48 inches |
| Weight (empty magazine) | 15.3 ounces |
| Grip | Polymer |
| Front Sight | Single White dot |
| Rear Sight | 2-Dot White Screw Adjustable for Windage & Elevation |
| Slide Construction | Aluminum Alloy, Black Anodized |
| Frame Construction | Polymer |
| Accessories | Two ten-round magazines, Wrench for threaded barrel cover, cable lock |
Pros & Cons
Pros
Backed by a lifetime warranty
It is a great training gun since it is a scaled-down version of the larger calibers
Picatinny rail for your favorite accessories
Threaded barrel
Cons
If you have larger hands, the safety can get in the way
It does not like some brands of ammunition, especially subsonic
Smith and Wesson recommends not to dry fire it, unlike the Glock 44
Features
Unlike most semi-auto pistols, the Smith & Wesson M&P 22 Compact pistol is an internal hammer-fired design, not striker-fired. Because of the difficulties associated with the lack of force from lowered powered 22lr ammo, it is hammer-fired, as are the majority of 22lr semi-autos.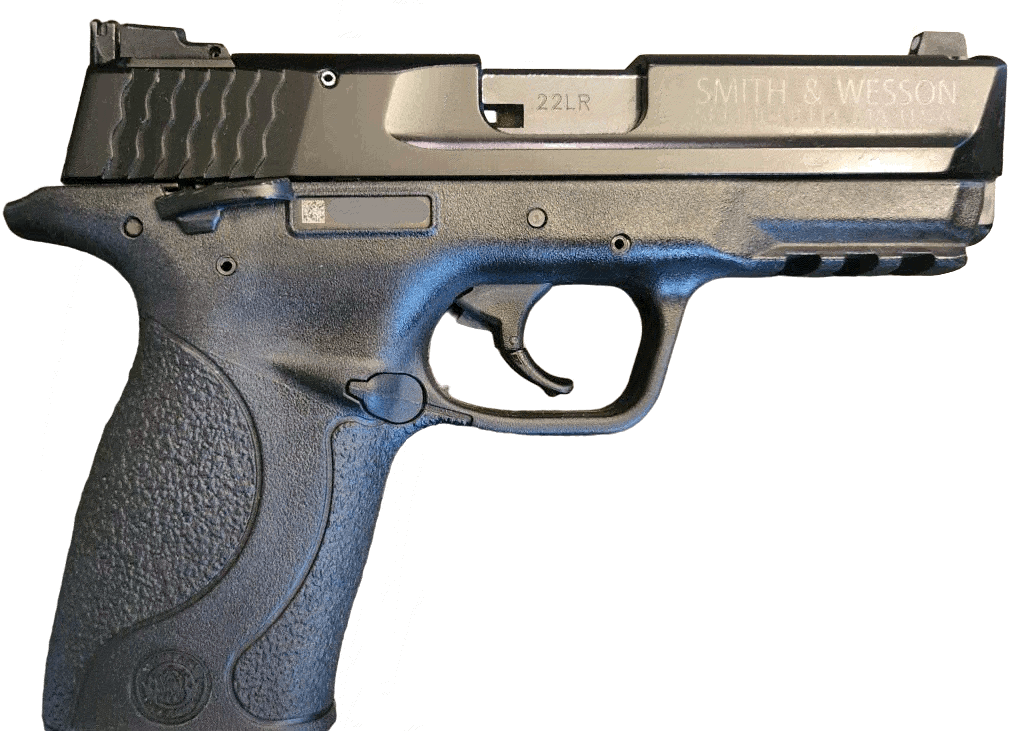 It has a 3.6-inch carbon steel threaded barrel if you want to add a muzzle device like a silencer. The standard threads are 3/8" x 24, so you need an industry-standard ½" x 28 adapter to mount most common barrel accessories like a compensator or silencer. With the Picatinny rail, you can add a lengthy list of accessories that can be interchanged with its full-size M&P brothers in a larger caliber.
It is straightforward to strip down for cleaning by separating it into three major pieces, which is excellent for a new shooter. The aluminum slide and polymer frame make for a very light and compact pistol.
Sights

The rear sight is made of metal, not a polymer, so it will take some abuse. It is also not a basic fixed sight, so you can adjust it for windage with a small Allen wrench and elevation with a flathead screwdriver. One key point about the rear sight on the Smith & Wesson M&P 22 Compact pistol is that the elevation screw can come loose, so a tiny drop of Loctite or even fingernail polish is a good idea to keep it in place.
I found out the hard way after a trip to the range when the rear sight flopped up and down every time someone shot it. After doing some research, I discovered I was not the only one that had run into this problem, and there was no way I was going to even look for the spring and screw.
Smith and Wesson customer service came through just like they always do and sent me a replacement at no charge.
Thumb Safety
The large ambidextrous thumb safety is easy to get to and manipulate, even for people with small hands.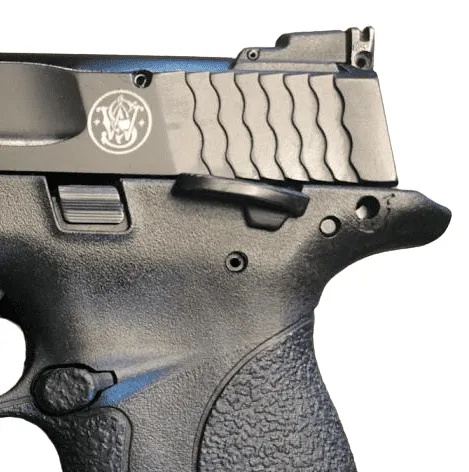 Trigger
The M&P 22 Compact has an added safety feature in the form of a hinged trigger and a breaking force of approximately six pounds. It has a short reset point that is easy to feel for faster follow-up shots.
Magazine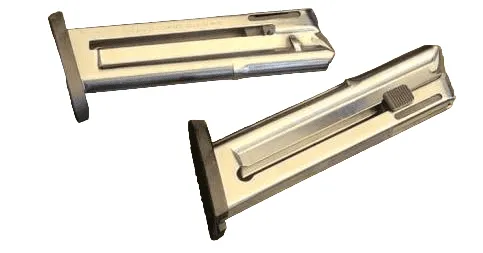 As far as the magazines go, the M&P 22 Compact comes with two that are each capable of holding ten rounds with a follower pull-down button to make it fast and straightforward to load.
Reversible Magazine Release
If you are a lefty and want to swap the magazine release, it is an uncomplicated process, and you can find videos on YouTube that will walk you through it. You can also follow the walk-through in the manual, but if you are like me, I would rather watch someone do it.
Barrel
It comes from the factory with a threaded barrel that has a 3/8-inch x 24-thread pitch, but the industry standard is a 1/2-inch x 28-thread pitch. Thread protectors and thread adapters are easy to get and swap using a 7/16" wrench that comes in the case. Don't lose it because the slot on the adapters is too narrow for most wrenches.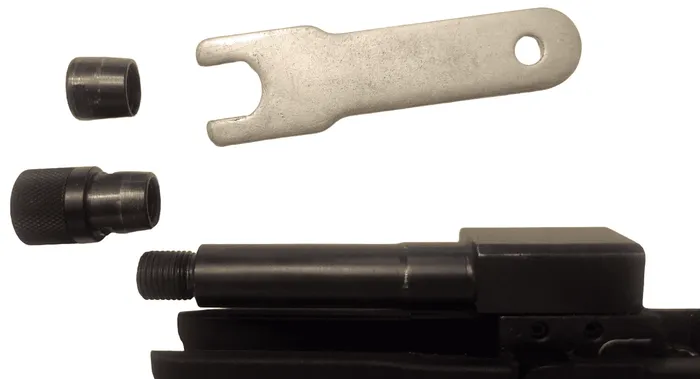 Field Stripping and Disassembly
Field stripping is simple, as you would expect from Smith and Wesson. After locking the slide back, remove the magazine and confirm the chamber is empty. Then rotate the takedown lever 90 degrees until it points down. Pull back on the slide and lift the back, then move the slide forward once the rear comes loose from the frame to clear the barrel.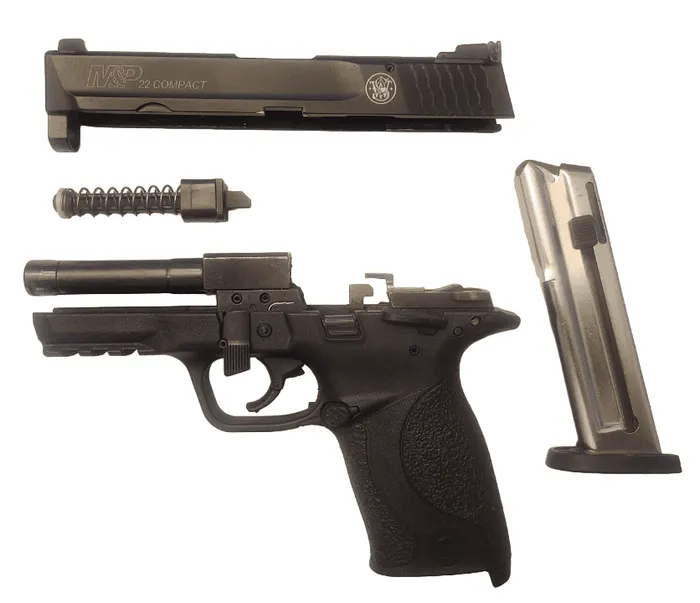 Unlike the rest of the M&P line, where the barrel is a separate piece, Smith & Wesson attached the barrel to the frame. Once you remove the slide, the spring pulls out between the frame and the barrel from the front. 
At The Range
Reliability
I have let many students use this handgun, and it has had thousands of rounds put through it, so you can definitely say this one is past the breaking-in point after all the range time it has seen. Shooting the pistol is fun and has minimal recoil, but it can be finicky about what ammo it likes, just like many other 22lr semi-auto handguns.
This gun had a lot of "failure to extract" when I first purchased it, along with "failure to eject." I quickly learned that the firearm needs frequent cleaning and is now reliable, so I use whatever is available but try to avoid sub-sonic rounds. During the first few hundred rounds, though, I was tempted to throw it at the target on more than one occasion out of frustration.
Use high-quality, high-velocity ammunition to start, like the CCI Minimags for the first few hundred rounds, and save yourself some frustration as you break it in.
Overall Feel
The gun feels good in your hand but does not have interchangeable backstraps like others in the M&P line. My hands are relatively large, and it is comfortable for me to use. Plus, I have had plenty of newbies with smaller hands shoot it with no complaints.
The grip has enough texture to keep a firm hold but not so much texturing that it feels like sandpaper. Plenty of aftermarket grips are available for you to choose from if you like a really aggressive texture.
Accuracy
Don't plan to enter any bullseye competitions with the 22 Compact, but it's great for plinking. The accuracy and reliability of most 22lr pistols are greatly affected by the type of ammunition you use. With a barrel that is only 3.5″ long, you will not get the same accuracy you would in something like the Ruger Mark IV or a SW-22 Victory, which both have barrels that are 5.5″.
While it's not a target pistol, it does a satisfactory job for what most people will use it for.
Accessories
Since it has a threaded barrel, you can get all kinds of fun accessories.
Tandemkross has what they call the "Game Changer Compensator," made of aluminum, and it comes in silver or an anodized black. A 22lr does not have much muzzle rise, to begin with, but if you are into adding things to your gun that looks cool, then here is an excellent place to start.
You will need an adapter to change the barrel threads on your Smith & Wesson M&P 22 Compact from a 3/8-inch x 24-thread pitch to a 1/2-inch x 28-thread pitch.
Tactical Innovations makes theirs out of solid steel, not aluminum, like some other manufacturers. I would rather have steel on anything that might get frequently threaded and unthreaded because you are not as likely to strip the threads.
If you want to remove the thread adapter, you can install a thread protector like I did from EWK Arms. It keeps the barrel of your gun flush with the end of the slide and protects the threads.
Although this is a terrific gun for training to replicate many of the Shield EZ functions, the holsters are not interchangeable.
Alternatives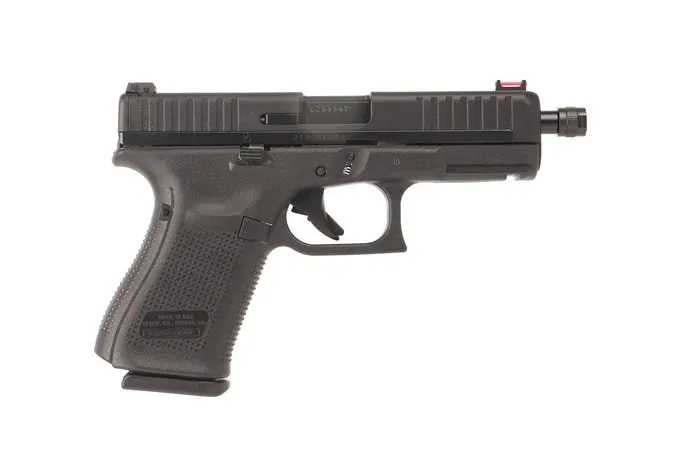 My top pick is the Glock 44 as an alternative. Regarding training for everyday carry, this is my only other recommendation because both manufacturers designed these guns after their larger-caliber counterparts.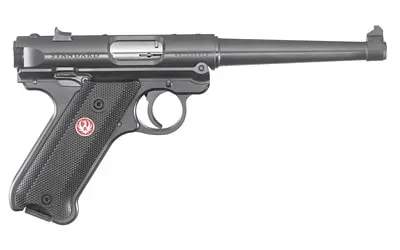 Now, if you want something to go plinking with, the Ruger Mark IV or the SW-22 Victory are top picks for many people. The frames on the Ruger Mark IV and the SW-22 Victory are made of steel, not a polymer, like the Smith & Wesson M&P 22 Compact.
The Ruger Mark IV is a 22lr, and it comes in multiple versions, from a basic bare-bones "Standard" to a fully decked out "Tactical" style.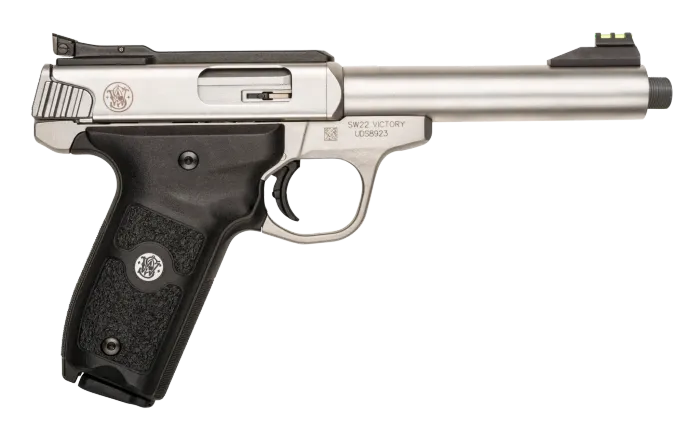 Smith and Wesson offers the SW-22 Victory in a great-looking stainless-steel version with a top-mounted Picatinny-Style rail. It comes with two ten-round magazines and adjustable fiber-optic sights.
FAQs
How many rounds does an M&P 22 compact hold?
It holds ten in the magazine plus one in the barrel for a total of eleven.
Is the M&P 2.0 Compact good for concealed carry?
Yes, and no. Although it is an ideal size for concealed carry and very reliable, it is only a 22 caliber, which is not the best for personal protection.
When did the M&P 22 Compact come out?
It was released in 2013 as a scaled-down version of their full-size M&P 22 , which was by Walther in Germany starting in 2011.
Conclusion
The M&P 22 Compact is a fantastic low-cost, low-recoiling alternative to the center-fire compact M&P pistols because of how closely it mimics the larger caliber models in the grip, safety, sight picture, and trigger.
This is a perfect handgun to save the money you would spend on larger caliber ammunition and still get quality training. It is reliable and backed by Smith & Wesson's lifetime warranty with a low price point, so you cannot go wrong.
Explore more