Smith & Wesson M&P9 Shield Plus Review & Photos [2023]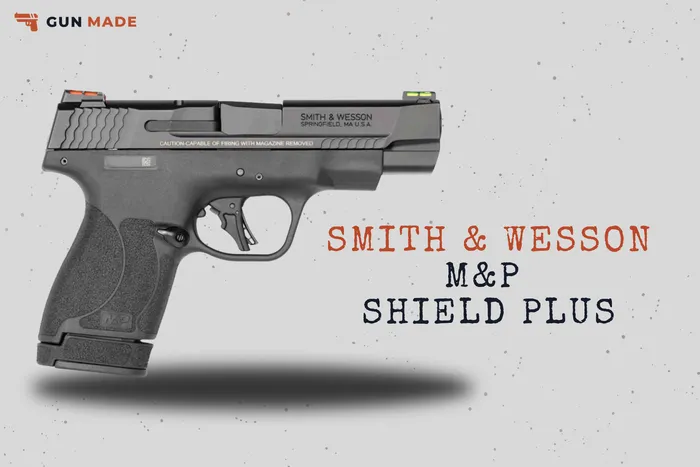 Smith & Wesson M&P9 Shield Plus Review & Photos [2023]
Smith & Wesson brought us yet another M&P Shield, to no one's surprise.
This time, it's a Smith & Wesson M&P Shield Plus, and it's exactly what the name implies: a plus in magazine capacity.
I had the chance to shoot this new addition to the Smith & Wesson family. You can bet it's a solid improvement, especially for the shooting gallery enthusiasts looking for compact pistols with more than just nine rounds.
In this M&P Shield Plus review, we'll talk about this new addition to the S&W family—the Shield Plus.
I'll highlight its main features and improvements, what it excels at, where it flops, mention a few alternatives and aftermarket options, and who will benefit the most from this micro-compact striker-fired pistol.
But, will the different contours and ergonomics impact the overall feel and shooting performance?
Does it still retain the tried and true M&P reliability Smith & Wesson is so well-known for?
Will the M&P Shield Plus replace the M&P Shield? Maybe not, but keep reading to see what the fuss is all about.
Smith & Wesson's Idea Behind the M&P Shield Plus
When Smith & Wesson launched the original M&P Shield back in 2012, it immediately became popular with its reliability and convenience in the subcompact, single-stack 9mm handgun market.
I remember that it was frequently advertised, conveniently priced, and there were popular holster options for it. Those are the more plausible reasons why the Shield is a top-rated common pistol in the US.
The M&P Shield was unveiled in April 2021. One would think that the double-stack M&P Shield Plus would have some very big shoes to fill, but no. Smith & Wesson knows exactly what they're doing.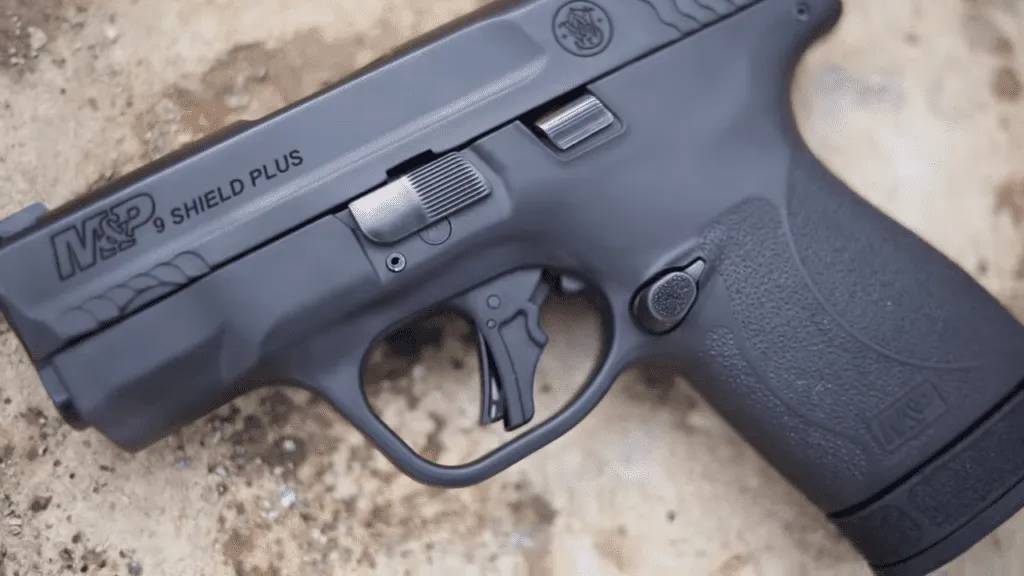 Obviously, the Shield Plus already rides on the back of the original. It's not supposed to be a groundbreaking semi-auto pistol with new features.
Smith & Wesson simply added more round capacity while retaining its original features, trying to stay as close to the good old blueprint as possible.
They saw an empty space in the design and filled it with a definite enhancement for a micro-compact pistol.
Now, it's the highest capacity micro-compact pistol in the Smith & Wesson arsenal.
The 13-round magazine addition to the Shield Plus is a joy to shoot at the ranges.
Additionally, the 10-round model makes it viable for states with 10-round capacity limits.
Personally, I like to think that the Shield Plus is more of an honorable nod to the S&W 686 revolver that also has a Plus counterpart with a similar, greater round capacity.
The Smith & Wesson M&P Shield Plus Review
Pros & Cons of the Smith & Wesson M&P Shield Plus
Pros
Reliable Smith & Wesson design
High-quality flat-face trigger
Definite round capacity improvement
Audible trigger reset
13+1 and 10+1 round variants
Ergonomic and comfortable grip texture
Abundance of aftermarket availability
Multiple models with/without thumb safety
Moderate 9mm recoil
Cons
Large gap between extended mag and mag well
Some customers report that the flush-fit mag can slightly move around
Specifications
| | |
| --- | --- |
| Model | Smith & Wesson M&P Shield Plus |
| Manufacturer | Smith & Wesson |
| Product line | M&P Shield |
| Type | Centerfire pistol |
| Caliber | 9mm Luger |
| Action | Recoil-operated, striker-fired, semi-automatic |
| Trigger pull | ~6 pounds |
| Capacity | 13+1/10+1 |
| Safety | With or without manual thumb safety |
| Barrel length | 3.1-inch and 4-inch versions |
| Overall length | 6.1 inches |
| Overall height | 4.6 inches |
| Overall width | 1.1 inches |
| Weight | ~20 ounces |
| Grips | Enhanced grip texture with 18-degree angle |
| Front Sight | White dot |
| Rear Sight | White 2-dot |
| Frame | Subcompact stainless steel |
| Ambidextrous | Yes |
| Finishes | Armornite corrosion resistant; Matte Black |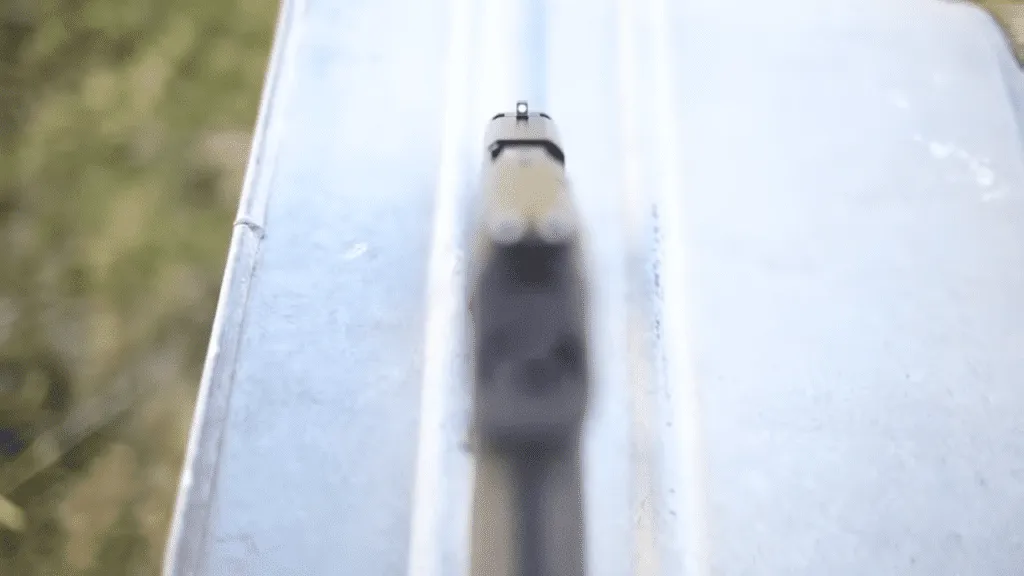 We're here to discuss the more impactful differences between the Shield and the Shield Plus, but I'll try not to turn it into a comparison review.
Best believe that S&W kicked it up a notch to the next level with the Shield Plus; as they advertise, the trigger is improved, and the grip texture is enhanced.
Their crown jewel of the drastic Shield Plus upgrade, unlike the single-stack M&P9 Shield, is the double-stack magazine capacity.
You got separate versions in the 13+1 round and 10+1 round capacities, both with and without a thumb safety.
The four-inch Performance Center also has a ported barrel and ready-mounted Crimson Trace reflex sights on the optic-cut slide.
We'll focus on the standard 3.1-inch model without thumb safety for the sake of simplicity.
Let's talk about the trigger first.
Flat Face Trigger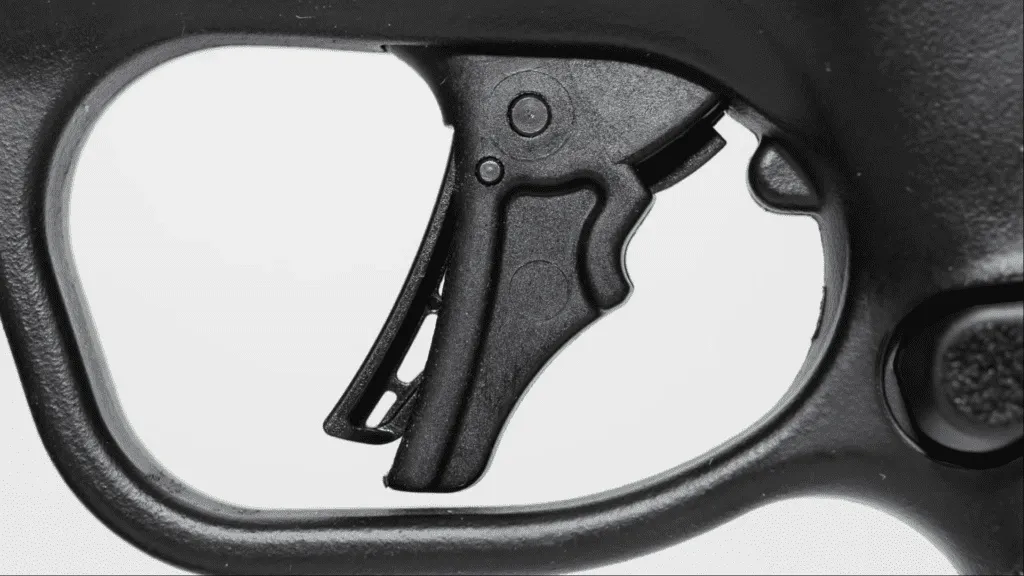 Appearance-wise, the Shield Plus hasn't changed much, but once you shoot it, you'll notice the improved trigger.
It's almost like Smith & Wesson gave in and listened to our feedback for the former model's mediocre trigger. Only now, it seems like they turned it into a new model.
The trigger is flat-faced and vastly improved. It's lighter, crisper, with a little bit of creep between breaks and slight overtravel, but afterward, it's a short reset. It's tactile and audible, and the trigger safety blade is wide and has a flush.
You can really feel the difference with the semi-flat trigger shoe instead of a curved one on the former Shields. Personally, I'm not a fan of the hinged triggers like the Shield and the Shield 2.0 versions had.
Hinged triggers like on the SIG Sauer P365 work great, but this is a different story. The S&W take-up, break, and trigger reset, in combination with the nearly flat trigger of the Shield Plus beats anything when it comes to small pistols. At least in my book.
Speaking of appearance…
Design, Grip, and Ergonomics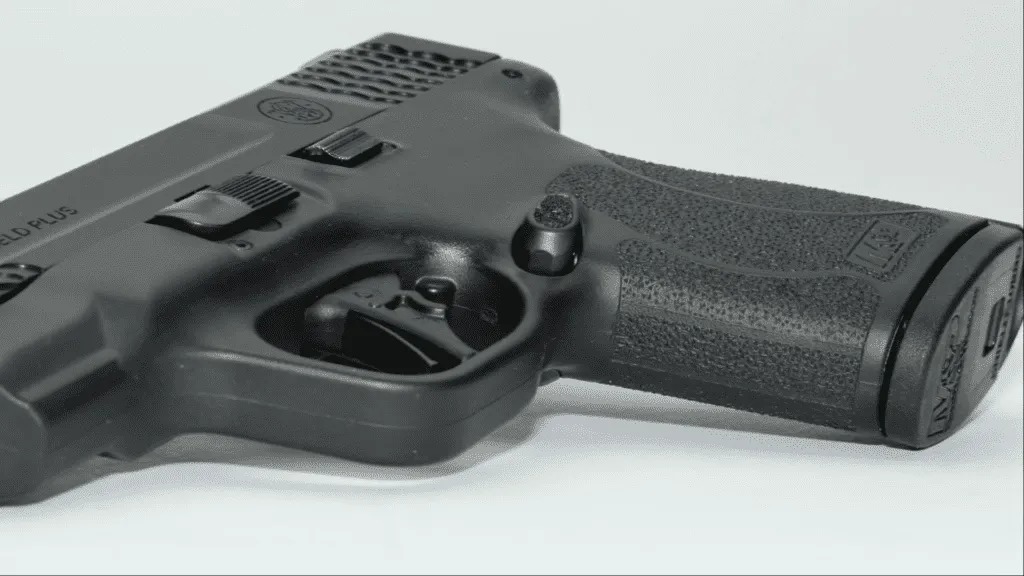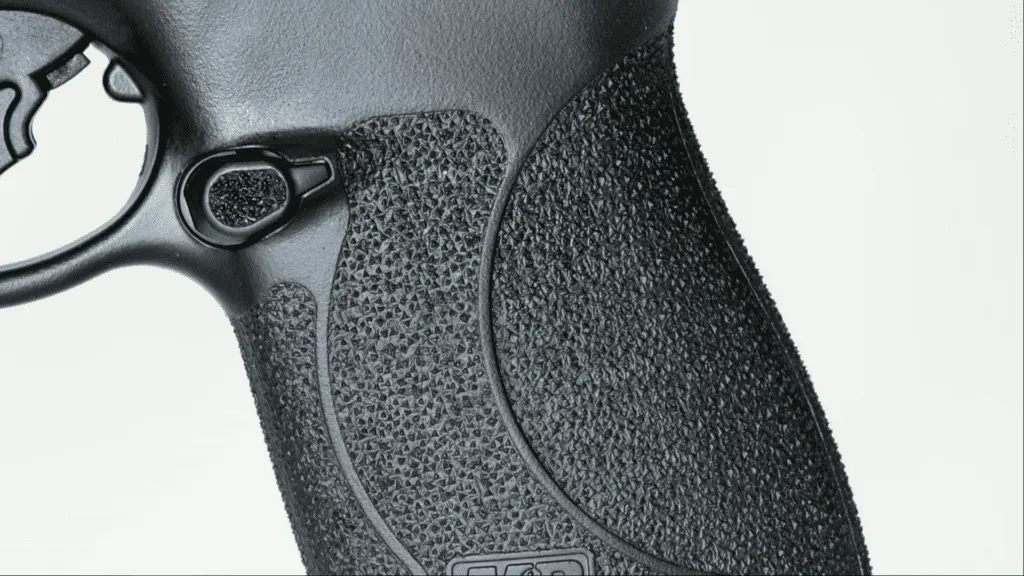 As much as I hoped for something, S&W didn't do much with the aesthetics of the new Shield. As a matter of fact, besides the "Plus" etched on the slide of the handgun, there really isn't much else.
I noticed that the frame's sheen of the Shield Plus is slightly different. This is because the frame is coated in a highly fancy Armornite coating.
As for the grips, S&W seems to highlight this new feature a lot. It has "enhanced grips." The grip texturing feels less aggressive, so this might cater to most.
I still think that grip textures are a very subjective thing. But it's certainly way lighter and less abrasive than the original. Perhaps the Ruger 9mm is the closest comparison in regard to grip textures.
Ergonomically speaking, the Shield Plus doesn't rub against your skin, the contours feel just right in my hand (mid-sized), and I don't have much to say here besides that my wrist feels just fine after a couple of shooting sessions.
The profile might be thin for some, to be honest, and the trigger guard is undercut, so mind your knuckles. You'll never know unless you shoot one yourself.
Shooting and Ammo Recommendation
I went through a couple of hundred rounds with Federal 115-grain 9mm ammo boxes with no flaws whatsoever. I also mixed some Federal 147-grain HST 9mm, and it still works like a charm.
The increase in rounds means a wider grip, which in turn directly affects the overall feel, ergonomics, and build. Despite this, it's still a good concealed carry option that shoots well, along with superb consistency as an EDC carry, provided you have the right holster for it.
Most micro-compact pistols have a very snappy kick when shooting, especially in the 9mm chambering. As you may have heard by many handgun folks, the original Shield has a very manageable recoil, and the Shield Plus is no different.
The only difference I felt is the better cycling, and combining that with the less aggressive grip, it's just effortless. Though, as for any pistol, the last round takes a little bit of hassle to load. Other than that, it's superb.
The improved trigger frame greatly affects your accuracy and consistency at the ranges. I'd recommend you stick to anything around the 115-grain, 135-grain, and 147-grain, especially with 9mm calibers.
Aftermarket Options for the Smith & Wesson M&P Shield Plus
The first thing to do is get yourself some M&P Shield Plus magazines.
Personally, I wouldn't change a thing, but if you're looking for essential aftermarket parts, there are multiple choices.
Despite the magazines being incompatible, a huge plus (puns) is the truckload of compatible aftermarket parts you can get for your Shield Plus.
Lots of holster manufacturers already came up with great Kydex and leather options for the Shield Plus, so you're covered there as well. There's a variety of holster brands to choose from.
Please note that the Shield and Shield Plus magazines are NOT interchangeable because the Plus has a wider magazine well. You can't insert a Shield mag into a Shield Plus mag.
If you want recoil springs, you got 'em. Trijicon Night Sights? Check. For sights, I would recommend the Tritium Truglo or the Holosun 508T Reflex Sights.
Magazine/Enhanced Round Capacity
The Shield has a single-stack, while Smith & Wesson went with a flush-fit double-stack magazine for the Plus.
Both are with witness holes to see the bullets inside, and they also have the orange follower that's on the top of the magazine spring that tells you if the mag is empty when you see it through the ejection hole at the slide lock.
The mag well on the M&P Shield Plus doesn't have a bevel, and the magazine tapers a bit at the top which feels like the gun has a mag well.
This odd design doesn't mean that the magazine for the Shield Plus has major improvements. It's still a highly-functional double-stack magazine.
The biggest change can be found in the build, as it has a slightly "staggered" column. Smith & Wesson call this design a stack-and-a-half. It doesn't compromise the width, being 1.1inches wide compared to the 0.95-inch width of the original.
If you have larger hands, you'll feel that your pinky slightly lands on the mag base plate, and you'll have to partly let go of the grip if you want to operate the magazine release. But it's not a big deal.
Speaking of which…
Safeties
Depending on your hands and how you like the controls, the Shield Plus comes either with the thumb safety or without. I know that some people really despise the thumb safety of the Shield, so I guess S&W caught wind of that issue.
Overall, the controls and safeties of the Plus are unchanged. S&W could have gone with an ambidextrous safety for the left-handed, and they could have made it wider for more convenient use and for deactivating it.
I can reach and operate the magazine release with my thumb with no problem.
The slide has forward and rear serrations with enough force that allows you to cycle it. Racking it requires some force, but if you're a newcomer to the pistol world, it's a force of habit as well.
The slide stop is the old standard M&P design with a rolled shape and it locks back the slide manually, but it can be a hassle to remove it. It feels pretty stiff, but it sits forward.
There's no beavertail as well, so it won't annoy the top of your hand or rub on any bones.
Disassembling and Maintenance
Cleaning the gun works just like a Shield—with some tools.
Clear the pistol and make sure it's unloaded.
Lock the slide to the rear with a flathead screwdriver tip through the ejection port to push the yellow spring—no need to pull the trigger.
Next, lower the takedown lever and rotate it to remove the slide.
Reassembly is in the same order. Just pull the slide back, lock it again, and rotate the takedown lever up. Remember to push the yellow spring back so you won't damage the trigger.
Cleaning the parts, recoil spring, magazines, and barrel requires some special tools and chemicals, so be sure to check out our best cleaning kits and best solvents and oils for the ultimate gun maintenance.
Regular cleaning and lubrication mean that the gun will serve you as it's supposed to.
When reassembling the firearm, you'll need to pull the slide back on, lock it back, and then rotate the take-down lever up.
FAQs
Here are some frequently asked questions about the Smith & Wesson Shield Plus.
What's the Difference between the Smith & Wesson M&P Shield and the Shield Plus?
It's basically the same gun. They don't even look all that different; the fish-scale serrations are the same. The only external difference is that the 2.0 model just has a little more of it added at the front of the slide.
Other than that, the trigger group is tuned up a bit.
Is the Smith & Wesson M&P Shield Plus Worth It?
The S&M Shield Plus costs slightly more than a standard M&P Shield, but what you get is a greatly improved trigger with a lighter pull, more round capacity, and enhanced grips.
What Kind of Ammo for the Smith & Wesson M&P Shield Plus?
Are Magazines for the Shield and the Shield Plus Interchangeable?
No, they're not. The Shield Plus has a slightly wider magazine well than the Shield, so you can't insert a Shield mag into a Shield Plus mag.
What Do the Others Have to Say?
Here are some interesting testimonials and review snippets from customers that bought the Smith & Wesson M&P Shield Plus.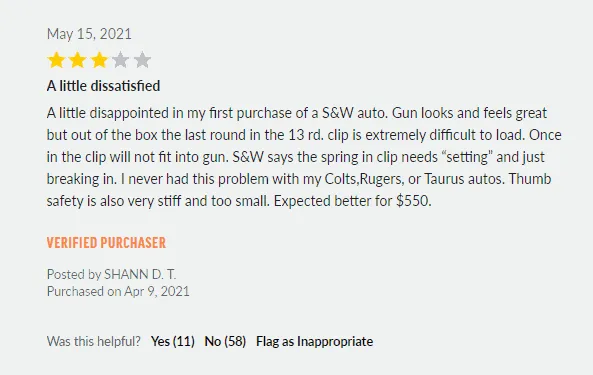 Alternatives to the Smith & Wesson M&P Shield Plus
Check out these similar handguns to the Smith & Wesson M&P Shield Plus.
You can find so many similarities if you compare the SIG Sauer's P365 with the Shield Plus. But, you have to shoot it yourself to pinpoint the difference in feel and operation exactly.
The SIG Sauer P365 has all the features the M&P Shield has, except it has a smaller round capacity. It's similarly priced, chambered in a 9mm cartridge with a 10-round capacity flush-fit mag, 3.1-inch barrel length, and a very crisp and smooth trigger.
I think that the P365 is slightly better for concealed carry and doesn't print on most clothes. Once you replace the firing pin, expect top-notch performance. You can find a lot of aftermarket options and sights for it.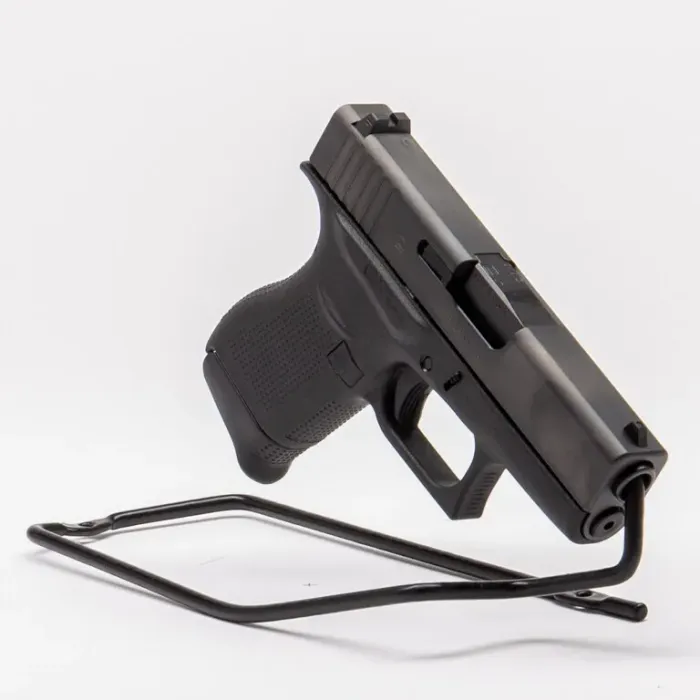 Glock and Smith & Wesson fans have been stubbornly involved in one of the most heated debates of compact pistol history, and there's no sign of stopping. But let's keep the debates civil.
If you value simplicity, the Glock G43 can be a definite contender. The 10-round capacity for an EDC, it's just enough.
You can expect better accuracy than the M&P9 Shield at longer ranges with its 3.4-inch barrel length, and you have a vast collection of aftermarket accessories.
It's very easy to dismantle and clean the G43, making it a better option for newcomers.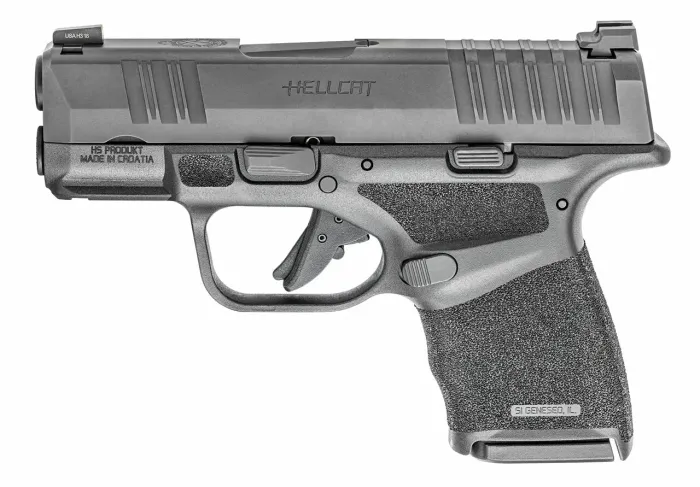 When compared to the Shield Plus, the Springfield Armory Hellcat 9mm Luger, a pistol with a similar 3-inch hammer-forged steel barrel with a 13-round capacity, fits the EDC profile better.
You get an extended magazine and a flush plate that's great for concealed carry purposes with your purchase.
It weighs around 18 ounces and has a dual captive recoil spring for long-term reliability and lesser recoil.
What I most like about the Hellcat is the Melonite finish barrel with outstanding durability and an accessory rail for all kinds of aftermarket sights. The Shield Plus doesn't have a reversible magazine release, but the Hellcat does, so it's a fantastic option for left-handed shooters.
Conclusion – A One-up Improvement for Sub-compact Competition Shooting
We live in a time where we suffer through horrible remakes of tried-and-true classic designs. However, in this case, S&W truly did a masterful upgrade and added very valuable improvements over the already prominent design of the Shield.
It's no secret that the Shield had a rigid trigger. With the Shield Plus, an enhanced trigger is most welcome in any new handgun remodeling. It has a far more convenient flat trigger, less aggressive grips, and even more ammo capacity than its predecessor.
The ergonomic feel is just regular Shield territory; they somehow managed to stay true to its original design. I expected a wider grip because of the extra ammo capacity, but no, it still feels like a good old Shield.
With your purchase, you get two stamped-steel magazines; a 13-round mag with an extended grip sleeve and a 10-round with a flush-fit baseplate.
Overall, the Smith & Wesson M&P Shield Plus is a great option for target practice if you're willing to blast through Federal boxes in a short amount of time.
I wouldn't go as far as to say that it'll replace the Shield. That would be an absolute sacrilege in the firearms community.
Stay safe, shoot straight.
Explore more