S&W M&P9 M2.0 Metal Review: Awaited Semi-Auto Examined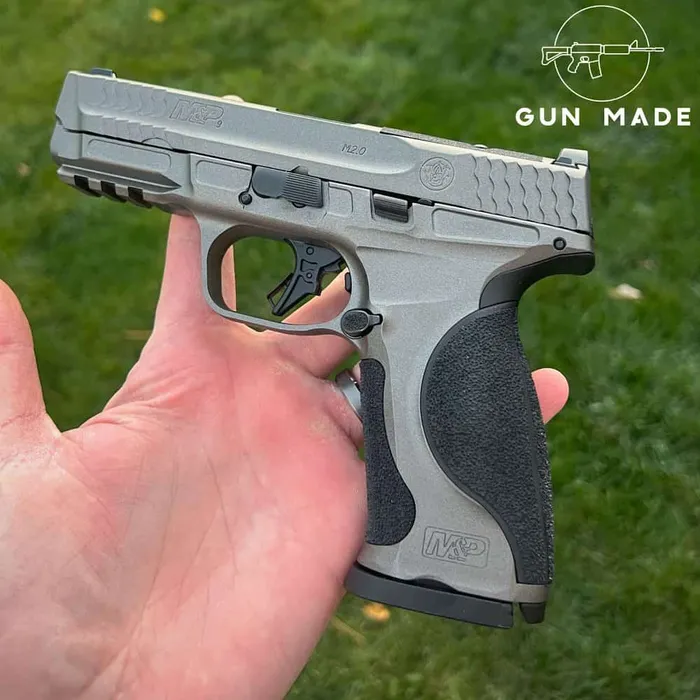 S&W M&P9 M2.0 Metal Review: Awaited Semi-Auto Examined
Introduction
I feel like we've all, at some point wished that there were metal versions of some of our favorite polymer pistols. Wouldn't that be so cool? Yes, it would be. I mean, yes, it is. Meet the M&P9 M2.0 Metal in our newest review!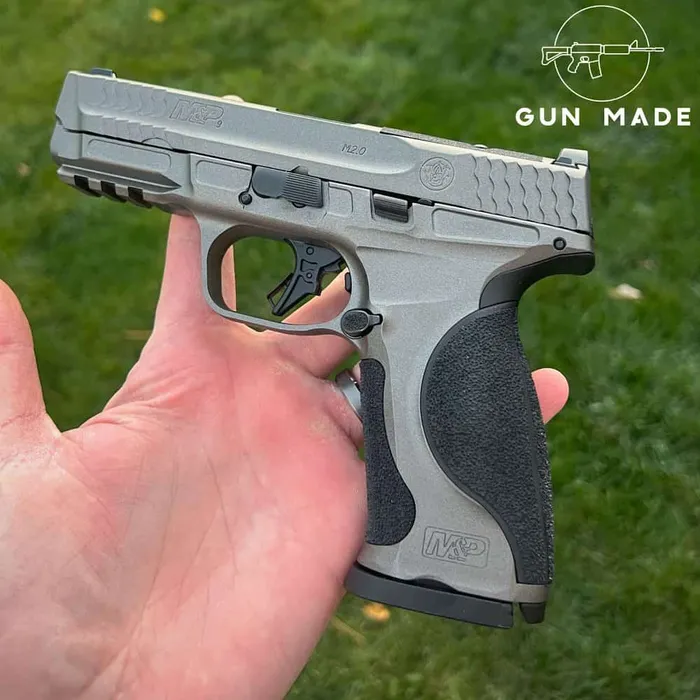 It's no secret that I'm a huge M&P fan. I have been well before all of the recent updates were made to many of them, and very likely will continue to be as new ones come out. Smith & Wesson really listened to consumers when it decided to add the optics-ready slide and flat-face trigger to the newest line of M2.0s.
Now, with the introduction of the Metal M2.0 version, there isn't much more I can think of to make this gun better. Before we dive in, I'd like to give a huge shoutout to Smith & Wesson for sending out this beautiful specimen to test and evaluate!
M&P9 M2.0 Metal Review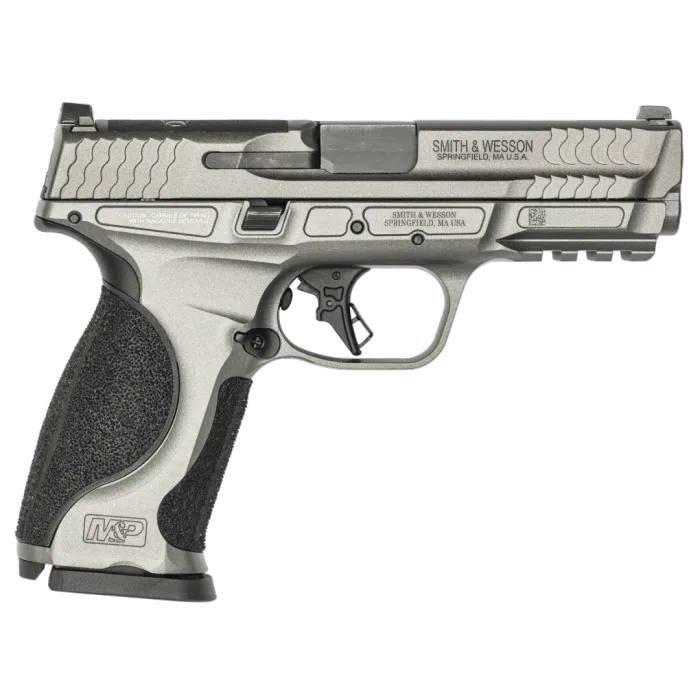 Specifications
| | |
| --- | --- |
| Caliber | 9mm Luger |
| Capacity | 17+1 |
| Barrel Length | 4.25 Inches |
| Overall Length | 7.4 Inches |
| Width | 1.3 Inches |
| Height | 5.5 Inches |
| Sights | Steel, White Dot |
| Frame Material | 7075-T6 Aluminum |
| Slide Material | Stainless Steel |
| Frame Finish | Tungsten Gray Cerakote |
| Slide Finish | Tungsten Gray Cerakote |
| Weight | 30 Ounces |
Pros & Cons
Pros
Compatible with previous M2.0 accessories
High capacity with 17-round magazines
Extreme durability due to Cerakoted aluminum frame
Includes the newer M2.0 features (optics ready slide and flat face trigger)
Cons
Palmswell texture is quite aggressive
High MSRP of $899
First Impressions and Range Report
In the Box
Even at this price point, the M2.0 Metal still comes in a simple cardboard box, which is my only "complaint," if you will. Many other manufacturers still ship in cardboard boxes too, but I've seen more and more switch to a plastic pistol case, which would have been nice. But let's be honest, what's inside the box is what's really important!
You'll find two 17-round magazines, four interchangeable palmswell grip inserts, and several optic mounting plates. Everything you need to hit the range right away is provided.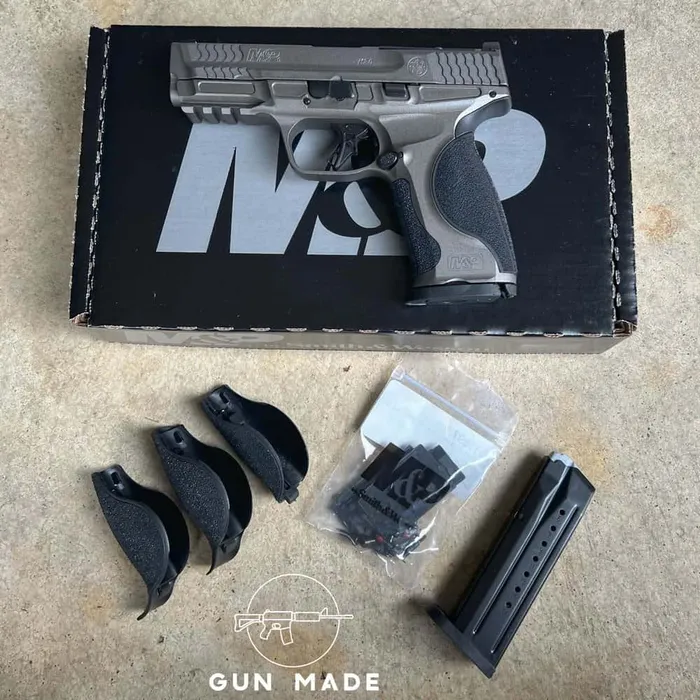 Fit and Feel
As someone with larger hands, the M&P9 M2.0 Metal feels great in hand. I found the "ML" (Medium/Large) palmswell grip insert to fit best, helping the already great ergonomics.
With the grip angle coming in at 18-degrees, you can tell, even without shooting, how much thought Smith & Wesson put into the ergonomics.
Reliability
Given that I already have several M&Ps, including a couple of M2.0s, I wasn't really worried about testing the reliability. But a review wouldn't be complete without at least sending some rounds down range! So, I put a quick 250 rounds through it, consisting of 115-grain Federal American Eagle FMJ, 124-grain Blazer Brass FMJ, and 124-grain Federal Punch JHP.
I had my first "squib" load, where the firing pin struck and ignited the primer, but there must not have been enough powder to actually fire the bullet. It happened while I was firing the American Eagle rounds, and luckily, I noticed it before attempting to fire another round.
I was able to remove the round immediately, and then it didn't happen again after that.  I've never had that happen with any ammo or any gun, but I'm confident it was just a one-off faulty round. Other than that, I had no issues at all.
Accuracy
I found the M2.0 Metal to be extremely accurate out of the box. I haven't bothered mounting an optic yet, as I always like to train with new guns and their iron sights first. You can't always count on an optic, but you can count on your iron sights to be there.
The additional quarter of an inch to the barrel, compared to my M2.0 Compact, probably doesn't make much of a difference, but I did feel as if I shot this one quite a bit better. I don't have any "science" to back why that would be, but I've been shooting this one extremely well for my skill level. I can't wait to run some drills outside with it and ring some steel farther out.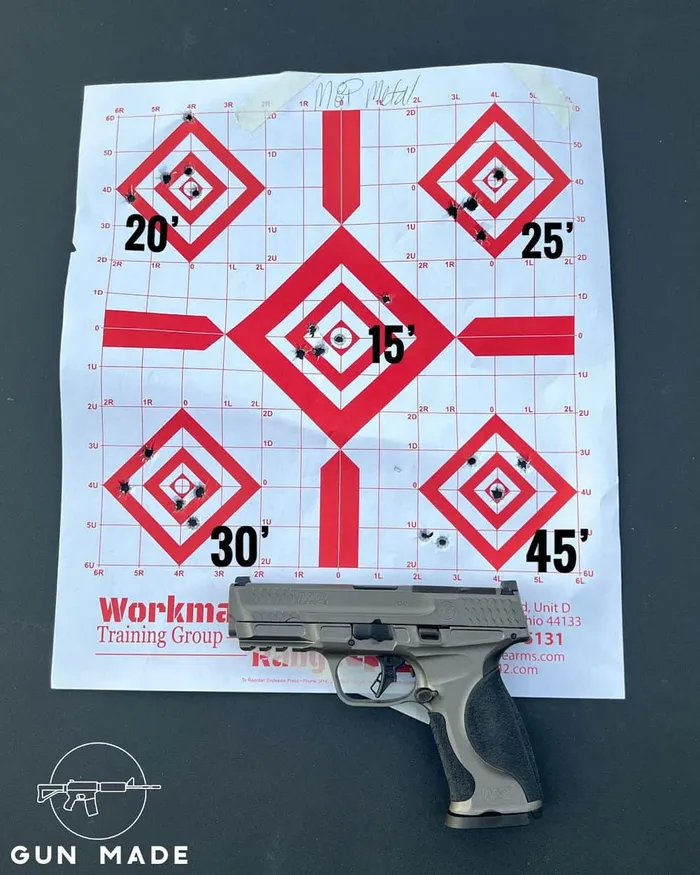 Features
Let's address the full-size M&P in the room…the frame is aluminum. Technically, it's 7075-T6 aluminum, finished in a Tungsten Gray Cerakote. Not that the other features we'll touch on aren't impressive as well, but I figured I'd start with the obvious attention grabber to this specific M2.0. Let's take a look at some of the other features that make this a well-rounded and capable pistol.
Slide
The slide is one of the features that really stands out, not just from an aesthetic perspective. The front and rear slide serrations are not only unique looking, but are aggressive enough to actually assist with reloads or press checking.
Then, of course, the slide is factory cut for an optic. With the various optic plates that come with the gun, you should be able to mount most of your favorite optics out there on the market. To top it all off, as you've noticed by now, the Tungsten Gray Cerakote really makes the slide even more eye-catching.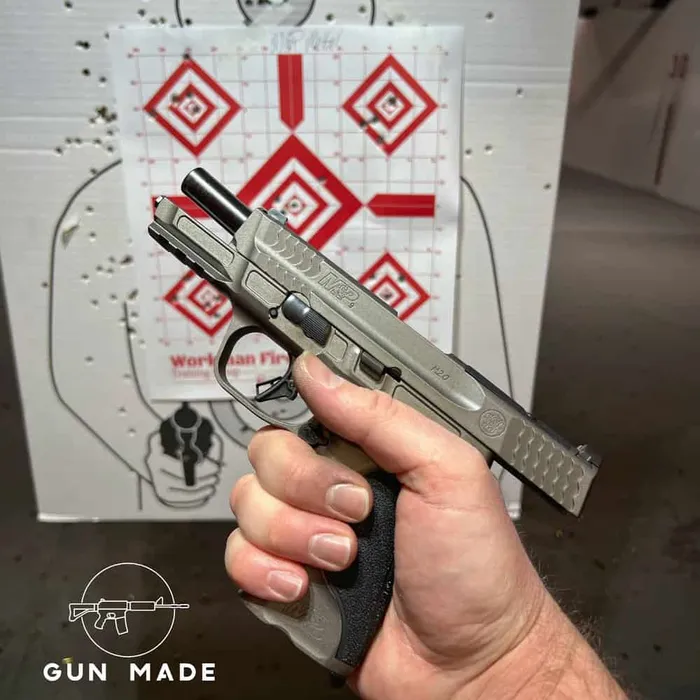 Controls
I always prefer ambidextrous controls, even though I'm right handed. Thankfully, the M2.0 Metal has an ambidextrous slide stop and a reversible magazine release. Both of which, are appropriately sized and easy to manipulate. Especially the magazine release, which has a nice texture to match the palmswells.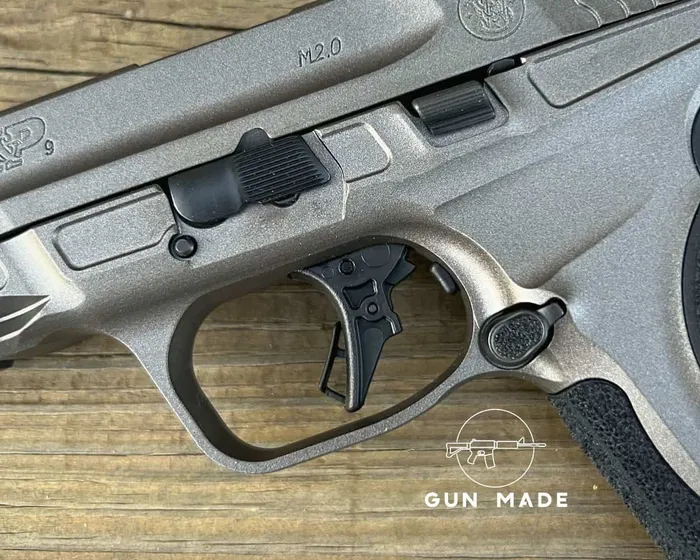 Trigger
The new M2.0s all come with Smith & Wesson's flat-face trigger. I have a few M2.0s now, and all of the triggers have been very smooth and consistent. The trigger pull on this one comes in right around five pounds, according to my trigger gauge, which feels spot on from shooting it.
I really like how crisp the reset is and how repeatable your follow-up shots are with this trigger. I've changed older M&P triggers in the past, but this one will definitely be staying.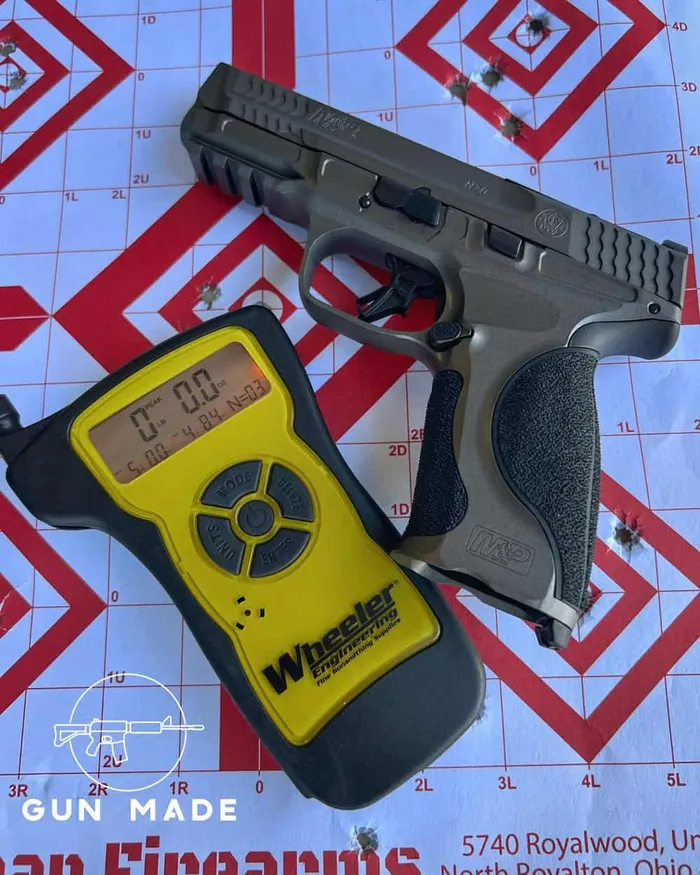 Magazine
Two 17-round metal magazines come with the gun. You can also use any of your previous M2.0 17-round magazines. They have plenty of witness holes so you can accurately gauge how many rounds you have left, which is always appreciated. I've never had any real issues with the M&P magazines, and am very glad that I can use some of my older M2.0 mags as well with this one.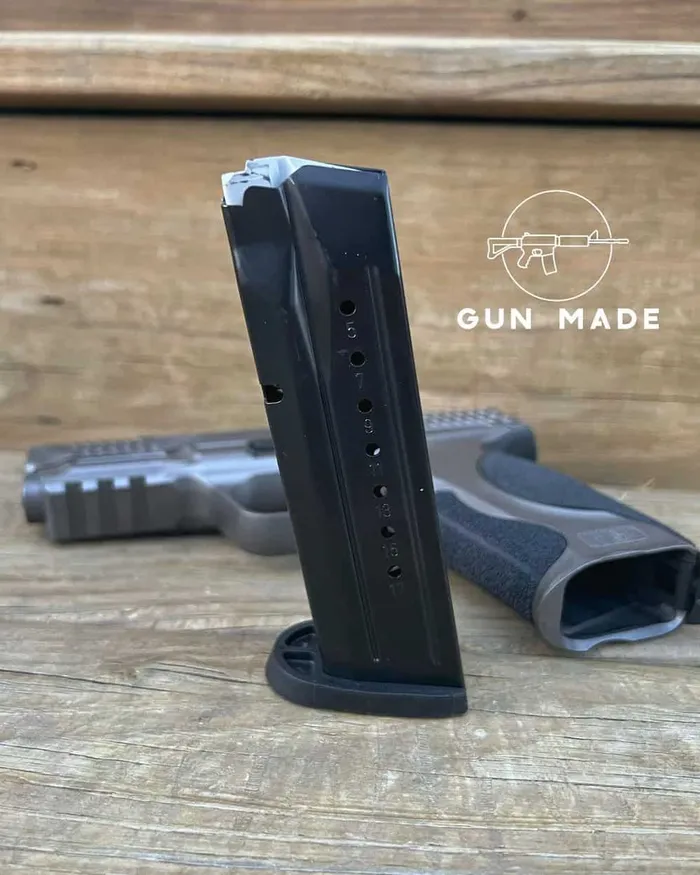 Grip
Let's just say, you are not losing grip of this grip. The texturing is very aggressive, almost too aggressive. I haven't had any "long" range sessions with it yet to see how my hands felt afterwards, but I would have preferred a slightly less aggressive texturing.
On a positive note though, there are a total of 4 palmswell grip inserts that come with it, so you can find one that's a perfect fit for your hand.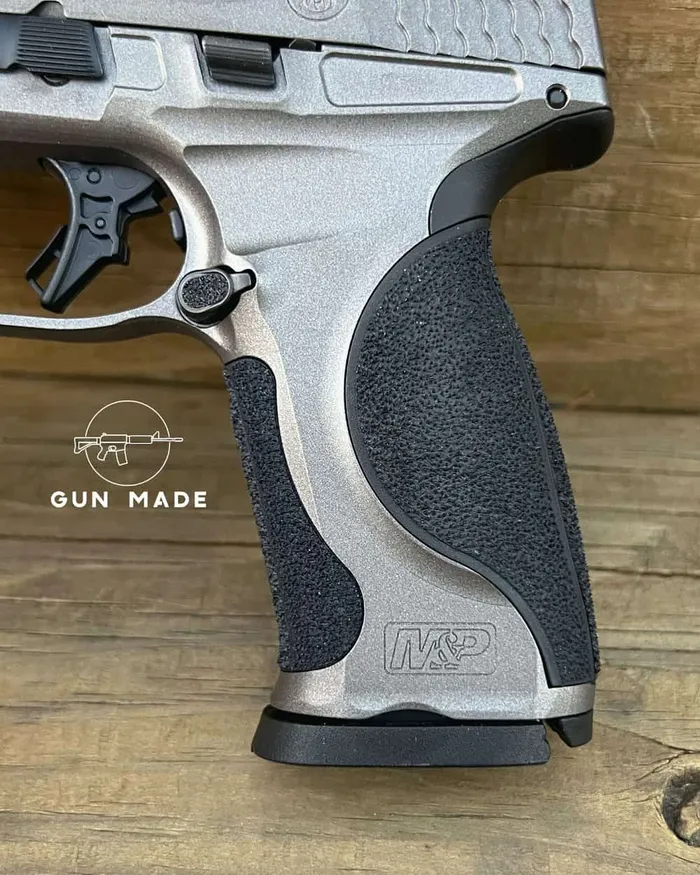 Sights
The sights are familiar and adequate, but I would've liked to see some tall white dot sights, similar to my other optic-ready M2.0. These standard height sights make it a tad difficult to use once you mount an optic (depending on the optic deck height). If you're not using an optic, though, these are nice steel white dot sights that are drift adjustable and get the job done.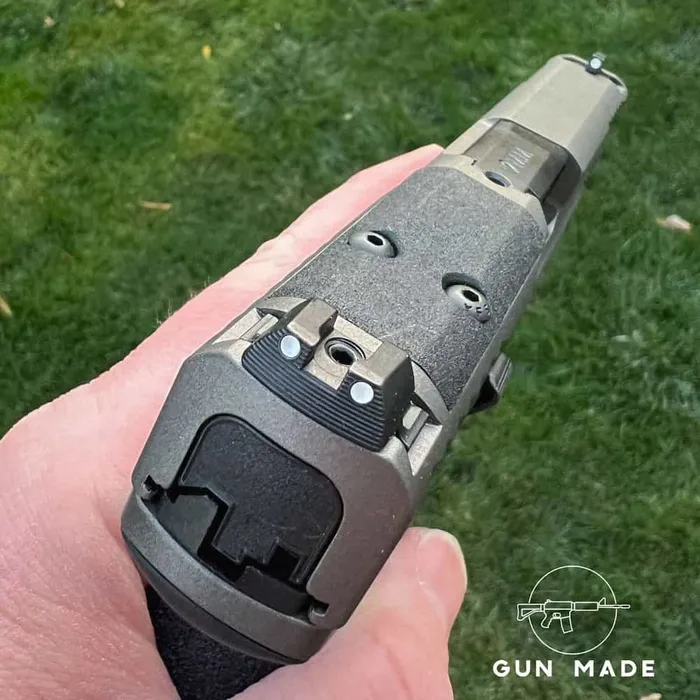 Accessories
I've been shooting this gun stock the entire time and have been loving it. Luckily, Smith & Wesson made sure to make it compatible with the standard M&P9 M2.0 holsters, so I was to train with it and carry it right away. I am thinking of adding two specific accessories, though, which I really think will finish off the package nicely.
With a beast of a gun like the M2.0 Metal, you need a beast of a weapon light. The TLR-1 HL is going to be what I mount on this M2.0. The TLR-1 HL puts out 1,000 lumens for one and a half hours. It comes in black, flat dark earth and flat dark earth brown. I feel any of those would look good paired with the Tungsten Gray Cerakote.
This 2 MOA enclosed pistol sight is brand new from Holosun. It features a 7075 T6 aluminum housing and Holosun's lowest deck height. Having the low deck height makes it possible to use many standard height iron sights. It also comes in a 6 MOA dot version and a red dot version of both MOAs.
If you need a quality OWB holster, check out Hilliker Holster Company. The fit and finish of their holsters are top-notch, and they are fully customizable. Best of all, you're supporting a small business.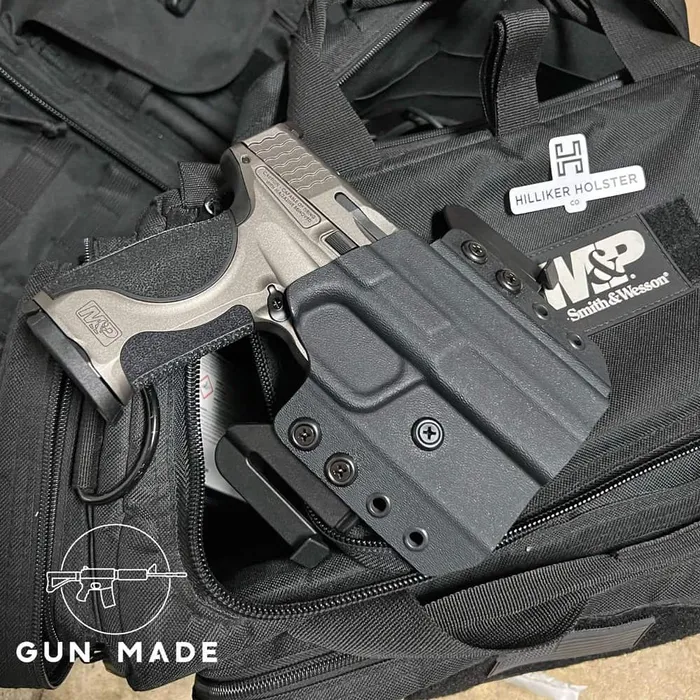 Alternatives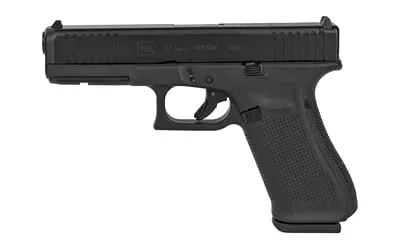 The Glock 17 has been a staple for many, but now with the Gen5 it's gained even more popularity. You'll get a 17+1 capacity, optic cut slide, and Glock finally removed the finger grooves on the grip. If you already have other Glocks that could share magazines, the Glock 17 Gen5 MOS makes a ton of sense to look into.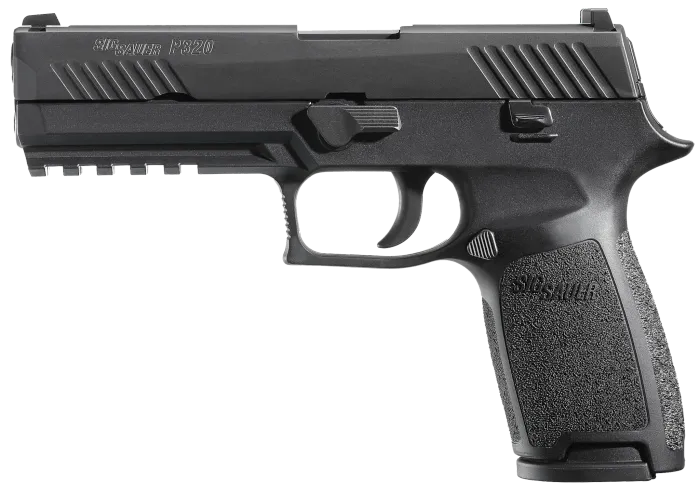 Modular. Reliable. Accurate. The P320 is one of the most modular handguns on the market, and this full-size version is a great entry into the platform. Again, you'll get a 17+1 capacity, large accessory rail and a surprisingly crisp trigger.
Conclusion
There is something about the M&P9 M2.0 Metal that just feels different…oh yeah, its frame is aluminum and not polymer! All joking aside, this gun has been a pleasure to shoot so far and I definitely see myself putting many, many more rounds through it.
If you're a 9mm fan looking for that "new and different, but familiar" pistol, you should give the M&P9 M2.0 Metal a chance.
Explore more