Taurus 856 Review: Small But Mighty Concealed Carry Revolver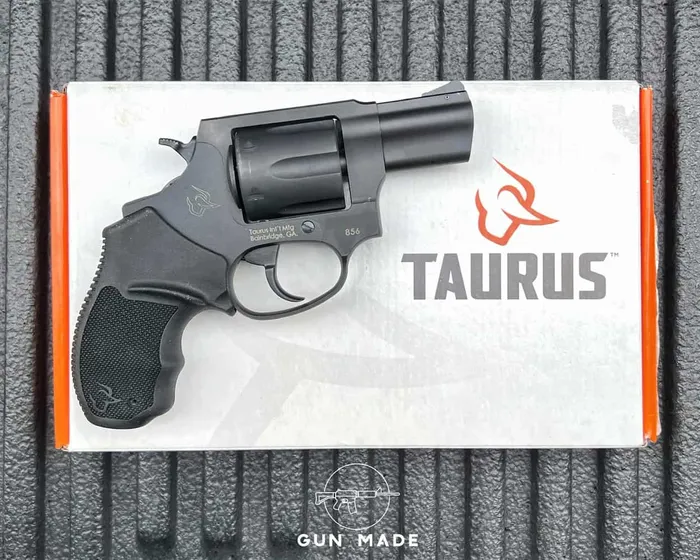 Taurus 856 Review: Small But Mighty Concealed Carry Revolver
The Taurus 856 is a small but mighty 6-shot revolver sized perfectly for an ultra-discreet concealed carry option. It kind of reminds me of the little engine that could. It just keeps on shooting and shooting and shooting, with no issues.
There are several different 856 models (check out our 856 T.O.R.O. review for an optics-ready version), but for today's review, we'll be looking at the 2" double action/single action model. Taurus states that the 856 is "built for personal defense and perfected for everyday carry," so let's see how it stacks up to that claim.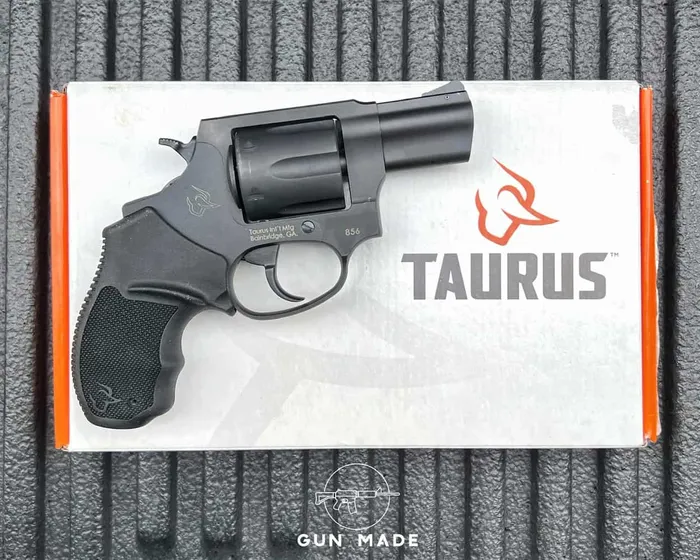 Taurus 856 Review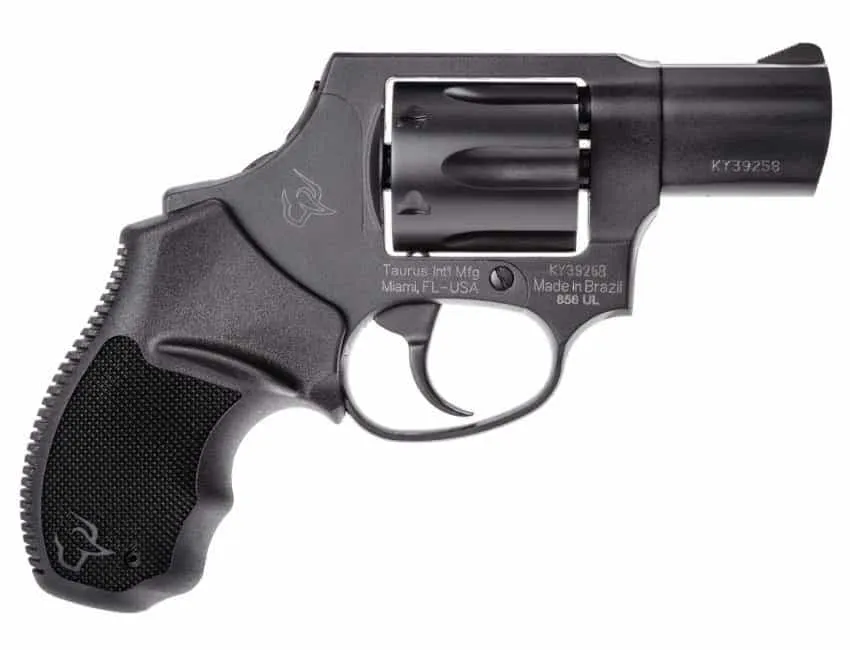 Specifications
| | |
| --- | --- |
| Caliber | .38 Special |
| Capacity | 6 Rounds |
| Barrel Length | 2 Inches |
| Action Type | DA/SA |
| Sights | Serrated Ramp Front Sight, Fixed Rear Sight |
| Length | 6.55 Inches |
| Width | 1.41 Inches |
| Height | 4.80 Inches |
| Weight | 22 Ounces (Unloaded) |
| Safety | Transfer Bar |
Pros & Cons
When reviewing guns, it's important to not only discuss both the pros and the cons, but also keep in mind the type of gun you're reviewing. For example, a revolver is almost always going to have less capacity than a comparable-sized semi-automatic pistol. So to say below that a 6-round capacity is a pro, just keep that in mind!
Pros
Easy to conceal
Affordable price point
6-round capacity (many are 5 in this size range)
Smooth trigger pull
Simple to use
Cons
Poor sights resulting in limited accuracy
Grip is too small for some people (myself included!)
Trigger pull feels extra long
First Impressions & Range Report
With spare time being hard to come by these days, I didn't get to put the normal few hundred rounds through this one before writing the review. I did, however, get to put 156 rounds through it. It ate them all without a single hiccup. I used mostly 158-grain Federal American Eagle .38 Special LRN and then what I had left of some 120-grain Federal Punch .38 Special JHP.
Accuracy
I don't shoot revolvers often, but when I do…accuracy is not my strong suit with them, especially double action. I remind you of this to say it's not 100% the gun's fault for these poor groupings you see below.
Out to 15 feet, my groupings were high, but I was able to keep them relatively tight. For a revolver of this size, I would imagine it would be used at very close distances.
Stepping out to 25 and 30 feet, I had quite a bit of overcorrecting happen, resulting in very spaced-out groupings. The small grip caused me to constantly have to readjust my grip. This is not a habit I tend to carry over to many other guns, as it can decrease accuracy and shooting speed.
This target was from my first time shooting the 856, and by the end of my testing phase, I was able to at least keep those smaller groupings out to 20 feet consistently.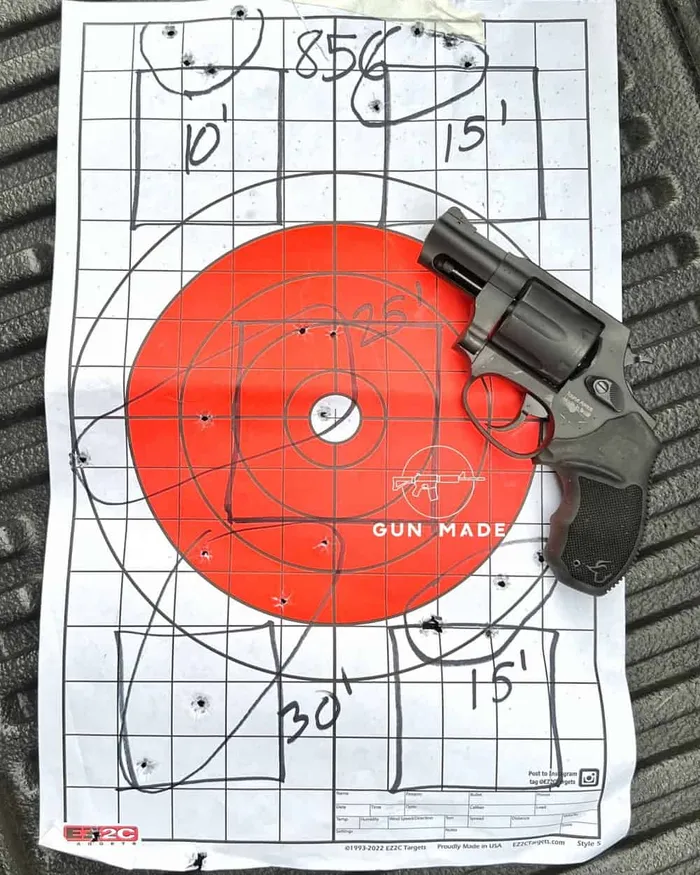 Features
Grip
The grip is surprisingly comfortable if you have the right size hands. That's what I was left thinking about the grip after I shot the 856. The rubberized grip has a nice "sticky" feel that really holds on to your hand.
The finger grooves helped to maintain control which was appreciated since I couldn't fully seat all of my fingers on the grip. For someone with small or medium-sized hands, I think they would find this grip very comfortable.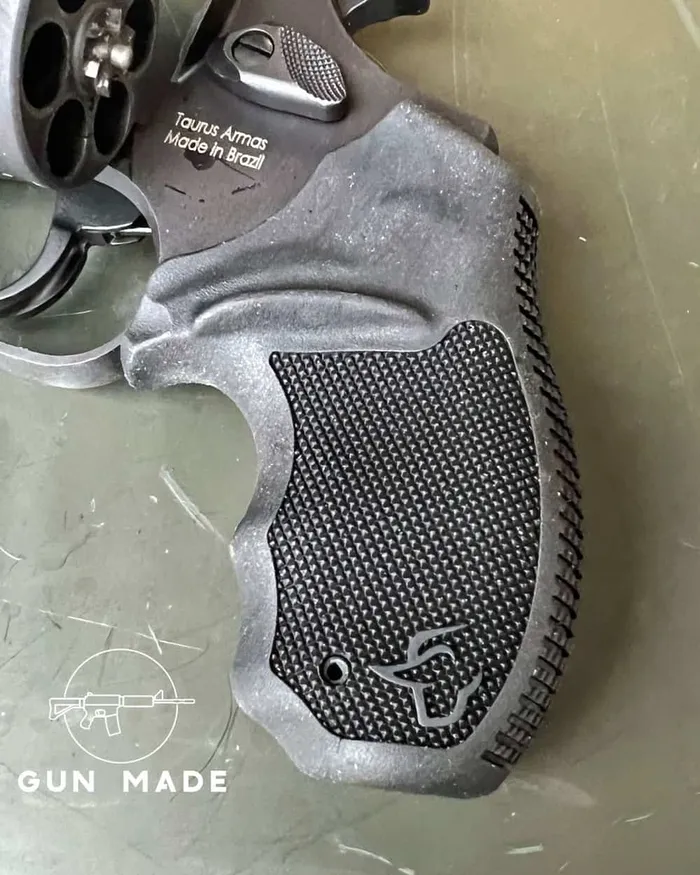 Trigger
Just like most double action/single action triggers, this thing is looooong. However, it's smooth throughout the entire pull.
Comparing it to my S&W Model 66 revolver, the 856 seems to have a significantly heavier trigger, but I think it could be due to my somewhat awkward grip with my larger hands on such a small revolver. Overall though, it's your run-of-the-mill revolver trigger and gets the job done.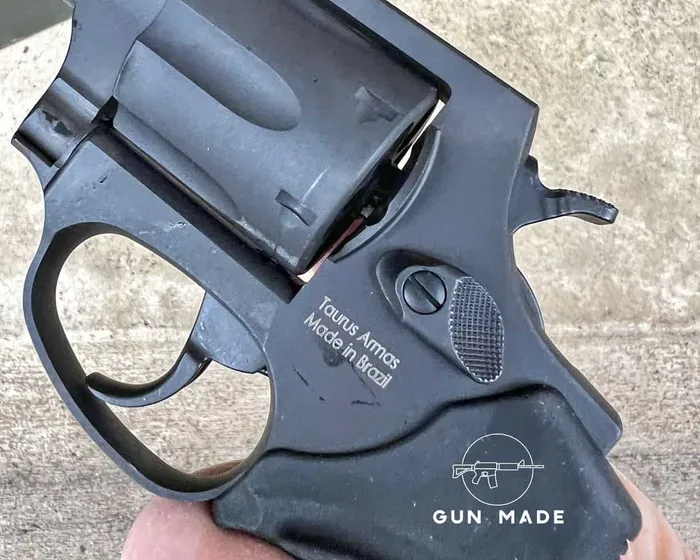 Sights
The sights are by far, my least favorite feature of this gun. They are similar to many other revolver sights, so it's not a knock on the 856 alone. Both the front serrated ramp sight and the fixed rear are completely blacked out, leaving a ton to be desired. The worst part is, since they are milled into the gun, you can't change them.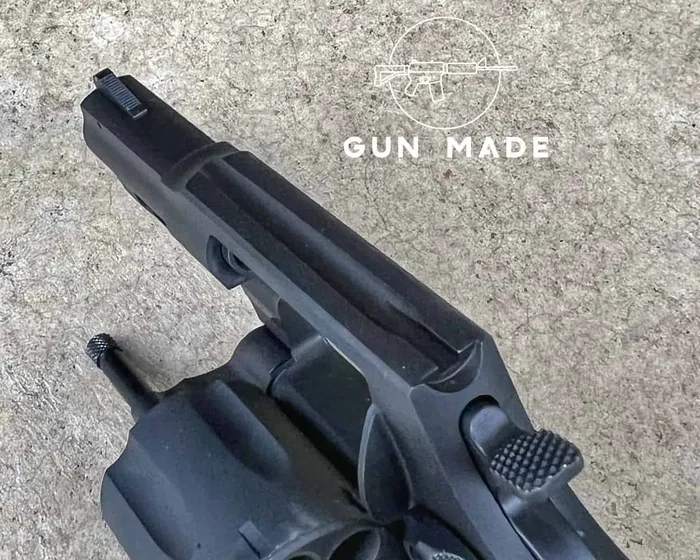 Cylinder Release and Cylinder
As you can see in the picture below, the 856's cylinder opens to the left and holds six rounds. When closed, the cylinder has very little play and a minimal cylinder gap. The cylinder release is larger than I expected for a revolver of this size, but I see that as a pro as it's very easy to manipulate.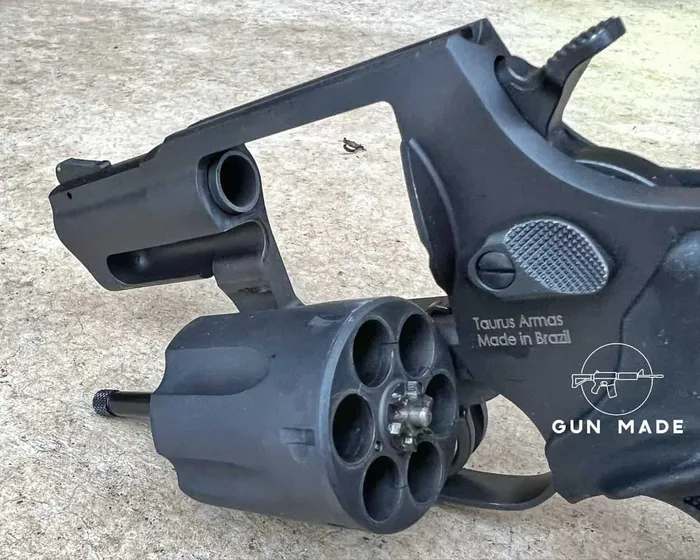 Hammer
I've run into some jagged hammers with sharp corners or edges. Luckily the 856's hammer is not one of those. It has decent texturing to help with cocking it, and I haven't had any issues doing so. There isn't much else to say about the hammer aside from…It's Hammer Time! Ok, I know that was corny, but it popped in my head while writing this, so I figured why not include it?!
Accessories
You're going to be limited with the number of accessories you'll find for the 856. A solid holster is a good place to start. After that, you can check out a laser if you want to get fancy with it.
Alien Gear makes some of the most comfortable holsters I've used for quite some time. This specific IWB holster features a swappable shell, so you can save money by using the backing of the holster for multiple guns and ordering only the new corresponding hard shell. Best of all, the price point is under what many other popular brands are charging.  
If you want an easy-to-install laser to assist you with aiming and target acquisition, check out the Viridian Red Grip Laser. It's grip activated and has a battery life of up to four hours.
Viridian claims it can reach out to a mile at night, but that seems a little hard to believe, in my opinion…but I have nothing to back that thought. The laser gets great reviews and is one of the cooler upgrades you can do to your 856. It's definitely worth checking out if you're into lasers on your firearms.
Alternatives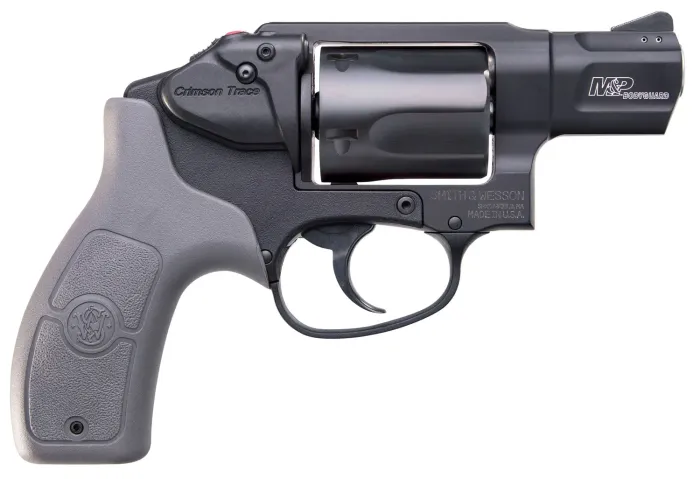 If you're set on a compact .38 Special revolver, check out the M&P Bodyguard 38 Crimson Trace. It has a short 1.9-inch barrel, a 5-round capacity and is double action only. It comes with an integrated Crimson Trace laser as well, so you won't have to worry about adding one after. There are also tons of holsters out there for it.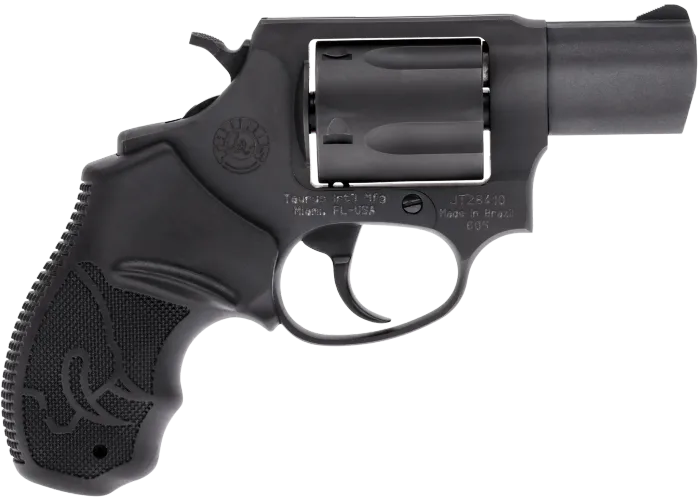 This Taurus is chambered in .357 Magnum, which adds to the stopping power for self-defense. It's still very concealable with its 2-inch barrel and comes in at only 6.5" long. It shares the same rubber grips for comfort and blacked-out aesthetic.
FAQs
Is the Taurus 856 a good concealed carry gun?
From a size perspective, I would say the 856 would make a good concealed carry gun. However, with a capacity of only 6-rounds, it would not be ideal for serving as your primary carry gun. It could serve as a nice secondary weapon though.
Can you dry fire a Taurus 856 revolver?
Yes, you can dry fire the 856. Of course, you always want to triple-check that the revolver is unloaded and pointed in a safe direction with an appropriate backstop, just in case. You can also use SnapCaps or similar products to be extra safe.
Is the Taurus 856 double action?
Conclusion
If what you're looking for is an ultra-compact, lightweight and reliable revolver; then the Taurus 856 will be a great option for you.
I would advise against it though, if you're looking for a primary concealed carry gun, as the low capacity, higher recoil, and sub-par sights would not leave me comfortable if it was my only defensive option. However, for the price, it's a great-looking and fun little gun to shoot or carry as a backup.
Explore more