Templar Knife's New Excalibur Line: Screwless OTF Knives With Style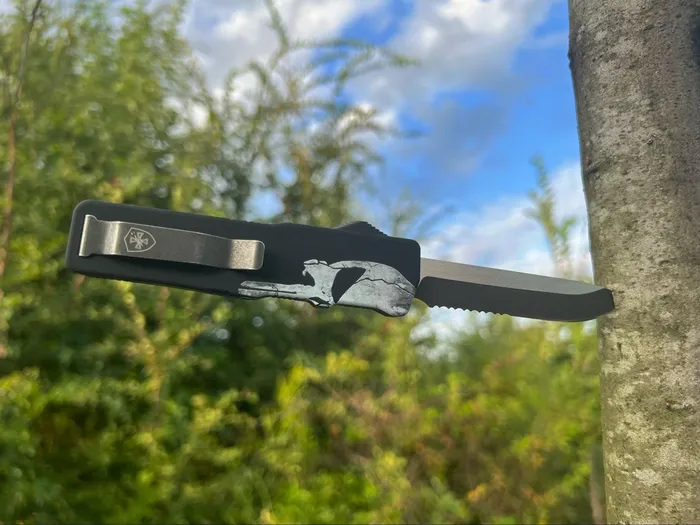 Templar Knife's New Excalibur Line: Screwless OTF Knives With Style
Introduction
If you carry a gun every day, we're willing to bet you also carry a knife sometimes, if not always. A knife is a crucial component of most people's EDC.
OTF (Out The Front) knives, often called automatic knives or "switchblades" in slang, make great defensive knives and fidget toys. With a simple flick of a button/switch, the blade springs forward out of the handle, and with another flick, it retracts back in. It can get pretty addicting "opening and closing" them.
You may have even noticed an OTF in the movie "John Wick" if you watched it close enough!
Templar Knives is a family-owned knife company out of Texas, that recently released a first-of-its-kind screwless OTF knife. The Excalibur Line, which features screwless OTF knives, offers several finishes, sizes, and blade styles.
Templar was nice enough to send us out a couple of knives from the Excalibur line to check out, test, and review, so that's exactly what we did. This article is written by both Brian Zerbian and Ryan Domke, and we've put these knives to the test. Keep on reading to see if one of these OTF knives should be the next in your collection.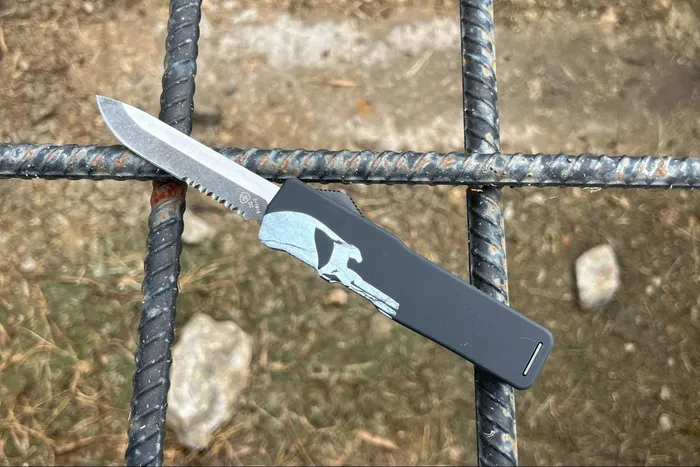 Templar Knife Excalibur Line Review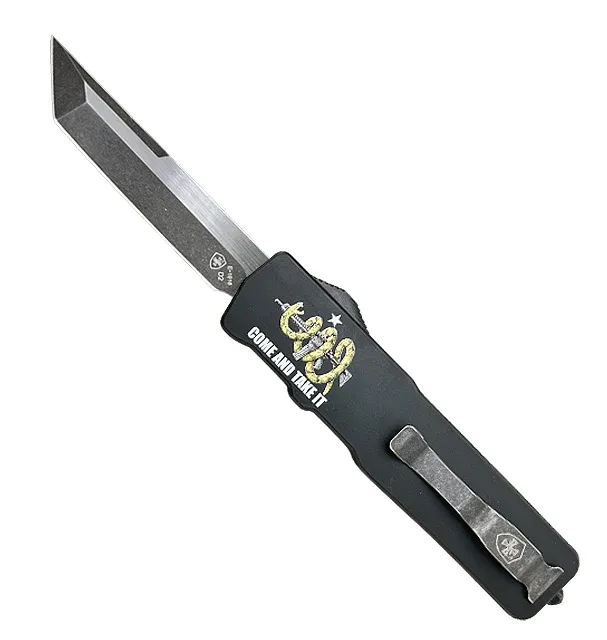 Specifications
| | |
| --- | --- |
| Weight (Large, Slim, Small) | 4.8 ounces, 3.5 ounces, 3.4 ounces |
| Blade Length (Large, Slim, Small) | 3.55 inches, 3.25 inches, 3 inches |
| Handle Length (Large, Slim, Small) | 5.25 inches, 5 inches, 4.5 inches |
| Overall Length (Large, Slim, Small) | 8.75 inches, 8.25 inches, 7.5 inches |
| Blade Material | Black Oxide Stonewashed Powder D2 |
| Handle Material | T 6061 Aged Aluminum |
| Pocket Clip | Tip Down |
| Opener | Thumb Slide |
Pros & Cons
Pros
Smooth deployment and solid lockup

Screwless (yes, it's obvious, but still a pro!)

Durable D2 steel blade

Lightweight

Excellent finish and aesthetics out of the box

Reversible pocket clip

Built-in Safety
Cons
Finish scuffed/rubbed off quickly

Not "paper sharp"

The texture for the fingers on the handle can be better
First Impressions and Testing
We had a different knife sent to two of our writers, to make sure we avoided any bias and got different perspectives. Both were from the new Excalibur line.
"Fallen"
The first knife we looked at featured a serrated drop blade made out of black oxide stonewashed powdered D2. The blade was very sharp out of the box, the finish was perfect, and the action was smooth as butter.
Being the "small" version, it's lightweight at only 3.4 ounces, so it's not very noticeable in your pocket. We carried it off and on for a couple of weeks and had no issues with the action after many opens and closes.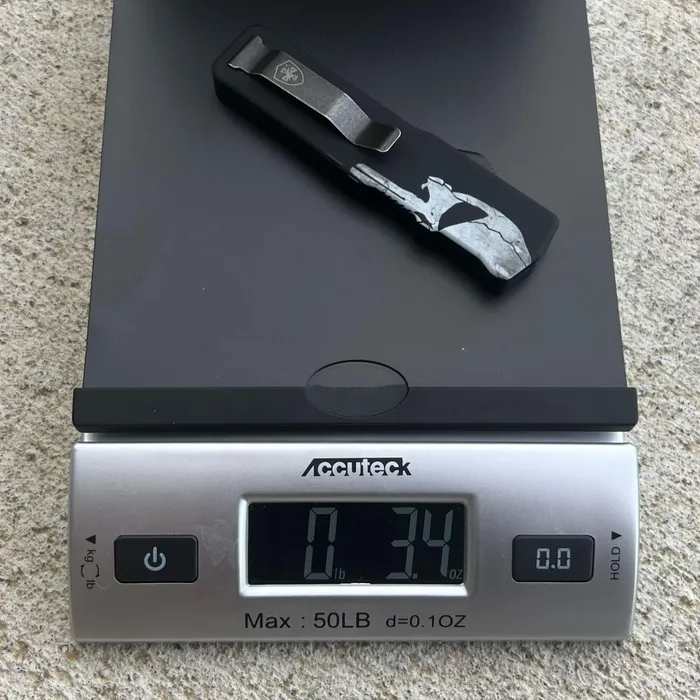 While the blade wasn't "paper sharp," not all D2 knives are in general. It did, however, have no problem slaying boxes, cutting zip-ties and plastic box strapping, chipping away at wood, or cutting Romex cable casing. There were no blemishes on the blade through it all.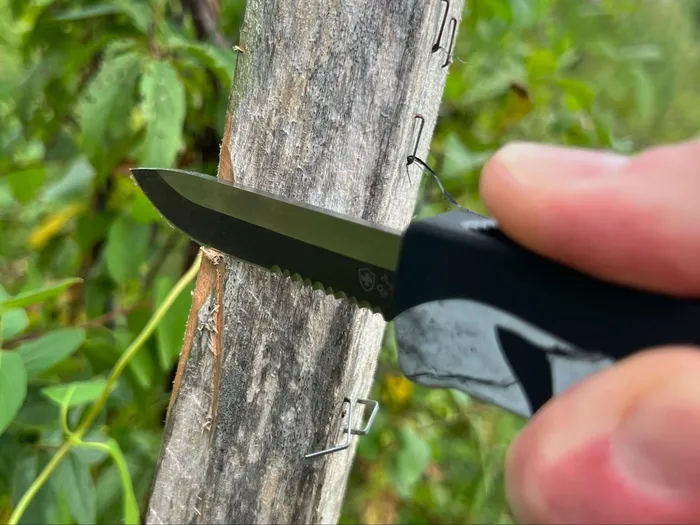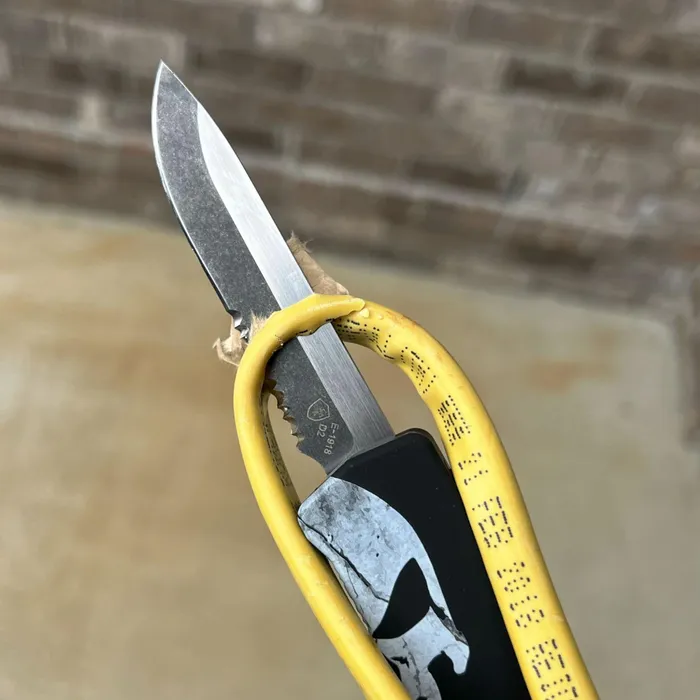 The finish on the handle did start to show some wear after only a week or so of use, but it stayed localized to the one little spot.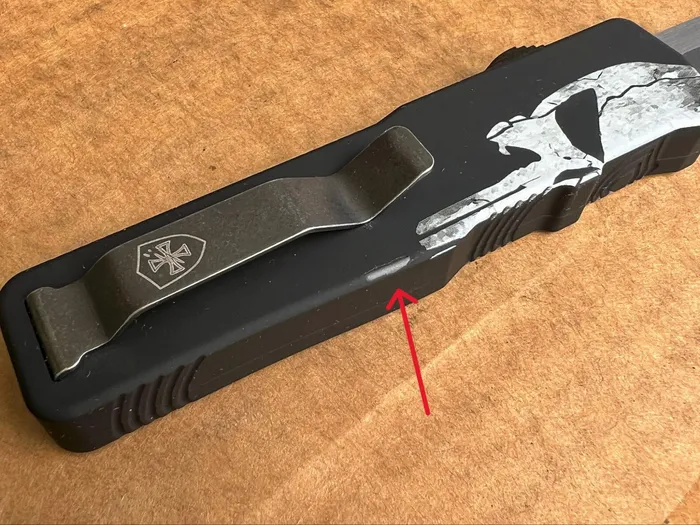 Overall, this particular knife easily completed everyday tasks and showed no sign of blade distress.
"Black Rubber"
Slim, lightweight, and fits in the pocket perfectly. The "Black Rubber" variant of the OTF lineup sports a solid black tone with distressed steel finishes. The aesthetics of this knife work for both suit and tie as well as casual occasions.
Out of the box, this knife is sharp. The edge isn't sharp enough to cut paper, but the blade tip is sharp enough to go through a pair of shorts I was wearing when I decided to see what would happen if opened in the pocket.
It cut clean through. Don't worry; I was smart enough to make sure my leg wasn't in the way.
Overall, the knife is attractive and simple. If minimalism was a focus in knives, this one would fit the bill.
I jumped at the opportunity to review the Excalibur because of how much it resembles the "dessert" knife that John Wick got from the Sommelier. I'm a nerd, I know.
One thing that I don't like about the Excalibur is the safety in the mechanism. If you try and open the knife against a hard surface, like a human body, the knife will 'go limp' and not function until you reset it.
Is it that big of a deal? Probably not. I'll open it soon and fix that. I'm sure that it had to have that feature for legal reasons.
Another thing is the grip texture on the touch points for your fingers. I've had my fingers slip forward a bit after stabbing a tree in the rain.
Outside of the not-so-sharp edge, the 'limp' mode feature, and the lack of texture for my fingers, the knife is great.
I've stabbed trees with it, thrown it around in the dirt to see if it would hurt the mechanism, and used it as a fidget toy (because why else would you want an OTF knife if not to play with it?).
No matter how hard I tried, I couldn't find any issues with it.
And trust me, I tried. I like picking products apart, but Templar got it right the first time.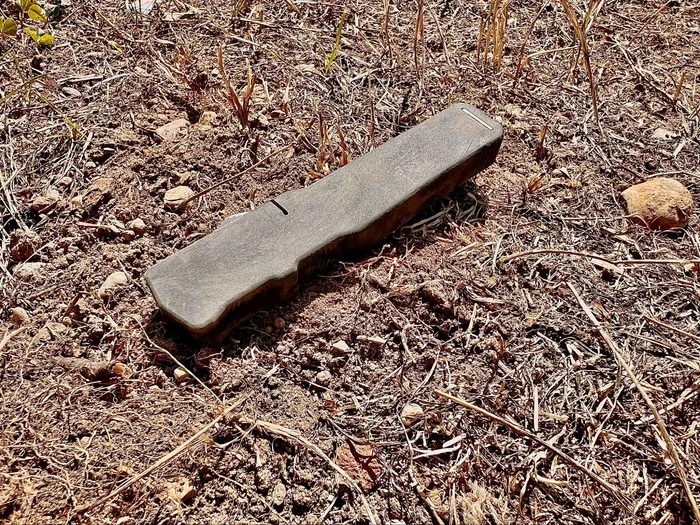 Features
Screwless Design
The screws on a typical OTF knife are definitely a failure point that can work themselves loose without notice. Having no screws to worry about not only mitigates potential failures but also creates a much cleaner aesthetic.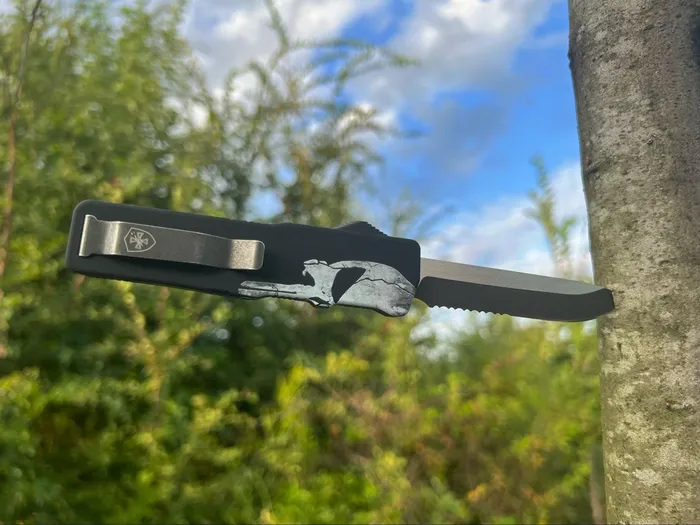 Reversible Pocket Clip
Pocket clips are very important parts of knives, especially when you carry them. The clips on these knives are reversible, have solid tension, and ride low enough in your pocket to be discreet.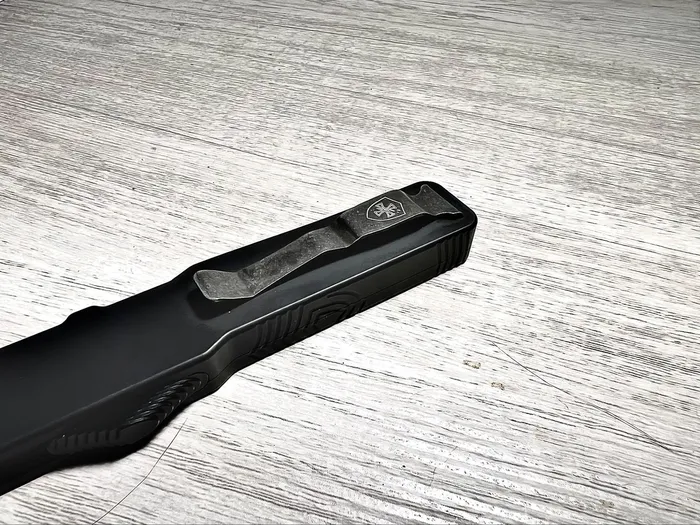 D2 Blade
D2 steel is known for having great edge retention and toughness at a relatively affordable price. While it's not an ultra-premium steel, it holds up well and can withstand daily use. Since D2 steel has a high hardness, it can be difficult to sharpen, but it can be done and holds that edge well.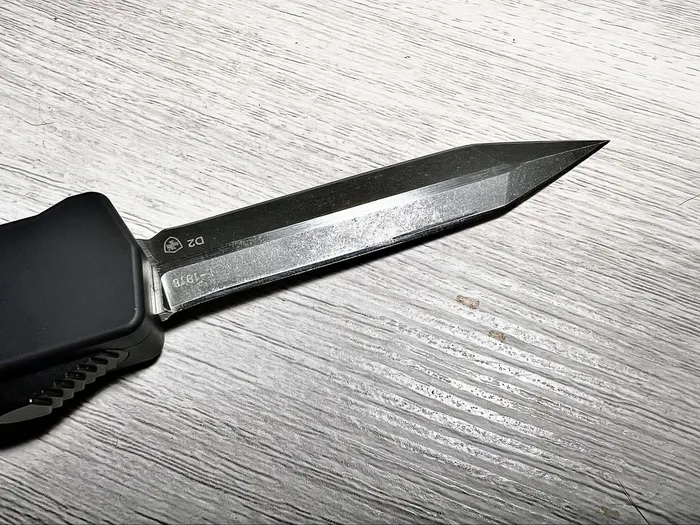 Textured Touch Points
The last thing you want is your fingers slipping when using the knife. The Excalibur line has textured touch points where your fingers usually rest to mitigate that, but if your hands are wet, it won't do you any justice.
My hands slipped forward a few times. Luckily, the next feature helps.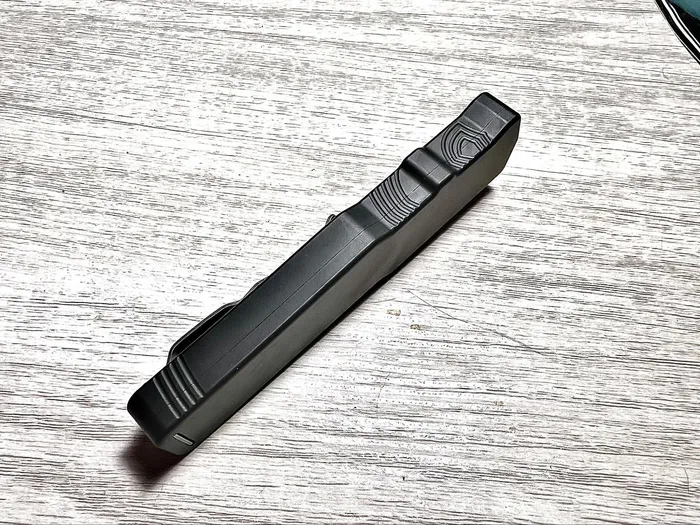 Aggressive Texture On Thumb Slide
The extra texturing on the thumb slide helps to open the knife and keep your hand secured when using this in a defense situation or stabbing trees. I'd like to see more of this aggressive texture on the whole handle.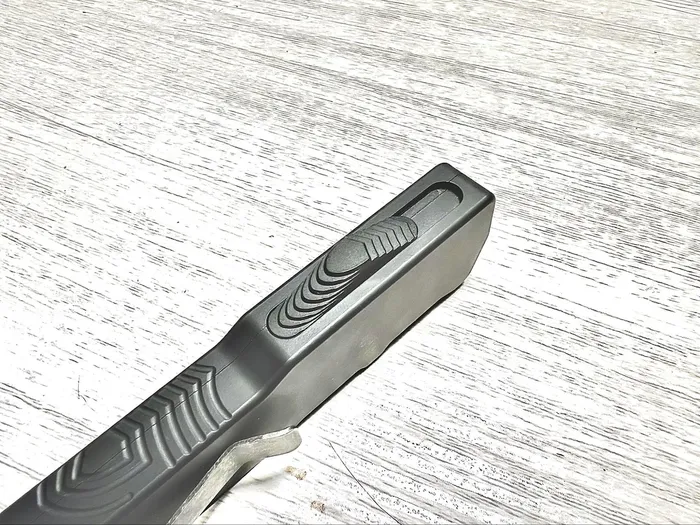 Conclusion
The Excalibur line from Templar impressed us, with no major complaints or issues. Sure, we had a few things we would change or like to see differently, but that would likely be the case with almost any knife.
OTF knives are expensive in nature, but we would like to see the price point a bit lower to make these a top recommendation for an EDC knife. If they are in your budget, then by all means, we don't think you'd regret it.
If you're in the market for an innovative OTF knife with no screws, tons of customization options, and lightweight to the point you may forget it's in your pocket, check out the Excalibur line from Templar Knives.
Explore more