Tikka T1X Review: Rimfire Rifle with Precision Priority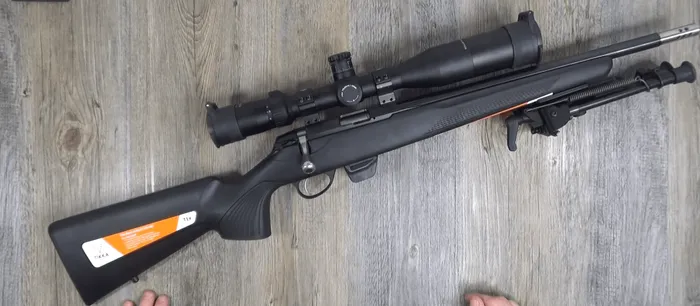 Tikka T1X Review: Rimfire Rifle with Precision Priority
This is a Tikka T1X review, a newer entry from Finnish rifle maker Tikka. 
Tikka has proven itself time and time again through the years when it comes to making a premier rifle with precision and quality at the forefront. Gun enthusiasts, hunters, and amateurs alike continue to rave about the gunmaker. 
The company boasts of the T1X's "unparalleled quality and craftsmanship", but does the rifle measure up to what's said in the marketing? 
Overall, we found the Tikka T1X to be a quality rifle in the growing rimfire rifle market and one you should keep your scope on if you're in the market to purchase. 
Lightweight, sturdy, and engineered for everyone from hobbyists to precision shooters, we learned plenty about the T1X in our research and found a growing group of fans. 
With the rifle's innovations in the rimfire rifle market, you're looking at a weapon that will stun anyone with its power and its design.
Let's dig deeper into the T1X and get acquainted. 
Tikka T1X Review
Tikka has been producing firearms components since 1918, but finally entered the weapons market with their first shotgun in 1937. Still, the company jumped into the bolt-action territory with the LSA 55 in 1967 and quickly became one of the standards.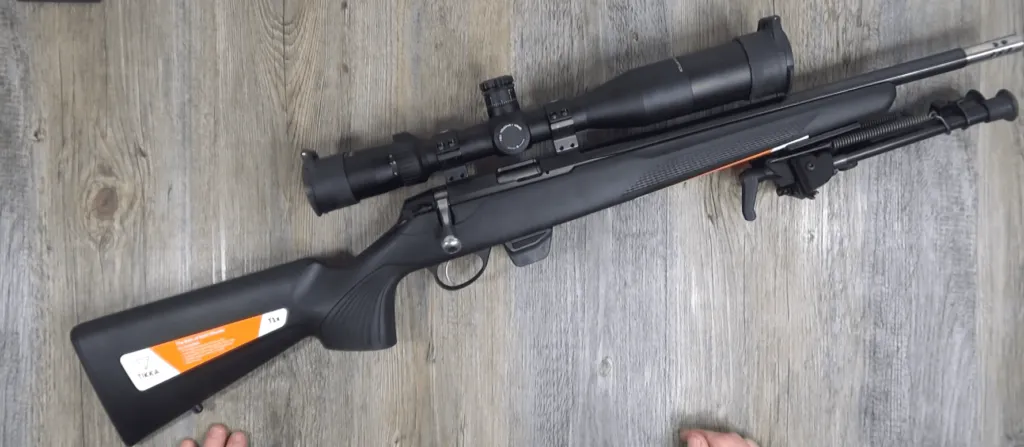 With their reputation firmly established with the LSA 55 – seriously, the aftermarket on those rifles can be crazy – Tikka has worked in the decades since to engineer and manufacture rifles that generate excitement for any level of shooter.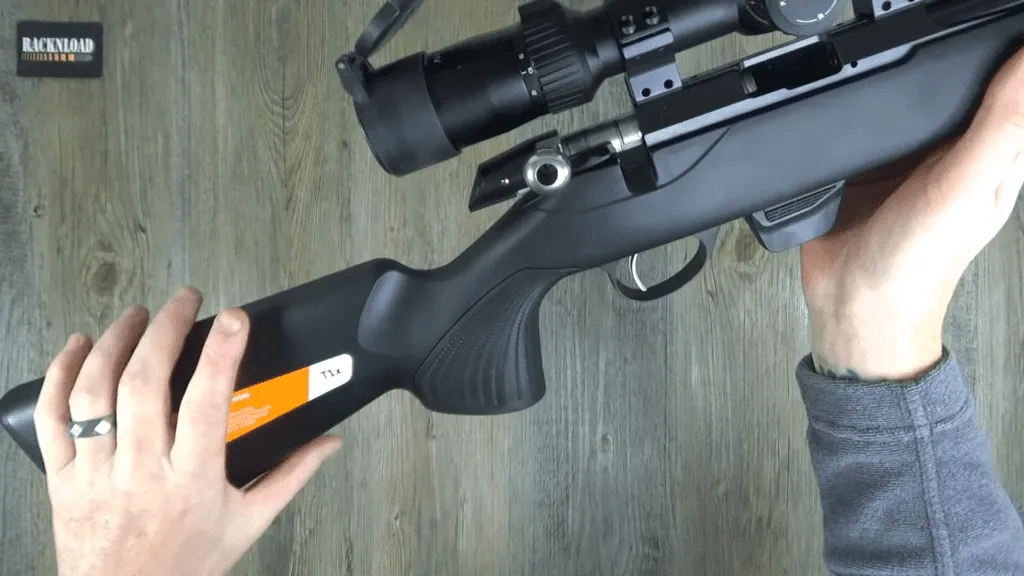 Specs: 
Bolt-action repeater rifle
.22LR caliber
13.25-inch pull length
1 to 4-pound trigger
Detachable 10 round magazine included in the package
Cold-hammer-forged barrel at 20 inches long
1/2×28 barrel thread rate
5.7 pounds
Overall length of 33.5 to 37.7 inches
What's It Do?
The T1X is designed with the DNA of the LSA 55 ingrained in it. While Tikka has exchanged the wooded body for high-quality polymers and fiberglass, you're getting a steady rifle that doesn't run the risk of failure. 
The T1X fulfills the versatile promise thanks to its capability to perform well in range and in rough terrain. It's also not as heavy as other top barrel rifles and affordable as well. A true both worlds charm.
Pros and Cons of the Tikka T1x
Crafting a product that intends to satisfy more than one spectrum is always a risk. With quantity most times comes a loss of quality, the Tikka T1x, surely avoids that category.
Regardless of the ammunition used, the rifle functions adequately. The accuracy sub 100 yards is unbeatable, which will interest a wide range of pro and novice shooters. The value of the rifle makes it even a harder product to let go.
Pros
Interchangeable grips
Adjustable trigger
Top-notch accuracy
Threaded barrel for suppressed running
Great value
Cons
Cheek comb high is not adjustable
Unadjustable factory trigger
Tikka T1X Features
The Tikka T1X is a feature-rich weapon considering how few major features are available with the model you get from your favorite weapons and hunting store. Let's start off with probably the most important feature of this rimfire: accuracy. 
Accuracy
Rimfire rifles are known for precision accuracy and the T1X is no different in that regard. According to our research, users of this rifle were tremendous fans of its accuracy – especially when a scope of their choosing is installed. At 50 to 100 yards, you'll be hitting targets with the kind of accuracy that will make even professional shooters line up for a test. 
Our research found group sizes to be around a half-inch.
Tikka's cold-hammer-forged barrel aids in its accuracy, providing a smooth, straight shot for those hoping to use the rifle in varmint hunting. 
Trigger and Bolt-Action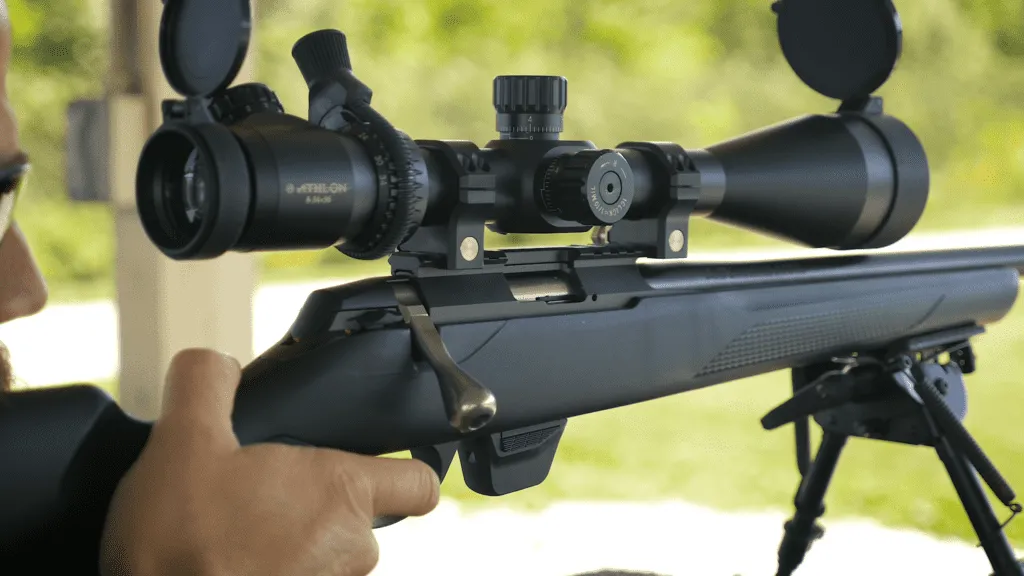 There's nothing as satisfying to a shooter than the feel of arming and pulling the trigger of a bolt-action rifle. The T1X shines in this regard. 
The adjustable trigger weight of the T1X can go from 1 to 4 pounds. The factory default setting of 1 pound will likely work for anyone, but the fact that it can be adjusted is a valuable option and increases the level of customization.
The bolt itself on the T1X is also customizable, but let's talk about the stock bolt. The stock bolt is made of stainless steel to protect in any weather condition. But, a strong aftermarket exists for the bolt itself. A quick search on Google reveals several websites where fellow T1X fans sell screw-in bolts.
Shooting
Of course, we'd be remiss if we didn't take a few paragraphs to discuss how the T1X shoots. In our research, we found shooters who were more than impressed with how the T1X handles in a live-fire situation. 
With the previously mentioned trigger weight of 1 to 4 pounds, you're getting a rifle with enough fine-tuning ability to make pulling your shot a breeze. The added pull length of just over 13 inches, and you have a rifle that turns shooting into a smooth process. 
You might wonder if the stock itself is an issue when it comes to shooting considering the material used here. You'll be pleased to learn that's not the case. While many in our research said the stock was a question mark for them, it did not affect the shooting accuracy. 
Recoil was also not an issue here, making the entire shooting process feel efficient and, quite honestly, ruthless. This is not a rifle that'll make you feel anything other than a shooter trying to pick off varmints from your property effectively. 
Build Quality
The T1X is a sturdy piece of equipment at just over 5.7 pounds. It's lightweight and very manageable to carry over long distances. But with other rimfire rifles in this category, you have a rifle here crafted and engineered with polymers and fiberglass instead of hefty wood stock. 
Many rifles in this category choose to go with wood or wood laminate, making for a much weightier weapon. The T1X shuns this idea for lighter material, which may be an issue for enthusiasts who enjoy the look of wood grain. 
The barrel itself comes in at 20 inches long and is made from cold-hammer-forged steel. It's not a particularly lengthy barrel, but one that safely expels your .22LR ammunition. A 1/2×28 barrel thread rate for the T1X is standard for rimfire rifles, so no bells and whistles here.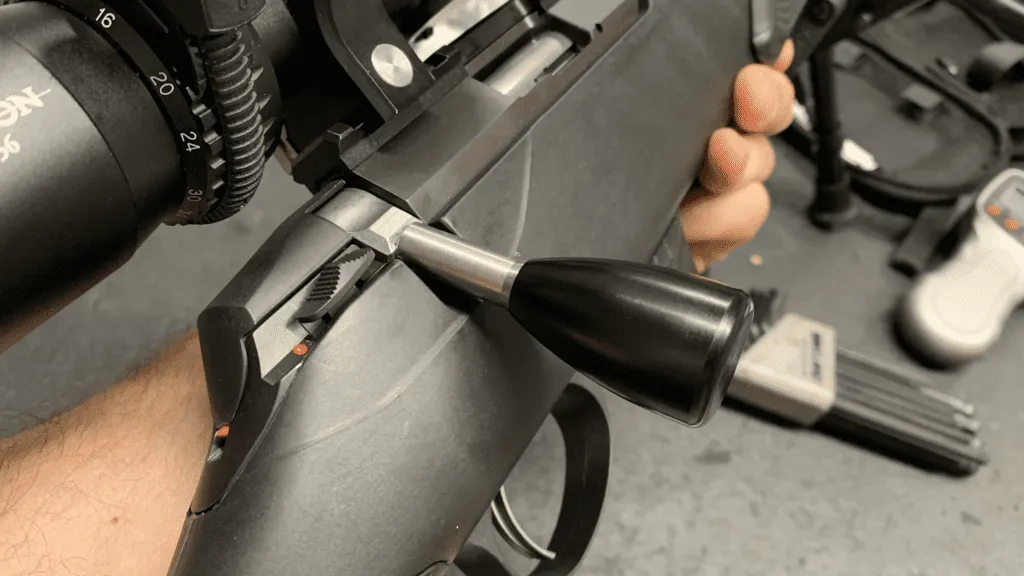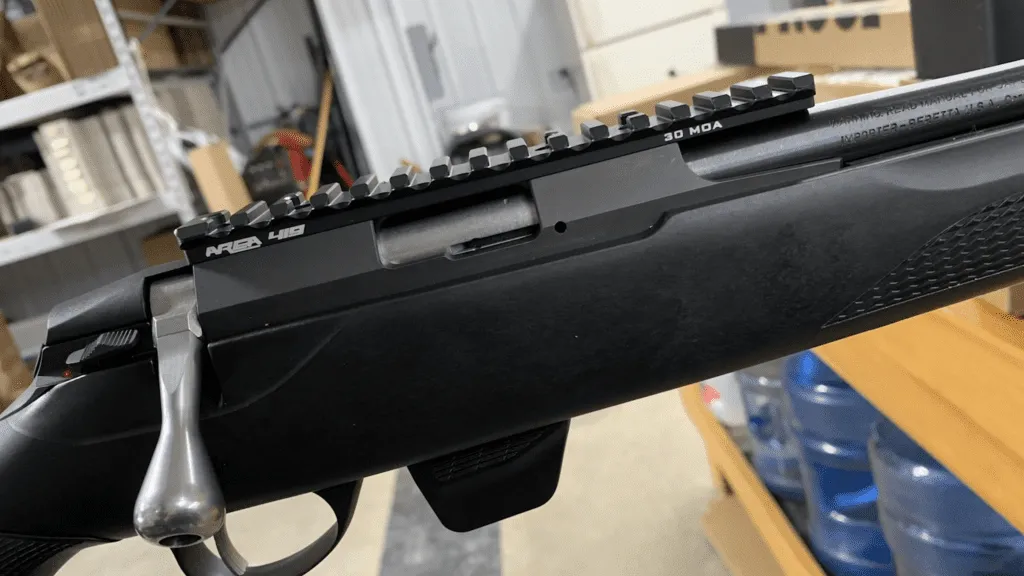 The T1X also comes standard with a 10 cartridge magazine for .22LR ammo. The rifle itself is listed with a total capacity of 10+1 for that extra round in the chamber. 
All in all, what you get with the T1X is a practical rifle for shooters of any experience and age level. You can put this rifle in the hands of a novice shooter and have nearly similar results to putting it in the hands of a hunter with decades of experience. Don't dismiss "practical" as a negative term, either. With high build quality and efficiency in shooting, this is a can't-miss rifle for many gun enthusiasts.
Tikka T1X Alternatives
The emerging rimfire market means there are plenty of alternatives available to the Tikka T1X. Foreign and domestic, you have options when it comes to rimfires. Here are a few that come to mind that we believe to be comparable. Your mileage may vary, obviously, but there's nothing wrong with having other choices.

CZ-USA's 457 American is a rimfire rifle with a 24.8" barrel made with a Turkish walnut stock. Its push-to-fire safety and reduced weight of 6.17 pounds means it's a bit heavier than the T1X, but you're trading a few more ounces for a wood stock. The rifle is also customizable with a scope of your choice. At an MSRP of $569, many rifle enthusiasts will want to take a second (or third) look at this one. 
Another favorite is the CZ 457 Varmint Precision Trainer, if you're looking for a higher-end option.

Savage's MKII BTVS .22LR is a stylish entry in bolt-action rifles. With a laminate wood stock and stainless steel barrel, it's sure to stand out among rimfire rifles. It's a heavier entry at 7.24 pounds, but a 21" barrel makes it comparable to the T1X. However, the MKII BTVS only allows for 5 rounds in a magazine. Still, this rifle's odd design allows for a thumbhole for better steadiness and accuracy. 
In Conclusion
The Tikka T1X is a delightful entry in the rimfire rifle market. Tikka's pedigree when it comes to bolt-action rifles like this is unmatched. Made with solid materials and built for accuracy, the T1X is sure to deliver for you if you're a hunter or a professional marksman. 
While other rifles in this burgeoning market might be more affordable, none match the size, weight, and class of the T1X. 
If you're in the market for a weapon that will stay in your rotation long after others may be replaced, the T1X is a winner in this regard. Simply stated, the T1X is the .22LR that deserves a space in your gun cabinet. 
The Tikka T1X can be purchased at most major weapons and hunting stores such as Bass Pro Shops. With a price of around $600 depending on where you look, the T1X is a premium rifle for those even with budgetary constraints in mind. 
Explore more